Shipping Container Homes: The Latest Trend
Shipping container homes are quickly becoming one of the most popular forms of alternative housing. From traditional construction to off-grid living, there is a growing market for affordable and sustainable homes built out of repurposed shipping containers.
With their structural integrity and easy transportation, shipping container homes can provide homeowners with an innovative solution to home ownership without sacrificing quality.
From modern designs to upcycling materials, this unique form of housing is sure to continue its rise in popularity for years to come.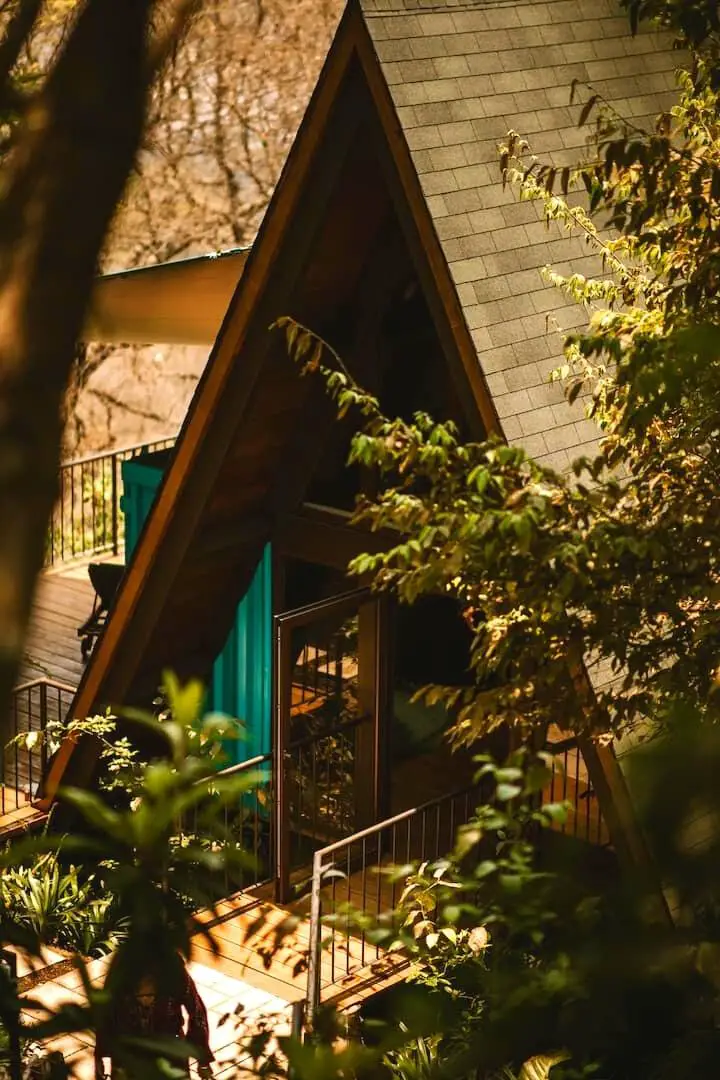 A Unique Container House Design
We're here to show you just how versatile and unique shipping container homes can be. This stunning design is one of the most eye-catching container homes you'll find.
From its sleek, minimalist exterior to its warm and inviting interior, this house blends form and function to create a cozy home that any modern homeowner would love.
We hope it inspires you to explore the potential of your own container home designs!
A Stylish Combination of an A-Frame House and a Shipping Container
This unique design combines the classic look of an A-frame house with a modern touch of repurposed shipping containers. With this combination, you can get all the benefits of traditional construction with all the style and sustainability of a shipping container home.
From its open floor plan to its sleek and modern facade, this house is sure to turn heads and inspire!
Airbnb Container House in Antigua Guatemala
This unique shipping container home is the perfect combination of style and sustainability. Located in the beautiful Sacatepéquez Department of Guatemala, this house offers its residents gorgeous views of the surrounding area.
With an open floor plan that utilizes the classic shapes of an A-frame house and repurposed shipping containers, this Airbnb is a great example of modern design at its best.
Whether you're looking for a place to stay or inspiration for constructing your own home, this shipping container house should be at the top of your list!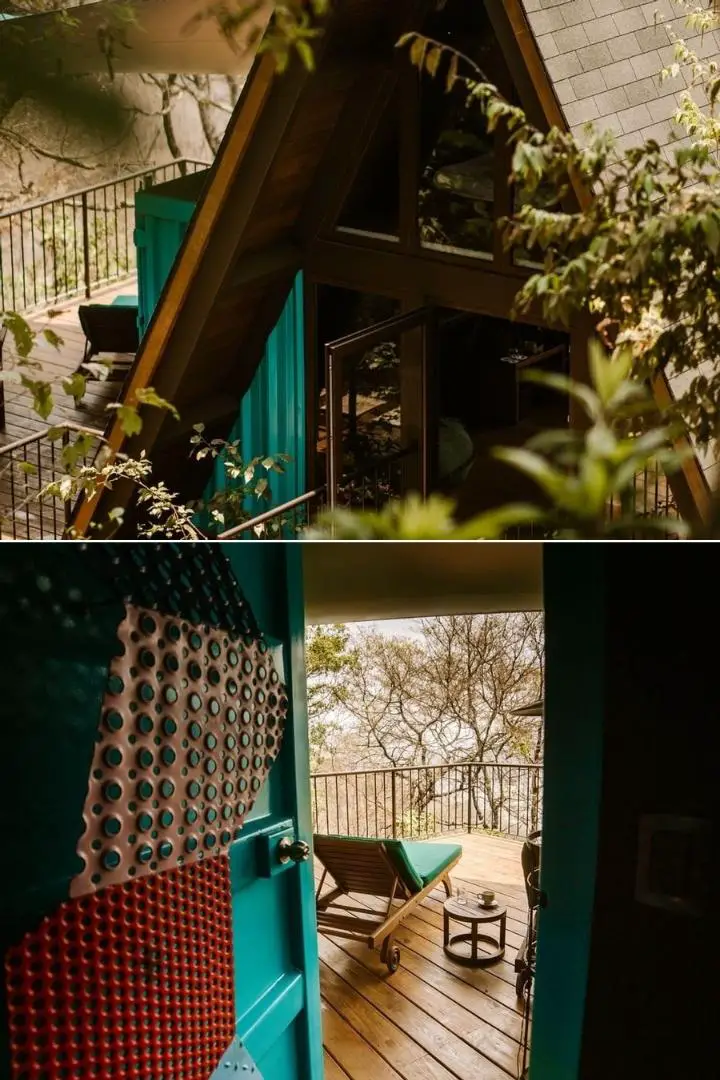 Affordable Luxury in Antigua Guatemala
Stay in this unique A-frame and shipping container combination at the low cost of $217 per night!
Located in Antigua Guatemala, Sacatepéquez Department, this Airbnb offers a modern design experience with all the style and sustainability of a shipping container home.
Escape the City Life with a Unique Glamping Experience in Antigua Guatemala
Escape the hustle and bustle of city life and experience the best of both worlds with a unique glamping experience in Antigua Guatemala.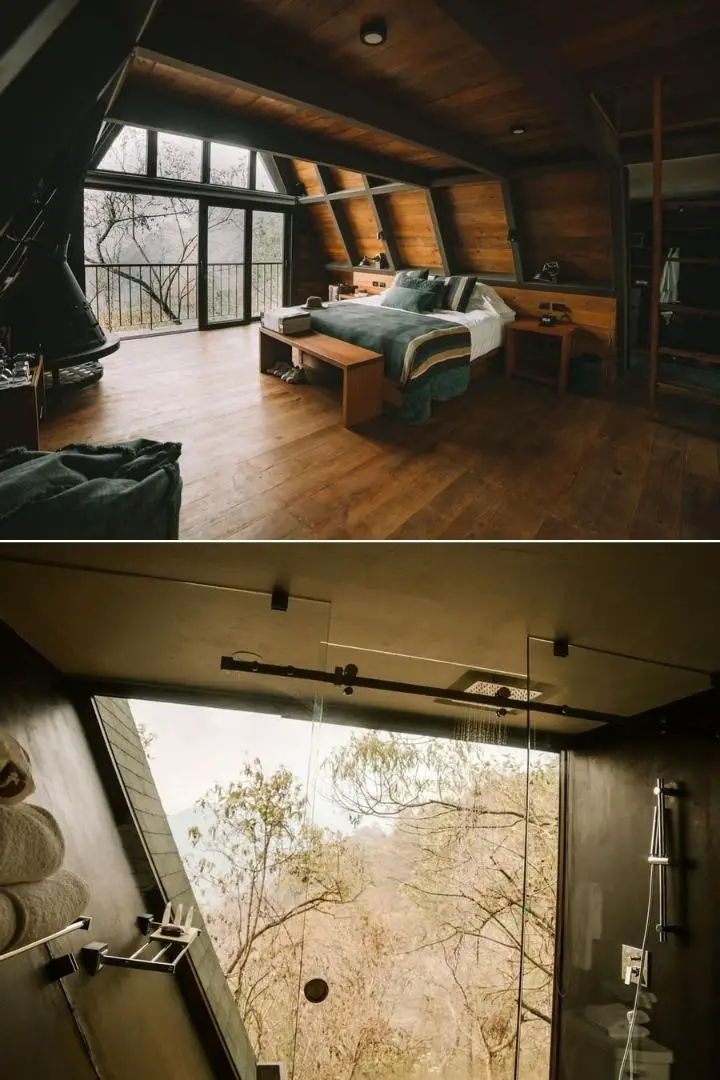 Located in Santo Domingo del Cerro, "Santo Cielo" by Casa Santo Domingo is an exquisite two-bedroom cabin with an en-suite bathroom. Enjoy amazing views from the private deck overhanging pristine nature and wildlife, furnished with sun loungers, a chimney, jacuzzi, outdoor table under a tent for rainy weather, fire pit for roasting smores + hot dogs, and a butler to ensure your stay is comfortable and memorable.
This one-of-a-kind accommodation offers campers an innovative blend of camping style living and modern home comforts.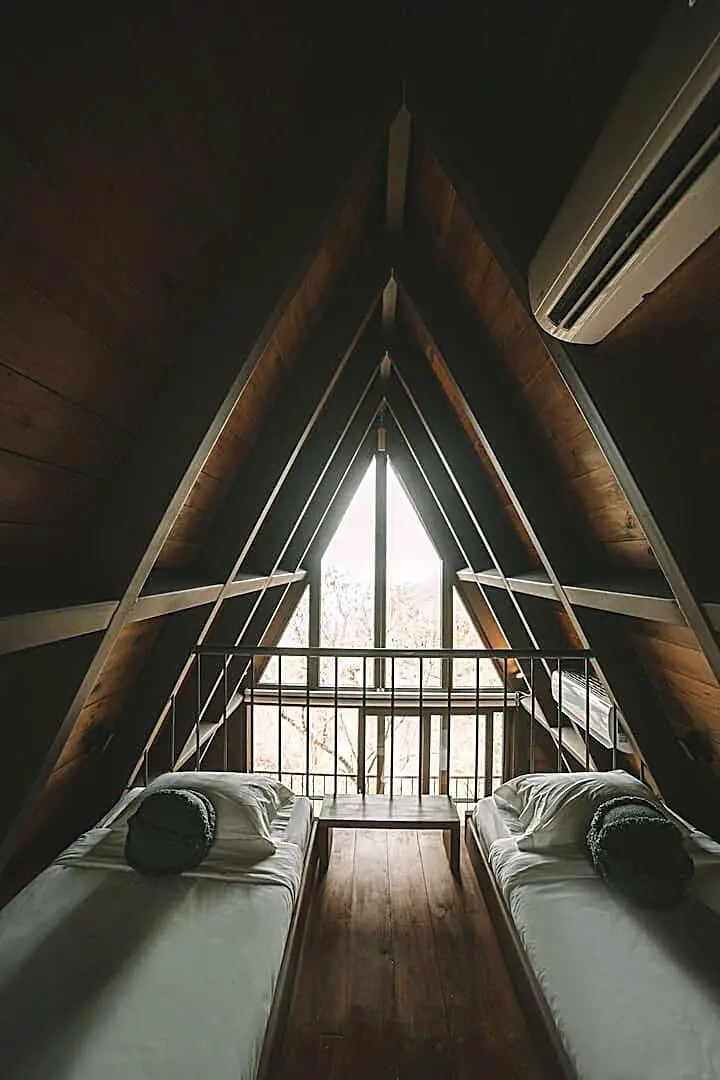 The split-level cabin features two queen beds, mezzanine with two twin beds, en-suite bathroom and luxuries such as ajaccuzi, lounge chairs and stunning panoramic views of the Guatemalan mountain side.
Take in all that nature has to offer by strolling down country trails or admiring incredible sunrises and sunsets; this glamping experience is sure to be nothing short of perfect!
If you're thinking about living in a container home, be sure to check out our huge selection of designs for inspiration. You're sure to find something that suits your needs and taste.
So if you're interested in learning more about shipping container houses, be sure to check out the Living in a Container today! What are your favorite container homes?
Follow Living in a Container on Facebook, Instagram and Pinterest for more stories like this. If you have a story to share, email us at [email protected].