Hey there! Did you hear the news?
The shipping container home market is on the rise! These innovative and eco-friendly homes are becoming increasingly popular as people are looking for more affordable and sustainable housing options.
From tiny homes to multi-container builds, the possibilities are limitless. It's exciting to see the market for these unique homes growing, and it just goes to show that creativity and sustainability are important factors for today's homeowners.
So why not jump on board and see what all the fuss is about? Who knows, you may just find your perfect home in a container, too!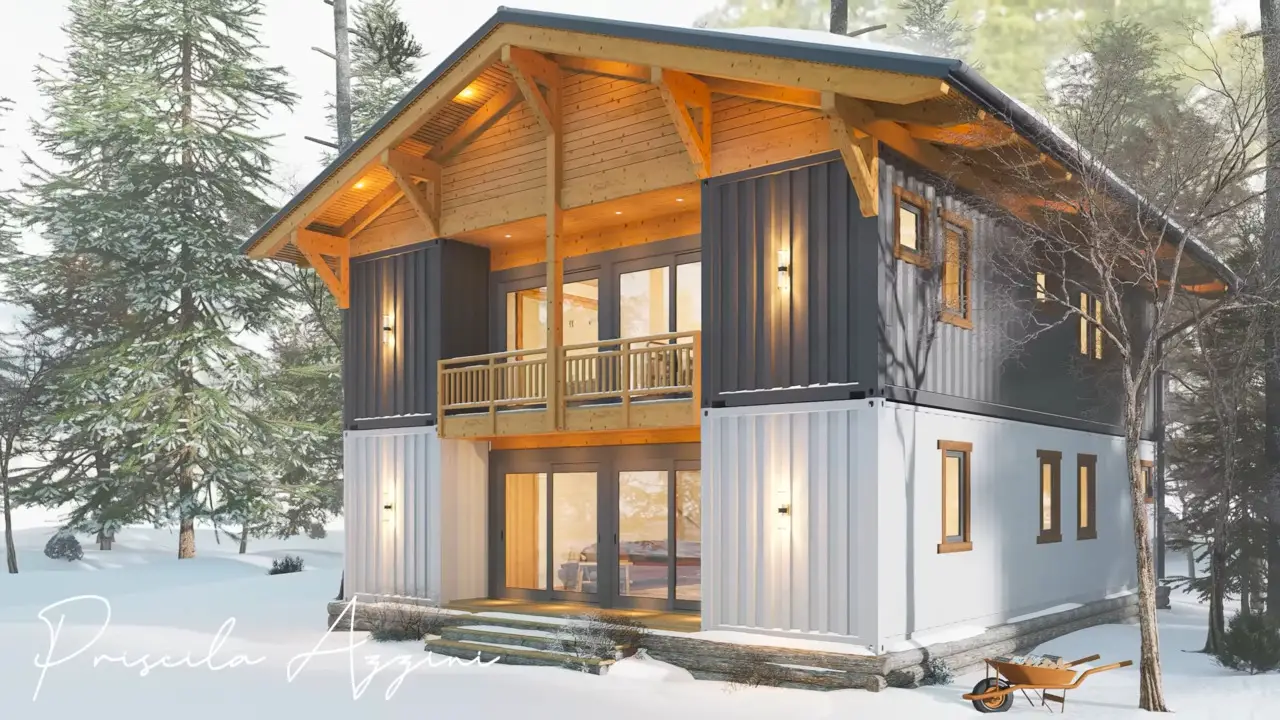 Are you a fan of innovative and awe-inspiring container home design?
If you're looking for some inspiration in the container home design world, you have got to check out the work of Priscila Azzini!
Known as one of the best container house designers of recent times, Azzini's videos on Youtube have attracted millions of viewers.
Her designs are sleek, modern, and functional – proving that shipping containers can be transformed into stunning homes with a little creativity and ingenuity.
From single container builds to multi-level houses, Azzini's work showcases the versatility of this alternative housing option.
Whether you're already a fan or new to the world of container home design, be sure to add Priscila Azzini to your list of must-watch experts in the field.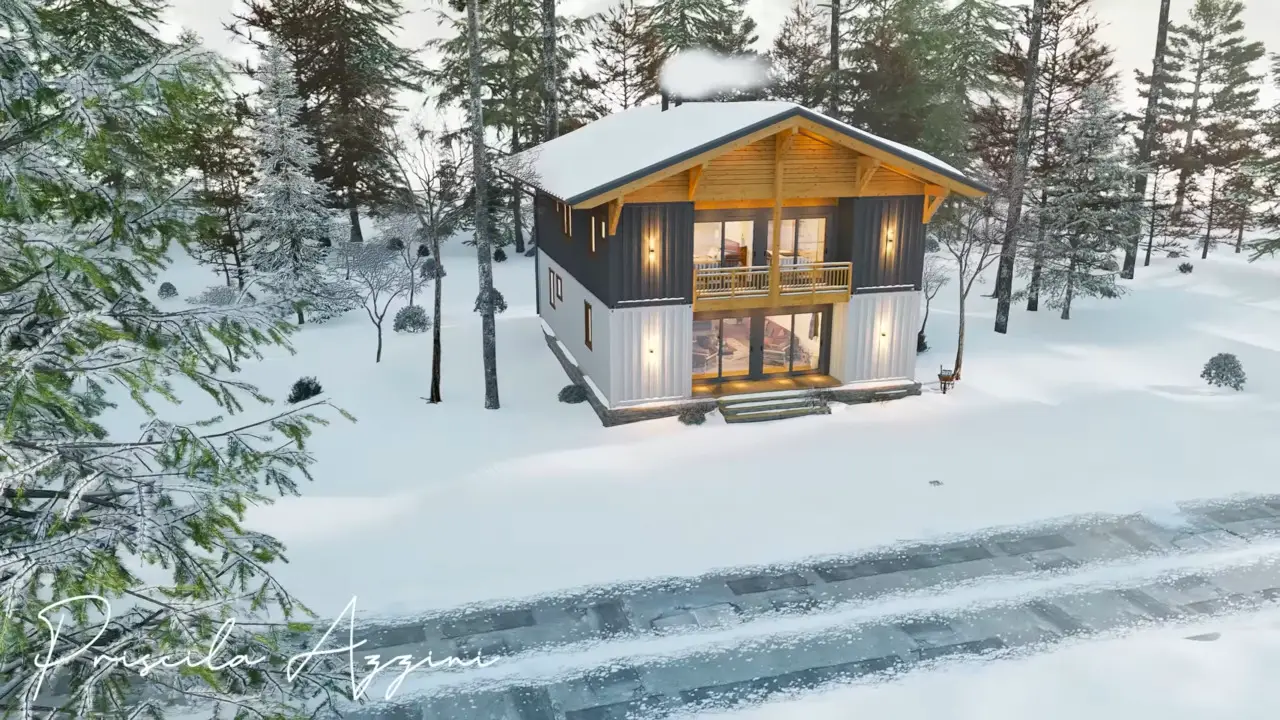 Five Bedrooms Shipping Container Home
Constructed using four 40ft recycled shipping containers, this 2-storey house was designed with comfort and style in mind.
The house boasts five master suites, one of which is conveniently located on the ground floor.
The mountain design of the house provides breathtaking views from every window, and the recycled nature of the building materials makes it both eco-friendly and budget-friendly.
With all the modern amenities you could desire, this container home proves that style and sustainability don't have to be mutually exclusive.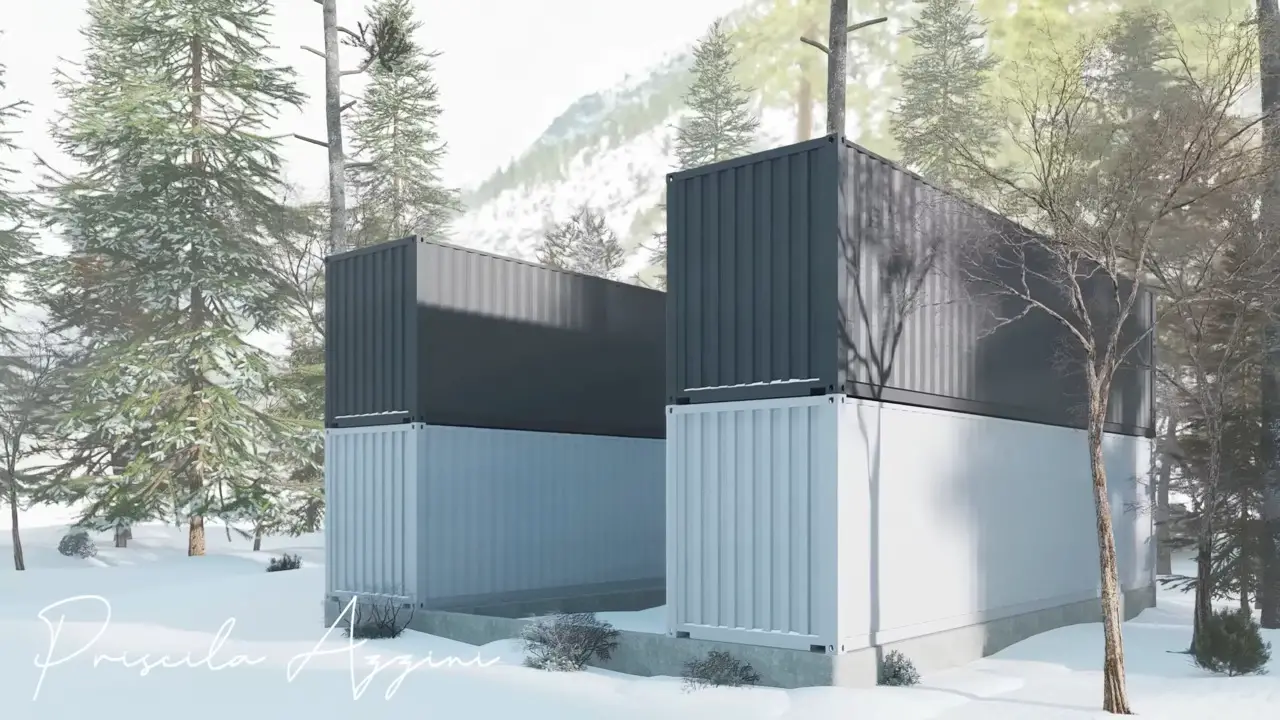 2500 sqft of Living space
Get ready to step inside a container home with endless style and space! This chalet-style house boasts an impressive 2500 sqft of living space, crafted to make every environment feel spacious and comfortable.
Upon entering the home, the open layout of the entrance hall, living room, kitchen, and dining room make it possible to see and interact with the entire space.
The ground floor also features a large master bedroom, office, bathroom, laundry room, and pantry – proving that this container home has all the amenities of a traditional home.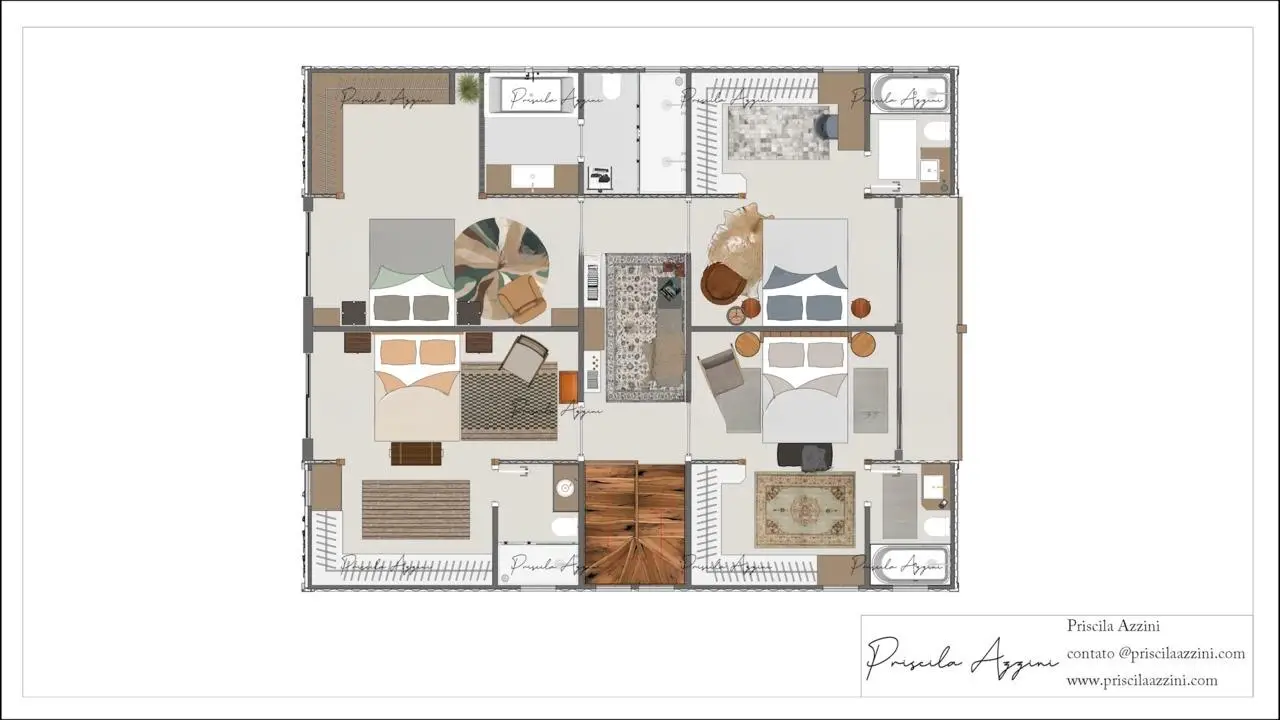 Upstairs, you'll find four master suites and a lounge, each with its own dressing room and bathroom. From its clever use of space to its stunning interior design, this container home is a true work of art.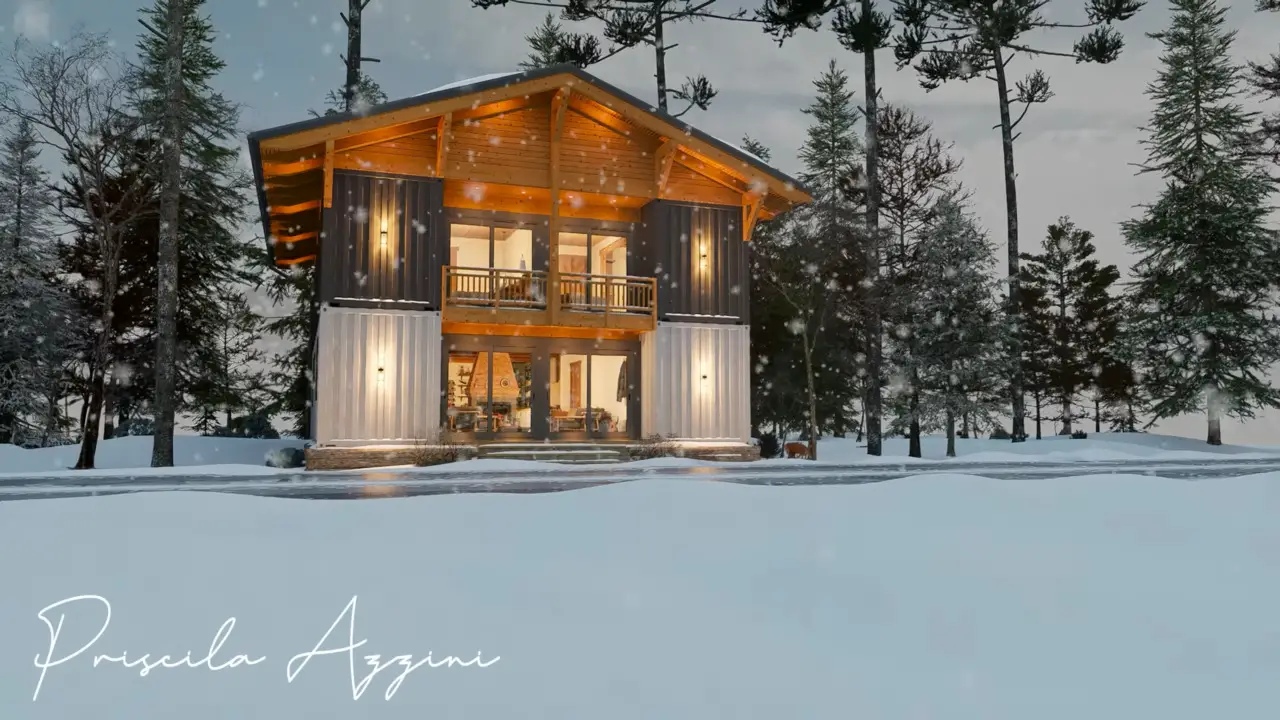 Are you ready to be awed by the exterior design of a container home like never before?
Let me introduce you to a stunning creation that blends the modern air of shipping containers with the classic atmosphere of chalets.
From the moment you set your eyes on this beauty, you'll be mesmerized by the elegant and dreamy appearance.
It's hard not to be impressed with the way Priscila Azzini expertly combined two different styles to create a unique container house that stands out from the rest.
With different colors of shipping containers on the ground and upper floors, the house strikingly showcases its character and charm. Truly an impressive exterior design that makes you stop and take a second glance.
Are you ready to take a tour of a container home that is both spacious and stylish?
Let's step inside and see what makes it so special.
This unique house has been expertly designed to incorporate the space between stacked shipping containers, resulting in an impressively large living area.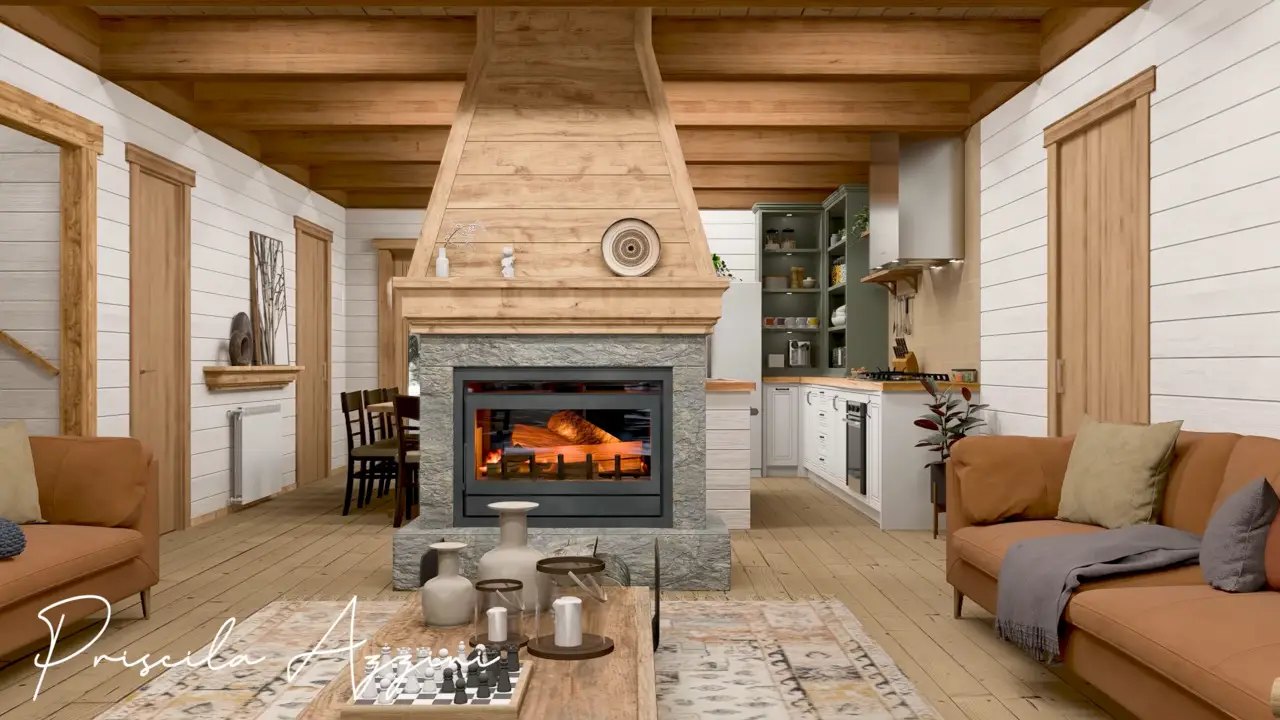 As you walk in, you're welcomed by a roomy living room and kitchen, with a stunning fireplace conveniently dividing the two spaces.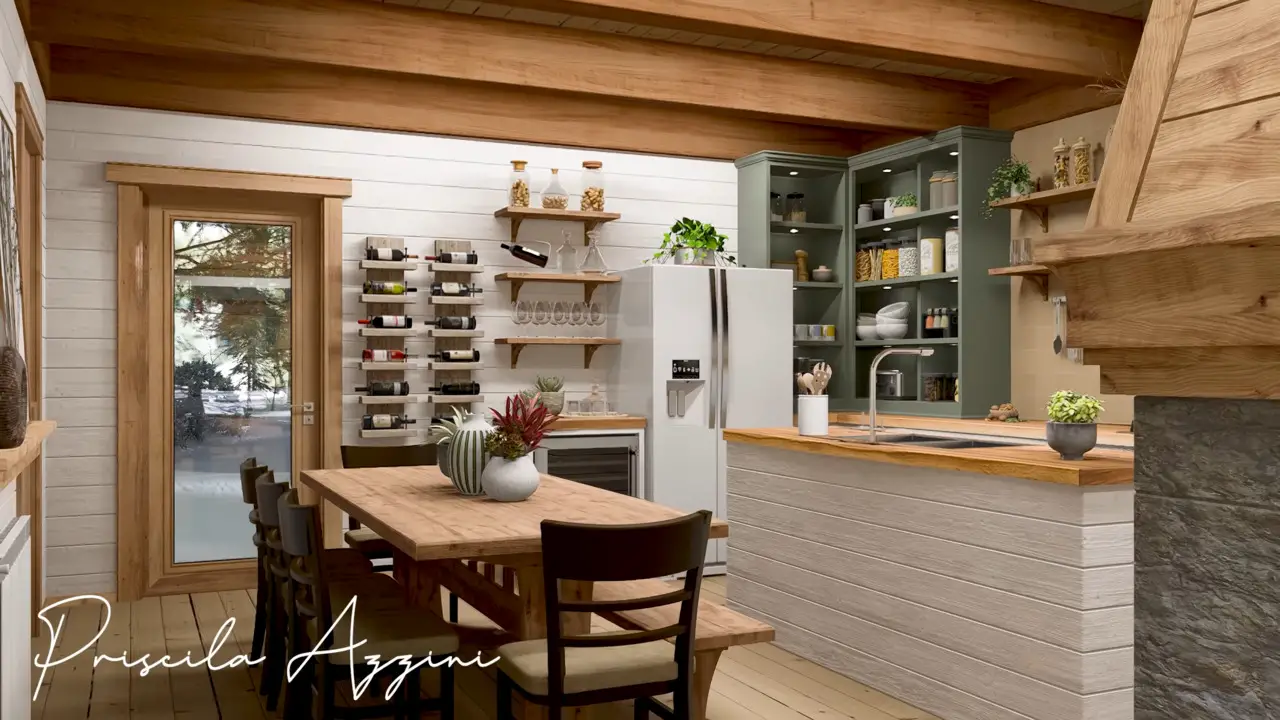 The same color wood has been used throughout the ceilings, doors, furniture, and other wooden details of the container chalet, creating a consistent and elegant design.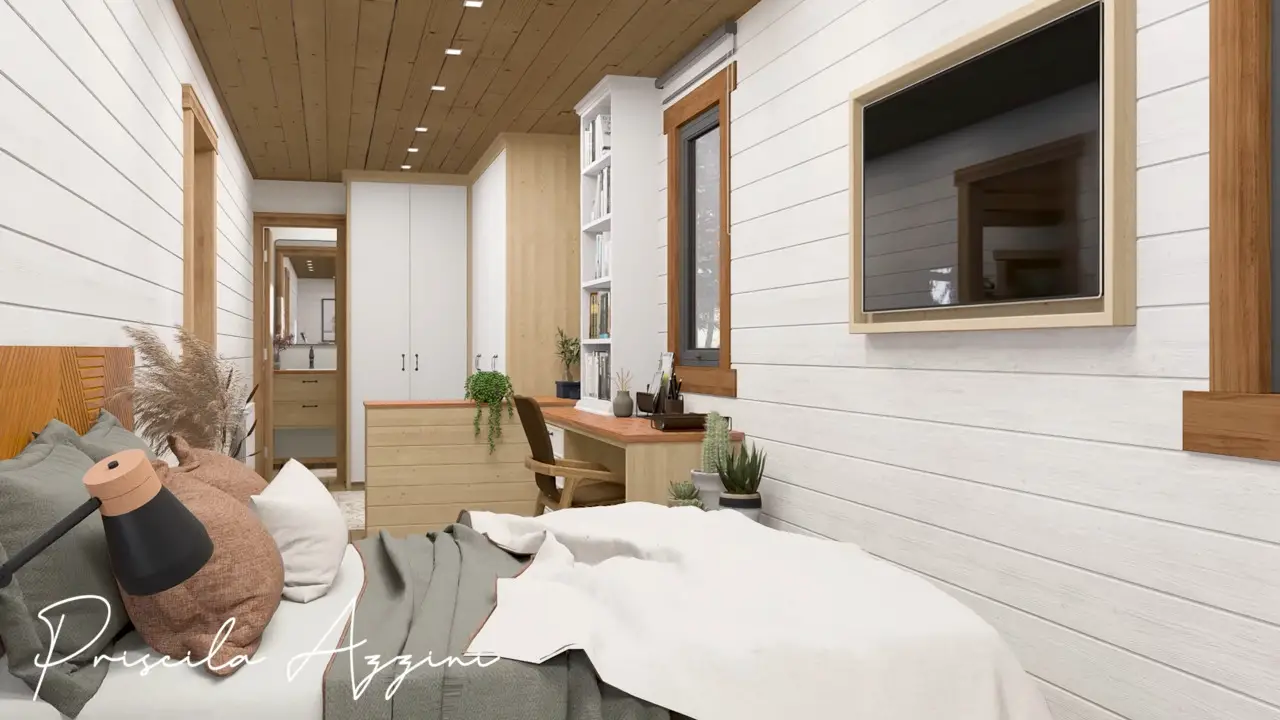 On the ground floor, one shipping container has been exclusively reserved for the master bedroom. Imagine sleeping comfortably in a space that also includes a work area, wardrobes, and a luxurious bathroom!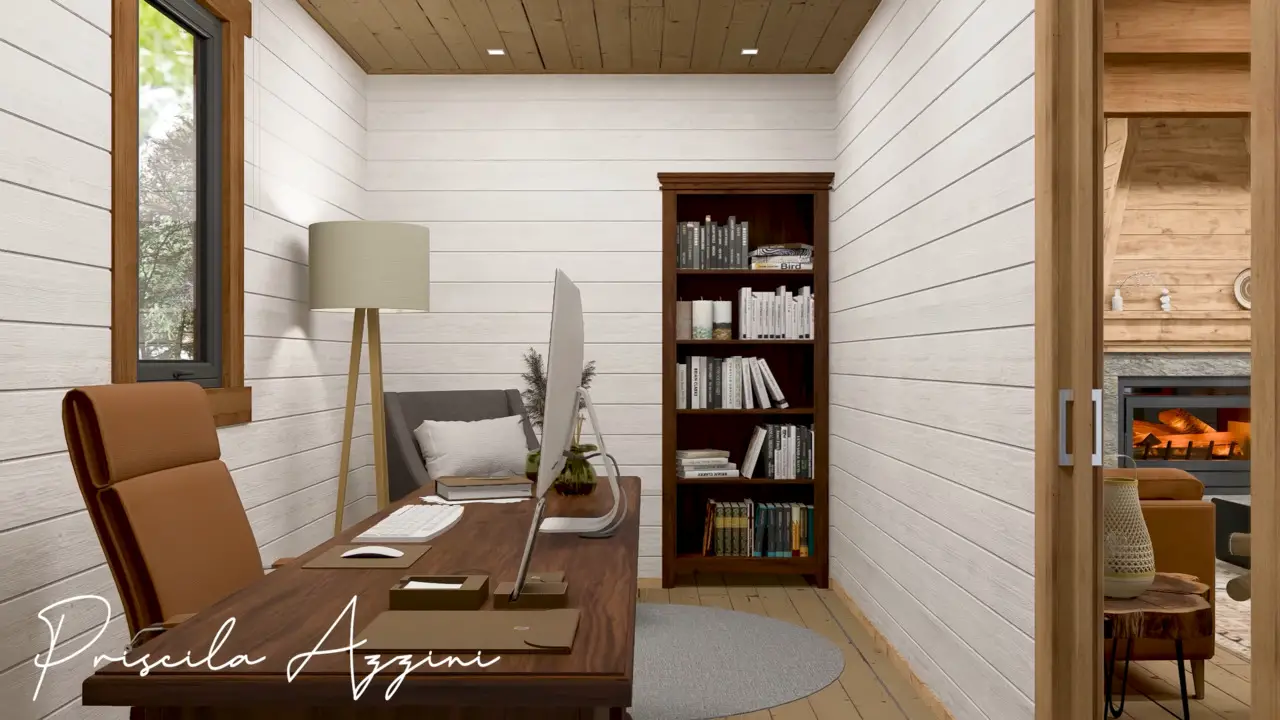 Meanwhile, the other shipping container has been creatively transformed into a versatile office, laundry room, pantry, and bathroom.
It's no wonder container homes continue to surge in popularity with designs like this one.
Ready to see the upper level of this shipping container home?
Let's head upstairs and take a look!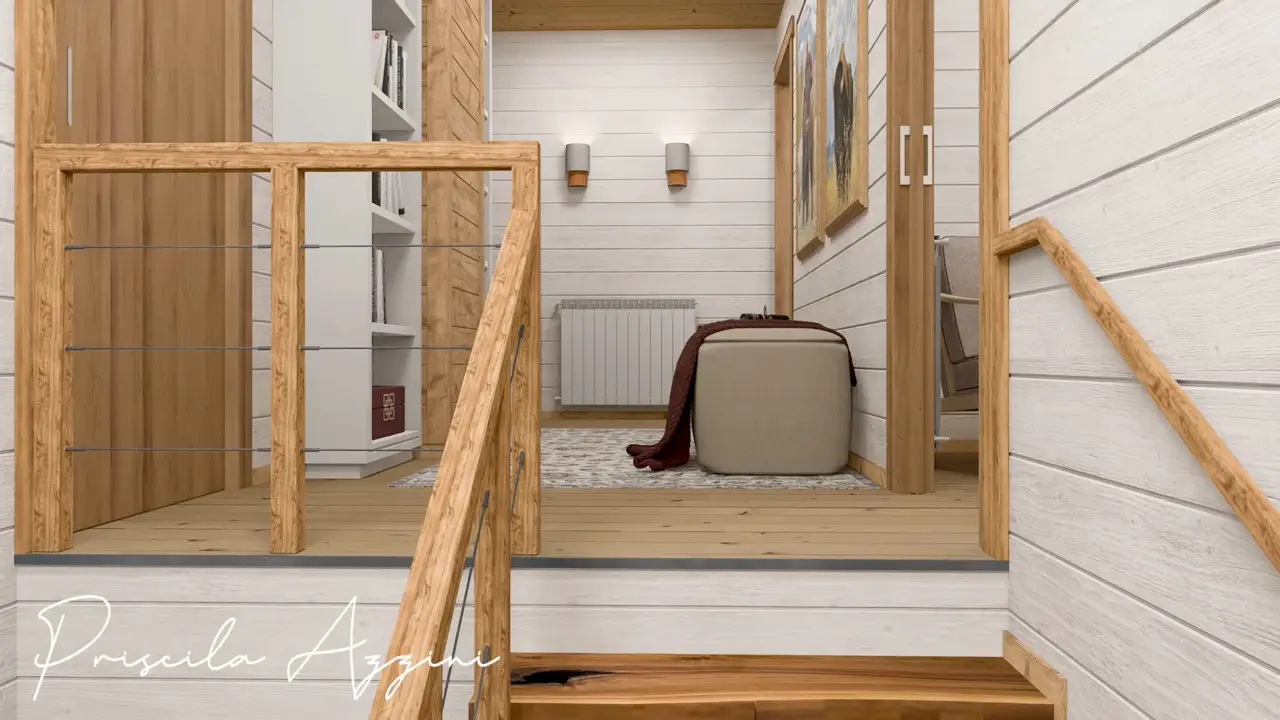 You'll be greeted by a small living room area that's situated at the top of a beautiful wooden staircase.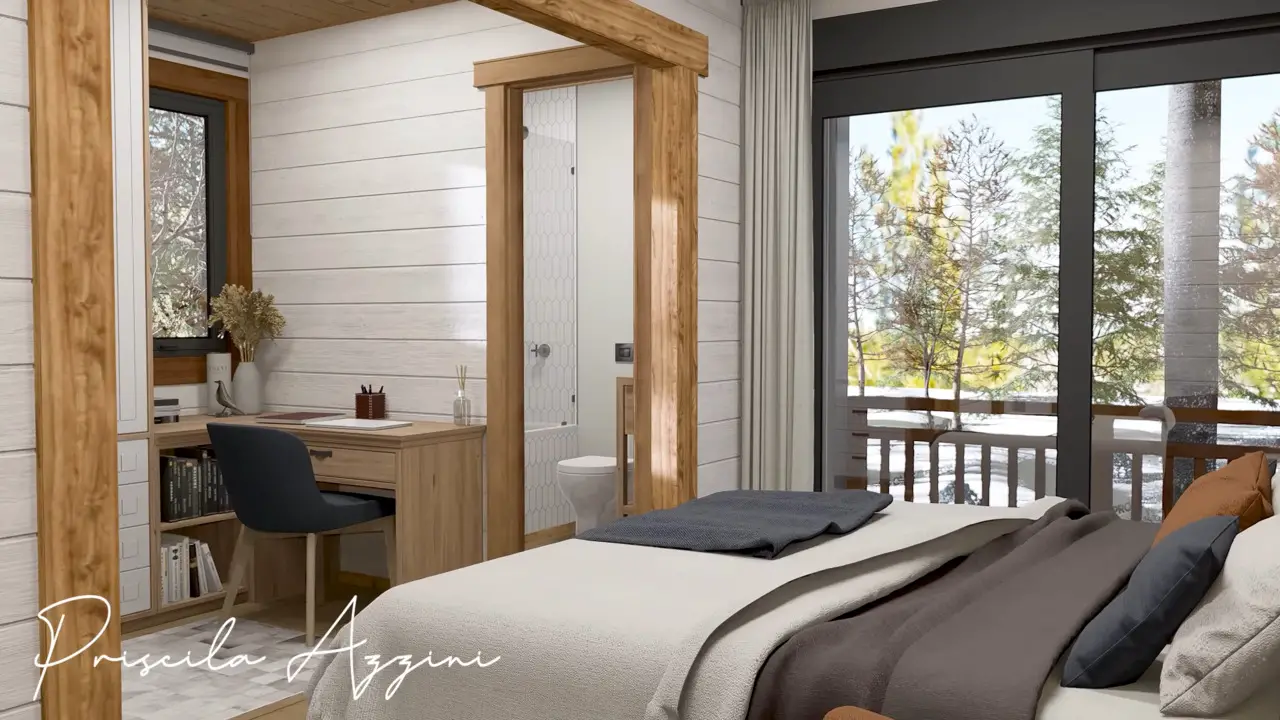 The second floor boasts four luxurious master suite bedrooms, each one stylishly furnished and designed for ultimate comfort.
But that's not all – the two bedrooms at the front of the house also each have their own small balconies, where you can relax and take in the stunning views of the surrounding area.
The attention to detail and the luxurious finishings make this container home a true work of art. So, if you're looking for the perfect blend of style and comfort, this container chalet is an excellent example of what's possible.
The Rise of Container Homes: A Sustainable and Stylish Solution for the Future
After seeing the incredible possibilities that shipping containers have to offer as homes, we've come to appreciate them even more during this pandemic time.
They have proved to be a crucial part of the system for our survival, and recent awareness in the housing sector suggests that they may become even more important in our lives as time goes on.
The creative and cost-effective use of shipping containers for housing solutions is truly impressive, proving that sustainable, affordable, and stylish homes are possible.
We can't wait to see how this container housing movement continues to evolve and make a positive impact on our world.