Are you looking for apartments on rent?
Do you want to shift your family to beautiful flat which should contain all the facilities? Then you are at the accurate place. Today I will tell you about such apartments settled in the section of world.
All the facilities are provided in these flats with additional facility of natural beauties. Luxurious apartments are in need these days. People are in search of such well-designed and well-equipped homes where they can shift immediately.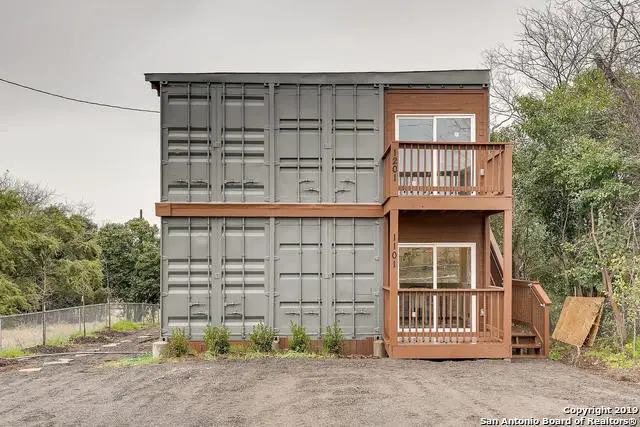 235 Jemison St, San Antonio, TX 78203, Arena District
Let's talk about the details of these luxurious and best constructed flats.
These apartments are made of shipping containers. These containers are 6 in number. The shipping containers are designed at the construction site and then these are settled at the desired place. One can set shipping containers according to his choice and can make a home of his choice at any place. These are the benefits of steel shipping containers homes. Actually, the list is very long. But making a long description short, shipping containers help you to make your dream home in any piece of landscape.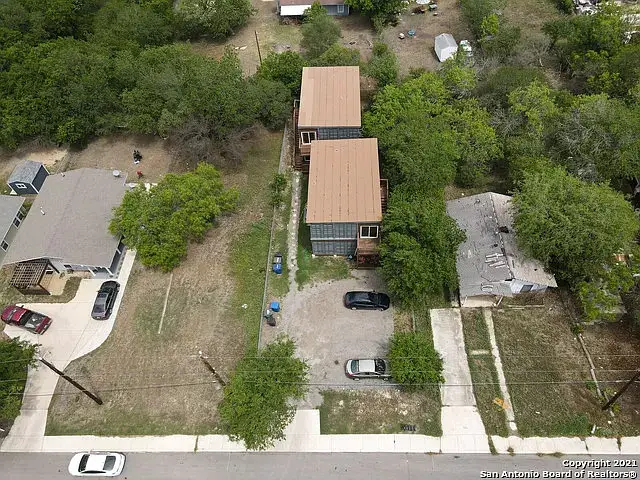 Number of Apartments
The container building consists of 2 blocks with 4 flats inside. These 4 flats are for four families. Basically, this is a quadraplex.
The shipping containers are settled in this way that 3 containers are on the ground floor and three containers are on the upper floor. Each housing unit is built using three 40 foot shipping containers giving a total area of 980 sqft. These all make a rectangle shaped area.
Overall, there are 12 beds, 8 baths, 4 living rooms, 4 kitchens, 4 wooden decks outside in this unit.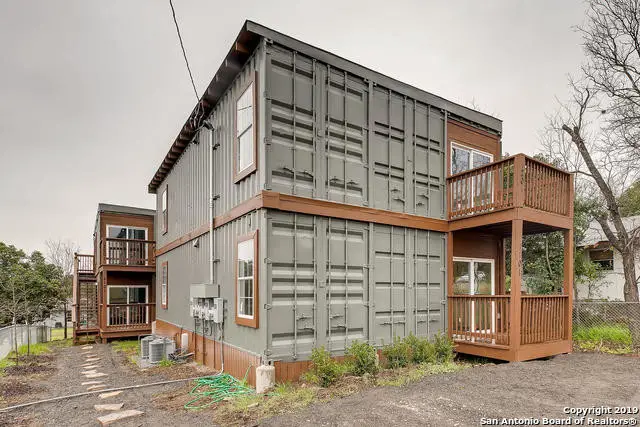 Parts of One Apartment
All flats are designed similarly. So, no need to worry about this that one apartment has more facilities than the other. All flats have same accessories.
If we talk about one flat, then it has following portions:
3 Bedrooms
One bedroom is master bedroom. It has a large sized bed. A closet is also made in the wall for keeping all attire. A glass window is also constructed in the wall.
( Unique Shipping Container Home Building )
Other two bedrooms are also in apartment. These are smaller in size, these also have extra spaces for keeping beds according to the need of the family.
2 Bathrooms
One bathroom is attached to the master bedroom. Two small bedrooms share one attached bathroom. These bathrooms are well supplied with all the things of need. Showering system is available.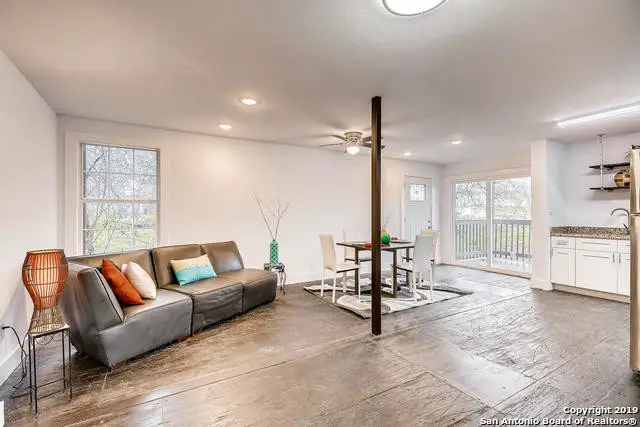 White Painted Living Room
The living room is the important part of a home. This apartment also has a living room which is painted white. A comfortable seating sofa is placed in this room. LED lightings are source of glamor in this room. Electrical fans are also set in ceiling.
Kitchen Setup
Next to living room, a kitchen is located. It has all the facilities such as refrigerator, wooden shelves, stove. All things are in touch.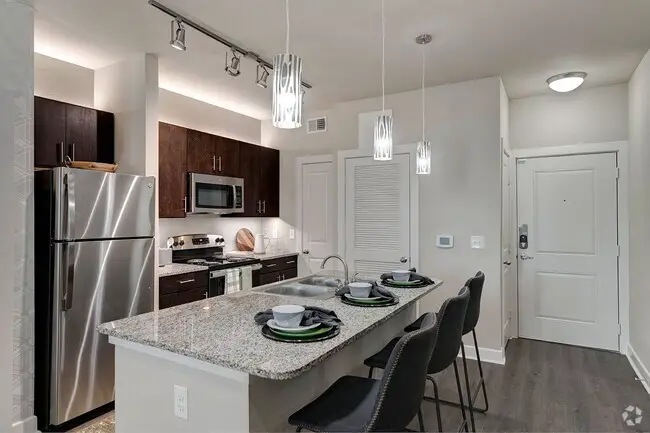 Dining Table
As this is a family apartment, a dining table must be there so that family can enjoy its meal together. Dining table has 4 chairs. It can be increased according to need.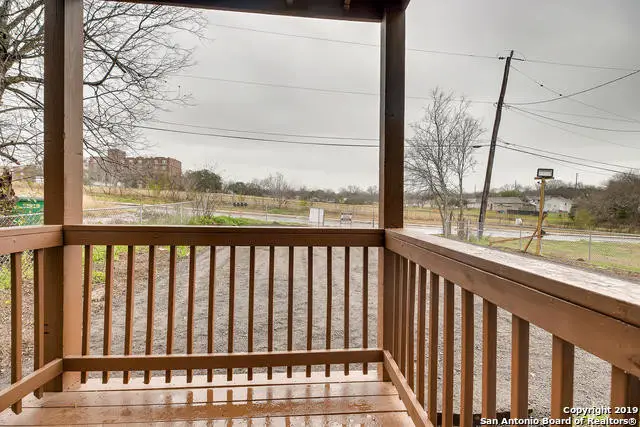 Wooden Deck Outside
To enhance the elegancy of outer look of these apartments, a wooden deck setup is made. One can easily come out from the living room through sliding glass door to this wooden deck. Just stand here by having a cup of tea in your hands in morning or evening and enjoy seasonal changes in atmosphere.
Prerequisites of the Apartment
All means are available here. Electrical voltage sources are good enough. A laundry closet in the living room fulfills the need. A parking area is located outside. The floor is made with wood. Airconditioning system is good enough. Washer and dryer facilities are available.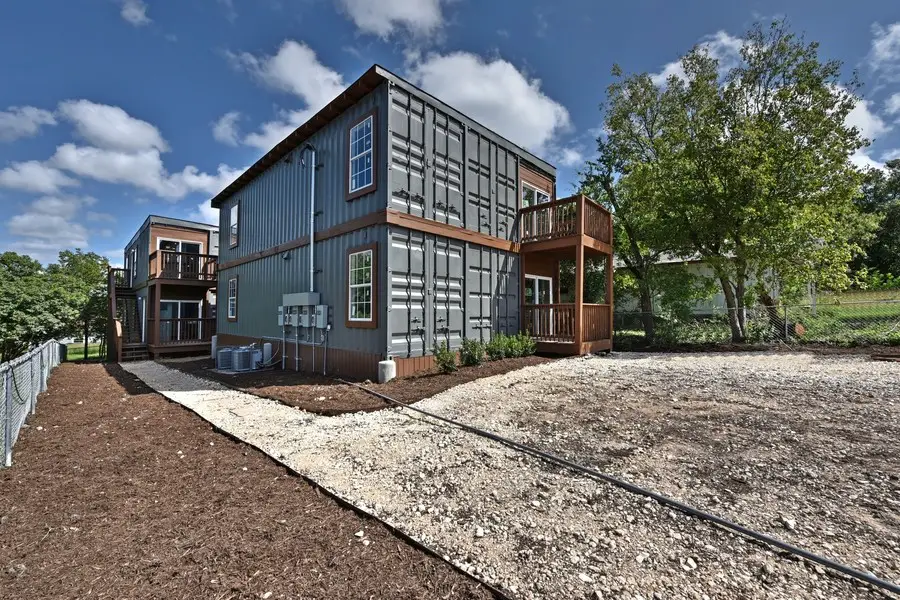 View of the Unit
As these apartments are made by shipping containers, so, steel container color is sustained outside, and wooden deck is painted in wood color. The interior of the home is painted white. Stairs are designed outside the unit to go to upper storey. As mentioned above, all these unique apartments are same in architectural structure.
Nearby Spots to This Location
Hi, are you worrying about the education facilities of your children? Glad to tell you to that take no worries in this matter. All the sites of daily need are at a few minutes' drive from this place. Here I will mention some of these:
( Shipping Container Homes in Texas )
Dorie Miller School for the education facility of your children. Philip's college for teenagers.
Coliseum square shopping center is at the drive of 4 minutes from these apartments. Parks are also a few feet away. Hemis Fair Park is at the drive of 7 minutes.
SAN ANTONIO INTERNATIONAL AIRPORT is at the drive of 17 minutes from 235 Jemison St unit 2101.
If you want to know about the panoramic views around this house, these are beautiful enough to entertain you. As these apartments are surrounded with the green trees.
So, this was all about these luxurious flats. If you want to get anyone, make hurry so that you may not miss the chance of modular living in such decent shipping containers apartment.
If you are interested in structures made with shipping containers, you can find what you want among thousands of container house models. Be aware of the contents by following our Facebook and Pintereset accounts.
BUILD YOUR OWN SHIPPING CONTAINER HOME STEP BY STEP COMPREHENSIVE GUIDE