We continue to discover for you. Our container house on today's tour is from Queensland, Australia.
Shipping containers can be made into various types of houses. According to the owner's request, single-storey or multi-storey houses can be built.
There is no limit to the number of shipping containers to be used in house construction. Since these materials are made of hard steel, you can stack them side by side or on top of each other as much as you want. Totally limited to the design of your imagination.
Shipping containers are boxes made of steel used to transport goods from one place to another. These are reformed and then used in the construction of buildings.
Everyone dreams of living in a stylish house. This dream is fulfilled by shipping containers as they make very stylish, unique and cheaper homes.
Container houses provide an attractive appearance inside as well as outside. Since shipping containers are like boxes, very useful interiors can be created when combined side by side or in different ways.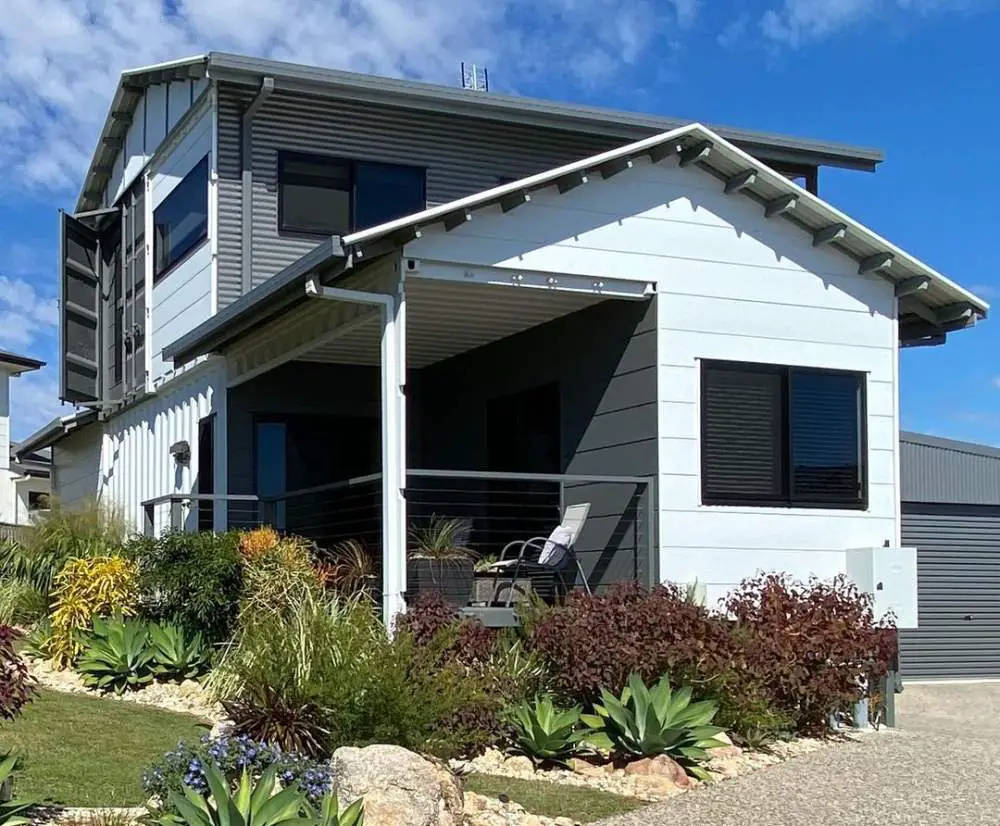 Container house near the beach in Australia.
The house is located near a beach in Australia. This house was built using 2x40ft and 2x20ft shipping containers. Two 40-foot containers are placed side by side at ground level and two 20-foot containers are placed side by side on the upper floor. In this way, a total of 865 Sqft (80.4 m2) seating area was obtained.
For more detailed information about this house, you can contact the owner on the @bush_to_beach_contained instagram account.
 

Bu gönderiyi Instagram'da gör

 
White and gray colors are preferred for the coatings used on the exterior of the container house. The harmony of white and gray is quite nice. The house looks good and very calm above all.
The location of the container house is great for nature lovers. Beach distance is very short. Thus, one can have a great time here to refresh the mood. The environment is nice and the weather is nice.
Let's take a look at the details of the 2-storey container house:
⦁ 2 bedrooms
⦁ 2 bathrooms
⦁ Kitchen
⦁ living room
⦁ Office space
⦁ Laundry room
⦁ Terrace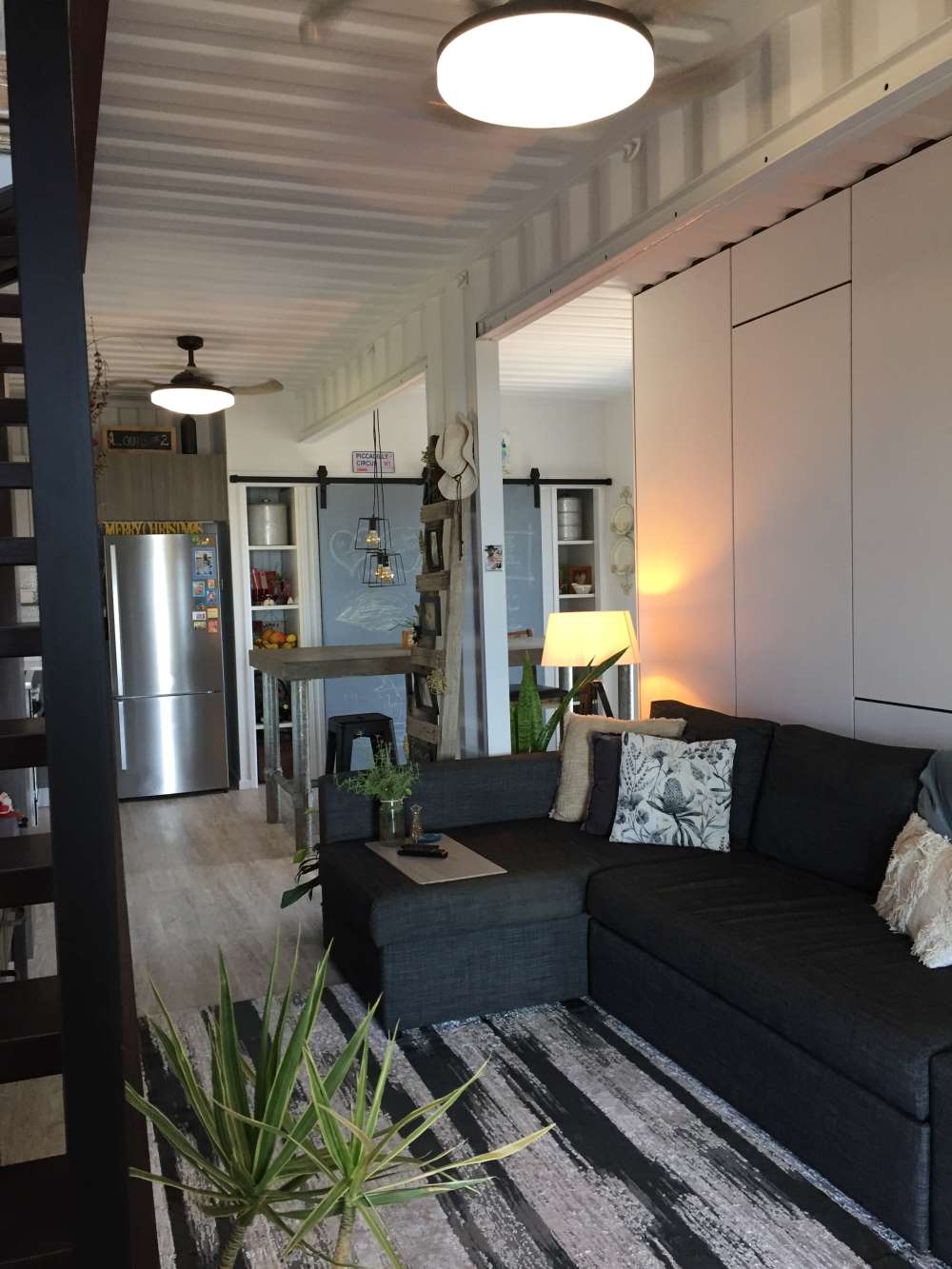 The ground floor of the container house.
In the interior of the ground floor, there is a large living room and an open space used as an L-shaped kitchen. Other areas at ground level are the bathroom, laundry and guest bedroom.
The rest of the space on this level contains the bathroom, laundry area and guest bedroom.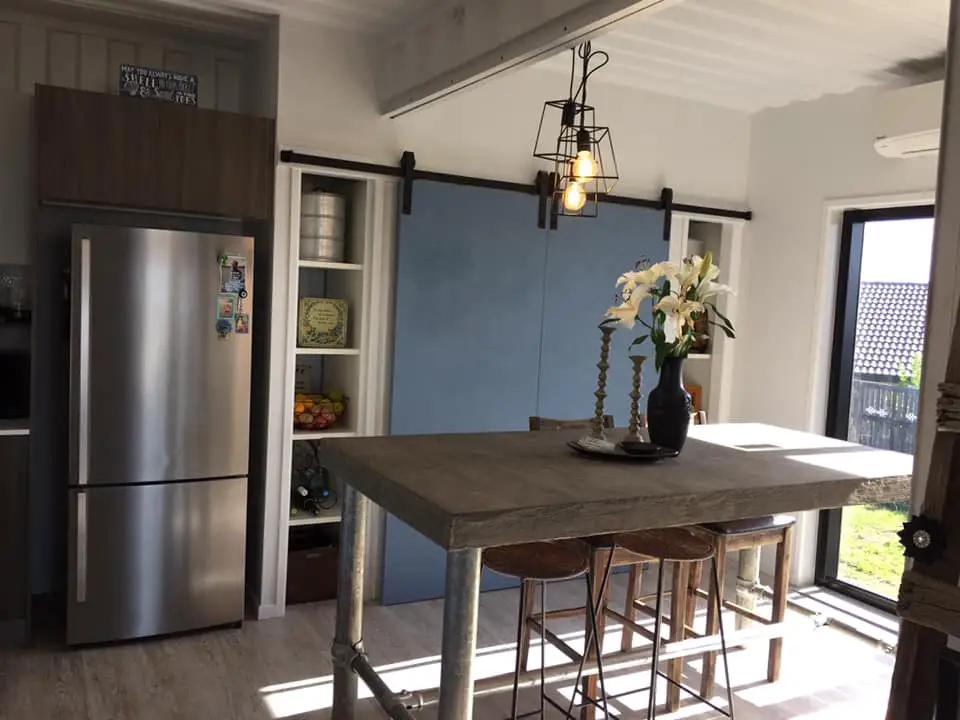 There is a dining table with four chairs. The table is placed on the side floor next to the sliding glass windows and wooden chairs are placed around the table.
There is a separate large sofa along the white painted wall. This sofa is for one person and it is in front of a glass window. This is also a kind of sitting place.
There is also a laundry area. It has a washing machine along with a dryer.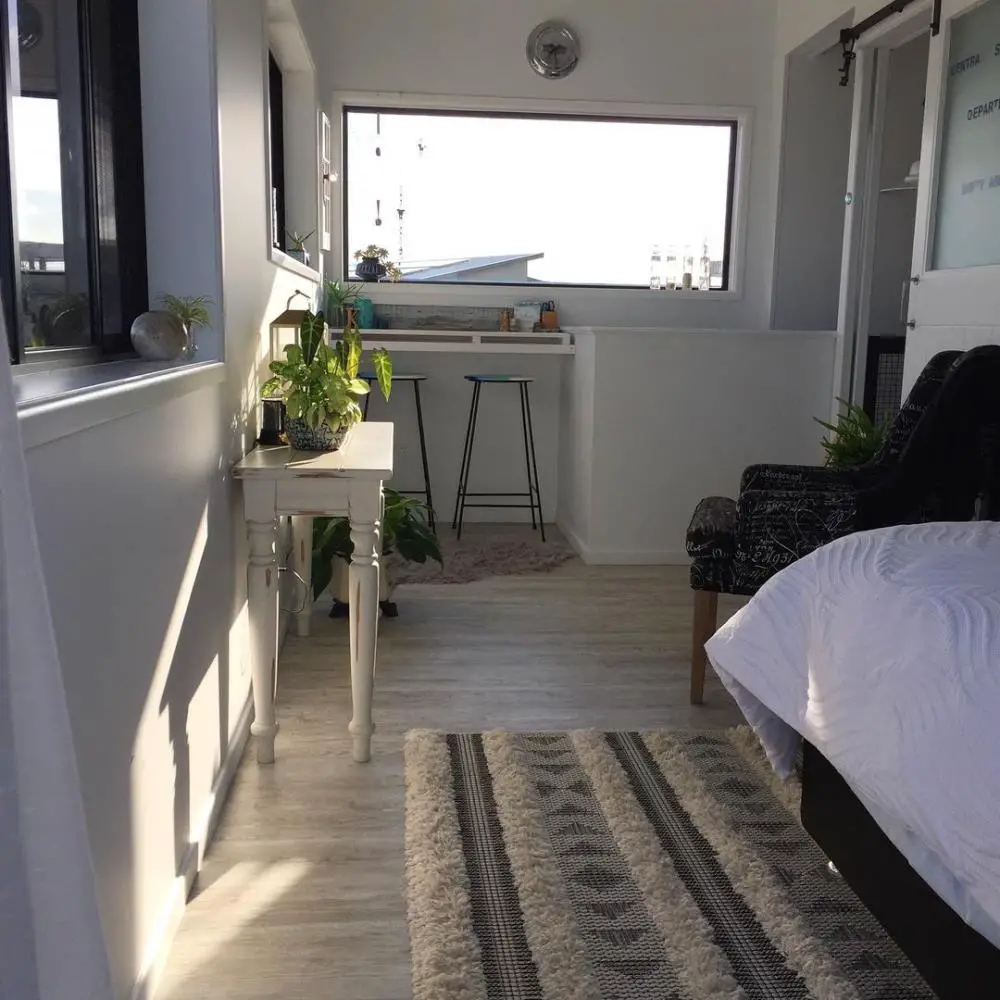 Bedroom and bathroom.
The bedroom is in a corner. The bed is set along the glass made window and has many participants.
Upstairs there is a bedroom with a terrace.
On the way up, there is a small office like living area. This is a small box-shaped area. Next comes the master bedroom.
This bedroom has a king size bed. The closet is in the room. There is a sliding window to the terrace. The bathroom is also upstairs.
The terrace looks small but cute. This one has gray railings all over it. The terrace has a canopy and two sitting chairs are placed there. Sitting in these chairs with a book and tea in the rainy season is an ice experience near the beach.
We will come soon with the next living space. If you are interested in building a steel shipping container house, stay connected for thousands of container house inspirations.