The trend of structures made with shipping containers continues to increase. It is now possible to see structures made using containers in almost every country in the world.
We share the best container house projects to inspire you.
The container house we're going to show you today is located in Taiwan. This house was built on the ruins of an old brick house. The house was replaced by this new container house, or rather, the old building and the modern container building were blended. A large part of the house has been preserved so that the memories of the old house on the land are not lost.
When you take a look at the house from afar, it's nice to see the modernity rising from the bottom up.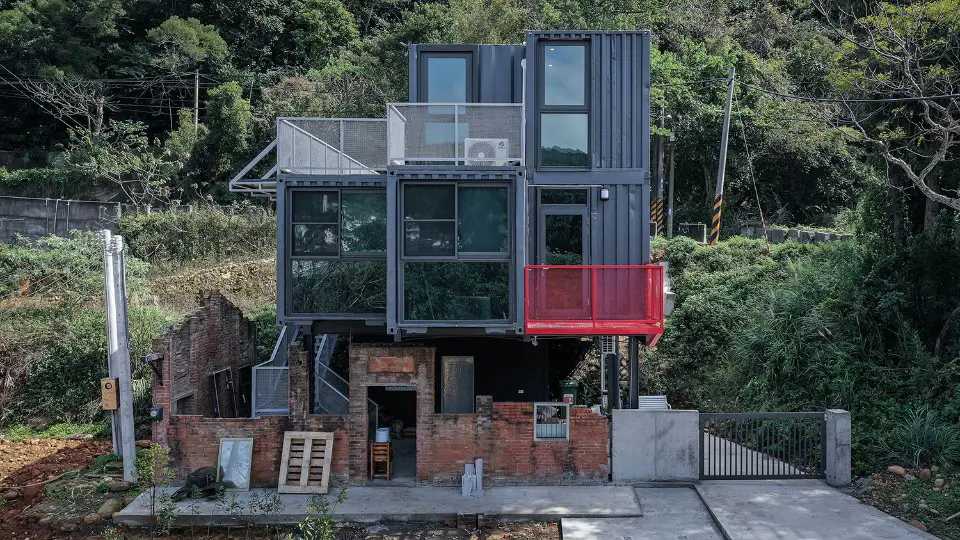 Container house in Taiwan.
This house was built using 5 (4x40ft and 1x20ft) shipping containers. The house has 3 floors.
In order to preserve the old structure on the ground floor, an open plan was implemented and steel poles were placed to carry the containers on the upper floors.
After the brick ruins, it became possible to see the landscape in the house, which was raised 2 more floors.
On the 1st floor, 3 40-foot containers were used, and on the 2nd floor, 1 40-foot and 1 20-foot shipping container were used.
The owner's needs are pretty simple, with a living room, a kitchen, four bedrooms, two bathrooms and storage space for farming and a cleaning area. However, it was impossible to achieve such a goal according to the established budget. Therefore, to meet the demand, the construction firm chose to use shipping containers.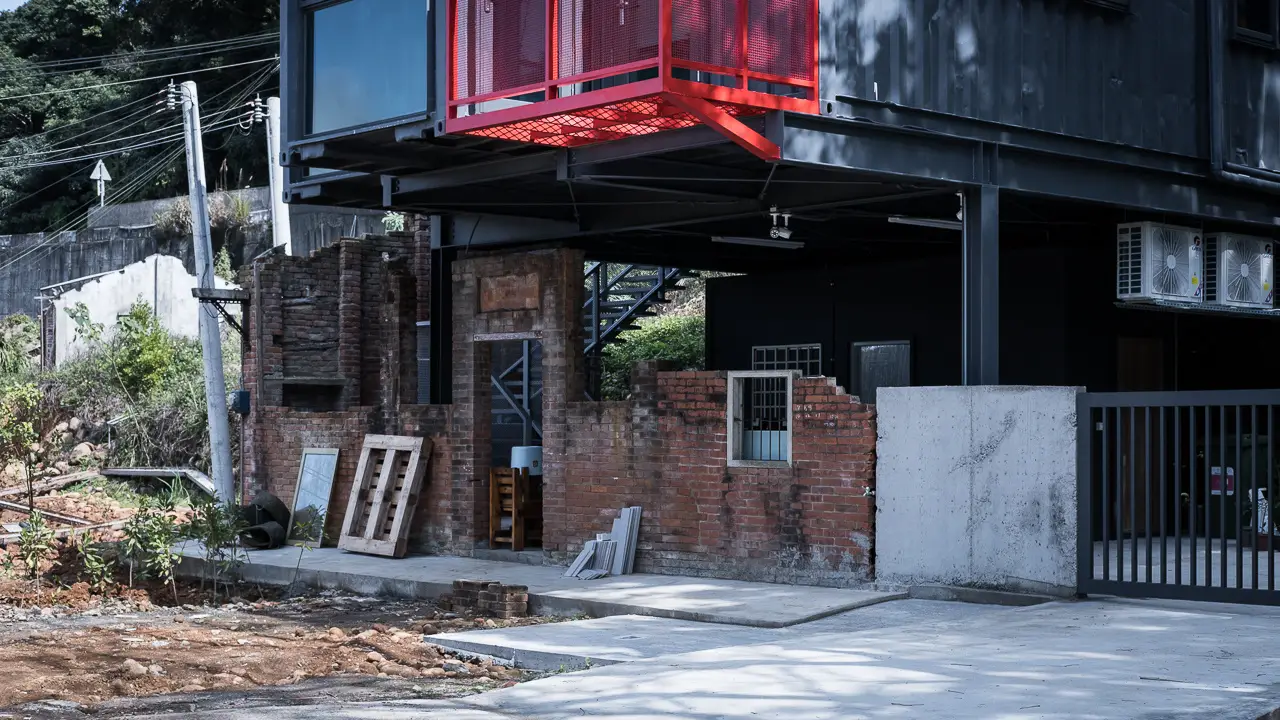 The ground floor is openly designed. A 20-foot shipping container is placed here for devices that shouldn't be exposed. In this part of the house, there is the laundry area, storage areas and work area.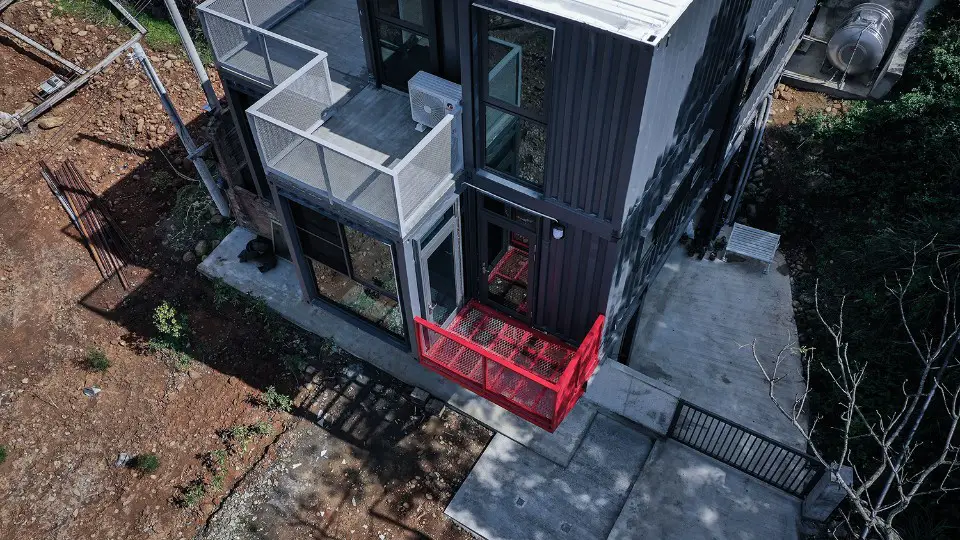 A large window area in the first floor living room area allows sunlight to fill the main living area and provides a small balcony for smoking.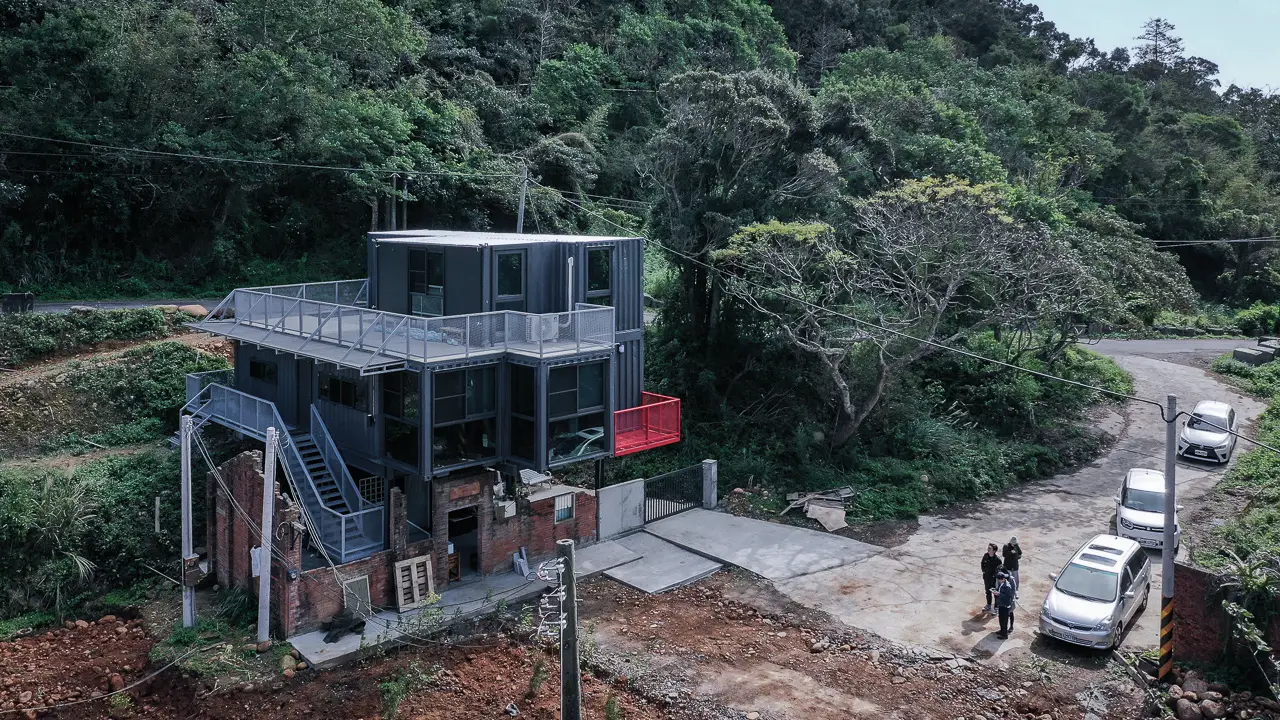 There are two rooms on the second floor and a large terrace provides outdoor activity space. These areas are designed to see outside or view nature directly from the bedroom. For this reason, glass windows are designed as sliding and easily movable.
Project Details
Job Name: Floating House
Construction Area: Miaoli / TAIWAN
Owner: Mr. Zeng

Architectural

Office: Qicheng Construction
Designer: Yu Qiyou
Participants: Xie Youlin, Chen Xinyou
Floor area: 1239 ㎡
Construction area: 120 ㎡
Total building floor area: 135 ㎡
Project date: 2019

Photo Credit

Image provided by: Qicheng Architecture
Photo: Manka Huang
Containers do every design of the building. They build modern and simple houses. These houses are designed according to the preference of the person. A person who will make a home for his family should be worried about this.
If he is designing a house in a place where material cannot be easily moved, it is clear that he will be concerned about it. It will show concern about how the material will be transported in such a place.
This world has a solution for every problem. There is a solution for this kind of problem as well. This is solved by using shipping containers in the construction of houses. These containers are easily transported to such places. These are designed on a site and then transferred from that site to the site where the house will be built.
These houses become beautiful and attractive after the use of shipping containers. These are actually unique houses with a stylish structure according to the demand of this modern age.
INTERESTED IN MORE CONTAINER HOUSE PLANS?
Life Uncontained Shipping Container Home