Hi everybody ?
We continue to discover for you. Our container house on today's tour is from China.
The project is located in Longshan Village, Huzhou City, Zhejiang Province. This resort is located in a small town in the south. Although the town has a small population, it is a very popular resort. 
In order to meet the requirements of the social environment and young hobbies, the operators of this resort have developed a plan to create a sustainable holiday home without any impact on existing trees and vegetation.
Nestled at the foot of a mountain, these homestays are hidden in the mountains and have natural natural barriers and views of the surroundings.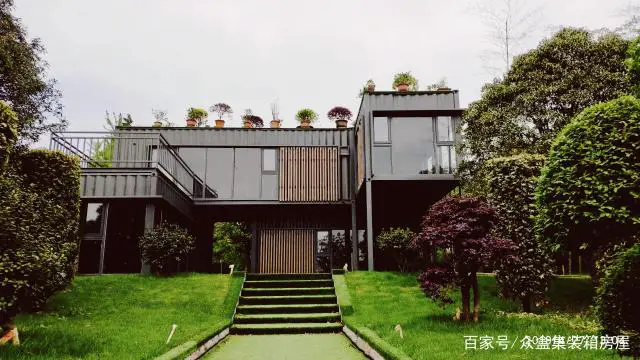 Understanding the venue is the beginning of design. The ancient Chinese called it "phase." There are dense plants in the back hills, and there are more than ten meters of open space between the buildings and the roads. There are a lot of trees in the fields. A row of trees at the entrance to the building adds a sense of sequence to the roof, turf carpets on the roof and platform, and local plants to provide additional insulation during the winter months. The visual impact of these vacation homes on the surrounding environment and surrounding roads has been reduced to a minimum.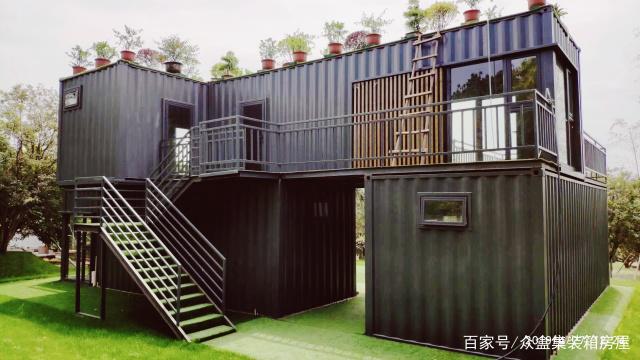 Space combing: Container house construction is more flexible than traditional buildings in the village. The layout of the space is in line with the young people's favorite pattern. The architect finally decided to build these holiday houses with 9-meter containers. The design drawings came out very quickly. After two months of renovation, construction and renovation, these container houses were completed.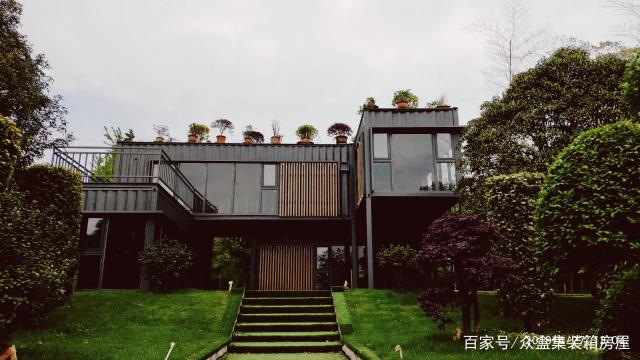 From the perspective of the operation of the hotel, the spatial layout and streamline are planned. It is divided into four separate hotel suites. Each suite has a large bed and an extra bed, which can meet the functional positioning of the "family home".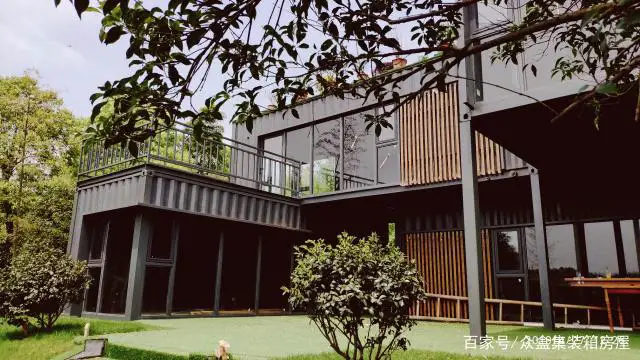 The overall space material is based on industrial style and wood elements to create a warm, simple and belonging holiday space.
At the entrance, a two-story box is used to create a gray space, which makes the rooms on the first floor not only more quiet and private, but also creates tension and texture in the space.
The south facade has large windows and glass doors that allow you to see the surrounding scenery without interruption. The area with a view deck also provides a place for holidaymakers to relax outdoors.
Living in a Container explores projects made with shipping containers around the world and shares them for you.
Don't forget to take a look at the structures made with other amazing shipping containers on our site!
We invite you to send in your story and container homes photos too so we can re-share and inspire others towards a simple life too. Thank you!
You can share this using the link and social media re-share buttons below. Thanks!
» Follow Living in a Container on Social Media for regular shipping container house updates here «