Have you ever dreamed of building your own house like a giant Lego set? Priscila Azzini took this idea to the next level with her stunning container house models. These great-looking artifacts are not only eye-catching but also eco-friendly and sustainable.
With millions of views on YouTube, Priscila's designs have captured the imagination of people around the world seeking innovative housing solutions. Let's take a closer look at one of these incredible projects and see what makes it so special.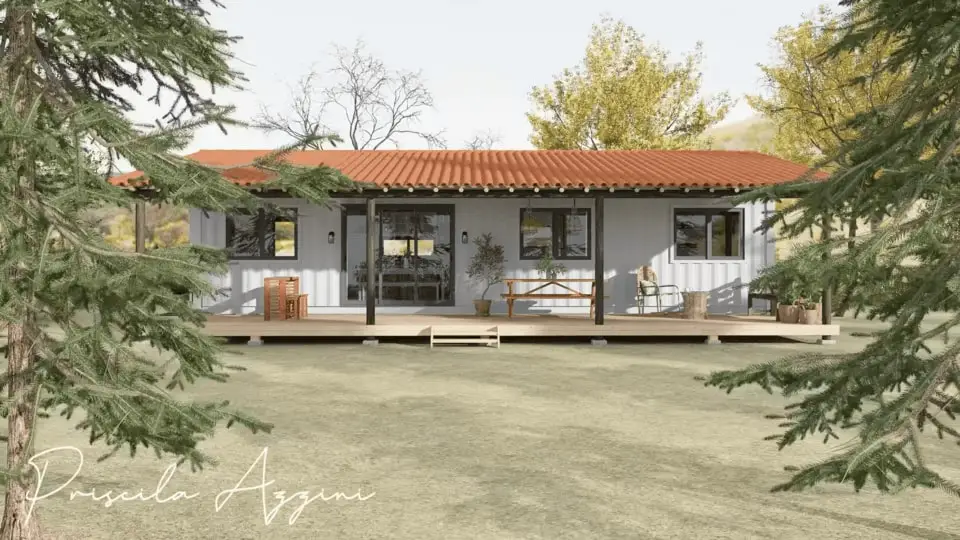 This shipping container house design has over 13 million views on YouTube.
The project utilizes two 40ft shipping containers, which have been repurposed to create a unique and functional living space.
By using these containers as the building blocks for her design, Priscila has created a home that is not only stylish but also environmentally friendly.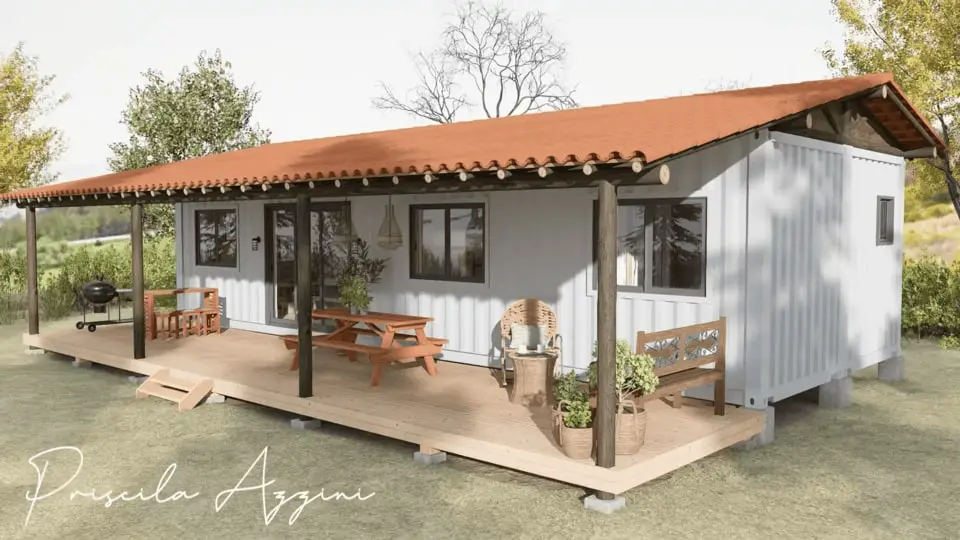 Container House Exterior Design
The container house boasts a spacious patio that spans the length of the container, providing ample outdoor living space.
One of the standout design elements of this shipping container home is its roof, which gives it a classic, traditional look.
Another unique feature of the home are the sliding windows and door that open up to the patio, allowing for seamless indoor-outdoor living and creating a bright and airy atmosphere inside.
These design details seem to be proof of why this container house design has been viewed more than 13 million times.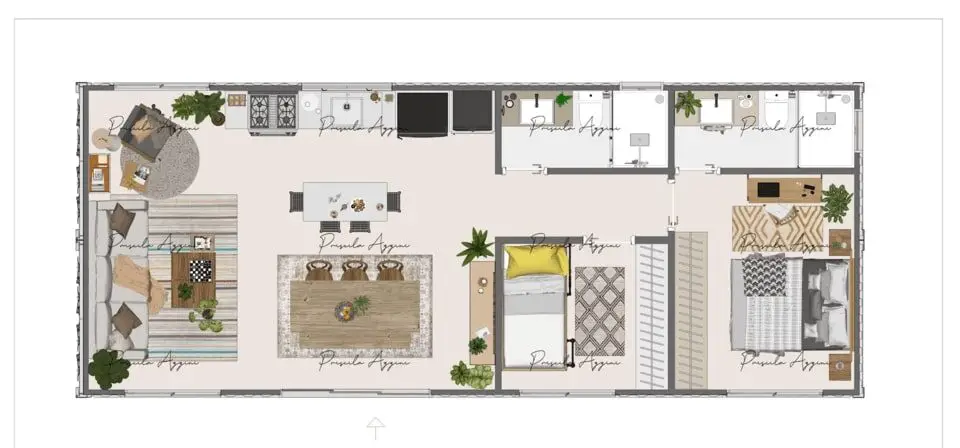 Shipping Container Home Plan
The plan of the container house is both practical and luxurious. Made up of two 40ft shipping containers, this home has been designed with a focus on creating a spacious and comfortable living space.
Two bedrooms and two bathrooms, it's perfect for those who crave privacy and relaxation. The large open plan living area is the heart of the home, providing ample room for cooking, dining, and entertaining guests.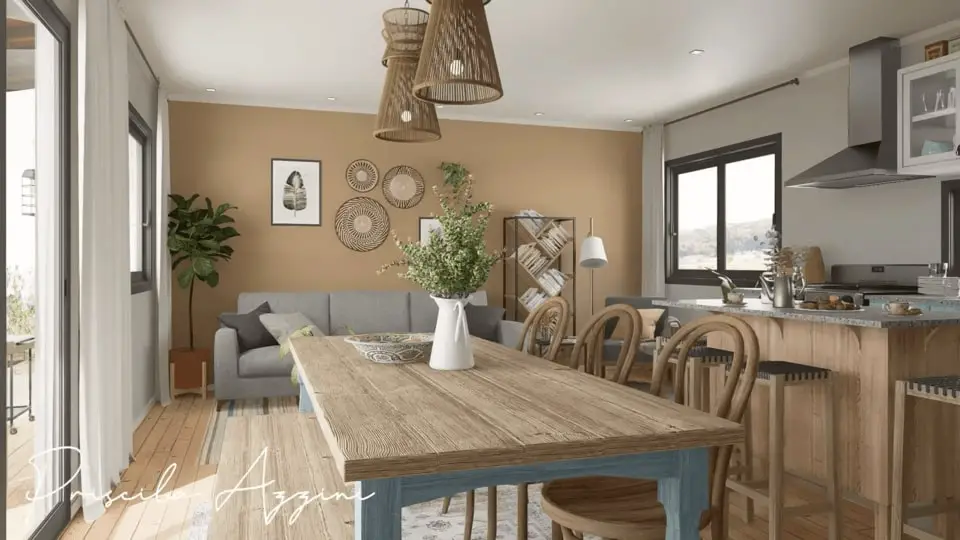 In the living area, there are plenty of options for relaxing and socializing.
Large armchair provides a cozy spot to curl up with a book or watch TV. The dining table offers plenty of seating for family dinners or game nights with friends.
And for those who prefer something more casual, there's even a kitchen island that can be used as an alternative to the dining table.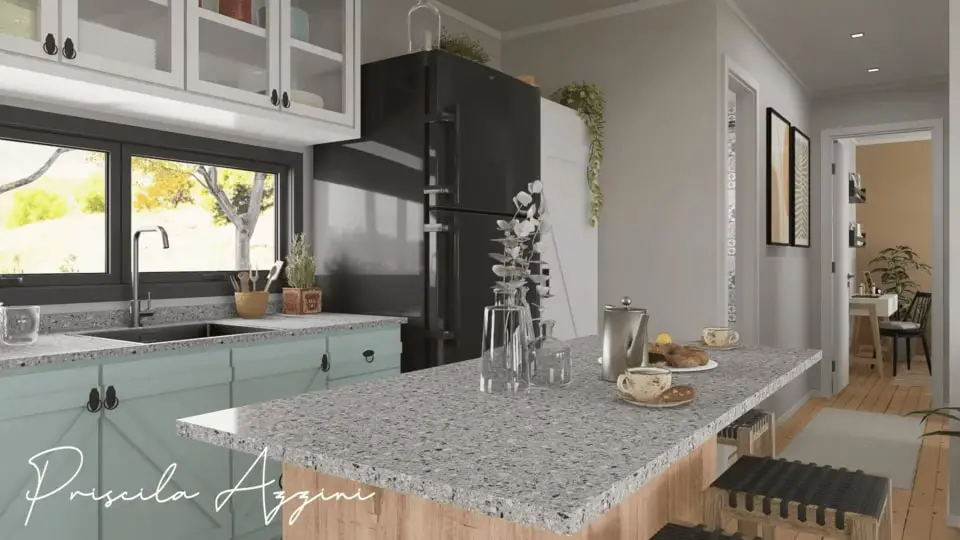 All in all, this container house has been thoughtfully designed to provide both comfort and convenience, making it an ideal choice for anyone looking for a modern yet practical living space.
2 Bedroom Shipping Container House
The box house is a perfect example of how creativity and innovation can transform something as simple as shipping containers into a stylish and functional home.
The container house has been designed with two bedrooms, each catering to a different need.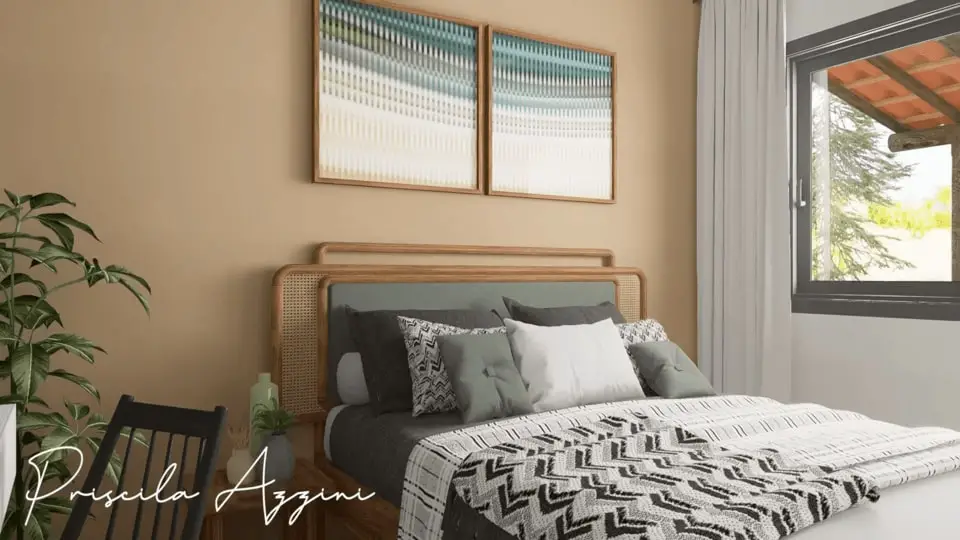 The master bedroom is spacious, featuring a queen-size bed, desk and wardrobe. The en-suite bathroom adds an extra touch of luxury and convenience to the room, making it the perfect retreat after a long day.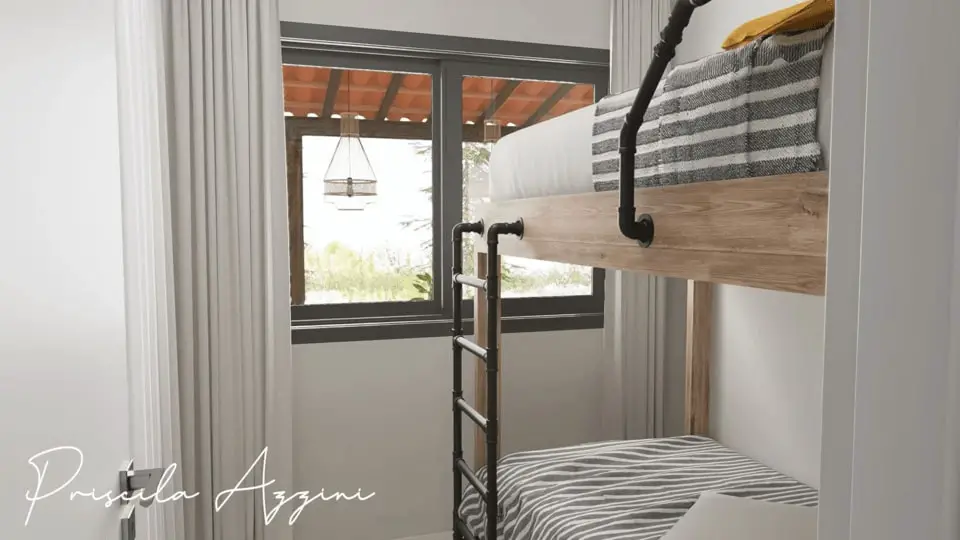 The second bedroom is smaller but no less comfortable. It features a wardrobe and bunk bed, providing ample storage space for clothes and other items.
This bedroom would be ideal for a child or guest who needs their own private space within the home.
Overall, both bedrooms have been carefully designed to maximize comfort and functionality while maintaining the unique character of this shipping container house.
With its clever use of space and attention to detail, this home proves that you don't need a lot of square footage to create an inviting living space.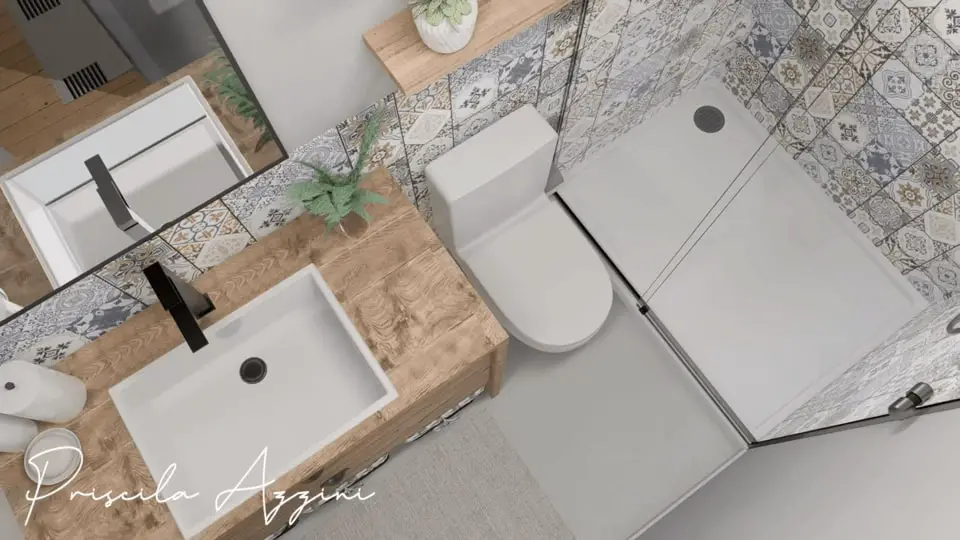 Shipping Container House with 2 Bathrooms
Both bathrooms have been thoughtfully designed to provide maximum comfort and convenience for residents and guests alike.
Meanwhile, the second bathroom is located in the living room, making it easily accessible for anyone using the communal spaces of the house.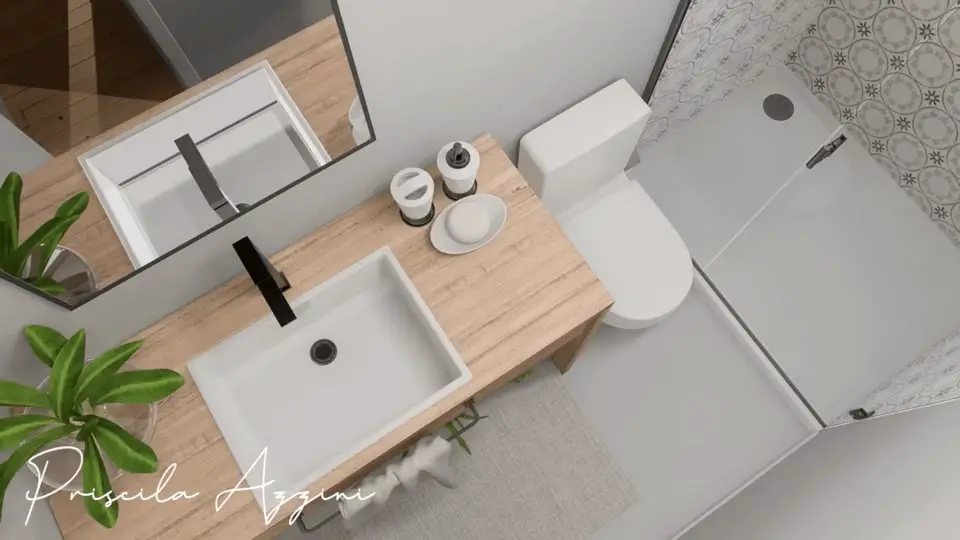 Both bathrooms feature modern fixtures and fittings, including sleek sinks and spacious showers.
The use of neutral colors and minimalist design creates a calming atmosphere that complements the overall aesthetic of the home.
With these two well-designed bathrooms, residents of this container house can enjoy all the comforts of a modern home while staying true to its unique character.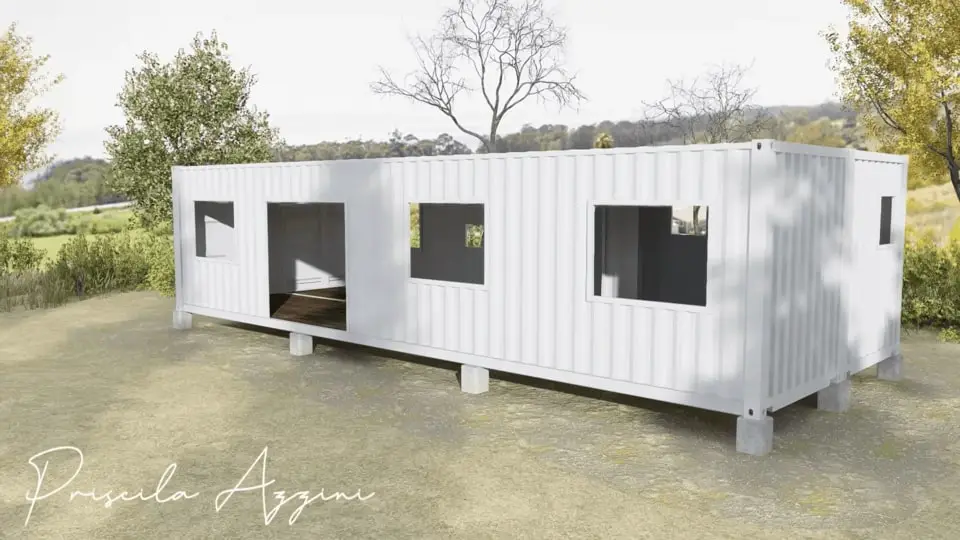 About Priscila Azzini
Priscila Azzini is a highly talented Brazilian designer who has gained a significant following for her innovative and sustainable shipping container house designs.
Her unique approach to design has garnered millions of views on Youtube, making her one of the most popular designers in the field.
If you're interested in working with Priscila Azzini on your next project, you can easily reach out to her for consultation. With years of experience in the industry, she has honed her skills and expertise to provide clients with exceptional service and results.
In addition to her impressive portfolio, Priscila also shares valuable insights and tips on her Youtube channel. Her videos offer a glimpse into the creative process behind her designs and provide inspiration for those looking to create their own container homes.
Overall, Priscila Azzini's passion for design and commitment to sustainability make her an exceptional talent in the industry.
Whether you're looking to build your dream home or simply seeking inspiration, Priscila's work is sure to leave a lasting impression.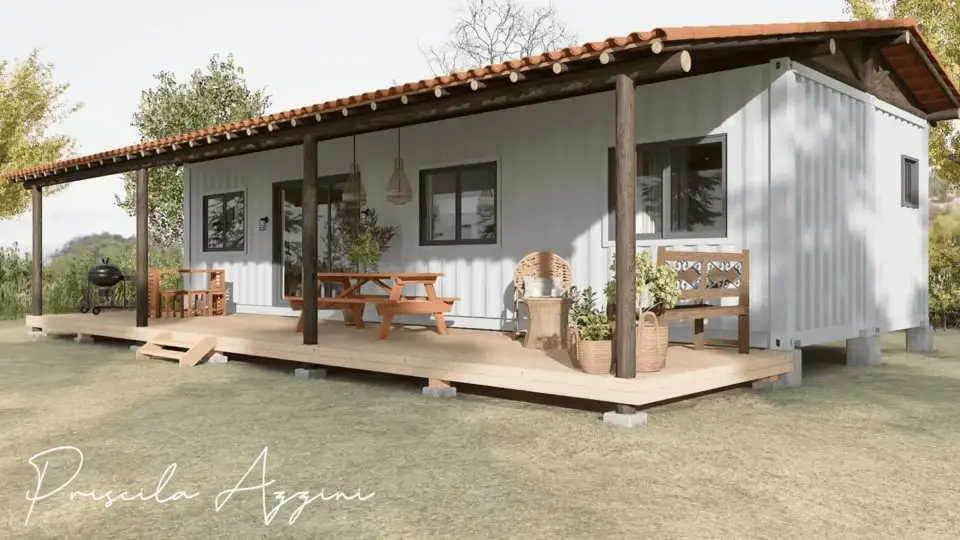 To explore more inspiring ideas for container home designs, check out our blog Living in a Container !!!
Our blog is dedicated to showcasing the latest trends and innovations in container home construction. From minimalist retreats to luxurious villas, we've got plenty of ideas to help you create your dream home.
We hope you found this guide on building container homes informative and enjoyable!
Don't hesitate to reach out if you have any questions or want to share your own container home story.