Hi everybody
Today we will show you a shipping container house model designed by Luda Studios. The name of the design is Tasmania Container House.
Homes, yes spectacularly built homes, dream of every single human being in this era. Home is a residential area, and it must be according to the choice of person who owns this. Not only this, but also it should be according to the criteria of all the persons living in the house.
Modular living is enchanting all.
Modular living, it would not be wrong to say it a luxurious living. Modular living is a dream living in this world right now.
Do you want to know why? Here I am to answer your all questions.
Modular living is basically, a kind of living in which a person can live at any place of his premier. This is the reason which is making modular living popular to great extent. This website will inform you about different container homes in different corners of the world. This article is also written for you. This one will also explain you a container home in TASMANIA.
Sea Container Home, Tasmania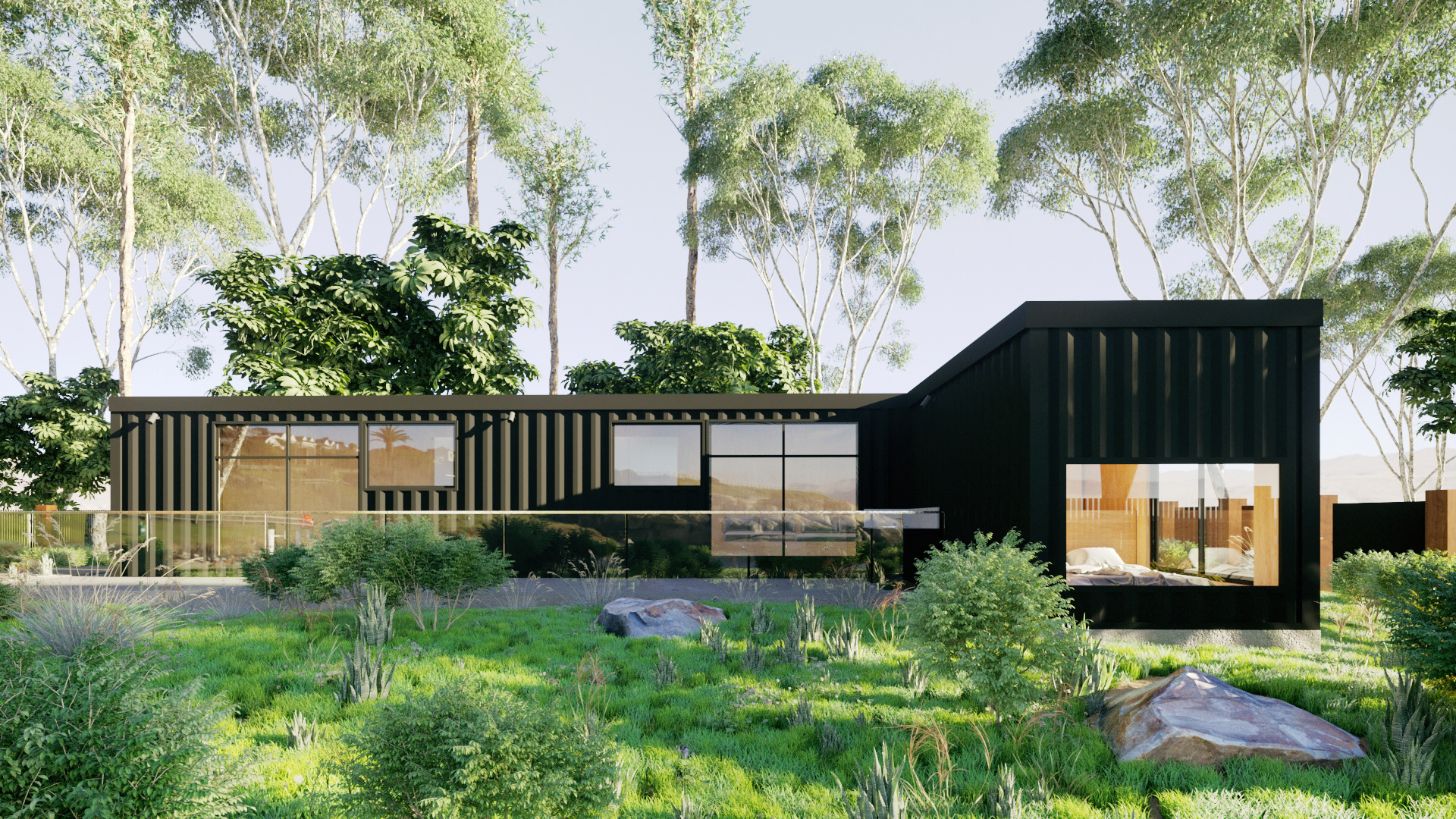 Why containers homes are getting progress day by day?
This is the question of every mind who wants to shift his family to a container home. Before buying a home, a person must want that this home should contain all the facilities including peaceful and fascinating atmosphere.
He wishes that he must be at the place where the weather should fine that is neither too hot nor too cold. So that he may enjoy all the seasons without being disturbed.
( Wonderful Veranda Shipping Container House )
Some people want their house at different sites that are away from the rush of town. A place where there is only noise of natural traffic that is sound of flowing water or sound of chirping of birds and many more.
This shipping container home is one of the houses which are located away from the traffic of world.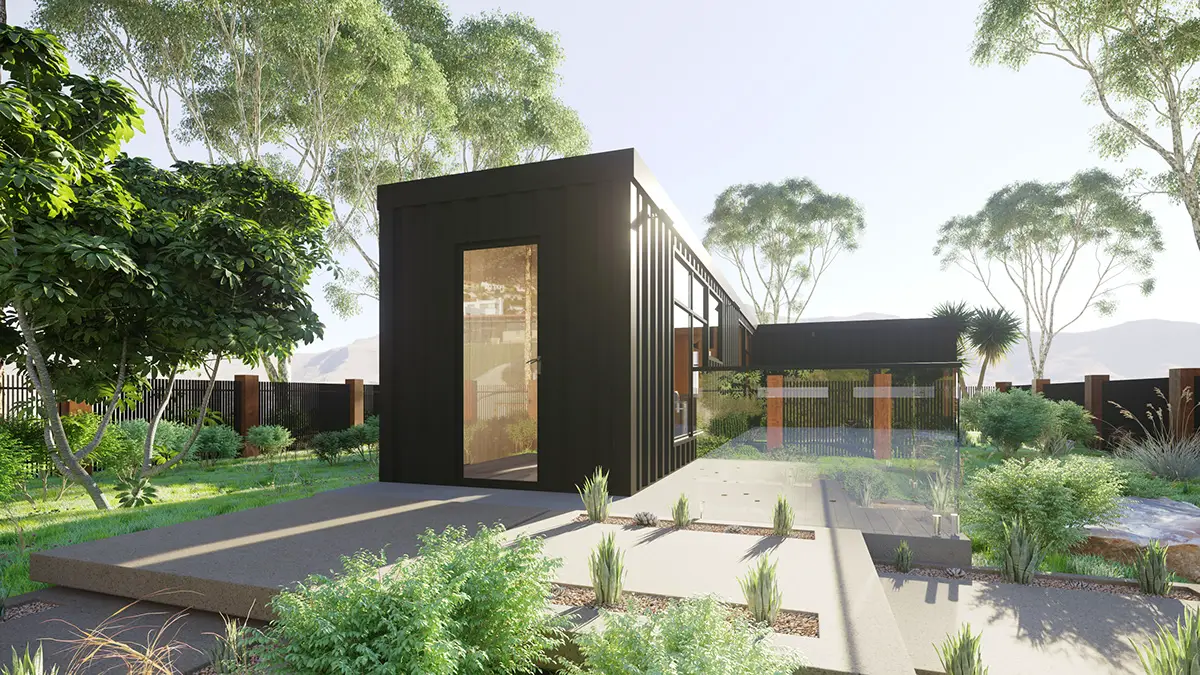 Architecture of shipping container home
This shipping container home is made of stainless steel. It has different portions and all the facilities which a house must have. This house is a sea container home. Just imagine how beautiful its location is!
This unique and elegant home is made up of 2 containers. (1×40 FT and 1×20 FT) These are designed to make a living home. The best quality of a container home is that it can be modified into any structure.
If owner gets bored of the architecture of the house after a few years, he can change the map of his house. How amazing this is!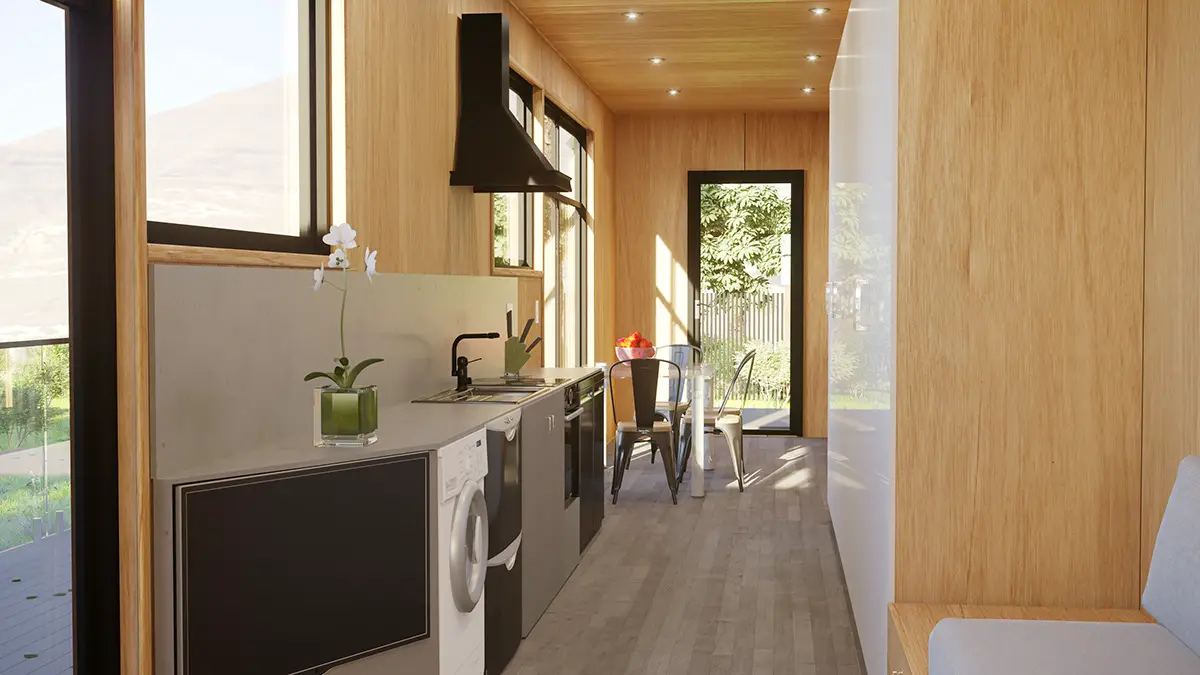 Different portions of home
This container home has 1 bedroom. One family can accommodate in this house easily. The house has stylish look.
There is kitchen in the home which has all the facilities. Dining table is there. Kitchen has stainless steel accessories.
The walls of the home are made of the wood and are polished in wood color. The floor is also made of wood. This also enhances the elegancy of the house.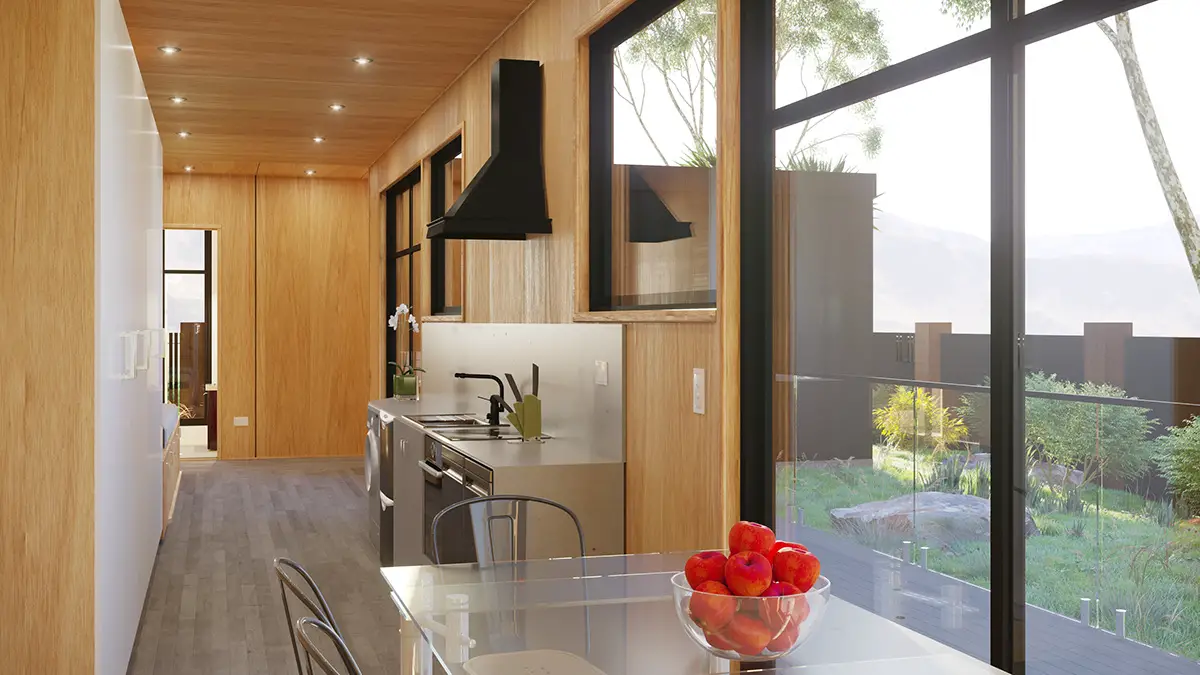 Different supplies of home
Bathrooms are also part of this home. It has all the proper facilities of electricity, water supply. The house has LED lighting system which enlightens the home. This indicates that home is well-designed with contemporary facilities.
Outside look of house
Some containers homes give rusty look from the outside. But this eco friendly home has elegant look even from outside. This house is surrounded with greenery all around.
This house gives a container look as well as also gives a glassy look. Because in half of the construction of this house, glass doors are used. Sliding glass windows are the parts of living room, bedrooms, kitchen. Sunrays fall directly from these glass windows. Sitting in the living room gives you a feeling of warmness in winter. This is also an interesting thing.
One storey house
This house has only one storey. Different shipping containers homes for modular living have different number of stories. Some may be triple storey. It depends on this that house must fulfill all the facilities for living. This shipping containers home has all the portions in single storey. The shipping containers are set on the ground.
The ground is fully empowered with cement construction priorly. This enhances the robustness and reliability of this home. Then shipping containers are set on them. Shipping containers homes not only play the role of houses, but these can be converted into restaurants, caffes, resorts and the list will go on.
( Modern Container Home by far the Best Airbnb in Houston )
These houses have become an important residential estate at the ports where traditional building is almost impossible. The fact behind this that these houses are made at different place and then these are shifted at desired place. So, this becomes easy to shift the prepared house at any place where normally one thinks before going.
This progressing world making each thing possible. This progression of world is leading towards discerning and sophisticating housing demand. There are many more shipping containers homes in Tasmania. It was the description of one of these houses.
For detailed information : Luda Studios.
Living in a Container explores projects made with shipping containers around the world and shares them for you.
Don't forget to take a look at the structures made with other amazing shipping containers on our site!
We invite you to send in your story and container homes photos too so we can re-share and inspire others towards a simple life too. Thank you!
You can share this using the link and social media re-share buttons below. Thanks!
» Follow Living in a Container on Social Media for regular shipping container house updates here «