Hello friends, if you love to do parties or live on different place. Different doesn't mean camping and stuff . It means doing party or living in shipping container. Sounds interesting right?. Maybe you're thinking that living in a shipping container would be messy and all.
So, i'm here to clear some of your doubts. What if i say living in a shipping container would be more luxurious as compare to a decent house. What? ya, that's right. So, today i'm going to talk about a shipping container which is turned into a luxurious and classy property.
Yes, so this is that luxurious property. Believe me it was shipping container but malcom made it a 3 story full of all the basic and luxurious facilitate property with 4 bedrooms, 6 beds, 4 bathrooms and 2 sofa beds.
Imagine you're here with your friends/family. It would be a great experience and a great time. Imagine you're telling you're friends about this they would think you stupid but when you show them the pictures or bring them here they all will be amazed.
Imagine you're holding a cup of coffee/drink and sitting on terrace and watching a beautiful panoramic view. Beautiful right? Let me tell you everything about this.
Space
This home is more then 1000 sf. of deck and terrace living. And you're going to see a beautiful and soothing view of sky and the downtown from the stairs going toward the terrace.
Total 1280 sf. inside living area. There is no difference between the above photo and the property in real. You're going to get everything like , chairs in seating area, outdoor ceiling fan and the lighting. It is ready to go property. Beautifully designed architecture from outside to inside will grab all your attention.
The whole property is painted in a very classy way and the furniture perfectly fits with the color of walls and the wood ply.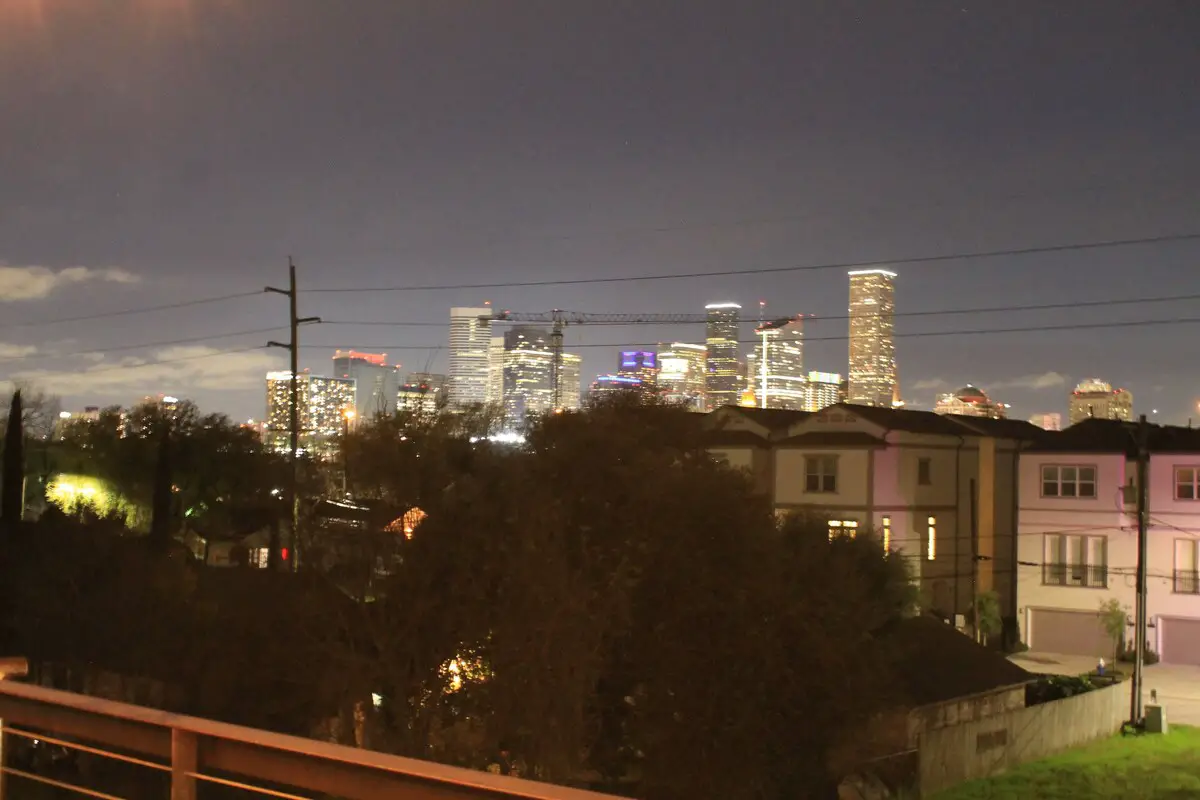 Facilities
As i told you every possible basic to luxurious facility is available here like hot/cold water sink, refrigerator, island grill, 8 seat dining table, 4 swivel lounge chairs , a fire pit and lounge seating set which can be converted into a day bed, a beautiful kitchen, high class furniture, and a bid screen television.
But, that not all . it has some more facilities for you. A video projector and the screen can set up for roof terrace viewing for an extra charge. Roof terrace got seating for 16 people in its standard arrangement but it could be more if you set it up in your own way.
In bathroom area you'll get hair dryer, shampoo, hot water, shower gel.
And in bedroom and laundry you'll get iron, hangers, dryer, washing machine, bed linen, and some essentials like , towels, bed sheet, soap and toilet paper and it has air conditioning facility, an heater and indoor fireplace.
Home Safety
In today's time security is becoming an issue . But, you don't have to be worried about it at all. Because in this property you're getting security cameras at front gate. If your house ever got fire then there is smoke alarm, carbon monoxide alarm. and there is an fire extinguisher. And you get and first aid kit also.
Read Also : Luxury Shipping Container Living Pod in Houston, Texas
Internet and Office
Internet became an essential for life and you're going into a shipping container. So, don't be worried you're getting wifi services here. If you ever wanna chill and surf on the internet or play games you can do it all here.
So, what about working space? yes, you got me right you're getting a enough big dedicated working space as well. You can work, you can chill, you can live your live like you want. Here, you got all the facilities you need.
Location
This graceful property is located at Houston, Texas, United States.
This property is in an urban industrial area with buffalo bayou a few short block away. The neighborhood is charming with long time residents and the new comers. You can say if you live there you'll not feel alone . You can make some new friends there. You can interact with some new people and being socialize a bit more.
They downtown is not too far it is just 2 miles away from this property. Biking could be a great option for you if you want to go to the downtown. And the complimentary loaner bikes will be provided in april time frame.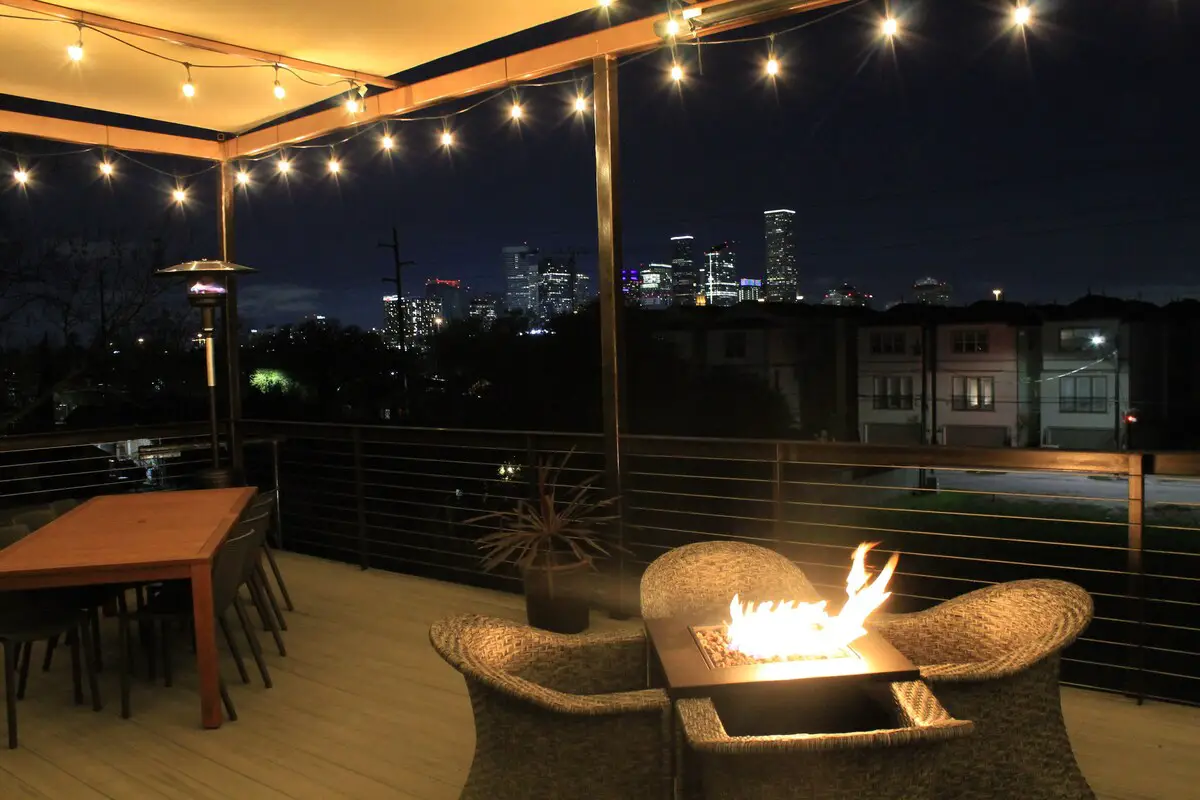 Nearby Locations
So, if you're thinking that this property is located somewhere in forest or far away from the restaurants/bars or sports venue then you're absolutely wrong. If you're talking about the sports venue you're going to get the following :-
Minute Maid Park (1.2mi.)
BBVA Stadium (1mi.)
Toyota Center (1.8mi.)
NRG Stadium (8.9mi.)
If you talk about the restaurants/bars then you're getting following places nearby :-
EL Tiempo (0.2mi.)
Original Ninfa's (0.2mi.)
Tout Suite (0.9mi.)
Saint Arnolds Brewery(1.5mi)
Nancy's Hustle(1.5mi.)
Moon Tower (0.4mi.)
Villa Arcos (0.3mi.)
Dona Maria (0.3mi.)
8th Wonder Brewery (1.4mi.)
Truck Yard (1.4mi.)
The New Potato (1.1mi.)
Voodoo Queen (1.2mi.)
Major Attractions
East end farmer's market (0.3mi)
George r. brown convention center (1.4mi.)
Discovery green (1.5mi.)
Hobby center for performing arts (3mi.)
Intercontinental airports (19.6mi.)
More Thing to Note
This property is new . Recently the contruction work got done and in march's first week the listing got live. And the host of this house is trying to make it popular and i'm sure he'll be successful.
If you want to live here then you just have to pay $312/night (entire property). It could be a big amount for you but think about the things you're getting. Everything from basic to luxurious is available here. Every essential is available here. Then you'll find that this amount is no too big.
Hope you got know something new by reading this article. "Images can't justice" you've heard this thing before and for this property images can never justice because it is more beautiful in real.
So, visit there at least once. There is a lot more then this you're going to find there.
You can check out this Amazing Airbnb here.
If you are interested in structures made with shipping containers, you can find what you want among thousands of container house models. Be aware of the contents by following our Facebook and Pintereset accounts.