Hi everybody
We continue to discover for you. Our container house on today's tour is from Costa Rica.
If you are visiting this site, you must be a person who is in the search of a good living place. Not only this, but you also want something adventurous in your dwelling area.
So, this description is going to inform you that you are at the right spot. This is basically to give knowledge of modular living. People are very fond of knowing about a wonderful container home. The home which has spectacular views from every sight.
I must want to add this that a house, a residential region, is a dream place of everyone. A person dreams that his house should be designed in this way or that way. He must want perfection in every corner of his house.
Do you want to know a home which is perfect for your small family? I am here today to tell you about your dream home.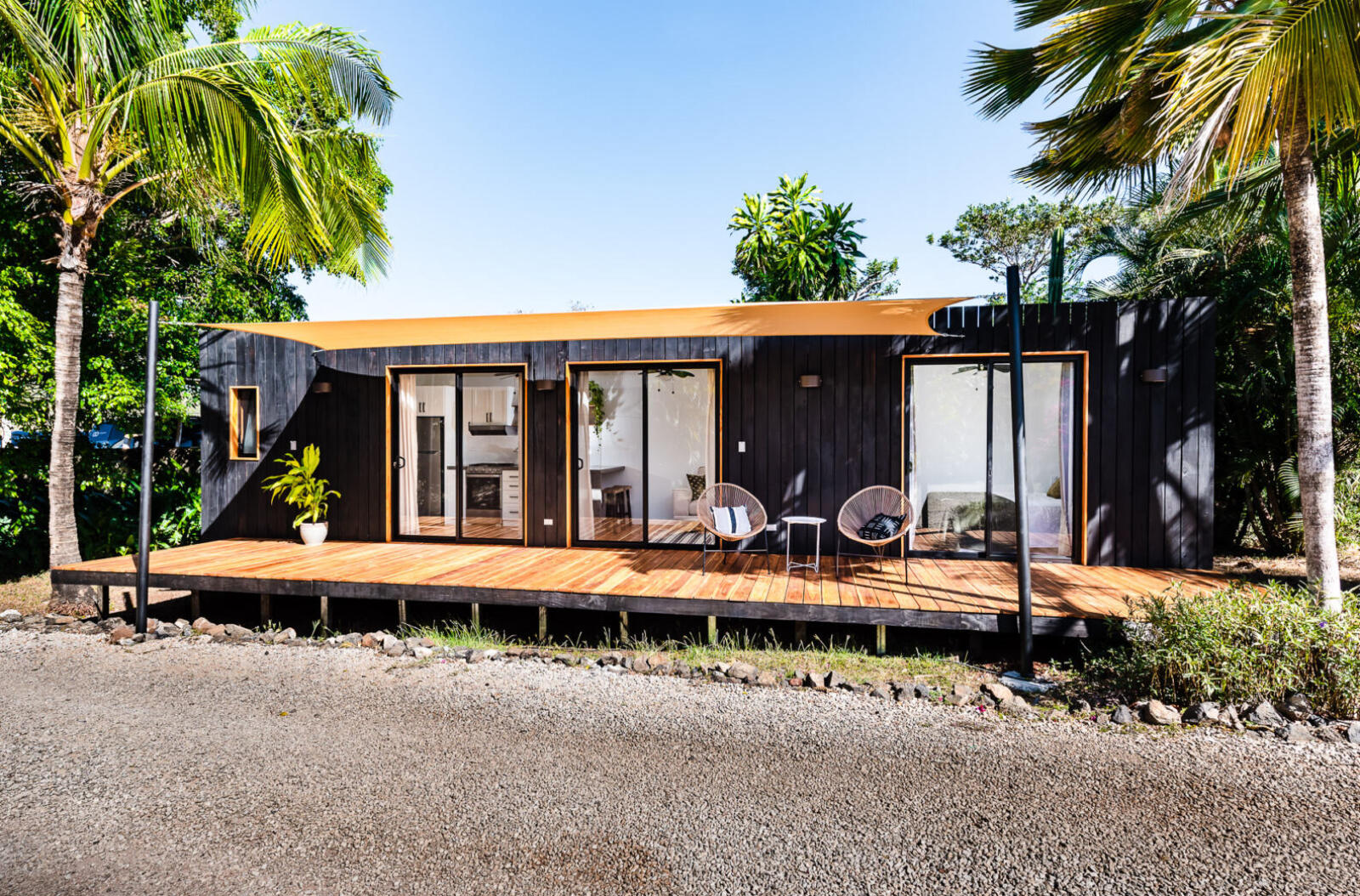 A SHIPPING CONTAINER HOME IN COSTA RICA
Mostly adventurers are forest lover. Costa Rica, a central American Country, is beauty of landscape. This is the country where weather is neither too cold nor too hot. Rainy season is the most charming thing. As it lies close to equator, that is the reason behind its atmosphere.
This nature made forest country has various homes. These homes are made of shipping containers. One beautiful shipping container home is going to be discussed here.
The architecture of shipping container home in Costa Rica.
Indubitably, modular living has replaced the ordinary living. It is the fact that this type of construction consumes less money and time and provides excellent results.
The houses which are made through shipping containers give a unique and elegant glance. This is the thing which is making people to leave traditional living and to be at the place which make them distinctive in living.
The architectural design of this house is matchless. Incredibly, beauty of this home is enhanced with the surrounding vista. This house is made of shipping container which is single in number.
So, this means that home is not complicated. No? obviously, yes. This shipping container home has beauty in its simplicity.
Space occupying region of shipping container.
This spectacular built in structure is present at the area of 40 by 8 foot. So, this is a small one home for a couple or a small family.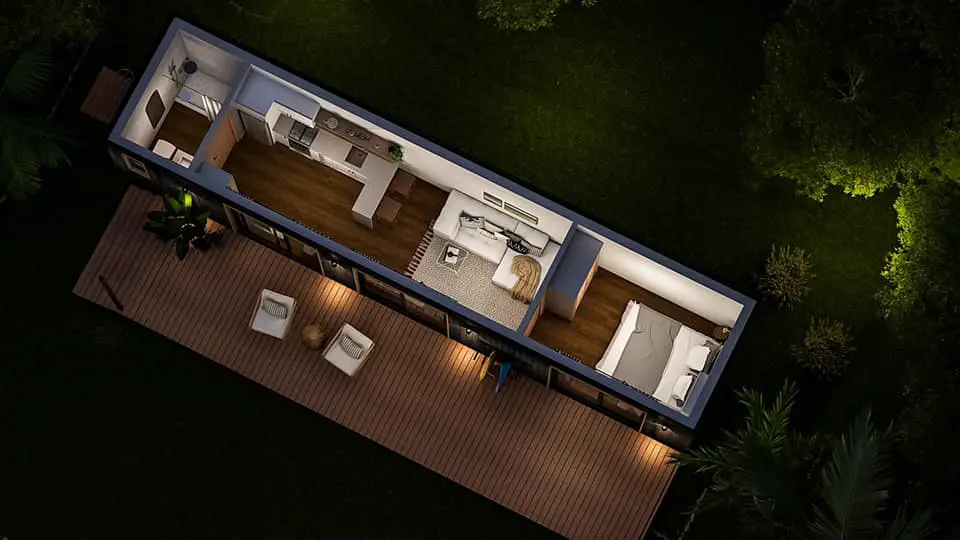 Different portions of a house
This container house has only one storey. All the structures are made on the ground. This is necessary to mention that this house is established a level higher off the ground floor.
The floor of the house is made with wood. This adds a plus point to the elegancy of the house. Due to the use of wood, the home remains warm in cold weather and cool in hot weather.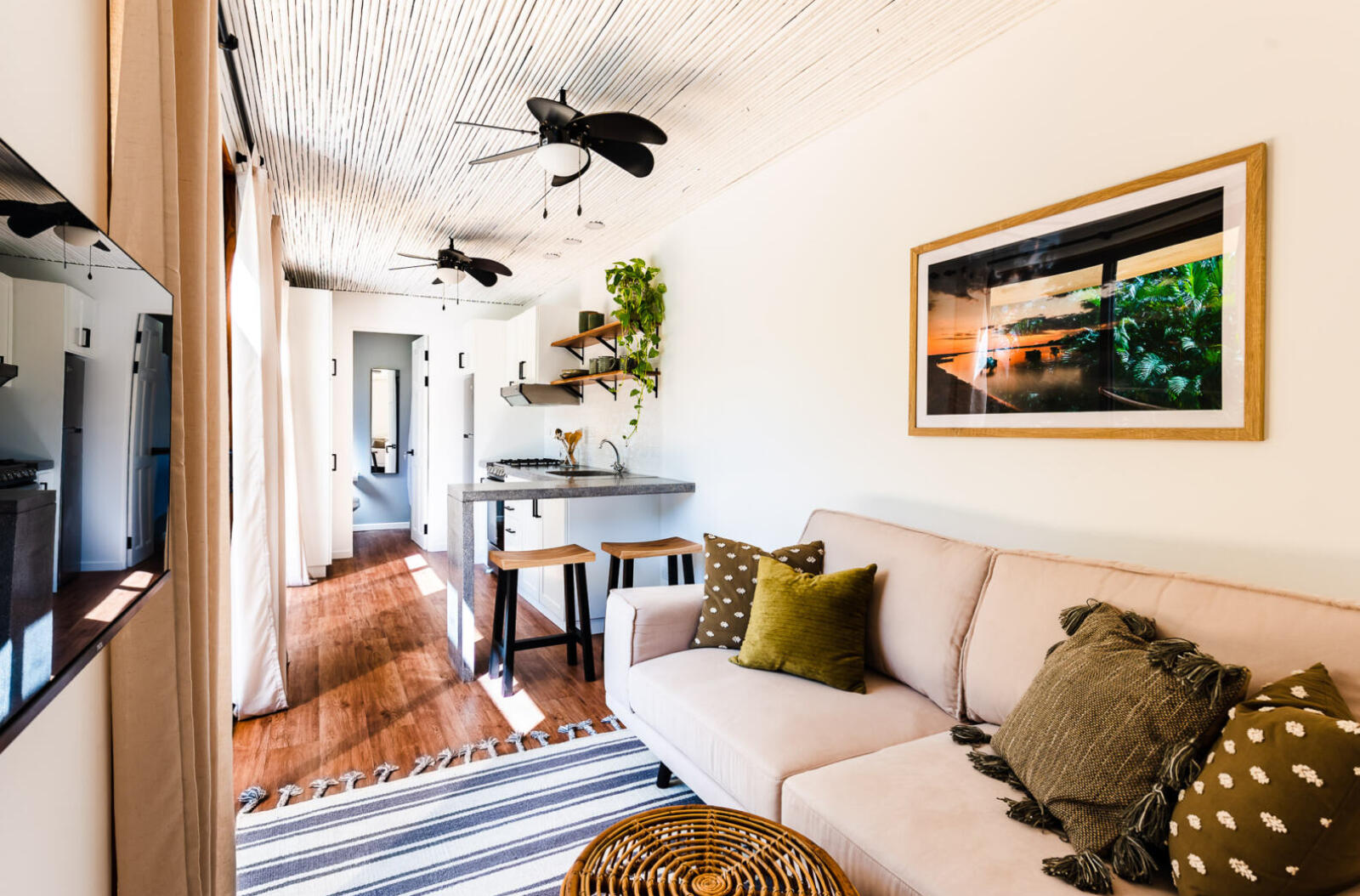 The ceiling of the house is also made up of white colored wooden sticks. The black colored strings shaped lines run in the white polished ceiling of the house.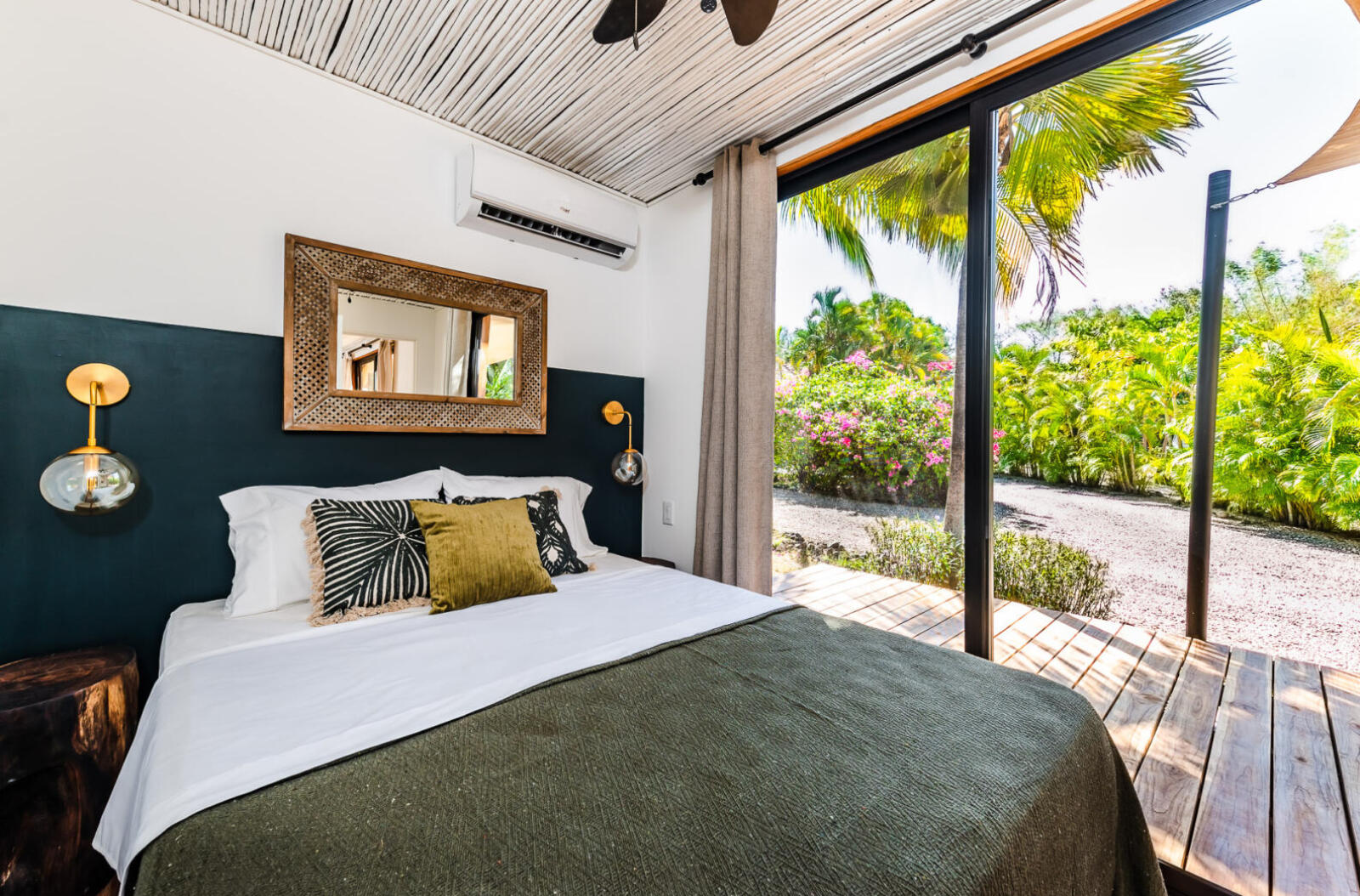 This container home, made for modular living, has one master bedroom. This bedroom has a one big sized bed. A mirror is hanged on the back side of bed. A glass door covers the opposite side of bedroom. So, one can see outside easily. But wait, are you the person who gets disturbed by the light? Here is the solution. Curtains are hanged on the wall.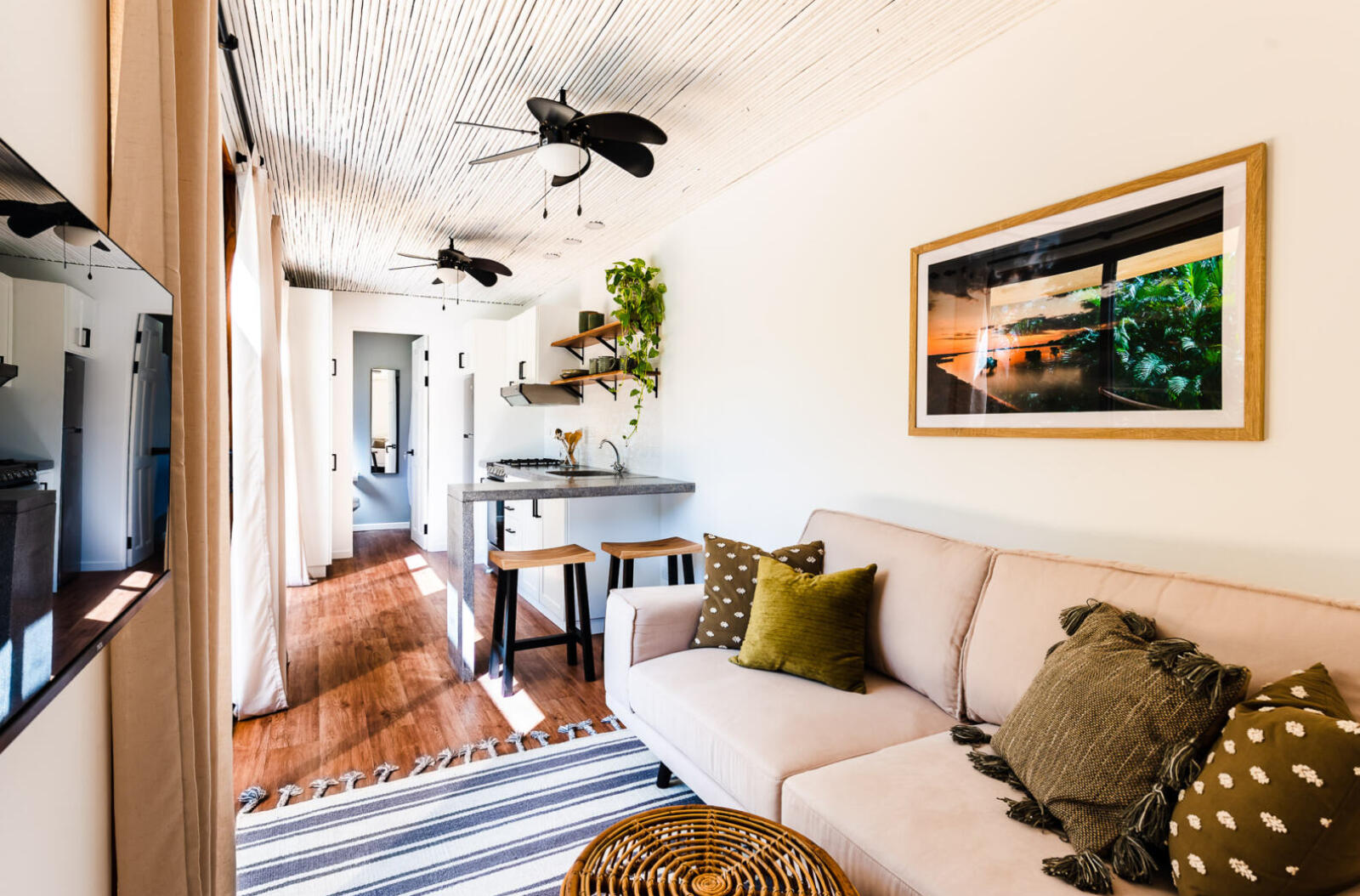 White painted unique living room
Living room is painted white as white is the color of peace. So, what do you think?
A white colored seating sofa is placed in the room to maintain the decency. A living room is almost incomplete without television. An LED faces the seating sofa. Then sit here and get update of present situation of the world.
A painting frame is hanged on the wall. If we move forward then we see that next to the living room, there is a kitchen. Kitchen is supplied with all the accessories listed here; a refrigerator, wooden shelves, white colored cabins for placing spices, stove, a sink and two stools are settled facing the kitchen. You can say that these stools play the role of dining table.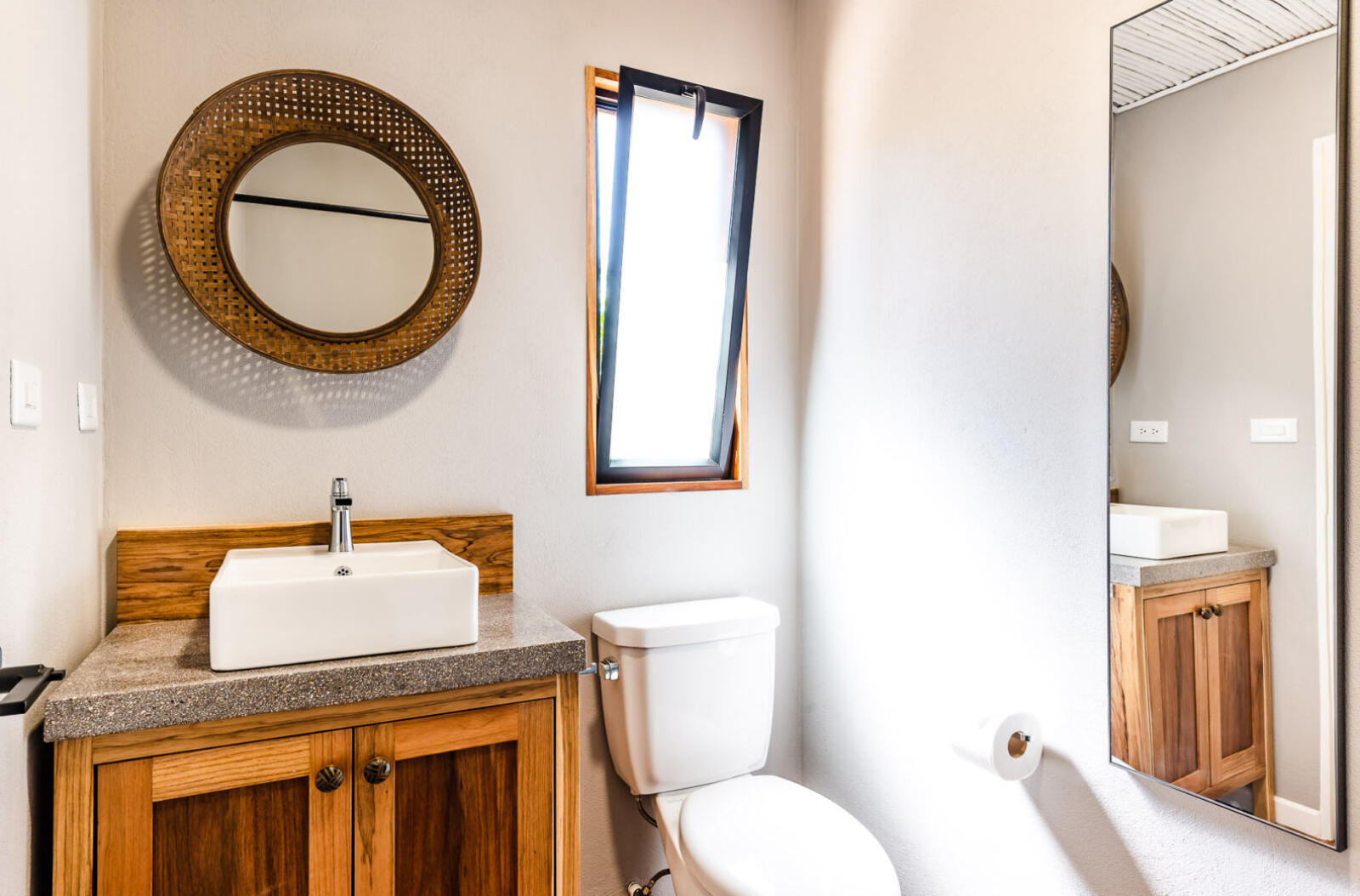 A well-equipped bathroom is also part of this dwelling place. The bathroom has all the facilities of showering and a mirror is also there.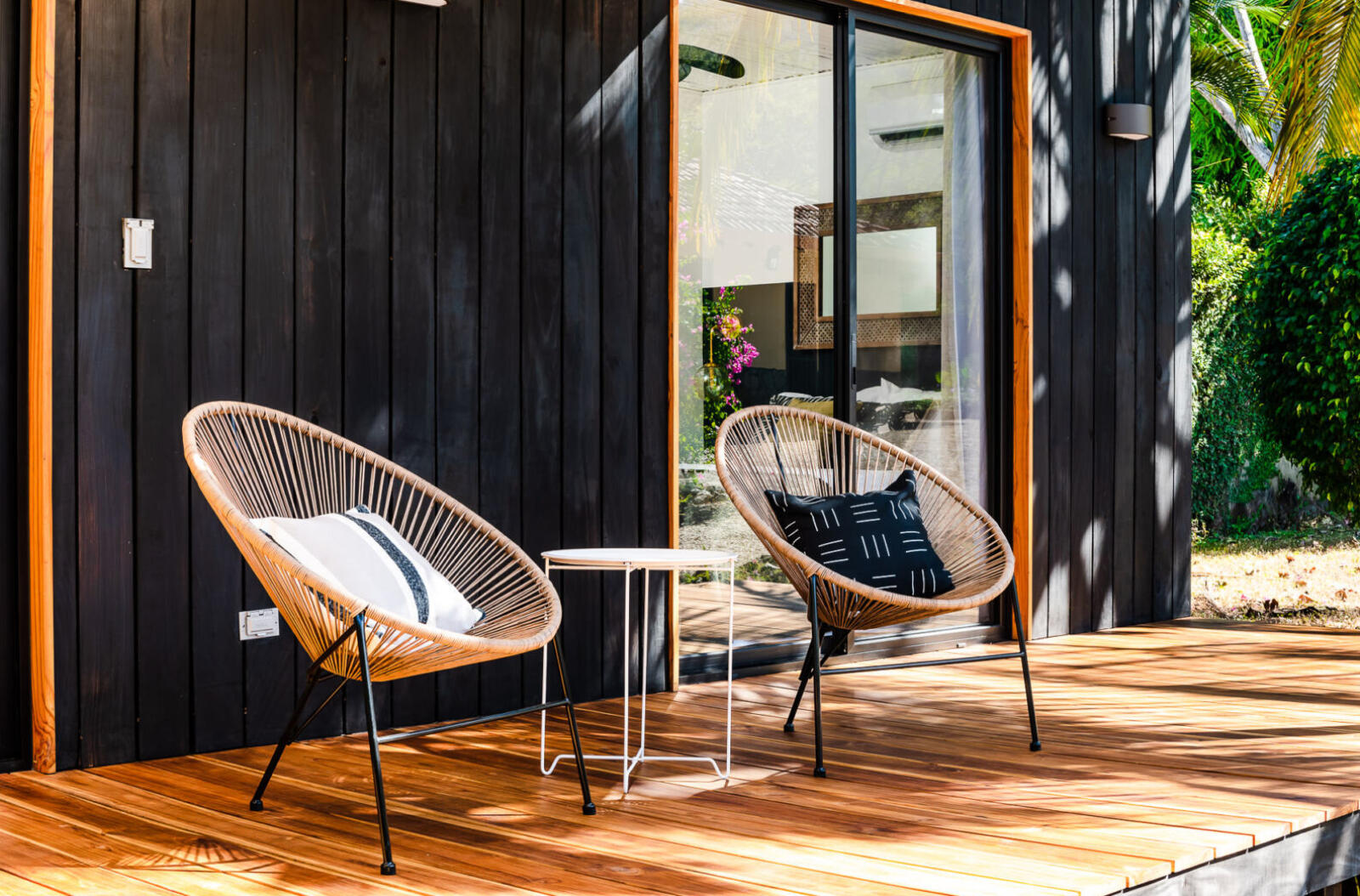 If we come out of the house, one can see there are two chairs and one table. A soothing soul wishes to have a coffee mug in his hand in the evening, sitting in the chair, having hot sips of coffee, focusing on the thrilling twist of the novel, and listening the sounds of forest.
Facilities available in this shipping container home
All necessary things are present here. As mentioned above, kitchen is supplied with all material of need. Electrical voltage is from 110 volts to 220 volts. It fulfills all the requirements.
In bedroom, an air conditioner is set. Although, weather is not too much hot here, but sometimes it becomes necessary in the night to turn on the conditioner. Living room has electrical fans.
A closet is also in the bedroom to keep all the attire.
In the rear of the container, a laundry space is designed.
Outside the container home, if we take an overview of the place, one can see this container house is in the center of green trees.
As Costa Rica has rainy season, so in this kind of atmosphere, the allurement and artistry of this home is increased. The movement of leaves in the fast-blowing winds, beguiles one. Precisely, this is the winsomeness of living in such an adorable location.
The selling price of this wonderful container house with 320 sqft of living space is $39,500.
If you want to buy this house designed by Abc Costa Rica company, you can reach the company page here.
If you are interested in structures made with shipping containers, you can find what you want among thousands of container house models. Be aware of the contents by following our Facebook and Pintereset accounts.