Container houses are a type of house that differs from traditional buildings with their more comfortable and useful features. It can be created as a single container or by combining several shipping containers to make different architectural structures.
A 1 x 40 FT shipping container was used in the construction of the container house named 'El Rancho Esto Es Vida', which we will show you today. This uniquely beautiful tiny shipping container house is located in Villalba, Puerto Rico.
The container house is located in a magnificent environment. Witness the most magnificent awakenings by watching the sun rise on your bed. Although the container house is a tiny house consisting of a single container, its magnificent patio house is even bigger than the house.
You can spend hours enjoying the view from the hammock hanging here or, better yet, relax in the Spa with heated jacuzzi. This unique home is the perfect paradise for you to be in touch with nature and truly connect with Puerto Rico's charm.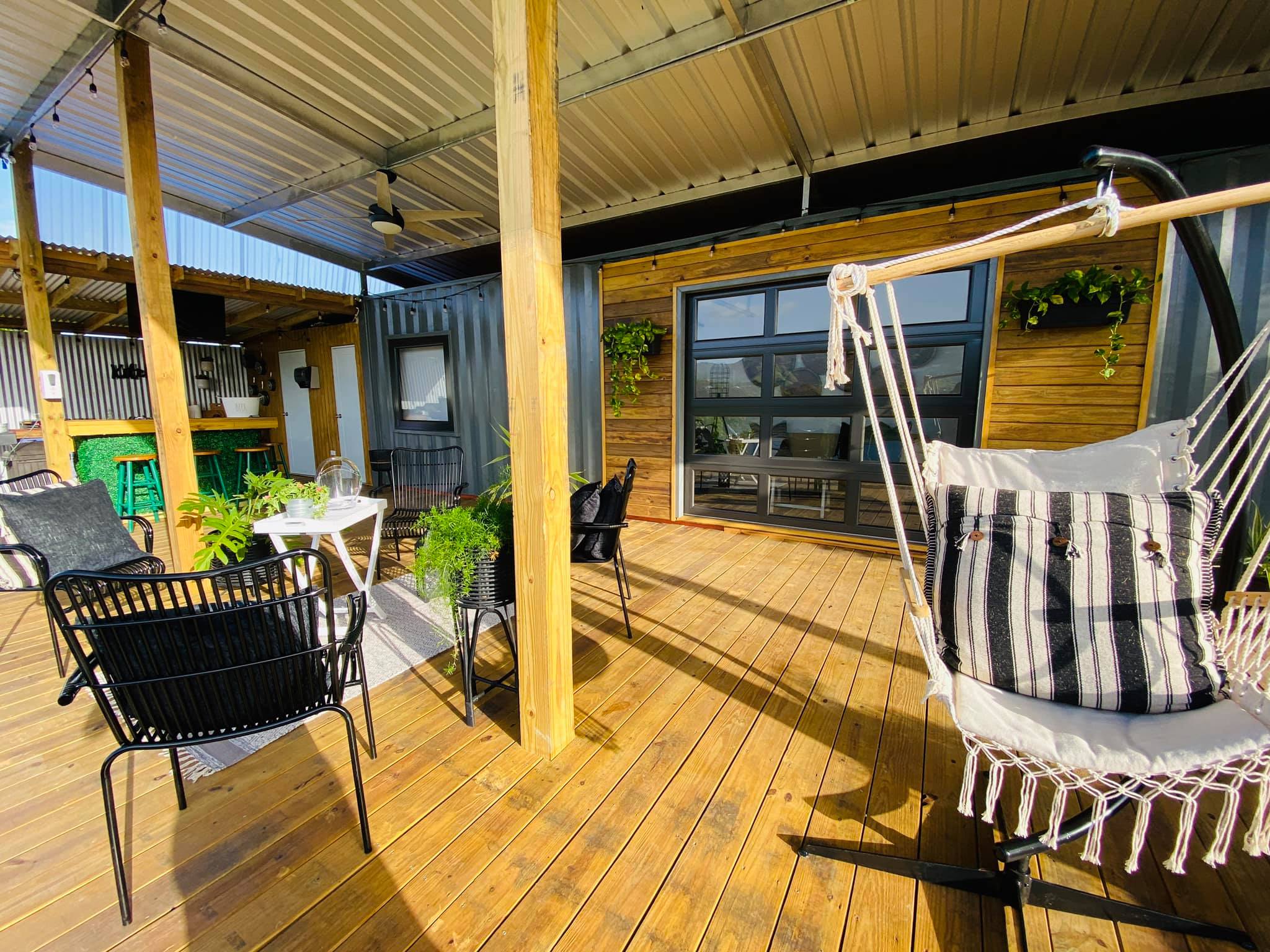 Let's talk about shipping containers in general…
I would like to talk about the houses built with shipping containers with 3 items,
1-) SAVING – Shipping container houses save labor and cost as they reduce the workload on site, unlike traditional structures.
2-) DURABILITY – Shipping containers are designed very robust to cope with the difficulties arising from many factors on ships. For this reason, shipping container houses, which are nicely anchored to the ground, have the ability to withstand external factors more than a normal house.
3-) SUSTAINABILITY – Turning an abandoned shipping container into a livable home is definitely a valuable and meaningful recycling example.
FEATURES OF THE CONTAINER HOUSE
⦁ Usually in 20ft, 40ft sizes etc. Combinations are also available. Dimensions can be adjusted as standard.
If you want to build houses from shipping containers, which are an environmentally friendly alternative, you can start by purchasing excess and unused containers in many ports.
Shipping Containers are generally available in 10ft, 20ft and 40ft sizes. The smallest shipping container that provides about 100 square feet of floor space for a shipping container house.
Eight Large Containers can make a two-story house for about 1400 square feet. Hundreds of container micro-flats can come together to form a huge apartment.
( Shipping Container Home Ontario – Canada )
Many Shipping Container Homes are available as prefabricated modular homes resulting in reduced construction time. Most building code reviews are done at the factory, which makes things very simple.
If you are designing a custom house, the container offers you a prebuilt structure for you to work with.
EASE OF TRANSPORTATION AND SITE FINDING
A World Wide System is in place to move containers. Once they reach the site, they are easy to place on a prepared foundation.
SHIPPING CONTAINER HOUSES HAVE PRESENTABLE HOUSES
Most of the work is completed on the factory floor at a fixed price. Delivery to the site, site preparation, foundation, assembly and plumbing connections are variable costs.
RECYCLED SHIPPING CONTAINER HOUSES
The environmental appeal of the container house is the idea that you reuse a leftover product from the shipping industry to make a house.
Some of the advantages, such as short construction time, are the same for all prefabricated and modular homes, not those made with shipping containers.
However, container homes uniquely take advantage of the worldwide infrastructure to transport shipping containers. In these scenarios, the versatility of container shipping is a huge advantage.
When you want to make a house out of a used shipping container, you are helping to recycle tons of steel. This is one of the biggest factors in marketing shipping containers as environmentally friendly.
Outside there are lots of old shipping containers that are no longer in circulation and transforming them into homes which lead to a strong appeal.
A well maintained Shipping Container House can maintain its resale value much like a traditional home. It is easy to sell as it can be loaded onto the truck and shipped almost anywhere.
Before you buy, you should investigate whether the shipping house was built for your climate and, if not, any changes you might need to make to suit the intended location.
If you want to enjoy a wonderful stay in the magnificent ambiance of Puerto Rico, you can book 'Rancho Esto Es Vida El Lago' via Airbnb.
If you are interested in structures made with shipping containers, you can find what you want among thousands of container house models. Be aware of the contents by following our Facebook and Pintereset accounts.