Hi everybody ?
We continue to discover for you. Our container house on today's tour is from USA.
John Maxwell once said, "If your habits don't line up with your dream, then you need to either change your habits or change your dream." Chad and Amanda realized they needed to change their dream and so they did.
This couple was originally from Mt. Washington, Ky, a small town just about 16 miles south of Louisville. Chad worked at his security company, while Amanda worked at an accounting firm. This might sound like the typical American dream, but they soon realized it was not their dream. Chad began his career believing that a good life meant having "stuff" and a big house to keep it all. This required the habits of working to buy, buying to accumulate, and accumulating simply to fill an ever-growing space. However, it seemed the more they accumulated the less "filled" their life felt. So, they decided to make a big change. Chad sold his company, Amanda quit her job, they had two container homes built to rent out, and they set off on an eight-month trip around the United States.
Chad's motto is taken from Denzel Washington, "Do what you gotta do so you can do what you wanna do." The rent from container homes continues to give them a constant income while they are traveling. Chad first realized his love for container homes one day while he was watching a show on t.v., where a man drug a container into the woods and turned it into a cabin. That show inspired him to take on his own container rental cabins.
Living in a Container explores projects made with shipping containers around the world and shares them for you.
Don't forget to take a look at the structures made with other amazing shipping containers on our site!
We invite you to send in your story and container homes photos too so we can re-share and inspire others towards a simple life too. Thank you!
You can share this using the link and social media re-share buttons below. Thanks!
» Follow Living in a Container on Social Media for regular shipping container house updates here «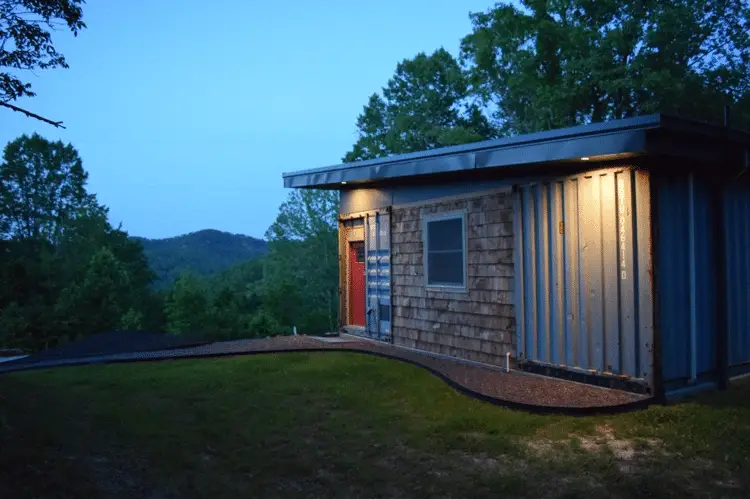 This container cabin was constructed using two containers, on a traditional concrete foundation, and includes a crawl space. The containers are parallel with each other and are 12 feet apart. He framed between them and the cut out the container walls. There are two bedrooms, a bath, kitchen, laundry, large living room, a foyer, and covered porch.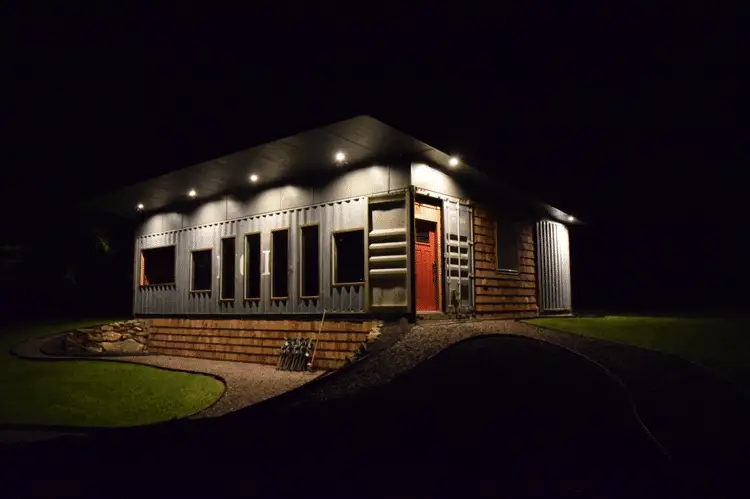 Chad wanted his container homes to be smaller than his first house, more energy efficient, and for it to require less maintenance. However, much like many of those in the container community he wanted to keep some qualities in the "typical" home, such as standard size appliances, an open and functional floor plan, and lots of windows. The photo below shows how the wall of windows allows the light to brighten up the space, and makes the living room and kitchen more open and inviting.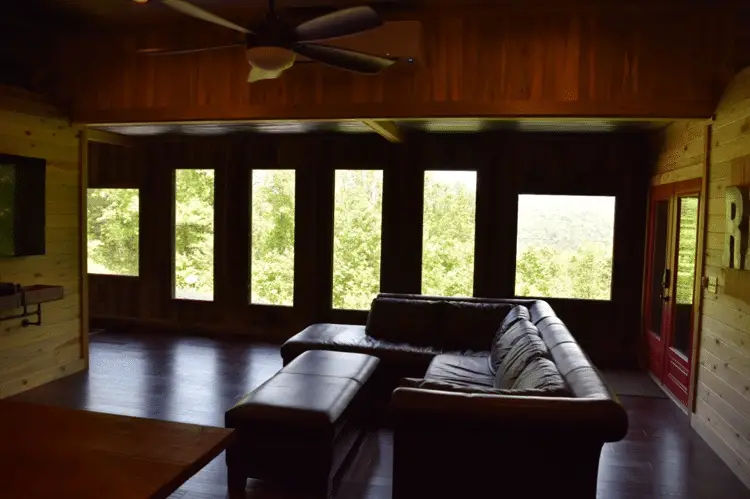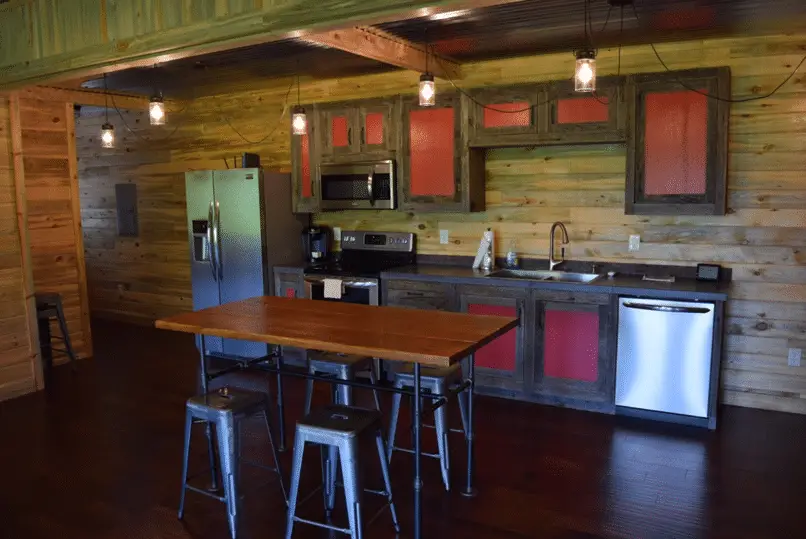 The kitchen is laid out so that all of the appliances one needs are available, but they do not intrude into the space, giving the room the open feeling that Chad wanted. The hanging lamp lights give the container that cabin feel that makes the renter want to sit at the dinner table, drink hot chocolate, and play some board games.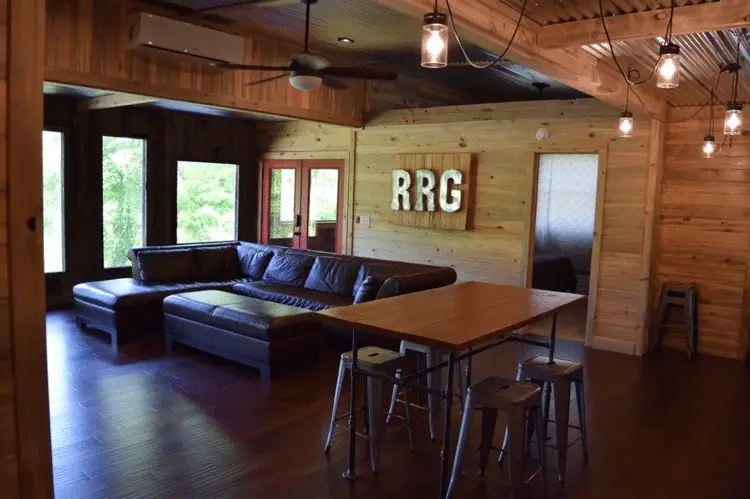 The red doors lead to a covered porch that looks across the mountains.
The photo below shows how there is an open space instead of a window. This is the porch area where one can sip on sweet tea and read a book outside during a storm, without worrying about the rain.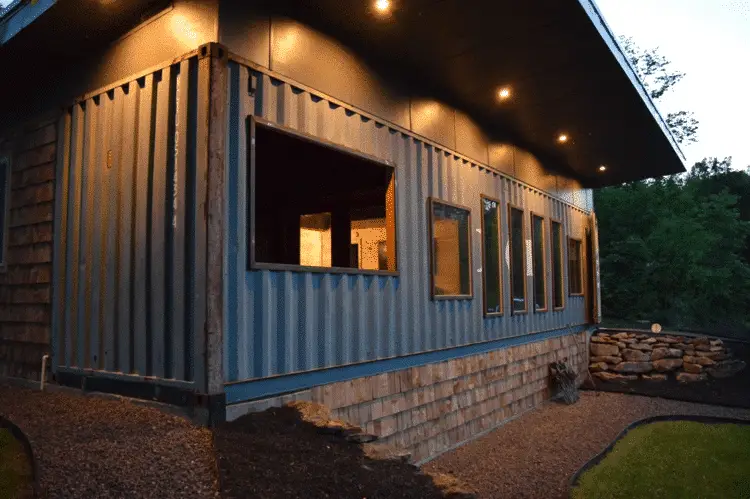 All of the modern-rustic elements reflect Chad's childhood log cabin he grew up in that was built around 1980. Chad and Amanda are so proud of their container cabins that they plan on building their own container home when they return from traveling!
Source : containerhomemagazine