In the world of architectural design, the concept of turning shipping containers into luxury homes is captivating. Today, we're diving into a design concept that envisions five 40-foot containers as a chic 3-bedroom residence. This design, beautifully conceptualized by Architect TVD, showcases what's possible in the realm of innovative home design. If you've come across their YouTube channel, you'd know the brilliance and quality they bring to the table.
Imagine a design where a basic container evolves into a sophisticated living space blueprint. That's exactly what Architect TVD has presented. Their design seamlessly blends industrial edges with modern luxury.
Interested in how this design concept takes shape? Want to explore how luxury can be intertwined with sustainable materials? Join us on this design journey. This story might just inspire your own design pursuits. Welcome to a space where creativity has no boundaries.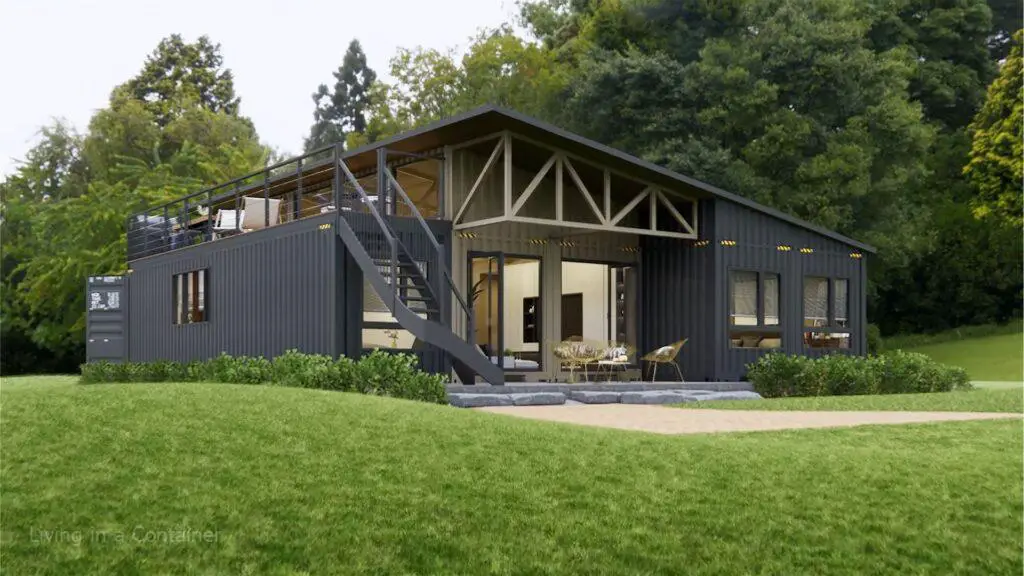 Design Overview: A Modern 3 Bedroom Residence Made from Shipping Containers
Containers Used:
Five 40ft High Cube shipping containers serve as the foundation for this innovative home design. These containers, known for their durability and standard dimensions, provide ample space for a luxurious dwelling.
Bedrooms:
The design encompasses 3 bedrooms, offering ample private space for a family or for hosting guests. Each room, meticulously designed, promises comfort and style.
Living Space:
A combined living room, dining area, and kitchen provide an open-concept feel to the residence. This integrated space ensures a harmonious flow, making it perfect for family gatherings, entertaining guests, or simply relaxing.
Bathrooms:
The design includes 2 well-appointed bathrooms, each equipped with modern fixtures and finishes. With an emphasis on functionality and aesthetics, these spaces guarantee both utility and serenity.
Laundry Room:
An essential for any modern home, the design incorporates a dedicated laundry room. This space ensures convenience and efficiency, meeting all laundry needs in one spot.
The brilliance of this container home design lies not just in its innovative use of materials, but also in its careful consideration of modern living needs and aesthetics.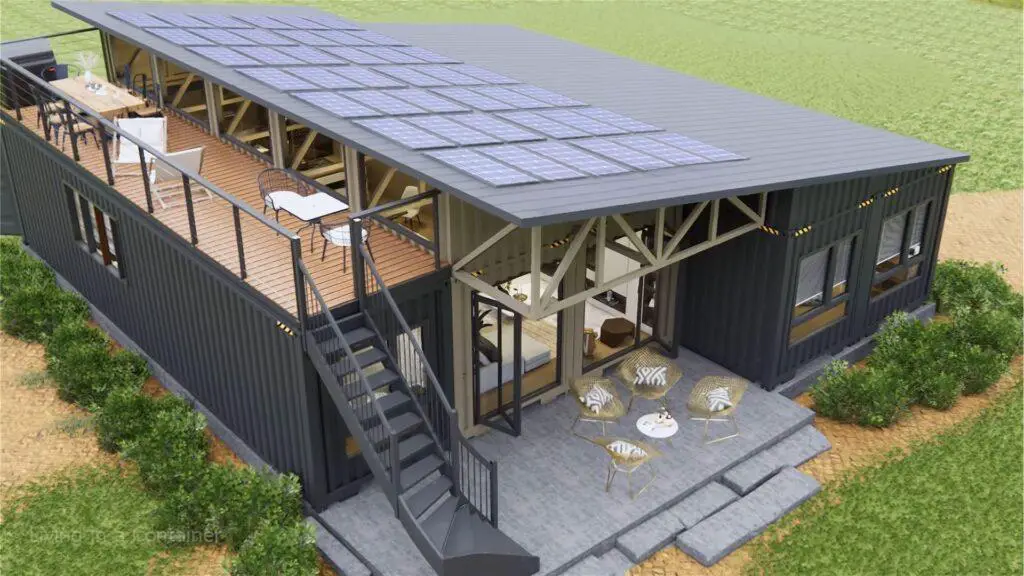 Architectural Overview of the House: A Modern Home Crafted from Shipping Containers
This distinctive home design emerges from aligning five 40ft shipping containers side by side. What sets this design apart is its intriguing roof structure. Starting from the far-right container and stretching across to the fourth one, the roof rises in a distinctive slant. The final container, however, is fashioned as a roof terrace.
Almost the entire face of the raised roof that overlooks the terrace is encased in glass. This not only floods the house with natural light but also offers a clear view into the home from the terrace. Parents with young children will particularly appreciate this feature, allowing them to keep an eye on indoor activities while enjoying some time outdoors.
Architect TVD's design cleverly marries form and function, turning industrial containers into a bright, observational, and family-centric living space.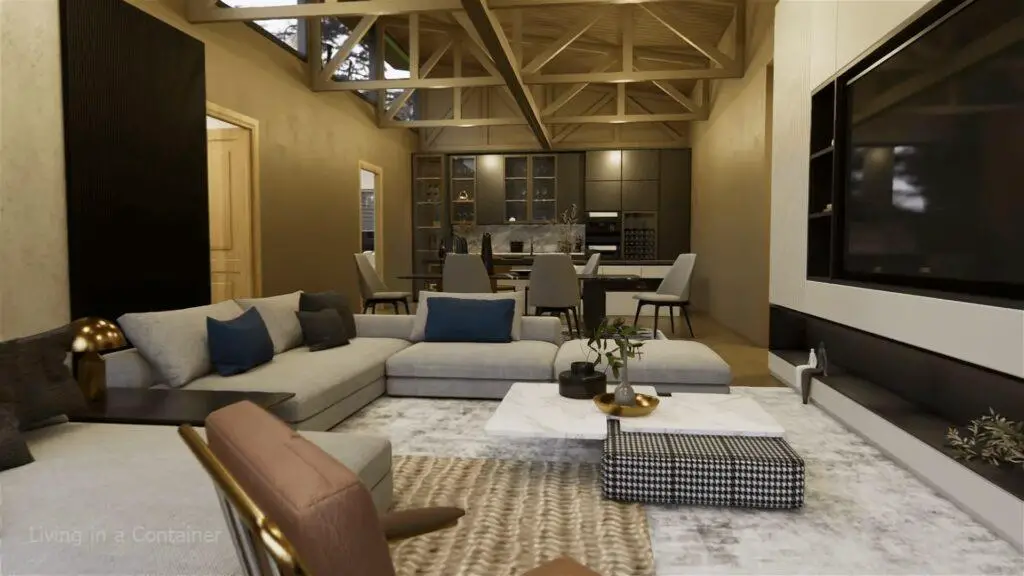 Shipping Container House: Modern Meets Industrial Interior
Inside this shipping container house, a fusion of modern elegance and industrial charm is evident.
High, vaulted ceilings with wooden trusses amplify the space, making it feel open and airy.
The neutral color palette, punctuated by colorful cushions, offers a serene ambiance.
The plush sofa in the living area faces a chic television setup, while the adjoining dining space and kitchen showcase sleek furniture and dark-toned cabinetry.
An array of textures, from soft rugs to cool marble, enrich the space. Large windows ensure ample natural light, creating a bright, inviting interior that celebrates the unique origins of its structure.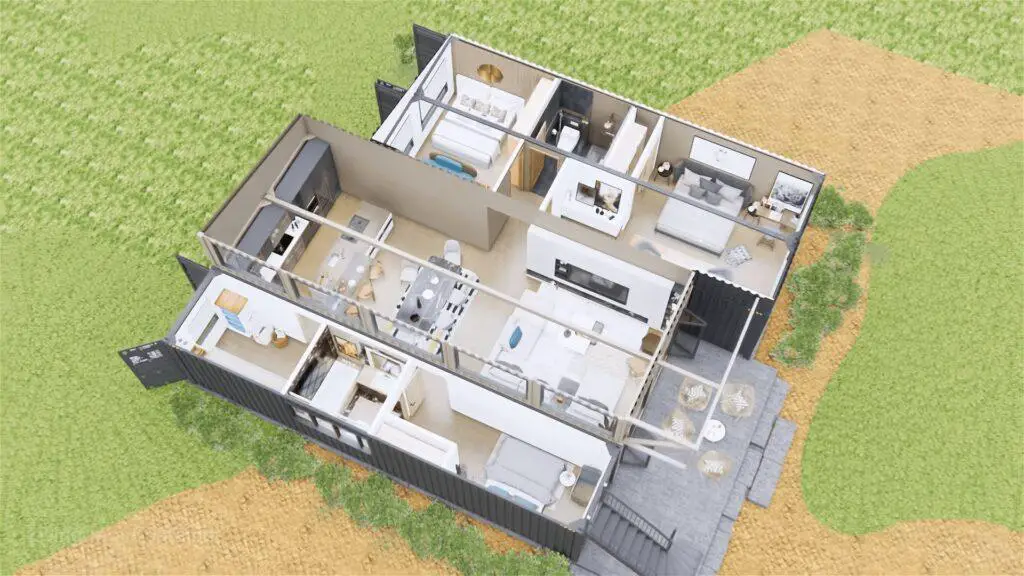 This container home showcases:
Open-concept living and kitchen area in the center.
Multiple bedrooms, some with en-suite bathrooms.
A well-equipped kitchen with an island.
Modern bathrooms with contemporary fixtures.
Outdoor terrace for relaxation and dining.
Main entrance on the bottom left with a covered porch.
Overall, it's a well-planned, functional, and stylish design maximizing container space.
In summary, the container home epitomizes modern design, merging functionality with aesthetics. Its strategic layout maximizes space while providing a comfortable and chic living environment. Truly, it's a testament to innovative architectural prowess in today's age. Thank you for the journey through this captivating design!
Follow Living in a Container on Facebook, Instagram and Pinterest for more stories like this. If you have a story to share, email us at [email protected].