Shipping containers, once solely used for transportation and storage, are now revolutionizing architectural design. As our global community seeks sustainable, affordable, and unique housing options, shipping container homes have taken center stage.
Today, we spotlight a captivating design by Architect TVD, featured on their popular YouTube channel. This design not only exemplifies modernity but also resonates with coziness.
Design Overview:
Utilizing two 40ft and two 20ft high cube shipping containers, this home showcases efficient use of space.
Bedrooms: The design comprises two spacious bedrooms. The positioning of these rooms ensures privacy while still capturing ample natural light.
Living Area: The open-concept living room seamlessly integrates with the dining and kitchen areas, providing a continuous flow and a feeling of spaciousness.
Kitchen: A modern stainless steel kitchen steals the show. Not only is it functional, but its sleek design adds an industrial touch that complements the container aesthetics.
Bathroom: The home includes a single well-appointed bathroom, emphasizing simplicity and elegance.
Laundry: A dedicated space for laundry ensures that this essential utility doesn't impede the home's overall aesthetic.
Furniture: Modern furnishings, including a plush sofa, tea table, and outdoor seating, complete the home. Each piece is chosen to enhance the modern-cozy theme of the house.
Aesthetic Appeal:
What particularly stands out is the house's dark facade. Dark hues, when paired with the raw look of shipping containers, add a touch of luxury and mystery. The increasing popularity of such designs worldwide proves their aesthetic and functional appeal.
Notably, the world is witnessing a shift. It's no longer just DIY enthusiasts venturing into building container homes. Many professional builders in various countries are incorporating this trend, indicating its growing significance in the construction industry.
For those inspired to embark on their own container home journey, "Living in a Container" offers a plethora of designs to fuel your imagination. Dive into blog and let hundreds of container home models inspire your next architectural venture.
Stay tuned as we'll be delving deeper into the visuals of this design soon, providing a comprehensive commentary on its visual elements.
Container Home Exterior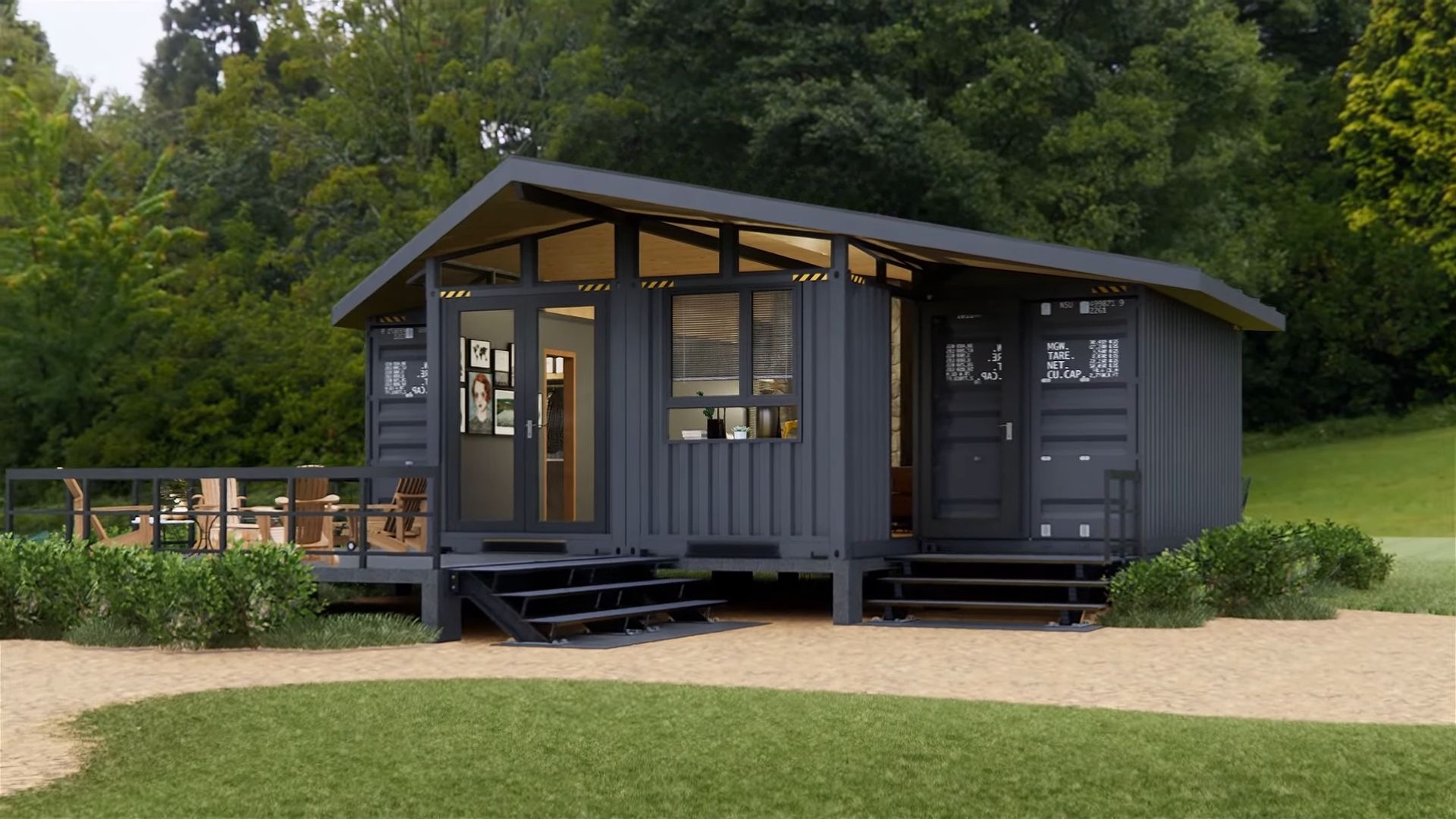 This modern shipping container home design showcases an impeccable fusion of industrial aesthetics and natural charm. The first thing that strikes the eye is the dark, sleek finish of the container, beautifully contrasted by the warm wooden roof and beams. The incorporation of expansive glass panels not only provides an abundance of natural light but also creates a seamless transition between the indoor and outdoor spaces.
The outdoor deck, adorned with chic furniture, is perfect for relaxation and offers a front-row seat to the tranquil surroundings. Details like the visible container markings and structural elements give an authentic touch, highlighting the container's original purpose while celebrating its transformation.
Inside, the minimalist interior design is evident. Clean lines, modern fixtures, and a strategic layout emphasize functionality without compromising style. A quick glance reveals a comfortable living area, complete with a mix of contemporary and rustic decor elements.
One of the most commendable features of this design is its environmental integration. The home sits harmoniously within its green backdrop, highlighting a balance between man-made structures and nature. The underpinning platform ensures stability and elevates the home, offering protection against potential environmental factors like flooding.
In summary, this shipping container design is a testament to how versatile and innovative architectural designs can be. By transforming a simple industrial container into a cozy abode, it redefines modern living and showcases the limitless potential of repurposed materials.
Container Home Plan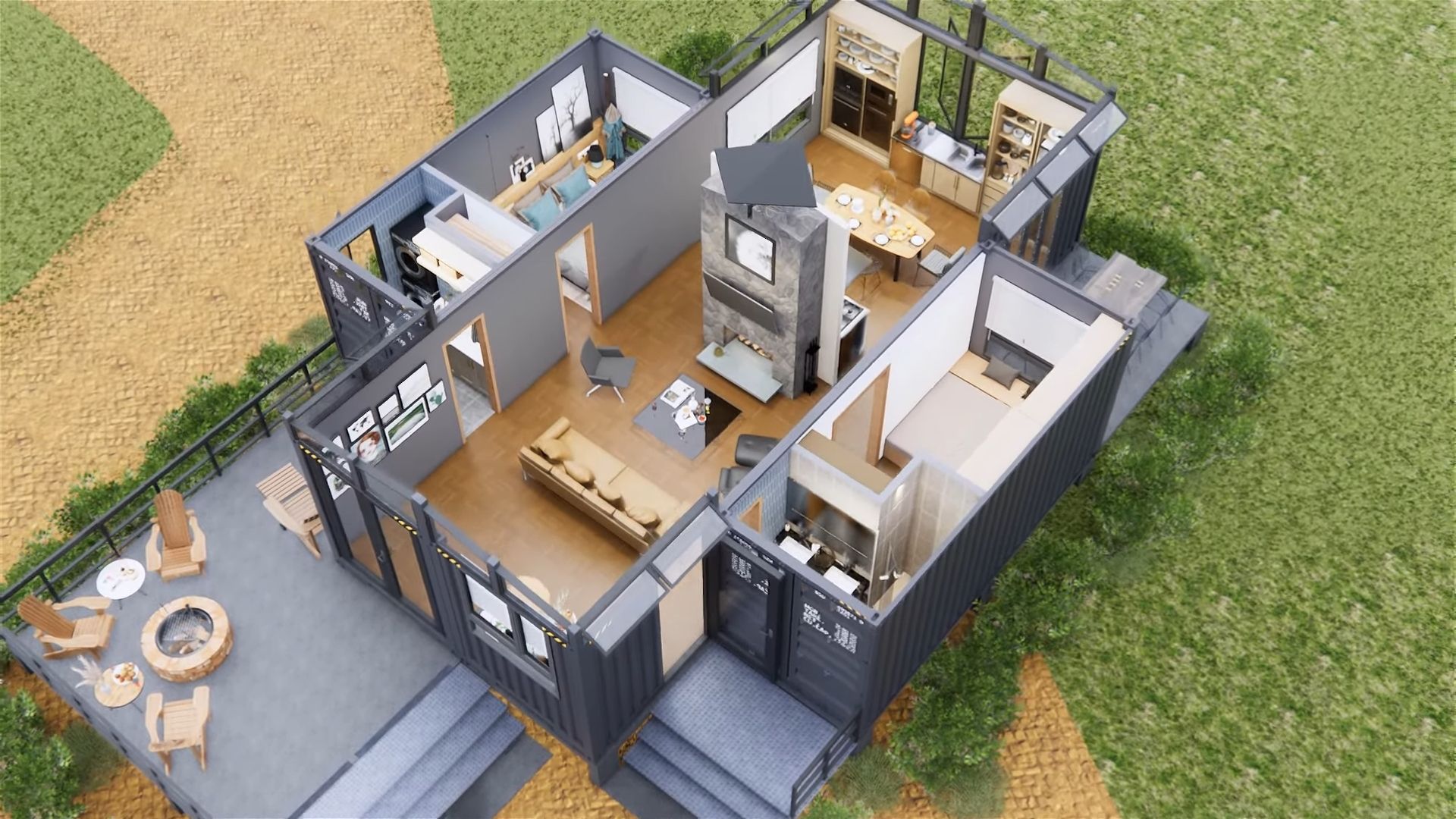 This top-down view offers a comprehensive look at the layout and design elements of this modular shipping container home. Let's delve into its features:
Open Layout: The primary living area showcases an open floor plan, seamlessly connecting the living room, dining area, and kitchen. This design encourages a flowing, interactive space, perfect for socializing and relaxation.
Central Feature: Dominating the central area is a prominent stone-finish fireplace, providing not only warmth but also serving as a striking focal point for the home.
Defined Spaces: Even within the open concept, each area is distinctly defined— the plush seating in the living room, the elegant dining set up near the kitchen, and the modern kitchen itself with ample counter space and top-of-the-line appliances.
Bedroom & Bath: To the right, there's a bedroom with a large bed and a neighboring bathroom, equipped with modern fixtures. The bedroom seems to have its private exit, which can be ideal for fresh morning air without disturbing the rest of the household.
Outdoor Living: The exterior decking provides ample space for outdoor relaxation. Equipped with comfortable loungers, a firepit, and an outdoor dining setup, it's a splendid area to enjoy the outdoors, be it for an evening under the stars or a sunny afternoon.
Office Space: To the left of the main living area, there's a small, yet efficient, office setup. Given the increasing trend of working from home, this is a thoughtful addition.
Art & Aesthetics: The walls are adorned with various pieces of art, lending personality and character to the home. The mix of textures — from the sleekness of the container walls to the warmth of wooden flooring and the ruggedness of the stone fireplace — create a rich visual experience.
Natural Integration: The design ensures plenty of natural light with its extensive use of large windows. The outdoor green patches and the positioning of the house amidst a green field also enhance its integration with nature.
Modular Flexibility: The beauty of container homes lies in their modular nature. This design takes full advantage of that, using multiple containers to create a spacious and multifunctional residence.
Last Words
In summary, this container home masterfully blends modern design with functionality, making the most of its space while ensuring a comfortable and stylish living environment. It's a testament to how shipping containers can be transformed into sophisticated and sustainable homes.