A home made of 8 shipping containers.
We are going to continue the description of container homes. Every house has a unique design. The innovative feature of each home discussed here attracts many people and they become interested in these beautifully designed container homes.
Containers are made of steel and there are two types of containers. One is 40 feet and the other one is 20 feet. These made very stylish and unique style homes in different parts of the world.
Here, it is going to be discussed a container home on South Hill Street. It is interesting how these recycled containers make homes in beautiful locations of this world.
These innovative homes are attractive for nature-loving persons who want to live away from the town or city. So, let us start with the description of one new home designed with containers.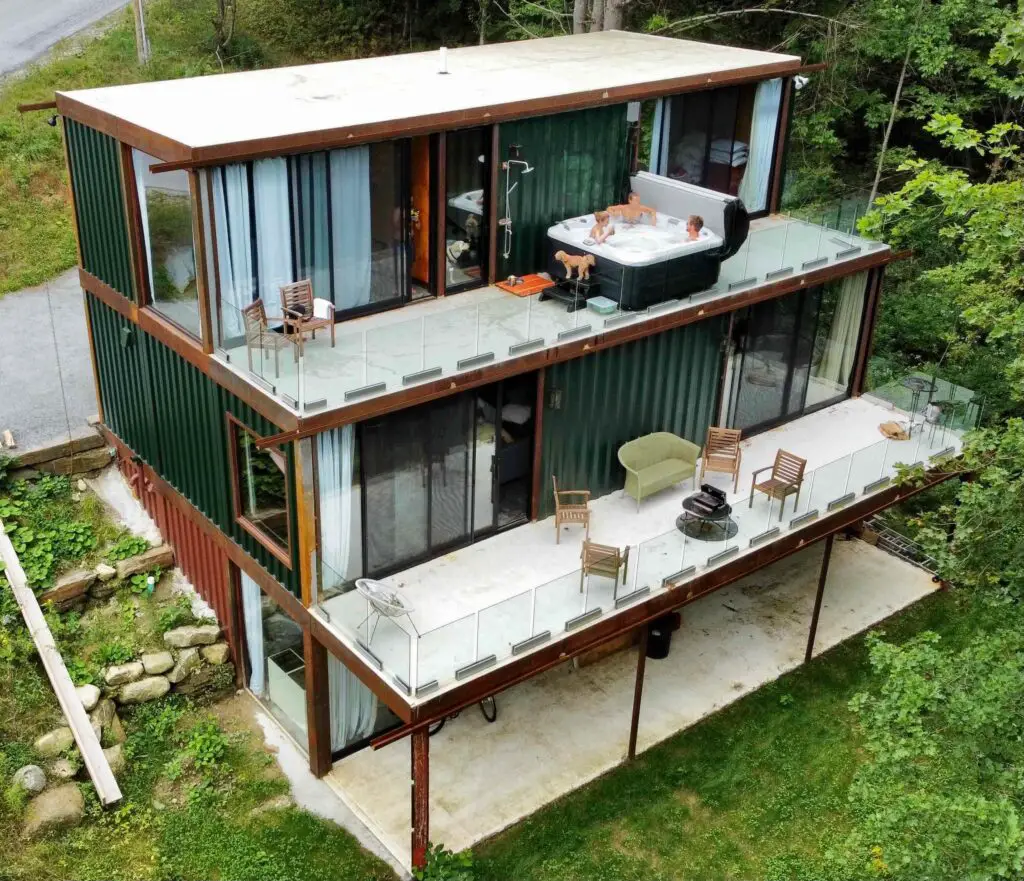 A container house located at 13 South Hill Street
Well, this container house is located at 13 South Hill Station, Ludlow, VT 05149. This house is made at the Hill station by using steel containers.
8 steel shipping containers are used in its construction. Selling price of the house is $1,250,000. ( Vtprop )
This proves that you don't need to compromise your comfort while living. This house is fully furnished with all modern facilities. It also does offer its owner an affordable place to live with all necessities.
In this way, the owner fully enjoys nature without sacrificing comfort. This unique home made of recycled steel shipping containers shows an innovative space.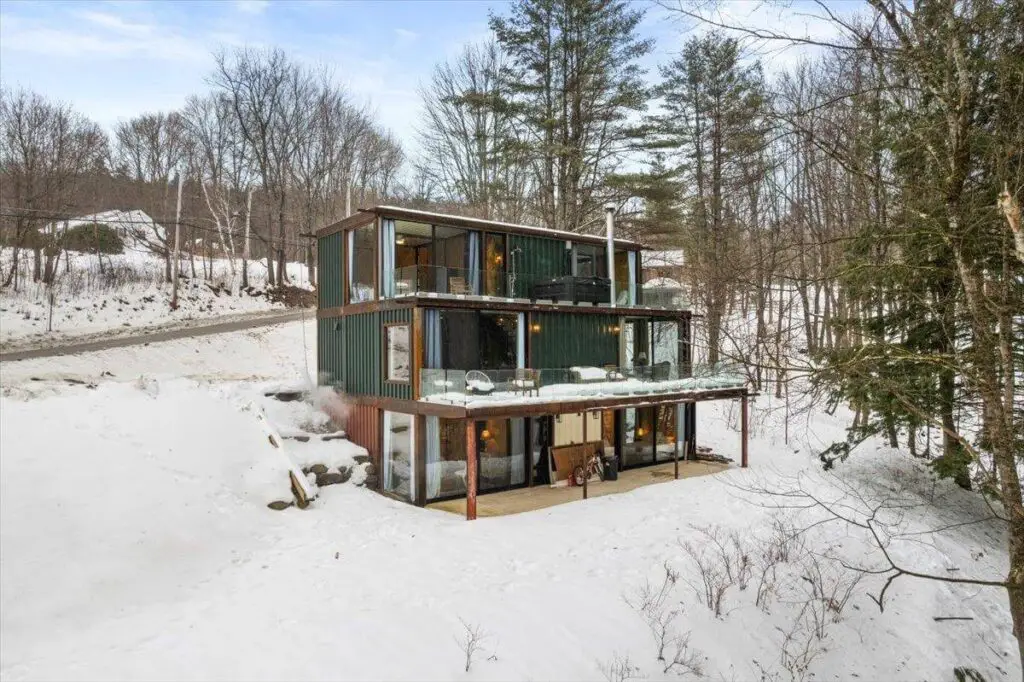 Imaginative space for living
This home made of shipping containers has different portions for a family.
This living space has 3 stories.
This space has 4 bedrooms alogwith 4 bathrooms.
Every bedroom has an attached bathroom.
This one is earth friendly design located in a snowy location. It is made in an area of 1.15 acres. It means it covers 2560 Sq ft area on the ground which is a very small space as compared to other homes. In this small space, this mesmerizing home gives all comfort to its dwellers.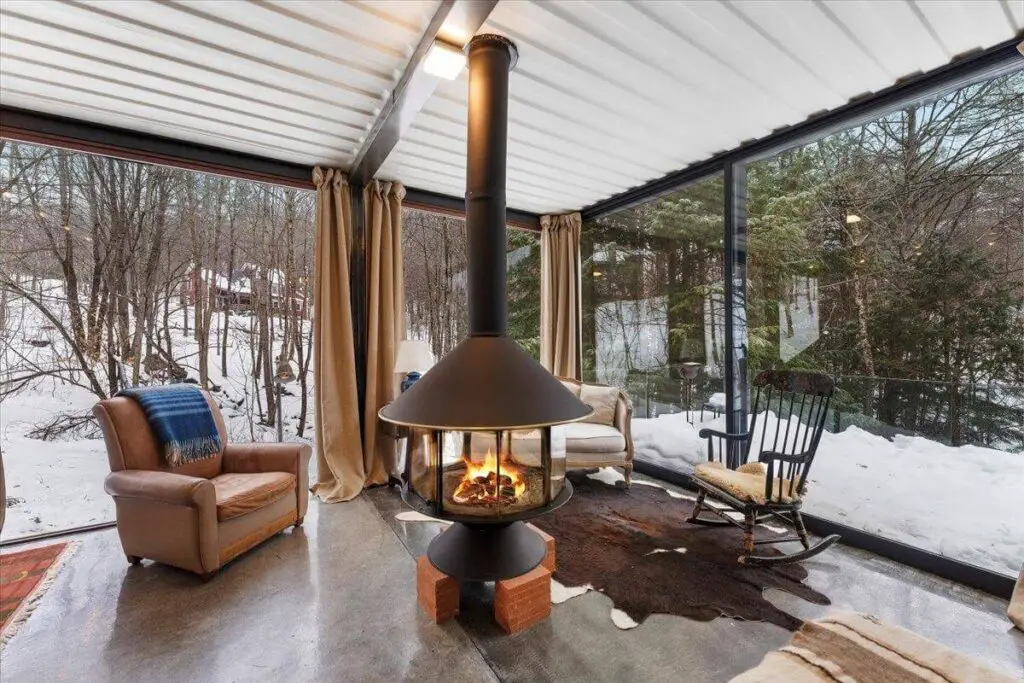 Design of container home
The elegance of this beautifully designed house is increased by using glass material in its construction. On the ground floor, an open dining and living area is located.
The walls of this floor are made of oak wood. This gives warmth to the persons sitting at the place.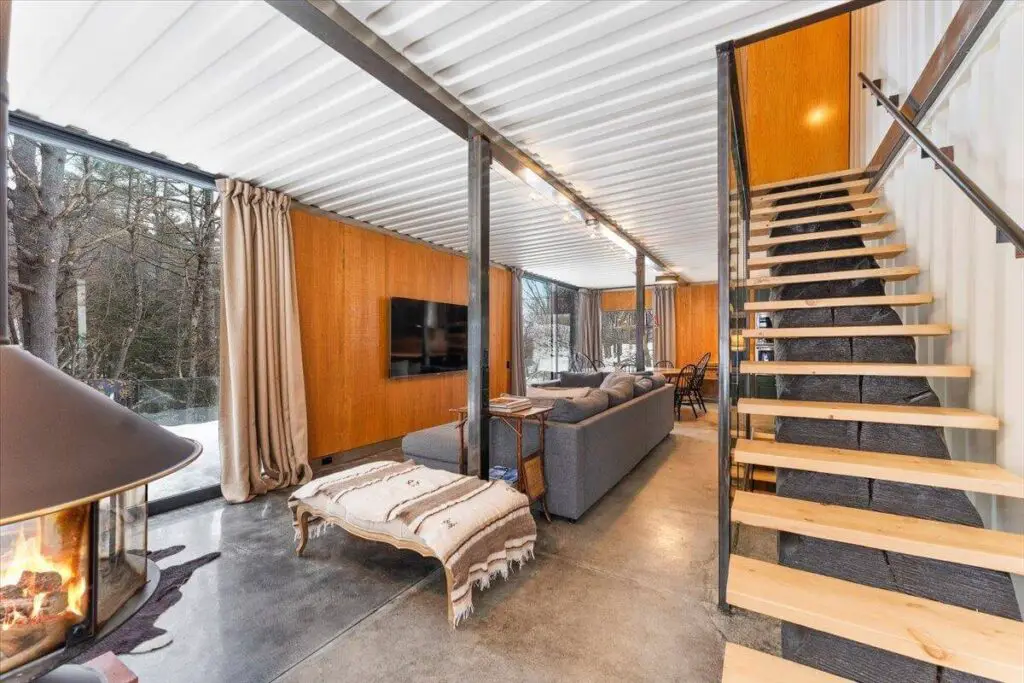 Staircases are made by using pine timbers which lead to the upper story with two bedrooms and two bathrooms.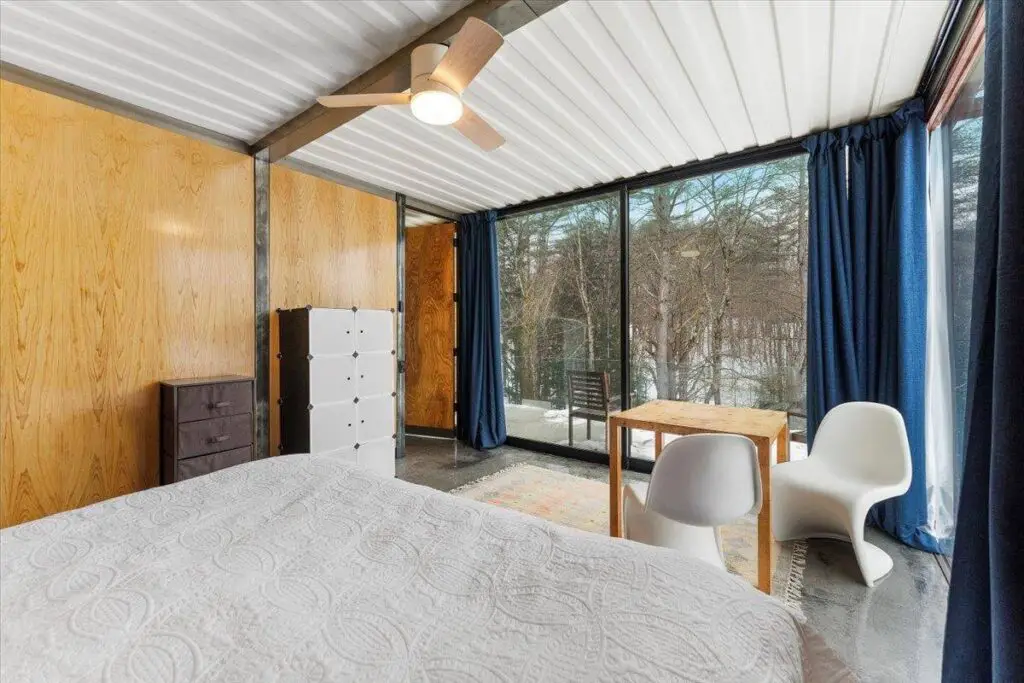 Sliding glass doors and windows are designed on the upper floor.
The beauty of this shipping container home is increased due to a lake at the back of the house.
Stepping towards the last story, there are two bedrooms and a balcony with a glass railing. This balcony gives a view of the stream flowing at the back. Imagine, how mesmerizing this is for a nature-loving person!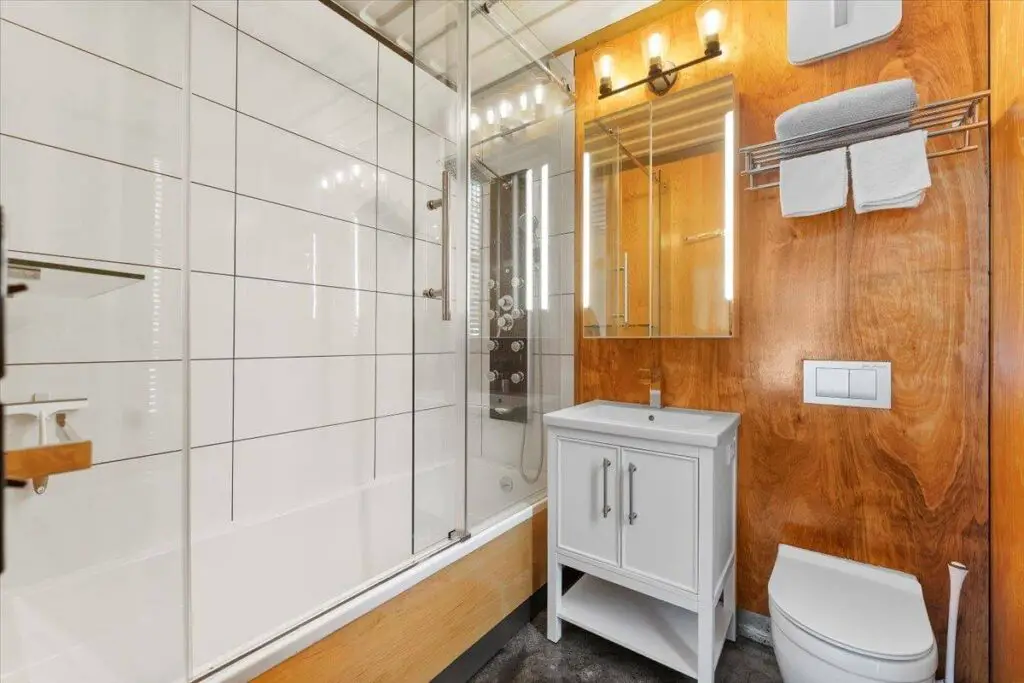 An outdoor shower is made for relaxing there. The home is located at the center of the trees. This also adds a soothing effect to the eyes.
The top of the roof is flat. 1st floor also has a terrace. These properties make this place of living ideal for spending vacations with a family.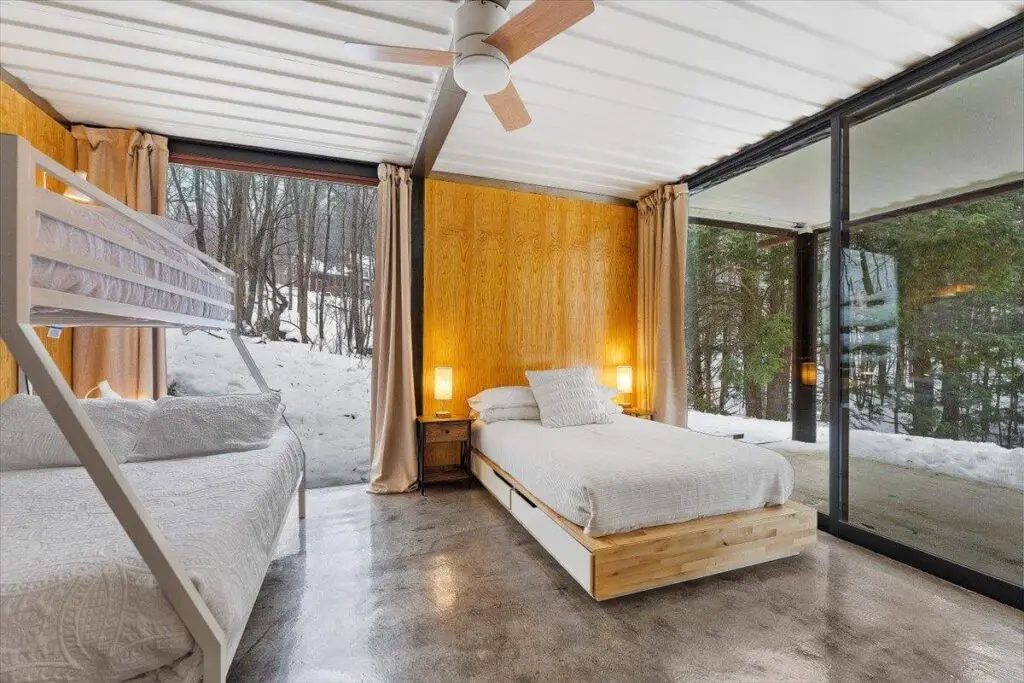 Creativity makes people happy
Creativity leads to such home designs. They use steel shipping containers for homemaking after recycling. Containers make homes with minimum effort. More containers are joined for building big homes.
But a single container can also make a mini house. This is for those who want to live in a mini home.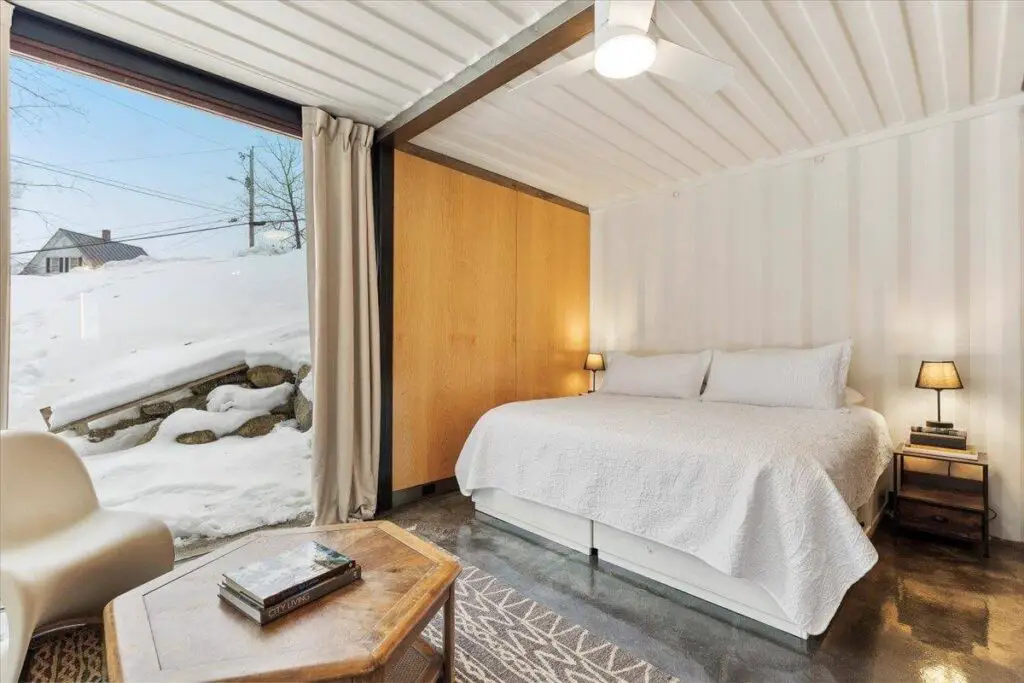 Benefits of living in space of containers
Many benefits of containers include a clean living area with minimalist design and effort, a roomy area for living even after providing all facilities, style, and uniqueness is not compromised in any way, and many many more.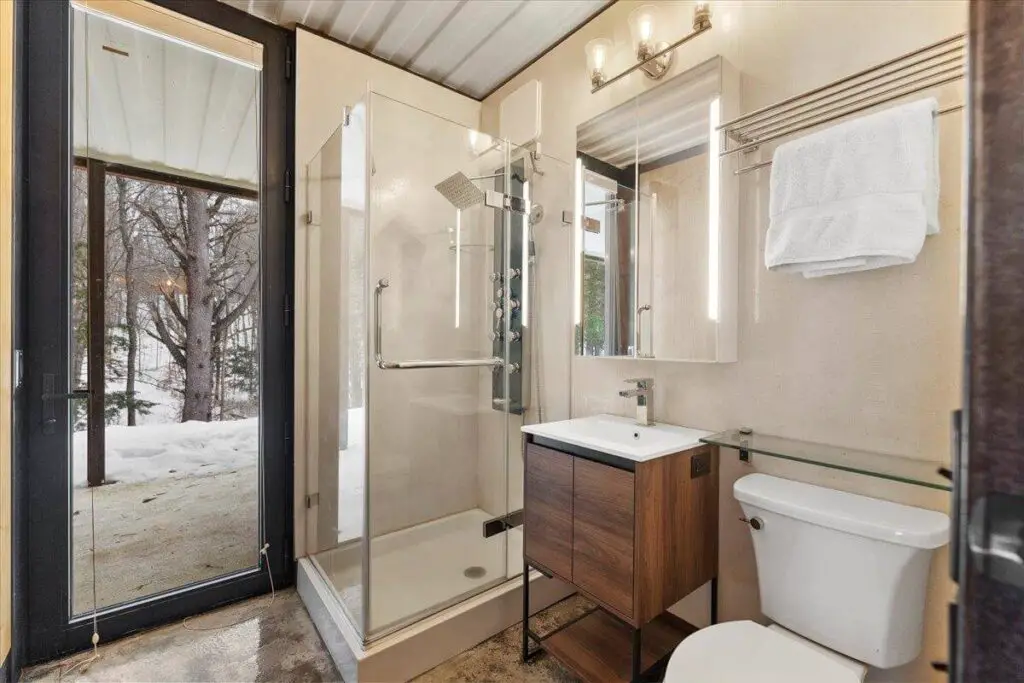 These features collectively make a container house the best living place. A home rejoices a person living in it. So, it must be aesthetic in each way. This container home is fulfilling all the modern demands with a different place location.
So, don't be late. Find your dream container home as soon as possible. These all container designs will continue attracting you.
These have the skill of capturing your attention. These are not just metal boxes, but these recycled container homes are providing you with a comfortable space for living with minimum effort. Thanks.