Hi everybody
We continue to discover for you. Our container house on today's tour is from Kallista, Dandenong Ranges, Victoria, Australia.
Hello from Australia, one of the world's largest container house markets. Today we're going to show you a tiny but very stylish tiny container house. The tiny house is called Larnook. Larnook means 'habitat' in Boon Wurrung (the language spoken by one of the five tribes of the Kulin Nation).
The tiny container house is located in the hills of the Yarra Mountain Range, about an hour from Melbourne.
Larnook has a unique design, which has a view that you will never get bored with. We cannot see many container houses in this model. In particular, the fully glazed sliding doors on the side of the house facing the view were the part that gave the house its character.
Larnook is built to be off-grid. A self-sufficient house with the use of rainwater and solar panels on the roof. This tiny container house can be your getaway point to get out of the hustle and bustle of the city.
Two shipping containers were used to transform the house. With the containers positioned parallel to each other, more easily accessible rooms inside are obtained. One of the containers has a living area and a kitchen, while the other has a bedroom and bathroom. The sliding glass doors at the front of the house, the solar panels on the roof and the color of the container are in perfect harmony as design. This black combination, supported by a small wooden veranda, has created a very stylish home.
The interior design of the house is also very nice. They hit the dark outside and continue inside. The harmony of black and wood details is really perfect. The hexagonal wall tiles on the walls and continuing in the bathroom are impressive. In our opinion, the most breathtaking area of ​​the tiny house was the bathroom. A very nice bathroom was built for a small area.
Inside Larnook, with panoramic views, there is a king-size bed with luxury linen. The bedroom opens to an open-plan, well-equipped kitchen, dining area and lounge with gas fireplace.
Larnook offers you the ultimate stay experience to get away from the complexity of the city and enjoy your time.
If you want to stay in this carefully designed container house in this impressive location, you can book here.
Instagram: @larnook.co  Facebook: @larnook.co  Website: http://larnook.co
Living in a Container explores projects made with shipping containers around the world and shares them for you. Don't forget to take a look at the structures made with other amazing shipping containers on our site!
We invite you to send in your story and container homes photos too so we can re-share and inspire others towards a simple life too. Thank you! You can share this using the link and social media re-share buttons below. Thanks!
» Follow Living in a Container on Social Media for regular shipping container house updates here «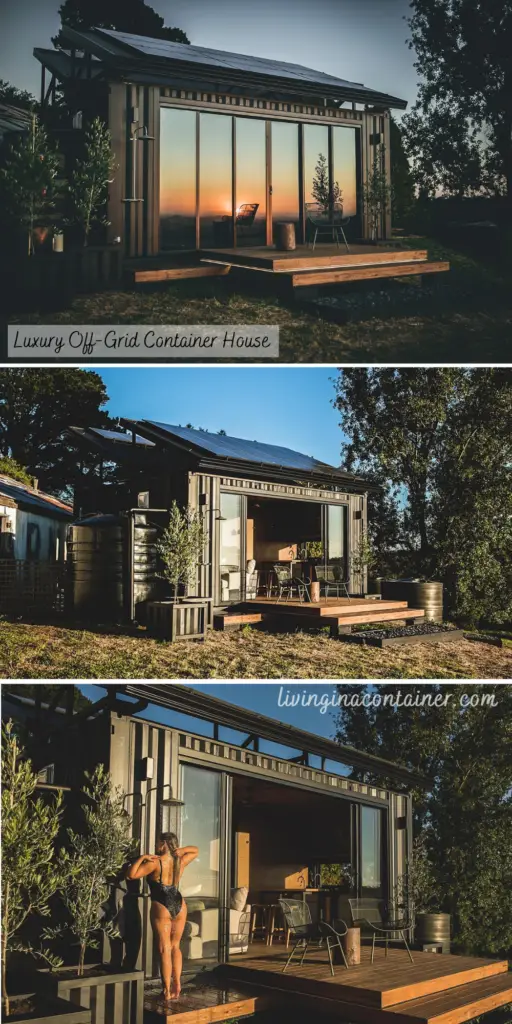 Please check all Luxury Container Homes