The Pacific Bin is a distinct architectural marvel – a 1600 sq. ft. three-bedroom, one-and-a-half-bath Airbnb property in Sultan, Washington. For those contemplating such a venture or merely curious, here's an in-depth analysis of the construction costs associated with bringing this idea to life.
Everything mentioned in this article has been sourced from a YouTube video by Devon Loerop, who owns the shipping container home. For those looking to connect with Devon, the YouTube link is provided below.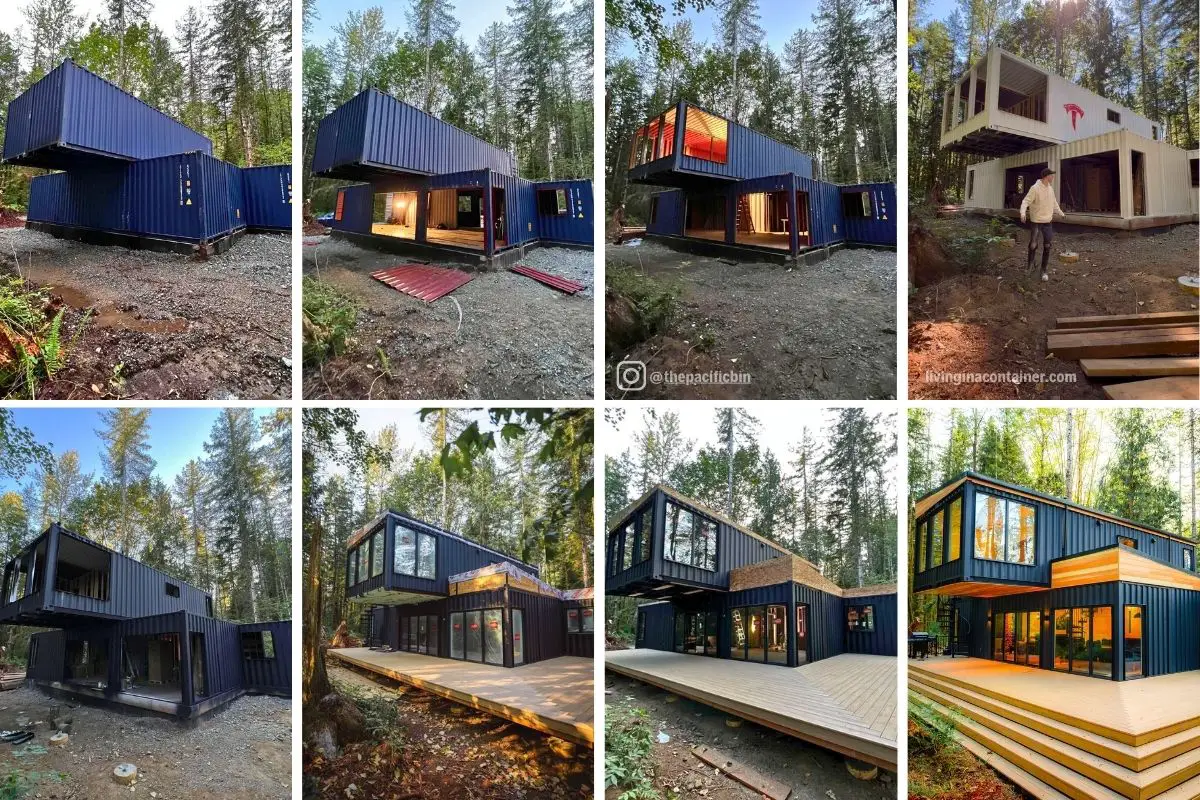 Land and Initial Studies
Critical Area Study: Before anything could be done, understanding the land was vital. This study, costing $3,925, delineates where construction is feasible, identifying wetlands and steep slopes.
Survey: To locate the exact four corners of the lot, a comprehensive survey was required. This process set team back by $10,000, although an initial rough layout using Google Maps proved surprisingly accurate. That's a tip for future builders – save on survey costs with a preliminary Google Maps check!
Structural & Architectural Plans: Recognizing the Pacific Bin as a single-family home in Snohomish County necessitated full structural and architectural plans. These cost $10,700 and ensured the house could be built to meet all legal requirements and aesthetic aspirations.
Civil Engineer: Ensuring proper drainage for the property involved hiring a civil engineer. Their role was to design a system to direct rainwater away from the house, eventually allowing it to return to the ground. This service came in at $6,180.
Snohomish County Plan Review: Submitting all these documents for review resulted in a fee of $9,924.11. This crucial step confirmed the construction's legality.
Septic Design: For $3,000, a septic designer was hired to determine the best locations for the septic system and well, ensuring no cross-contamination.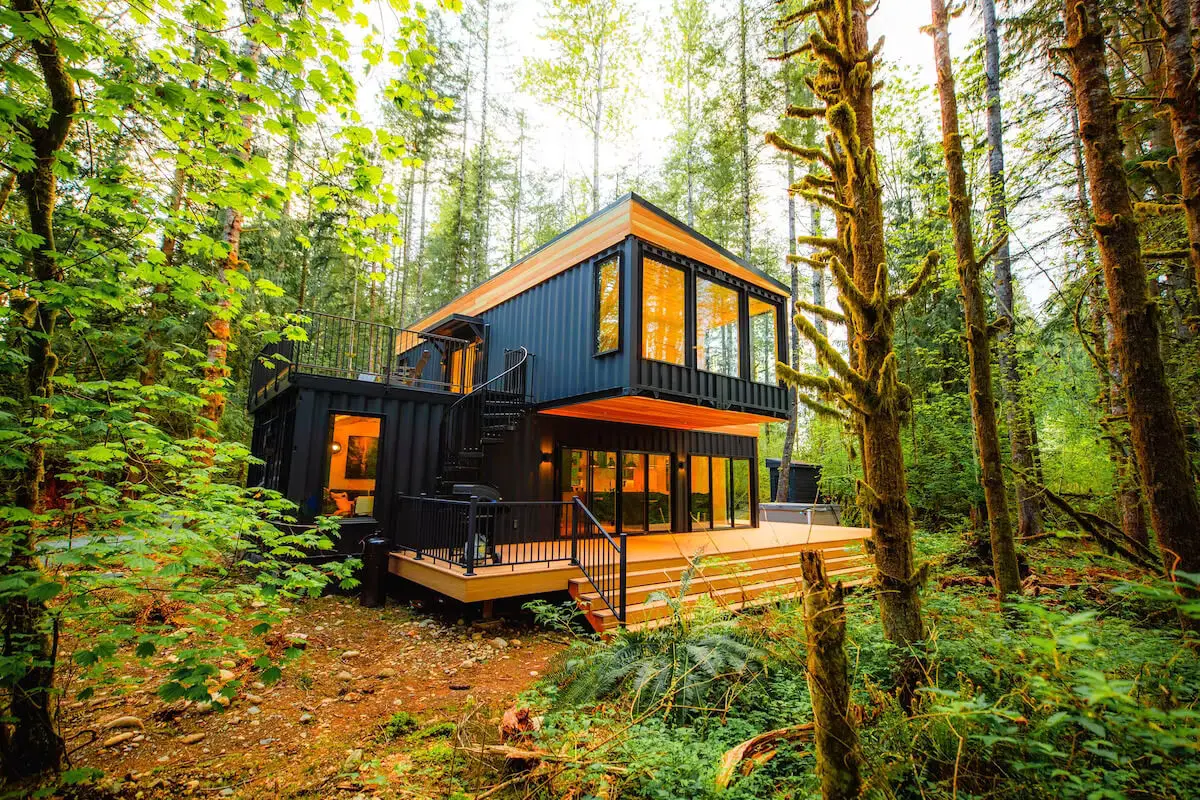 Starting Construction
Shipping Containers: The essence of the Pacific Bin – five shipping containers – were procured for just under $33,000, averaging roughly $6,600 per container. Pro tip: If you're on the west coast, consider purchasing around Christmas time due to a surplus from China.
Rock and Driveway: Creating a stable foundation and a 500-foot driveway using rock amounted to $6,000.
Rental Equipment: Necessary for excavations and foundation work, rentals cost $7,400.
Well Drilling: A significant cost, drilling a 260-foot well came up to just shy of $22,000.
Pump House: Built to house the pumping equipment, this small structure set them back by $2,400.
Electrical Connection: Getting connected to the grid via the local power company was surprisingly expensive at $27,000.
Structural Steel: To ensure stability, especially when modifying shipping containers in unique ways, structural steel reinforcements were essential. These costs rose to over $20,000.
The Pasific Bin: A Detailed Cost Analysis of Building a Container Home
1. Foundation and Infrastructure
Foundation Creation: The foundation, as designed, required a two-foot-wide footing and a four-foot knee wall. This undertaking cost $23,000. A crawl space of almost five feet was carved out beneath the home. This decision, which facilitated easier electrical and plumbing installations, not only made the work smoother for the construction team but also will simplify potential future servicing.
2. Essential Amenities and Luxuries
Hot Tub: Initially budgeted at $6,000, the actual cost for the saltwater, seven-person Hot Springs hot tub was a staggering $17,000. Given the home's luxurious design, this wasn't an item to compromise on. The higher price point was justified by its superiority over conventional chlorine tubs.
3. Doors and Windows
Package Costs: One crucial advice for potential builders is to order windows and doors early due to their extended delivery times (typically 3-6 months). The total cost for the windows and doors of The Pasific Bin was $36,000. A significant portion of this cost was because the master bedroom is essentially a panoramic view, surrounded on three sides by windows.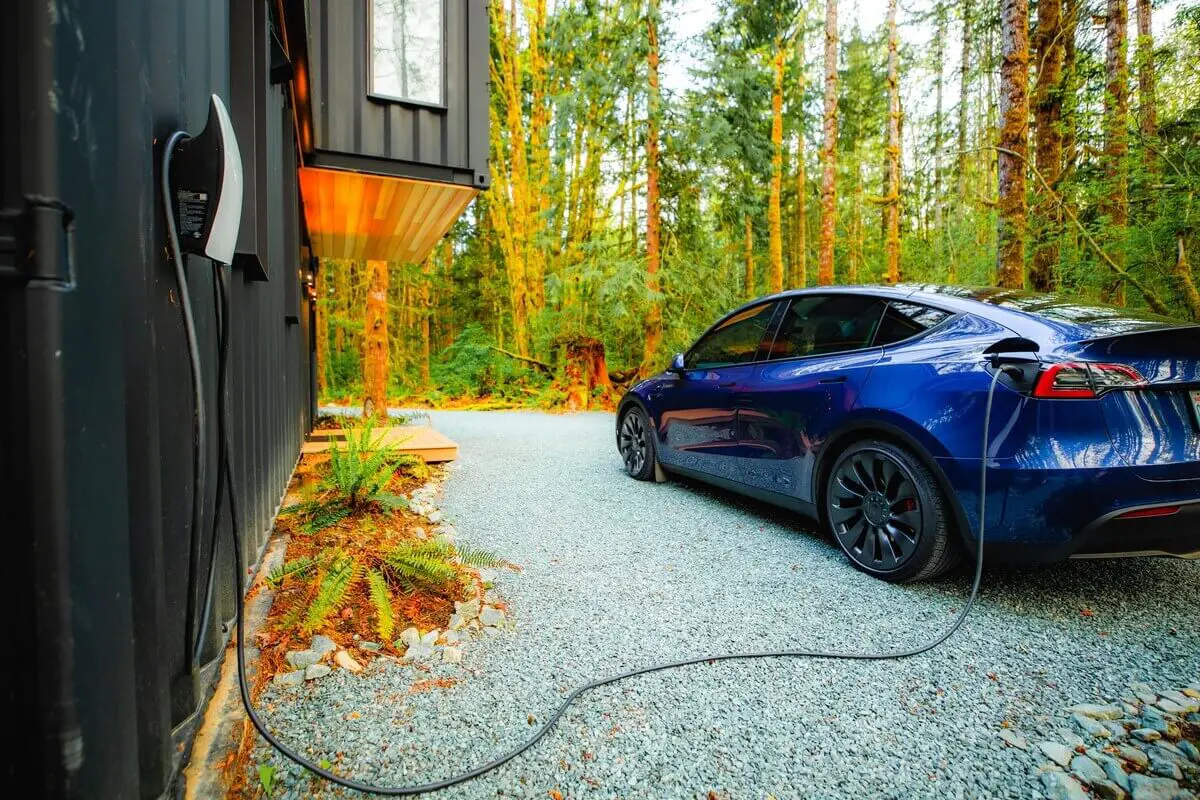 4. Utilities and Connectivity
Septic System: The installation of the septic system, including the drain field and related components, amounted to $24,000.
Charging and Connectivity: The Tesla wall charger was purchased for $440. Additionally, there was an expenditure of $2,200 on the SpaceX Starlink satellite dish, ensuring top-tier internet connectivity.
5. Structural and Interior Works
Structural Reinforcement: After the steel reinforcement, the wood framing of the bin commenced. Due to the then sky-high prices of materials, the woodwork cost amounted to $6,700.
Electrical and Plumbing: The electrical setup for the entire home came up to just over $26,000, while plumbing costs were around $17,000.
HVAC System: With five mini-split head units distributed across the home, the HVAC system's total cost was $28,000.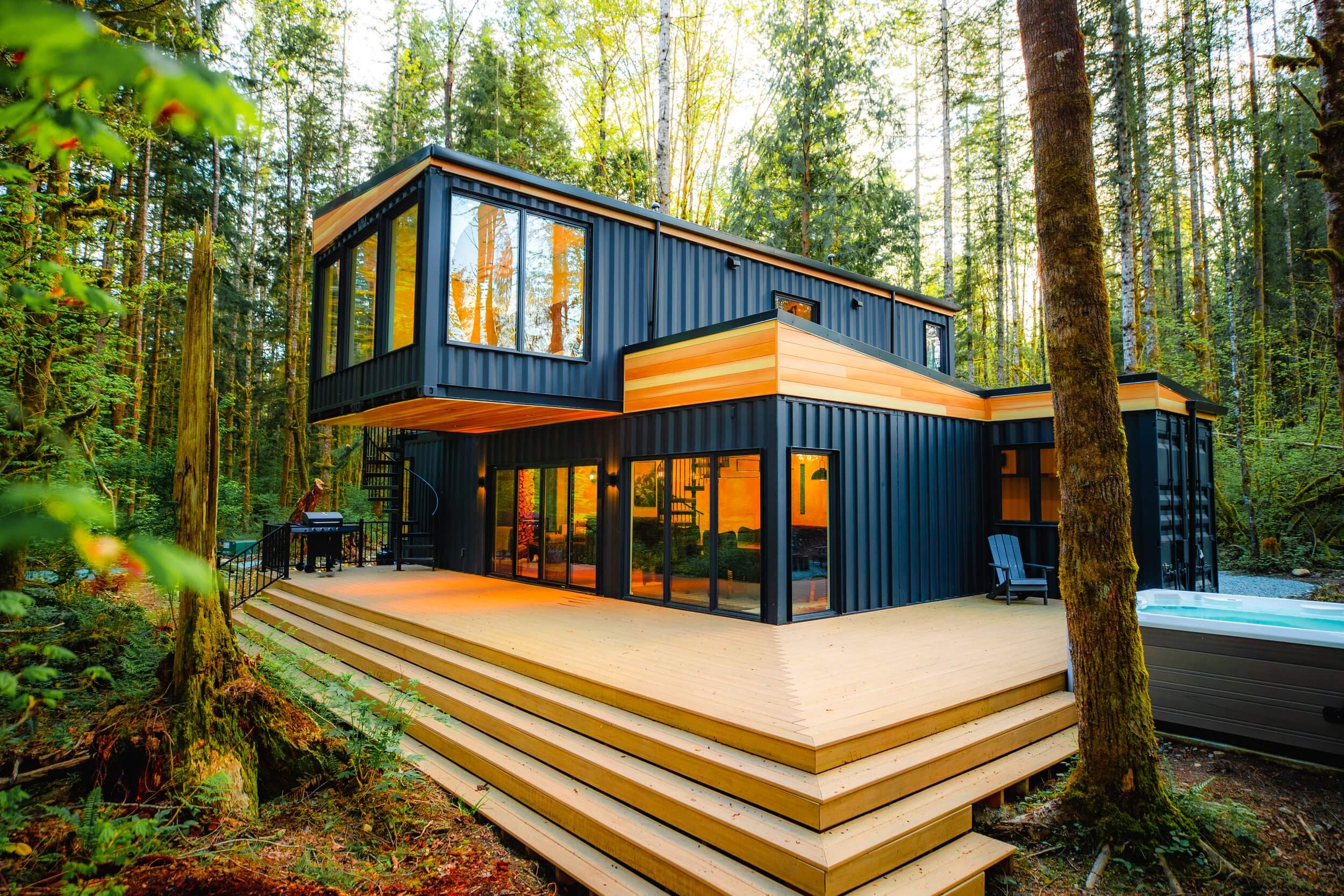 6. Outdoor Additions
Deck: The extensive decking, covering almost a thousand square feet, totaled $26,000. This includes costs for concrete footings, structural lumber, and high-quality TimberTech decking.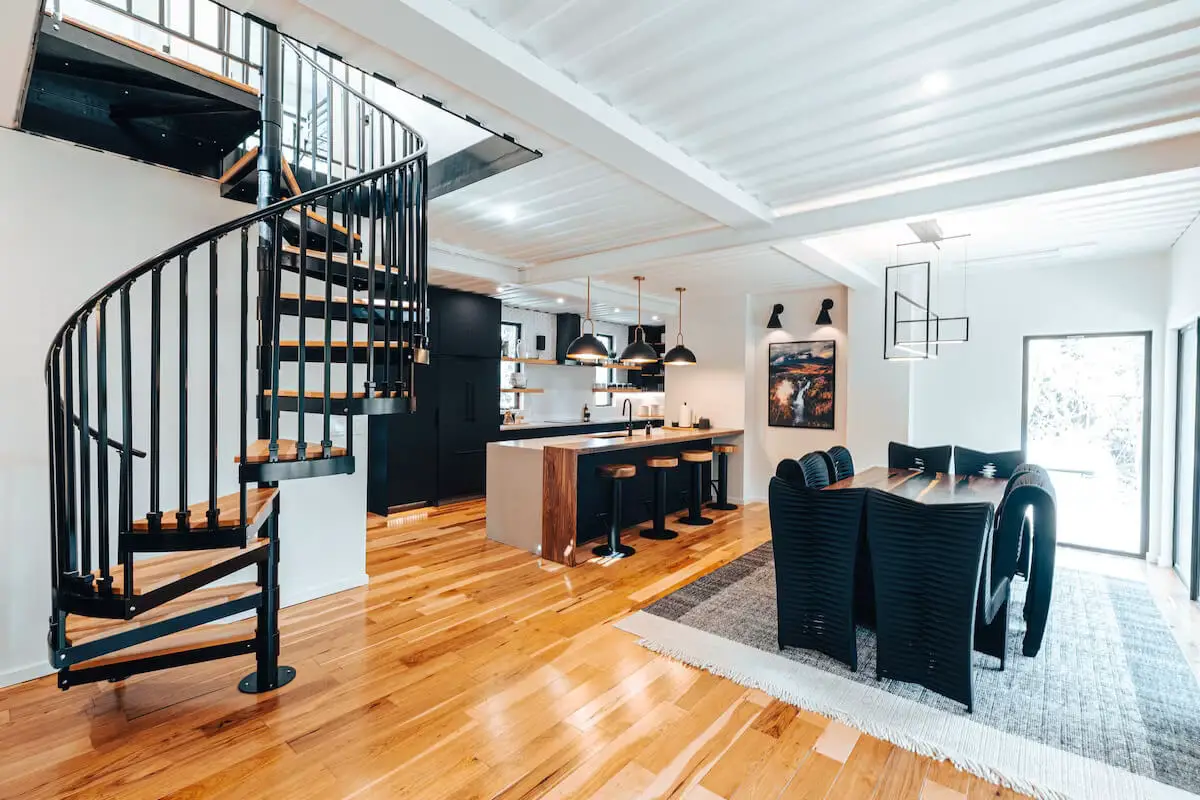 7. Interior Finishing and Furnishings
Fireplace: The home's sole gas appliance, the fireplace, was installed for $6,000.
Flooring: With durability in mind, hickory wood flooring, one of the most resilient hardwoods, was chosen. The total flooring cost, which also includes matte black hexagon tile in certain areas, was $17,000.
Staircases: Two spiral staircases, one inside and one outside, were a prominent feature of the home. These cost $15,000, though there were post-purchase sponsorships associated with this.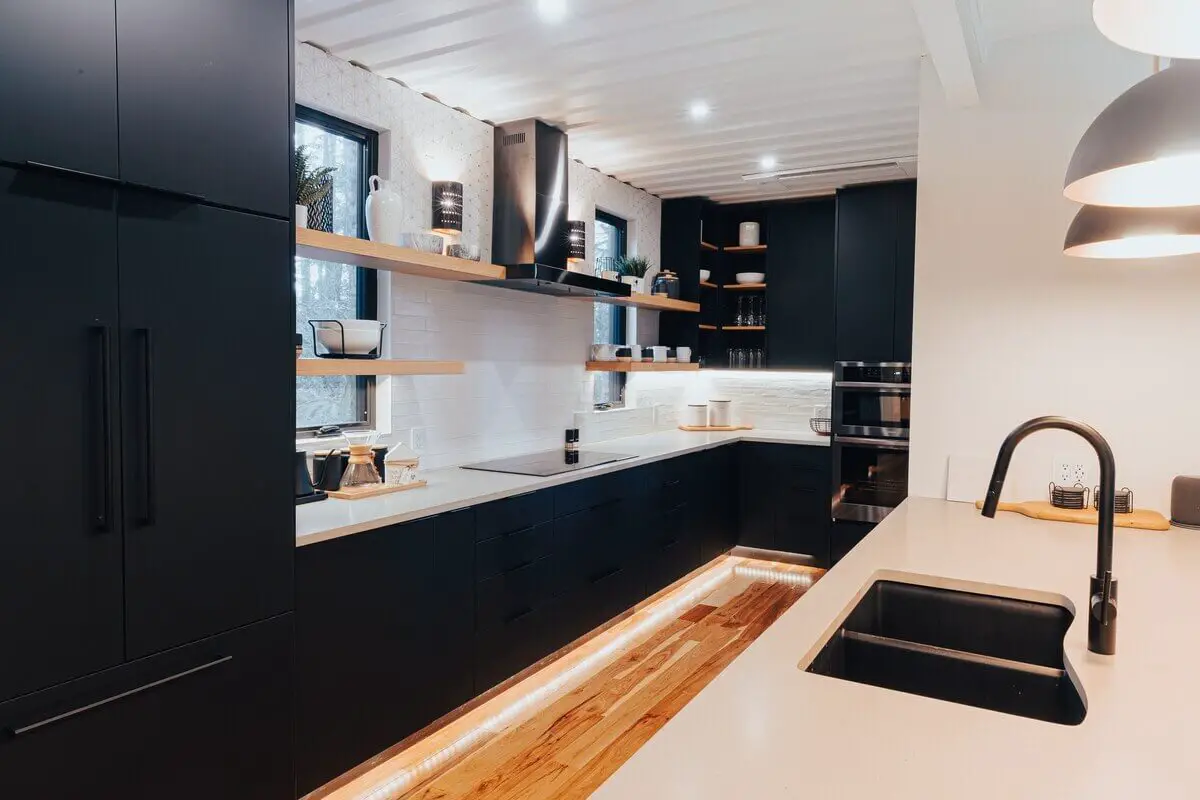 1. Interior Design and Furnishings:
Live Edge Island Countertop & Resin Poured Walnut Dining Table: Combined, they totaled about $9,000. However, the table, due to collaboration, came at a discounted price. Its market value typically stands around $20,000.
Quartz Countertops: Selected to mimic concrete for an industrial and modern ambiance. The overall expense for the kitchen, main bathroom, and powder room came to $10,000.
Painting Costs: The complete interior and exterior painting of the house amounted to $3,100.
Furniture: On average, the cost hovered around $14,000. However, this figure is influenced by discounts and sponsorships, meaning the typical price could be much higher.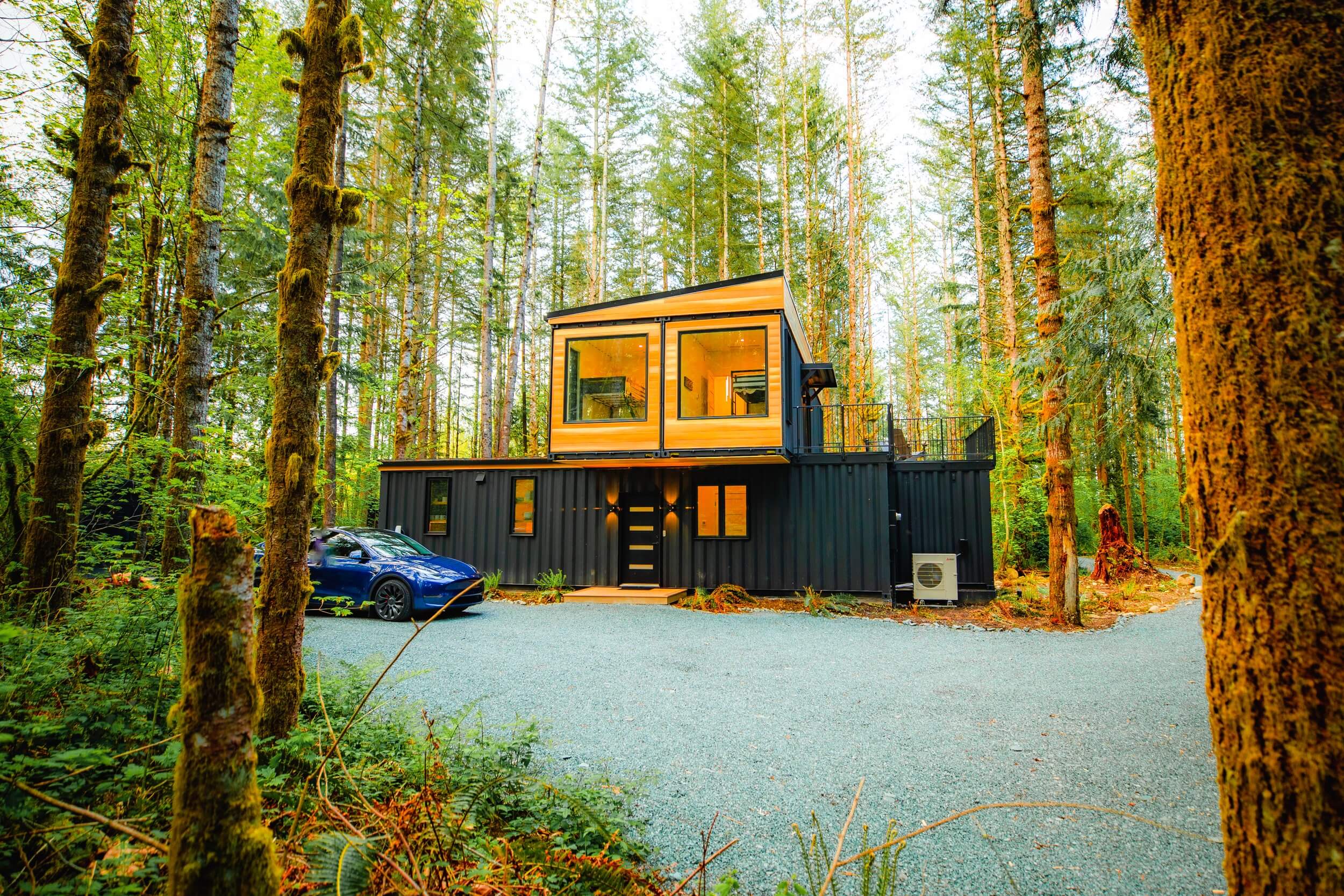 2. Construction and Material Expenses:
Closed Cell Spray Foam Insulation: The cost was $19,500. This type of insulation is preferable for container constructions because it adheres to metal, preventing condensation issues over time.
Welding Inspection: Priced at $432.
Metal Roofing: This choice was made for its durability, costing $17,650. The intent behind opting for a metal roof was its long lifespan and reduced future maintenance.
Soffits and Overhangs: These were created using Lux Architectural Products. The product cost was $7,000, with installation charges accounting for the rest, totaling $11,500.
3. Miscellaneous Expenditures:
Propane Tank: Purchased from Lowe's for $126.
Glass Door for the Steam Shower: Cost was $2,100.
Blower Door Inspection: This test, which checks for air leaks in the house, was priced at $400.
Asphalt Entrance: Due to local regulations, the first 20 feet of the driveway had to be asphalt, leading to an additional expense of $3,350.
4. Overall Construction and Tool Expenses:
The last significant expense was $31,000 for small tools and equipment. This includes nails, nail guns, drills, welders, propane tanks, and other necessary items aiding in the building process.
Final Overview:
The complete construction cost tallied up to $542,451.92.
When combined with the land cost, the entire project's expenditure reached approximately $750,000. However, with the current market trends, the resale value of the house stands close to a million dollars. This means there's a potential equity generation of around $250,000 if the property were to be sold.
Bear in mind, construction costs in Washington, where this home is located, might differ compared to other regions.
We extend our heartfelt gratitude to Devon Loerop for generously sharing a comprehensive breakdown of the costs involved in building his two-storey shipping container house on YouTube. With over 3 million views, this video has become an invaluable resource, providing insights and answers to countless individuals.
For those contemplating the idea of constructing a container home, this detailed cost assessment is a boon.
Dubbed 'The Pacific Bin', this dwelling stands out as one of the most aesthetically pleasing and structurally sound homes made from shipping containers. Its impeccable design and unparalleled quality are testaments to that. It's evident that Devon didn't compromise on quality, choosing only the finest materials for this masterpiece.
Furthermore, Devon offers this home as a rental on AirBNB, and the proceeds he accrues are transparently shared on his YouTube channel. If the dream of building a container home and listing it on Airbnb resonates with you, Devon's channel is brimming with beneficial content to guide your journey.
For direct communication or to follow his updates, you can access Devon's social media handles provided below:
Youtube : Devon Loerop
Instagram: @thepacificbin
Airbnb : The Pacific Bin