Hi everybody ?
We continue to discover for you. Our container house on today's tour is from New Zealand.
This Dunedin property was built from eight shipping containers. Landscaping remains to be completed.
Converted shipping containers are used as shops, storage facilities and workers' accommodation but there are still only a few examples in Dunedin. Kim Dungey reports on one.
A Dunedin couple thought outside the box when building this property from shipping containers.
The shape and the cladding might give away its industrial roots but inside, it is difficult to believe you are in steel containers that carried goods on the high seas.
Former Otago rugby player Nick Moore said the project had taken longer than he thought, cost double what he expected and was something he would probably not do again, but once he and wife Nadene had committed to the project, there was no turning back.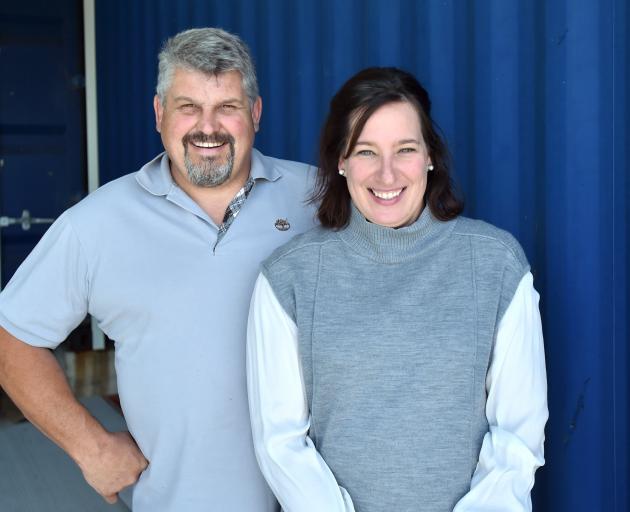 Nick and Nadene Moore are happy to see their unconventional building project completed.The Moores bought their central Dunedin site in 2011, later demolishing a two-storey brick house that needed major work.
As South Island manager for SEA Containers New Zealand, Mr Moore was already familiar with repurposed containers and keen to use them for their next rental property.
Designed to be stacked on top of one another, the units can also be placed side by side to provide multiple living areas and bedrooms.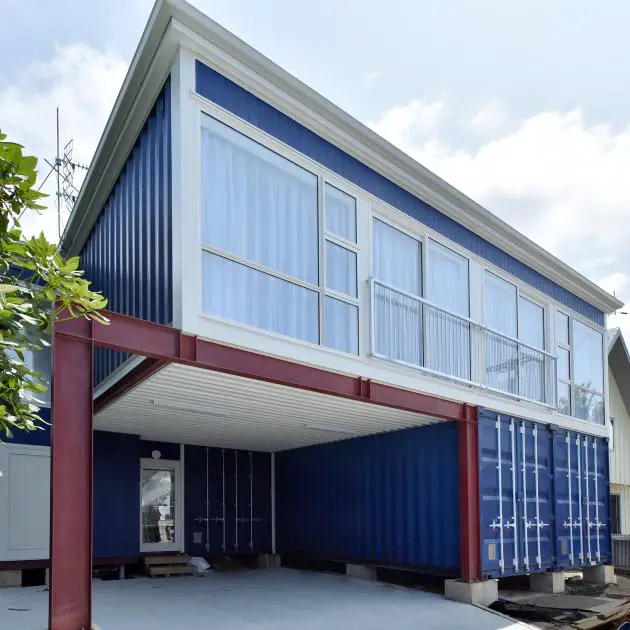 In this case, the 230sq m house was built from eight "high cubes", all of which had made one trip carrying cargo to New Zealand from China. Each unit was 2.9m high and 2.4m wide. Six were 12m in length and the other two, 6m long.
On the bottom level, the containers serve as a kitchen-living area, a guest toilet, a bedroom and — with five bedrooms the maximum permitted on site — a large storage area.
There is also a carport, underneath the top level.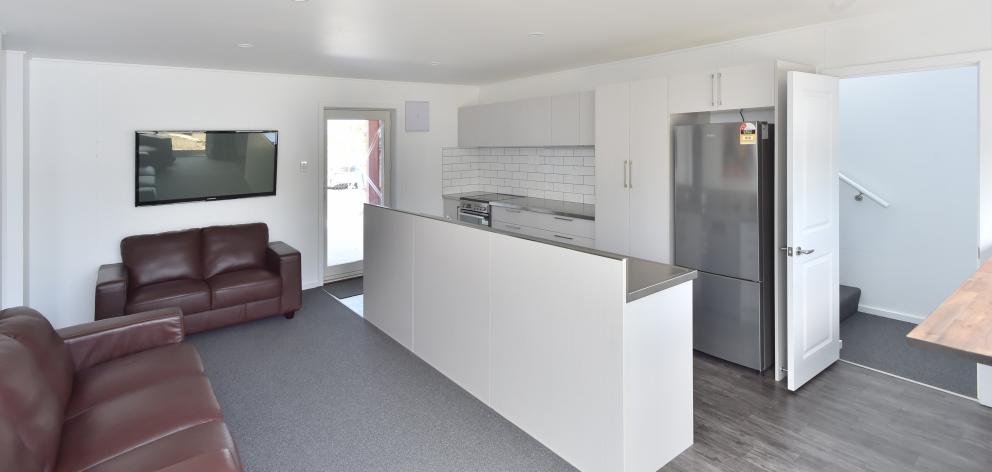 Each bedroom has a wardrobe and en suite bathroom; the four upstairs also have Juliet balconies.
Each of the bedrooms has an en suite bathroom.The ends of the containers were opened up to provide light and a view out of the bedrooms, Mr Moore said.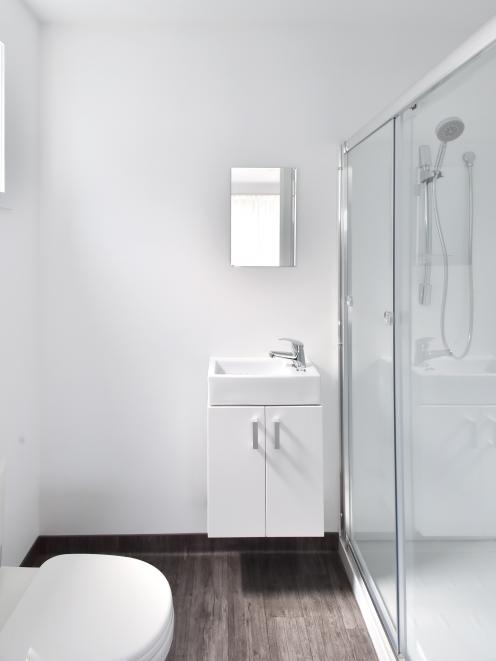 "Each container also has substantial structural support over and above what is required for housing as it had to be able to survive being transported and lifted by crane on to site."
Outside, landscaping is still to be completed. Inside, MDF offers a hardy wall lining and chipboard placed over the existing plywood floors provided a flat surface on which to lay carpet.
Closed-cell foam insulation, together with double glazing, keeps noise from the one-way road outside to a minimum.
While the couple planned to demolish the existing house in 2017 and have the new one ready to let at the start of 2018, the project took more than three years.
One big expense was moving the containers three times — firstly from the container depot in Christchurch to an engineer in Southland, then to storage in Dunedin while foundations were completed, and finally to Ethel Benjamin Pl.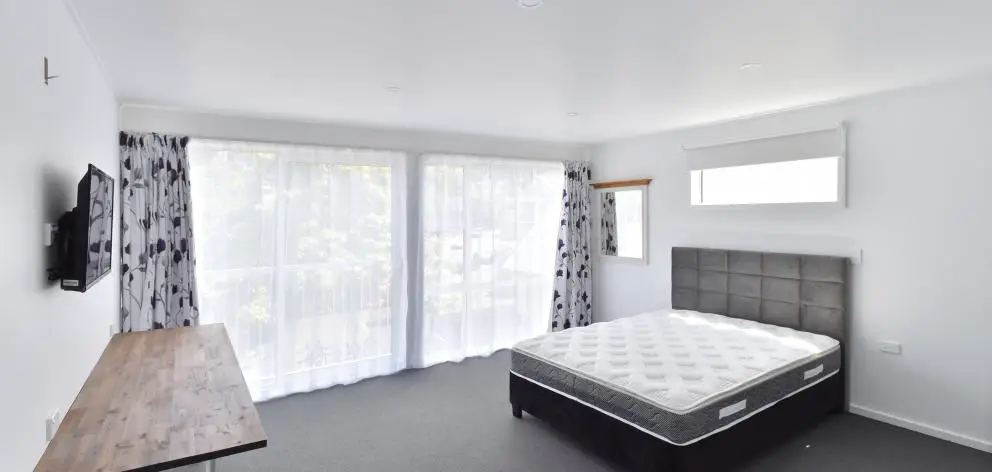 Another, which they had not budgeted for, was the $10,000 it cost to have an archaeological expert on site during earthworks — this was required because it was associated with pre-1900 human activity. The expert sifted through soil from 28 2.5m-holes dug for the foundations, finding "an old boot and a couple of chipped bits of pottery".
In hindsight, it would also have been better to remove complete walls as leaving part walls where the containers met meant framing them up on both sides, Mr Moore said.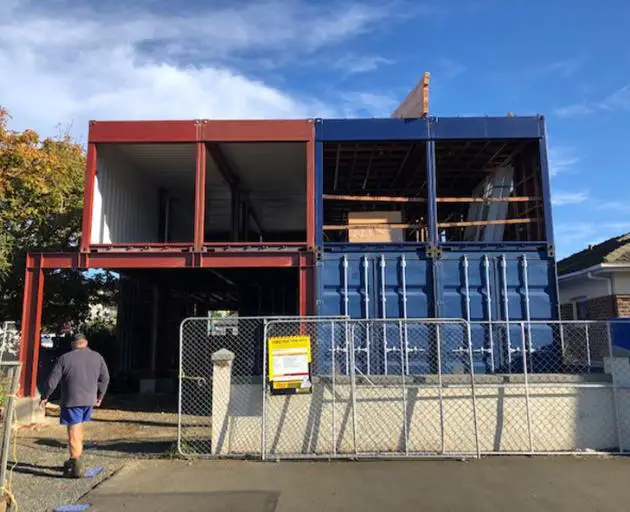 Knowing what they did now, a second conversion would take less time and less money, said his wife, an accounts manager: "The sad thing is you learn so much during the process but because it's so challenging, you don't always use that knowledge again."
Both, though, are happy with what they have created and delighted with feedback on the project.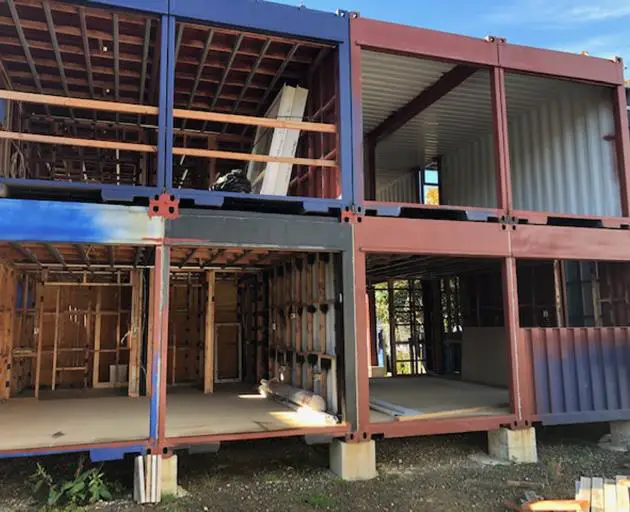 "People have said that they didn't expect it to be this big inside, that it doesn't look like containers and that it's very quiet," Mr Moore said.
"I'm happy to see the end of it but I'm really proud of the way it's turned out."
Living in a Container explores projects made with shipping containers around the world and shares them for you.
Don't forget to take a look at the structures made with other amazing shipping containers on our site!
We invite you to send in your story and container homes photos too so we can re-share and inspire others towards a simple life too. Thank you!
You can share this using the link and social media re-share buttons below. Thanks!
» Follow Living in a Container on Social Media for regular shipping container house updates here «
Photos: Gerard O'Brien Source : odt