In the crossroads of sustainability and modern design lies a unique architectural phenomenon: container homes. Texas, with its vast natural expanses and varied landscapes, has become a beacon for this trend.
A blend of minimalism, eco-friendly living, and often surprisingly luxurious features, these homes offer a unique stay unlike any other. If you've ever been intrigued by the prospect of spending a night in one of these modern marvels, you're in luck.
We've scoured the vast expanse of Airbnb to bring you the top 15 container homes in the Lone Star State. Whether you're after breathtaking views, luxury amenities, or just the experience of staying in a repurposed shipping container, there's something on this list for everyone.
1. The Helm: A Two-Story Container Marvel in Texas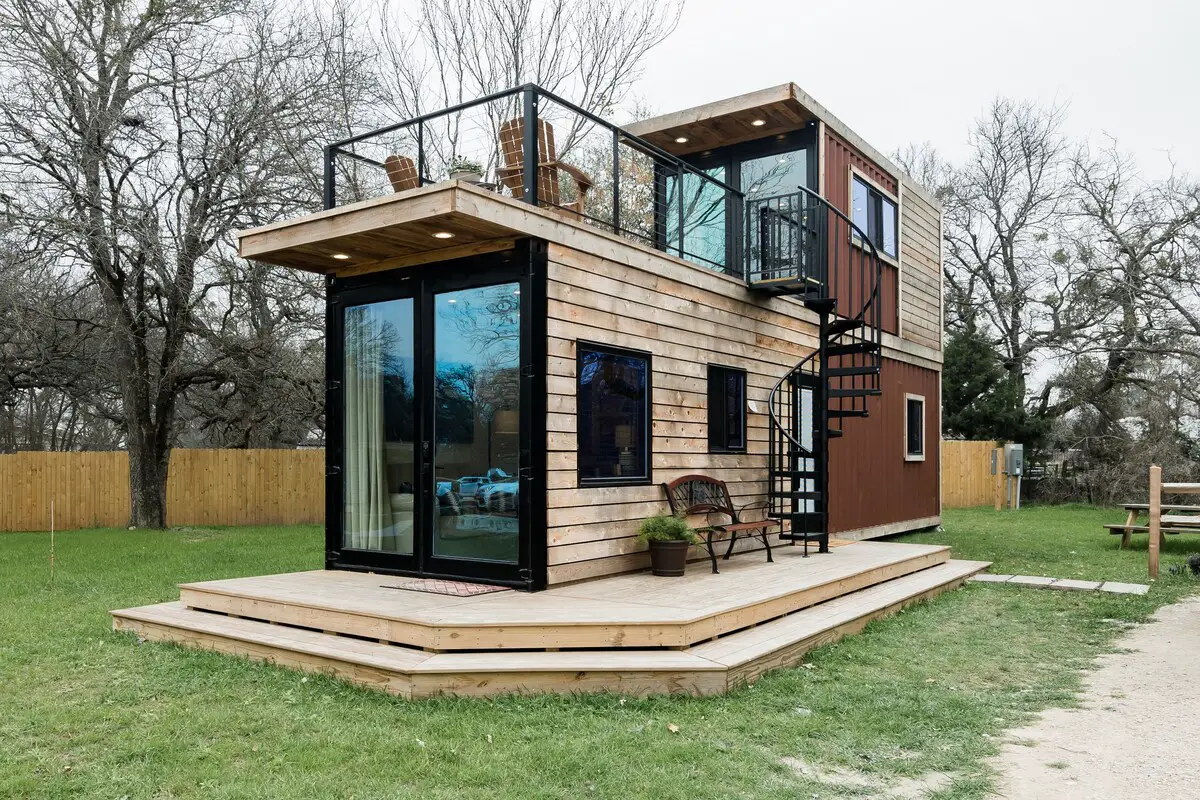 Nestled in the heart of Texas, "The Helm" stands as a testament to innovative architecture and sustainable living. With a remarkable average rating of 4.96 from over 640 reviews, this two-story container home promises an experience that's both unique and luxurious.
Originally crafted from two shipping containers, one 20-foot and the other 40-foot, the creators took sustainability to the next level. The interior boasts insulated pine shiplap paneling, perfectly contrasted by trims of barnwood that's over a century old. The exterior, on the other hand, is a blend of cedar siding, allowing glimpses of the original container, adding authenticity to its modern design.
One of its standout features is the entrance – guests can choose between the original container doors, now beautifully replaced with full glass panels, or a side entry with a conventional door.
Yet, perhaps the pièce de résistance is its rooftop deck. Surrounded by a bespoke cable railing system and enhanced with LED lights that cast a warm glow as night falls, it's the perfect spot for evening relaxation. Accessing the deck and the upstairs bedroom is made easy with an exterior spiral staircase, making the journey upwards just as fun as the view from the top.
With 2 cozy bedrooms, accommodating up to 6 guests, and 2 pristine baths, this container home is not just about aesthetics; it's about providing a comfortable stay. At a competitive rate of just $116 per night, The Helm is a Texas treasure waiting to be discovered by those eager for a unique Airbnb experience.
Key Features:
2. Unique Industrial Guesthouse: A Zen Retreat in Austin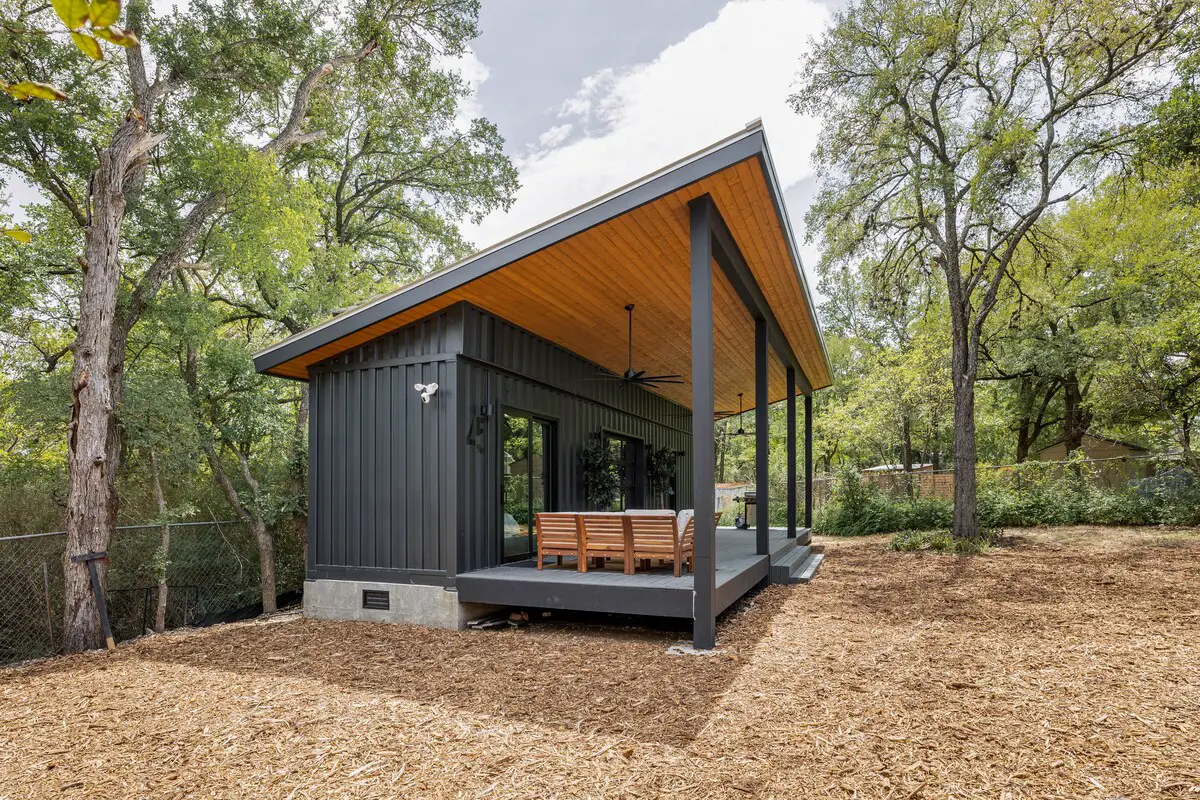 Tucked away in the bustling heart of Austin, Texas, lies a haven of tranquility: the Unique Industrial Guesthouse. Sculpted from a shipping container, this establishment has garnered a commendable average rating of 4.96 from 24 reviews, showcasing its allure and guest satisfaction.
Covering a sizable 360 square feet of interior space, this full 1-bedroom and 1-bath guesthouse is far from your typical studio layout. It's been designed with a minimalist approach, fostering a zen ambiance that encourages guests to relax and rejuvenate. But it's not just about the interiors. A sprawling 450 square feet of covered deck offers the perfect outdoor setting to soak in the Texas sun or enjoy a tranquil evening under the stars.
Positioned just a stone's throw away from the trendy realms of East Austin and Downtown, this guesthouse ensures guests are never too far from the action, yet distant enough to find peace when needed. At $144 per night, this Texas gem offers both convenience and serenity, wrapped in a stylish, industrial package.
Key Features:
3. Air Castle Treehouse: A Sky-High Container Retreat in Ladonia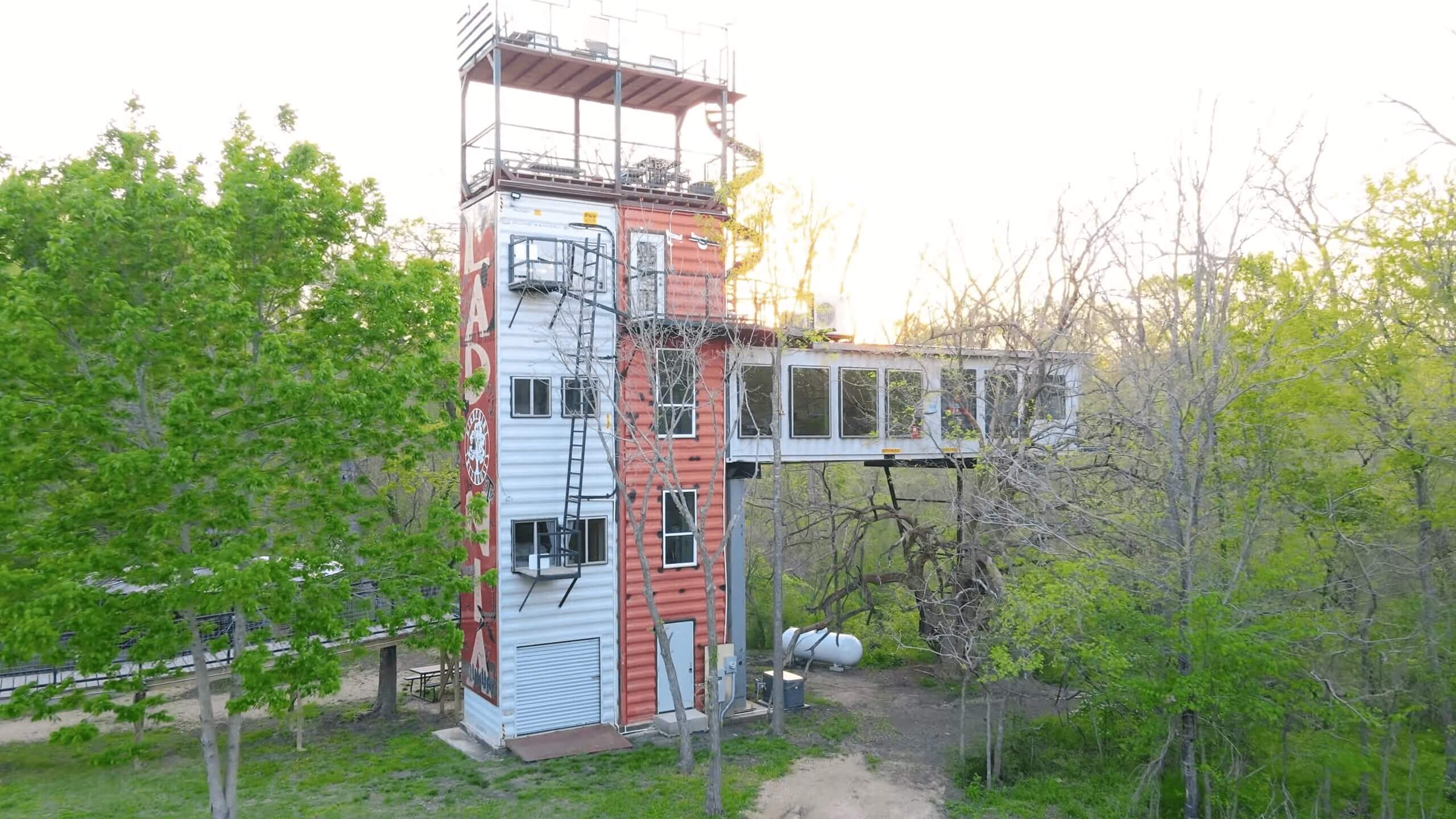 Suspended among the trees of Ladonia, Texas, the Air Castle Treehouse presents a mesmerizing blend of nature and architecture. Built using four shipping containers, this vertical container house offers guests an experience that's truly elevated, both literally and figuratively.
With accommodations for up to 4 guests across its 2 bedrooms and 1 bath, the interior showcases a modern farmhouse style, blending rustic charm with contemporary flair. As dawn breaks, guests are greeted with a breathtaking view that's best enjoyed from any of the treehouse's five balconies. Whether you're sipping coffee on the 3rd-floor screened porch, taking a dip in the hot tub, or gazing out from the 6th-floor crows-nest perched 50 feet in the air, the vistas are sure to captivate.
Priced at $350 per night, the Air Castle Treehouse isn't just an accommodation; it's an experience. Whether you're planning a romantic getaway, an adult-only adventure, or a unique celebration, the treehouse's enchanting "nature" guarantees memories that will last a lifetime.
Key Features:
4. Desert Rose Ranch: Where West Texas Meets Hill Country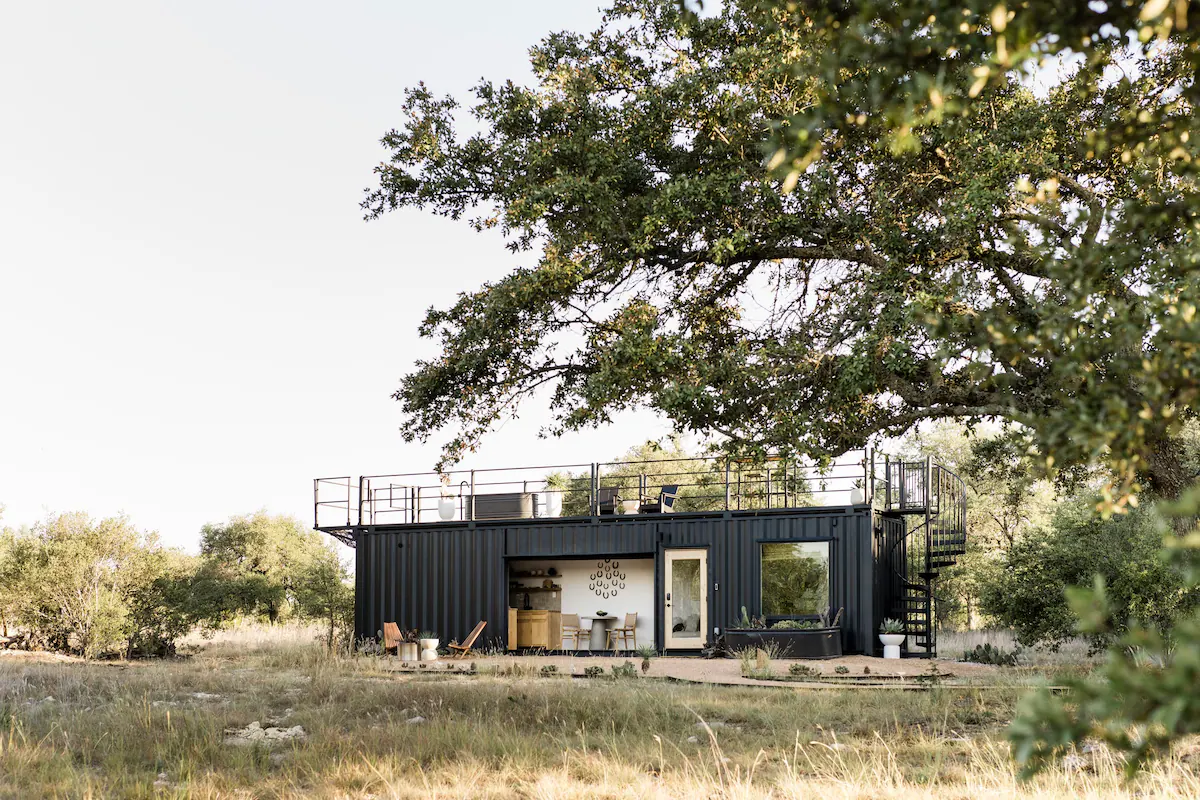 Situated amidst the sprawling landscapes of Johnson City, Texas, the Desert Rose Ranch offers a harmonious blend of West Texas charm and Hill Country serenity. This unique shipping container home has rightfully earned an impressive rating of 4.99 from 104 reviews, a testament to its appeal and the memorable experiences it offers to guests.
Set on a sprawling 27 private acres, nestled between the famed destinations of Fredericksburg and Johnson City on the Texas Wine Trail, this container home beckons travelers to embrace tranquility. With accommodations for 2 guests in its single bedroom and bath, it provides an intimate setting, perfect for couples or solo travelers seeking solace.
The Desert Rose Ranch is more than just a stay—it's a retreat. Whether you're lounging in the rooftop tub, gazing at the vast Texan skies, or reconnecting with nature on the expansive property, every moment here promises rejuvenation. Priced at $195 per night, this container house offers not just a place to rest but an opportunity to nourish the soul and create lasting memories.
Key Features:
5. Coastal Oasis: The Industrial Chic Container Home of Port Aransas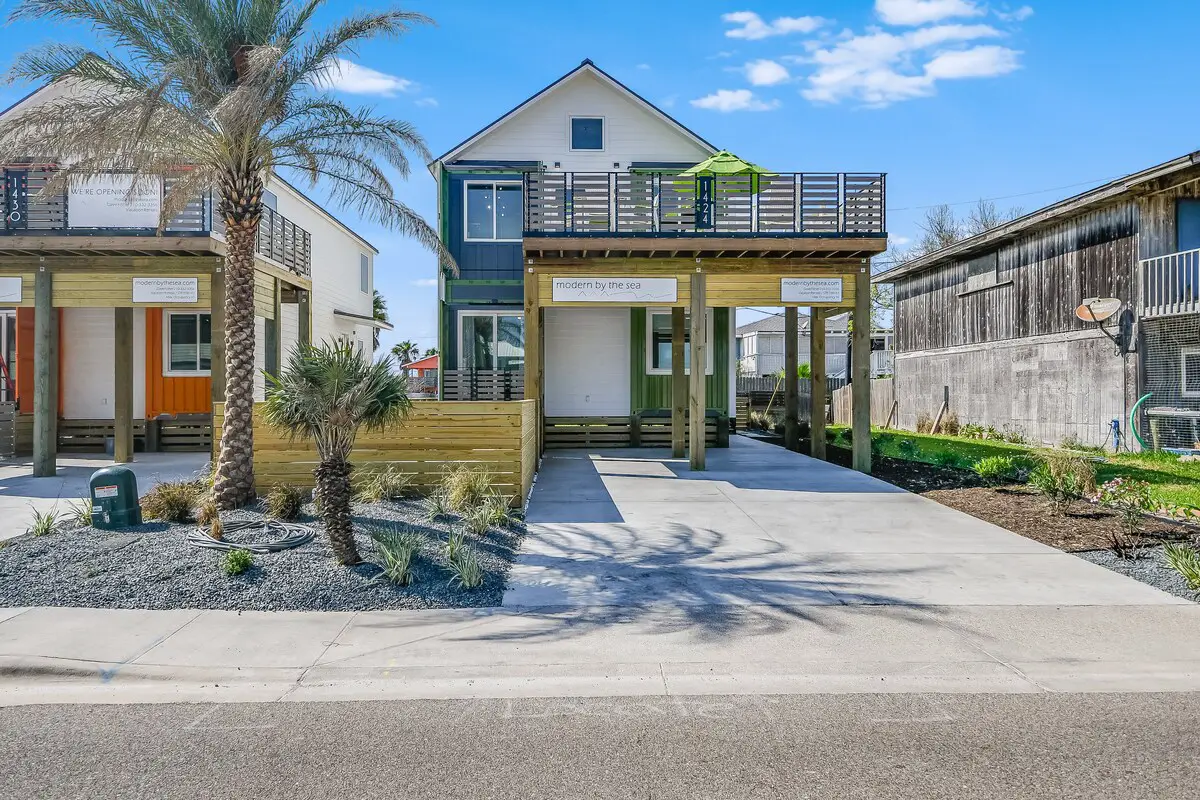 Nestled in the serene shores of Port Aransas, Texas, this chic container home epitomizes coastal luxury with an industrial edge. As part of a unique community designed with sustainable materials and shipping containers, this home stands out, having earned an impeccable rating of 5.0 from 9 reviews.
With accommodations to host up to 10 guests, this spacious abode sprawls over 1,800+ square feet and boasts four bedrooms, 3.5 baths, and seven comfortable beds. The innovative use of shipping containers, paired with a sleek and modern design, delivers a remarkable blend of style and function. Its open floor plan, particularly in the living room and kitchen areas, is illuminated by ample natural light filtering through strategically placed windows.
Guests are treated to a host of amenities. A vast deck beckons for leisurely dining or simply unwinding with a drink in hand, all while soaking in the coastal vibes. Additionally, a private plunge pool and backyard offer further avenues for relaxation. At $594 per night, this Port Aransas gem provides an immersive experience that goes beyond the confines of traditional coastal living.
Key Features:
6. Magical Enclave: The Enchanted Container House of Fredericksburg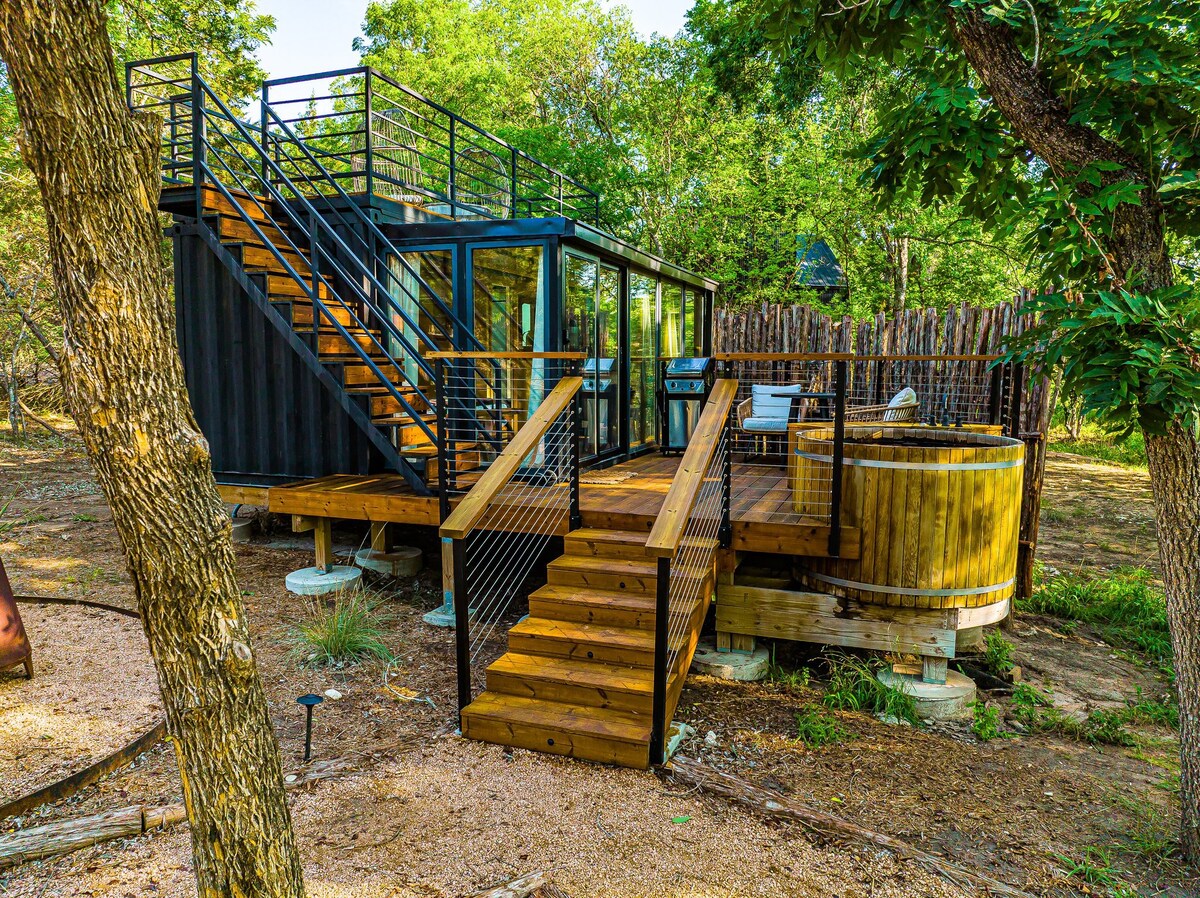 Tucked away just a short distance from Main Street, this enchanting container treehouse in Fredericksburg, Texas promises an experience unlike any other. With a high rating of 4.88 from 104 reviews, guests are assured of an exceptional stay.
This unique dwelling can comfortably accommodate two guests in its one bedroom and one bath setup. Priced at $711 per night, the treehouse offers a rich blend of ultra-modern design, enveloped in the timeless charm of live oak trees that rustle gently with the passing breeze. Nightfall brings with it a canopy of bright stars, visible against the backdrop of the area's pristine dark skies.
The treehouse boasts amenities that elevate the guest experience, from a luxurious tub to a refreshing pool. It is meticulously curated to evoke a sense of joy and mindfulness, ensuring that every moment spent here is both memorable and meaningful.
Conveniently located, this hidden gem is merely minutes away from the vibrant shops, cafes, restaurants, bars, and vineyards of Fredericksburg. It's not just a stay; it's a magical experience.
Key Features:
7. Rustic Elegance: The Kingsland Container Oasis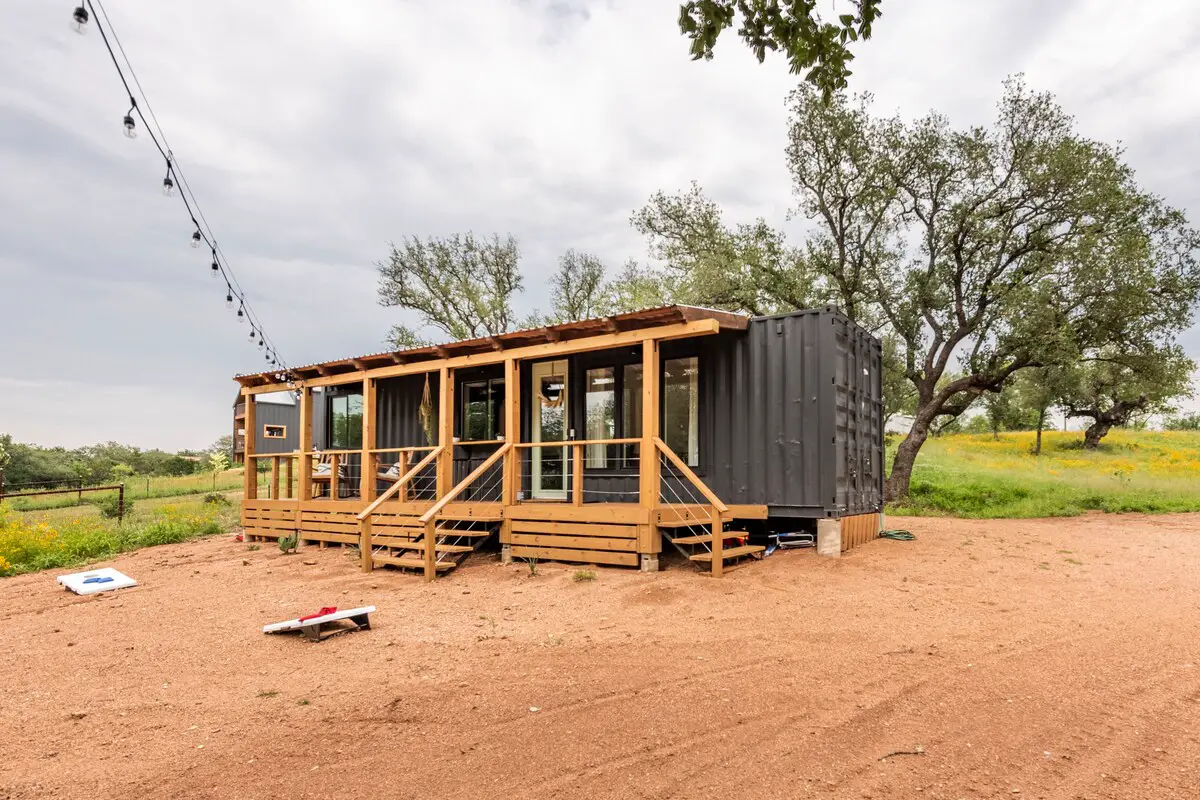 Nestled in the picturesque surroundings of Kingsland, Texas, this luxury shipping container tiny home beckons guests to experience the epitome of modern-boho intertwined with rustic charm. With an outstanding 5.0 rating from 11 reviews, this abode guarantees satisfaction for all its visitors.
This snug container house can accommodate up to three guests with its one bedroom and one bathroom arrangement. At an attractive rate of $150 per night, the home offers a harmonious blend of style and comfort. A spacious 40-foot setting encapsulates a well-thought-out design, ensuring that every corner is utilized to enhance the guest experience.
Upon entering, you'll be greeted by a warm ambiance that effortlessly weaves contemporary aesthetics with touches of traditional rustic elements. It's the perfect backdrop for any Hill Country escapade, promising a comfortable and memorable stay.
Key Features:
8. Lakeside Leisure: The Canyon Lake Oasis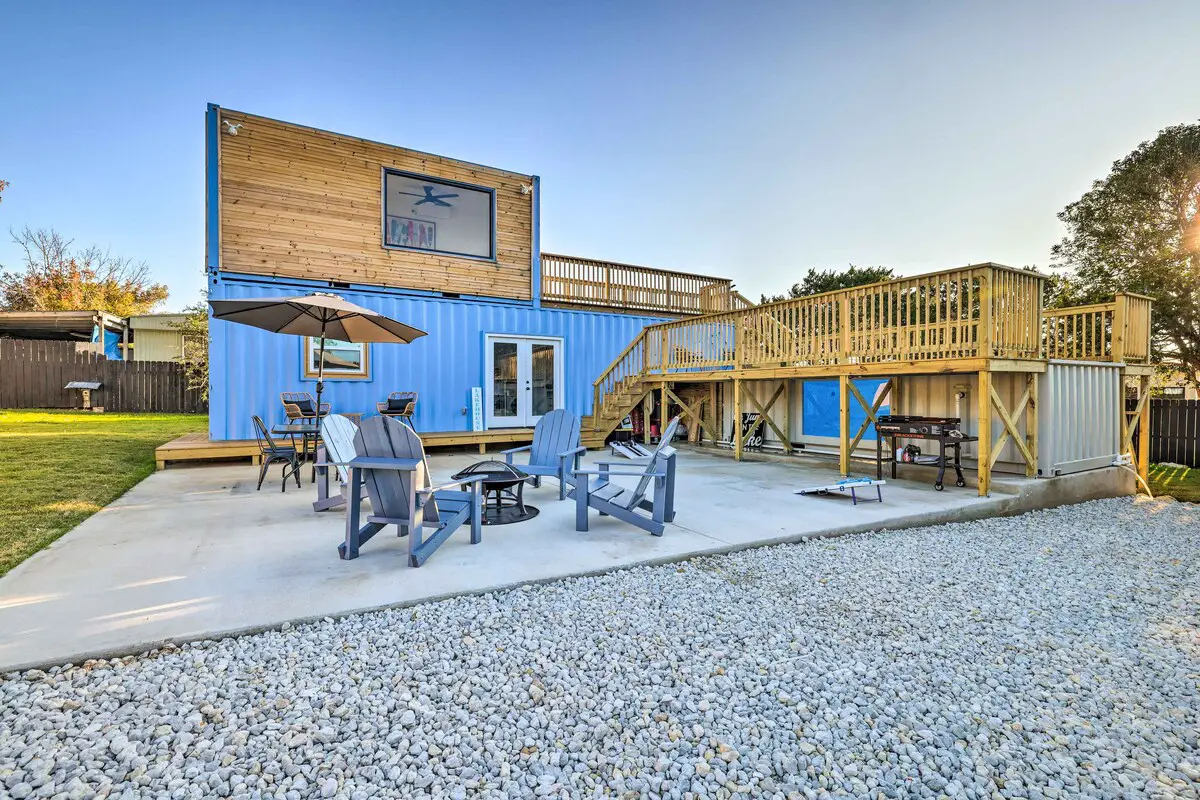 Positioned amidst the scenic vistas of Canyon Lake, Texas, this delightful 2-bedroom, 2-bath vacation rental home stands as an epitome of comfort and relaxation. Earning an impressive rating of 4.74 from 23 reviews, it promises to offer guests a stay they'll cherish.
For just $127 a night, the house can comfortably accommodate up to four guests. The exterior welcomes visitors with a sprawling deck area, complete with a pool for those sun-kissed days. The patio, featuring a fire pit, offers the perfect setting for evening tales and marshmallow roasts. The cozy interiors, meanwhile, ooze warmth and charm, ensuring a homely feel.
Located a stone's throw away from the lake, this property is an ideal base for those eager to indulge in water adventures or simply relish the tranquillity that the lake brings. For those looking to venture out, Canyon Lake Beach is a must-visit, while Whitewater Amphitheater promises an evening of entertainment. Don't miss out on the captivating views at the Natural Bridge Waterfall Ranch to round up your trip.
Key Features:
9. Riverside Reverie: The Austin Container Abode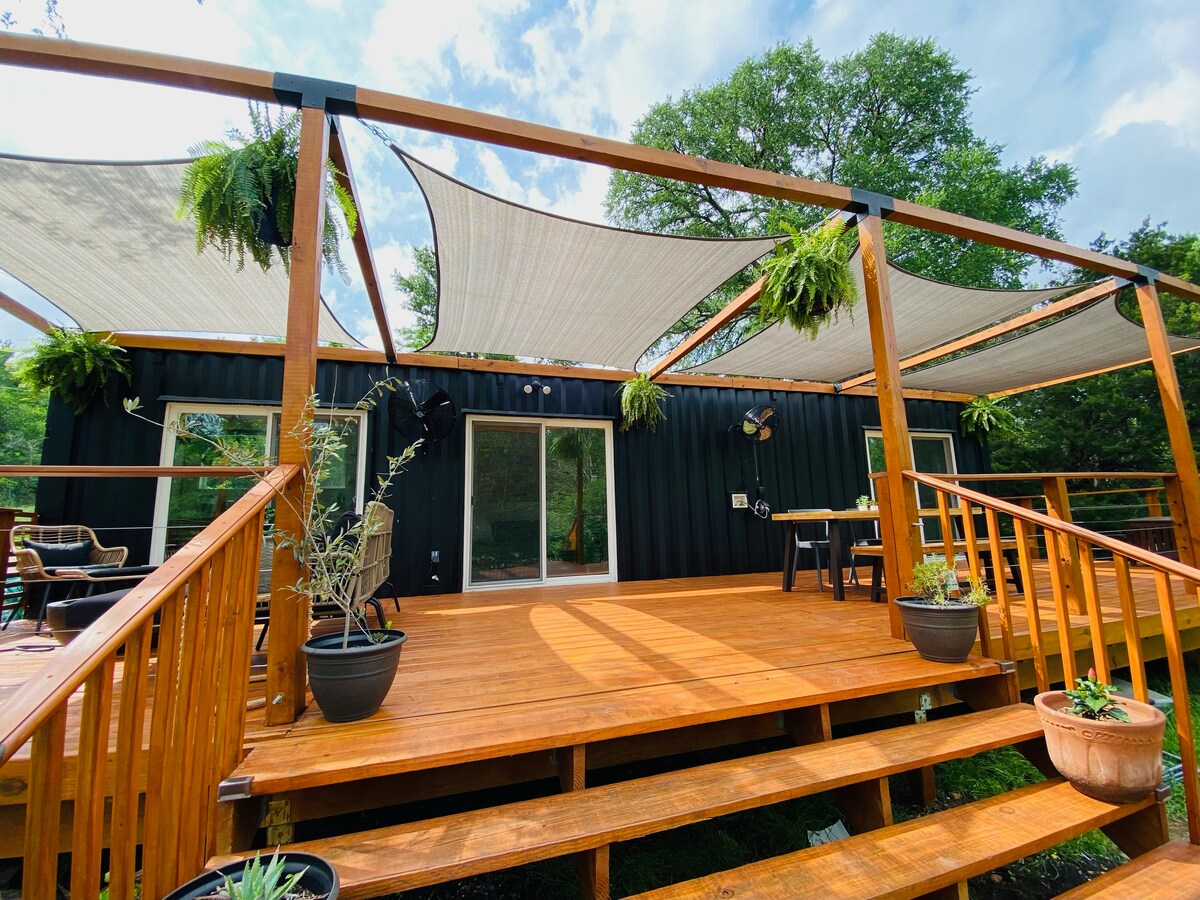 Tucked away in the picturesque setting of Riverside, this shipping container home in Austin, Texas is a true embodiment of modern minimalism and rustic charm. With a pristine 5.0 rating from 37 reviews, guests have spoken highly of their remarkable stay here.
Priced at an affordable $100 per night, this container home can comfortably host up to two guests. As you step onto the wooden deck, the overhead canopy of mesh-like fabrics, combined with hanging ferns, creates a serene outdoor oasis. The deck offers a relaxed seating area, perfect for soaking in the surrounding natural beauty or enjoying a quiet evening under the stars. Inside, the home is designed for coziness, ensuring guests have a comfortable and memorable stay.
Located in Austin, this property offers a unique blend of seclusion while still being within proximity to the vibrant city life. Whether you're a nature enthusiast looking to unwind or a city dweller seeking a change of scenery, this container home provides the best of both worlds.
Key Features:
10. Frankston's Forested Container Escape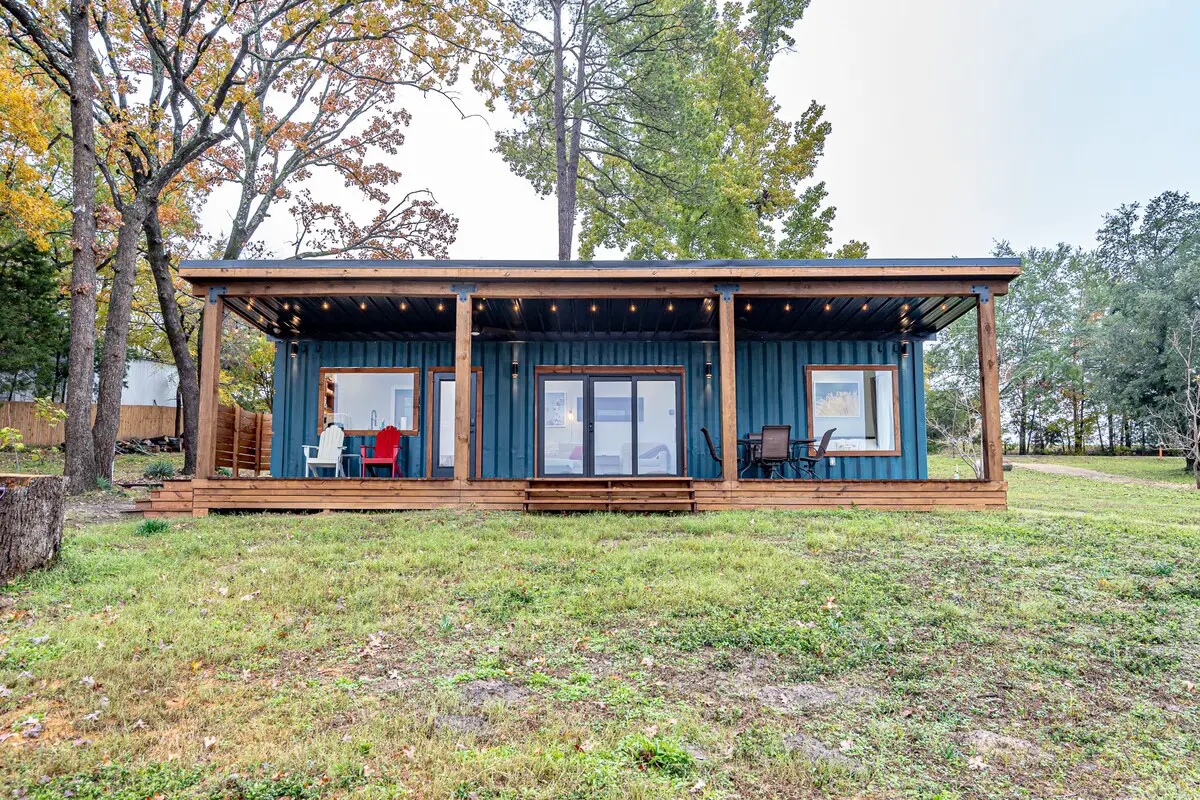 Nestled amidst the verdant backdrop of Frankston, Texas, this shipping container home is a haven for travelers looking for a serene getaway. With its sweeping views of trees and the lush green meadow, guests are bound to experience tranquility like never before.
With a commendable rating of 4.89 from 18 reviews, this home ensures guests have an enjoyable stay. Priced at $165 per night, it's designed to offer comfort and elegance for up to two guests. The exterior wooden deck, adorned with cozy chairs, offers a pristine spot to enjoy a morning cup of coffee or an evening glass of wine, all while being surrounded by nature's beauty. The large glass doors and windows invite ample natural light into the home, creating a warm and inviting ambiance.
Located in Frankston, Texas, this container home offers guests the perfect blend of rustic charm and modern amenities. It's the ideal spot for those seeking solitude or a romantic escape amidst nature.
Key Features:
The shipping container home trend in Texas seems to be flourishing, with a diverse range of offerings spanning from modern and luxurious to rustic and charming.
Prices vary significantly based on the amenities, size, and location, with nightly rates ranging from $100 to $711. The ratings for these homes are generally high, indicating a positive guest experience.
Locations like Port Aransas, Fredericksburg, Kingsland, Canyon Lake, Austin, and Frankston showcase the state's geographical diversity and the adaptability of container homes to different environments. Most of these homes are designed to accommodate 2 guests, making them ideal for couples or solo travelers.
They typically offer a unique blend of industrial and chic design, often accompanied by sustainable materials and features. These container homes not only provide a unique lodging experience but also emphasize eco-friendliness and innovative design.
You may love to read!
Waterfront Container Home – The Dam Camp from Texas
Small But Luxury Container Home with Roof Patio from Texas