Hey there, Living in a Container family! It's your favorite explorer here, and today, we're stepping into a little slice of Arkansas heaven that's redefining cool stays on Airbnb. We're not just talking any plain ol' getaway; we're about to unwrap the magic of a shipping container home that's blending eco-friendly vibes with modern luxury. Let's dive in!
🏡✨ So, imagine this: You're nestled in the tranquil vibes of Omaha, Arkansas. Here, hidden amongst whispering greens and the serene backdrop of nature's finest, sits an architectural gem – a home crafted from four 40ft shipping containers.
These aren't just stacked; they're masterfully arranged – two on the bottom and two on the top, set back about 2 meters to create this stunning staggered structure. And that balcony? It's giving us life with views that turn your morning cuppa into a serene retreat.
Now, let's talk specs:
🛌 3 bedrooms, so whether you're rolling solo, with your better half, or the whole gang, there's a cozy spot just for you.
🛏️ With 6 beds, the whole crew's got a ticket to dreamland.
🛁 2.5 bathrooms mean no waiting in line when nature calls.
And let's not forget the rooftop! Surrounded by metal railings, it's decked out with sun loungers so you can soak up the Arkansas sun in your very own private sunbathing haven.
🌟 People are already singing praises with a solid 5.0-star rating from 10 reviews on Airbnb. They're talking about a perfect blend of innovation, comfort, and nature. And for just $155 a night? It's the prologue to the story you'll tell again and again.
Now, let's play a quick-fire Q&A to dish out all the details: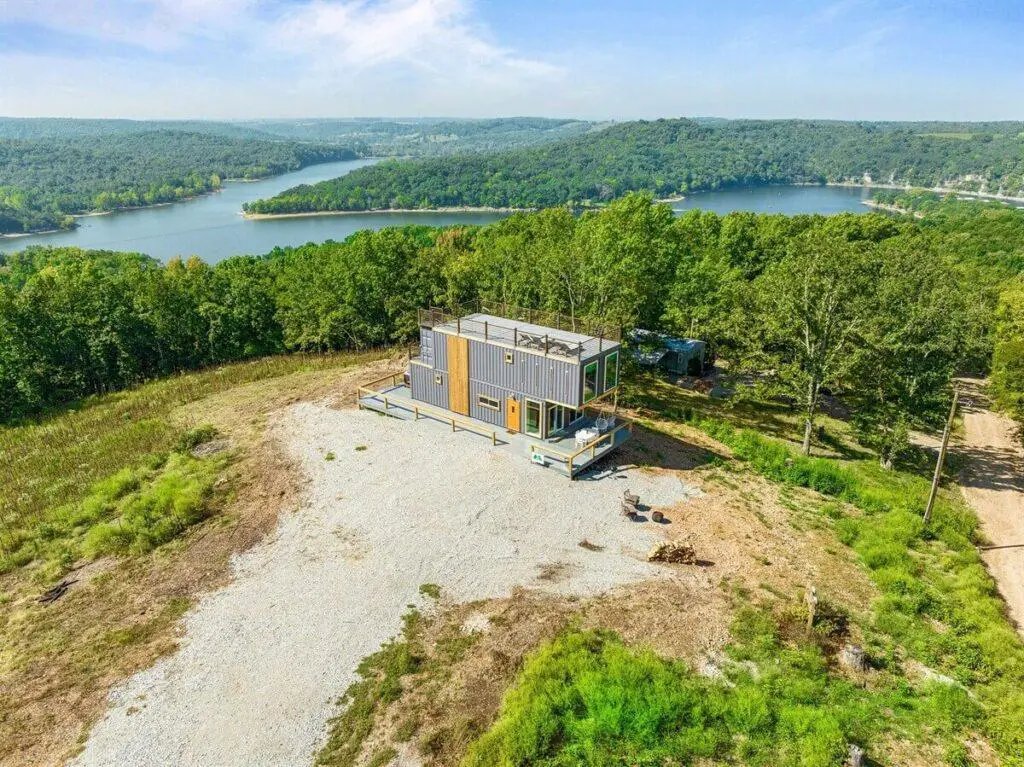 🌄 Q: What's the view like from this quirky container home in Omaha?
A: Your morning coffee on the deck just got an upgrade. Picture the serene Table Rock Lake stretching out before you, surrounded by nature's finest. It's like the world pauses, just for you.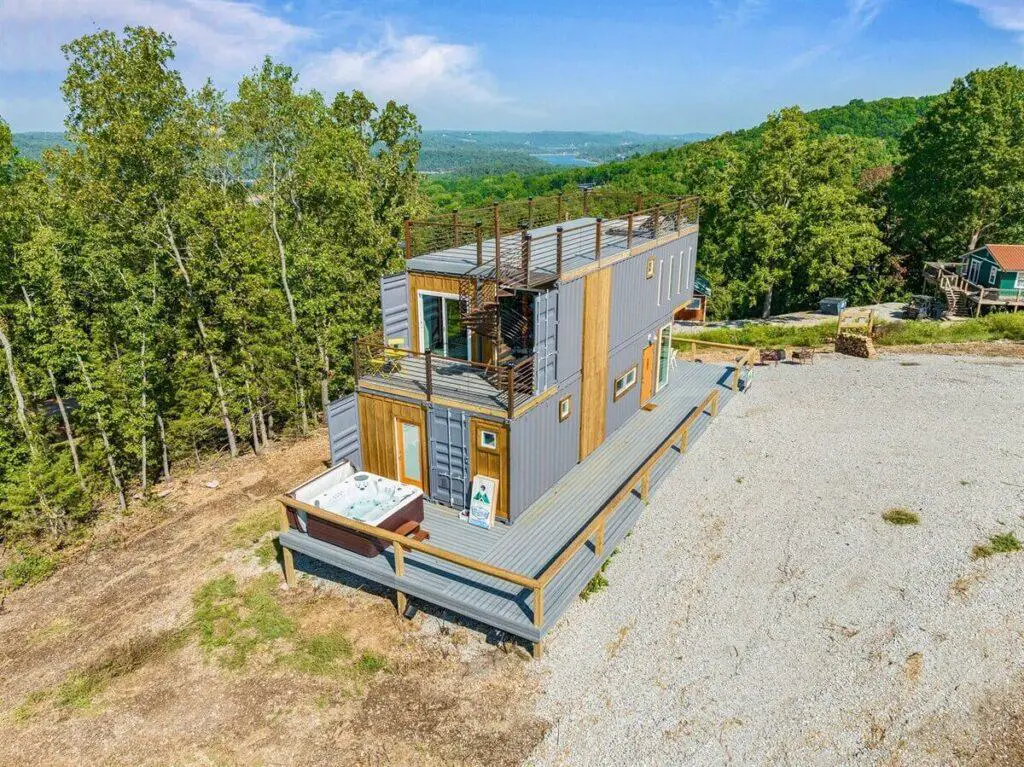 🌲 Q: How does this container home maximize its outdoor space?
A: That deck isn't just a deck; it's your front-row seat to the great Arkansas outdoors. Imagine stargazing or taking a deep breath of that fresh, country air – this is the great outdoors becoming your living room.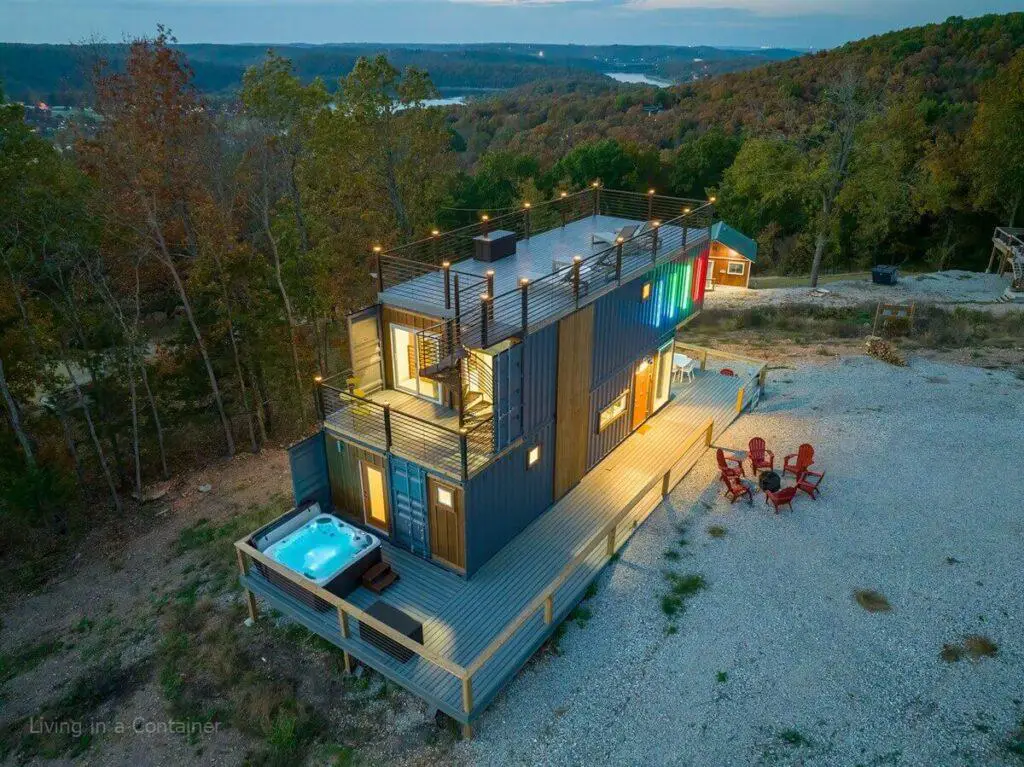 🌟 Q: What's the evening ambiance like at this container home?
A: As dusk sets, the home transforms. Strings of colorful lights flicker on, wrapping you in a cozy blanket of warmth, making every evening a picturesque moment against the cool, wooded embrace of the Arkansas hills.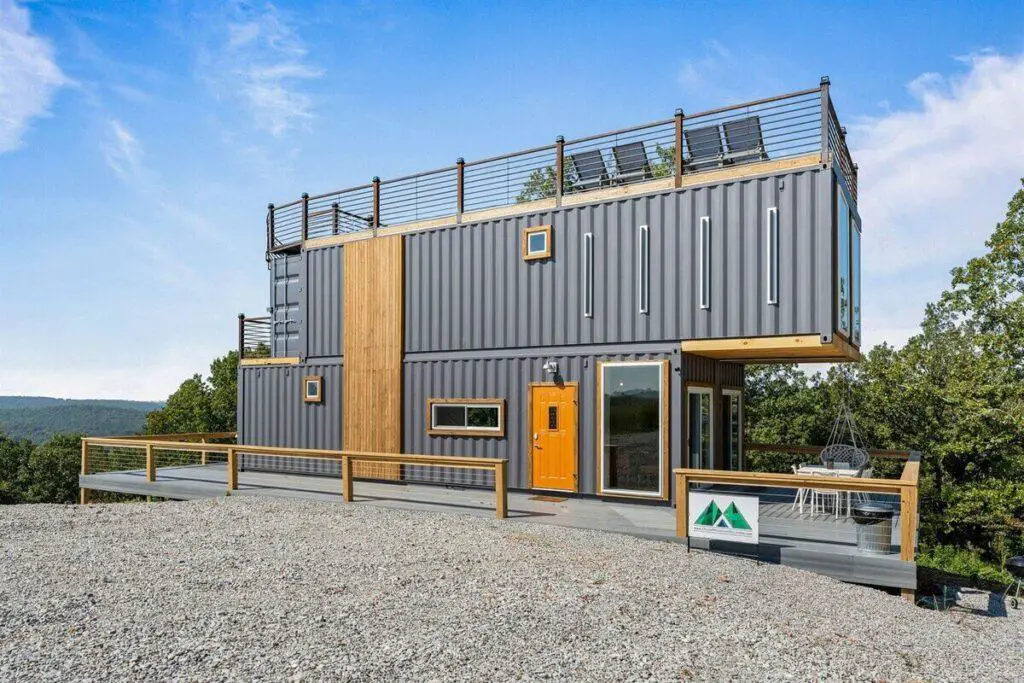 🛁 Q: What's the outdoor relaxation scene here?
A: After a day of adventures or just kicking back, you've got a hot tub waiting to bubble away your troubles. Those bright red Adirondack chairs aren't just chairs; they're your stargazing thrones or the perfect spot to enjoy the silence with your favorite people.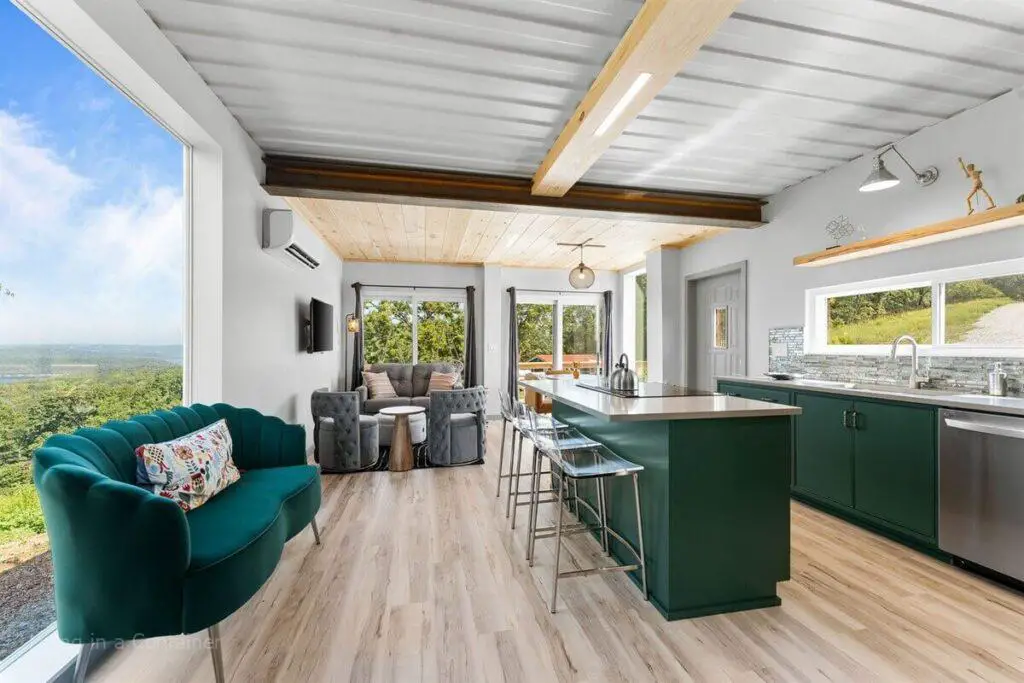 🛋️ Q: And the inside scoop on the container home's design?
A: Inside, it's a modern haven – think dark green kitchen cabinets, sleek stainless steel appliances, and a breakfast bar that whispers, "This is the life." There's a striking teal sofa paired with tufted armchairs, and large windows inviting in the dance of natural light. The design's cherry on top? Light wood laminate flooring and a warm, wood-paneled ceiling creating an ambiance that's spacious, airy, and utterly inviting.
So, adventurers and memory-makers, are you ready to board this homely vessel that's sailed the seven seas and is now anchored for your discovery? This isn't just a stay; it's your next great story, waiting to unfold. Will you be the one to turn the page?
If you like it as much as I do, leave your thoughts in the comments and don't forget to follow our social media accounts for more unique finds like this. Until our next adventure, keep exploring, dreaming, and living life less ordinary. Peace out! ✌️💚📦