These compact dwellings, crafted from repurposed steel containers, offer a unique blend of functionality and style.
As we showcase the transformative Shipping Container Home layout, you'll see how four 20 ft containers side by side unfold into a stunning abode, reflecting the epitome of Container Home Design.
Follow along as we reveal the ingenious Shipping Container Home Plans that redefine modern living. Get inspired by the striking 'Before and After' transitions and the visionary Innovative 3D Concepts, all brought to life by the creative force behind Margherita Baldi-House Ideas & More.
Whether you're gathering Shipping Container House ideas or dreaming of your own tiny home, join us for a narrative filled with realistic insights and compelling design innovation.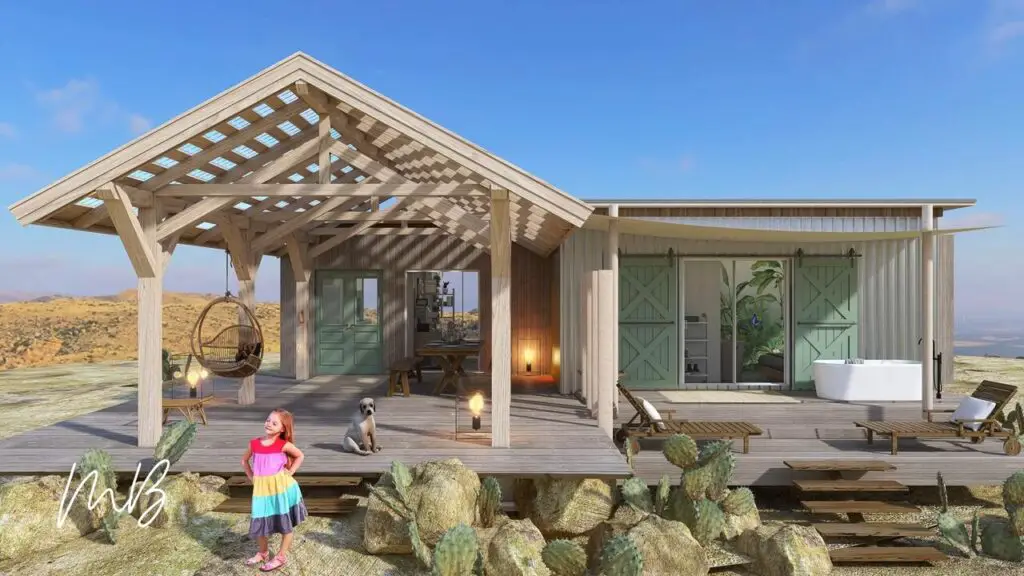 Exterior Design: Sleek and Sustainable
The Shipping Container Home Design's exterior exudes modern simplicity with its clean lines and mint-green finish, contrasting beautifully with the wooden accents.
The strategic placement of four 20 ft containers side by side offers a spacious feel, while the expansive decking and protective pergola blend functionality with an open-air lifestyle.
Glass doors allow natural light to flood in, marrying the home's interior with its desert environment in a seamless transition. This design is not just a house, but a sustainable statement that elegantly stands against the backdrop of the landscape.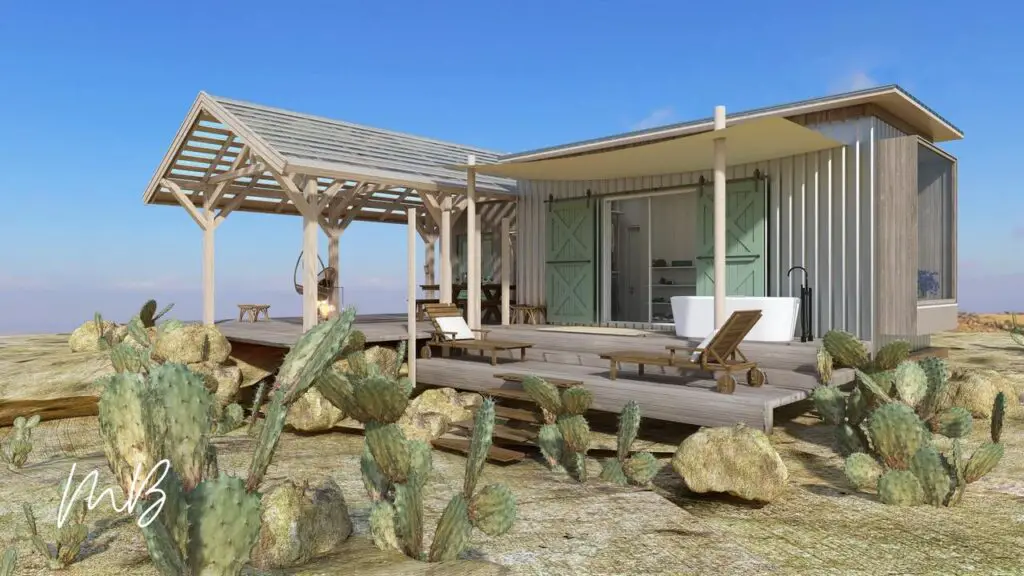 Outdoor Living Space
Highlighted here is the thoughtful outdoor living space of the shipping container home design. It features a sleek wooden deck that extends seamlessly from the interior, offering a natural transition. The design incorporates a pergola providing dappled sunlight, ideal for relaxation. Elegant, minimalist outdoor furniture invites one to enjoy the serene landscape, reinforcing the home's connection to nature.
INTERIOR DESIGN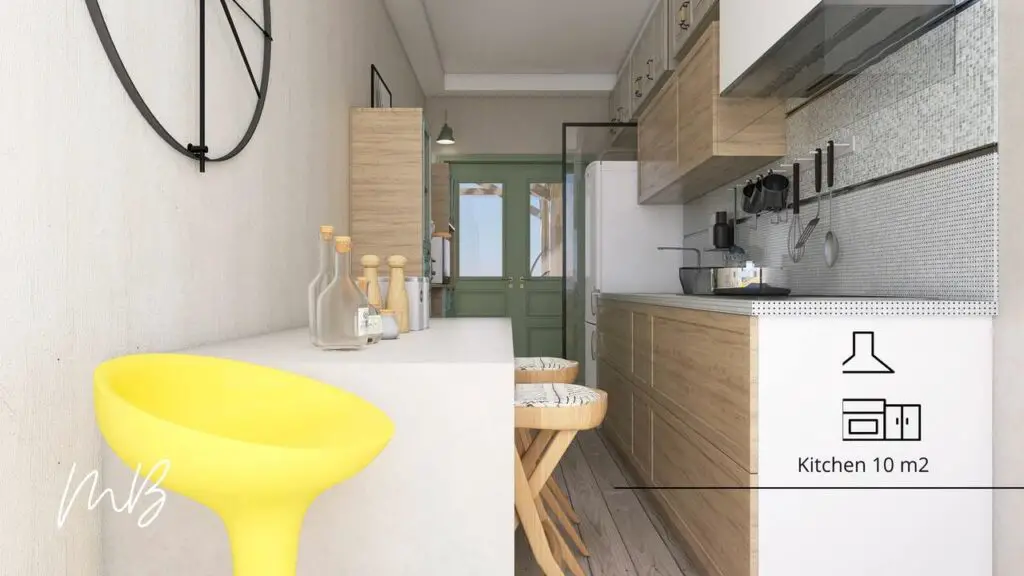 Modern Kitchen (10m²): A sleek, narrow kitchen space with light wood cabinets and a green door, featuring a minimalist design. The area includes upper and lower cabinets, a vent hood, and a wall-mounted utensil rack. A small breakfast bar with stools adds functionality, with a bright yellow stool offering a pop of color.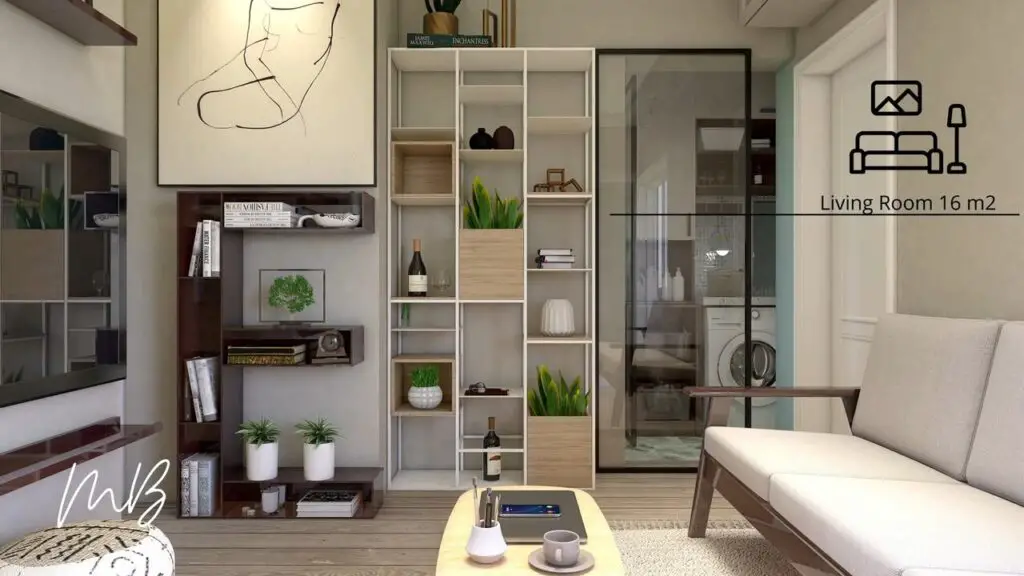 Cozy Living Room (16m²): The living room offers a comfortable sofa, a modern bookshelf adorned with books and ornaments, and a large window for ample natural light. The space utilizes a neutral color palette with wood tones and plants, creating a welcoming ambiance. A transparent glass partition provides a visual connection with adjacent areas while maintaining distinct spaces.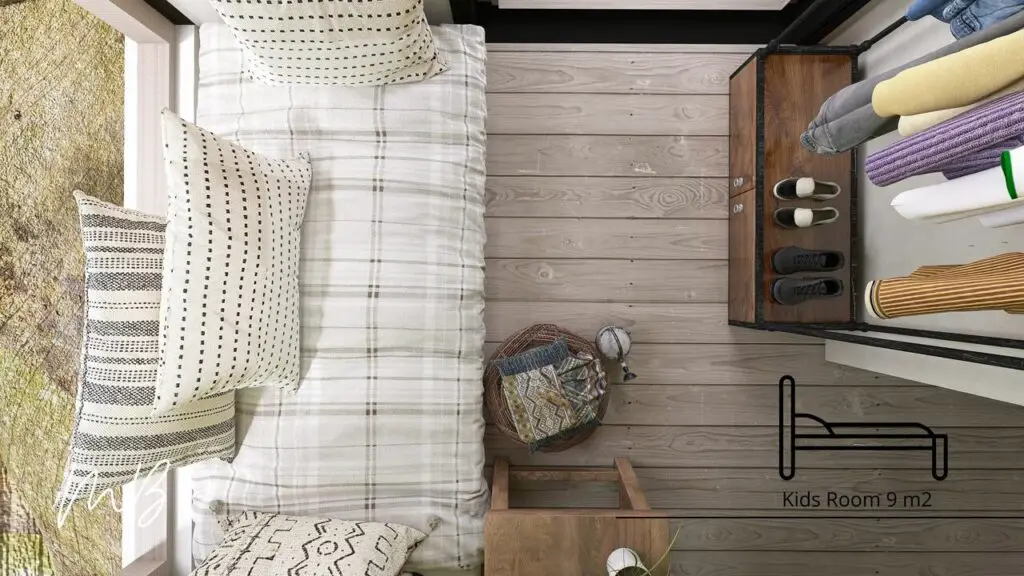 Children's Room (9m²): From a bird's-eye view, the children's room features a single bed with patterned bedding, a basket of toys, and a dual-purpose wooden storage bench. The room's decor suggests a playful yet organized setting tailored for a child, optimizing the compact area with smart storage solutions.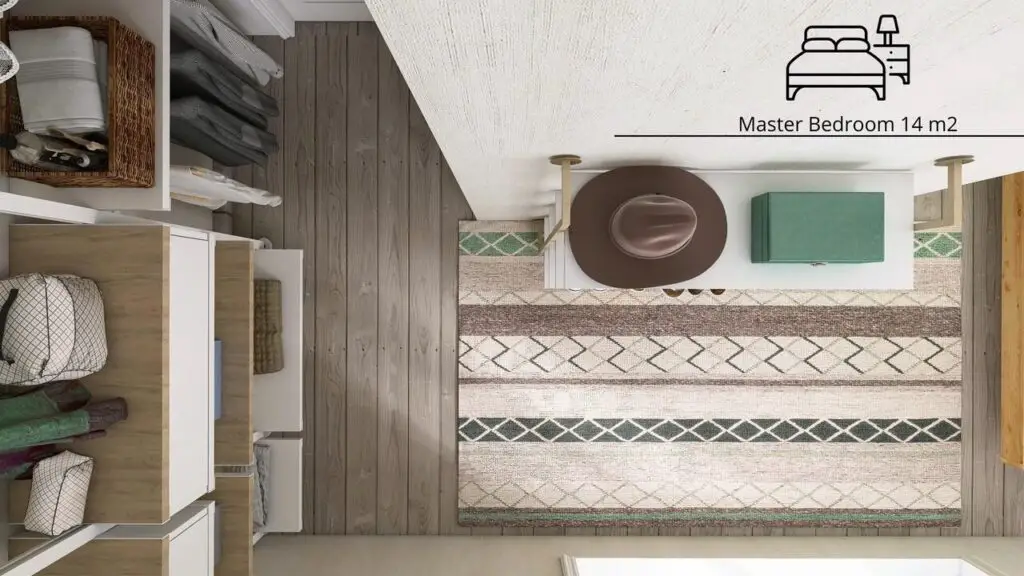 Master Bedroom (14m²): A modestly-sized master bedroom that balances comfort with space efficiency.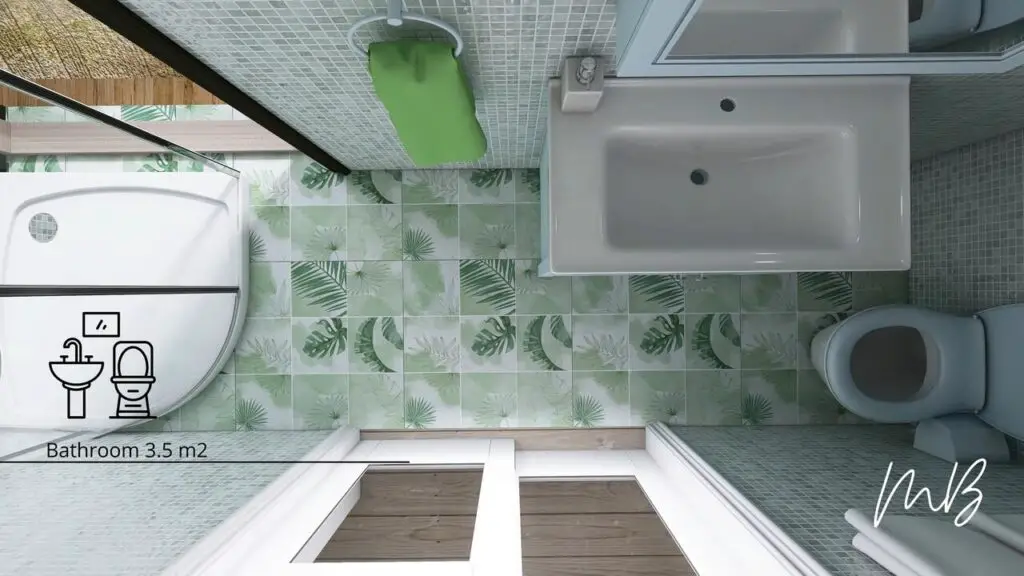 Bathroom (3.5m²): This bathroom features tiled walls with a green leafy pattern, providing a fresh and natural aesthetic. The design uses a combination of light tiles and fixtures that give it a clean and open feel despite the compact size.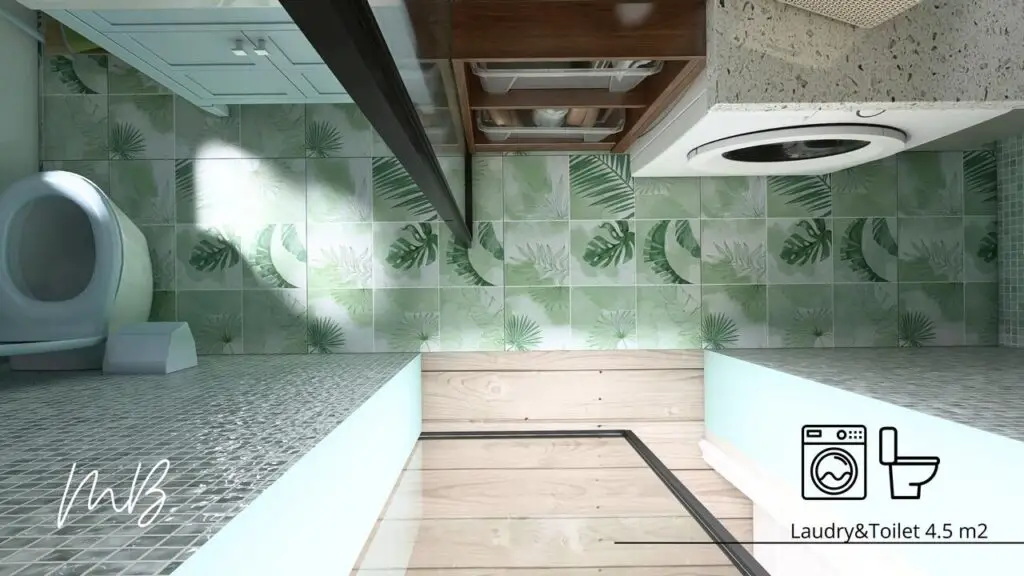 Laundry & Toilet (4.5m²): Similar in design to the bathroom, this space also has the green leaf-patterned tiles and is designed to serve a dual purpose. The design optimizes the limited space by combining the laundry area with the toilet, making it functional for small homes or apartments.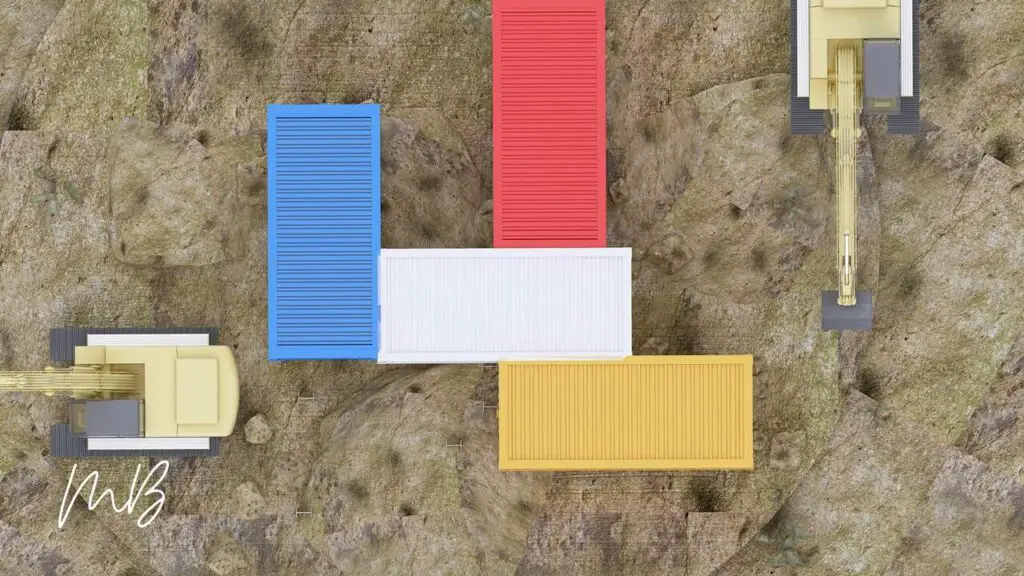 Before & After: The Desert's Stunning Container Home Transformation
The images showcase a transformation from shipping containers to a modern container home. The 'Before' photo displays red, white, and blue containers in a raw state with construction equipment nearby. The 'After' photo shows these containers converted into a stylish home with windows, doors, and an outdoor deck, set in the same landscape.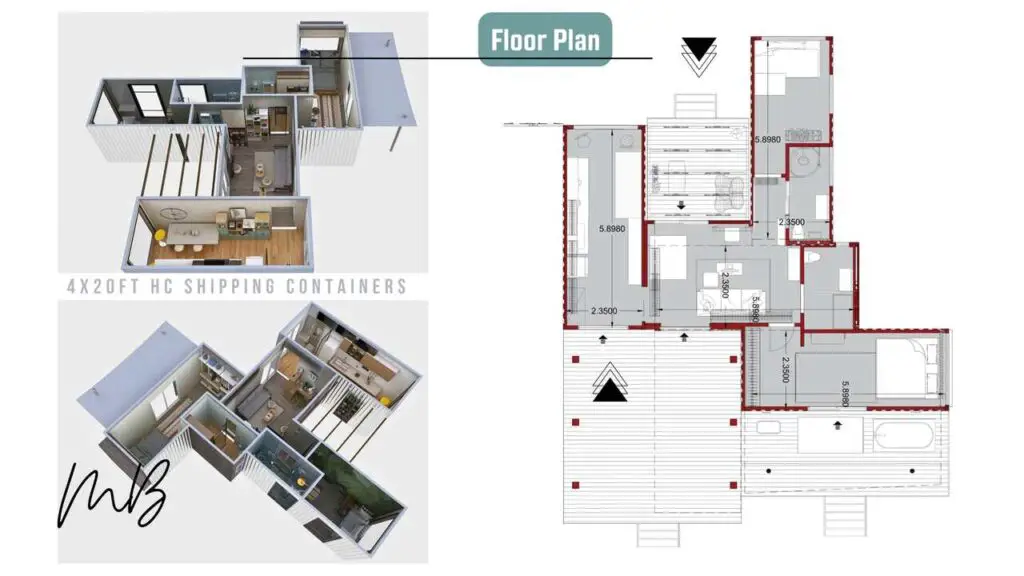 Container Home Plan: Efficient Design Using 4x20ft HC Shipping Containers
The images present a detailed look at an innovative container home plan utilizing four 20-foot High-Cube shipping containers. The clever layout demonstrates how space can be optimized for comfortable living while adhering to a minimalist aesthetic.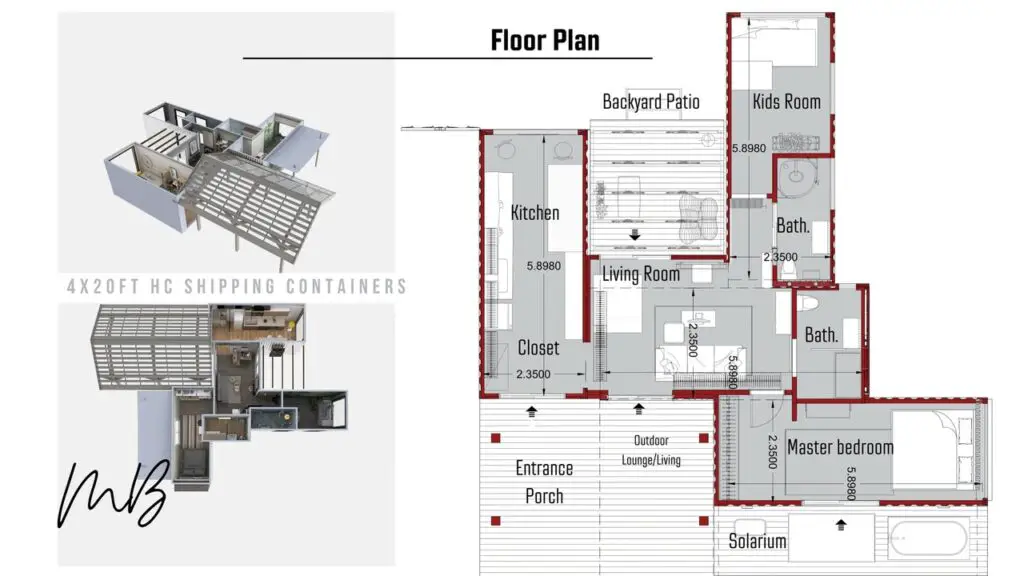 From the floor plan and the 3D views, we can observe the following:
Living Space: The heart of the home is an open-concept living space that seamlessly integrates the living room, dining area, and kitchen, providing a spacious feel.
Private Quarters: The design affords privacy with two distinct bedrooms positioned on either end of the structure. The master bedroom benefits from an en-suite bathroom, enhancing the sense of privacy and convenience.
Functionality: The home includes a full-sized bathroom accessible from the common areas, indicating a thoughtful consideration for guest access and practical daily use.
Efficient Use of Space: Storage options are embedded within the floor plan, utilizing the compact nature of the container dimensions to maximize the living areas.
Outdoor Integration: The design extends to include an outdoor decking area, suggesting an appreciation for the indoor-outdoor living concept, allowing residents to enjoy their surroundings.
This container home plan exemplifies how shipping containers can be transformed into a stylish and functional residence. It reflects an eco-friendly approach to modern living, using repurposed materials to create a home that's both sustainable and aesthetically pleasing. The design showcases how small-footprint living doesn't have to sacrifice comfort or style, making it an attractive proposition for those looking to embrace a more sustainable lifestyle.