Hi everybody ?
We continue to discover for you. Our container house on today's tour is from Costa Rica.
Container homes are becoming increasingly popular around the world as a viable alternative to traditional stick-built homes. In Costa Rica, container homes can offer a number of advantages in terms of cost, durability, and sustainability.
One of the main benefits of container homes is that they are typically much cheaper to build than traditional stick-built homes. This is due to the fact that container homes can be made from recycled materials.
This absolutely gorgeous eco friendly container home is located in Costa Rica. The home was built using recycled shipping containers and features a green roof, solar panels, rainwater harvesting, and grey water recycling.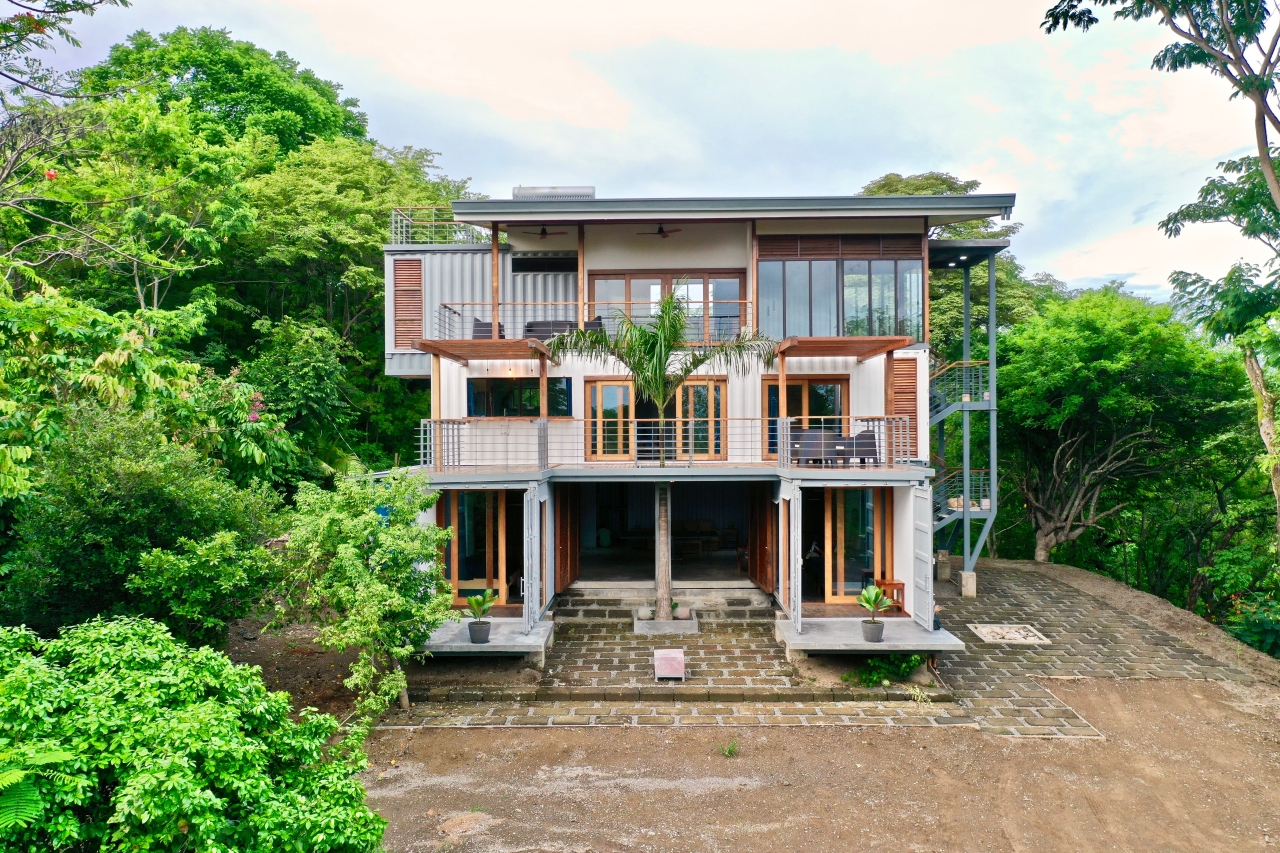 The container home is designed to be highly energy efficient and sustainable.
The house is in the 506 Tennis Center compound which is the only gated community with full time security in Esperanza.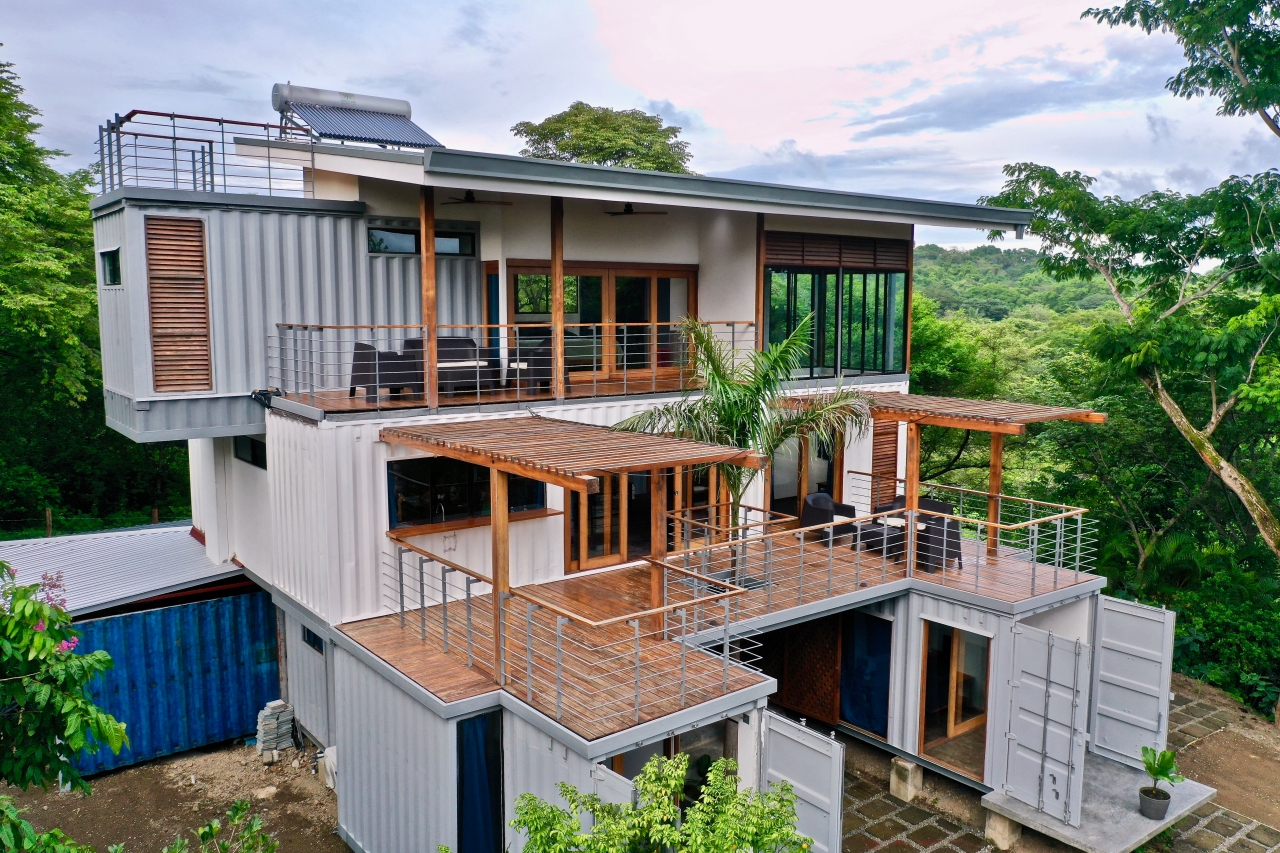 They wanted the main feature of the container home to be based on simple eco-living elegance.
It was built to have as little of a footprint on the environment as possible using 5 recycled containers, natural stone (much of which was found on the premises) and wood and as little cement (which contributes up to 17% of the earths greenhouse gases!!) as possible.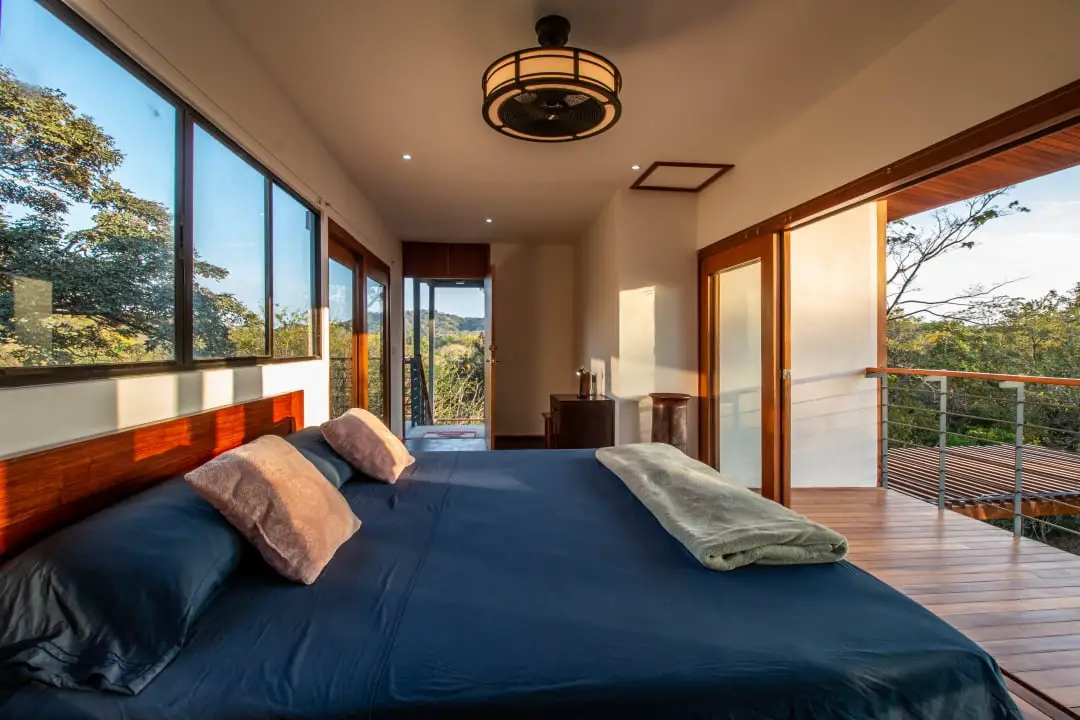 When they designed the house, they wanted all bedrooms separate from each other.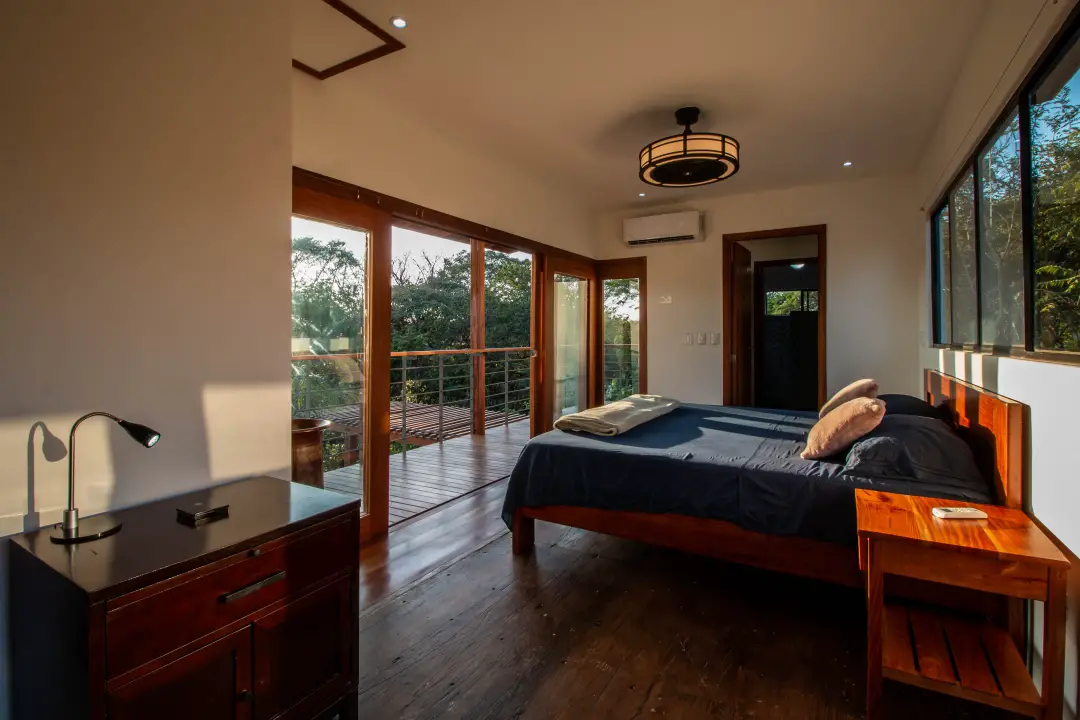 This also allows for privacy come bedtime or waking up in the morning (no one else has to be woken up accidentally by your 5 am dawn patrol sesh!). The two bedrooms on the 2nd and 3rd floor have their own bathroom, while 2 bedrooms and an office/bedroom share an adjacent bathroom. All of the rooms have A/C and high end ceiling fans.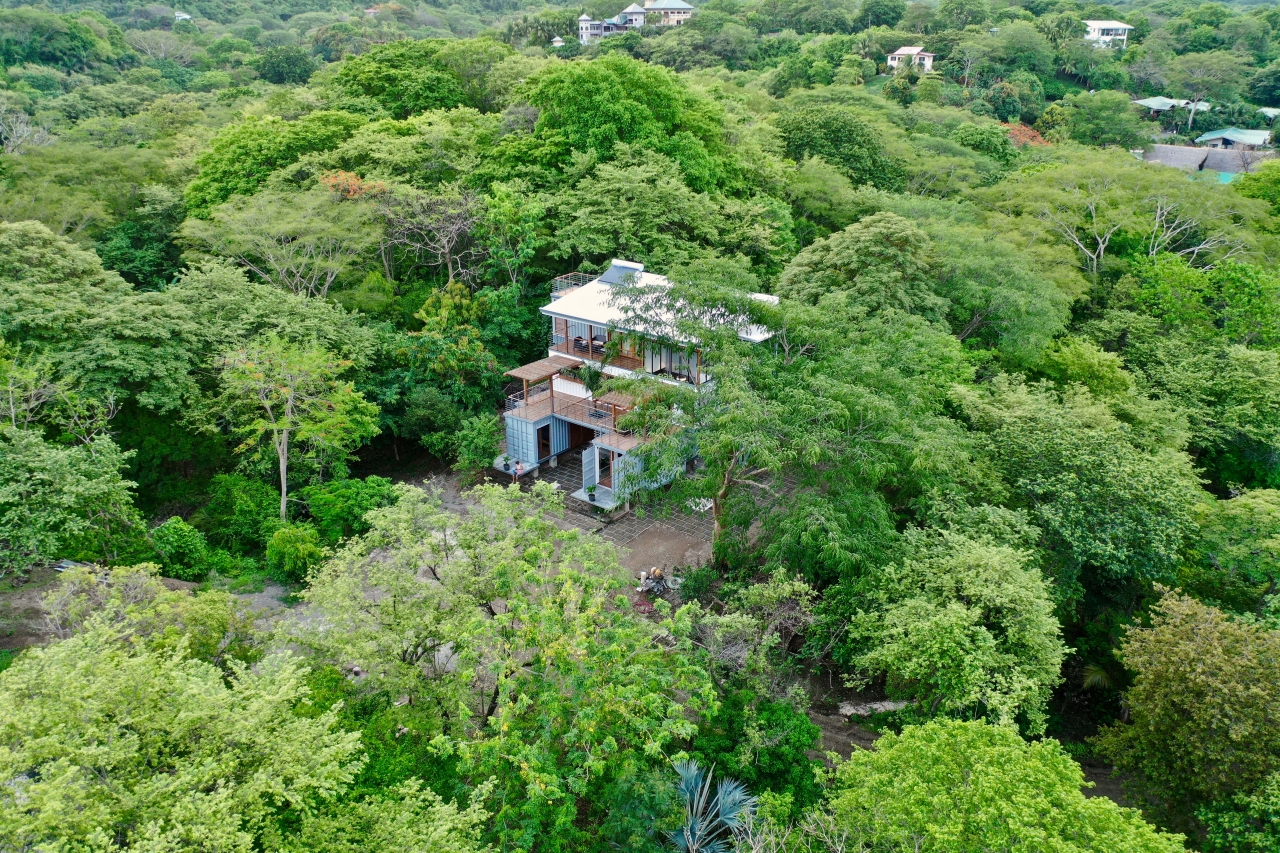 The house sits on 3.25 acres of very private land with hundred of fruit trees such as lime, orange, star fruit, mango, banana and avocado as well as hundreds of gorgeous flowering precious wood trees such as Cortez Amarillo, Cortez Negro, Sandal, Llamaron del Bosque, Orgullo de La India and Malinche.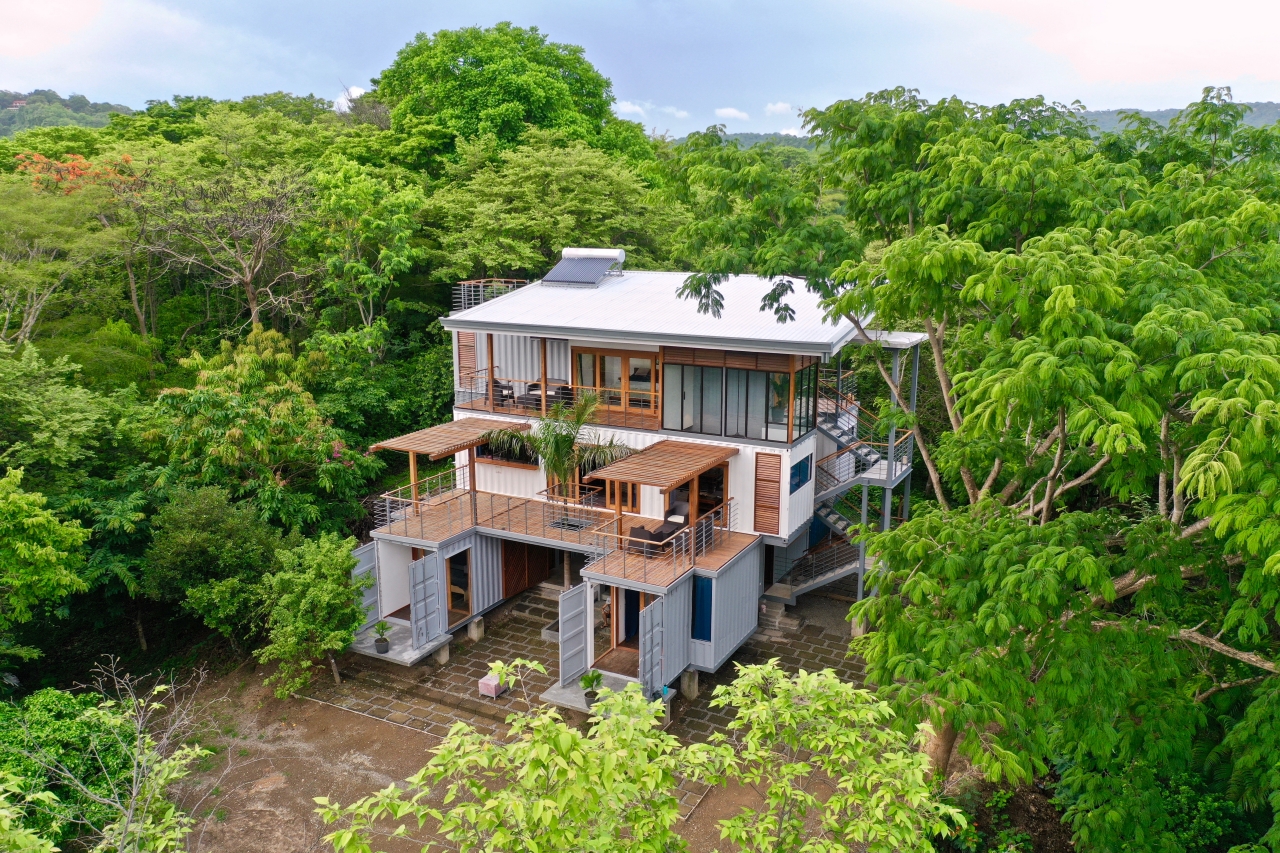 There is a 1.5 Km mountain bike single track with jumps, berms and flowering hibiscus tunnels, also enjoyable for walking!! Part of the trail follows a lovely stream.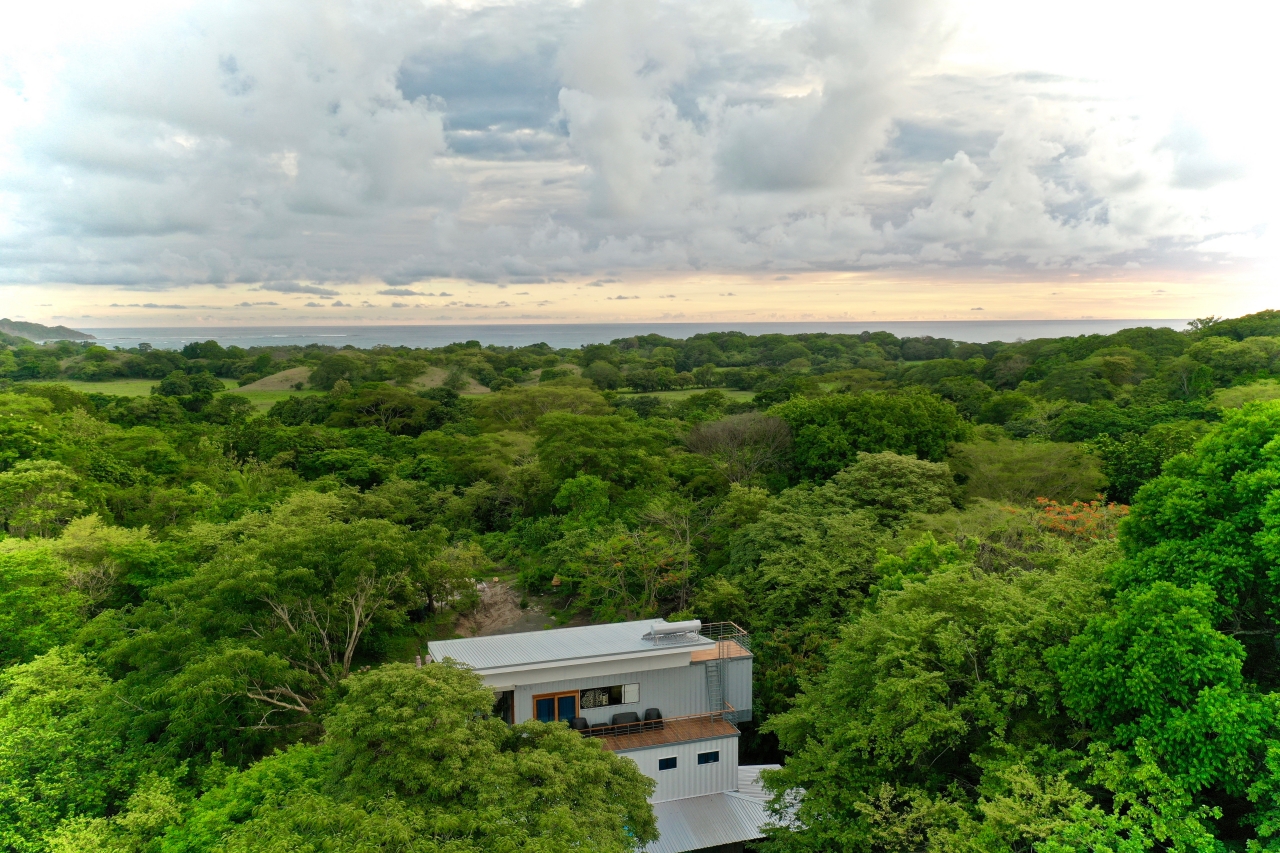 There are ocean views from the 3rd and 4th floor and in the dry season from the 2nd floor.
The back of the home has a breathtaking view of the San Juan and Garza mountains in the distance while still only being 15 minute walk to the beach!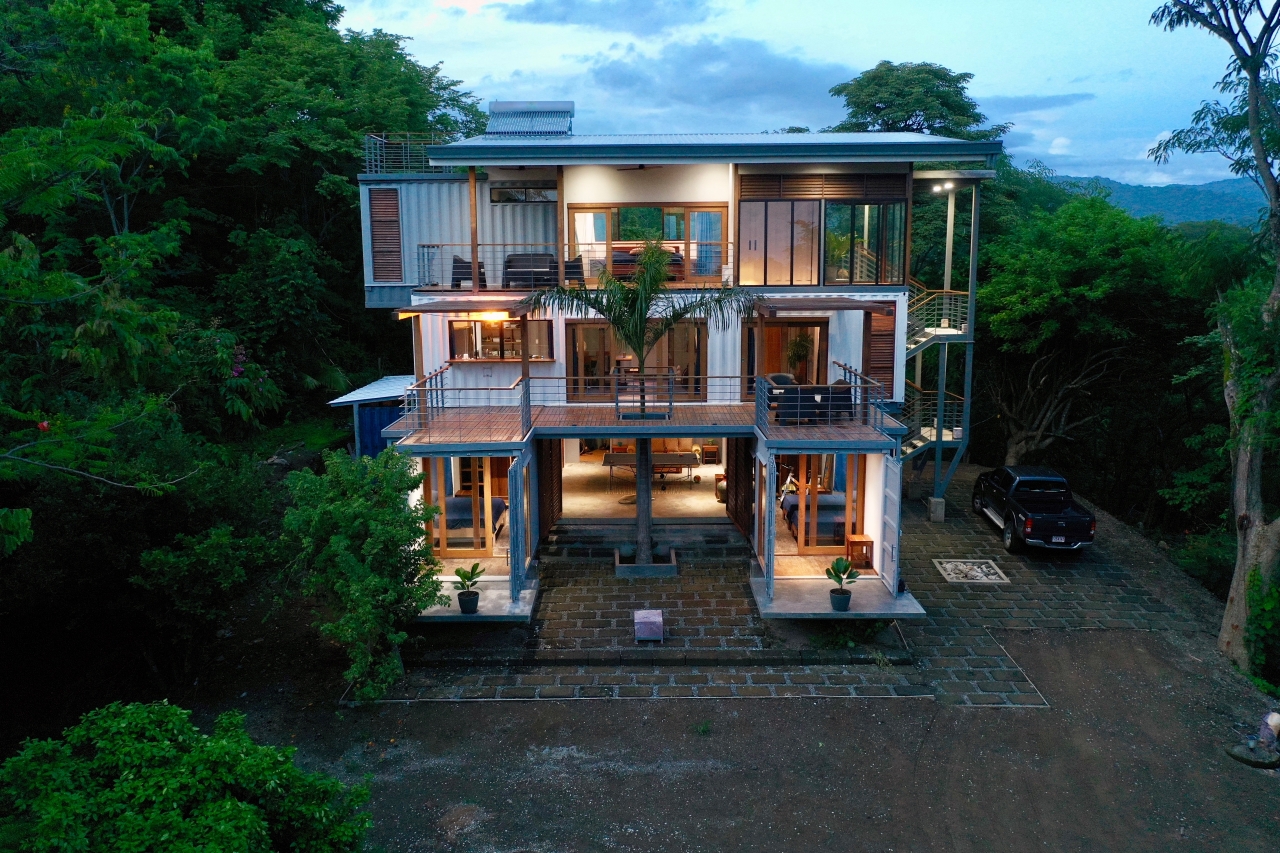 Also during the dry season, there are usually water shortages which cause the local water authority to cut off service for hours at a time. They have a 2500 gallon backup cistern so Casa Olindez will never be out of water!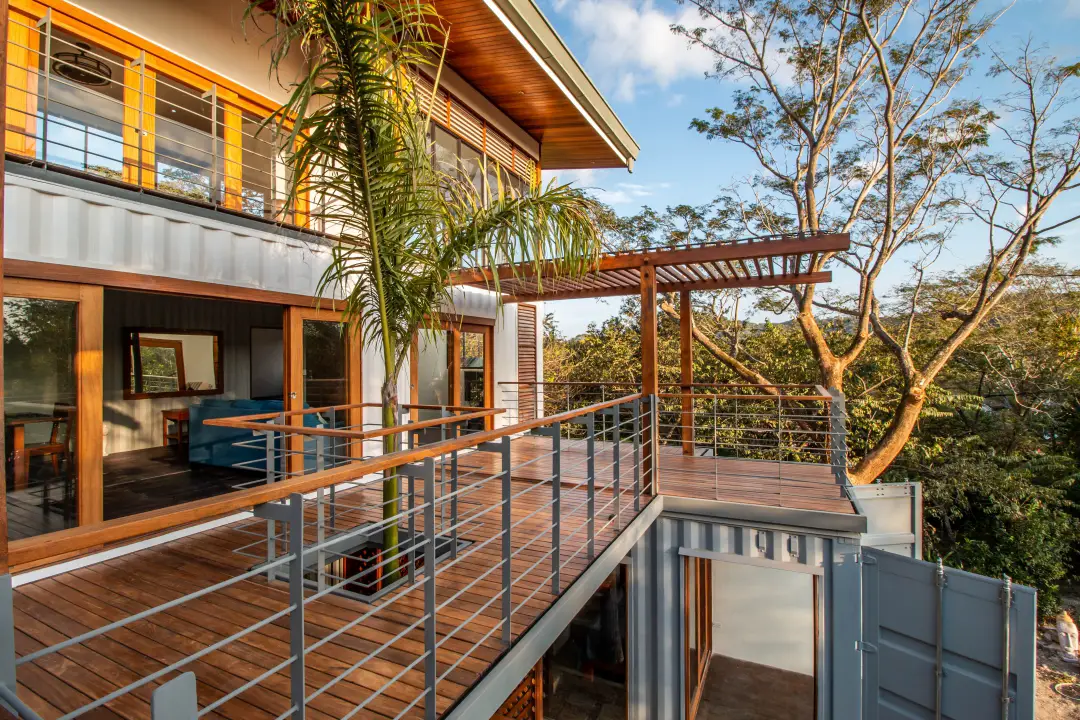 They didn\'t take any shortcuts on the amenities but they have kept them simple. All 4 of the massive outdoor decks and all the ceilings are almond wood and furniture is Almond, Cocobolo, Brazilian Cherry, Cortez Amarillo, Sandal, Cedar and Teak. Many of the same trees are full grown on the premises to be enjoyed by their guests.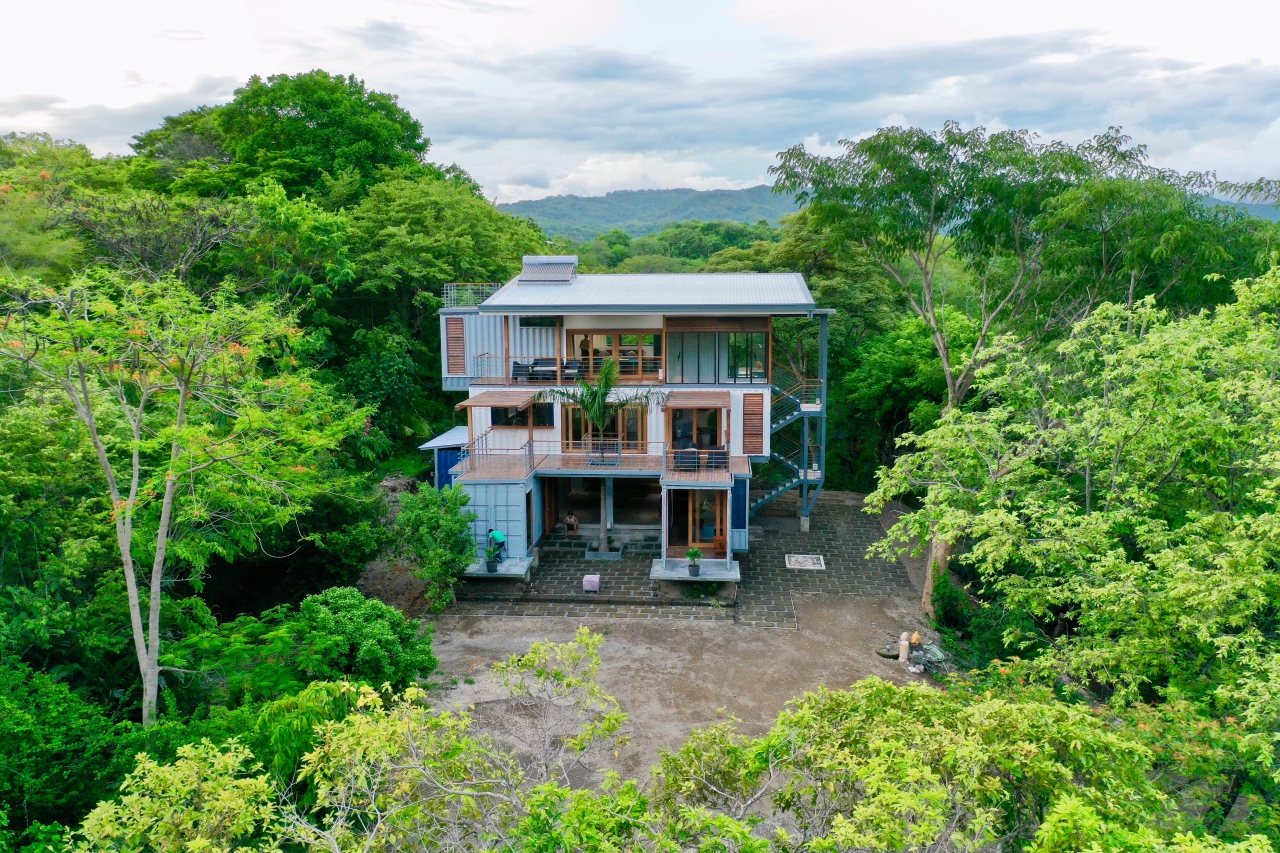 Monkeys pass within feet of the 3rd floor shower window and 4th story view deck in the mornings and afternoon! Families can enjoy the nature trails, tennis, ping pong, foosball and just relaxing in a hammock on the decks!
We believe the pictures of the home speak better than our words!
Price: $699,000 (SOLD)
Address: 506 Tennis Court, La Esperanza, Nosara
City: Guanacaste, Costa Rica.
Living in a Container explores projects made with shipping containers around the world and shares them for you.
Don't forget to take a look at the structures made with other amazing shipping containers on our site!
We invite you to send in your story and container homes photos too so we can re-share and inspire others towards a simple life too. Thank you!
You can share this using the link and social media re-share buttons below. Thanks!
» Follow Living in a Container on Social Media for regular shipping container house updates here «