Container homes come in every different style, design, and size. The choices range from a simple, one-room container home to luxurious entertainment spaces to multiple-story apartment blocks. This article shows you everything you need to know about shipping container home sizes so that you can design your dream home.
What Are the Sizes of Shipping Container Homes?
Container homes are homes made from steel shipping containers, like the ones used to transport goods by road, rail, and water; they're becoming increasingly popular. Although you can make your container home practically any size you like (by combining the containers in different configurations), the actual containers come in a small range of standard sizes.
Is There a Standard Size for Container Homes?
Obviously, if everybody tried to transport goods in containers of different sizes, that'd lead to lots of problems. The containers might not fit on the trailers being used to carry them, plus it could be difficult to fit different-sized containers through gates, under bridges, or other constricted spaces.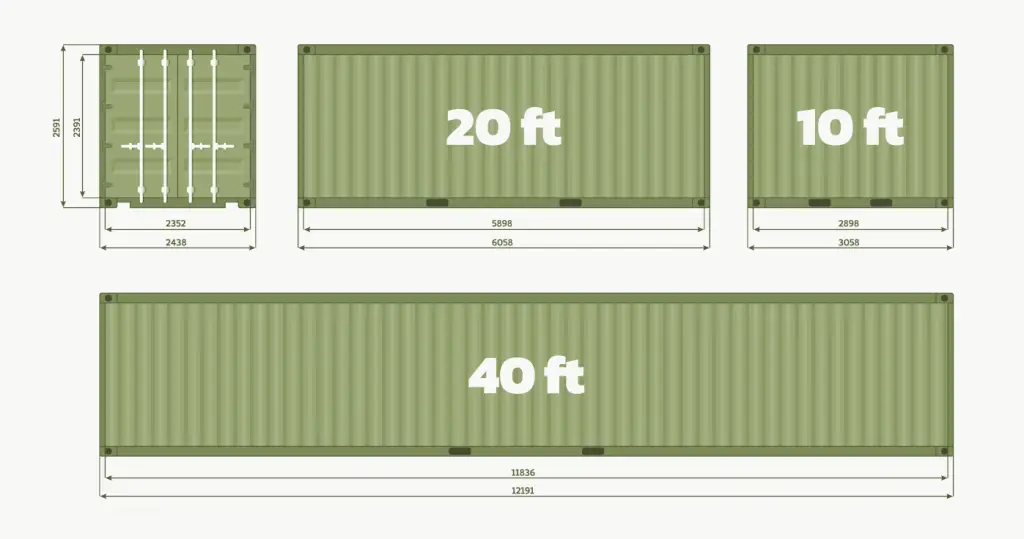 That's why shipping containers normally come in standard dimensions. What are the dimensions of a shipping container? Well, they're almost always 8ft wide and 8ft 6in high: they were originally made that way to fit on a train carriage. Then, because the trains were 8ft wide, carrying containers that were 8ft wide, things like gates and bridges could be built that were also wide enough for those containers. It just made sense to use one standardized size for everything. When it comes to length, shipping containers are normally 10ft, 20ft, or 40ft long.
What Are the Dimensions of Container Houses?
Shipping container home dimensions are, of course, determined by these standardized container sizes. Since the smallest container you can get is 8×10 feet, the smallest container home you could make would be a single container/room, with an area of 80 sq. ft. However, at the other end of the spectrum, there's really no such thing as the largest shipping container home size. This is because if you want, you can join hundreds of containers together and make an entire apartment building.
How to Choose the Size of a Shipping Container Home?
When choosing the size of your new container home, you obviously need to take into account how many people are going to be in the house at the same time, how much stuff they have that they need to store, and how much space they need for doing different activities in the home. For example, a farmer might want to build a bunkhouse for the farmworkers, where literally the only things that'd need to fit in the container home would be the maximum possible number of beds and no living space at all.
Since container home living has become so much more popular, several companies specializing in container home construction have sprung up. It's even possible to buy ready-made container homes on Amazon and have them delivered and assembled in less than three months!
Custom Container Living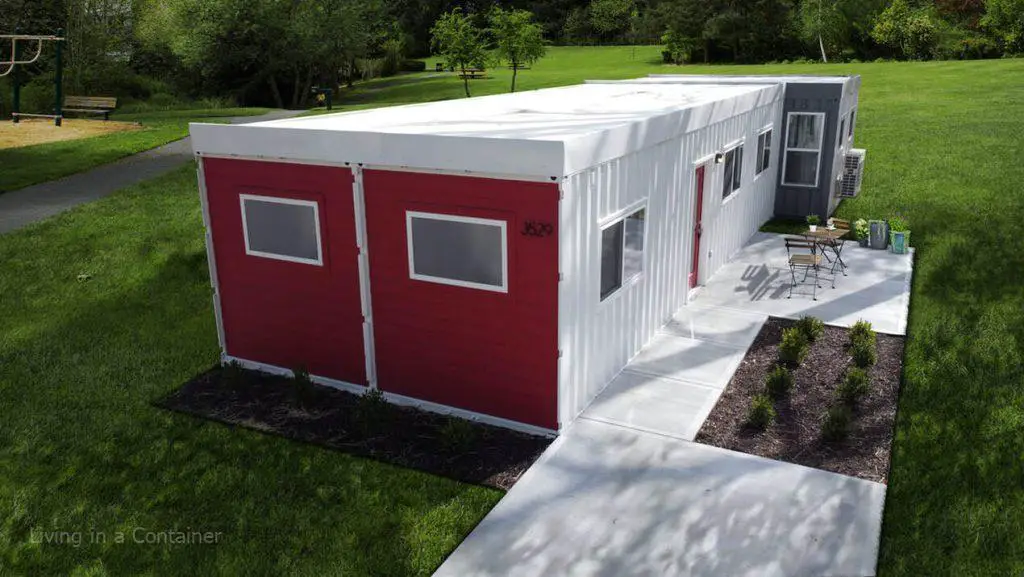 Custom Container Living, for example, offers five standard sizes for their container homes: 160 sq. ft. (with or without loft), 320 sq. ft. (with or without loft), and 480, 640, or 960 sq. ft. without lofts. Their models come with standard tub/shower and washer/dryer units, and dishwashers. On at least some models, these prefabricated homes come with a covered porch area where you can put your outdoor seating.
Backcountry Containers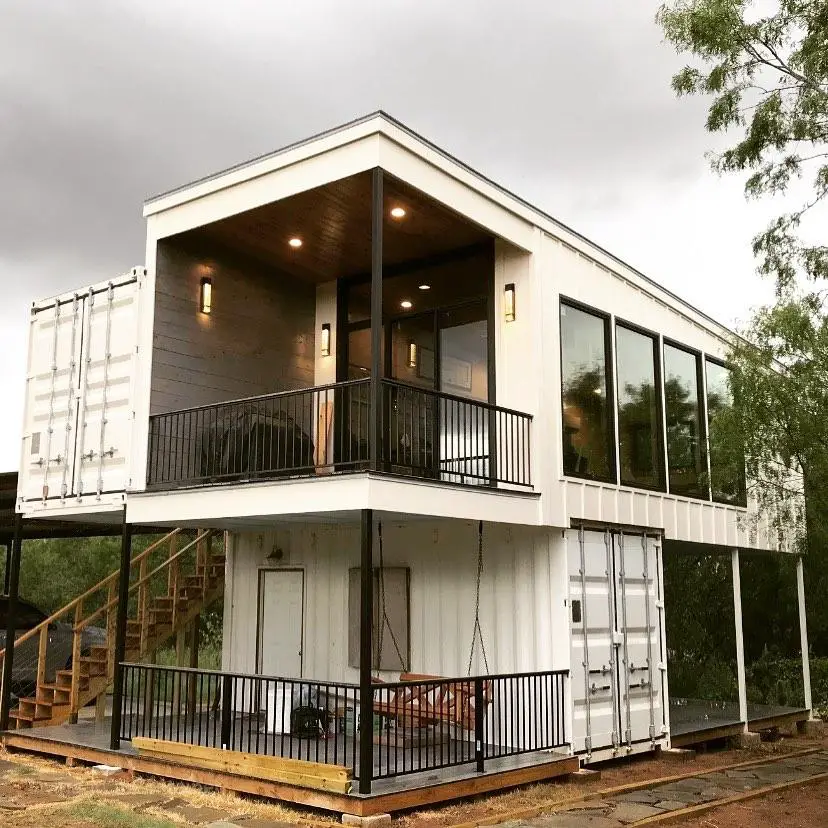 At Backcountry Containers, you can only choose 20ft or 40ft containers (not the 10ft version), but then you can combine them in any configuration whatsoever according to your needs and preferences. A really nice feature of several Backcountry Containers homes is their striking rooftop decks, balconies, and exterior staircases.
FAQs
Q: What size is a shipping container?
A: The standard size of shipping containers is 8ft x 8ft 6in x 10, 20, or 40ft.
Q: What is the width of a shipping container?
A: Almost all shipping containers are 8ft wide because this was the size of the railway carriages for which shipping containers were originally designed. 
Q: What are the different shipping container home sizes you can get?
A: The smallest container length you can get is 10ft, which means a home made out of a single small container would be 8ft by 10ft, or 80 sq. ft. However, when you build your own container home, you can combine these different sizes of containers to make a much larger structure. That means the size of shipping container homes varies a lot.
Q: What are shipping containers made of?
A: Shipping containers are made out of corrugated steel. Although the corners of a corrugated steel container are very strong, the roof of a container is much less so. Also, if you cut any opening like a doorway or a window in the steel container, those openings will require substantial reinforcement.
Q: What are the sizes of shipping containers?
A: If you want to find out what sizes do shipping containers come in, fortunately, that's an easy question to answer. Shipping containers are almost always 8ft wide and 8ft 6in high; when it comes to length, you can choose 10, 20, or 40ft sizes. 
Q: What are the dimensions of a storage container?
A: Asking "What are the dimensions of a storage container?" is nearly identical to asking "What is the standard size of a shipping container?" – because most large storage containers are still manufactured using the same 8 x 8ft 6in dimensions that were used for some of the earliest railway cars that were produced. You can normally choose containers with a length of 10, 20, or 40ft. 
Q: What are the dimensions of a 40-foot shipping container?
A: When you refer to a 40-foot shipping container, that's the length of the container. Standardly, the other dimensions are 8ft (width) and 8ft 6in (height).
Q: What are the inside dimensions of a shipping container?
A: The walls of shipping containers are strong (because they're made of steel), but very thin, a few millimeters at the most. That means that the inside and outside dimensions of shipping containers are virtually identical: 8 x 8ft 6in x 10, 20, or 40ft on the outside, with inside measurements only a few millimeters less.
Final Word
Whether you choose to go with a prefabricated container home or design a customized one, there are many options available. Use combinations of the standard sizes of shipping containers to design your unique container home masterpiece.