Hello Everyone,
Containers made of steel are attractive thing for construction of buildings. Living in a container home is a good experience. And it may be first experience for someone.
These are shipped at the desired place after being ready. That is why these are call shipping containers. The material which is used in their manufacturing is steel.
The most important and loveliest thing about a home which is constructed through containers, is its elegancy and allurement. The comeliness which a container home provides, no other material can match this level.
These also offer more versality. This is also a demanding aspect. More the things are versatile, more those are in demand. Therefore, container homes are more in demand than homes made of concrete material.
We are always here with a new container home for you. We introduce you with different container homes in different portions of the world with comprehensive description. Our this exploration and search will continue for your ease.
The home which is going to be discussed here is not a simple, boring home. This one is distinguishable in its grace. I would like to call this home a shining home. it shines like crystal. Because this is constructed so decently and neatly. Various container homes give different looks. It all depends on their architecture. This home is impressive in its artistry.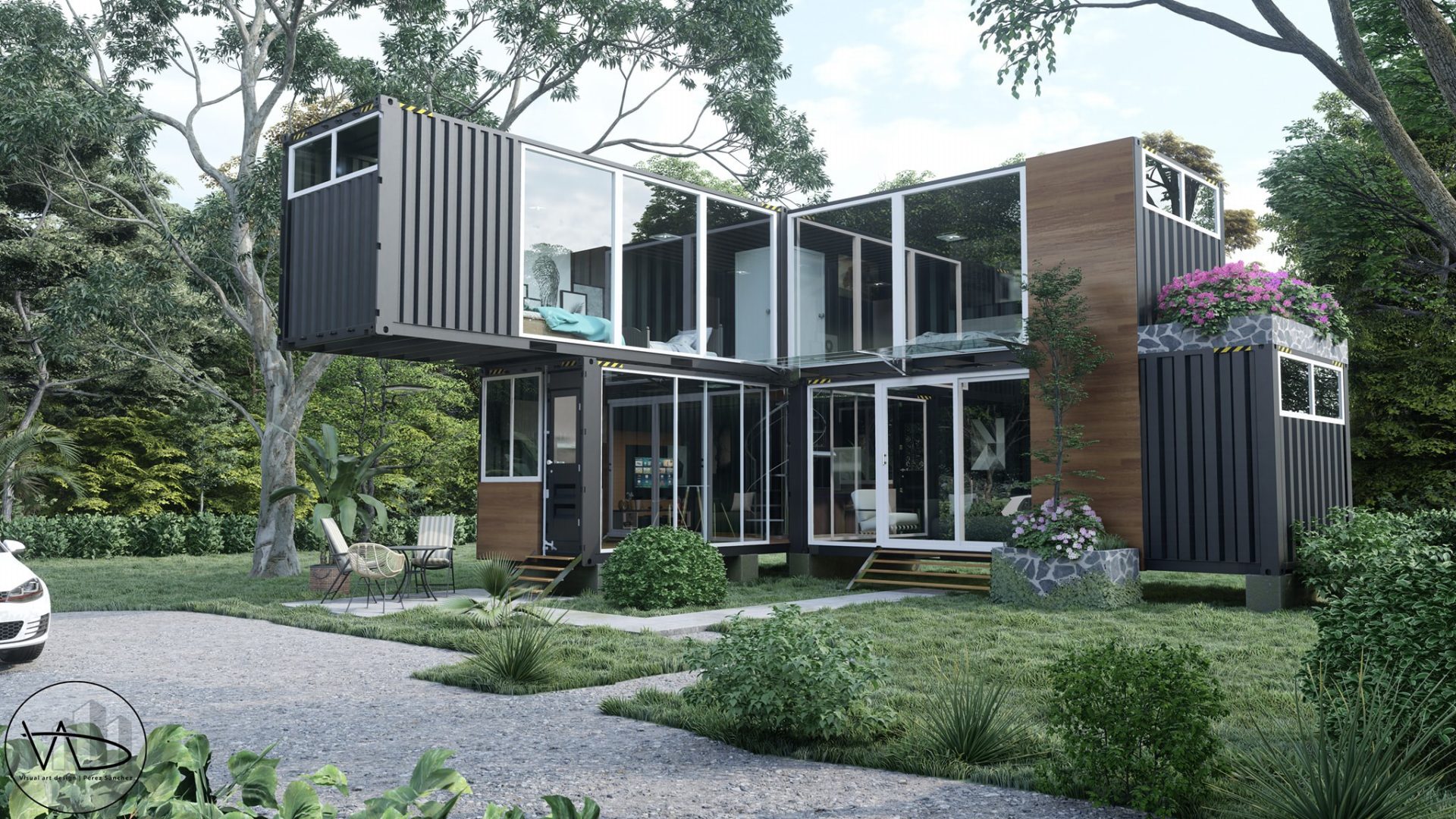 Black painted shining container home.
This home is made of containers which are black in color. Jet black color is painted. It gives a very unique look. The grandeur of this home lies in its construction with different materials. Wood, glass, steel, containers, tiles have been used in its construction. The final touch is awesome. You can just see in the pictures. These all things collectively enhance the voluptuousness of the home.
Number of containers and floors.
Four containers have been utilized in its construction. Four containers are small ( 4 x 20 FT ). These are joined in this way that these overall make a double storey home. This collectively gives a look of magnificent home. These are not simply joined together. Two are located on the ground floor and two are located on the upper floor. The layout of the containers has been made very useful. In this way, empty spaces for green spaces were obtained on the upper floor. ( Cool Container Villa for Black Color Lovers )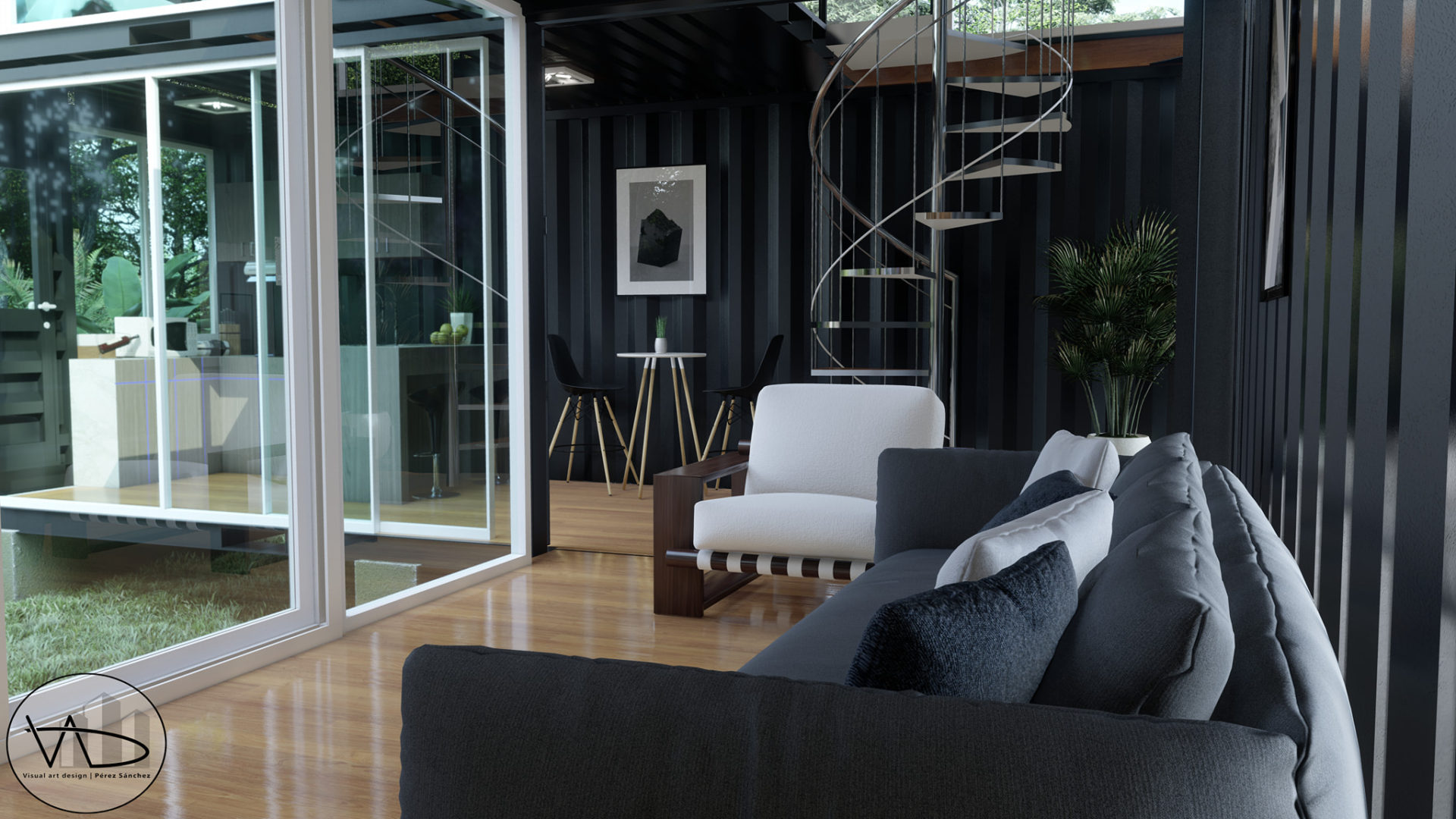 Architectural design of the home.
This home has artistry in its designing. Stairs are made at the entrance of the home. These stairs are constructed through wood and steel. Then ground floor starts. Various parts are there. Glass doors have been used on entrance. The second floor also has fine touch of glass. Glass windows and doors are there. Tiles have been used in front decoration of the home. shining wood-colored tiles are used in the construction of the floor.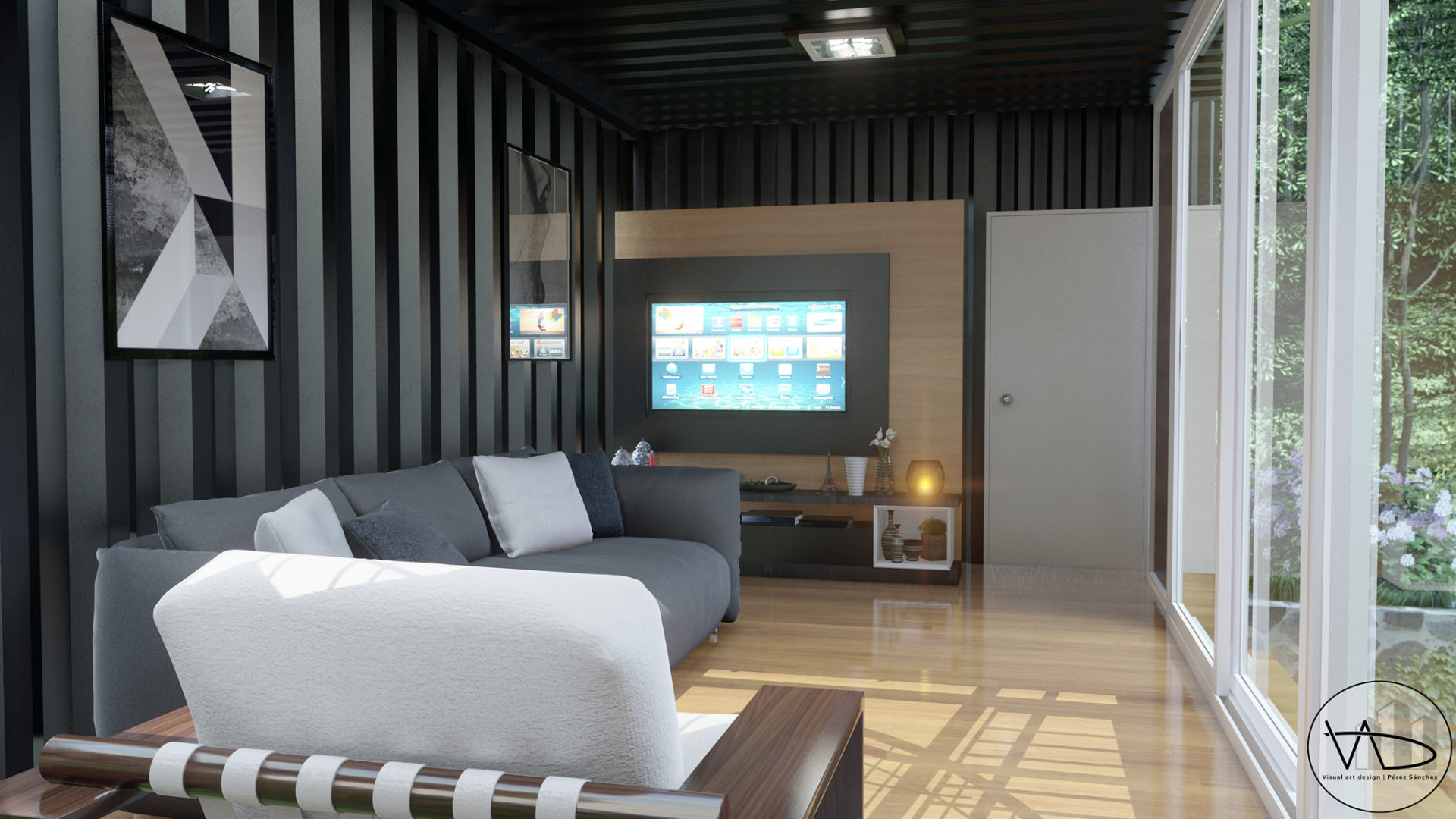 Portions designed on first floor.
Ground floor has two parts. One portion is classy living room and other portion is kitchen with a small dining table. Modernity shines from each part of the homes.
( Elegantly Designed Container Home )
Living room front wall faces a glass door and other one is made of container. Side wall has LED attached on it. Two seating sofas are placed here. One is grey black in color and other one is white in color. Back wall is occupied a painting.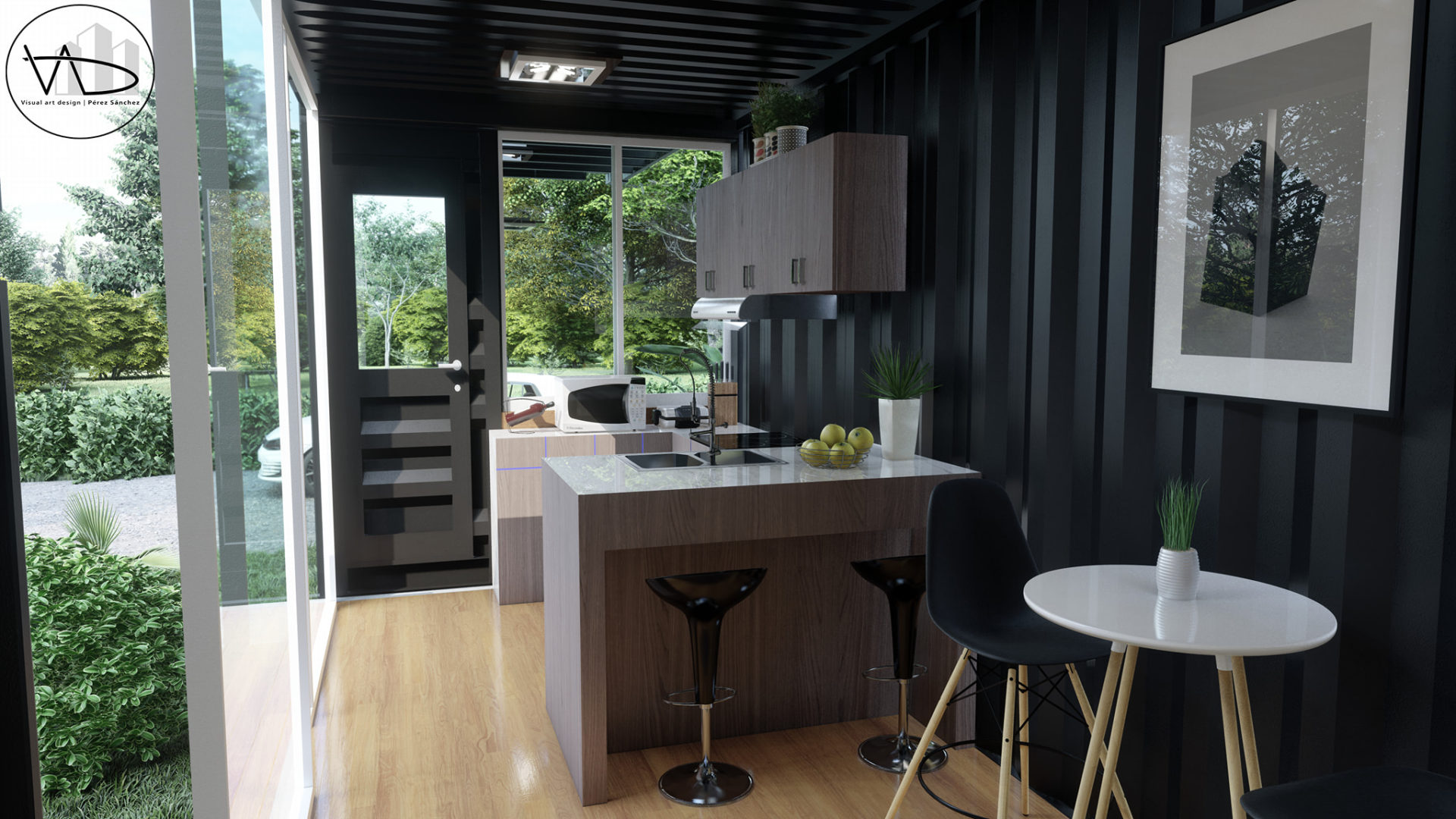 Kitchen is at the other corner. This has all the appliances and accessories. The stainless-steel material has been used. Cabinets are made and shelves are constructed. Two stools are placed near the shelf. Other two chairs and table are placed near the kitchen area.
One wall has glass window and an entrance door also made of glass.
Stairs are twisted made of steel. Steel railing surround these. These are constructed in between the kitchen and living room.
Discussion of upper floor.
Upper area has two bedrooms and two bathrooms. These are largely designed bedrooms with all equipment. These have been connected with voltage supply for electricity. Showering and bathing systems are joined.
Each bedroom has its own bathroom. Beds are placed in bedrooms and almirahs are constructed for usage. The front of the bedroom faces glass walls. The sun shines here in daytime. Paintings are hanged on the back walls of bedrooms. The doors of bathrooms are painted white.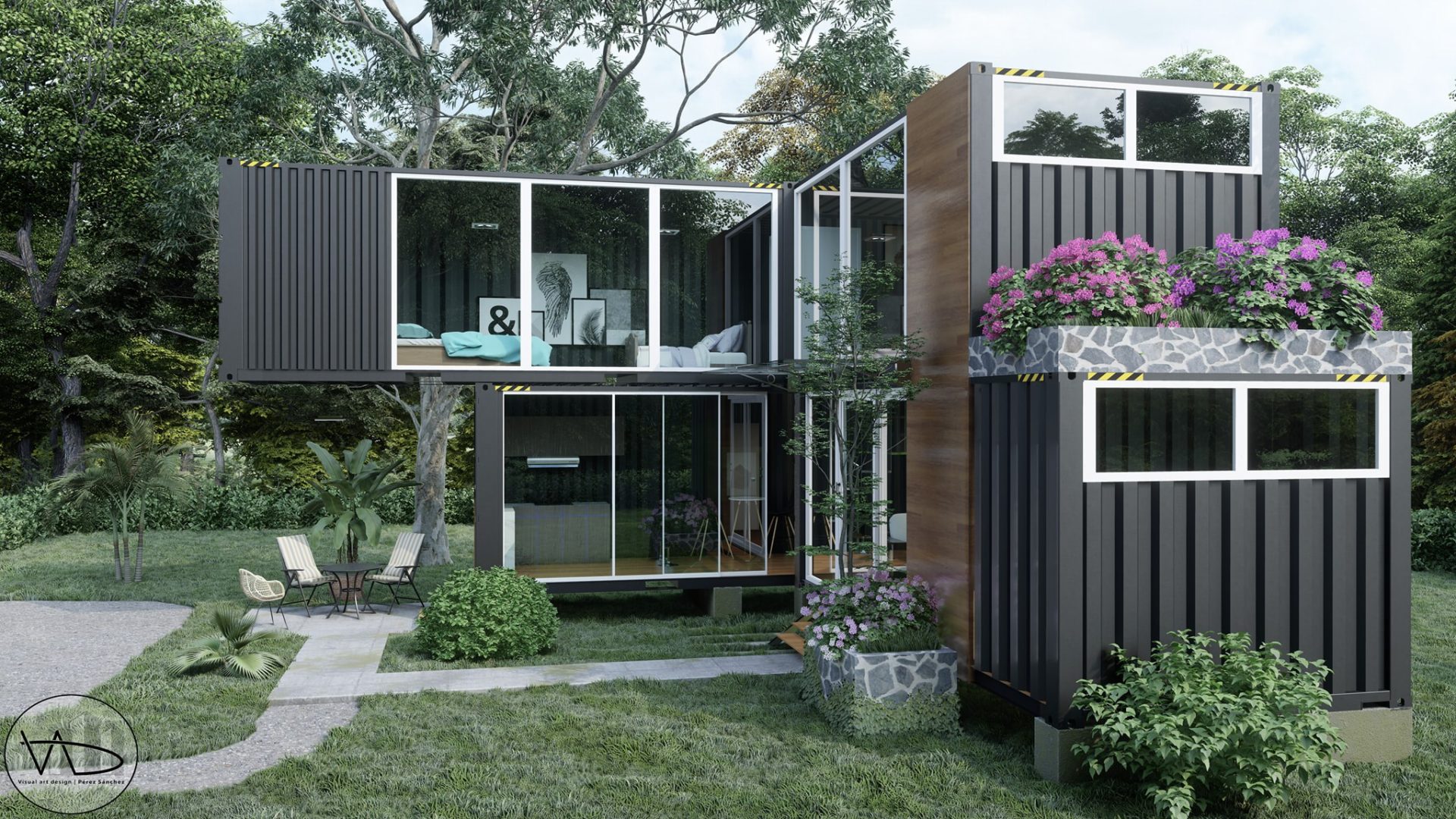 Green area around the home.
This home gives looks with winsomeness also because of greenery in its all around. This home is engrossed in beautiful plants and well-maintained green grass all around. The rocky pathway has been constructed for tracks. Remaining all other area is covered by glass.
The back of the home has big trees in a line. Thus, environment is clean here because plants filter the pollution. This home is for those who want to be at the peaceful place with a good residential area. This home is also for those who are sick of worldly noise. The peace of home contributes a lot in the peace of mind. Peaceful mind then does best work. If the environment of the home will be calm, then one must wish to live there permanently.
( Wonderful Veranda Shipping Container House )
So, the discussion of our this decorative home completes here. Soon we will be here with a next charming place. Thank you.
If you want to learn more about the design of the house, you can reach designer Perez Sanchez here.
3D Design : Created by Perez Sanchez
First Level : Living room, kitchen, general bathroom.
Second Level : 2 bedrooms and 2 bathrooms.
Created with Lumion 10.0
Sketchup 2019
Living in a Container explores projects made with shipping containers around the world and shares them for you.
Don't forget to take a look at the structures made with other amazing shipping containers on our site!
We invite you to send in your story and container homes photos too so we can re-share and inspire others towards a simple life too. Thank you!
You can share this using the link and social media re-share buttons below. Thanks!
» Follow Living in a Container on Social Media for regular shipping container house updates here «