Hi everybody ?
We continue to discover for you. Our container house on today's tour is from USA.
You may remember our article on Chad and Amanda from Kentucky with their cozy container home. Well, we are here to bring you another one of their beautiful container homes.
Set back in the hills of Kentucky sits this beautiful home constructed from not one but two containers. From the outside, you get the rustic feel of a cabin in the woods. That's exactly what Chad wanted to give this home
Living in a Container explores projects made with shipping containers around the world and shares them for you.
Don't forget to take a look at the structures made with other amazing shipping containers on our site!
We invite you to send in your story and container homes photos too so we can re-share and inspire others towards a simple life too. Thank you!
You can share this using the link and social media re-share buttons below. Thanks!
» Follow Living in a Container on Social Media for regular shipping container house updates here «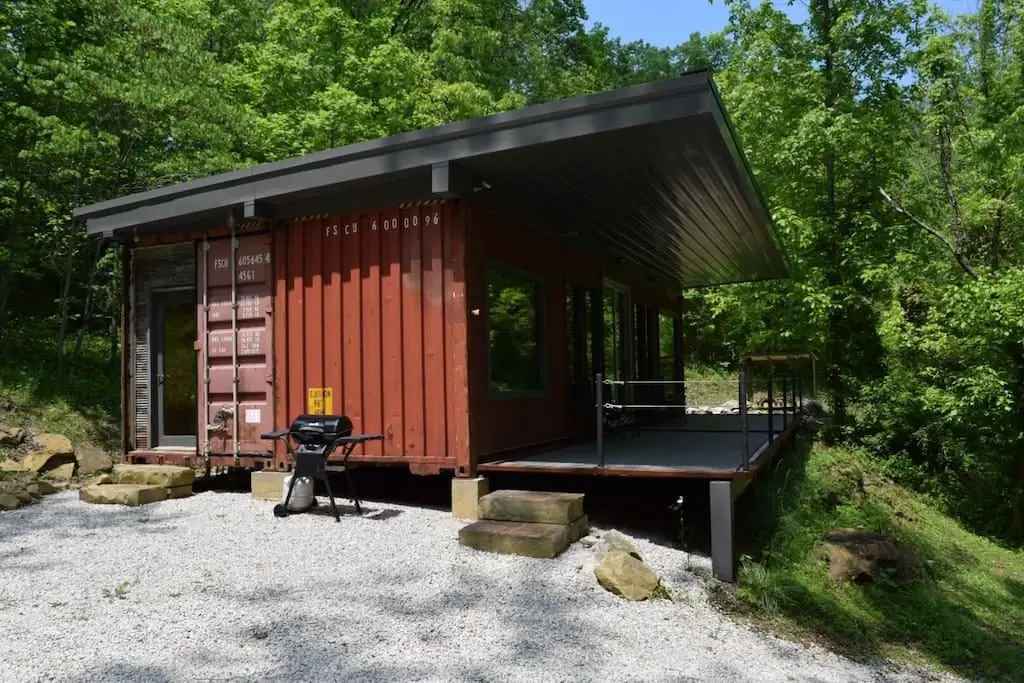 The home fits four people comfortably with two bedrooms and one bathroom, along with the amenities like air conditioning, cable tv, and a dryer. From the wooden finished walls inside to the porch that is surrounded but beautiful greenery, this rustic home makes for the perfect vacation getaway spot. If this is something you would like to experience, we have good news! Chad and Amanda are actually listed on Airbnb.com with this exact home!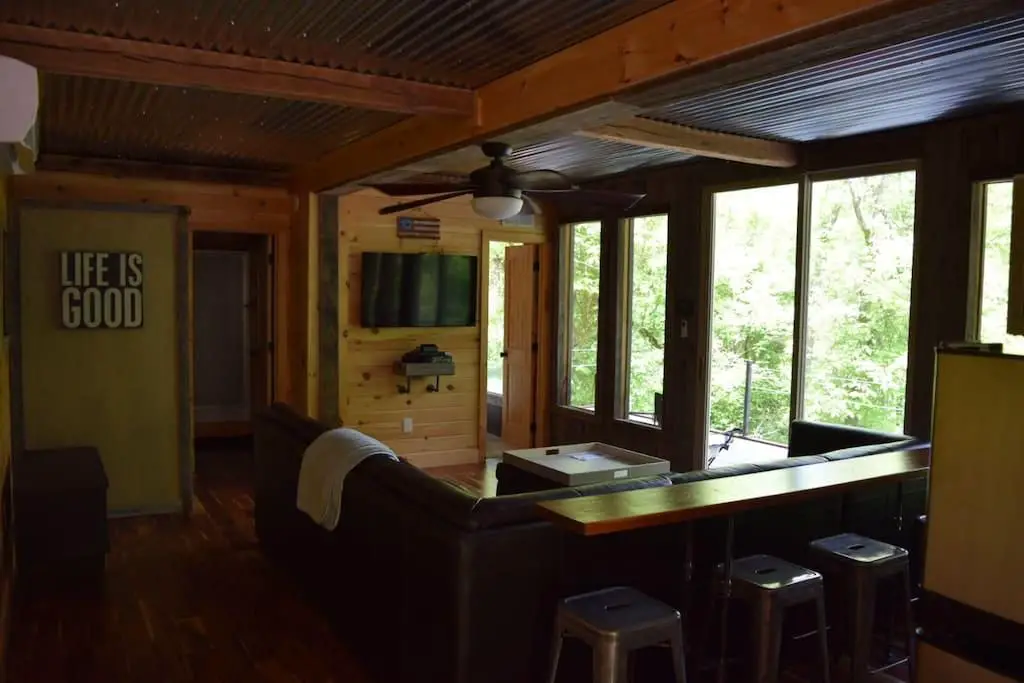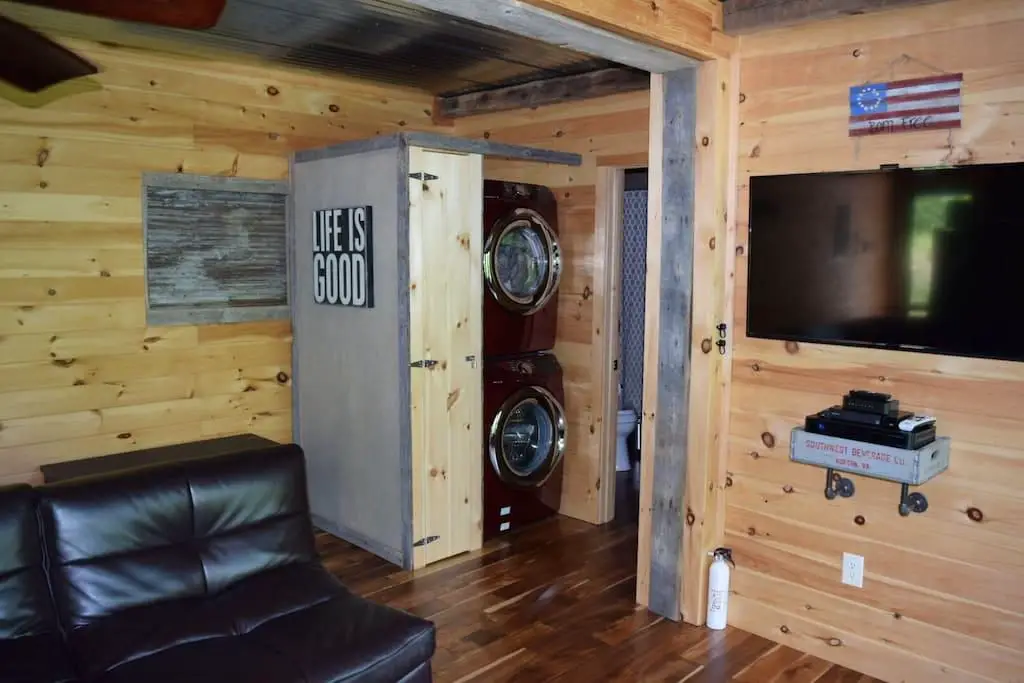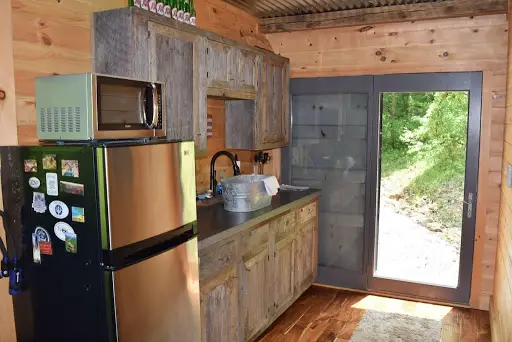 Another amazing thing about renting this container home for a night or two is that you don't have to "check-in". You can see yourself in and out without the bother of contacting anyone. Although if there's a problem, Chad and Amanda are just a message away.
Within the reviews from Airbnb, guests have left messages such as "its a hidden gem!" and "Pristine place. If you are heading to the mountains, this cabin will exceed your expectations! Great place to chill after a day on the trails!". But really, who would not want to stay here?! There is just something about the vibes from the home and tree covered mountains surrounding it that puts your mind at ease.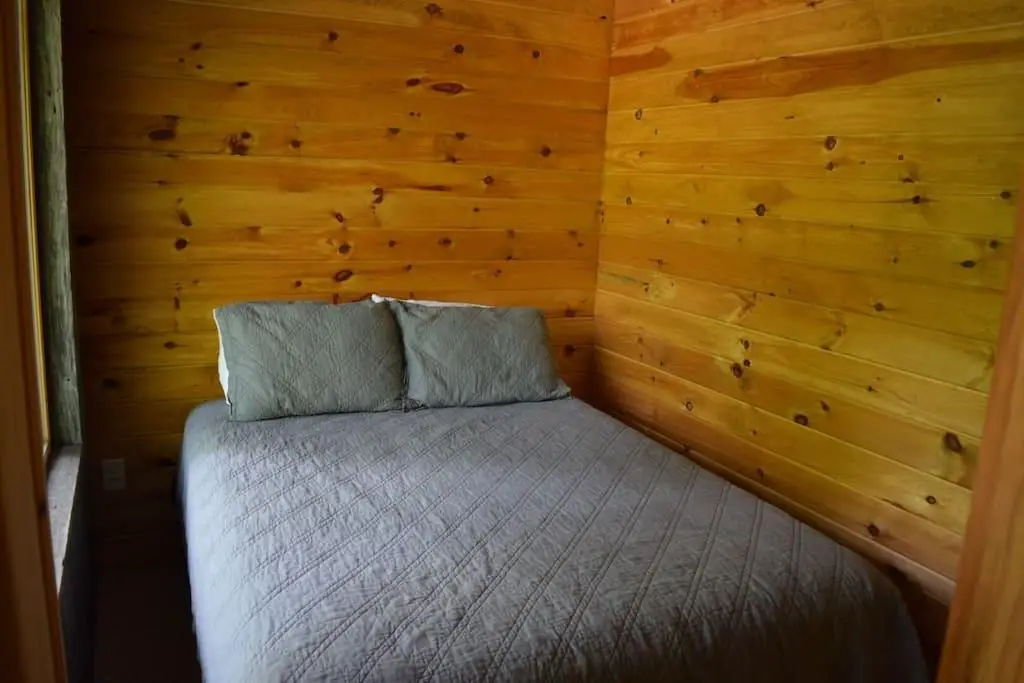 Fun fact about Chad, the owner, is that his childhood home was a log cabin built around 1840. It is easy to see that inspiration in this particular home. Along with the fact he watched a show a few years back where a guy had brought a container such as this out into the woods and made a home from it. So Chad did just that. What a magnificent work of art that came from it!
Source : containerhomemagazine