Hello container house lovers!
We are living in a time where more and more people are turning to shipping containers as the foundation of their tiny homes. There is no doubt that this new trend has brought with it many benefits, such as increased portability, convenience, and sustainability.
Container houses offer an innovative way for homeowners to reduce their carbon footprint while still enjoying the comforts and amenities provided by traditional housing.
With the introduction of various types of containers, there is a lot of potential for people to customize and design their homes. Furthermore, these structures can be built quickly, using less labor and resources than traditional methods.
Overall, container house living has been embraced by home owners from all walks of life due its practicality and convenience. With more people turning to this type of housing each day, it is clear that this movement is here to stay!
These metal boxes are now a booming housing trend !!!
These metal boxes are now a booming housing trend, making it much simpler to construct homes in areas that would be difficult with traditional methods.
The beauty of recycled shipping containers is that you can get the job done with just a little DIY know-how. With the right skills and tools, it's possible to construct up to 80% of your tiny home from scratch, giving you full control over the design and construction.
Social media is filled with inspiring accounts of people who have taken on the challenge of building their own container homes, both for fun and as a profitable business venture.
From cutting metal to welding frames together to crafting furniture from scrap material, these intrepid builders are proving that with some determination and ingenuity, anything is possible.
The idea of creating sustainable, affordable housing in an eco-friendly manner is one that is captivating more and more people every day. Seeing individuals taking pride in constructing their own home out of shipping containers could be just what inspires others to take the plunge too!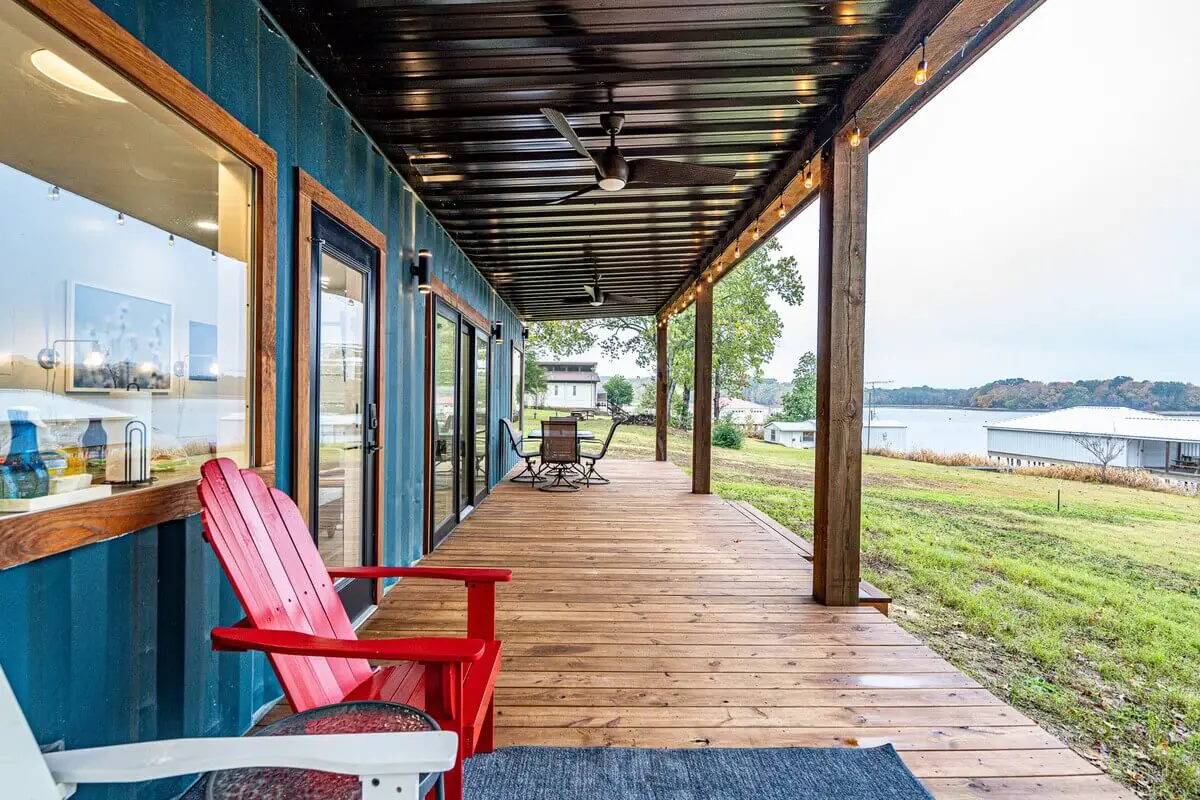 Today I want to show you a container house that those who like tiny houses may like. This container home is in Frankston, Texas, United States.
Single shipping container house rented by Carol for $169 per night. (Airbnb)
Practical and Efficient Layout: A 40ft Container Home Plan
The container house plan is laid out with a kitchen, living room, bathroom, and bedroom in succession.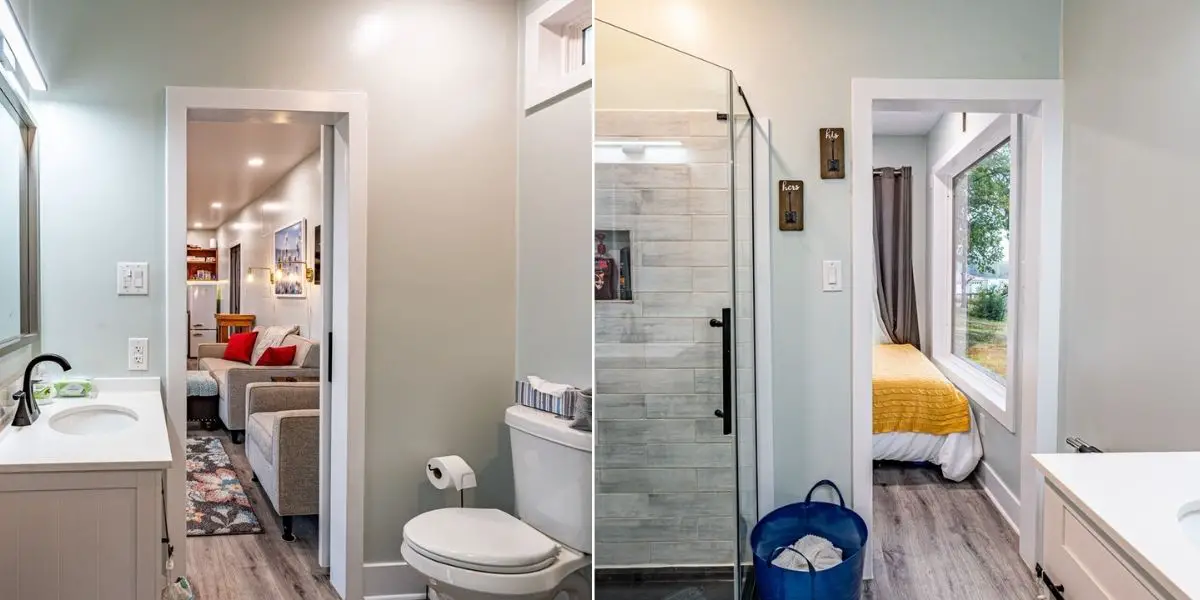 However, the bedroom is only accessible by passing through the bathroom first – not very practical for those living in their home full-time. Despite this hiccup, the overall layout of the house is still quite functional and efficient.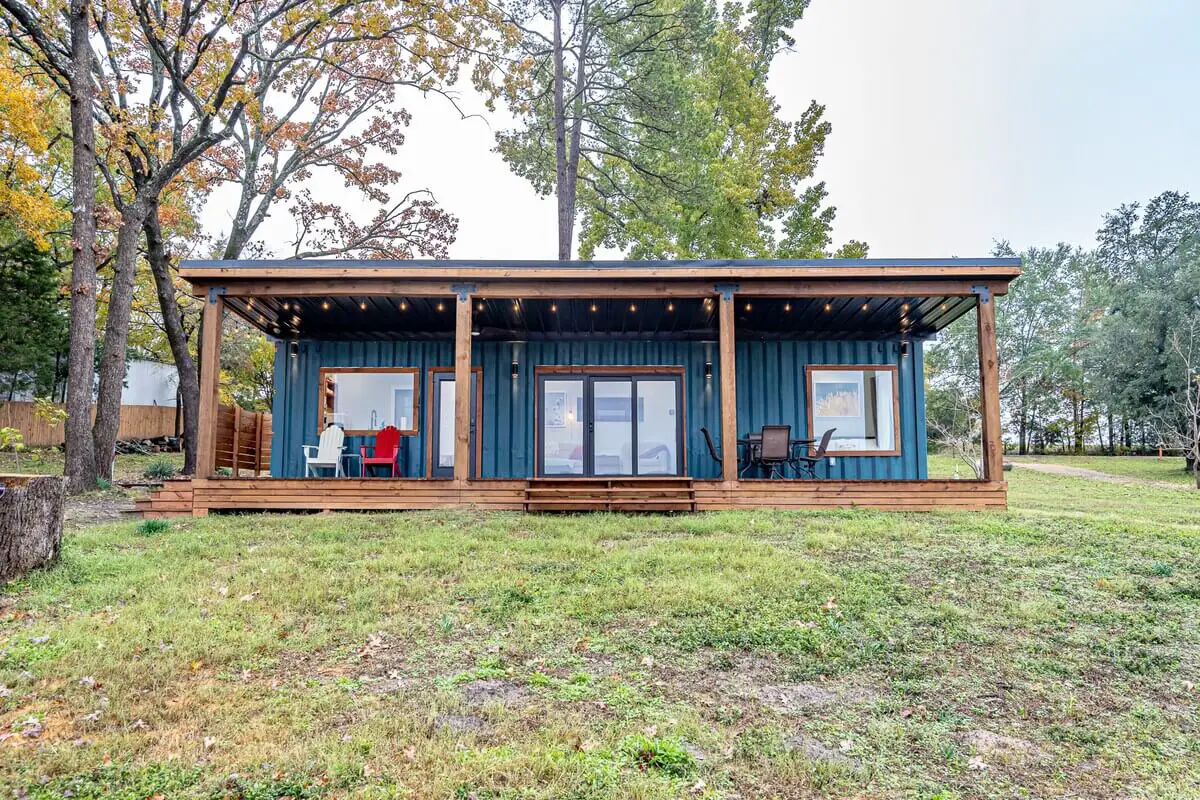 Unique Exterior: A 40ft Container Home with a Sweet Color
This 40ft container house has a unique exterior with a veranda as big as the house itself.
It follows the typical design of single-container homes, but what really sets this one apart is its color.
While we usually see houses in this model sporting deep black hues, this home takes on a much sweeter tone, making it stand out amidst its natural surroundings.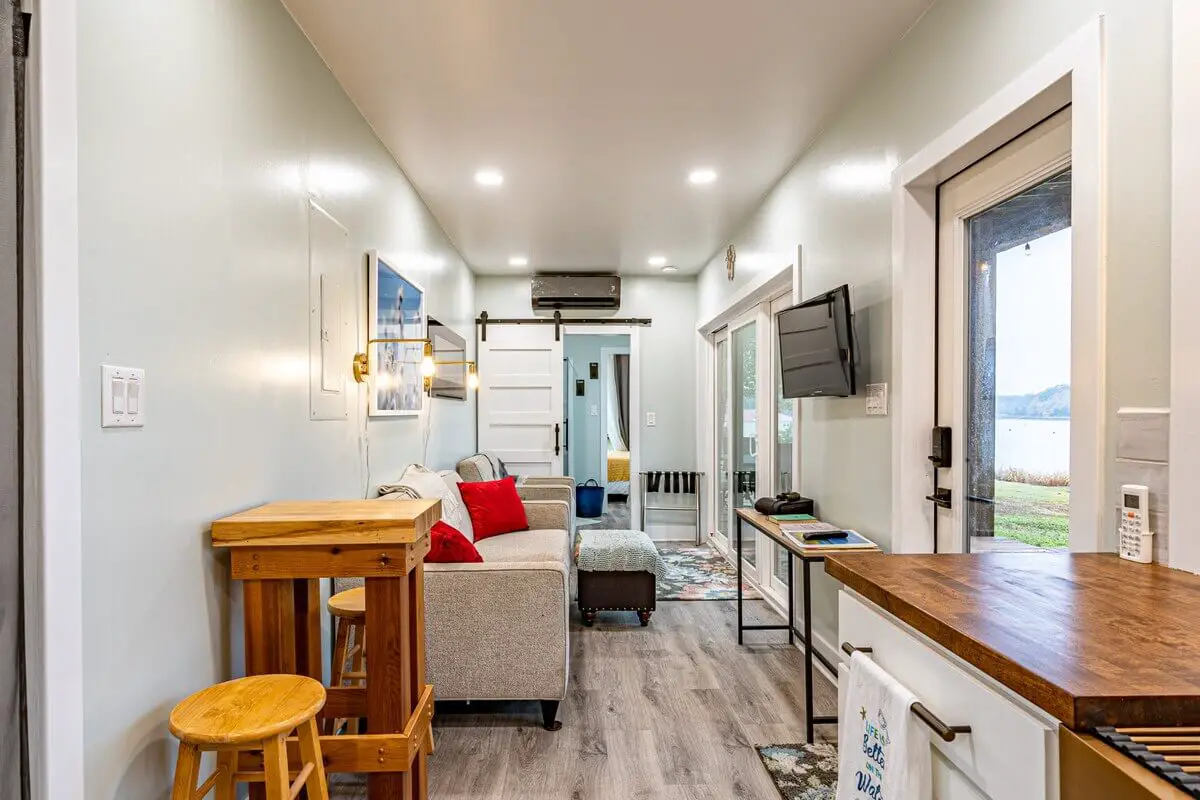 A Serene and Sophisticated 40ft Container House Interior
This 40ft container house has a simple yet elegant interior design. A palette of white and a few wooden accents provides a subtle and calming atmosphere throughout the home.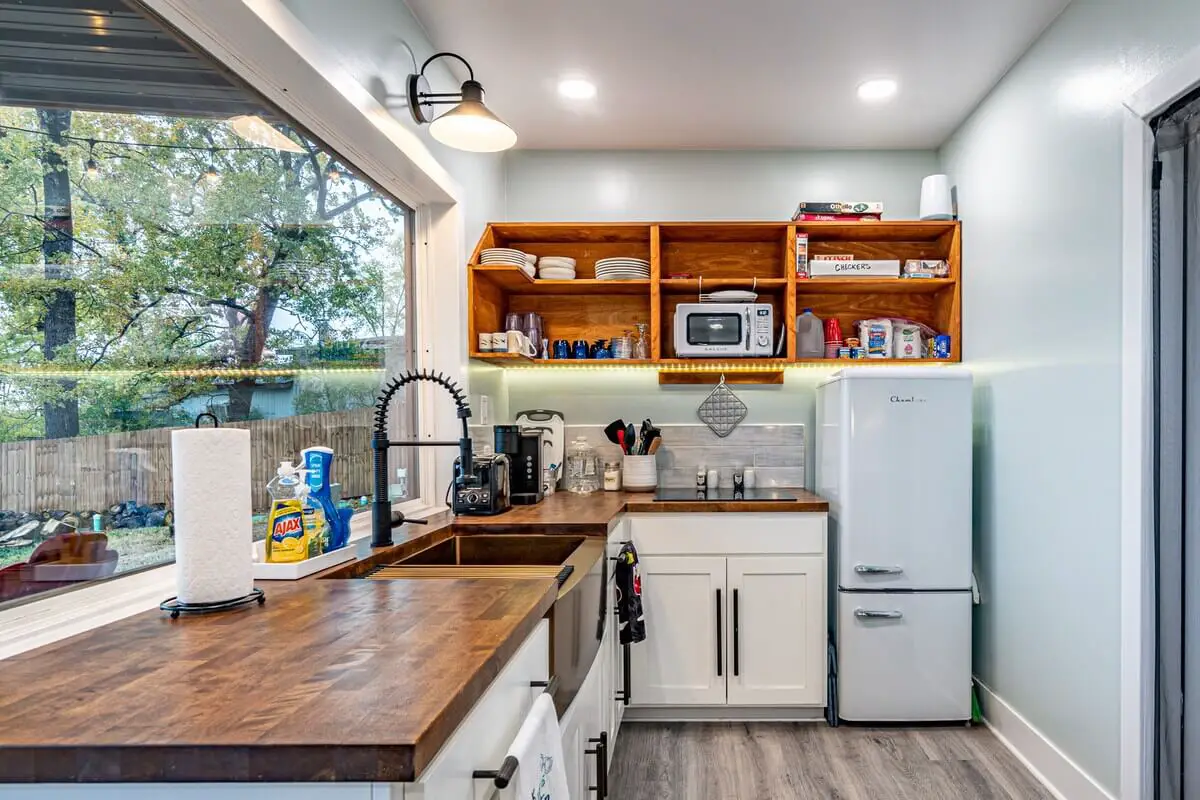 The windows have all been thoughtfully placed, with the kitchen counter, living area and bedroom each having their own window to let in plenty of natural light.
Conclusion: An Inspiring Design for a Tiny Container House
This 1 bedroom and 1 bathroom shipping container house is an excellent example of what can be achieved with a small space.
Its unique color, veranda, wooden details, and clean interior design come together to create a beautiful and functional home.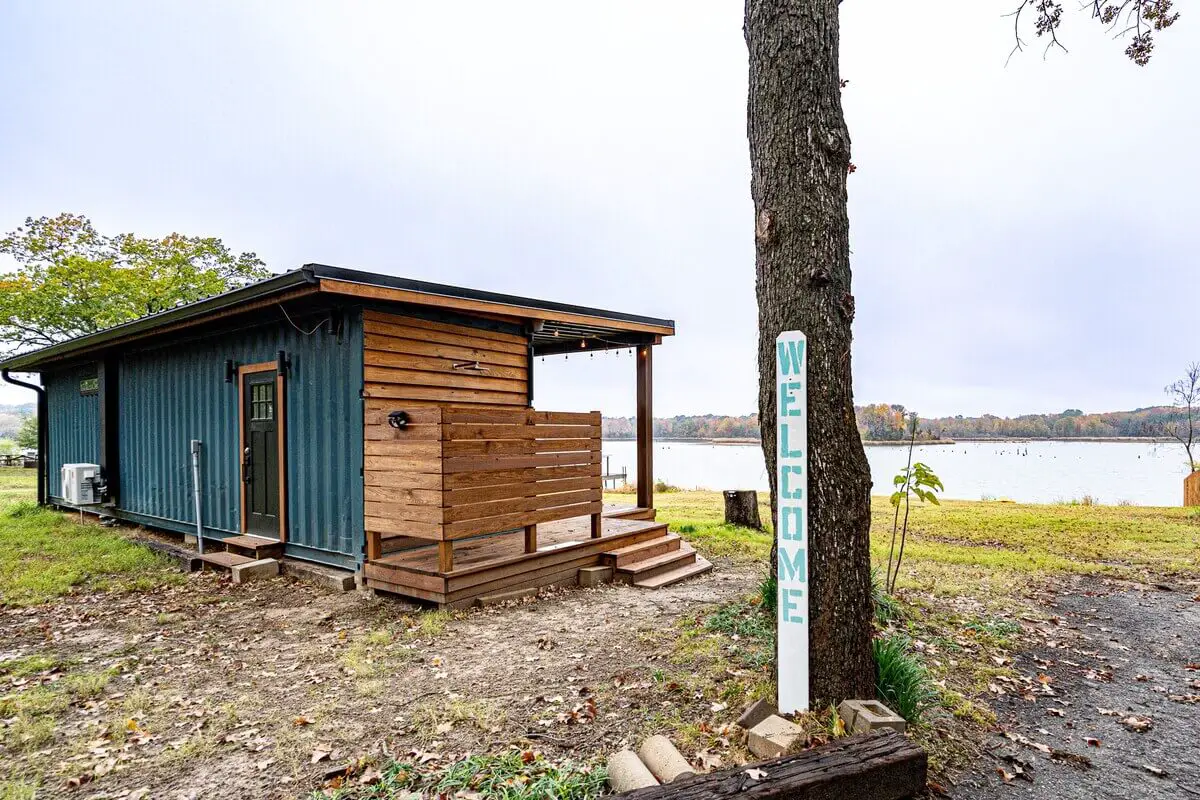 The popularity of container homes is growing quickly around the world. With its relatively low cost and fast setup, it is becoming an increasingly attractive option for people looking to build their own home in a short amount of time.
As the demand for container homes grows, more innovative designs are emerging that take advantage of their unique shape and size to create beautiful and functional spaces.
This 1 bedroom and 1 bathroom shipping container house is just one example of what can be achieved with a small space, showing us that there are endless possibilities when it comes to designing a container home.