The container home market is on the rise, with estimates showing that it will be worth $25 billion by 2023.
This growth in popularity is due to a growing understanding of the advantages of container homes – they are cost–effective, resilient and can be adapted to suit different needs.
Plus, since they are created with recycled shipping containers or factory-made steel containers, these homes are eco-friendly too!
This makes them an ideal solution for those looking for a luxurious yet affordable housing option that can easily be transported from place to place.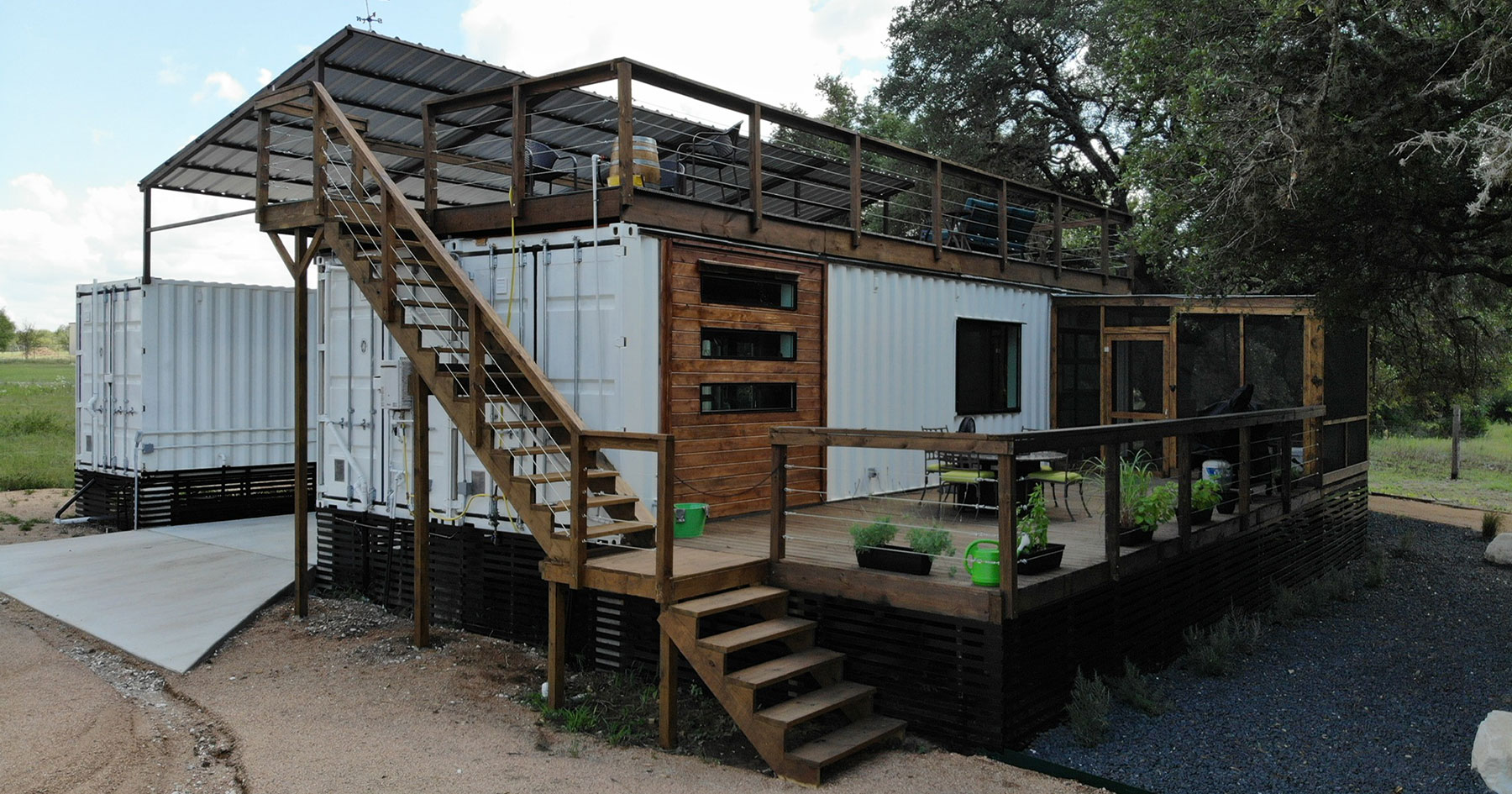 Mid Century Modern Container Home
BackCountry Containers offer a container home model called the 'Mid Century Modern', available in Texas.
This modern container home is designed to provide an optional luxury living space that utilizes adaptable elements of shipping containers and traditional architecture.
The home features upgraded insulation, modern amenities, ample storage, and a sleek design to create a comfortable and stylish space with minimal environmental impact.
Additionally, as it is crafted from metal shipping containers, this home also offers resilience against extreme weather conditions and other potential hazards.
The design of the Mid Century Modern container home by BackCountry Containers is a unique and space-saving option for those who need a luxurious yet affordable housing solution.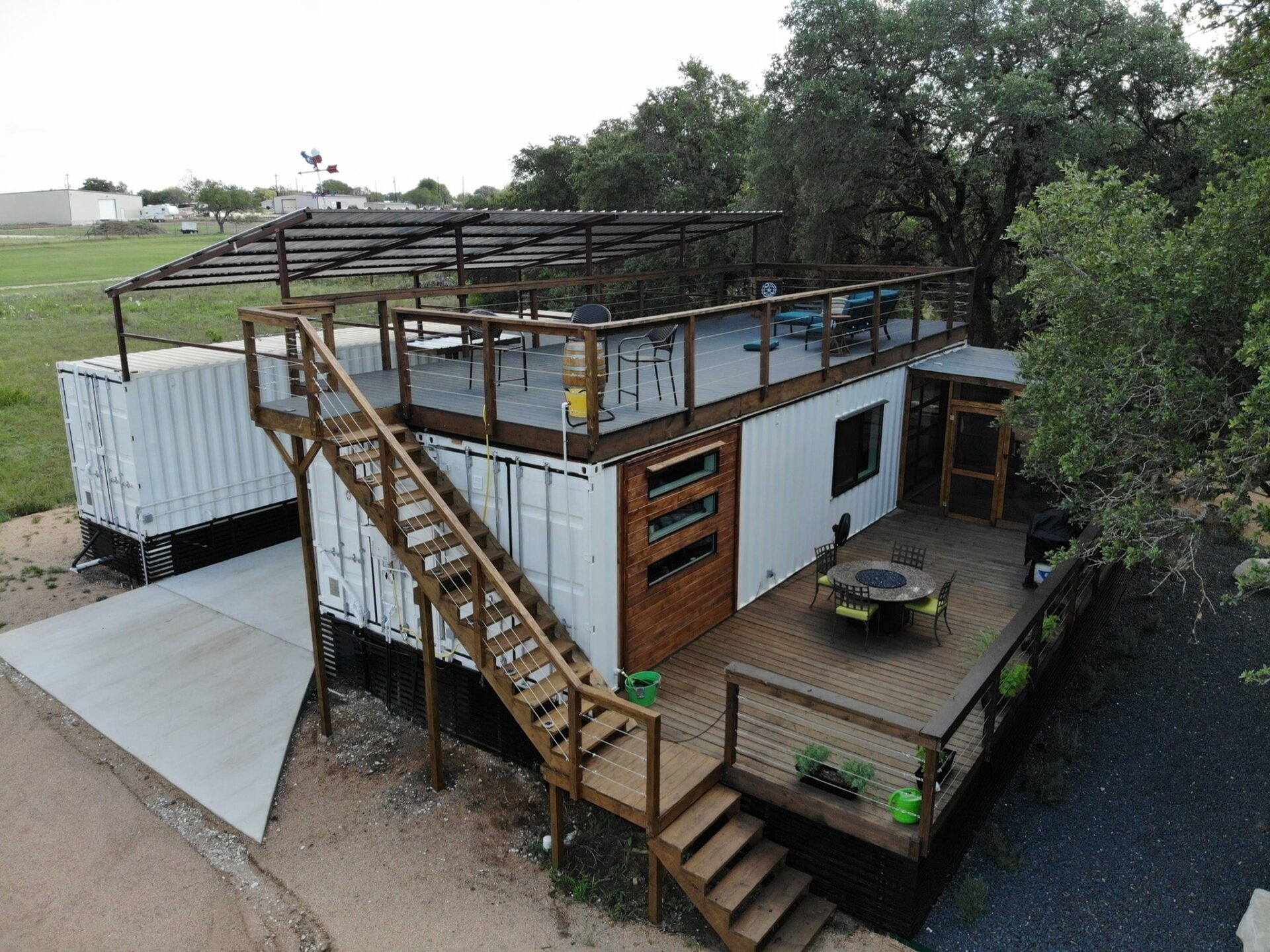 Three 40ft Shipping Containers
It consists of three 40ft shipping containers arranged in an unconventional way – two containers on one side and one container on the other. This arrangement allows for plenty of room while still allowing the house to fit into a smaller area.
The layout of the shipping container home has been designed with practicality in mind, utilizing all kinds of facilities within its structure.
For example, the garage was built by covering the space between the containers, while part of the wide deck built on the other side serves as a winter garden.
In addition, the area above the two containers was also used as a roof terrace for additional space or recreational activities.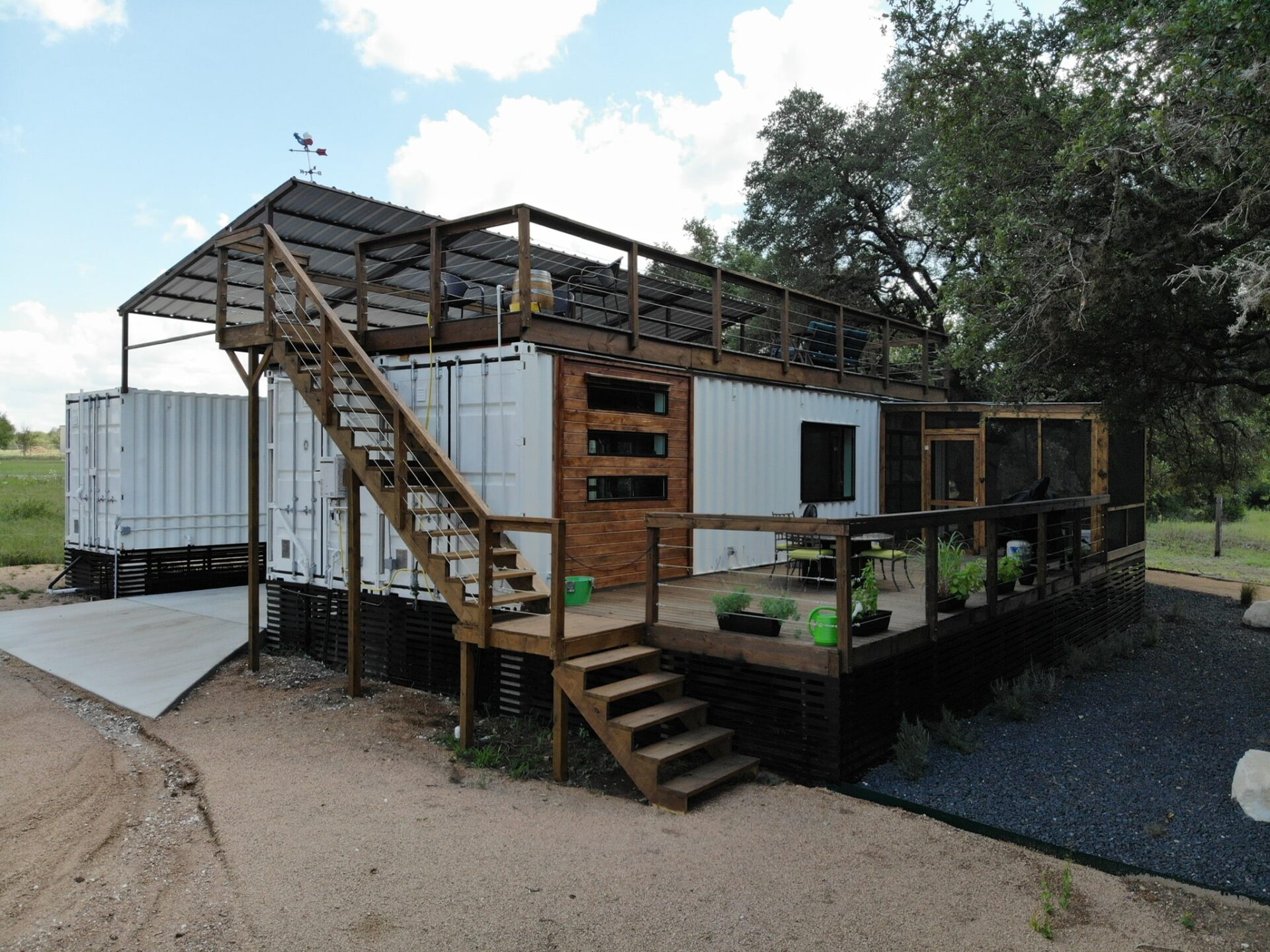 All these details help to create an impressive and unique living space that is both functional and aesthetically pleasing.
Furthermore, due to its sustainable material construction, this house also offers resistance against extreme weather conditions and other potential hazards that could potentially cause damage to it.
The part with two shipping containers forms the core of the container home, providing a spacious living area and kitchen that is perfect for entertaining or simply relaxing.
On the other side, the remaining container is reserved for the bedroom and bathroom, ensuring that all necessary amenities are readily available.
Throughout these areas, there are ample storage options, modern amenities such as air-conditioning, and upgraded insulation to ensure maximum comfort.
This innovative design makes it easy to combine both traditional architectural features with sustainable design elements to create an enjoyable and stylish living space without any unnecessary environmental impact.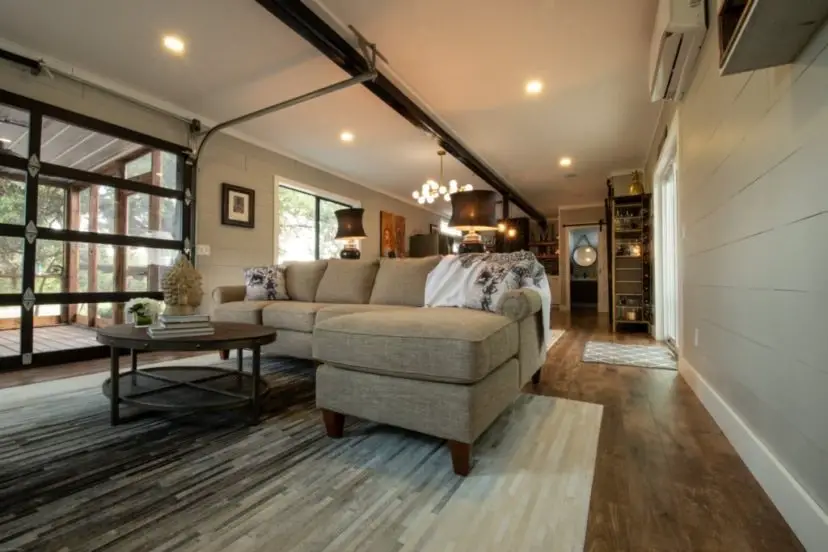 1 Bed – 2 Bathroom Container Home
This 1 Bed, 2 bath container home provides 900 Sqft of living space, making it a great option for those who value both convenience and luxury.
The high ceilings, created by the use of three 40 FT high cube containers, give an open and calm feel throughout the house, while dark floor coverings draw attention in the interior design. With its clean lines, muted colors, and natural materials it creates an inviting atmosphere that is perfect for any occasion.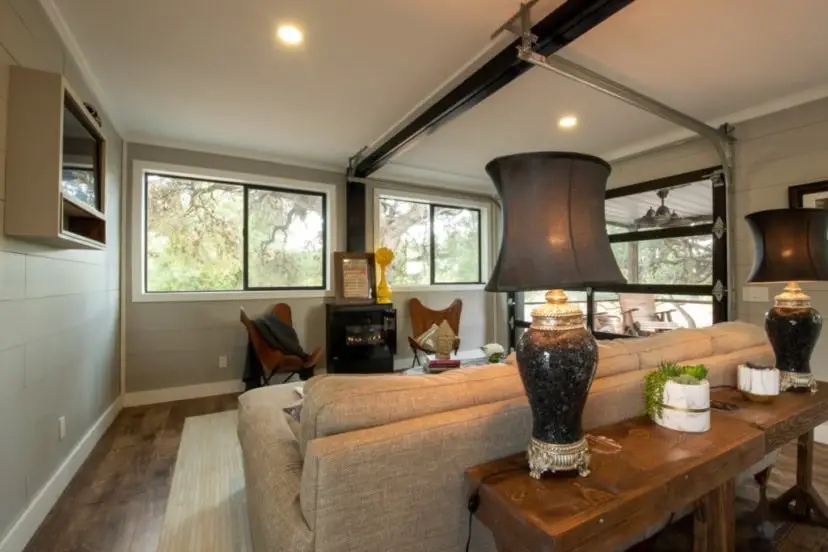 The unique design of this container home allows for plenty of natural light to flow through the windows and doors. This gives the living space a sense of spaciousness and brightness that brings out the beauty of its minimalist design scheme.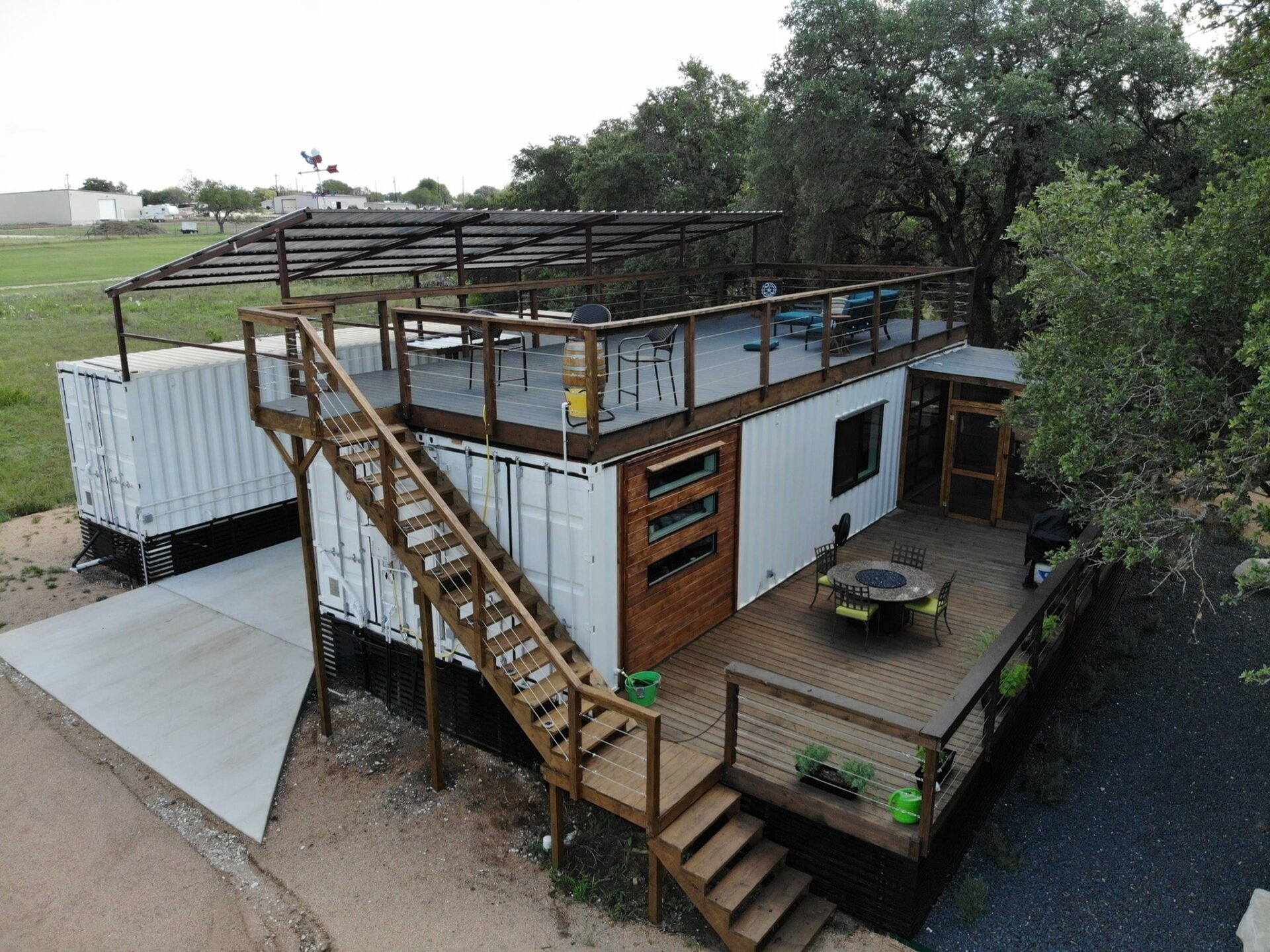 640 Sqft Rooftop Deck
The outside spaces of this home are just as thoughtfully designed and useful as the interior. From a custom 640 Sq Ft rooftop deck and screened porch, to drive-through covered parking, the features of this home enable users to make the most of their outdoor living space.
As an added bonus, the bathroom has heated floors which helps keep it warm and cozy in colder months.
BackCountry Containers
BackCountry Containers is a company based in Needville, TX that specializes in customizing and building luxurious container homes.
Their team of experts have years of experience in the field of engineering and architecture, and are dedicated to creating sustainable living spaces with a modern aesthetic.
With their design-to-build process, every container home is tailored to the client's specific needs. From planning and development to construction, their projects are characterized by precision and attention to detail.
If you're interested in building your own unique container home or learning more about the process, please don't hesitate to reach out through email at [email protected]
They'd love to help make your dreams a reality!
So if you're interested in learning more about shipping container homes, be sure to check out the Living in a Container today! What are your favorite shipping container homes?