The 40ft shipping container home is a unique design that gives you the ability to create a comfortable, modern living space without breaking the bank. This innovative concept utilizes shipping containers as the building blocks, allowing you to customize and design your own sustainable home in just a few simple steps.
With the modular design, you can easily and quickly construct your dream home with minimal energy consumption and maximum comfort.
Whether it's a small studio for yourself or a larger family home, this concept offers plenty of customization options so that your living space is tailored to your lifestyle and budget.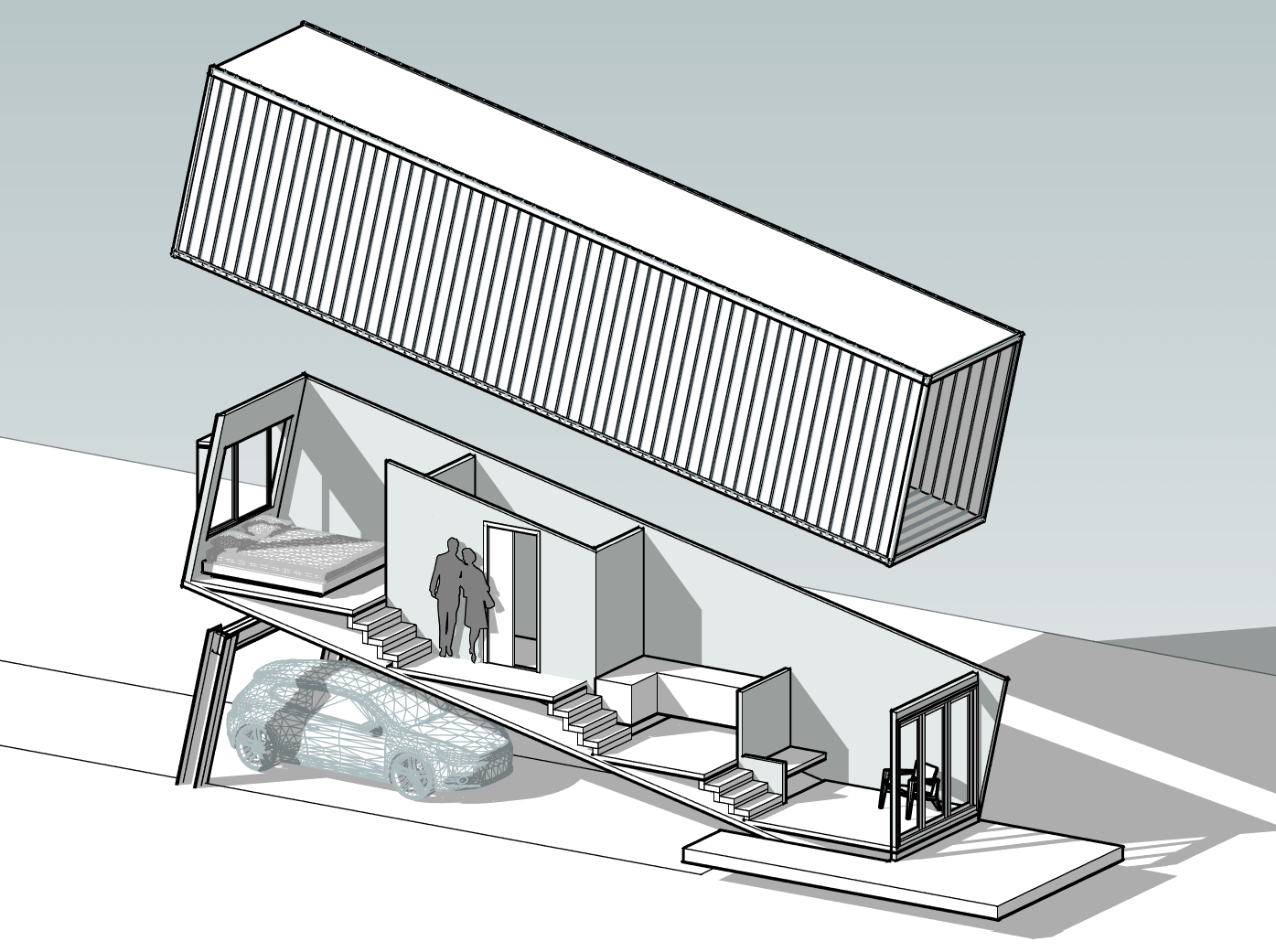 Let your imagination run wild with a 40ft Container Home Design!
Today, we are exploring a unique and very interesting design for container home living.
If you haven't seen a container home like this before, you won't be disappointed – this concept has its focus on tackling the awkward interior space of a 40 foot 'high cube' shipping container.

To do so, the container was angled downwards to give it better proportions and create more usable space in the home.
This clever design has enabled different levels to be created, defining individual spaces while also optimizing the entire open plan area.
The result is an incredibly functional yet stylish example of how to make the most of a relatively small space with big ideas.
To ensure maximum efficiency and comfort, super thin "va-Q-vip" vacuum insulated panels were used for wall insulation (r5.7 at only 40mm).

By following passive house principles, including a heat recovery ventilation system, this container can become an energy efficient air tight space that's also eco-friendly.
For added style and ambience inside, cement sheet was chosen for interior wall lining to provide some thermal mass without compromising on aesthetics.
Create your dream home with the 40ft Container Home Design!
With its innovative use of space and sustainable materials, it's easy to see why this concept is quickly becoming popular amongst those looking for a greener alternative that won't break the bank.
If you want to see more container houses, you can check the links below.
25+ Creative And Inspiring Container Houses
Brilliant Shipping Container Conversion
Life Uncontained Shipping Container Home
2 x 40ft Shipping Container Home
3 Shipping Container Transformations That Will Inspire You
Love what you see? Share your home makeover with us and we'll feature it on our blog.
Email us at [email protected] and tell us about your project.
For more shipping container home improvement and renovation ideas, click here.