The world is constantly changing and evolving. This means that people's needs are also changing all the time.
As a result, many of our traditional needs are being restructured to better fit the current times. Housing is one of the needs that has been affected by this trend.
Many people today are tired of living in large, unfeeling houses. The typical suburban home that once represented the American dream no longer resonates with many people.
As a solution to this, many new real estate trends have emerged that prioritize practicality, affordability, and sustainability over size and grandeur.
Two of the most popular real estate trends that cater to these changing needs are tiny houses and shipping container houses.
These homes are designed to be compact, efficient, and environmentally friendly. They are the perfect solution for those who want to live a simpler, more minimalist lifestyle.
Overall, it's clear that the way people view housing has changed in recent years. More and more people are embracing the idea of less is more when it comes to the place they call home.
Real estate trends like tiny houses and shipping container houses have emerged as a response to these changing needs, providing practical and affordable alternatives to traditional homes.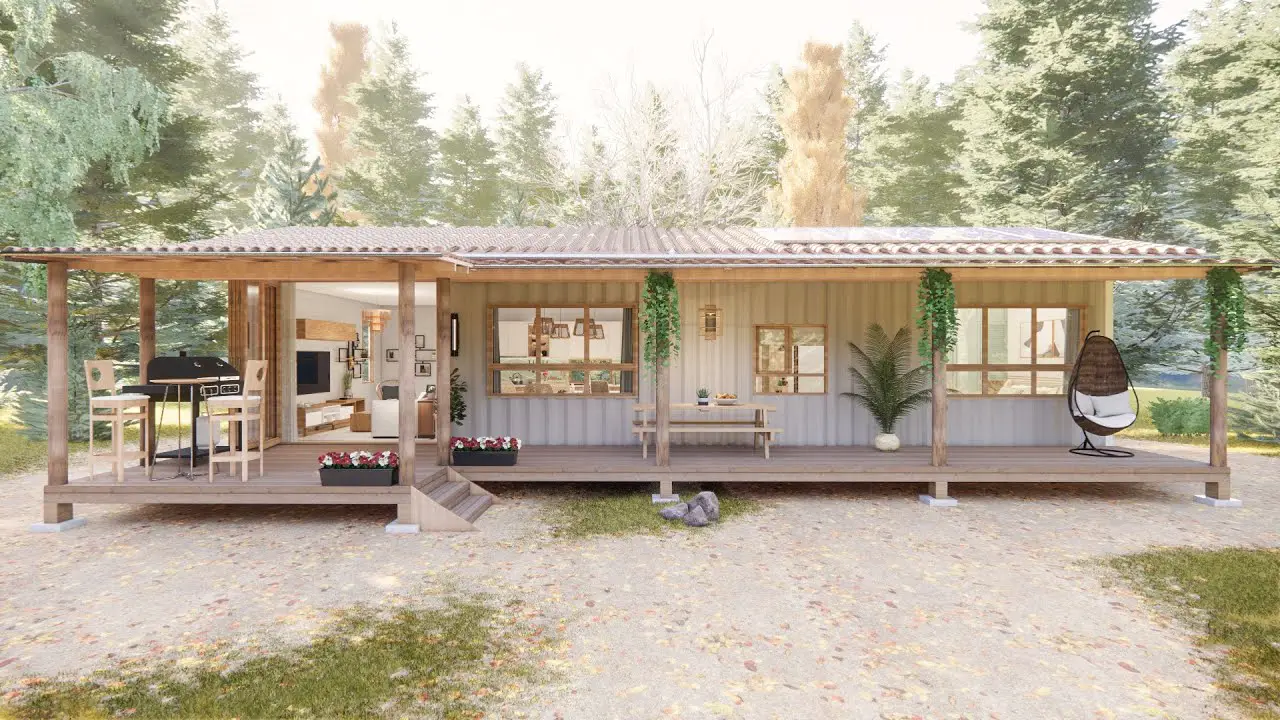 Shipping Container Homes
For starters, the unique corrugated appearance of shipping containers gives them a cool, industrial vibe that sets them apart from traditional homes.
Not to mention, they are incredibly durable and weather-resistant, making them a smart choice for those who prioritize longevity and sustainability.
Another great thing about shipping containers is how easy it is to design and construct a custom home.
Think of them like giant Lego bricks that can be stacked and arranged to create whatever you can imagine. It's a fun, creative process that can result in a truly unique and personalized living space.
Get ready to be inspired!
Today, we're sharing a container house design that you can easily create using recycled shipping containers.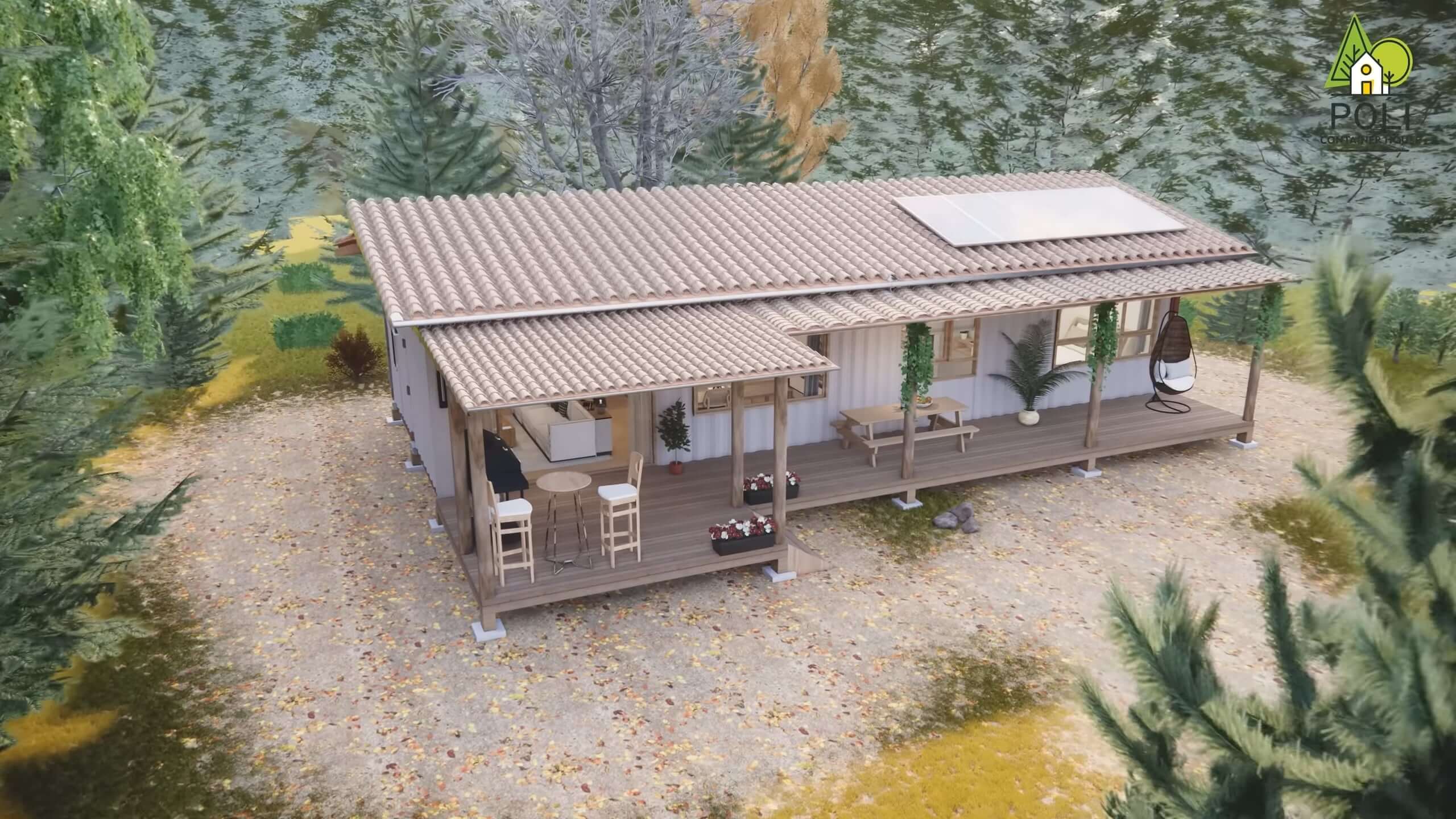 Are you ready to learn more about this awesome shipping container home design?
Let's dive into the prominent details that make it such a unique and attractive living space.
First off, this house is made using two 40ft shipping containers that have been creatively repurposed into a comfortable and efficient living space.
The use of containers as a building material is both practical and sustainable, making it an increasingly popular choice among homeowners who value both creativity and environmental responsibility.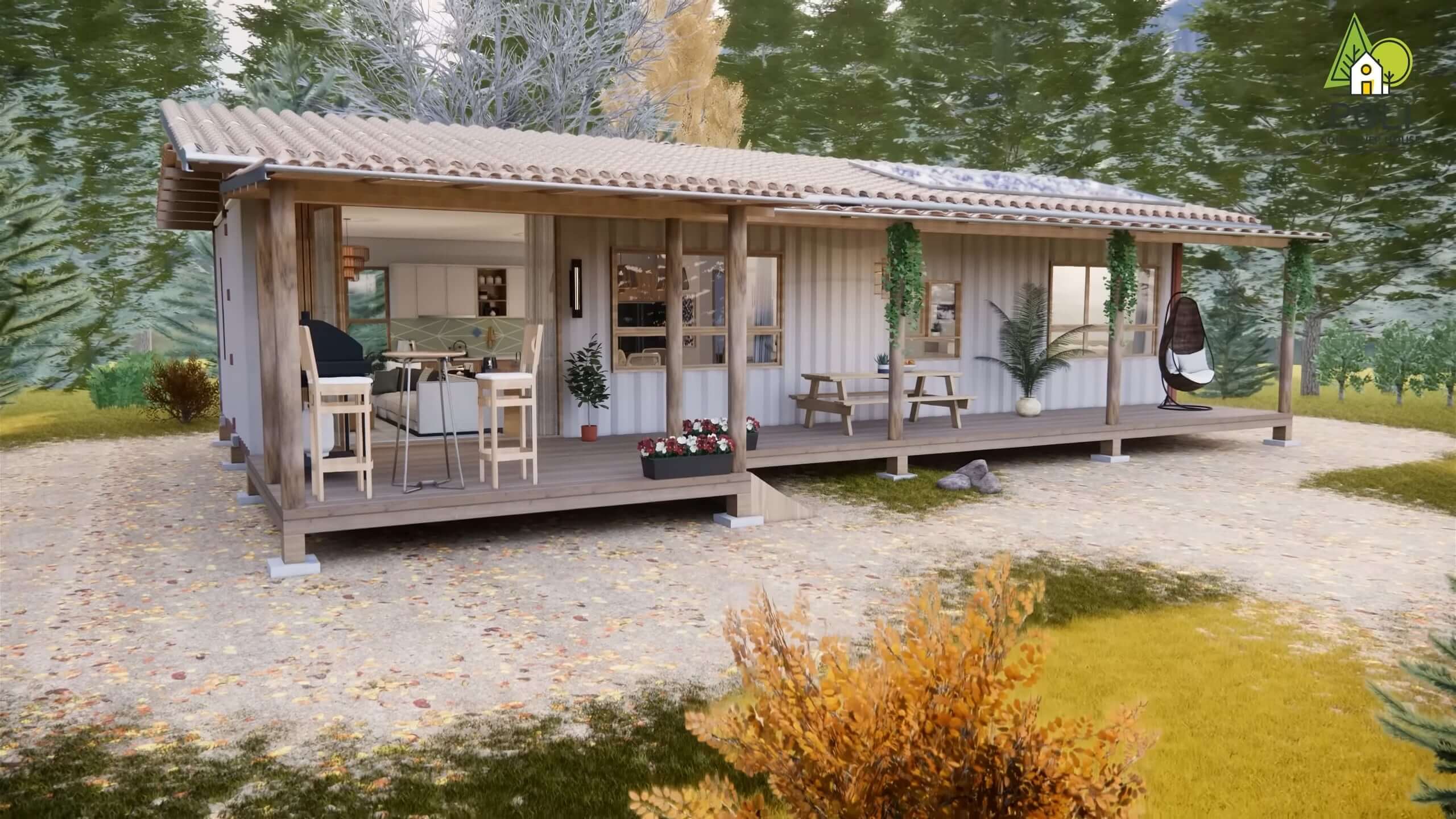 Another great feature of this design is the lovely patio that runs along the front of the container house.
This outdoor space is perfect for relaxing and entertaining, and really helps to open up the living area to the outdoors. It's a great example of how even small spaces can feel expansive and inviting with a little creativity.
Perhaps the most striking aspect of this container house design is the triangular roof.
This artistic and functional touch really adds a lot of character to the house's overall appearance, while also providing great insulation benefits.
It's amazing how a simple design choice like this can make such a big impact on the livability and enjoyment of a home.
One of the things that really sets this house apart is its use of wooden details throughout.
The natural color of the wood is left untouched in both the patio and the glass frames of the container house, creating a warm and inviting feeling that's hard to resist.
Plus, the use of sustainable, natural materials like wood is better for the environment and ultimately helps make the world a better place.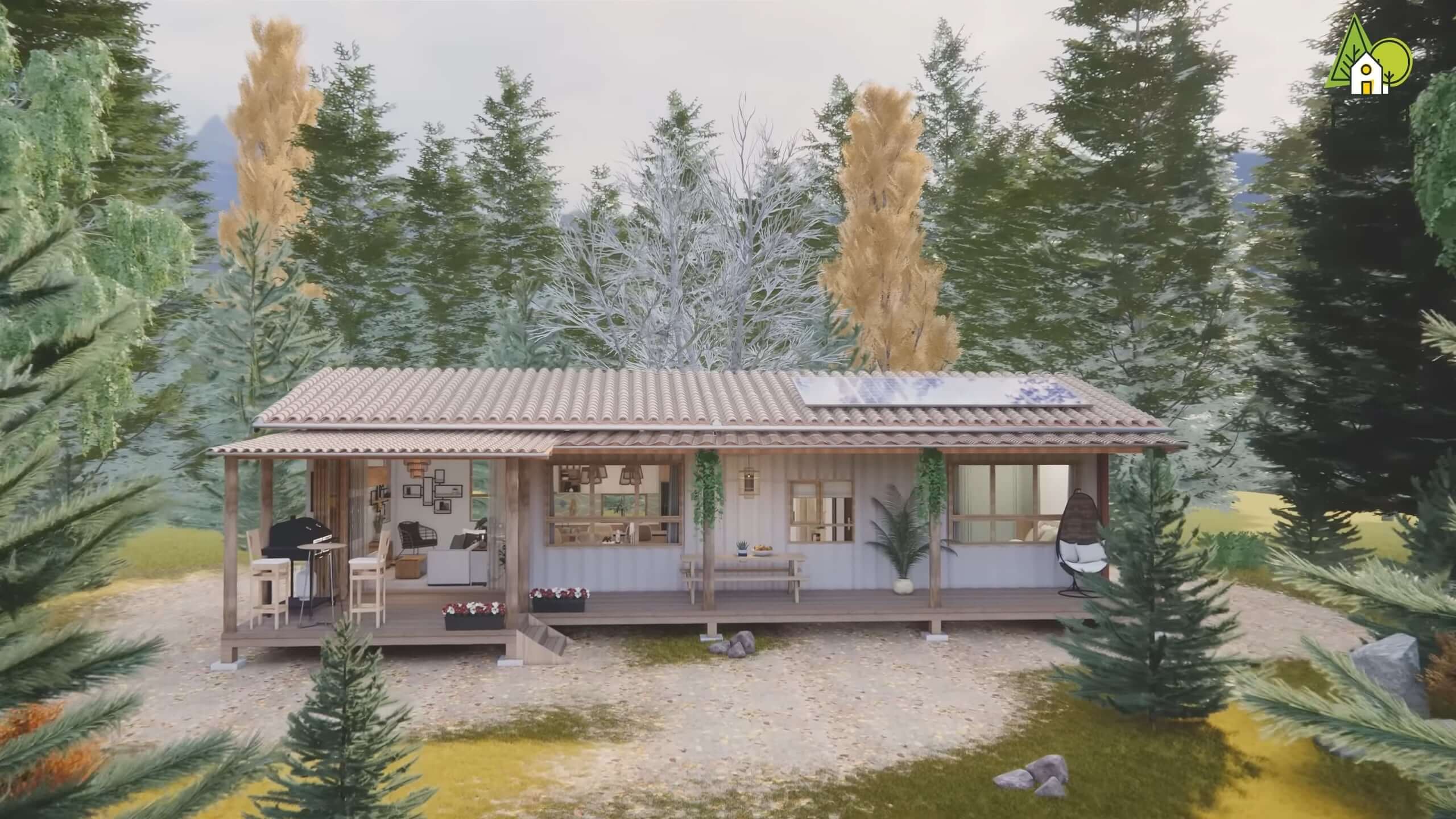 Finally, it's worth noting that this container house design is an off-grid model, which means it's completely self-sufficient and doesn't rely on traditional utilities like electricity or water.
This is a fantastic option for those who want to minimize their environmental footprint while still enjoying all the comforts of modern living.
Overall, there are so many things to love about this innovative and creative container house design – it's clear that the possibilities for container homes are virtually endless!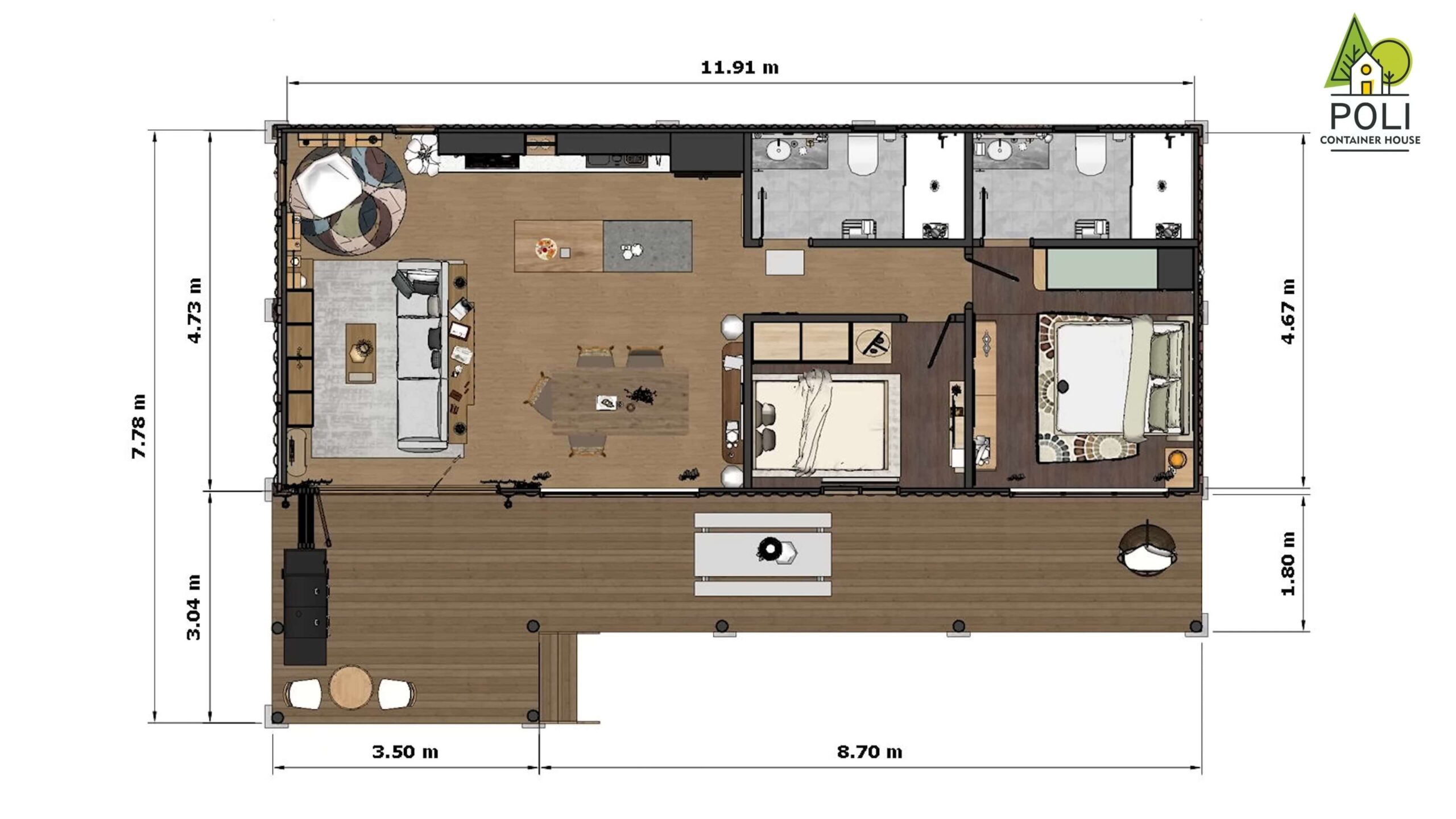 Let's take a closer look at the plan of this amazing container house.
One of the standout features of this design is its two bedrooms and two bathrooms, which make it a great option for small families or couples.
The comfort and convenience of having a private bathroom in one of the bedrooms is a major perk, making this house ideal for those who value privacy and personal space.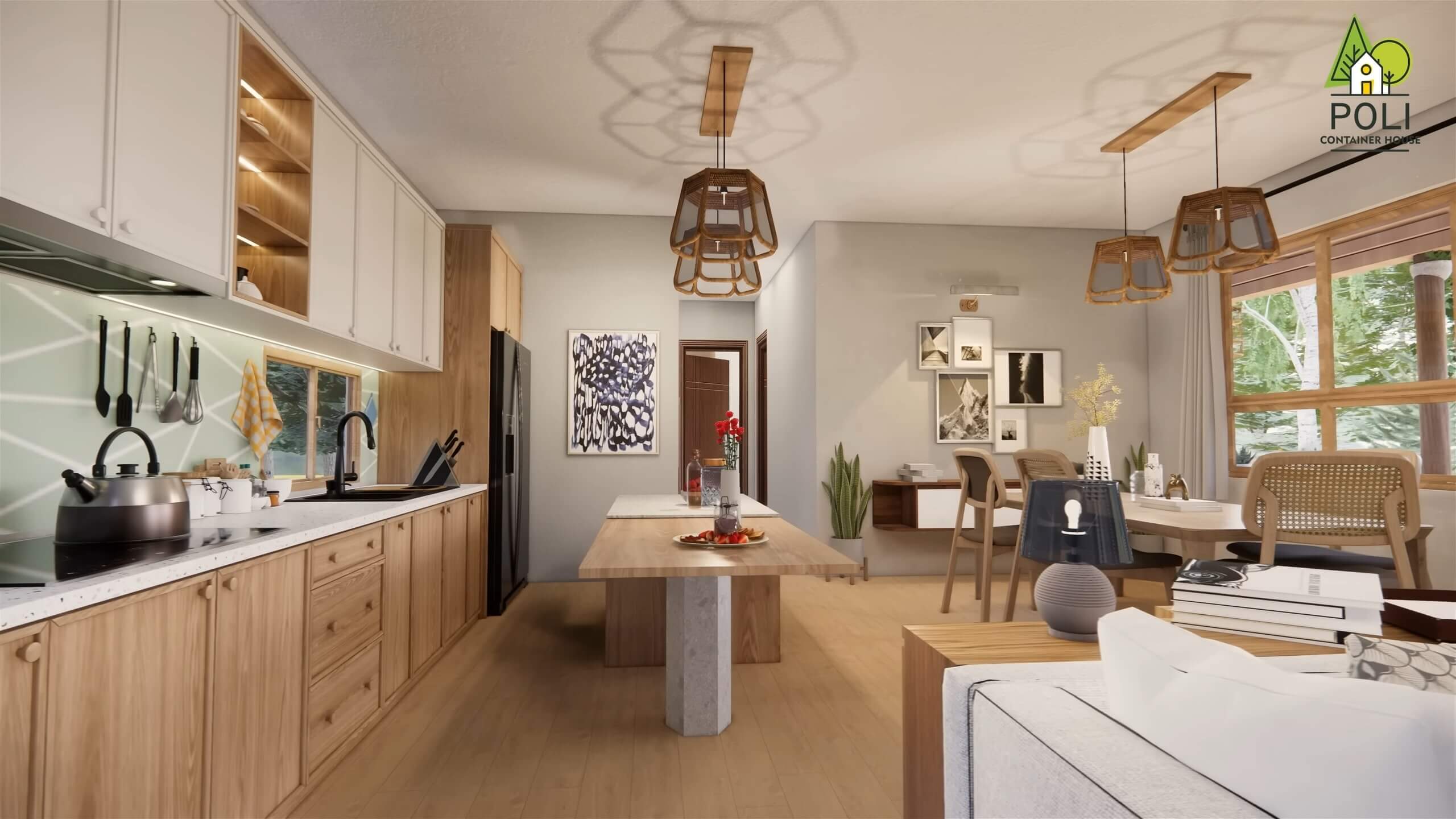 In addition to the two bedrooms and bathrooms, the container house also features an open plan living area.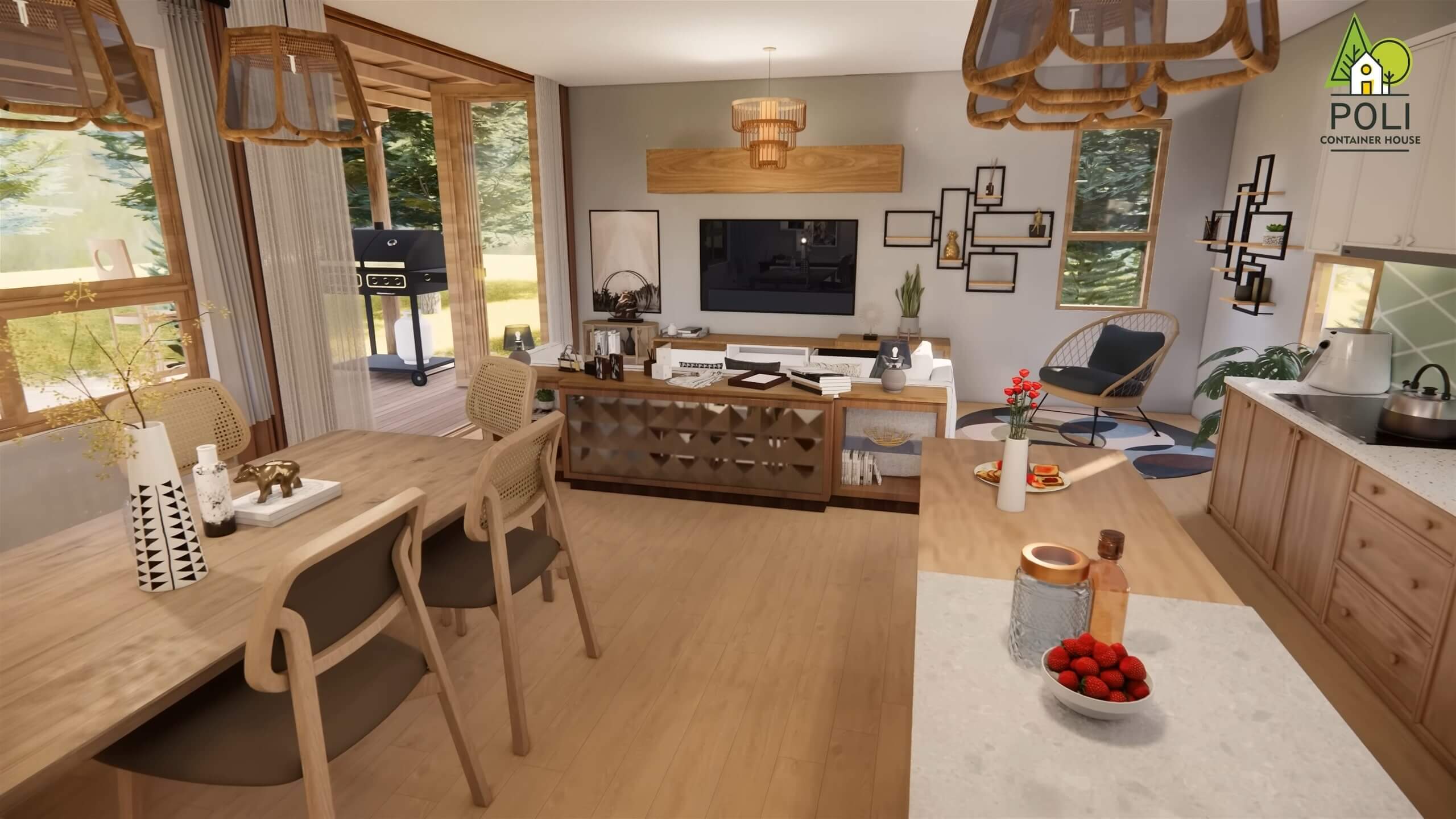 This creates a sense of spaciousness and flow that's perfect for modern living.
Even though the entire house is only 600 sqft, the clever use of space has resulted in a surprisingly roomy interior with plenty of natural light and airiness.
Another cool aspect of the design is the spacious front porch.
With a total area of 283 sqft, this front porch is a blank slate just waiting for your personal touches. Imagine relaxing on a swing under the stars, dining al fresco with friends and family, or enjoying a barbecue on a warm summer evening – the possibilities are truly endless!
Despite the relatively small living space of the container house, the interior of the home is incredibly spacious and feels much larger than it actually is.
Overall, this container house design is a fantastic example of how creativity, innovation, and sustainability can come together to create an amazing living space.
Living in a Container
If this particular container house model doesn't quite fit your needs or preferences, don't worry – there are countless other designs to choose from.
If you're interested in exploring other container house options, be sure to check out Living in a Container, a great resource for discovering new and innovative container house designs from around the world.
Whether you're looking for a cozy, rustic hideaway or a sleek, modern living space, you're sure to find the perfect container house to match your vision and desires.