Hi everybody
We continue to discover for you. Our container house on today's tour is from Marfa, Texas, USA.
Do you want to know about a well-designed and well-furnished shipping container home?
This article is about to inform you a shipping container home in a corner of world.
Hermosa container house Airbnb in Marfa, Texas
This is a different styled shipping container home with modular living. From outside, this may not look so charming, but you must visit this house from inside then you can give reviews about this differently designed home for modular living. At the end of article, your visit will complete. This is necessary to mention that modular living is giving a relief from traditional living in space occupying areas.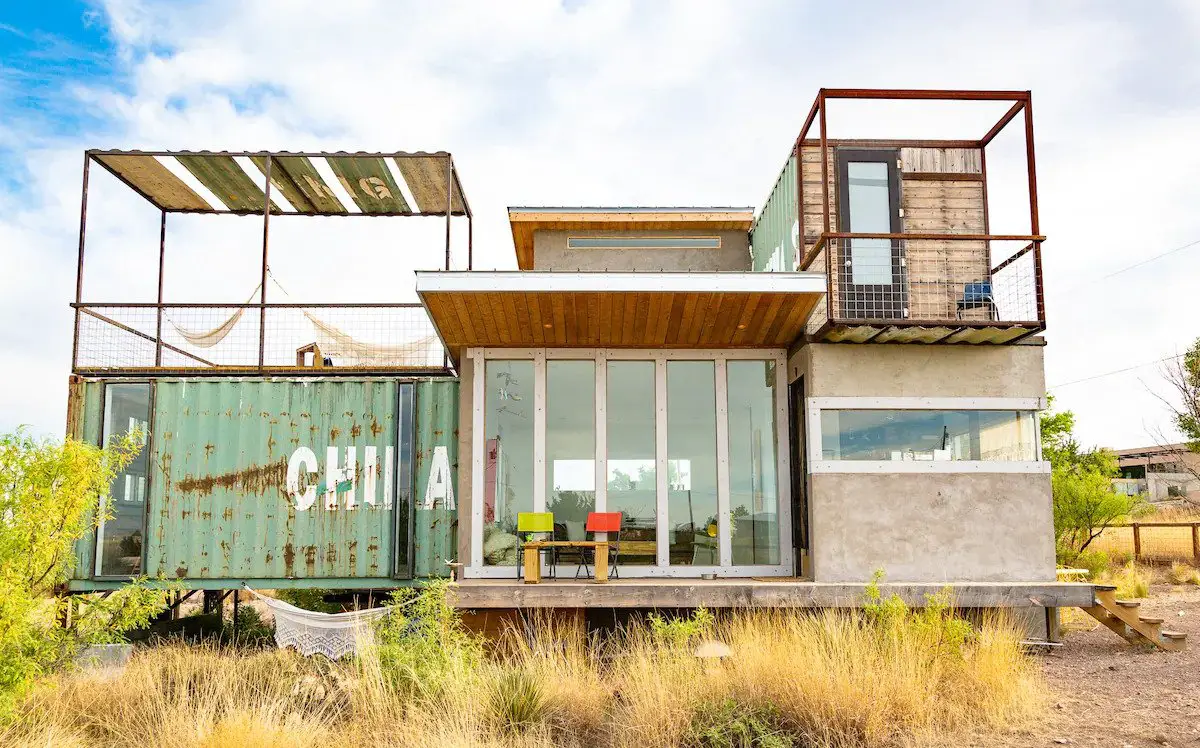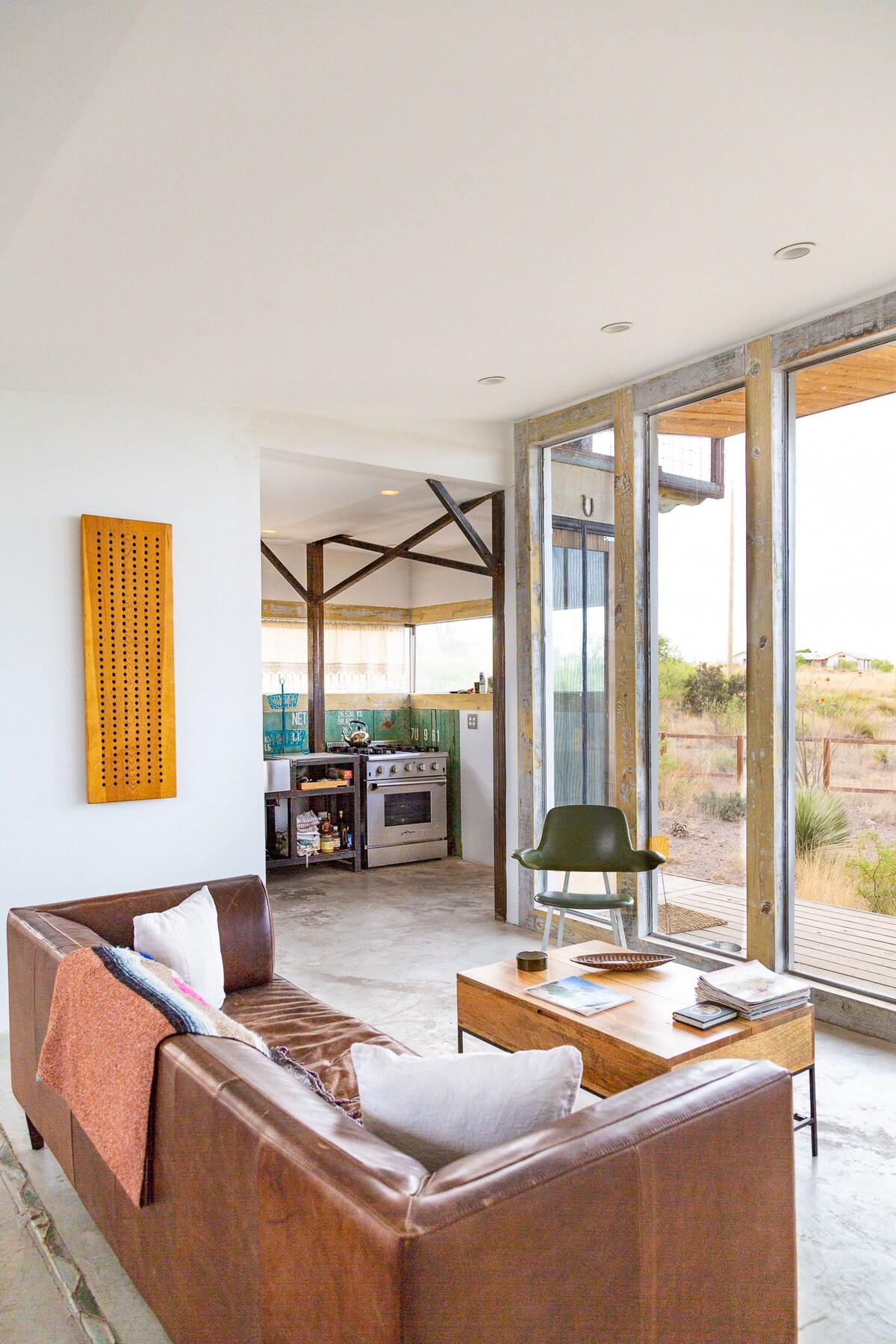 Location of This Masterpiece
This house is basically, situated a less than a mile from town. This home covers half an acre of land. Not too much space for such comfortable modular living.
Numbers of Apartments in This Home
Two apartments are in this one shipping container home. Are you thinking that these two apartments blend with one another? No, do not get confused. Read this article and you will get all the answers to your questions. One apartment is located on upper floor and second apartment is located on ground floor.
Numbers of Shipping Containers
There are basically, four shipping containers. 3 containers make one apartment collectively and fourth one is on the atop and makes another apartment distinctively. Upper shipping container is located perpendicularly on the edge of lower container.
House Designing
House is designed by the mapper in such a way that it contains all the parts of need as well as has different locations for spare time sitting where one can enjoy his evening tea, book reading, weather changes such as raining, music listening and many more as the list will go on. Hermosa Container House is designed in this manner so one can enjoy day lighting whole the day. No obstruction barriers are there to light. Day lighting lovers will appreciate this. There is proper system of ventilation so fresh air comes with fresh oxygen.
Different Parts of Lower Apartment
Lower apartment has glass doors for entry and exit. This quite comfortable.
This one has unique king bedroom. Want to mention this bedroom is roomy and ventilated. This has one furniture bed with full fluffy mattress. Yup! This is comfortable for tired one. The bedroom has one ventilation window on the back of bed slightly higher than the level of bed. One who wants fresh air and wants to enjoy weather changes directly from his bedroom can enjoy the presence of this ventilation window, surly. Bedroom has day lighting as well.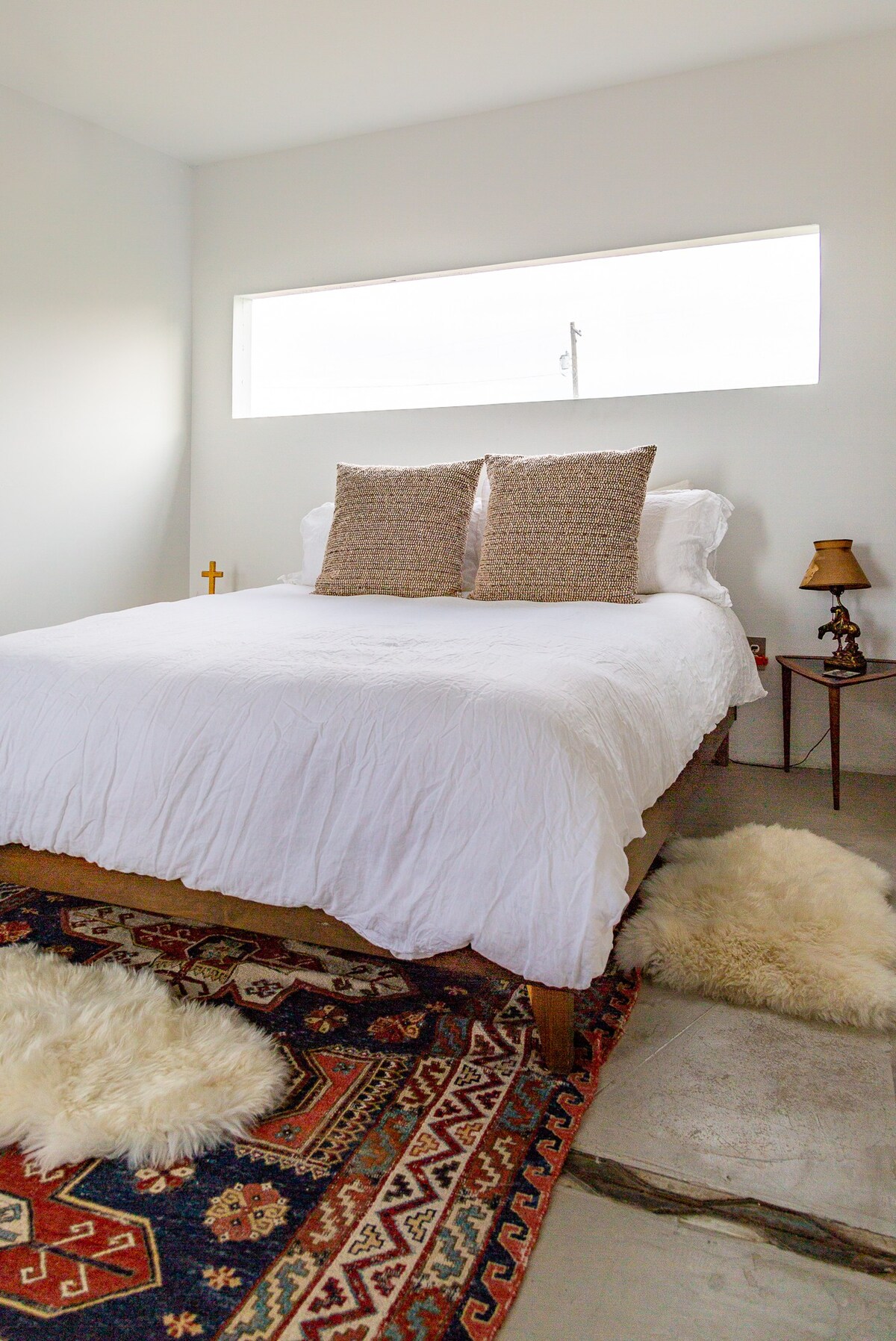 This house may look rusty from outer view, but it is well furnished and has all the comforts and availabilities. Someone said, a house is incomplete without a kitchen. Then what do you expect that this house fulfills this requirement or not?
Of course, yes. This home has a kitchen with all the facilities. Stainless steel has been preferably used in building kitchen. So, one can cook easily here which he wants to eat. Where to wash your dirty clothes?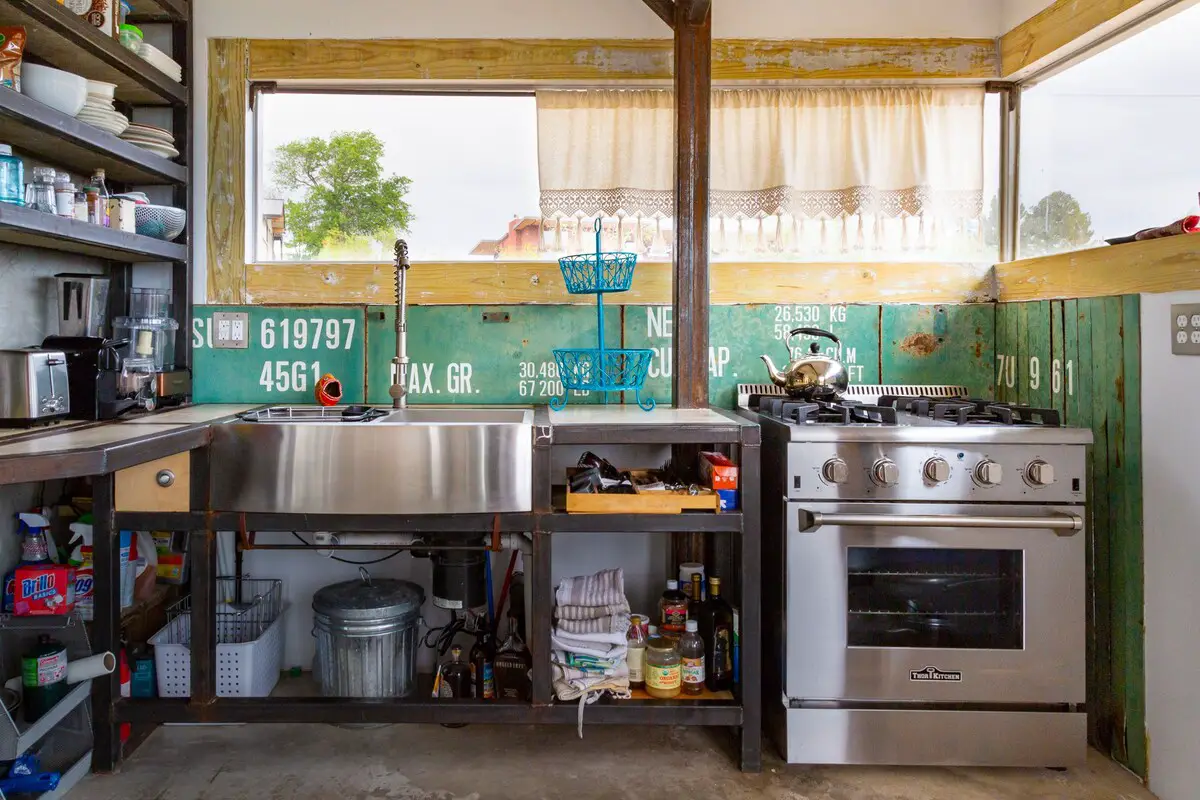 Um…. Here is the solution. This shipping container has washing machine settled in the corner and a dryer to dry the wet clothes.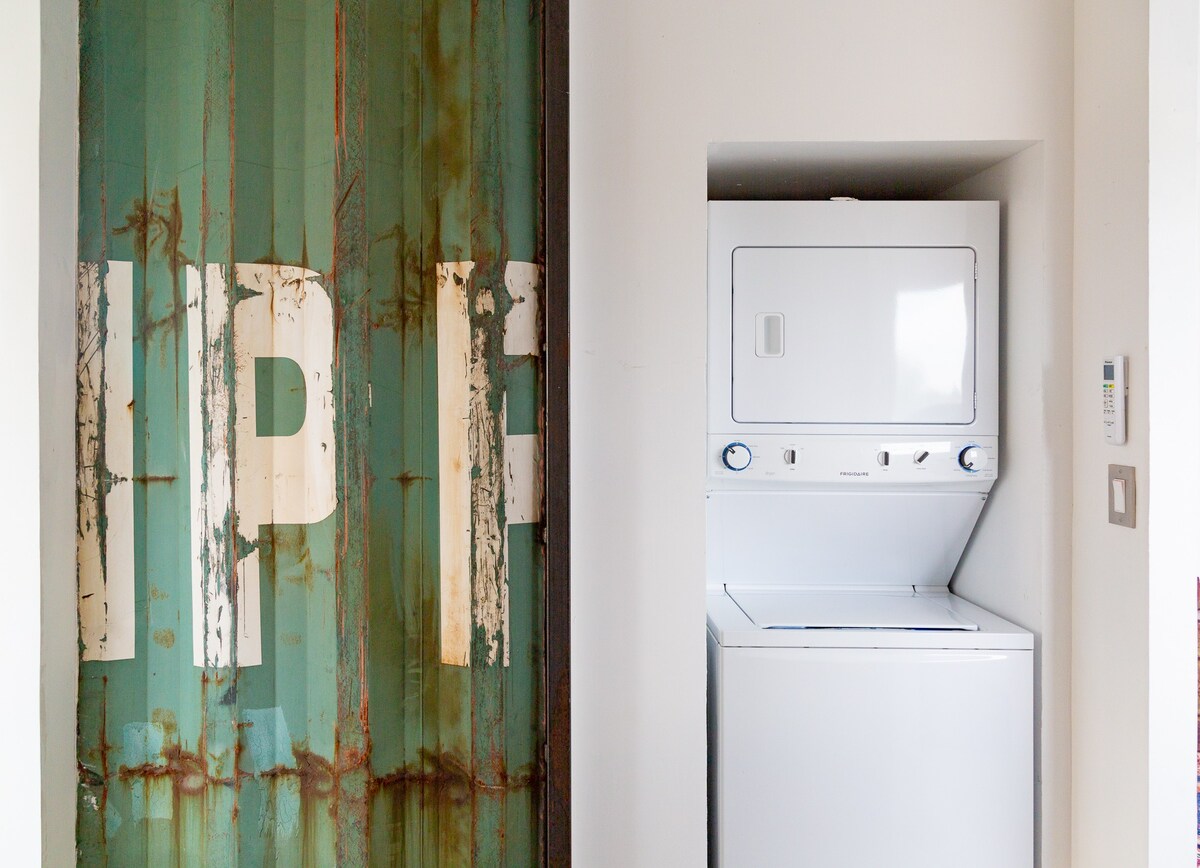 Lower apartment has concrete touch as well. The bathroom in the corner is a fully tiled unit. Has all the facilities of bathing and showering.
The airway system of the house is designed in such a way that temperature of home remains well and good. Swamp coolers help in temperature management.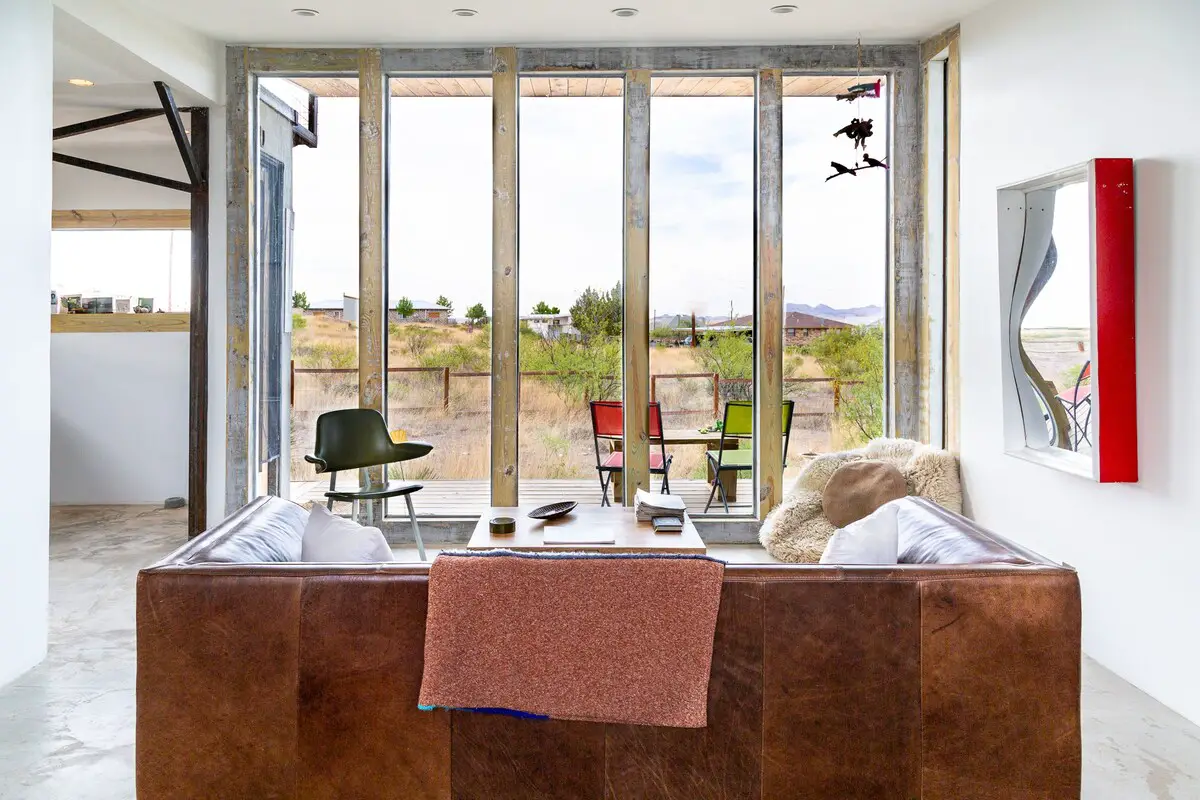 Paint of House
This home in the Texas is painted white interiorly. White is the color of peace. What is your opinion? One who does not like brightening colors, obviously likes white one. White painting aim is giving comfort to the liver.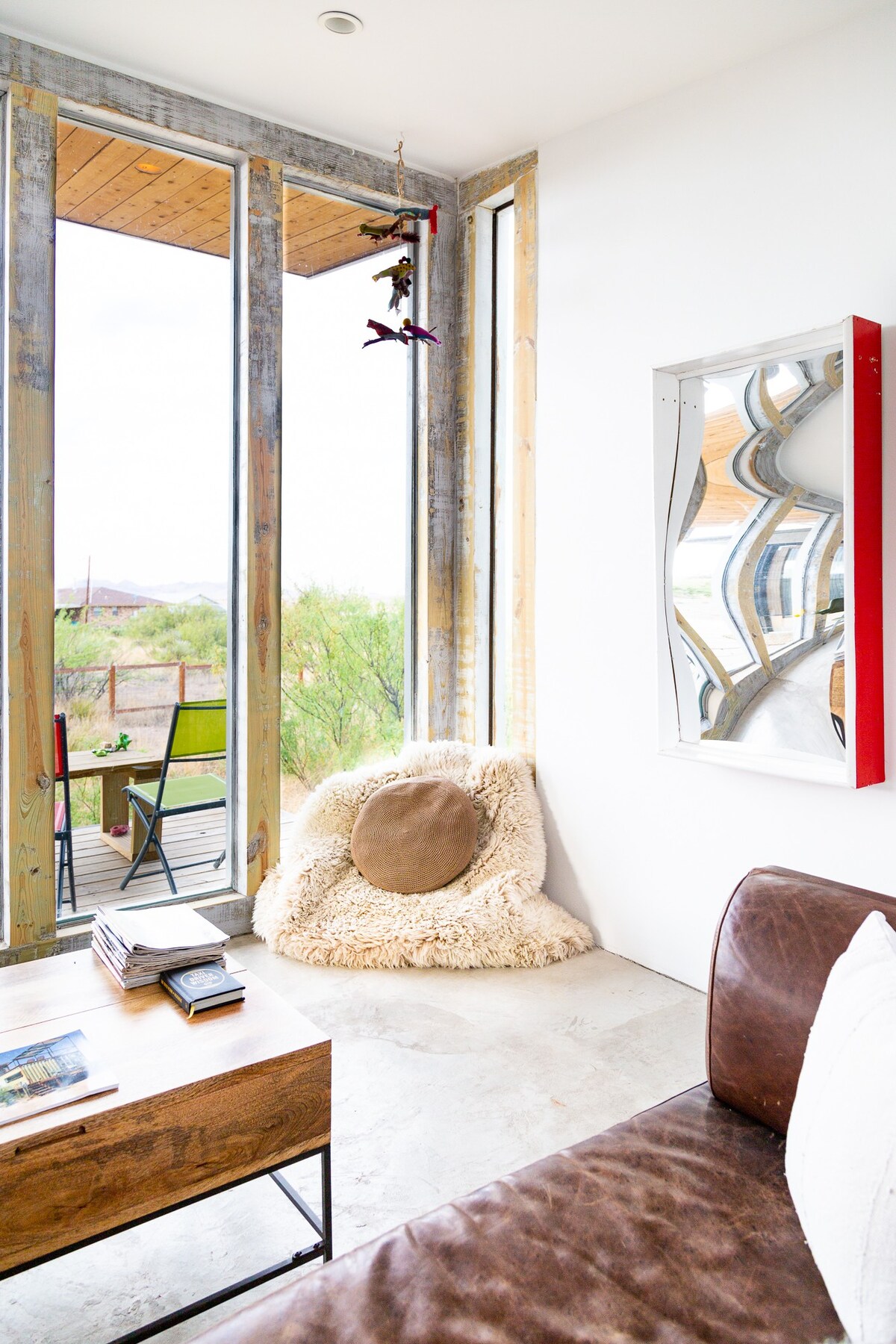 Let us Move Upstairs
If we look upstairs, then there is separate rental. A steel staircase plays the role of reaching someone to the upper story.
Upper Apartment
This one has a bed in the corner. A television is settled on the wall facing the bed. A green colored sofa seat is also placed in the corner. And this corner has many facilities as well. Sofa also faces television. So, one can enjoy watching T.V. lying comfortably on the bed.
Different colored beaded strings are also hung in this apartment to enhance the beauty of home.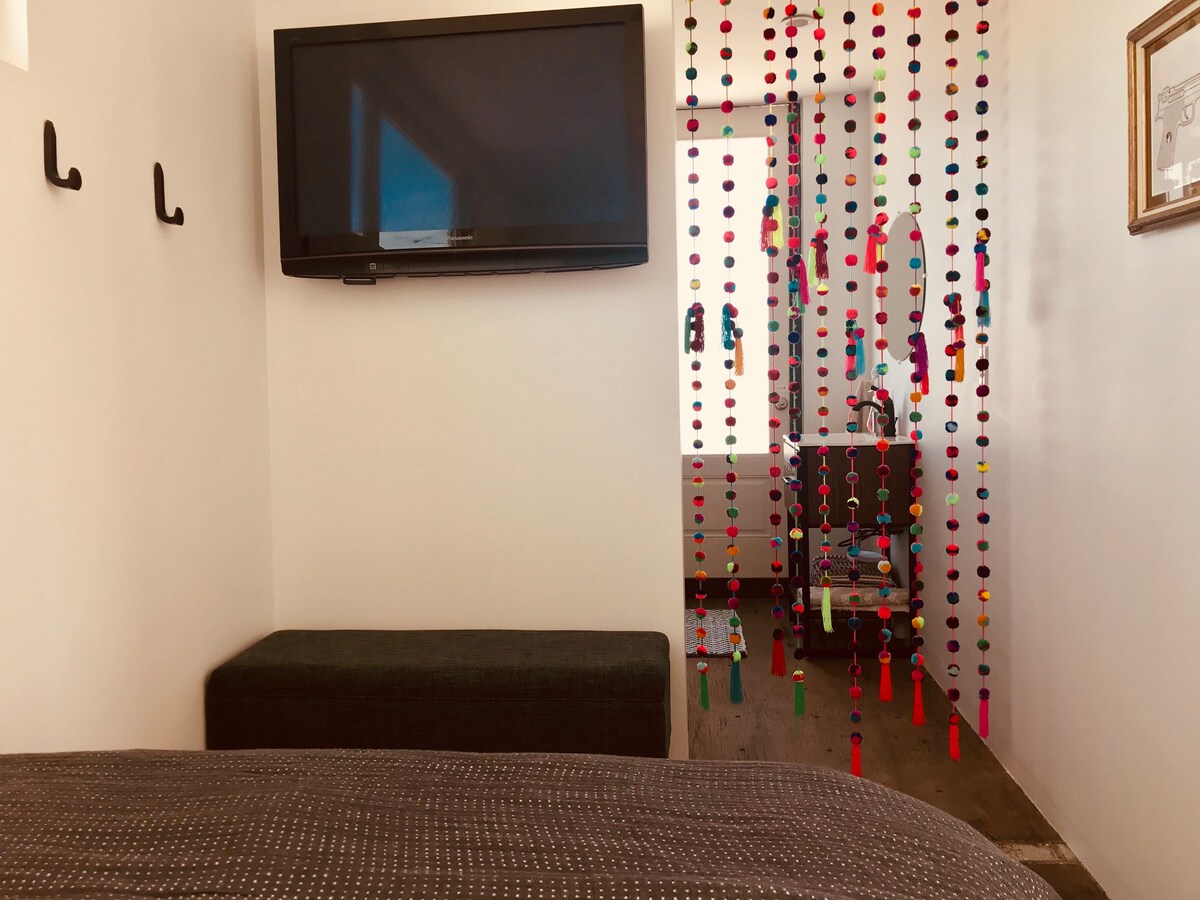 The roof has distinct panoramic views. Standing on the roof, one can see all the surrounding. The dark night gives a separate peace in this home. Dark sky full of shining stars attract the person who is on the top of roof.

In the lower apartment, the wooden chair is set with a desk. One can sit here to enjoy his snacks along with the outside views.
If you want to have a great experience in Texas, I leave the Airbnb links below.
If you are interested in structures made with shipping containers, you can find what you want among thousands of container house models. Be aware of the contents by following our Facebook and Pintereset accounts.