Hi everybody
We continue to discover for you. Our container house on today's tour is from Coromandel, New Zealand.
Are you a nature lover person? Do you want to live in a home in a nature attracting place? Do you wish to live in such a home which should be away from this noisy world? Have you ever seen such a beautiful home?
This article is going to inform you such an utter home. Construction of homes at such places is very difficult task. Concrete material construction cannot be done at such places. This is amazing. Shipping containers made of steel provide homes at such places with great reliability. So, shipping containers are gifts for adventurers because these provide them opportunity of staying.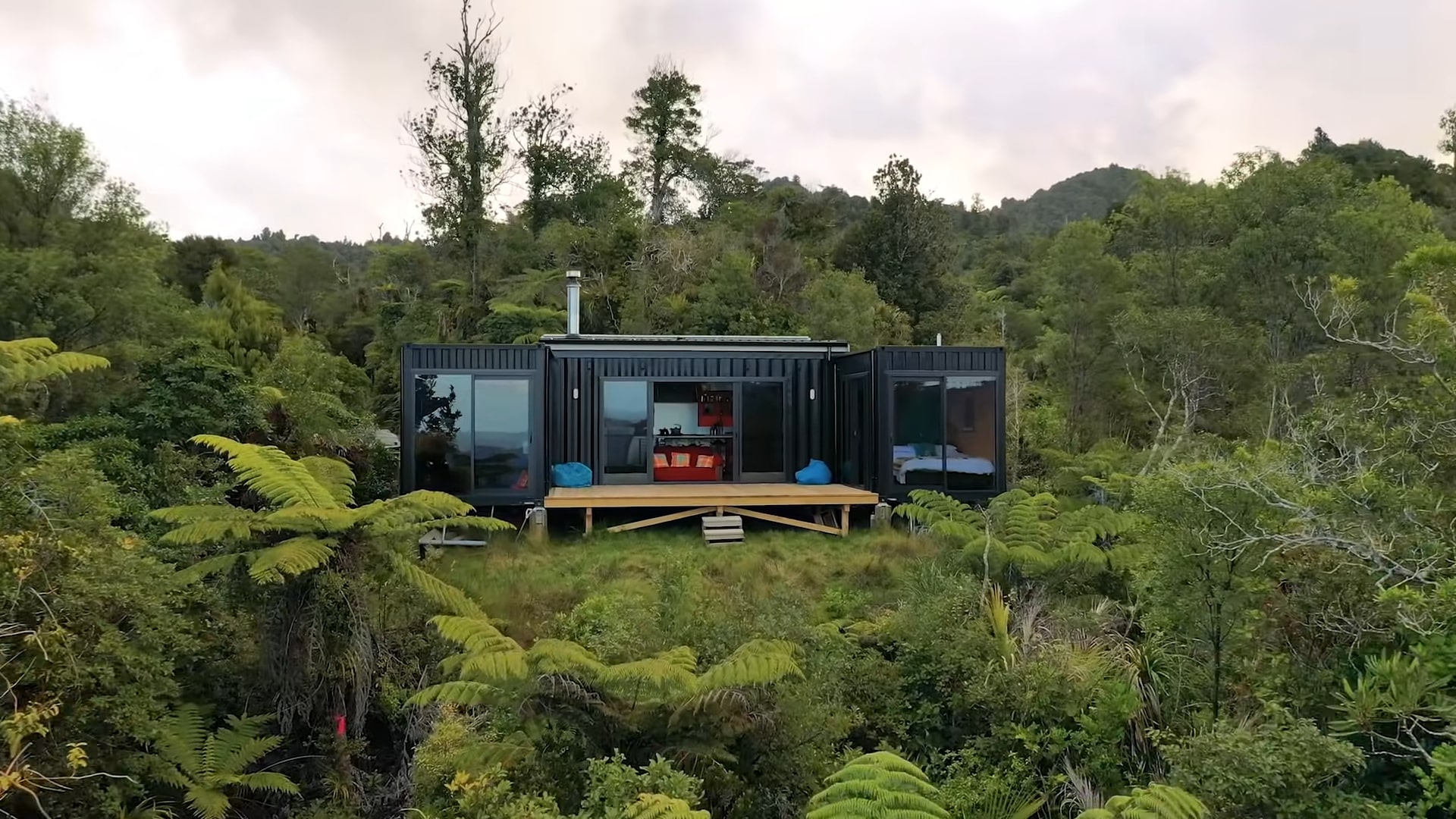 Shipping container home in New Zealand
This container home is located in New Zealand. This area is full of natural beauty. This home is owned by a woman. The home is made of five shipping containers. These are of 20 feet in size. These are assembled together here. The area is loaded with greenery. Containers come in two size. One is 20 feet and other one is 40 feet. These are designed at work shops and then are fixed at the desired place.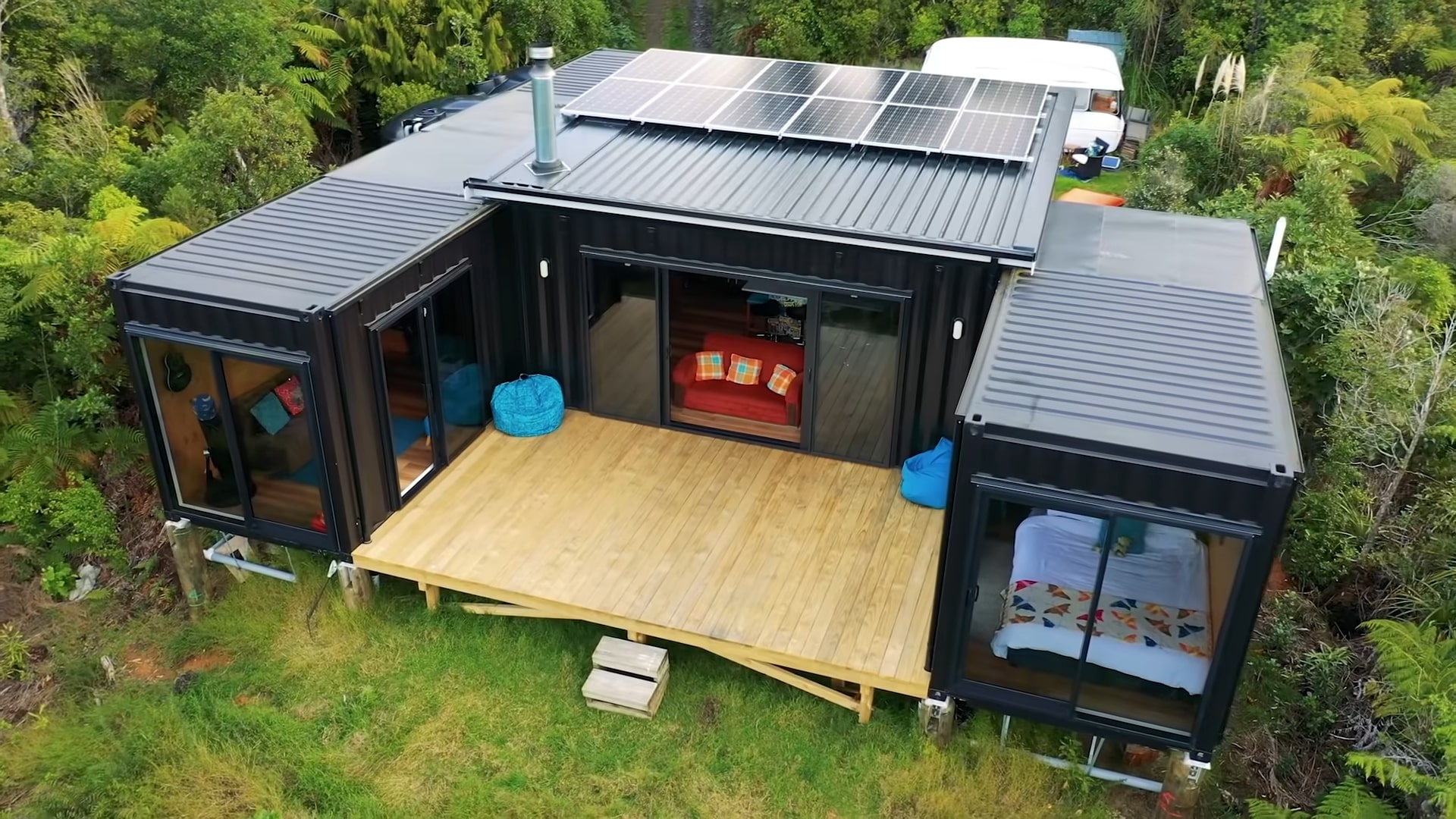 Architectural designing of the home
This home has various portions. The color of the house is black. The containers are painted in jet black color. The interior of the home is painted in different colors. This is basically a single storey house. This home has portions, list is here:
One bedroom
One bathroom
One kitchen
One living room
Fireplace
Porch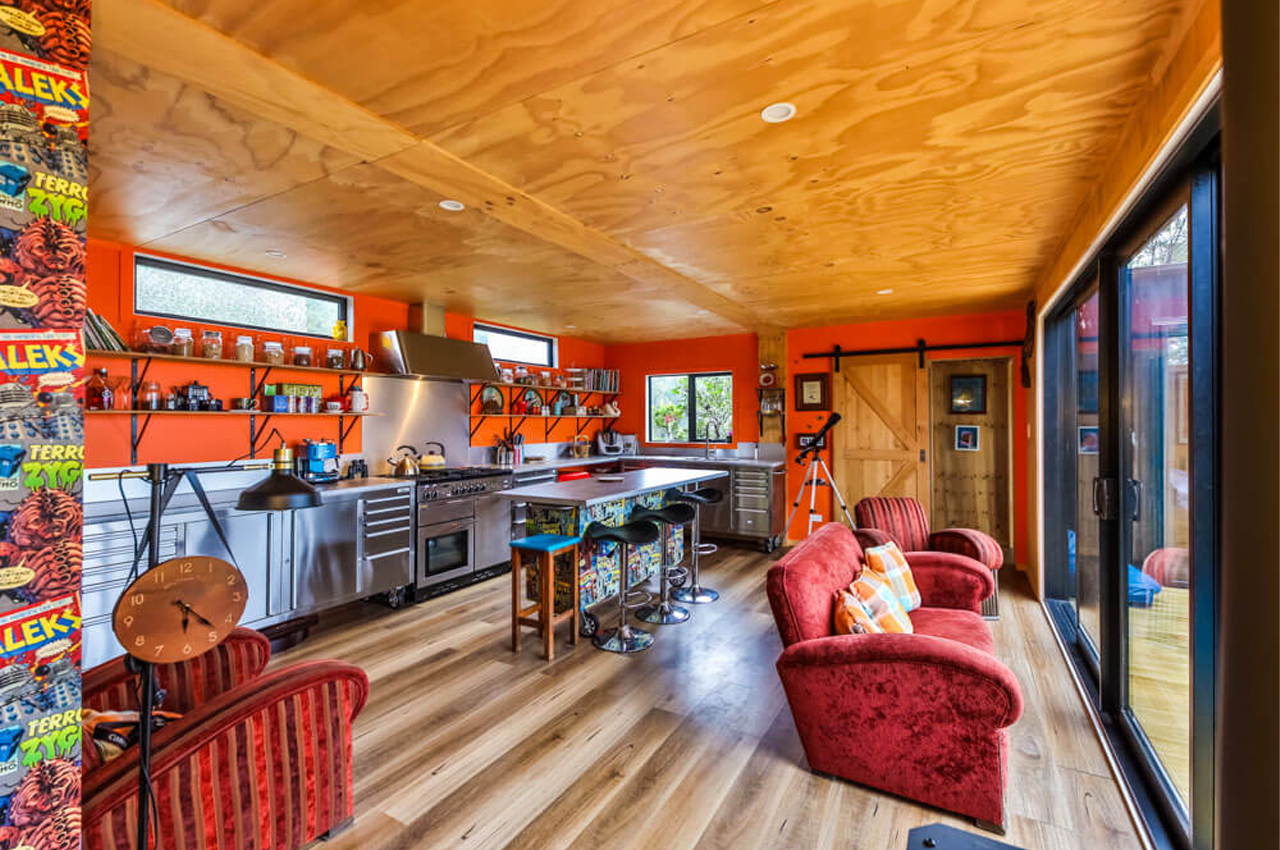 Interior designing of this shipping container house
This house is loaded with the use of wood. The interior of the home is very colorful. The wood has been used in making ceiling and floor. Each part is designed very neatly. Lights have been fixed in the ceiling.
Entering into the home, there comes a large sofa facing large sliding glass window. The sofa is chocolate black in color. The side of this area has a fireplace. This one is also large in size. A sofa is also placed near to it.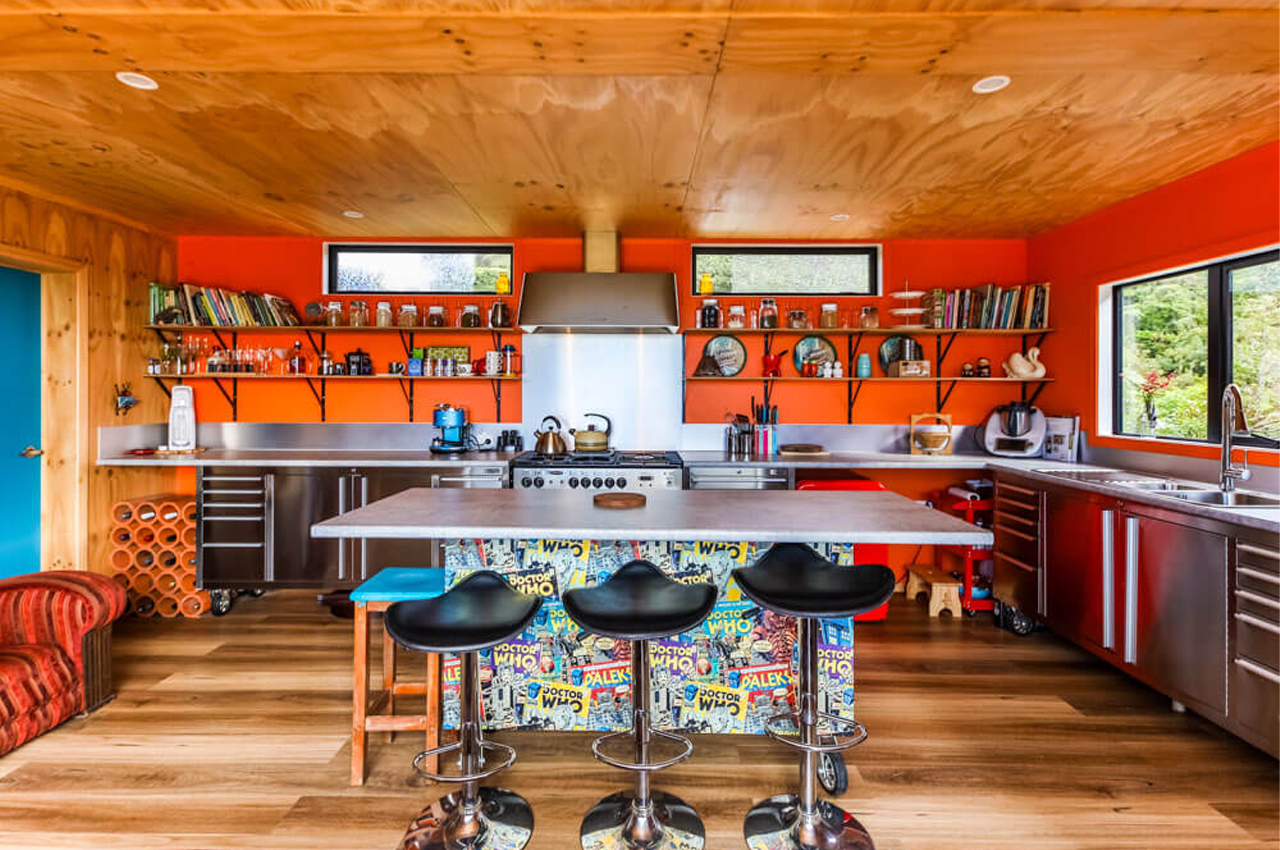 Kitchen is full with accessories. Everything is balanced. The kitchen walls are painted orange. Rest is painted white. Cabins and shelves are painted black. The stainless equipment is fixed. The stove, microwave, refrigerator, all are available. Utensils are also set.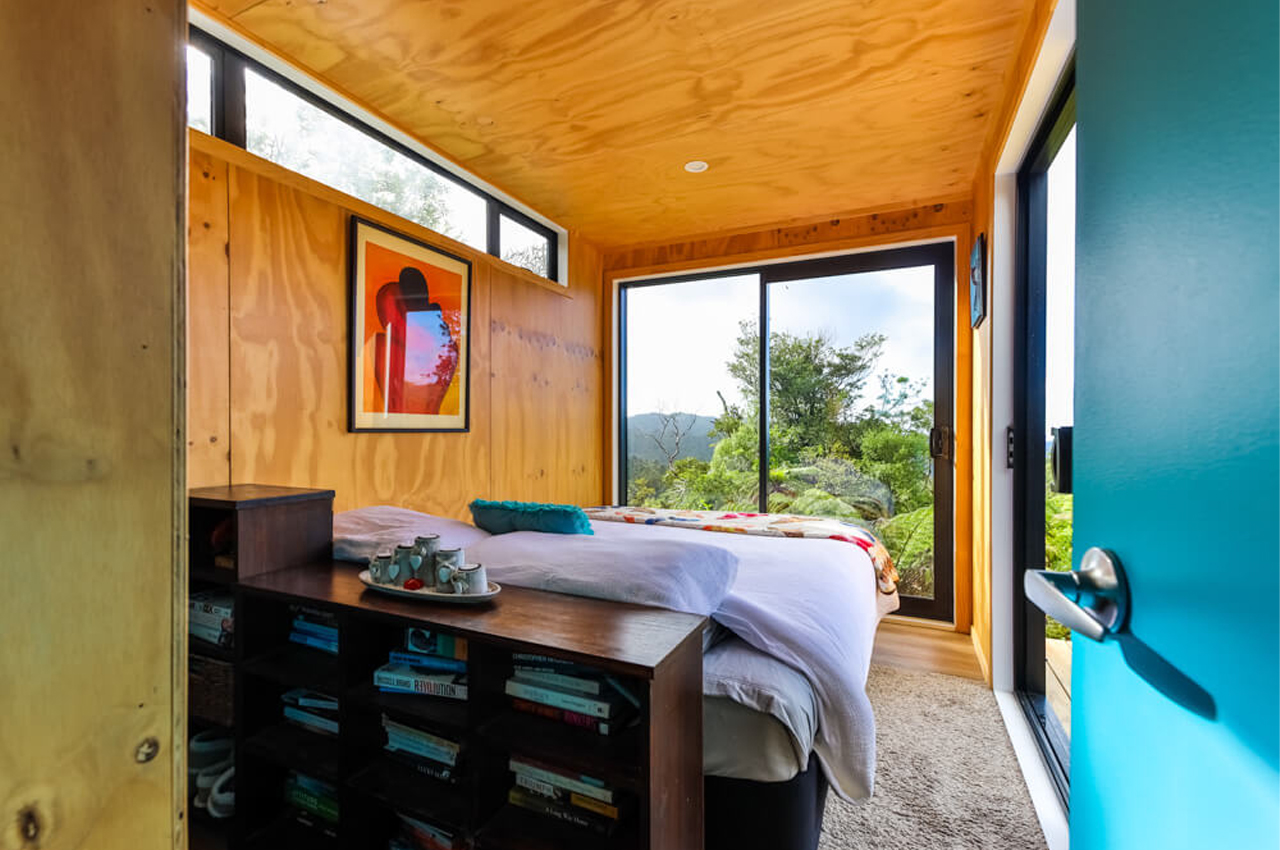 Bedroom is single and a bed is placed in it. The bed faces a large glass window. The closet is set in the room. Bathroom is attached to the bedroom.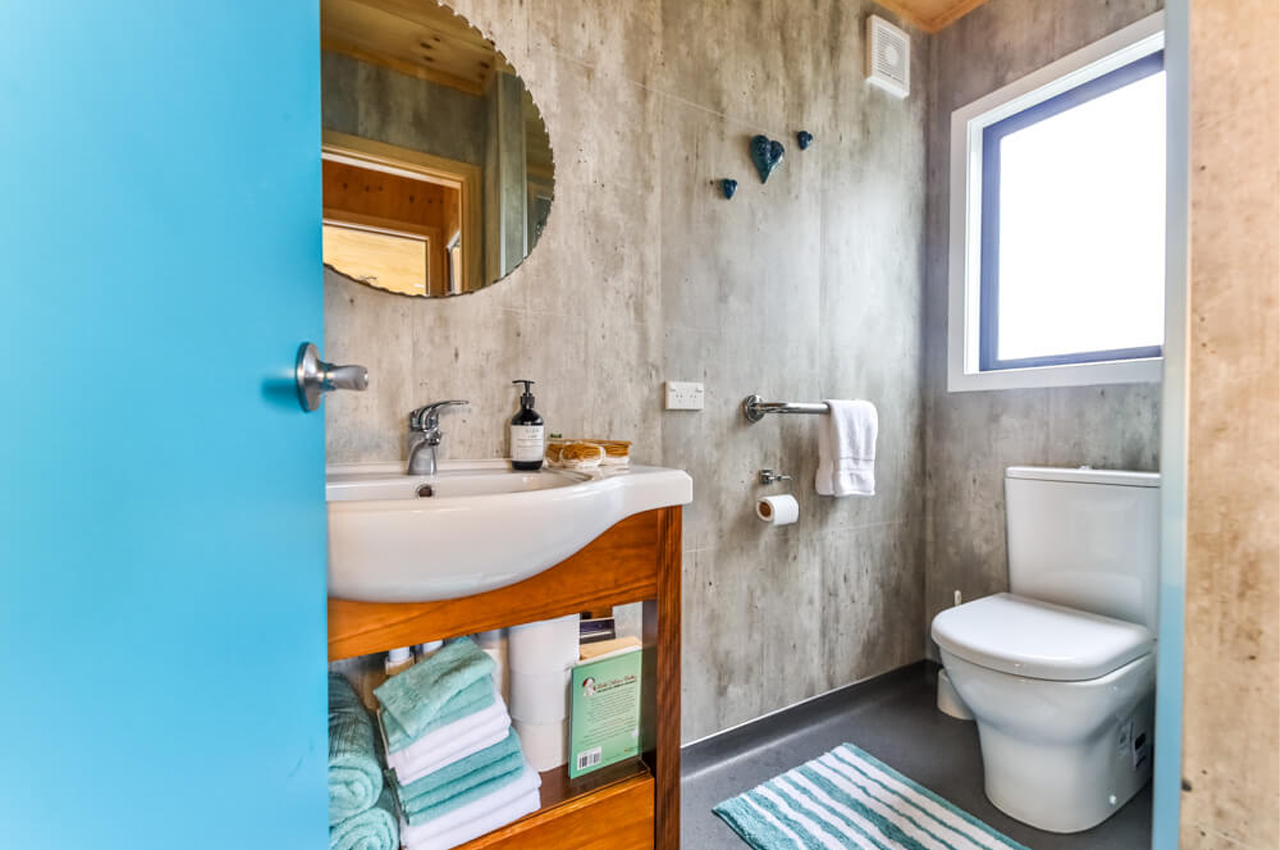 Showering and toilet systems are separate. The tiles have been used in construction. The supply of water is maintained.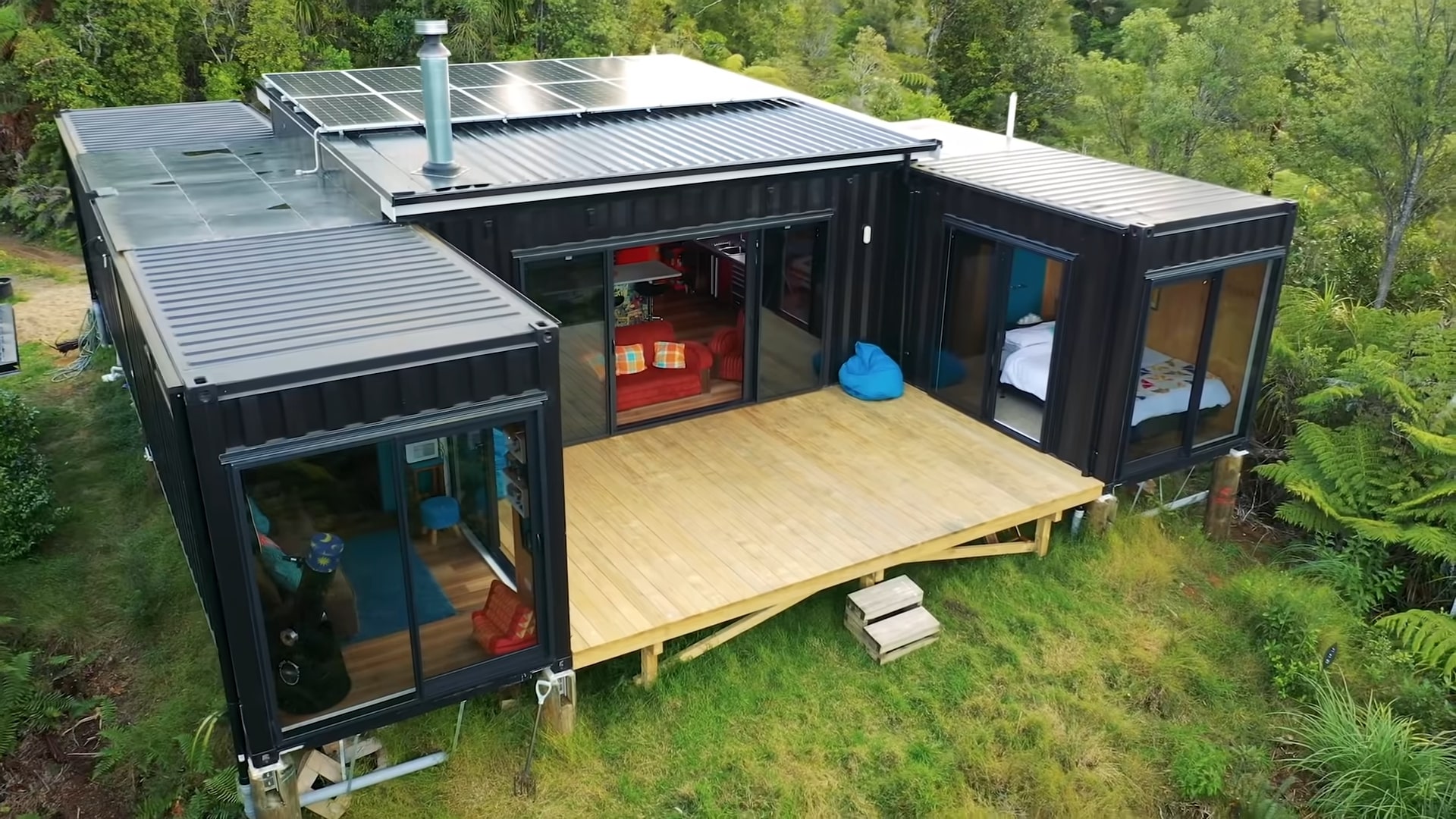 Outer porch is made of wood
The outer veranda is made of wood. The floor has scaling design. Basically this home is off grid. It is set on a great foundation. Porch has seating arrangement. Single sized seating sofas with tables are placed there. This is really attractive site in such environment. Meal, tea, coffee can be enjoyed here in good mood. The weather of this area is amazing. Rainfall scene has its own beauty.
Water storage system and solar panels use
This nature existing home has the ability of storage of rain water. This is really a new step in the building of a living place. The electricity is generated by the solar system. The sun heat is used to supply light in the home which enlightens the lights fixed in this. The area is cold, thus no need of air conditioners here.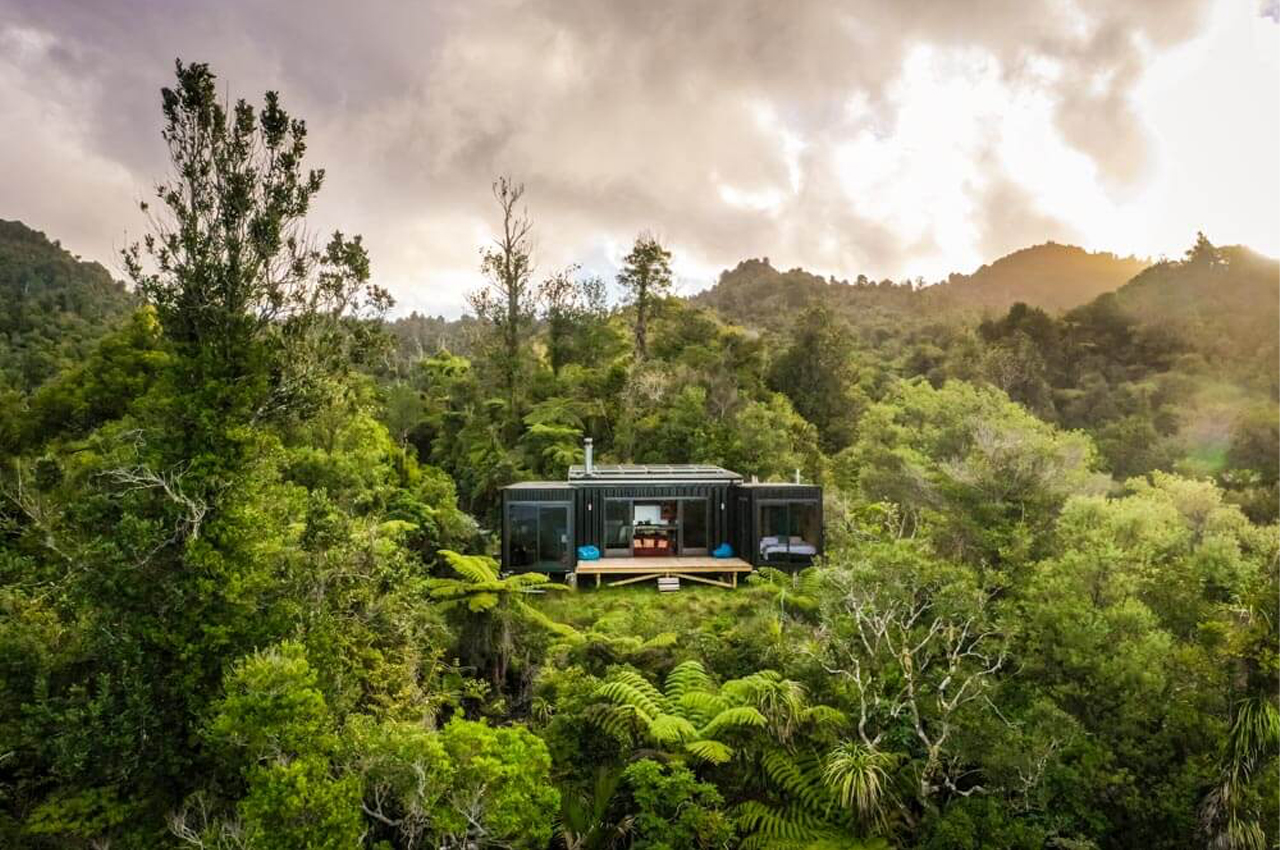 Fascinating scenery around the home
This home is located in such a beautiful place where every person would like to go. This is surrounded with greenery all around. The green area around the living place gives freshness to the mind. This is really a loving place for those who want to live away from the noise of the world. The house has lawn which is made by nature. Green trees are big in size. This is the place which deserves appreciation.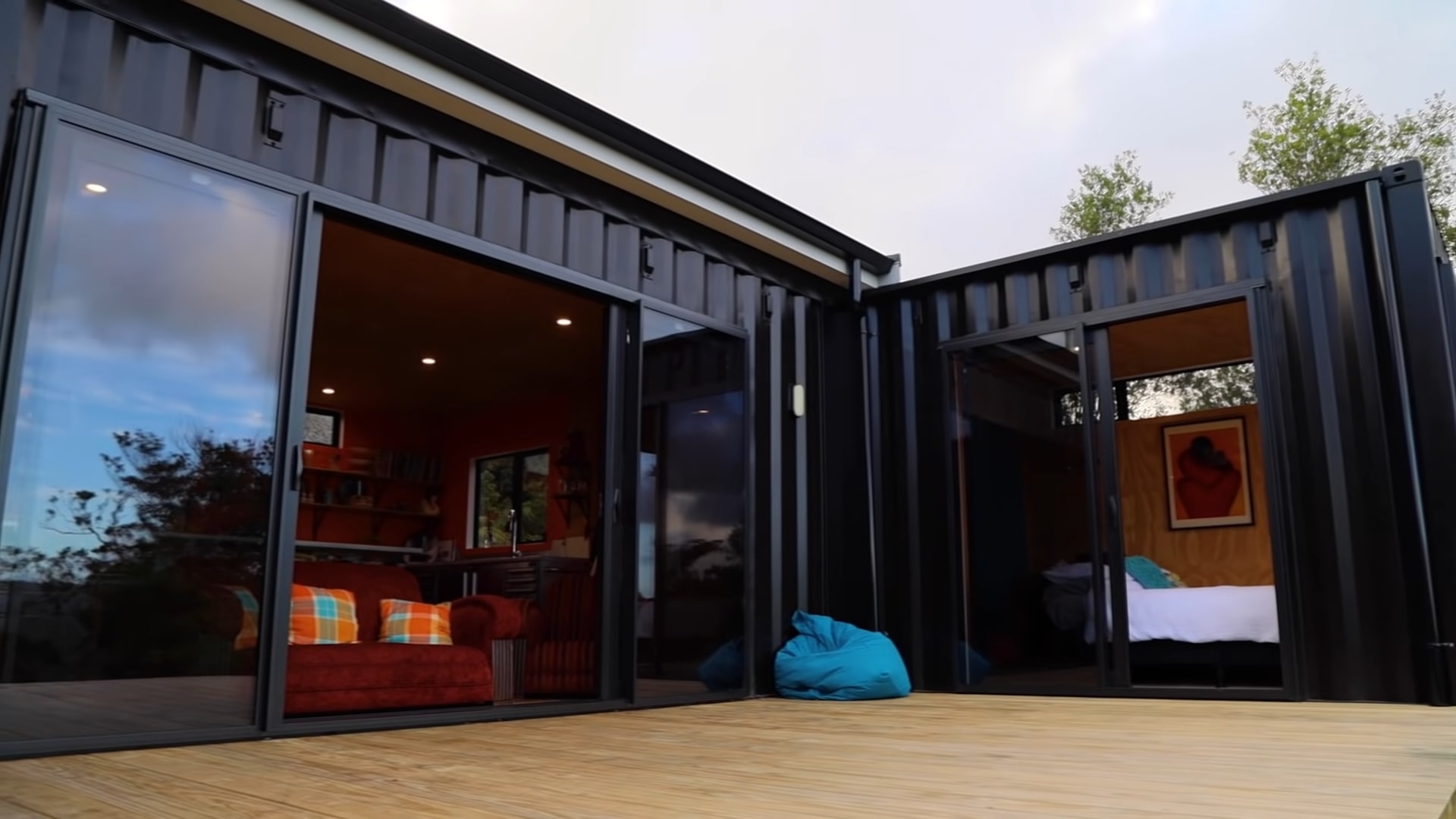 Use of glass material and wood in construction of the home
This home has great use of wood and glass. Combination of glass, wood, containers, concrete make a home perfect in designing. Large sliding glass windows have been used in living room and bedroom. Floor is made of wood. The framing around the windows is done by wood. This harmony gives this home an elegant look. This home is owned by a woman, everything lies in a sequence.
Shipping containers have many uses. Some are used in transforming goods from one country to another country. Therefore, these are called shipping containers because these can be shipped from one place to another place easily. Similarly, in construction of home these can be transferred to any difficult site. Shipping containers are reformed and are used in building purposes.
Description of this beautiful container home ends here. If you are interesting in making such home, you can take this step as containers are reliable.
If you are interested in structures made with shipping containers, you can find what you want among thousands of container house models. Be aware of the contents by following our Facebook and Pintereset accounts.