We want you to see a unique container house featured in the Spring 2022 issue of MaineHomes.
Purple container house that attracts attention.
When Liz and Todd wanted to build their dream home, they liked the state's motto of "reuse and recycle" and decided to build their homes out of shipping containers.
The container house consists of two parts. The first part is the main building with 4 shipping containers and the second part is the guest rooms with 3 shipping containers.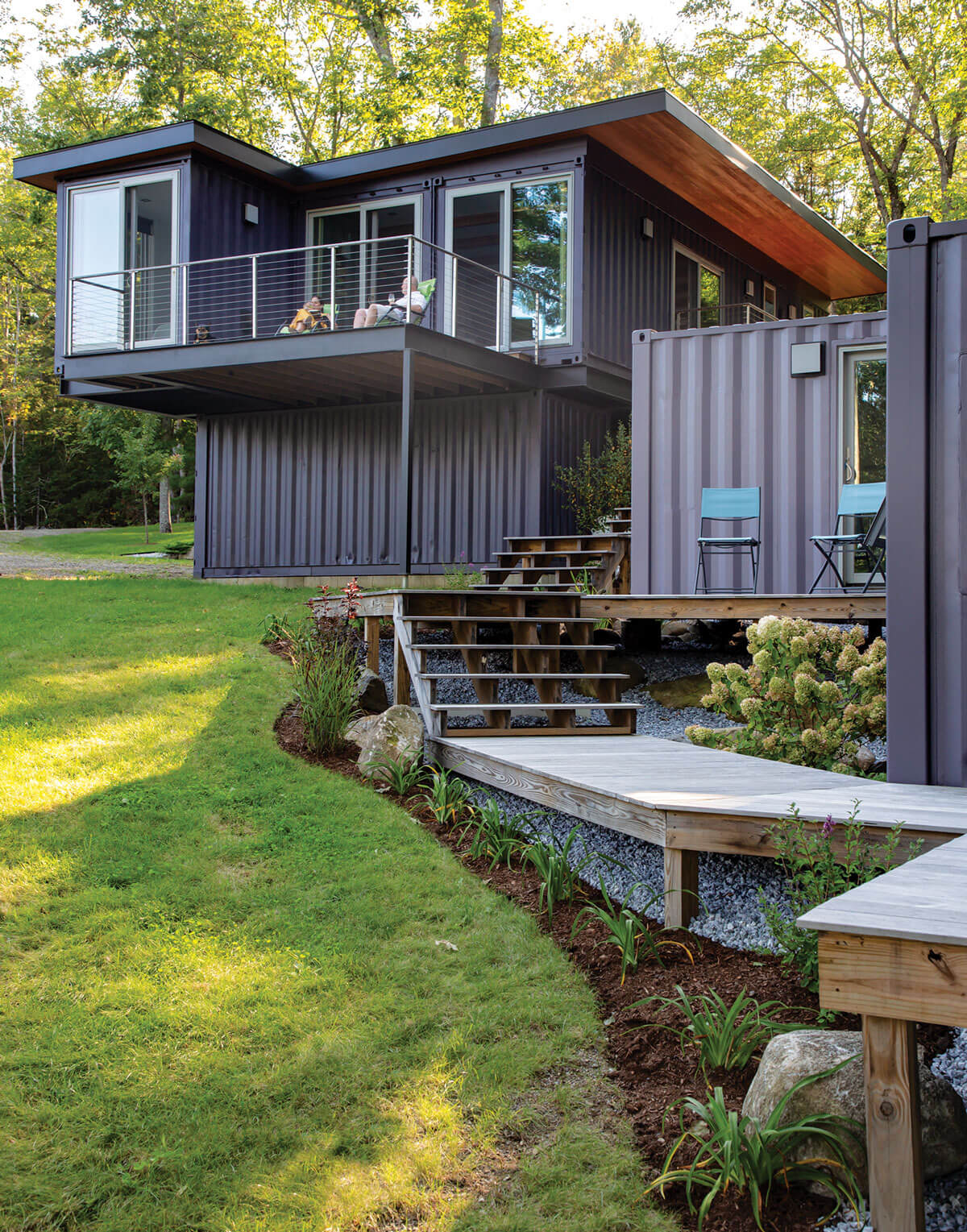 The main building consists of 3 x 40ft shipping containers placed on top of a 20ft container in the front as it is located on a sloping land.
While 2 of the 40 ft shipping containers were placed side by side, the third one was placed a little further back to form a tier.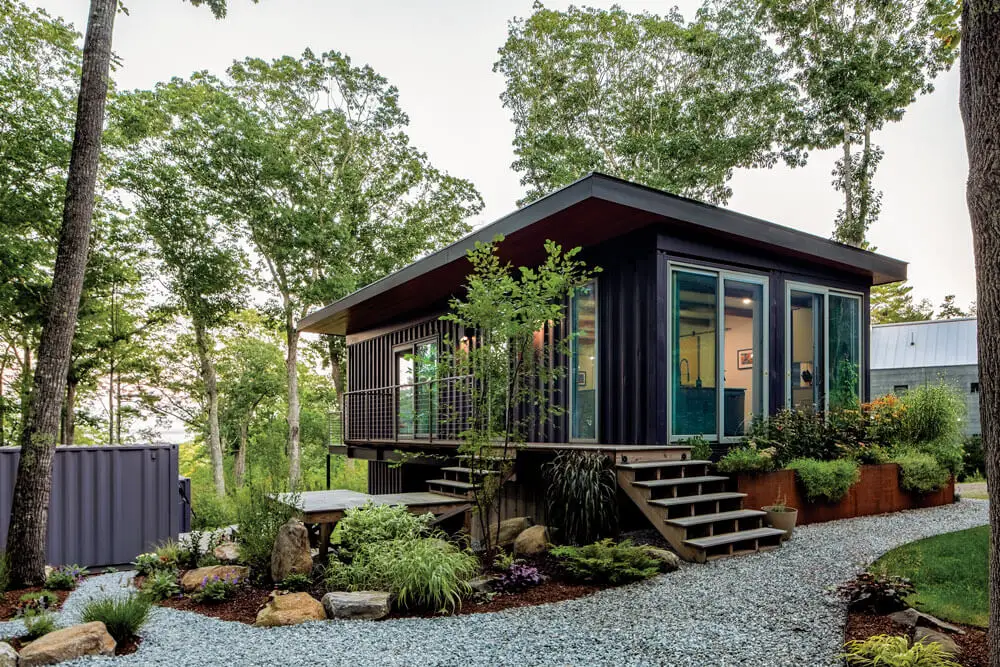 Two side-by-side containers contain the living and dining area, while the third container contains the bedroom and bathroom.
The 20ft container on the lower floor helps the couple for storage.
Transformation of 4 shipping containers into a unique living space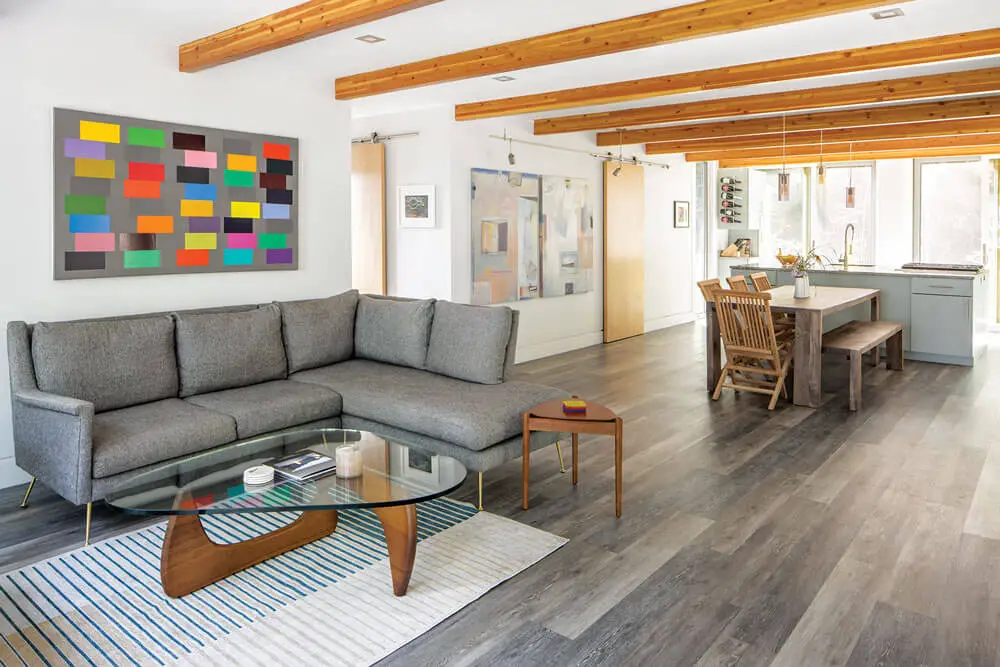 Spray foam insulation, which is generally preferred in container houses, was also preferred in this house. Birch plywood painted white is used for the walls.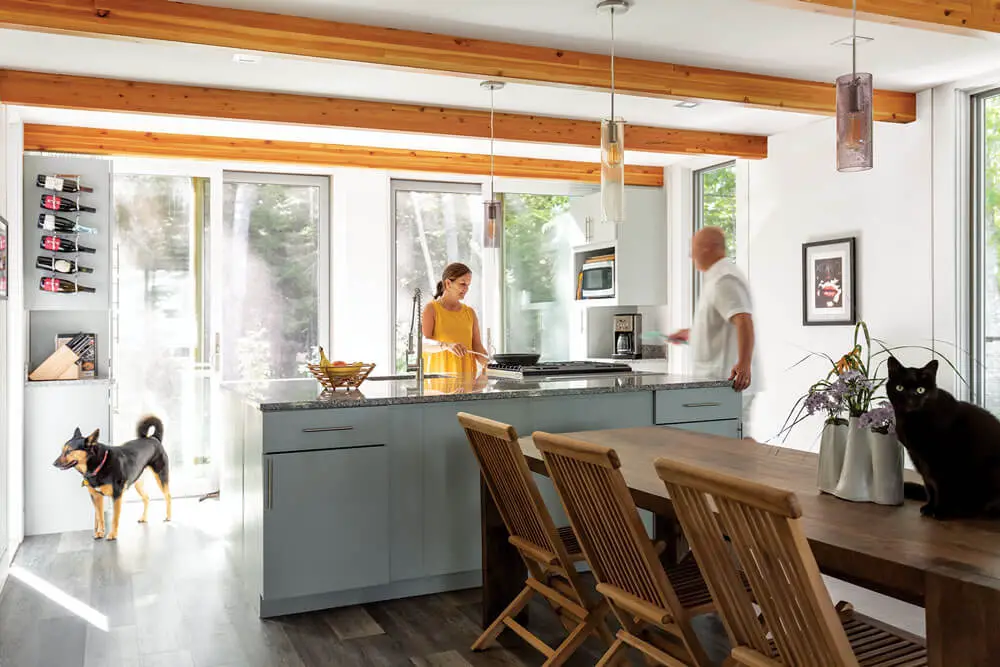 It would not be wrong to say that the interior of the shipping container home is incredibly spacious and relaxing. Wooden beams engulfing the roof, barn doors, and floor-to-ceiling windows are the highlights of the house.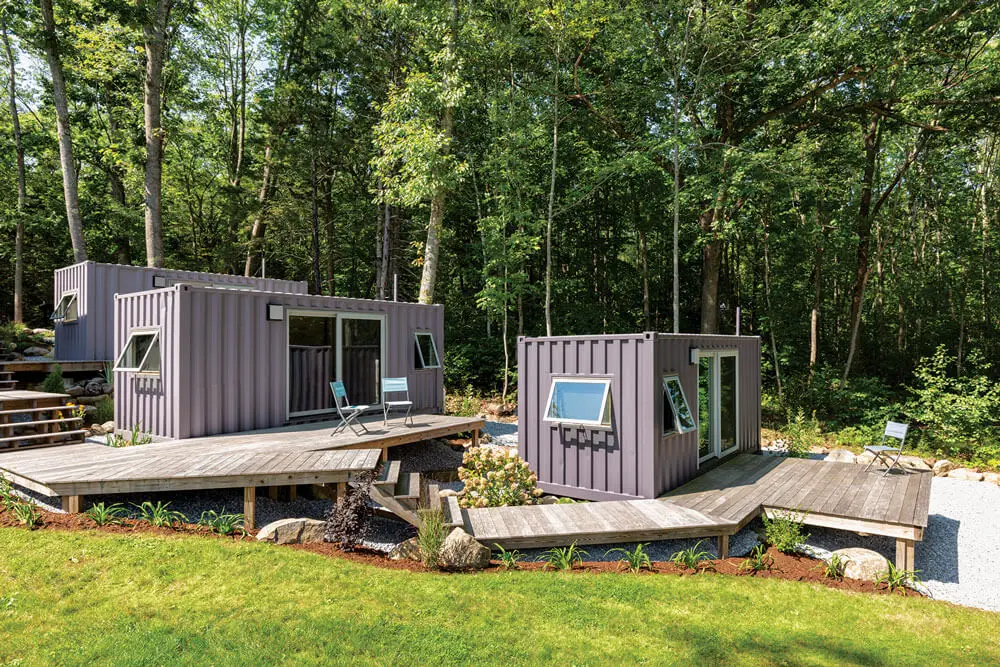 Right in front of the couple's house, there are 3 guest rooms connected by wooden decks. These houses, made of 20ft shipping containers, are placed at different elevations due to the slope of the land.
I want to talk a little bit about the surroundings of the house. There is one point that I always defend myself. Your home may be old or new, but it is entirely up to you that your home looks beautiful. Congratulations to Liz and Todd on this one, because container homes work in perfect harmony with nature.
They have created a wonderful house in all aspects, such as the layout of the container home, landscaping, flowers, etc. I do not want to pass without mentioning the elegance that the chosen purple color adds to the house. Really eye catching!!!
Liz and Todd's home is a prime example of how metal boxes can be transformed into a beautiful piece of property that people love to take pictures of.
You can read the couple's post on MaineHomes here.
Why do people like container houses more?
Container houses have gained popularity over the years for several reasons. Here are some of the most common reasons why people prefer container houses:
Affordability: Container houses are relatively inexpensive compared to traditional houses. Shipping containers are readily available and cost much less than building a home from scratch.
Sustainability: Container houses are eco-friendly since they repurpose shipping containers that would otherwise go to waste. They also require fewer materials, which means less impact on the environment.
Flexibility: Container houses are highly customizable, and it is possible to modify them to suit various design preferences and needs. This flexibility is especially attractive to those who are looking for unique and creative housing solutions.
Mobility: Container houses can be moved easily, making them ideal for those who prefer a more nomadic lifestyle.
Speed: Container houses can be built much faster than traditional houses. This is because the basic structure already exists, and modifications can be made quickly.
Overall, container houses offer a practical, affordable, and sustainable alternative to traditional housing. They appeal to those who value simplicity, creativity, and flexibility.