Last updated on July 24, 2022
Hi everybody
We continue to discover for you. Our container house on today's tour is from Bow Valley, Canada.
This house in Exshaw, Bow Valley, Canada is unique and interesting.
Six 40 foot shipping containers have been used in the build which were modified 'off site' which makes the build much quicker.
Shipping Container Homes Decoration Ideas
So, what should be considered when making shipping container design plans? While browsing things like 3 bedroom shipping container home plans, what should be considered in order to use the interior more spaciously and increase comfort? That's why we chose the most popular decoration features in this project for you! Check it out!
In order to get a good shipping container home decoration, you basically need to pay attention to three things:
Effective use of the space
Utilizing quality materials to minimize wear in narrow spaces due to continuous use
Creating a stylish and modern look
These three details seem to have been applied in the container house where this black and brown color is brought together.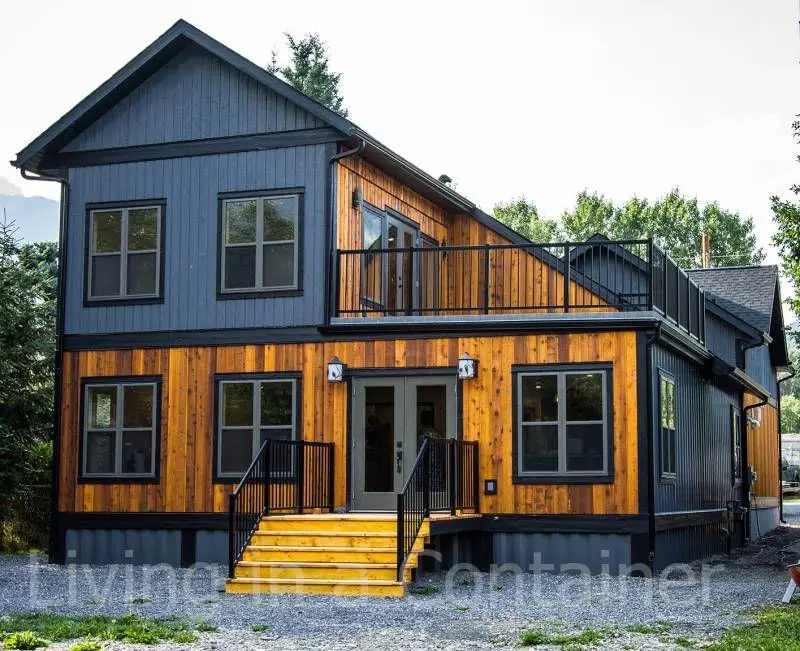 Surprise With Exterior Selections – Make Container House Cozy
The most important feature of the container house is that although it has a very large interior area, it is designed as two floors. The house, which has a large terrace on the upper floor, looks as if it was made entirely of wood thanks to the colors used on the exterior. A really great choice for those who want a cozy aura.
Modern Preferences in Lighting
The spacious aura of the modern design and high ceiling in the container houses can be made even stronger with the right lighting preferences. For example, in the project here, the lighting is not spread throughout the house from a single point. Instead, large windows and glass doors are used to receive natural light quite easily. In addition, the lighting devices installed on the ceiling are preferred to be smaller and used more frequently. This preference allowed the light to be distributed more homogeneously inside the container house.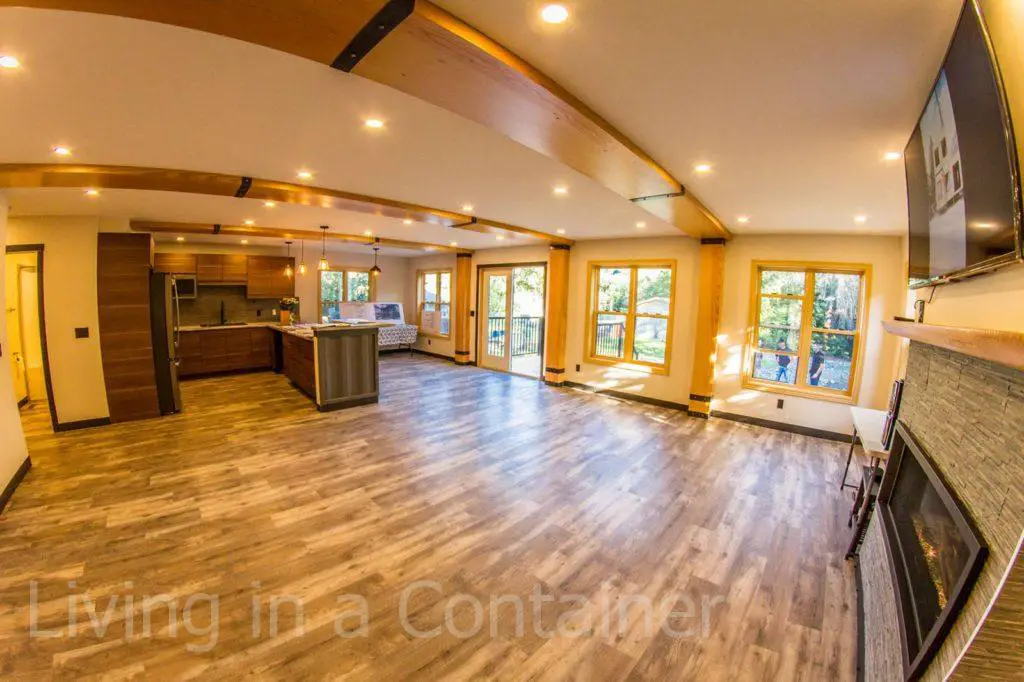 Wood and Industrial Design Details Together
When you take a look at container house design images, you can see the unique warm aura of light wood in almost every detail of the house. The windowsills, the stairs of the house, the floor, the sill on the second floor, and much more are colored with wood. Despite this, industrial design details are also used in the house to prevent this cozy aura from being suffocating. For example, the iron areas in the staircase design have industrial maximal design and have features that can be the favorite of those who are looking for a two-story container home for sale.
How Much Does It Cost To Build Such A Shipping Container House?
Unlike traditional residences, it is not difficult to guess that tiny and large houses that will be built with shipping containers can be completed at less cost.
So how much does this job really cost?
Our research says: There are two kinds of standard container sizes. The first of these are shipping containers, which cover an area of ​​approximately 160 square feet and have dimensions of 20 x 9 x 9 ft. The second is containers that cover 320 square feet and have dimensions of 40 x 8 x 8 ft, which are preferred by larger families.
When trying to turn a container into a real home, you will need to pay your professional between $75 and $150 per hour.
In this situation, converting this type of 1 x 40 ft shipping container would cost at least $15,000 in bare terms. The cost of a shipping container home will vary between 25 and 40 thousand dollars when the variability of the time and the materials needed depending on the container size are taken into account.
Should I Buy a Container Home Or Should I Build It?
For this, first, decide what kind of home theme you dream of.
For example, the house whose images we have shared with you below can be considered in the luxury container house category. Every detail of the house, from its American-style kitchen to its floor, from its terrace to its courtyard, has been thought out and stylishly designed.
If you want luxury container house, it can be very costly to build it. In this case, perhaps you should purchase existing projects. Canada, America, Australia are good destinations for this.
But if the prefab shipping container house options you are looking for are more modest, it seems like you can complete a building process that you manage by saving and getting a great house for $15,000 – $25,000 per container.
Pros of Having Such a Shipping Container Home
Known for their durable, cost-effective, and customizable features, these container homes have many benefits to offer:
First of all, it is possible to build them in a very short time. If you work with people who are professional enough, the construction will be finished in less than a month.
Traditional houses cost much more, while a container home built as a tiny house can be finished for as little as $10,000. You just have to be careful to make the right and economical choices.
As in the image below, the cost of modern container houses with two floors and a courtyard will vary between 125 – 200 thousand dollars.
Being mobile is the most important advantage of large container homes. If you agree with a professional enough shipping company, your house can be moved to another place without any damage.
Steps of Having Luxury Shipping Container House: Have it Now!
You know you need to plan step by step to own a luxury shipping container house. Let's share with you the stages of transforming one of the Six 40 foot shipping containers into a real home:
First, be prepared for the costs. Labor costs for complex and custom construction may be higher than you originally planned. Discuss and negotiate the price in detail with the professionals.
Contact the city planning office to find out if this is allowed in the area you plan to build. You don't want to get into trouble.
Just like the build in the example, don't forget to build a container home that gets plenty of natural light.
Design the exterior to have a color and design that is in harmony with nature. Rest assured this will be a much better choice.
Shipping Container Homes
Blocks Container Structures is changing the game with affordable and durable structures perfect for personal homes, commercial buildings and industrial needs. People use durable Sea Cans/Shipping Containers to create incredible structures, designed and finished exactly to needs.
There are many! Some of the benefits include the fact that shipping containers are sustainable, impervious to water, insects, rodents, mildew and fire, incredibly strong, less expensive, easy to expand, and they can reduce construction time by up to 40%.
Convenient in lifting, fixing and compounding, Container Homes are gaining considerable traction around the world. Container homes are considered as eco-friendly houses and buildings based on non-polluting materials. In recent past, a significant rise in demand for affordable housing structures has been witnessed. Utilization of used shipping containers to build prefabricated construction is an ongoing trend witnessed in the global construction industry.
Modular Buildings are slowly getting a hand on with many builders and construction companies in developing nations. The concept has already gained popularity in developed nations.
According to a survey, home owners consider prefabricated container homes as trustworthy and a practical and sensible way of building. Cost is also considered to be beneficiary factor prevailing the growth of container homes market. Container homes are considered to be 20X cheaper in maintenance than concrete and 55% stronger than wood buildings.
We are researching and showing you the structures made with shipping containers around the world to give you an idea.
Do you come across stunning stories of individuals who built their cargo container houses with their own hands on Youtube, Instagram, or many other platforms? Okay, so now is the time to be one of them!
This e-book, which we offer you and contains all the theoretical details and practical steps you need about the container home building process, will be your real assistant! What's in this book? Let's explore now!
» Follow Living in a Container on Social Media for regular shipping container house updates here «
Source : Blocks Container Structures