Hi everybody
We continue to discover for you. Our container house on today's tour is from Mansfield, Victoria, Australia.
Natural views are attracting for everyone. It is naturally built-in human being that beautiful sceneries fascinate him.
A few nature lovers want to be at the place where they can observe all the aspects of nature on daily basis. They want to view sunrise, sunset, raining and movement of leaves directly without any obstruction.
It is alright that a nature lover permanently wants to live in such a place. He must wish about a home which is in the center of mountains or in the heart of blooming flowers.
After reading these confusing lines, reader must want to know about such a home. So just go through the whole article and at the end you would know about such a house.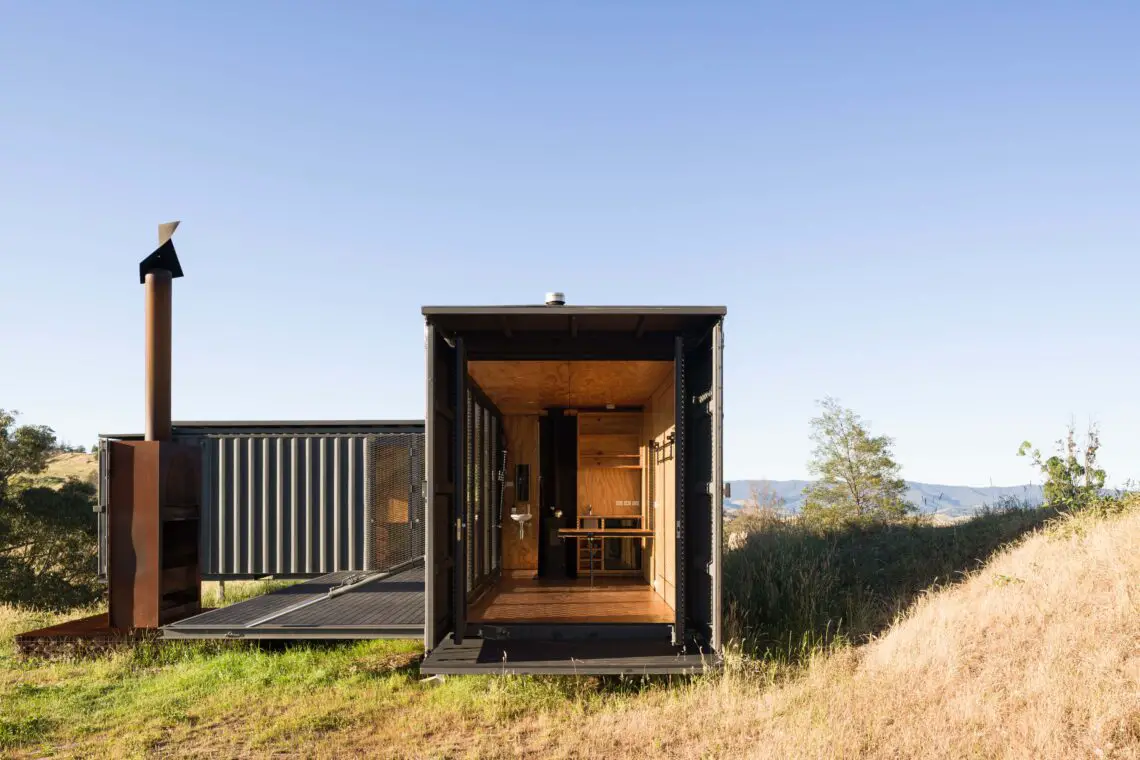 A Container Home Mansfield, Victoria, Australia.
This container house is in Mansfield, which is a town in Victoria, a city of Australia. A visitor has to cover a short distance to reach this home. It is 45 minutes from Mt Buller. A true nature lover can cover this distance with no worriers as if he has ambition of reaching this home.
Shipping Containers
Basically this house is constructed of shipping containers. Shipping containers are constructed at somewhere else and then these are set at the desired place. This type of home building reduces the time and money utilization.
Hosts of Home in Mansfield
Alice and Robbie are welcoming their guests in this home. This legendary couple is enjoying nature without any hindrance.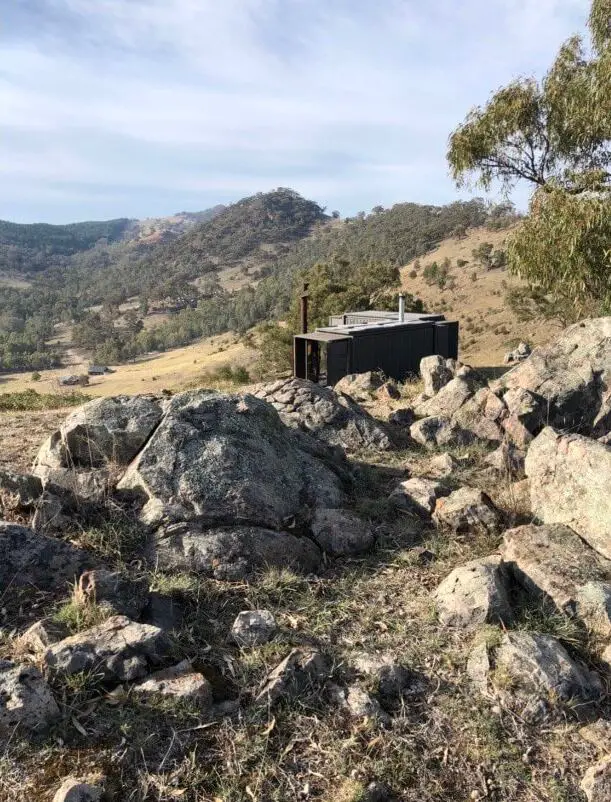 This is a wonderful space in fascinating location.
Nature exists here and big Rocky Mountains are surrounding this home. Rolling hills attract one towards himself. Adventurers are also welcomed here. It is a kind of Airbnb where all facilities are available. This house has area of 323 square feet off the ground.
Interior of one Shipping Container
One container has a double bed. The beauty of this bed that is does not occupy all the space. This is moveable. It can be rolled into the wall. Now the place is empty. One can uses this for another purpose during daytime as night one wants to sleep so, we need a bed for sleeping, of course.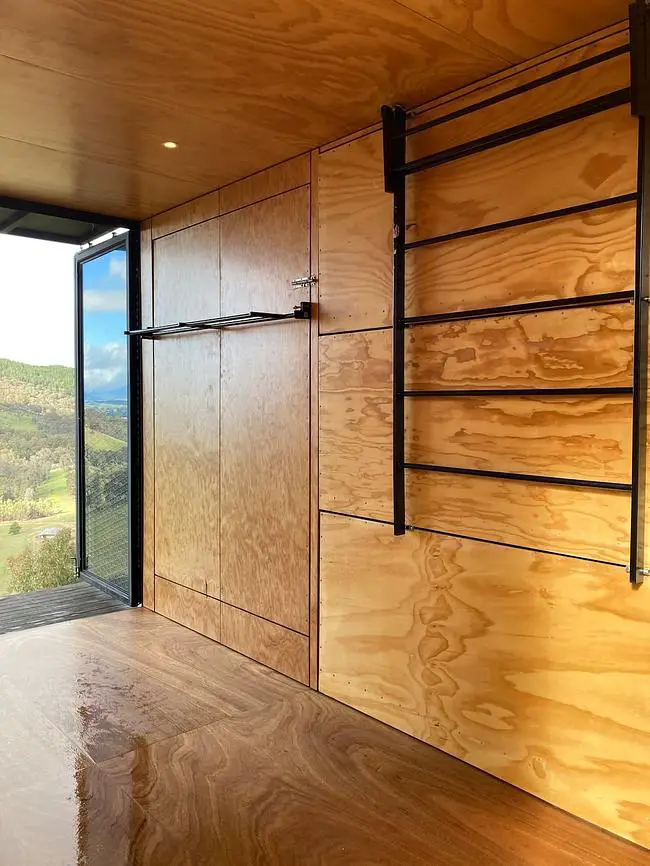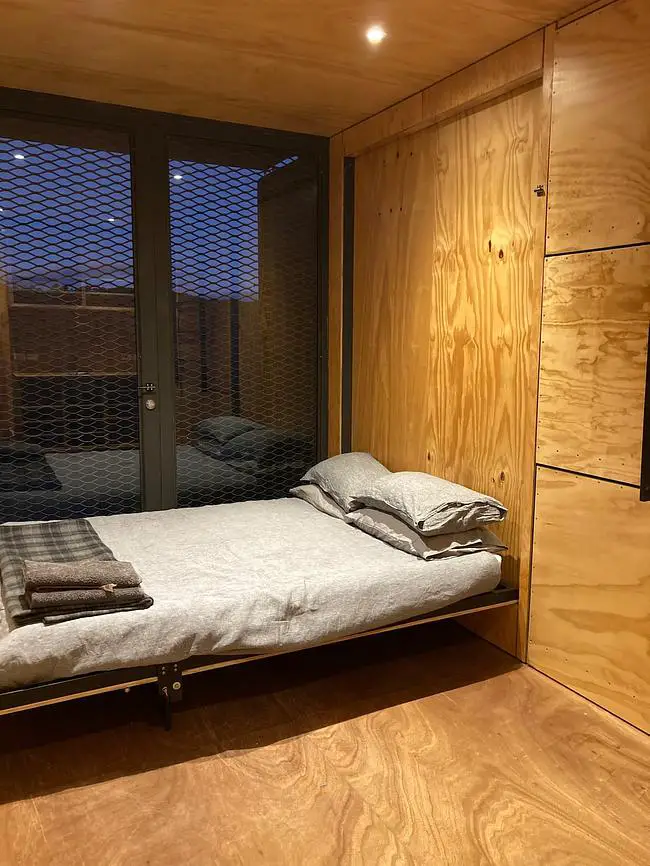 One can see clear sunrise from his bedroom. Nature can be easily seen here. Day lighting comes here directly. If day lighting disturbs your sleep and you are a late riser, then it is an advice that you must wear an eye mask when you go to sleep.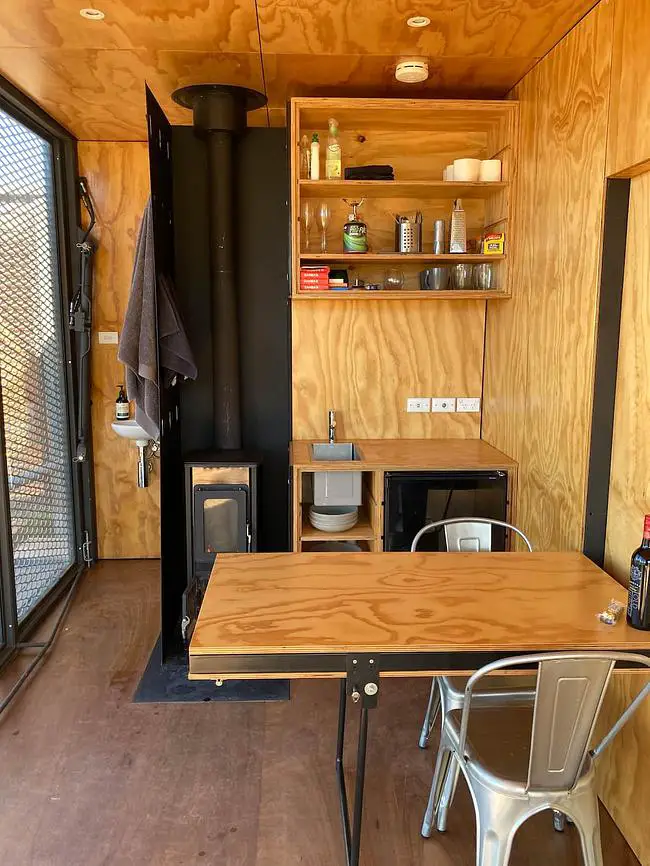 Kitchen is also a need. So how it is possible that this house does not have a kitchen? Do not worry reader. Kitchen is available. Kitchen has all the accessories. Shelves are made with wood for placing all the stuff. Fridge is also placed for usage. One can cook spices here easily and can enjoy his meal.
Where would one eat his meal? Is there any place? Yes, buddy. This tiny home has a dinning table as well. Just sit here and enjoy your cooked meal.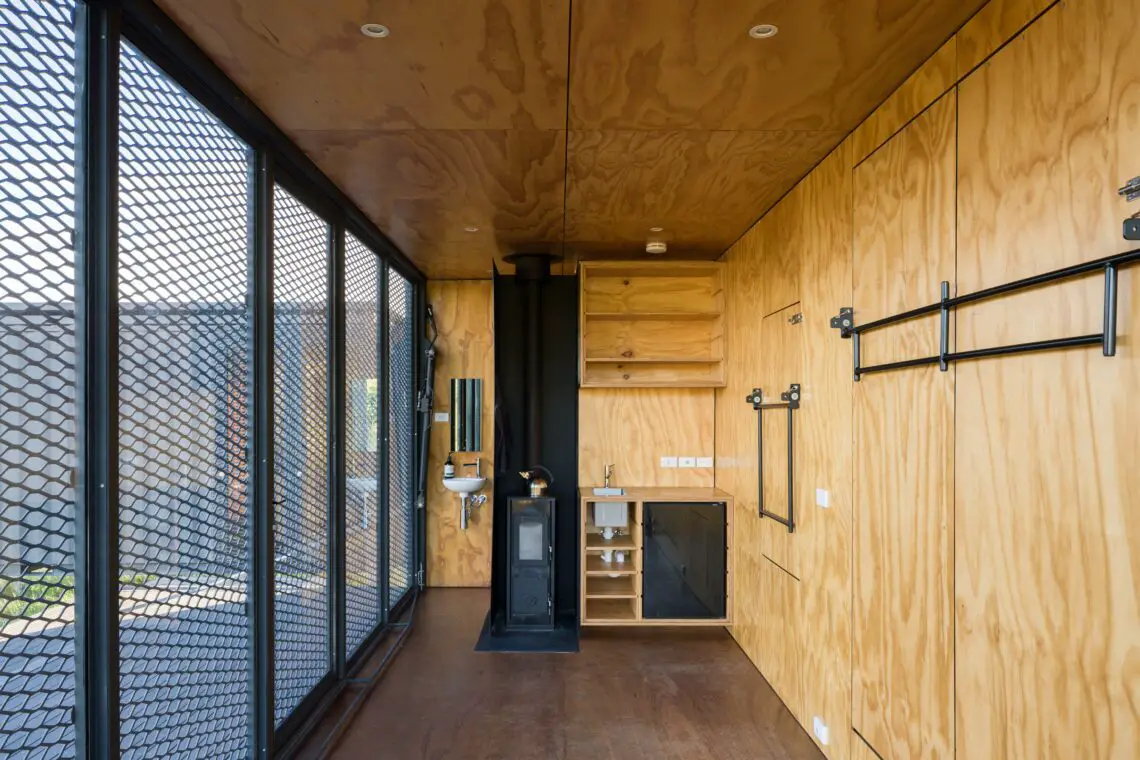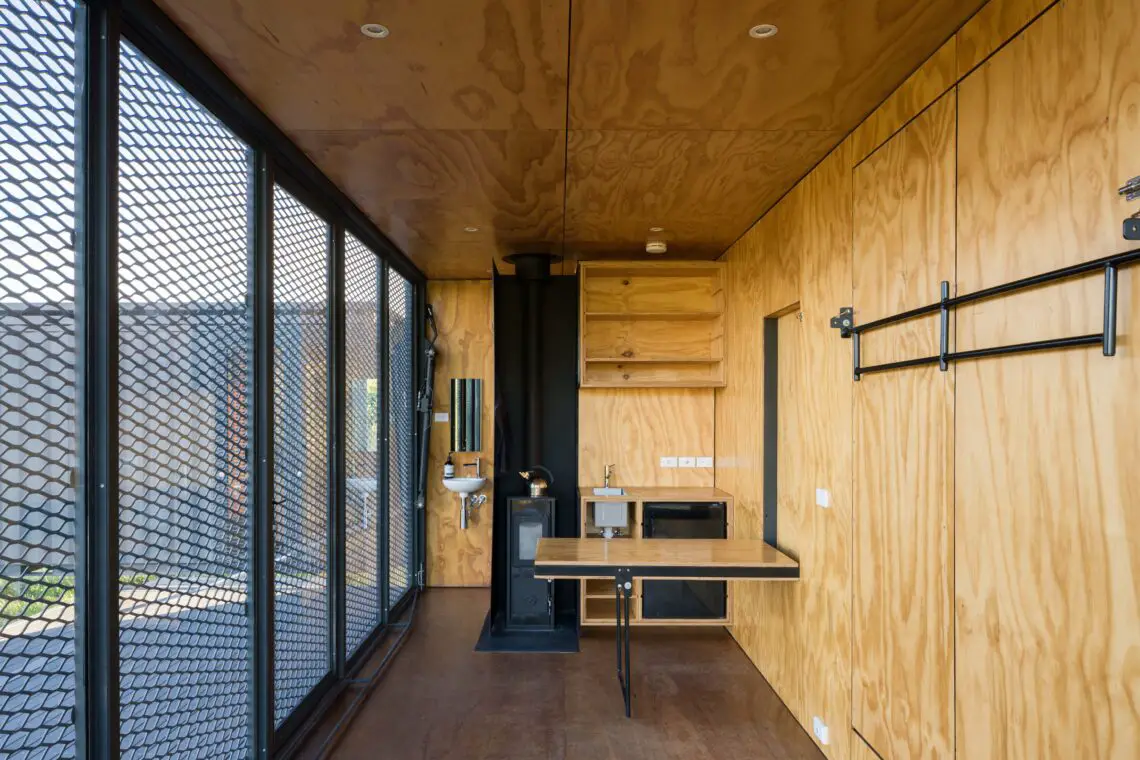 This container also has a living room and living room has beds. One can lie down here and can watch movies or can use mobile phone.
This container has bathroom. Privacy is well maintained. Sitting flesh are higher from the ground. All the facilities of water supply and battery charges are available in this container.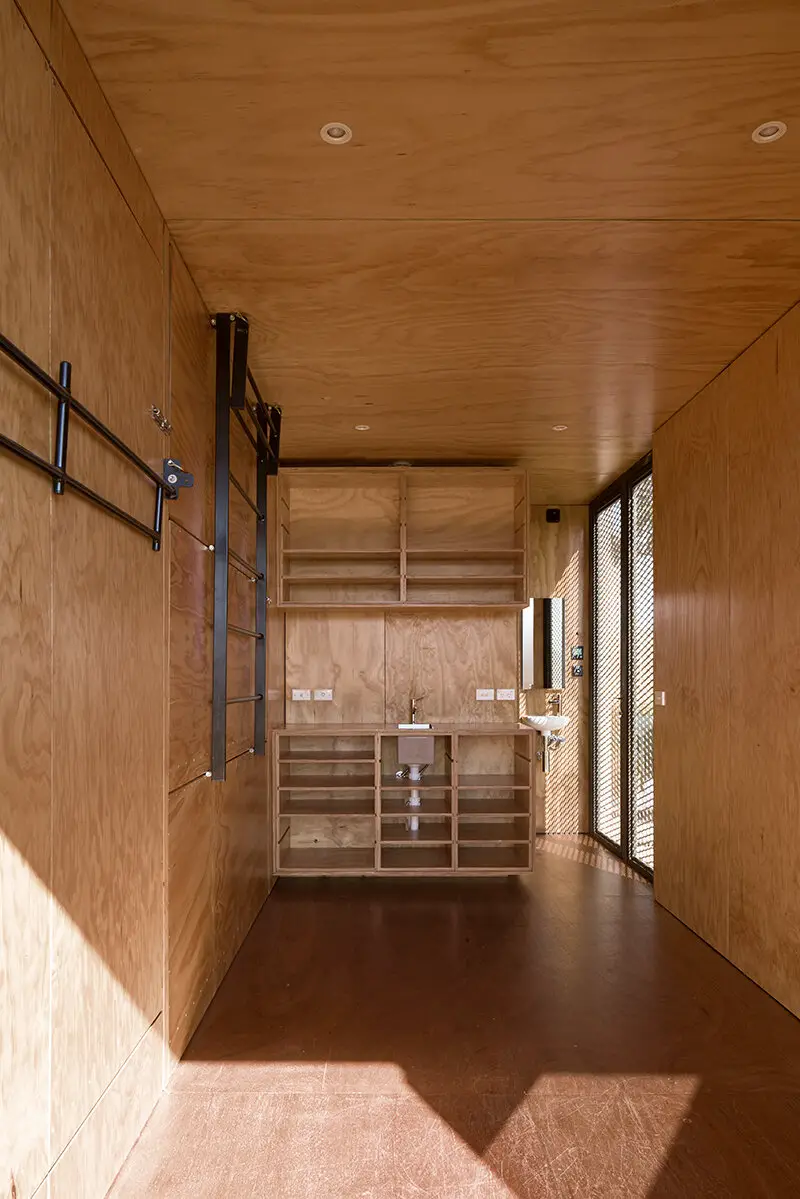 Interior of Second Container
This one also has a bedroom with a bed. Bed can be fold into walls.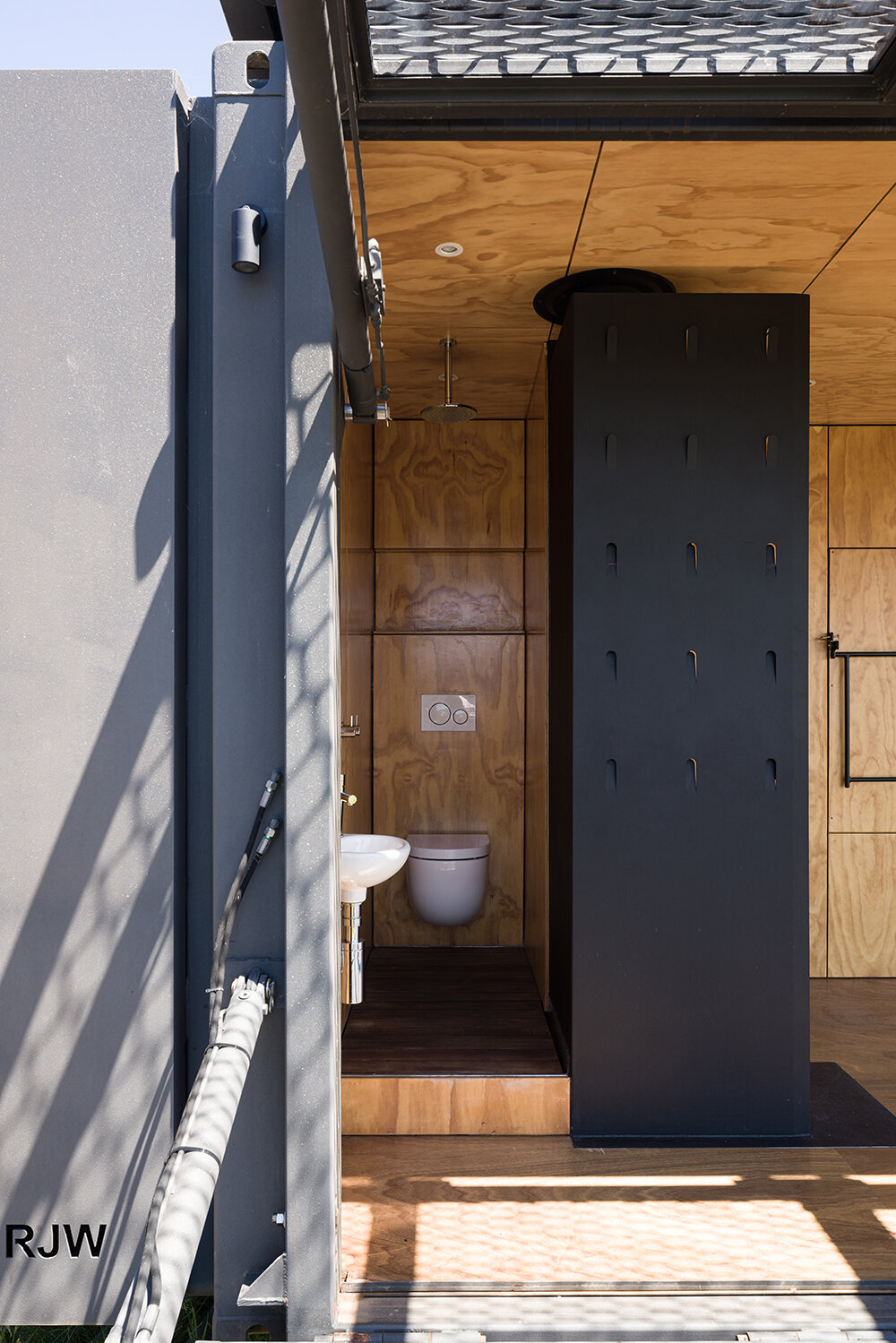 The container has a bathroom facility.
A kitchen is also available. No worries at all. All you need, is in your touch.
Between two containers, various steps are made for ease. On rocks, hard places are everywhere. So, it has been done for smooth walking from one container to next container.
On the back of containers, generators are placed for energy generation.
Extra space is also made for more storage. There is a mesh window in the container. It works for lowering the intensity of sunlight. Sun rays directly fall through this in the morning.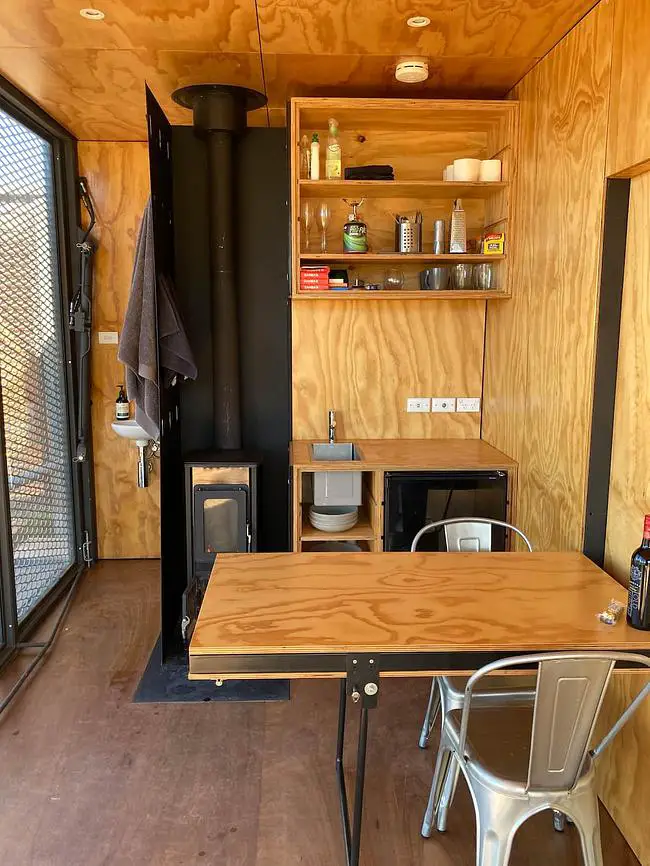 The well-designed interior also has a fireplace. Woods are burnt for heating the container. But not stop here. A fireplace is also located outside. In winter if one wants to sit outside and has mood of enjoying starry sky, he would not be affected by the cold weather because fireplace is here.
But wait; do you want some party food too?
This fireplace has grills. You can easily cook any kind of meat here. It has proper smoke production control. This fireplace has supplied with chimneys.
One thin that is most important while visiting this shipping container home, that the weather is intense here. People who have high adventurous spirit, don't bother weather but intense weather changes can affect one's health. As the tiny house is located in the center of mountains, climate is harsh. Winter needs more warm clothes; no doubt fireplace is there but protection is important. Similarly, in summer, the weather is again intense, and one should care about himself.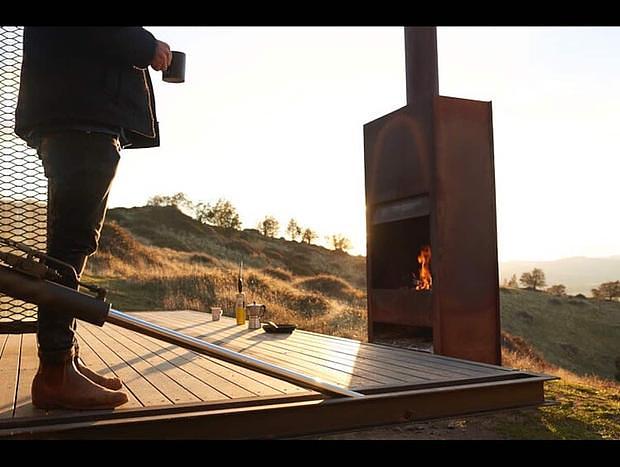 Now just imagine the dark starry night, the house on atop of hills, the cool wind blowing, the fire in the fireplace, BBQ arrangements made by you, the guitar you are playing, nature is talking with you and you are murmuring with nature!
If you are interested in structures made with shipping containers, you can find what you want among thousands of container house models. Be aware of the contents by following our Facebook and Pintereset accounts.
You can check out this Amazing Airbnb here.