Hello dear container house lovers! Are you looking for a new and exciting container house design to inspire your next project?
Well, today I have something very special to share with you. I want to introduce you to a container house design that I believe you will absolutely love.
This design is unique, stylish, and functional, and it might just be the perfect inspiration for your own container house project.
So, without further ado, let's dive right in and explore the amazing features of this incredible container house design.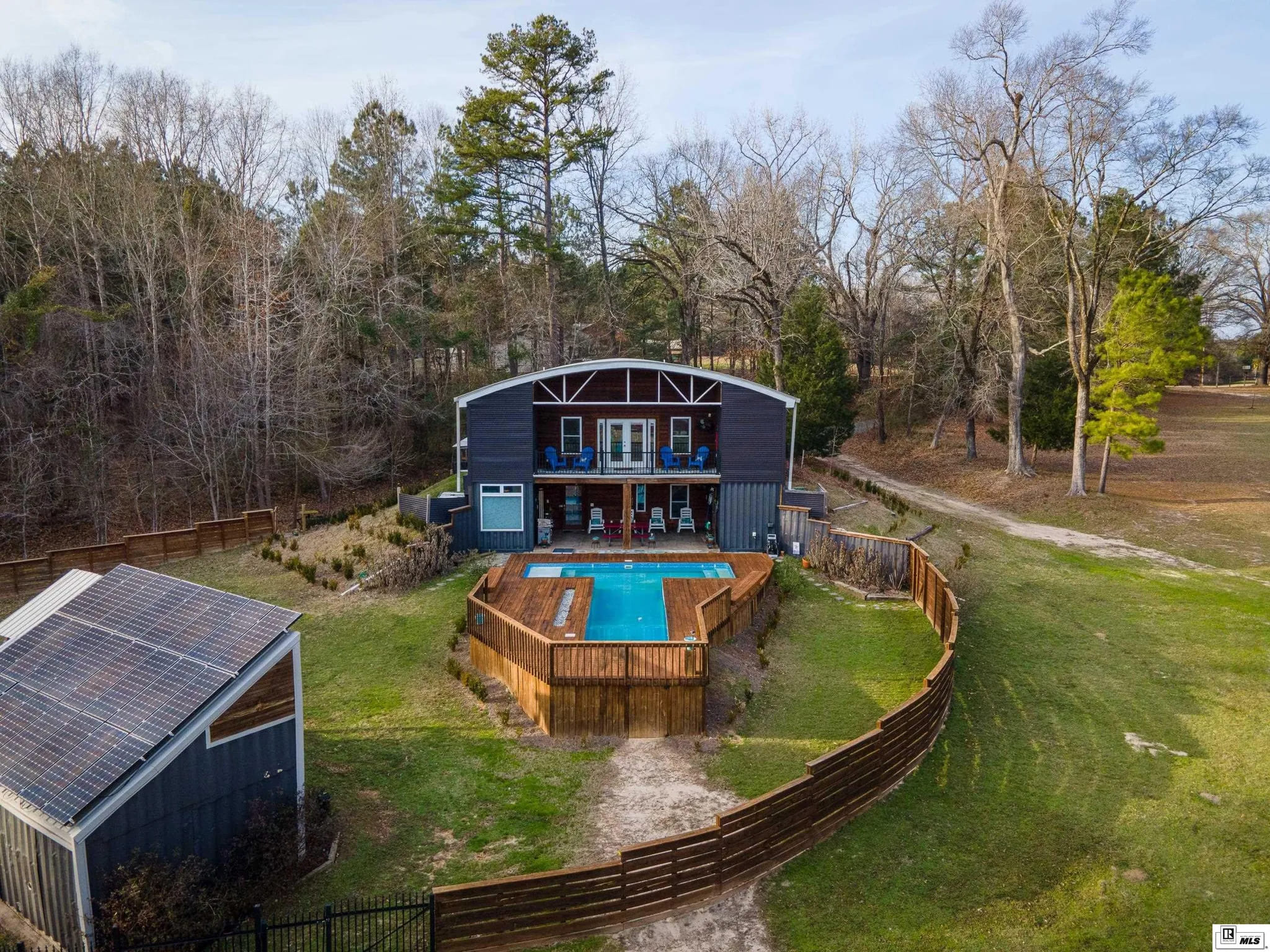 Highlights of Calhoun Container House
The container house is a two-story structure located in Calhoun.
It sits on a spacious 3-acre plot of land, offering ample room for outdoor activities.
The house itself boasts a generous living space of 2368 sqft, providing plenty of room for a family to live comfortably.
The container house design features an open and spacious floor plan, creating an inviting and welcoming atmosphere throughout.
The house has 3 bedrooms, providing enough space for the whole family to sleep comfortably.
Additionally, the house features 3.5 bathrooms, ensuring that each family member has individual privacy and space.
The container house design is both modern and stylish, incorporating the aesthetic and functional elements of the shipping containers into the design.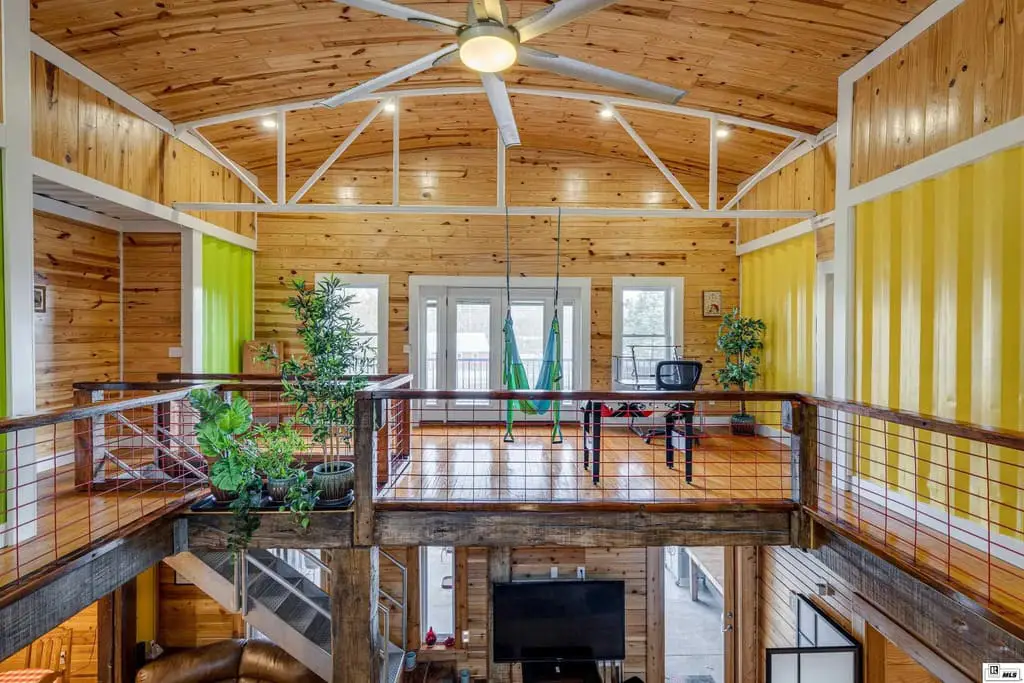 Now let's talk about the details of the shipping container house…
One of the standout features of this container house is the open concept living, kitchen, and dining area, which is perfect for entertaining friends and family.
The design is both modern and functional, creating a cohesive space to bring people together.
One unique aspect of the container house design is its use of stacking recycled shipping containers to create a large seating area while avoiding excess container costs.
By stacking the containers in an open plan concept, more space was obtained while also keeping the overall cost of the project manageable.
This innovative use of materials not only makes the container house design cost-effective and eco-friendly but also creates a warm, open, and inviting atmosphere that is perfect for entertaining guests.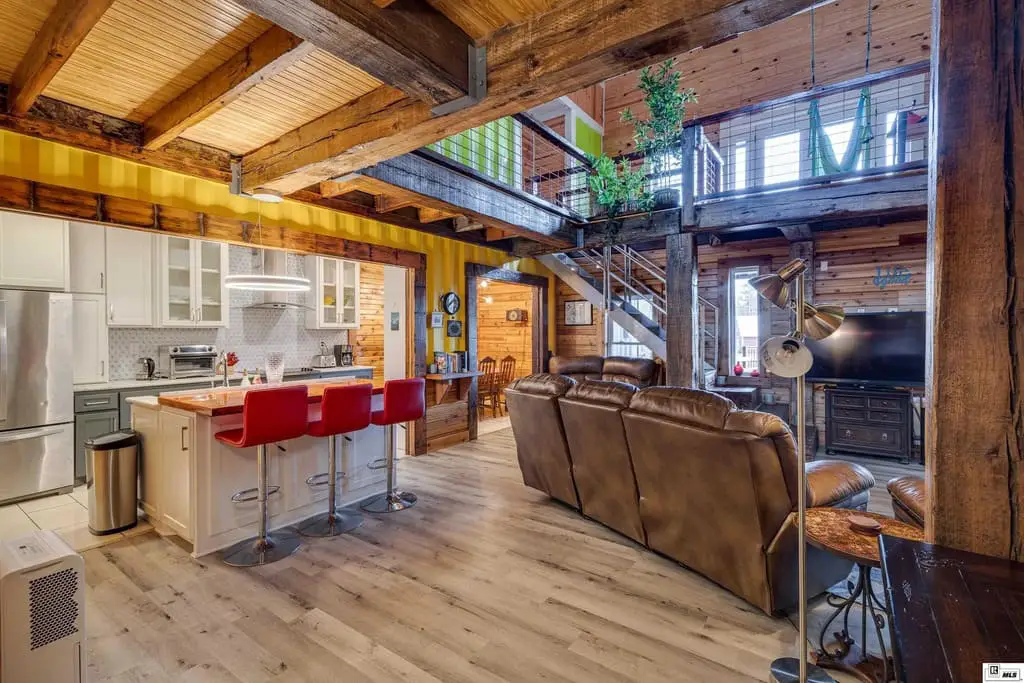 Container House with an Open Living Plan
If entertaining is your thing, this unique container house boasts open concept living and dining areas perfect for guests.
By stacking shipping containers, an airy plan was created and more seating space obtained at a lower cost.
With a modern, stylish design, this container house is perfect for those seeking functionality and sustainability in their home.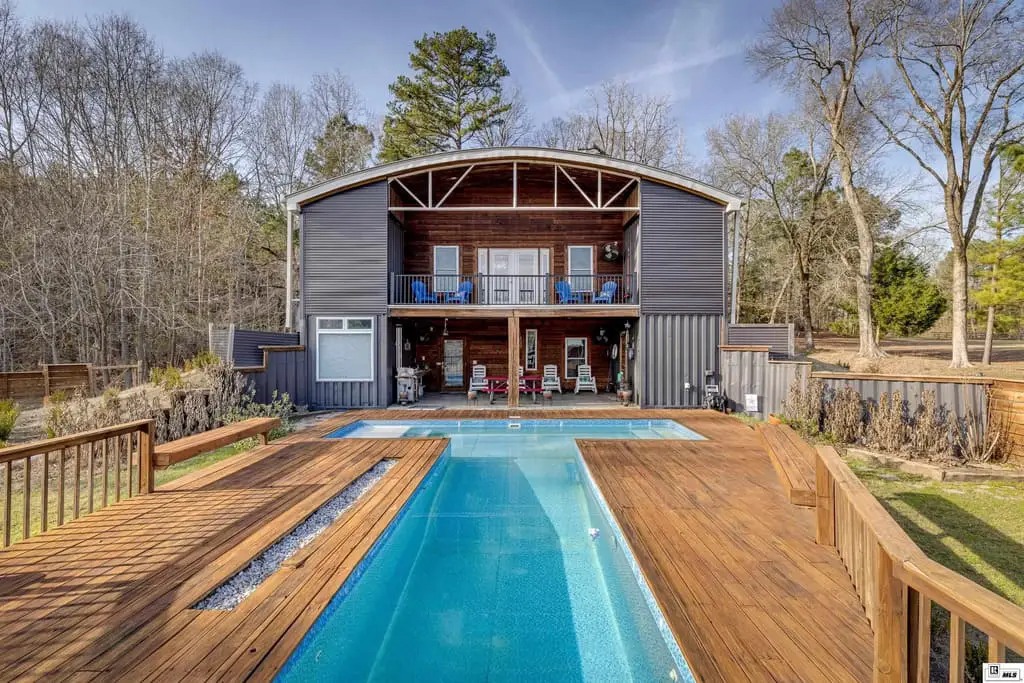 Breaking Convention: How an Oval Roof Adds Charm and Eco-Friendliness to this Container House Design
The roof of this container house is a unique aspect that sets it apart from other container houses.
Rather than opting for the traditional triangular roof commonly seen in container house designs, the homeowners chose an oval roof design that is reminiscent of farmhouse architecture.
This choice softens the sharp edges and creates a more inviting and welcoming look to the house.
While the oval roof may not be a typical choice for a container house, its design accentuates the eco-friendly and sustainable approach that this container house embodies.
Overall, it adds a sweet and charming touch to the already stylish and modern design.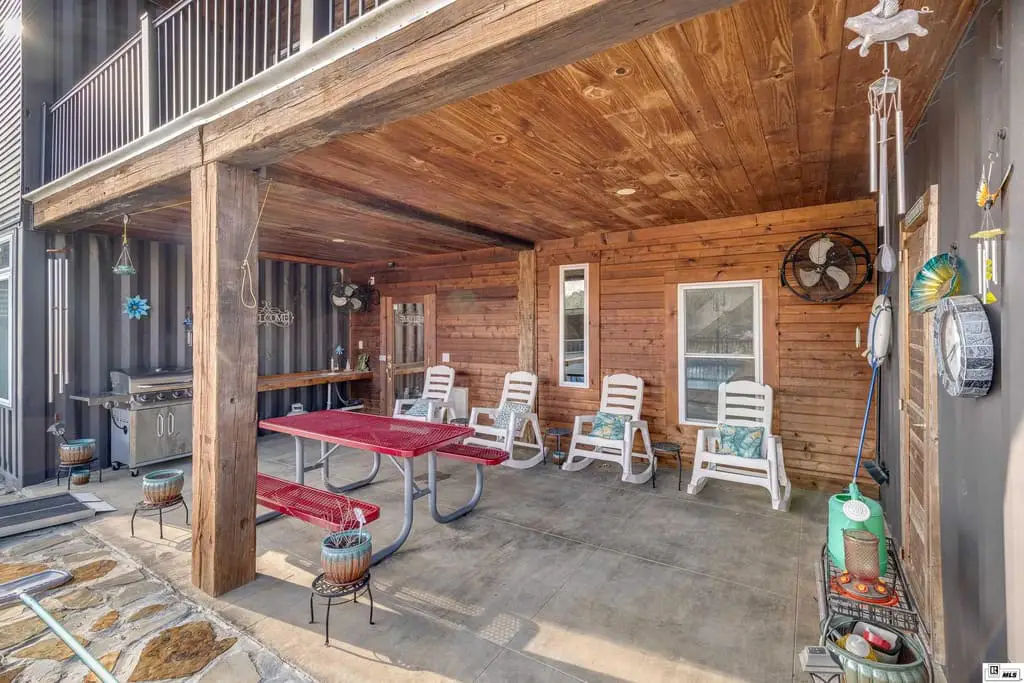 Seamless Indoor-Outdoor Living: A Container House with Two Verandas and a Stunning Pool
This incredible container house boasts not one, but two verandas from which you can enjoy the gorgeous view.
The downstairs veranda in particular is truly special as it provides direct access to the house's stunning pool.
It's easy to imagine spending long, lazy afternoons lounging poolside in this idyllic setting.
The verandas create a seamless transition between the indoors and outdoors, adding extra living space to the already spacious and well-appointed interior.
Whether you're entertaining guests, enjoying quality time with family, or just soaking up the sun, the verandas offer an ideal way to enjoy the natural beauty of this incredible container house.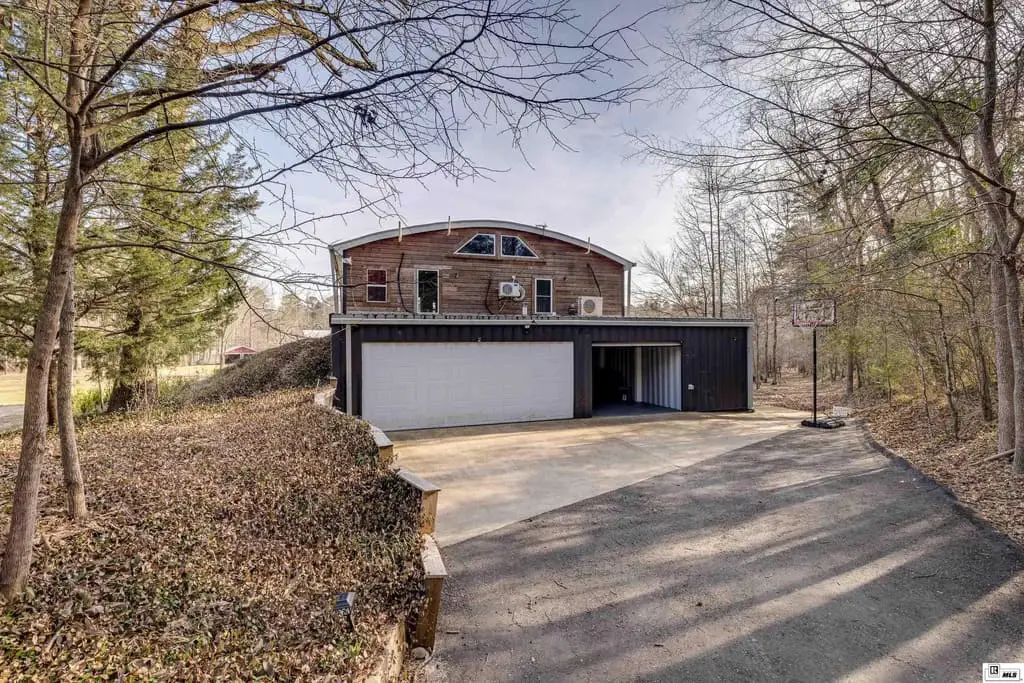 At the back of the container house, two 40ft shipping containers side by side provide a spacious 3-car garage.
Now let's come to the interior design of the container house!!!
With a beautiful combination of modern and wooden elements, the interior of this container house is truly remarkable. Prepare to be amazed!
This unique container house features beautiful walls, floors, and ceiling with wooden veneer for a stunning finish. It's truly one of a kind!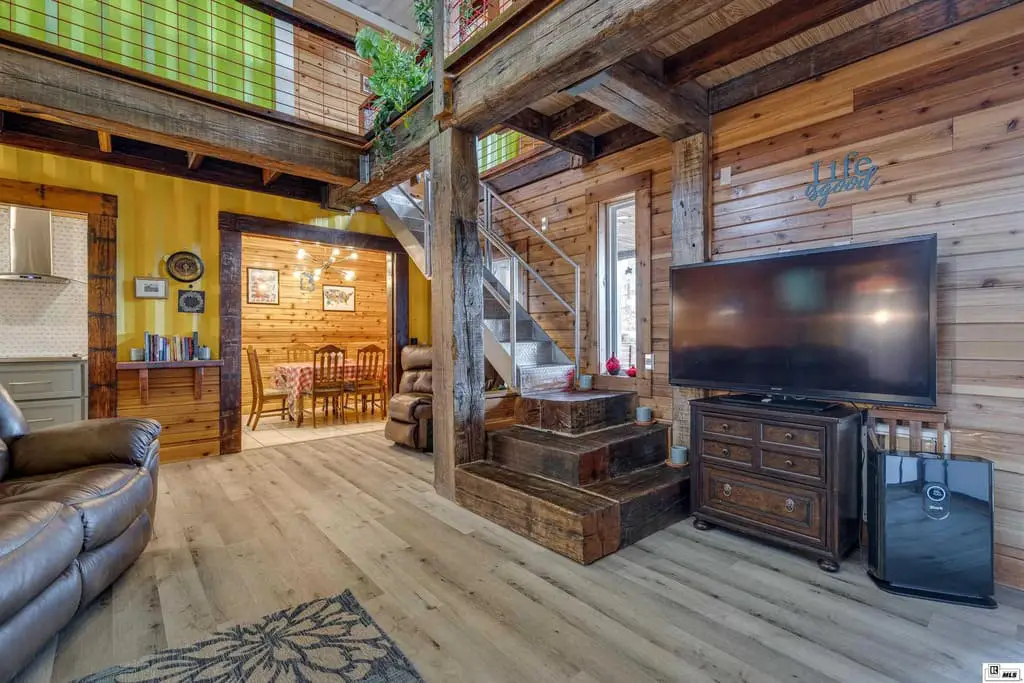 The aged wooden columns hold up the main structure of the house, providing a majestic backdrop. When combined with the staircase, it creates an unforgettable sight!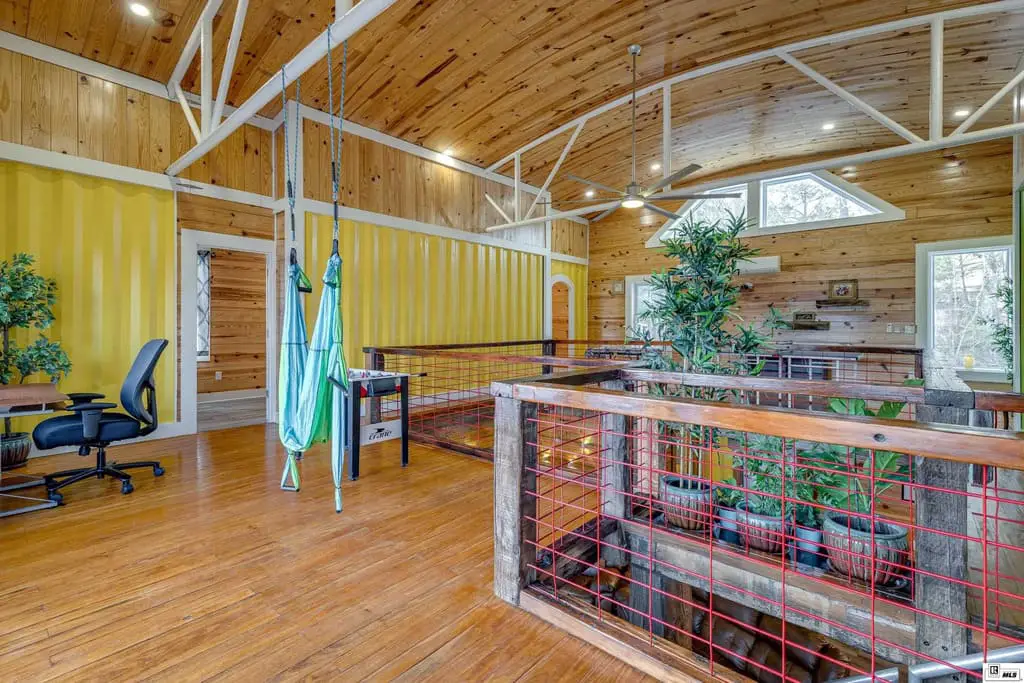 The walls bear the original image of a shipping container, painted in bright colors that bring life and energy to the room. It's truly a beautiful sight!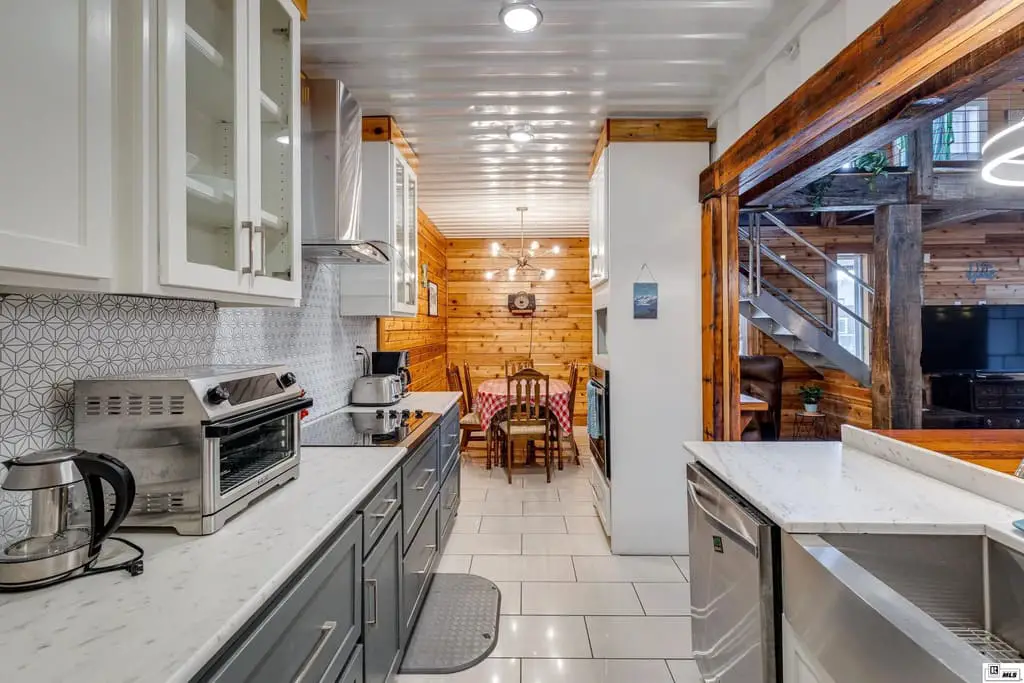 The modern kitchen appears suddenly, bringing a fresh and inviting atmosphere to the space. It's like walking into a completely different world!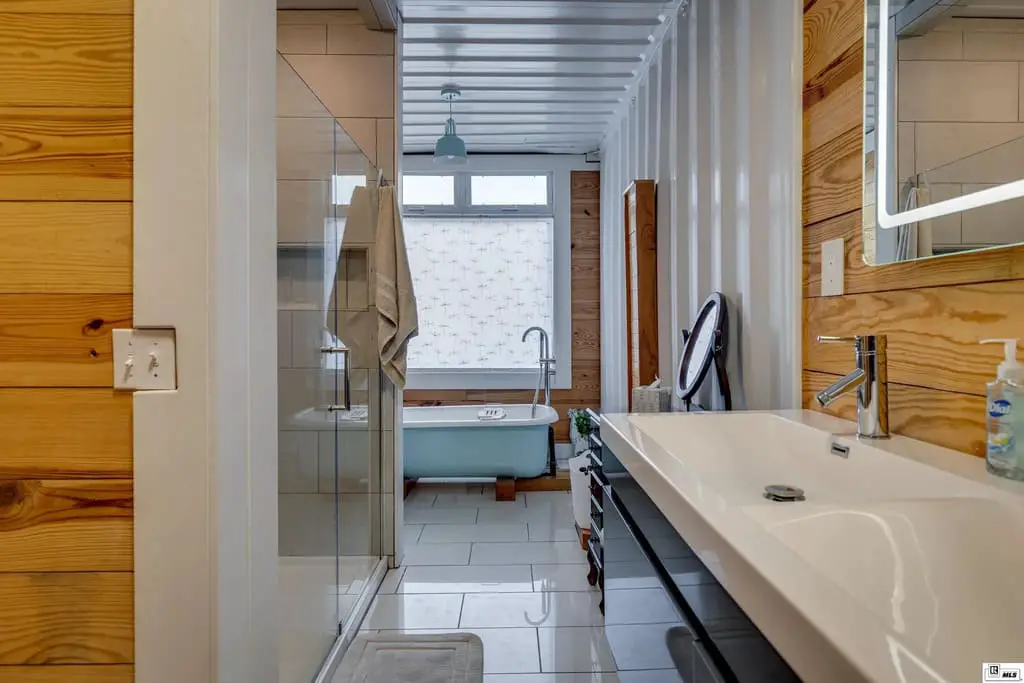 The bathrooms are decorated in a minimalistic yet stylish fashion, offering a sense of elegance and sophistication.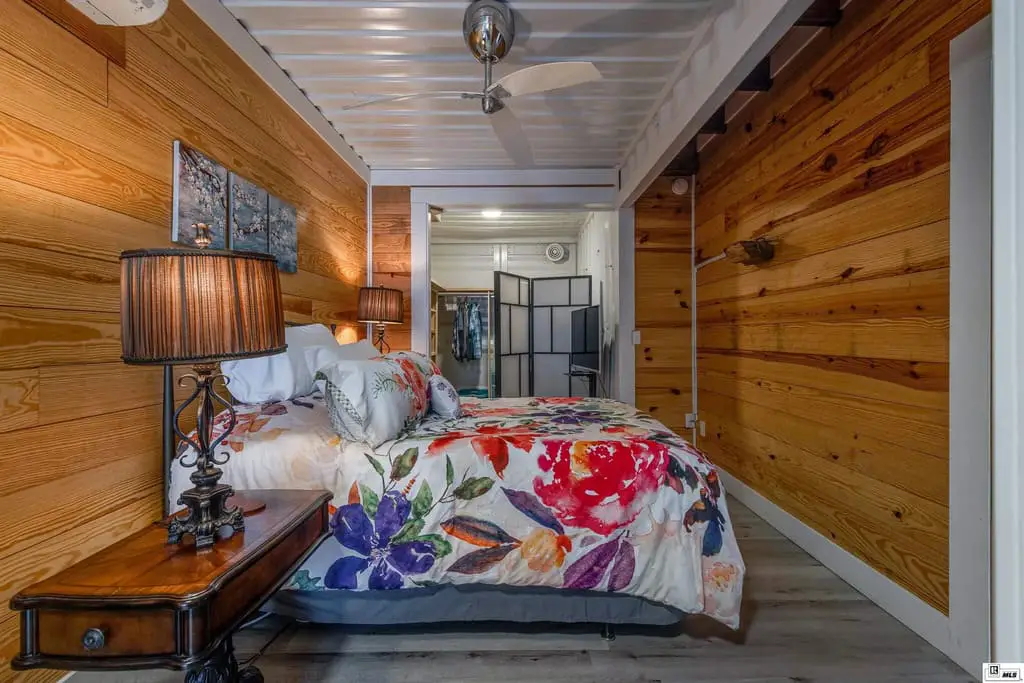 Nightstands and beds are made from recycled wood, giving the space a unique charm. The whole room looks warm and inviting, creating an atmosphere perfect for relaxation.
This house has so much to offer. I love the wooden columns inside and out – they really add a sense of timelessness to the atmosphere.
When you relax in this home, you'll feel a special kind of warmth and serenity that only wood can provide. What else could you ask for?
A Great Deal at $340,000: This Container House Is Worth Every Penny!
This house is a great bargain at $340,000 – it's worth every penny! Plus, you get the peace and tranquility that only a home like this can provide. Listing Here : REALTOR