When considering the construction of a shipping container home, it is essential to understand the various factors that influence the overall cost. In this article, we will discuss the aspects contributing to the price, such as the size of the home, the difference between custom and prefab options, and a comprehensive cost calculator to help you estimate your unique requirements.
Additionally, we will address how shipping container homes compare in cost to tiny houses and provide answers to frequently asked questions. By the end of this article, you will have a better understanding of shipping container home costs and be better equipped to make informed decisions for getting project estimates. The focus will be on offering a professional analysis based on actual data and industry insights.
Cost to Build a Container Home
Container homes are a popular choice for those looking to build an affordable and unique living space. The cost of a shipping container home varies, with single-container homes ranging from $25,000 to $80,000 and multi-container homes from $80,000 to $250,000 or more. The average construction cost lies between $150 to $350 per square foot, depending on size and additional features.
Here's a breakdown of container home costs based on size and number of containers:
| Size | Square Feet | Containers | Average Cost |
| --- | --- | --- | --- |
| Home Office | 80 – 100 | 1 | $10,000 – $20,000 |
| Studio | 160 | 1 | $15,000 – $25,000 |
| 1 Bed, 1 Bath | 320 | 1 – 2 | $25,000 – $82,000 |
| 2 Bed, 1 Bath | 640 | 2 – 3 | $80,000 – $130,000 |
| 2 Bed, 2 Bath | 960 | 3 – 4 | $100,000 – $180,000 |
| 3 Bed, 2 Bath | 1280 | 4 | $150,000 – $220,000+ |
| 3 Bed, 2.5 Bath | 1600 | 5 | $180,000 – $250,000+ |
| 4 Bed, 2.5 Bath | 1920 | 6 | $190,000 – $300,000+ |
| 5 Bed, 3 Bath | 2560 | 8 | $200,000 – $400,000+ |
Shipping containers typically measure 8′ wide by 8.5′ high and are available in three standard lengths: 10′, 20′, and 40′. Container costs alone range from $1,200 to $10,000.
When comparing container homes to traditional homes, the latter usually costs $178,000 to $416,000 on average to build. To get an estimate for a specific container home project, consult with local shipping container home builders.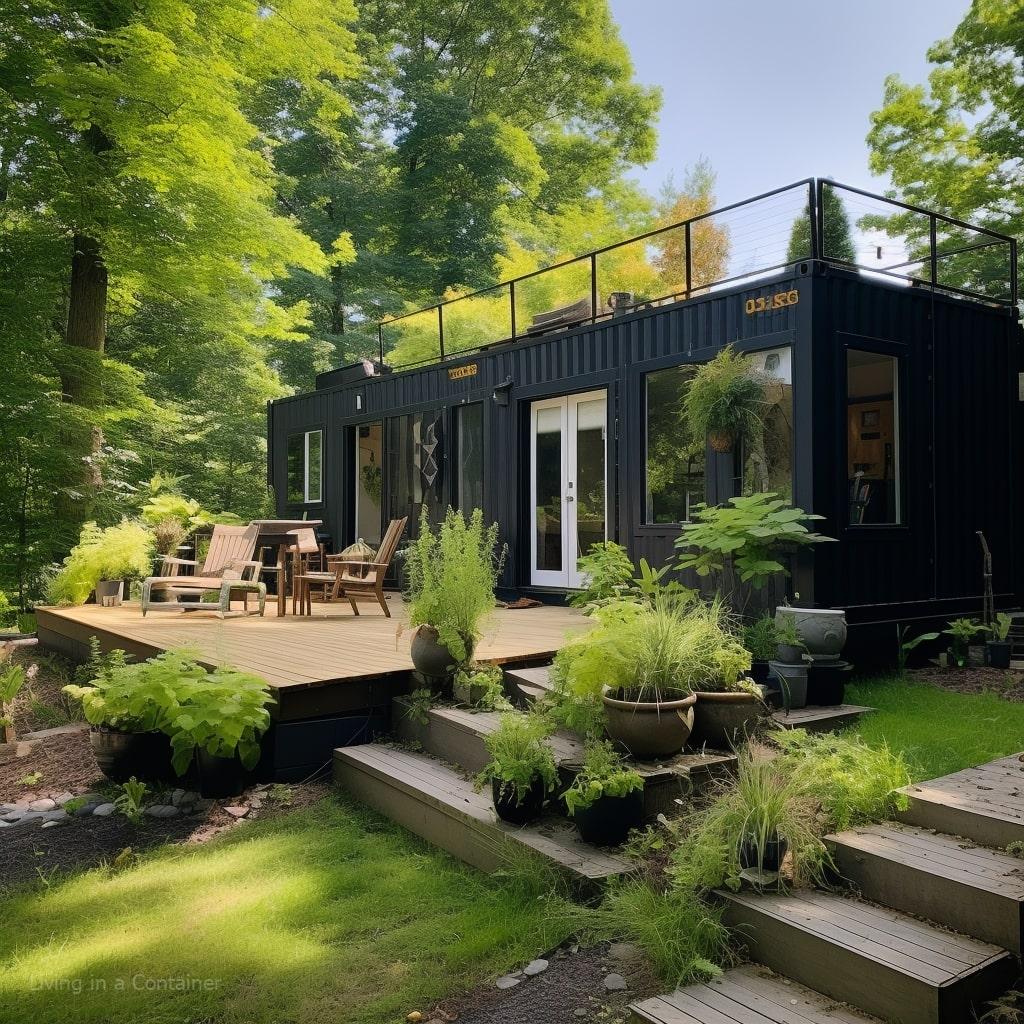 Custom vs. Prefab Shipping Container Home Prices
When comparing custom and prefab shipping container homes, there are notable differences in their costs and design possibilities. A prefab container home typically costs $120 to $300 per square foot, whereas a custom-designed container house ranges from $250 to $400+ per square foot. The total cost varies based on factors such as the home's size, features, number of shipping containers, and number of stories.
Prefab container homes offer a more affordable option, with costs between $150 and $300 per square foot. These homes come with a finished interior and exterior, including fixtures and appliances, and are made at a factory. They require assembly on-site, particularly for homes constructed from multiple containers. Despite their affordability, prefab homes have limited customization options. However, high-end models can feature luxury finishes.
On the other hand, custom container homes cost $250 to $400+ per square foot. They provide a unique design from an architect or a design/build firm, with flexible size and layout options. The interior finishing options are limited only by the homeowner's budget. Custom homes allow for more two-story configurations compared to prefab homes, which are predominantly single-story.
Moreover, custom container homes can cater to various functions, such as additional living areas, home offices, or eco-friendly studios. Many builders offer single-container structures suitable for use as a separate home office, guest house, in-law suite, or rental unit, placed on the same property as an existing traditional home. In most states, these single-container residential units qualify as accessory dwelling units (ADUs) when placed on an existing property.
Shipping Container Home Cost Calculator & Breakdown
Cost of Shipping Containers
Shipping container home cost calculator

| Factor | Average cost* |
| --- | --- |
| Land | $5,000 – $18,000 per acre |
| Foundation | $3,000 – $19,350 |
| Roofing | $1,000 – $12,000 |
| Door & windows | $1,000 – $6,000 |
| Insulation | $1,000 – $8,000 |
| Electrical wiring | $1,000 – $7,800 |
| Interior framing | $1,000 – $14,000 |
| Drywall | $500 – $15,000 |
| Painting | $500 – $6,900 |
| Flooring | $300 – $4,600 |
| Plumbing labor | $500 – $12,000 |
| Shower | $300 – $9,000 |
| Water heater | $300 – $3,500 |
| Toilet | $100 – $750 |
| Septic or sewer | $1,500 – $5,000 |
| Fixtures (lights, fans, sinks) | $600 – $6,000 |
| Appliances | $500 – $5,000 |
| HVAC / Ductless mini-split system | $2,000 – $10,000 |
| Interior finishing | $1,000 – $10,000 |
| Solar panels | $3,500 – $26,500 |
| Permits | $500 – $2,000 |
| Design plans | $100 – $2,000 |
| Utilities hookup | $4,000 – $12,000 |
Shipping containers range from $1,200 to $10,000 based on size and condition. They come in standard sizes, such as 10′, 20′, and 40′, with widths of 8′ and heights of 8'6″ (standard) or 9'6″ (high cube). The container's interior dimensions will be smaller after insulation, framing, or drywall is added.
Land, Permits, and Zoning for Container Houses
Land for a container home ranges between $5,000 and $18,000 per acre. Before installing a shipping container home, check local zoning regulations and building codes to ensure compliance. Additional costs for land surveys, clearing, excavation and grading range between $200 and $6,700 per acre. A building permit may cost between $500 and $2,000.
Foundation Costs for Shipping Container Homes
The foundation for a shipping container home costs between $3,000 and $19,350. Concrete slab foundations cost around $5.75 to $13.50 per square foot, whereas pier footings and crawlspace foundations are more expensive.
Labor and Material Costs for Container Homes
Building a shipping container home requires labor from multiple industries, including general contractors, architects, and tradespeople like electricians and plumbers. Costs for each service vary, and it is essential to consider expenses for roofing, insulation, electrical wiring, plumbing, flooring, doors, windows, framing, drywall, painting, heating, and cooling.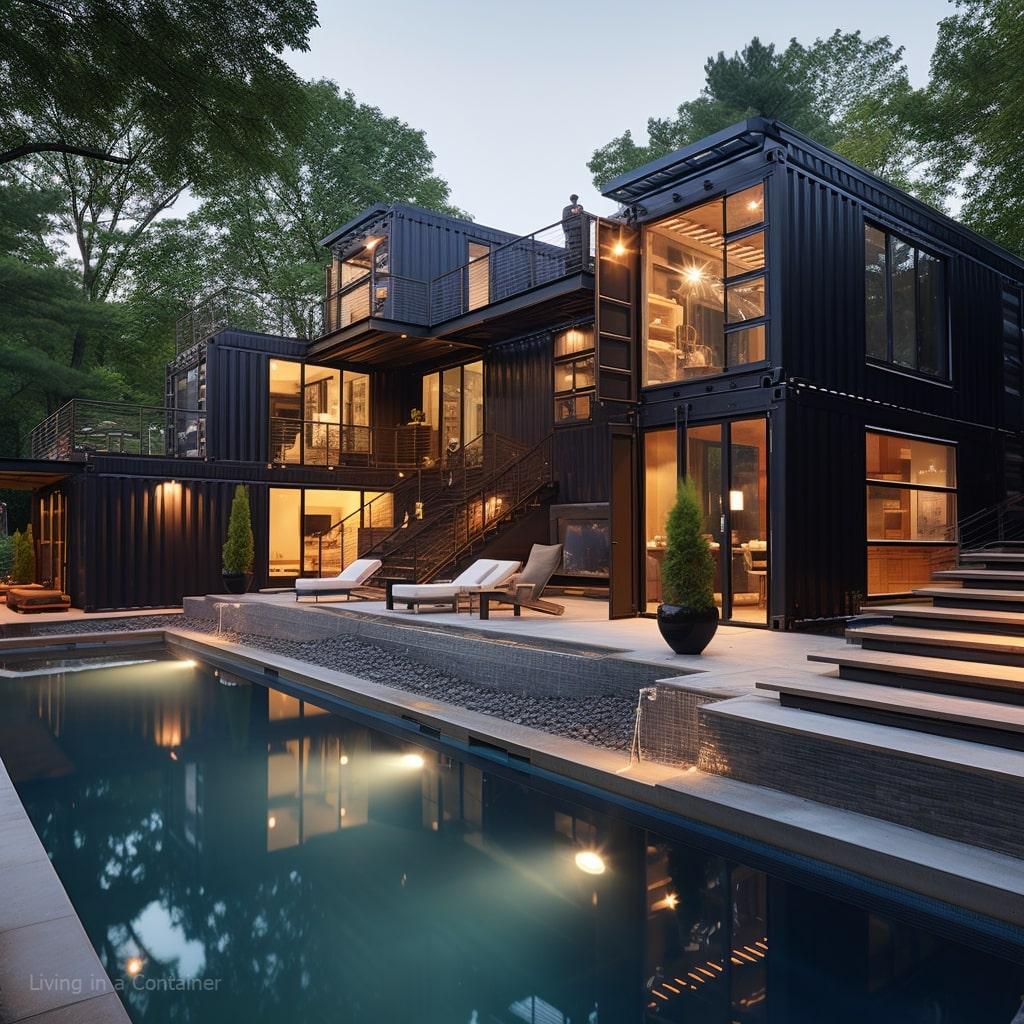 Appliances and Furnishings for Container Houses
When selecting appliances and furniture for tiny shipping container homes, consider consulting an interior designer. They can recommend smaller versions of appliances and multipurpose furniture to maximize space usage. Furnishing costs depend on individual preferences and selections.
Utilities Cost for Shipping Container Homes
Connecting a shipping container home to local utilities may include costs for water and sewer lines, as well as electrical connections. Additionally, homeowners might consider installing solar panels which can range from $10,600 to $26,500 for a 6kW to 12kW system after tax credits.
Taxes and Insurance for Shipping Container Houses
Property taxes for a shipping container home will vary based on location. Homeowners' insurance for a container house can cost between $50 and $150.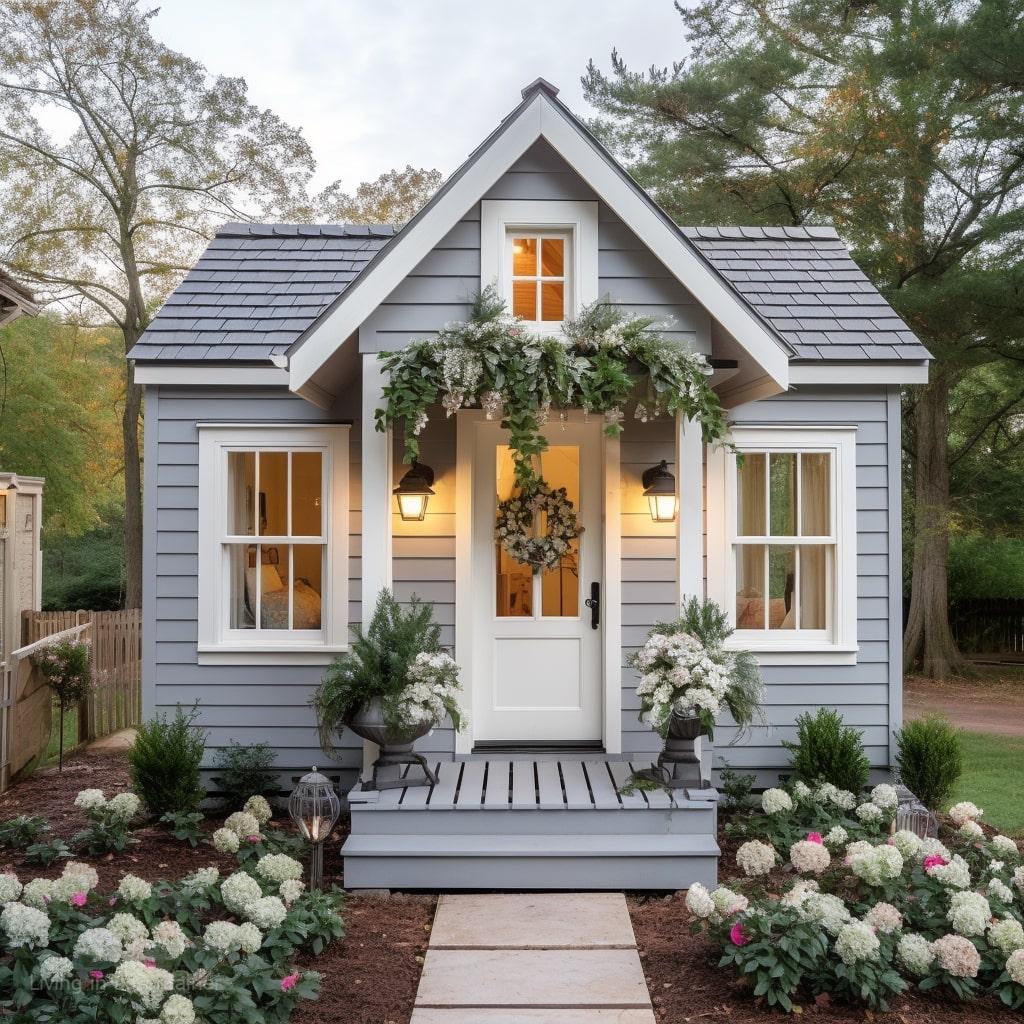 Comparing Shipping Container Homes and Tiny Houses
The cost of tiny homes typically ranges between $30,000 to $70,000+, varying based on the choice of prefab or custom-built designs. Standard tiny houses provide more flexibility when it comes to size, dimensions, and building materials, as opposed to shipping container homes, which are constrained by the steel exterior of the container itself. Keep in mind that tiny homes come in various forms, including modern designs on wheels. For more insight, consider seeking free estimates from local shipping container home builders.
---
RELATED
---
Container Home Building FAQs
What Are Container Homes?
Container homes are residences constructed using one or more shipping containers as the primary structure. These heavy-duty steel containers are durable and weather-resistant, having been designed for cargo transport. Although container homes are a type of modular home, they differ from manufactured homes in that they follow traditional building codes rather than the U.S. Department of Housing Development (HUD) code.
Is a Shipping Container Home a Worthwhile Investment?
Shipping container homes offer an affordable and eco-friendly alternative to conventional houses. Their versatile design allows stacking or placing containers side by side, and their durability and corrosion resistance provide long-lasting structures. However, be aware that the metal exterior conducts heat and cold, requiring additional insulation. Extra care must also be taken when purchasing used containers to ensure structural integrity and avoid toxic chemical residues.
Legalities of Shipping Container Homes in Different States
Most states permit shipping container homes built on permanent foundations. However, regulations and zoning restrictions for these homes vary across cities and states, with stricter rules generally applying to tiny container homes. It is crucial to research your local zoning laws and building codes before investing in a container home.
Container Home Building Duration
On average, it takes anywhere from 3 to 6 months to build a container home, depending on its size, style, and features. Prefabricated shipping container homes typically have shorter construction times compared to custom-designed units.
Shipping Container Home Lifespan
With proper maintenance, inspections, and painting, shipping container homes can last from 25 to 30 years without requiring significant repairs. The lifespan varies depending on the local climate and weather conditions.
Value Appreciation of Shipping Container Homes
Well-maintained shipping container homes usually retain or appreciate in value. Single-container homes that are not permanently attached to a foundation are often simpler to resell since they can easily be transported to new locations.
Safety of Container Homes
Shipping container homes can be as safe as traditional houses during extreme weather, tornadoes, and earthquakes due to their wind-resistant nature. However, used containers may have previously transported harmful chemicals or pesticides, so it is essential to test them for contaminants before purchase.
Financing and Mortgaging Container Homes
Financing a container home depends on whether it adheres to local building codes and zoning regulations, its size, features, and location. Larger, multi-container homes typically qualify for standard mortgages, whereas tiny container homes may require alternative financing options such as builder loans, mobile home loans, or unsecured personal bank loans. Some lenders may categorize container homes of all sizes as mobile homes, limiting mortgage possibilities. Homes built as accessory dwelling units (ADUs) on shared properties could potentially be eligible for mortgage financing through Freddie Mac.
Getting Estimates from Container Home Builders
Inquiries to Make
When searching for a container home builder, there are several steps to follow and questions to ask to ensure you find the right professional for the job.
Research Container Home Styles: Look online for various styles and models to determine your preferences.
Find Specialized Builders: Seek out builders who specialize in container homes.
Read Reviews: Check HomeGuide, Google, and other sources for reviews and testimonials.
Examine Portfolios: Browse the builder's online portfolio and visit their model homes in person.
Ask for Customer References: Request contact information for past customers and ask about their experiences with the builder.
Discuss Your Needs: Share your space requirements and lifestyle preferences with the builder.
Obtain Architectural Documents: Request a full set of architectural drawings and specifications.
Agree on Contract Details: Make sure to get a detailed contract, schedule, materials list, and warranty in writing before construction begins.
Establish a Payment Schedule: Tie payments to progress and withhold the final payment until all inspections are passed and you are satisfied with the work.
Here are some important questions to ask the builder during the hiring process:
How long have you been in business?

How many container homes have you built?

Are you licensed, bonded, and insured?

Can you provide a portfolio of homes to review?

Are there any pre-built models available for in-person tours?

Can you supply references from past customers to contact?

What is included or not included in the estimate?

Are there any finishes, fixtures, or appliances that need to be purchased separately?

What is the expected construction timeline?

Will you handle permit and inspection requirements?

What are the delivery costs for the finished home to my location?

Do you offer financing options?

What kind of warranty is provided, and what does it cover?
By following these steps and asking these questions, you can ensure you find a trustworthy and reliable container home builder to bring your vision to life.