We continue to discover for you. Our container house on today's tour is from Indiana, USA.
So far, a large number of container homes have been described. All architectural structure is explained. These all are beautiful shipping container homes. These homes are constructed through shipping containers along with other material like glass, wood. Concrete material is also used in combination with containers. These all factors increase beauty of the home collectively.
A container home is going to be discussed which is made of shipping containers and glass, wood have also used in construction of this home. This home is beautiful in its own way. Surrounding of the home also increases the attractiveness for this living area. This living home is offering modular living to persons who want to live in homes made of steel shipping containers.
Every one wants to experience this new type of building. This article will help to understand the architecture of this home in detail.
Shipping container home in Indiana
This is located in Indiana hills. This house is in one of the most beautiful locations. This home js designed through black shipping containers. The house is double storey. A combination of red and black color is used in painting this home. This house has glass windows and small terrace. Containers are joined together to make the final look of this living place.
This container home has all portions
To know about the detail of this living place, must go through the whole article. This home has different portions. Different colors have used to paint this home. Floor is made of wood.
Outer seating area
Living room
Kitchen
Bedroom
Bathroom
Terrace
Living room is constructed beautifully
Living room is an important part of a home. Seating sofas are placed in this room. This room is unique one. Viewing this will mesmerize one. The decoration of this room is done in most modern way. This is stylish and utter. It has all parts which should be included. The floor is made of wood. Front wall has large glass windows. Seating stools are placed im front of this window. Imagine your seating in front of these windows with rainy season outside among green trees on a hill. This imagination is beautiful.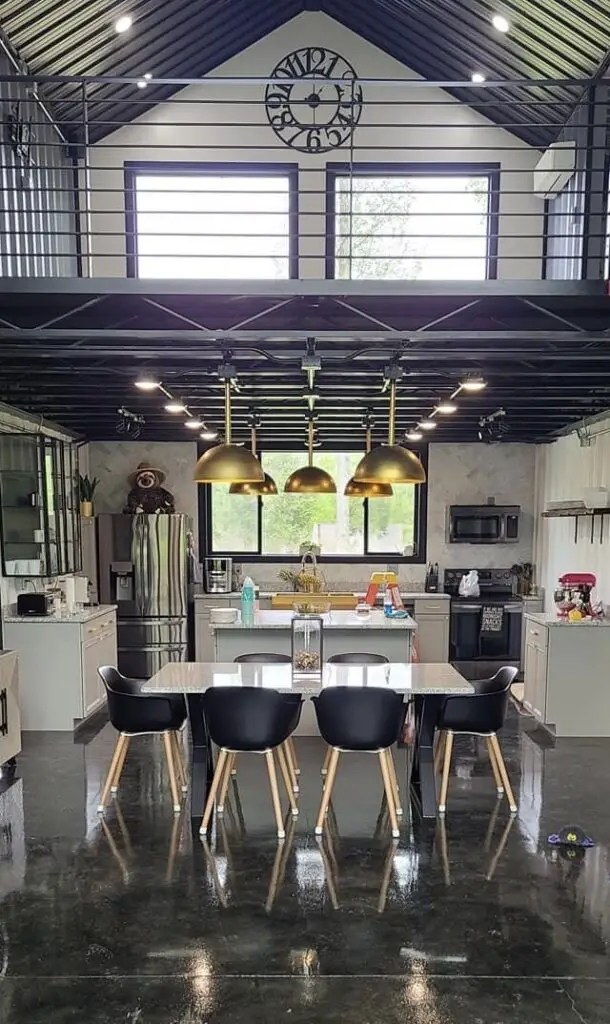 Kitchen is with all modern facilities
This kitchen is not a simple one. Combination of black and red has used in designing kitchen. Interior designing of the kitchen is stunning. This kitchen has stove, refrigerator, microwave and shelves, cabins. Black colored cabins have designed. All material is set on the shelves and in the cabins. Seating stools are placed.
Nearby, is a dining table. A set of many lights are hanged on this table. The lights are round in shape and large in size. These are painted red from outside. This kitchen setup glows red in darkness. This increases the modernity of this place. It makes this very distinctive and fascinating. The owner is very choosy in selection.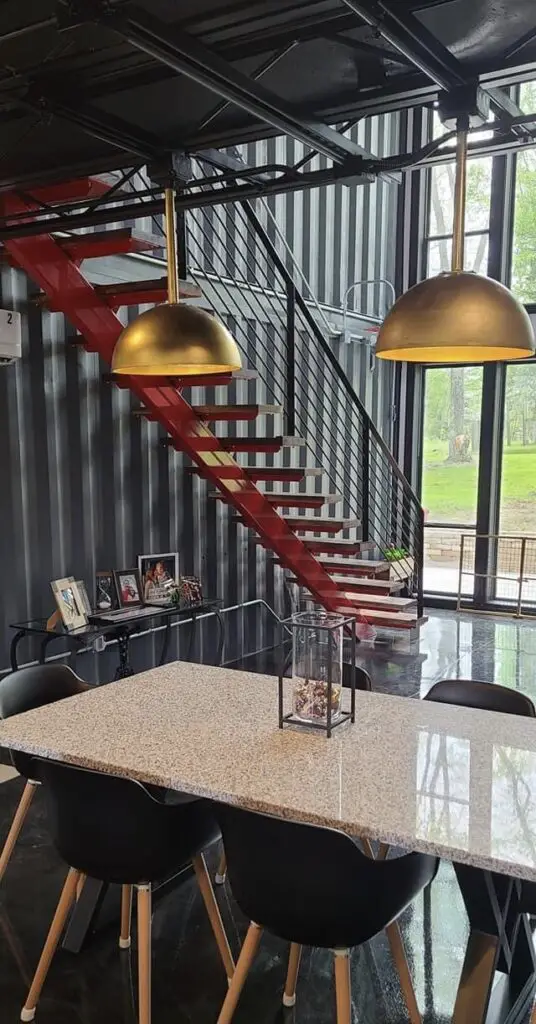 Stairs are red in color
Very unique and prominent point is the observation of stairs. These are made of steel. These are painted red and black. On a black smooth floor, red stairs look very attractive. This enhances the elegant nature of the home. Any one observing each thing in very unique way, will appreciate the choice of the person who made this luxurious living place.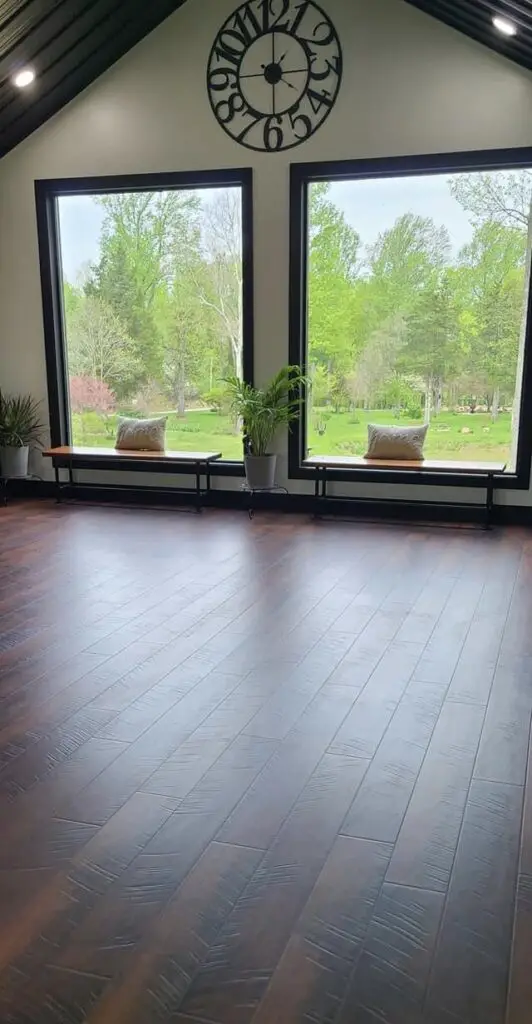 Upper floor has bedroom and bathroom
Moving up the stairs, there are bedroom and bathroom. The paint of each part is done differently. Fully equipped bedroom is occupying a large area. Back of this bedroom is designed in green color. Closet is present in this room. Room is extra comfortable.
Bathroom has toilet and shower. Water is supplied. If I talk about interior designing of bathroom, then wall is painted yellow. Sink is over loaded with many materials. All things of need are set here. Closet is also in bathroom.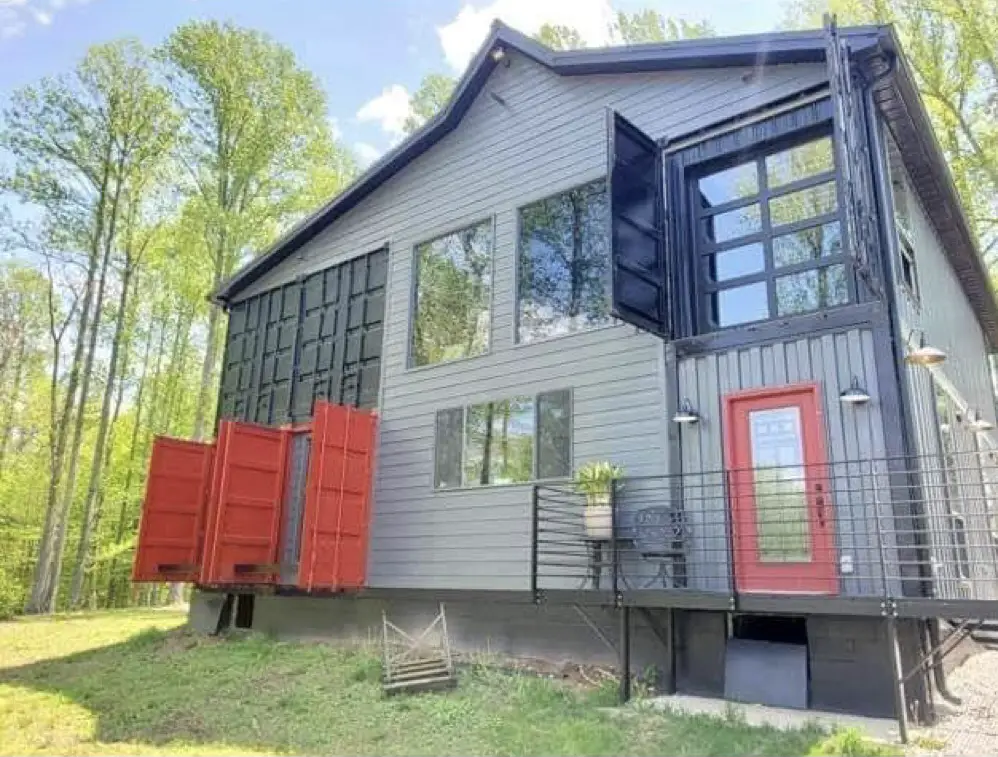 Mini terrace looking interesting
In front of bedroom, there comes a mini terrace. This terrace has a railing of steel. A glass sliding window leads to this terrace. The railing is also painted black. Windows are used in bedroom, living room. These are made of glass. Glass is increasing winsomeness of this place of modular living. Home is basically shaped like a cottage. Roof is not plane. It forms a upper high straight line by meeting the steel shipping containers. Further, home is full of all supplies. Water system, voltage system all are well provided.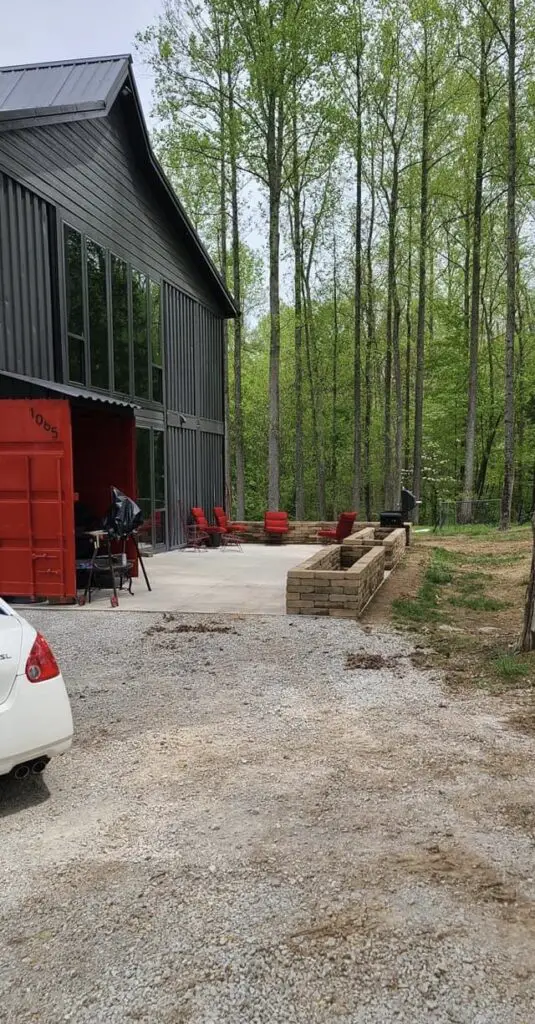 Outer seating arrangement
Outer sitting area of the home represents an open area. Read color chairs are arranged in this portion. Door of the home is also made of hard metal material. This is painted black. Red paint is used in combo. Outer sitting area provides seating facility in evening. Tea of cup, or a mug of coffee can be enjoyed here either with gossips or with book. Well, this depends on choice of each person. If person is book reading lover, then he will obviously prefer book or novel reading here.
Homes are completed when a person enjoys living in it. Containers are providing housing facility at nature presenting sites. These are beautifying the living at such places.
You can find all container houses in USA here.
If you are interested in structures made with shipping containers, you can find what you want among thousands of container house models. Be aware of the contents by following our Facebook and Pintereset accounts.