Hi everybody
We continue to discover for you. Our container house on today's tour is from La Ventana, Baja California Sur, Mexico.
We have discovered one more home made of steel shipping containers. The steel shipping containers are easy to transport from one place to another.
These are used in construction of many living places. Different shipping containers home are in different corners of the world. All have different designs. No house matches with other house. This is incredibly amazing. Homes are decorated with additional materials. Then final look becomes very nice.
Homes made of steel shipping containers are more modern and stylish. A unique and distinctive look is given by these houses. The home which is going to be discussed is also a shipping container home. This is located in the corner of the world.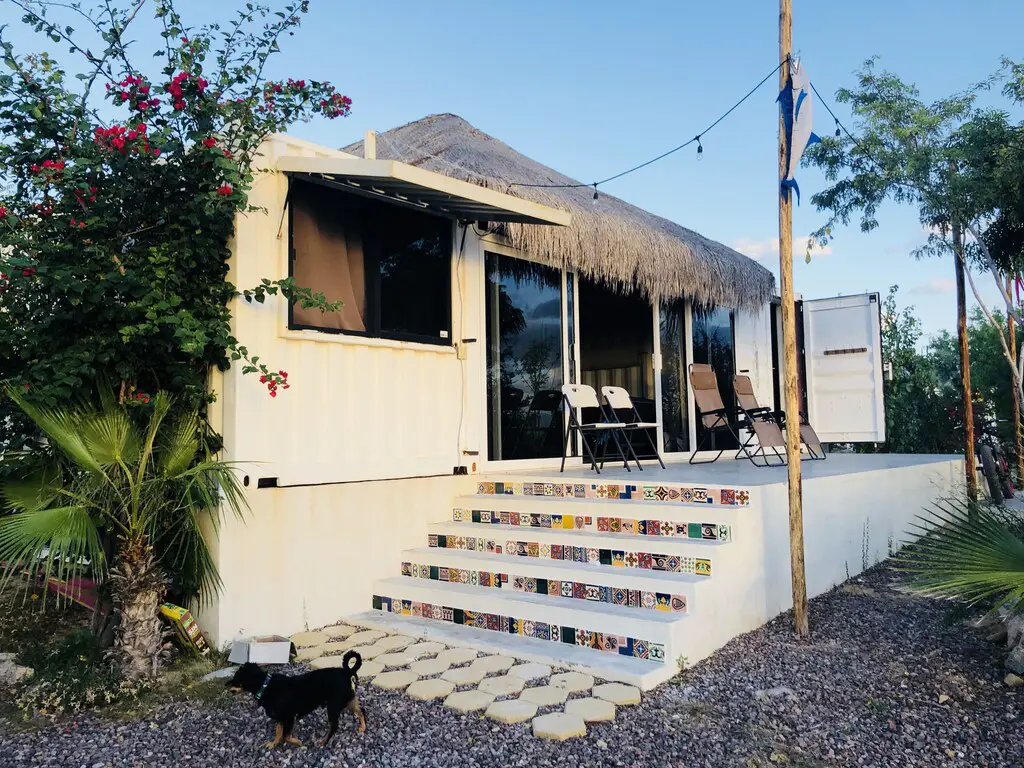 Steel shipping container home in Baja California
This house is beautiful located near an ocean. Very distinctive design as it has look like a hut. This is made of two steel shipping containers.
Area of containers is 20 feet. The area covered by whole house is 65 meters sq. This house hosted by Dustin Huff. Basically, it is a rental house. The charges for staying per night are 91 dollars. This has capacity for four people.
The home is awesome regarding its location and architectural design. If you know about the whole architectural designing of this rental place, must continue with us.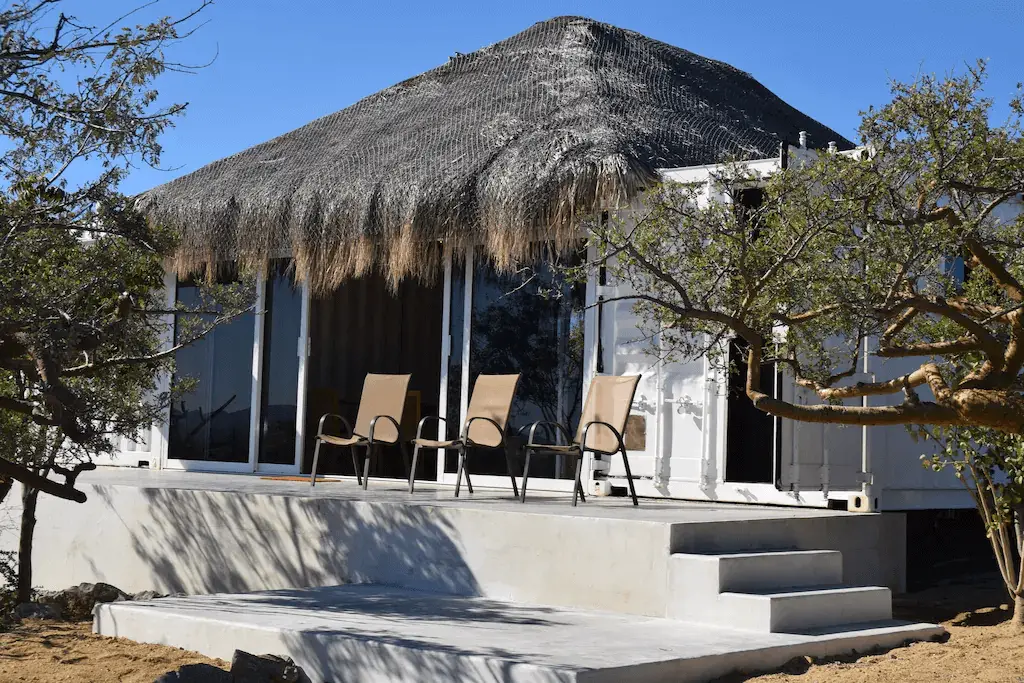 Architectural structure which this home has
Basically this home all portions which are neatly designed. Giving you the list, following are areas of this home:
Two bedrooms, one bathroom, one kitchen, one dining table, one living room.
This home is single storey. This is designed higher than the ground level. The outer look of the home is white. Clean white color is painted on the containers. The inner side is also painted white. This home is simple but decent.
Read Also: 15 Container Homes in Mexico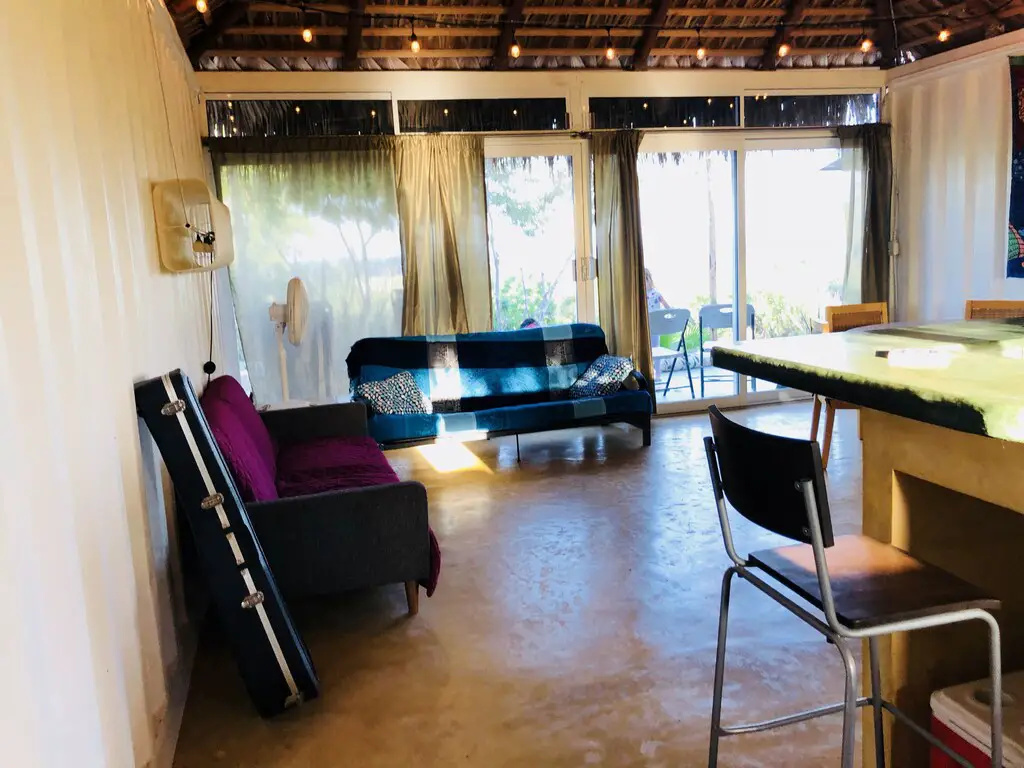 Portions of the home offering modular living near an ocean in California
This house covers the center of the town. The hosts are very friendly. The cleanliness of the home is done in perfect way. No issues of supplies. Let's have a look in complete interior designing of the house.
There are two bedrooms where four persons can sleep. These bed are set in one area facing each other. The beds are medium in size. The bathroom is there with all facilities. This bathroom is constructed with tiles. The mirrors are hanged in this room. Toilet is set and showering system is separate. Only one bathroom is in this living place.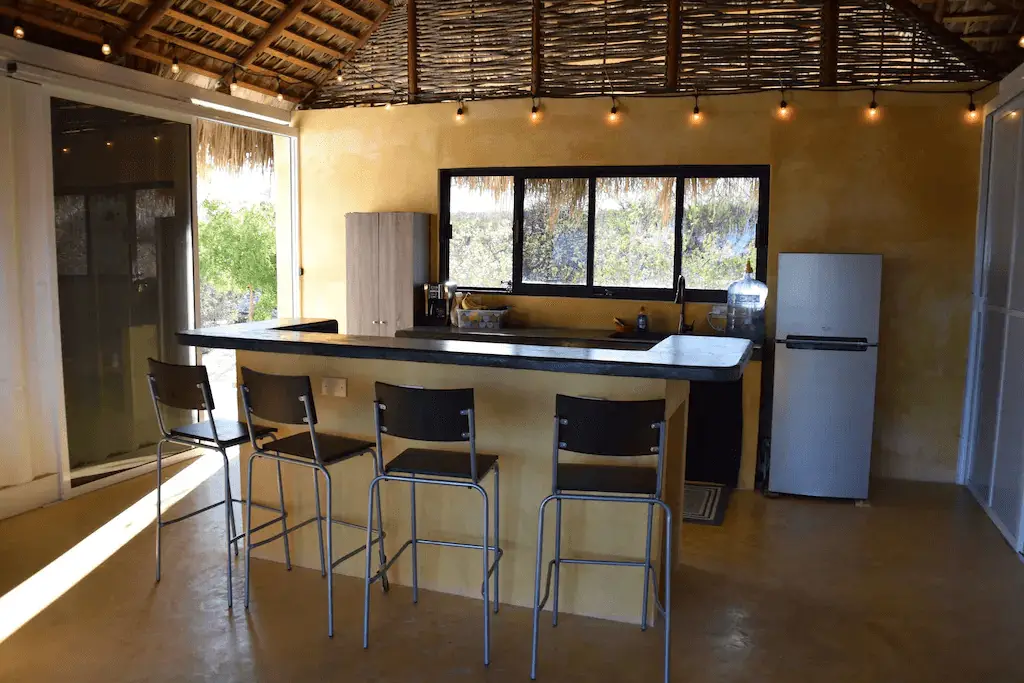 Kitchen with living room and dining table
Interestingly, kitchen is filled with all accessories. The cabins and shelves are designed. Three chairs of black color lie along the shelf made of concrete material. Refrigerator is set in one side. The microwave is placed. The stove is smooth in its working. Utensils are provided.
Dining table is nearby. The wooden chairs and table are set between living room and kitchen. The living room has two seating sofas. One is of chocolate black color and other one is blue in color. These are set in a small area.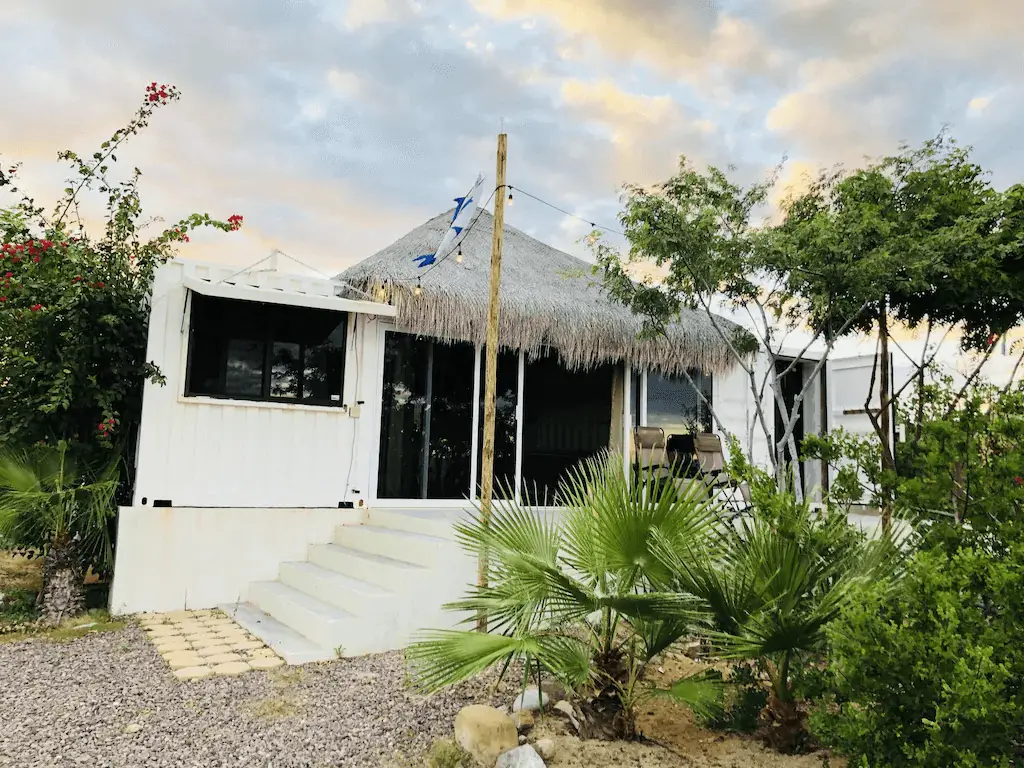 Outer view of the container home
Many things make this home collectively attractive. Use of steel shipping container, architectural designing, white paint, hut style, roof covering with strings, higher level setting than ground level, outer fascinating atmosphere. The chairs are also placed on outer higher porch. The outer porch is also made of white material. Over all, this home gives a look of white home with black window glasses. As this is a sea area, trees are also there.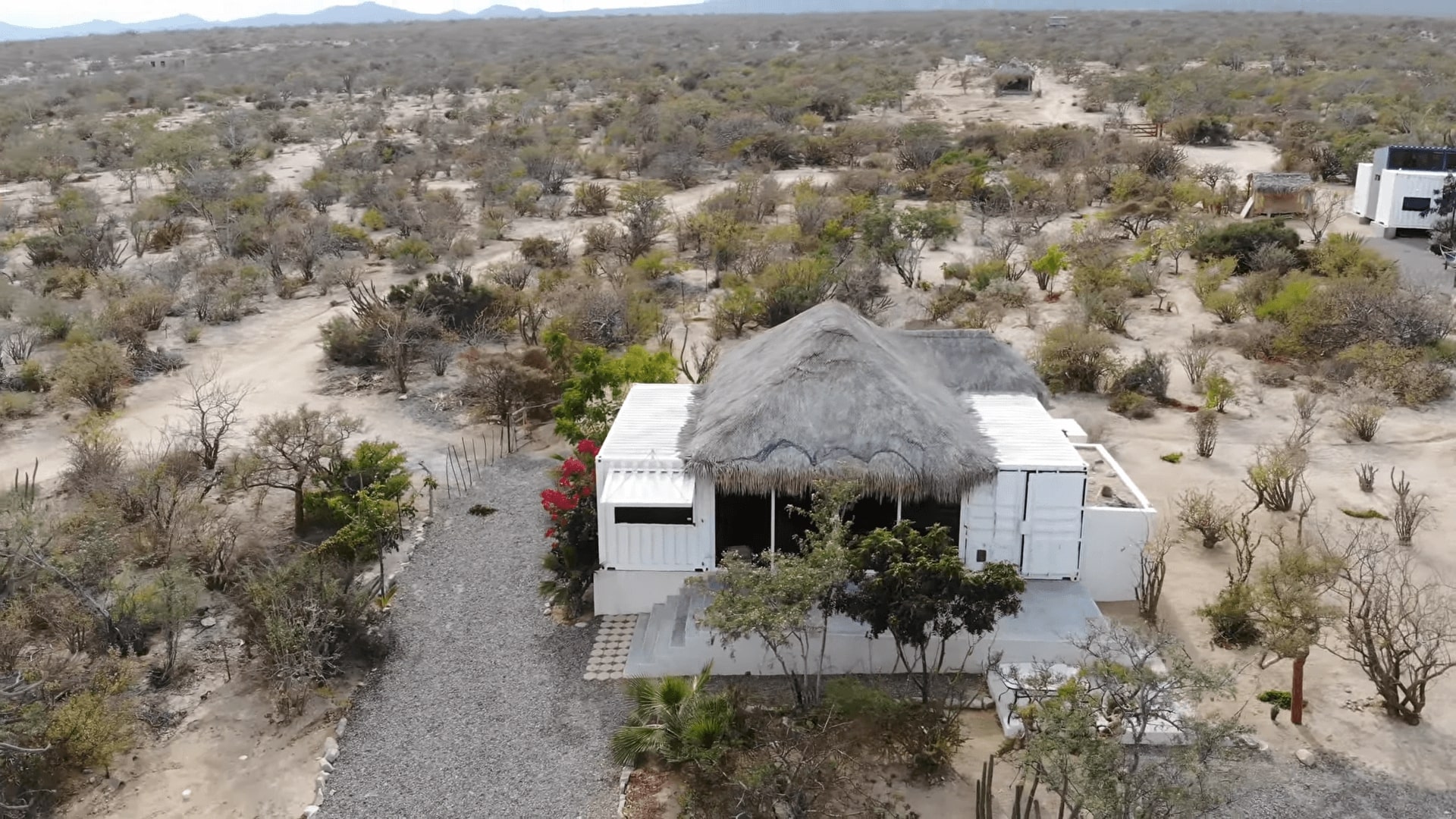 Glass doors make front side of the home
Glass has been used in its construction. These make large glass sliding windows. The front side is entirely covered by these. The entrance door is also of glass. Windows are in bathroom and kitchen. The bedroom has small glass windows. Use of glass in construction of hones makes it beautiful and attractive. Actually, glass material increases the classy nature of the home.
Read Also: 51 Container Homes in Brazil
Facilities of the container home
This house has all facilities which a person staying in this home, would want. The hot and cold water is supplied. No electricity issues are in this home. Voltage system is enough to enlighten the home. The kitchen has also water supply. The Wi Fi networks are there to entertain the visitor of this house.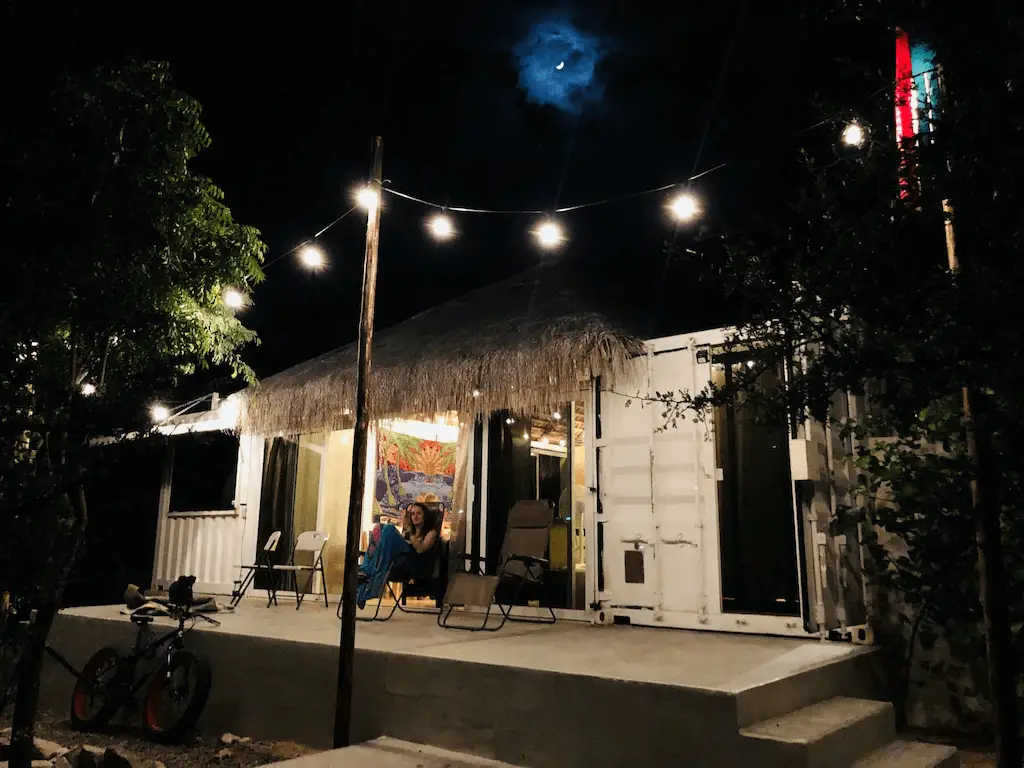 Shipping containers provide instant homing
Well, shipping containers made of steel are instant source of construction in areas where many homes are required in a short interval of time.
For example, an area like where earthquake has occurred, the containers can provide homes to people suffering in that area. Because these are designed at the work shops. Then these are transferred to site where these have to be fixed. This is a big facility which containers provide on a large scale.
These also have many other benefits as these offer stylish living to people of modern era. Therefore, shipping containers are attracting them as market trend is increasing day by day.
If you want to rent this beautiful house, you can reach Vrbo page here.
If you want to own this house, the price you have to pay is $193,000. You can find the list here.
Living in a Container explores projects made with shipping containers around the world and shares them for you. Don't forget to take a look at the structures made with other amazing shipping containers on our site!
We invite you to send in your story and container homes photos too so we can re-share and inspire others towards a simple life too. Thank you! You can share this using the link and social media re-share buttons below. Thanks!
» Follow Living in a Container on Social Media for regular shipping container house updates here «