It can be quite difficult to build a house in areas far from the city centers and in many difficult terrain conditions with traditional methods.
Recently, especially in the difficult pandemic days we live, the need for people to live in isolated places has increased even more. In the face of this increasing demand, the demand for houses made from shipping containers has increased and they have started to turn into very popular accommodation structures in recent years.
Today we will talk about the 6 most expensive unique container houses in the world that everyone dreams of owning.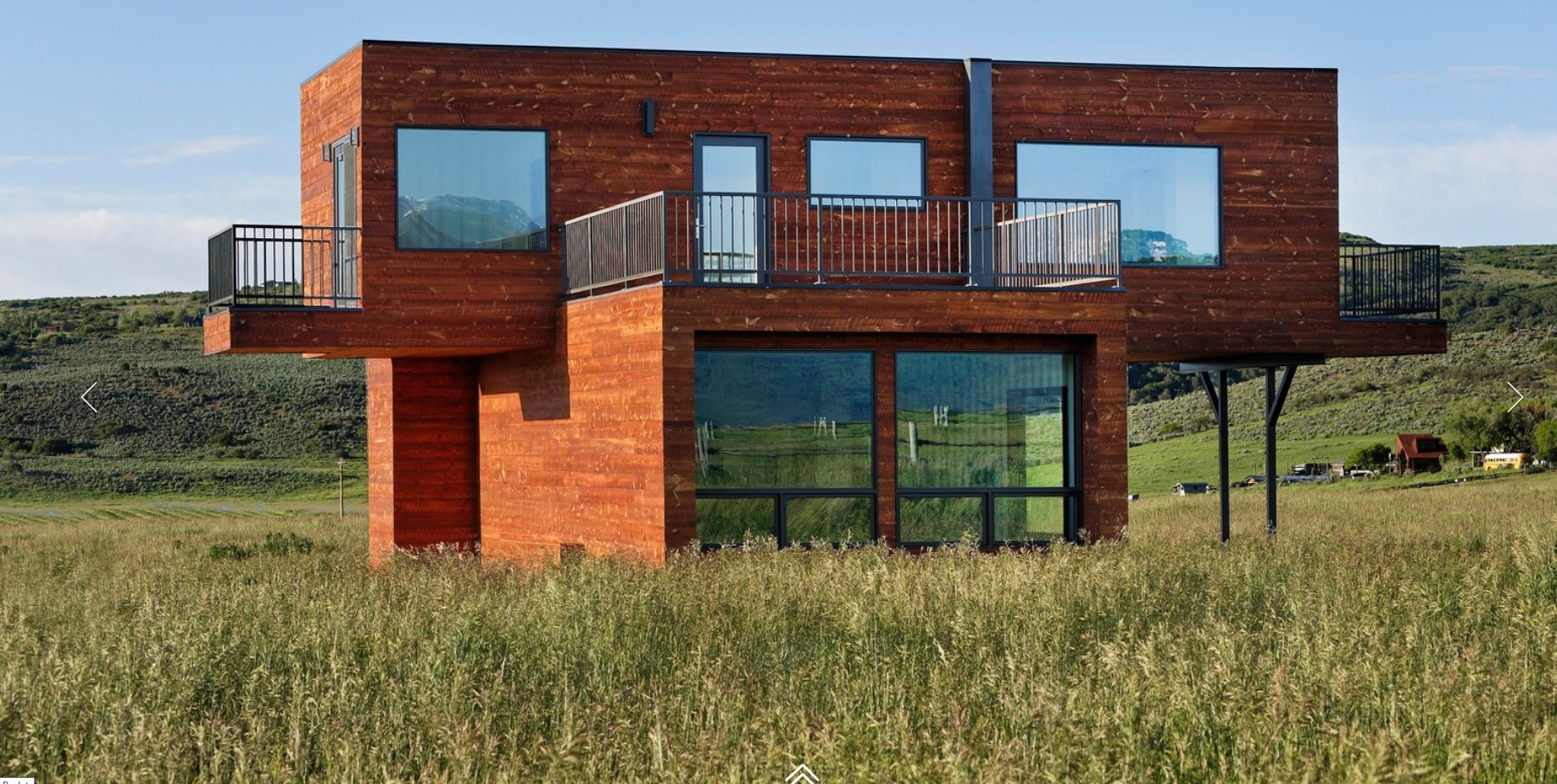 6 – Container Home in Colorado – $1.65 Million
Well, as we are talking about steel shipping containers homes which are expensive. This is also one of the luxurious homes. This one is located in Colorado. Its cost is 1.65 million dollars. This is according to the home.
This house is styled differently. The container look is hidden by doing wooden work inside as well as outside the home. This is unique and amazing. House is double storey. There are two bedrooms and two bathrooms, living room, kitchen. Home from inside is elegant. Very expensive material has been used in its construction.
Interiorly, black designing has been done. There is a living room with black sofas and glass windows which do sliding. The room is decent and give a classic look. Kitchen is designed by black painted shelves and cabins. Bedrooms are on upper floor with master beds. Bathrooms are with separate toilet and shower systems. The terrace is also included in designing. Terrace is surrounded with railing.
Containers are making expensive as well as cheap homes. It depends upon the capacity of person who is going to own the building. Homes at the end, are matchless. No one home can meet with other home in designing. Containers consume less money and less time. Durability is good with maintenance. These are thermoregulatory. You have to use air conditioner in summer and fireplace in winter like normal homes. If you want to make a container home, then go for it.
Read More : $1,650,000 Luxury Container Home from Colorado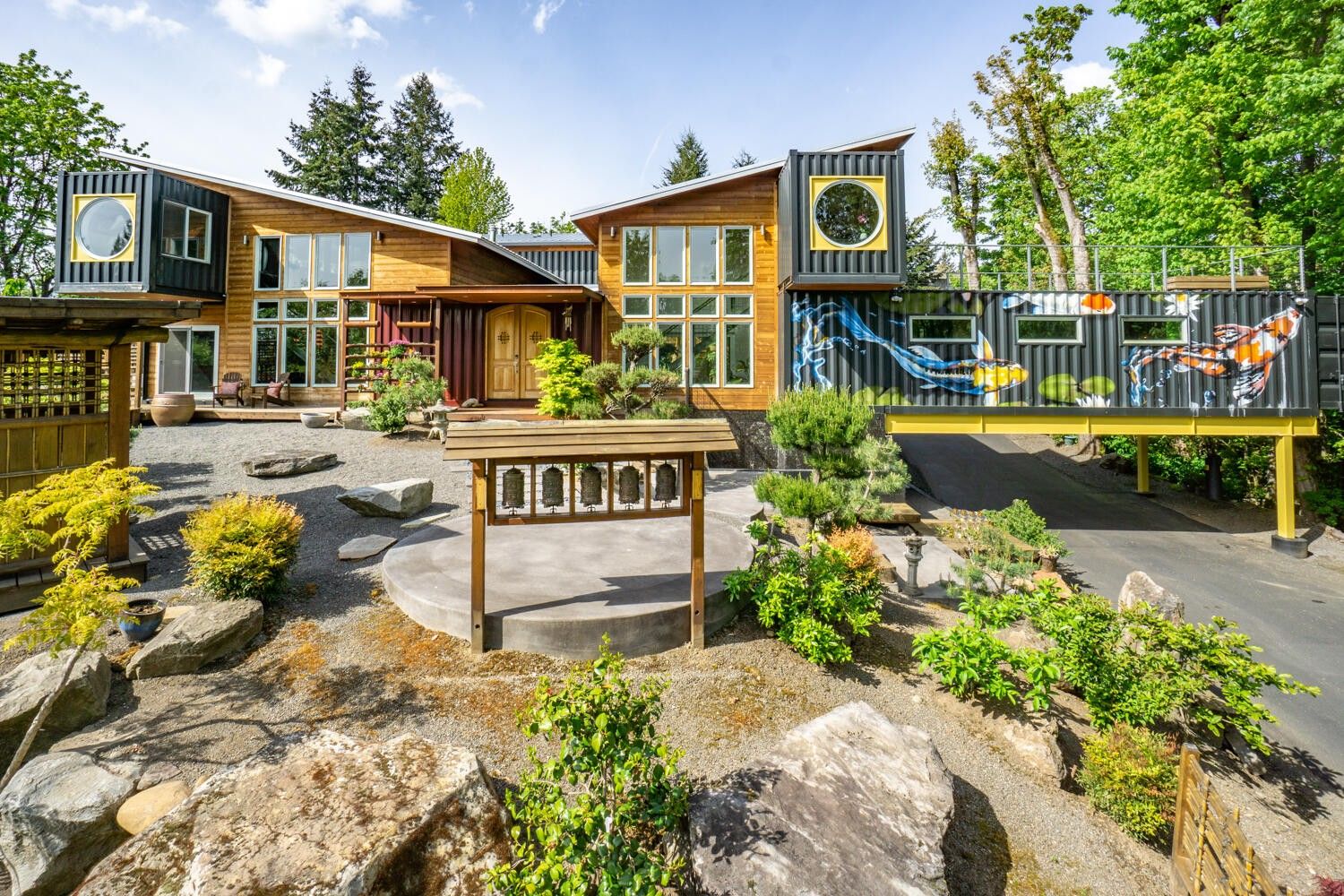 5 -Asian styled Container Home – $2 Million
This container house is located in Washington. This home costs 2 million dollars. This is made steel shipping containers. These containers are 11 in number. 8 steel shipping containers are of 40 feet. 3 steel shipping containers are of 20 feet. These two are types of steel shipping containers. Well, house is very large.
It was constructed in 2015. This house has Asian architectural structure. The portions are designed according to this design. This home has 4 bedroom, 3 bathrooms, 2 living rooms, 1 garden, 1 kitchen, 1 countertop for drinking. The house is double storey. Entering the home, there is a large living room. This room has seating sofas in box style. The fireplace is held between these sofas. On side, there is a large kitchen with all kind of facilities. This kitchen has wooden shelves and cabins. The seating stools are also placed in this kitchen. The countertop is for drinking. You can invite your friends and can have a party there.
Then comes second floor with four bedrooms. These are well set and have beds. Closets are also designed in these rooms. Windows are in rooms and curtains are hanged. Bathrooms are fully modern made of shining tiles. Home is surrounded with a beautiful green garden. This is maintained in a very good way. So, this is one of expensive homes with Asian architecture.
Read More : $2M Asian Inspired Container Home

4 – Container Home in Kangaroo Valley – $2.15 Million
This is container house which is found in Kangaroo Valley. Its cost is 2.15 million dollars. This building is double storey. The containers are painted blue in color. This building was designed in 2018. This is also a practical example of usage of containers in making wonderful buildings.
Containers are perfect to use to make stylish and modern buildings of this modern era. These containers are made of steel and are also used to transport goods from one place to other place of the world. Containers can make buildings which last longer than 25 years. It depends upon the insulation of building.
This house has living room on ground floor. Kitchen is also there. Both rooms are fully furnished. Both rooms have all equipment of need. Material is set in rooms in classic way. Moving to upper floor, there are four bedrooms. These bedrooms are with bathrooms attached to them. Bedrooms have set beds and windows are in rooms. Curtains are hanged. Bedrooms have their own balconies. One of the prettiest part in construction of a living place. The balconies come after sliding glass windows. The glass use is done in construction of this building.
Outside of building is full green. Greenery also plays an important role in beauty of any living area. It is the source of calmness. If living area occupies a large space, then it becomes an important aspect that is must be surrounded with greenery all around. Description of this large container home ends here. Hope so, it will help you in understanding of importance of steel shipping containers. Thanks.
Read More : $2.15M Off-Grid Luxury Container House in Kangaroo Valley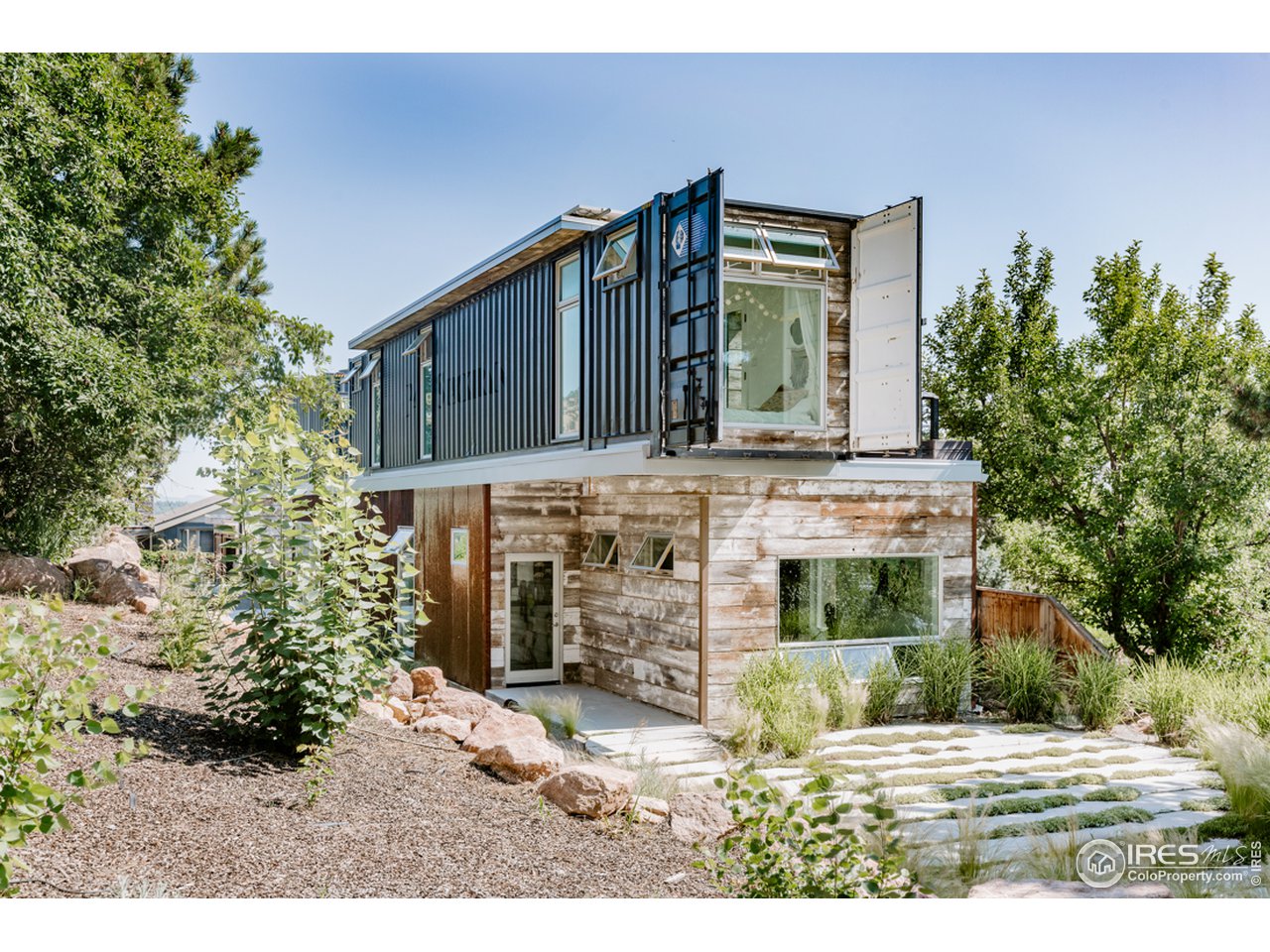 3 – Colorful Container Building in Colorado – $3.1 Million
Let us talk about a very colorful building located in Colorado in USA. This a double storey building. This one is entirely made of steel shipping containers. This building costs 3.1 million dollars.
This living area covers 4026 square feet. This building is one of the expensive structures made of steel shipping containers. Building is enchanting with different architectural structure. This living area presents an exemplary description of use of steel shipping containers in this modern era. Building is totally stylish and modern with all kinds of facilities. This building was completed in 2012. This indicates, world know about steel shipping containers from many years.
Interior of building is entirely colorful. Very stylish material has been used in its construction. On ground floor, there is a kitchen set in different colors. The dining table is large and chairs and table are set to sit and to have a meal. Then comes living room. It had seating sofas and floor is made of white tiles. The glass windows are in walls. LED is in the room. Modern constructed stairs are in the living room. These lead to upper floor.
On upper floor, there are bedrooms with their beds. Closets are designed in rooms to keep all attire. Bathrooms are loaded with all kind of facilities. Water is supplied in bathrooms. This is hot as well as cold water according to weather. Terraces are also part of this building. In short, this is for accommodation of mire than five persons with all accessories.
Read More : $3.1 Million Design Wonder Shipping Container House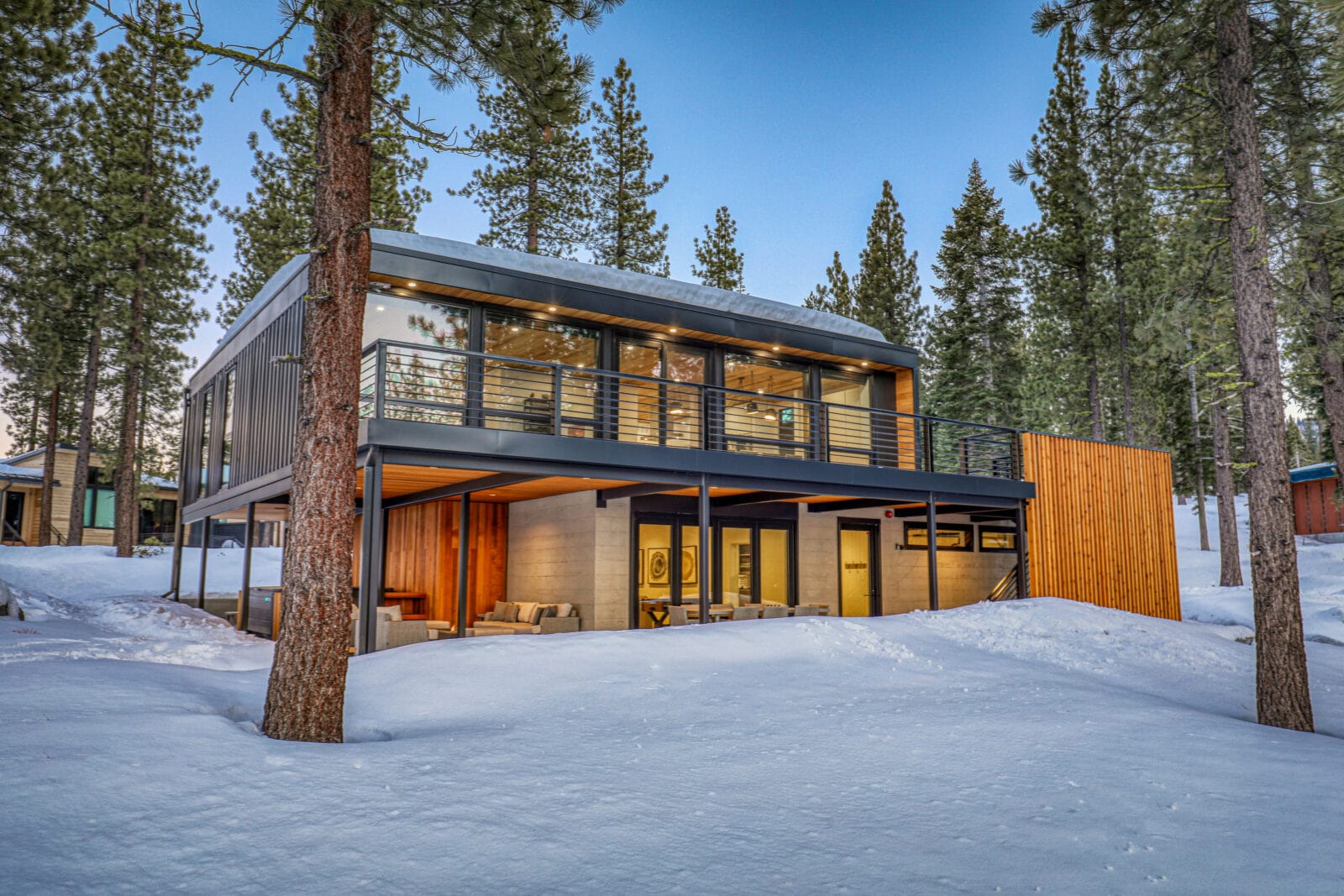 2 – Container Home at Mountain – $3.295 Million
Well, containers are making very expensive buildings. These are large buildings with many steel shipping containers and best in location. This building is located in Truckee. Its area is 2400 square feet. Amazingly, this building is designed with all modern material.
Best part of this living place is its location. This is not located on plane ground. This structure is located on the mountain where snow falls. Now, you can imagine the level of difficulty which constructers faced during construction of this building. No doubt, steel shipping containers are making this difficult easy. These are transported to such place at once and then are joined together according to architectural structure. This all things make a home at such nature existing places. Such homes are owned by adventurers and then these homes become a source of stay for other adventurers. Area occupied by this is large.
Building is double storey. Interior of building is white. On first floor, there is a set kitchen with dining chairs and table. Living room is large with modern sofas and glass sliding windows are all around. If sun shines, and there is snow, then this becomes a very lovely scene. Bedrooms are on upper floor with beds set in them. Bathrooms are white with toilet and shower systems in them. Location of home is not doing any obstruction in facilities of this living place. Electricity, water supply all facilities are available to use in excess amount
Read More : $3.295 Million Container Home at Mountain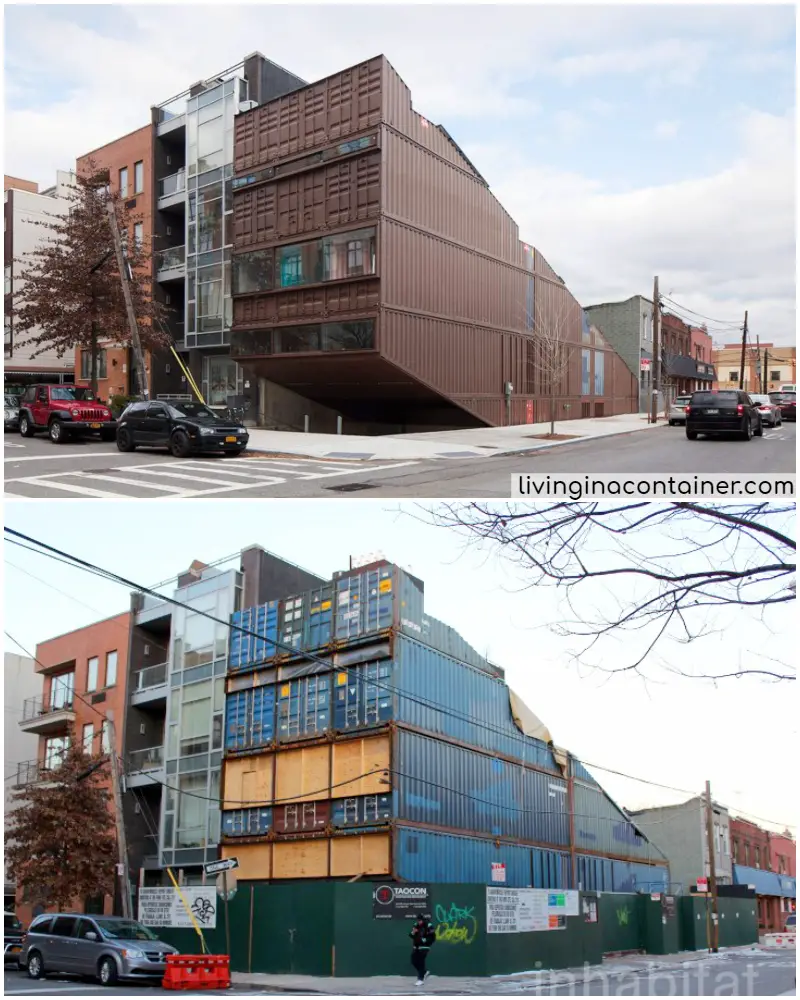 1 – Building made of 21 Shipping Containers in New York – $5.5 Million
This amazing building is located in New York. This building is designed by using 21 steel shipping containers. Yes, its number is 21. This is really an amazing thing. This building covers an area of 5000 square feet. A large area indeed.
This building is a strong proof that containers can make very large and really mesmerizing structures. Now, people know about steel shipping containers and they are using them in their buildings. Trend for using steel shipping containers is increasing. These are used to construct building in lonely places as well in rush places. Steel shipping containers fulfill the criteria of modern world. Very stylish buildings are made by using them. This building has space for accommodation of large number of people. These is a large kitchen with big dining table set nearby. This indicates the capacity of persons who can adjust in it.
Living room is with LED and many sofas are set to sit. There are many small bedrooms as well a master bedroom with large sliding glass window and terrace. Its floor is made of wood and railing is also designed by using wood. Bathrooms are made by using modern material, for example, tiles. Glass work has done in great way. Front of building presents glass windows. So, front is mixture of steel shipping containers and glass. Combination of materials make a place perfect. This building is not straight. It is made in different fashion. Posterior past of building is raised higher than the ground.
Read More : Peek inside a $5.5 Million House in Williamsburg