Containers are made of steel and these are shipping containers which can be shipped easily from one place to another. Main beauty lies in this factor that these are manufactured at one place and are transferred to construction site easily.
This easiness increases the trend of usage of shipping containers. These containers are not only used to construct homes but many other different places. There are many examples and many living and visiting places have been discussed. This all description has a purpose.
This is to describe the interior and all architectural structures of the home. In this way, it becomes quite possible for a person who is in the search of the home, to know about the designing of selected home.
Today, a home is going to be discussed which is unique from all other ones. Really, this one is unique and impressive. It will fascinate you. After visiting this home, a person will must want to live in this home.
This home has Asian looks. Have you ever seen homes with Asian style? If no, then continue with us. A very broad home this is with large spaces for living. Asian homes have large areas for construction. These are totally different from Western style. Because these have more open areas than close areas.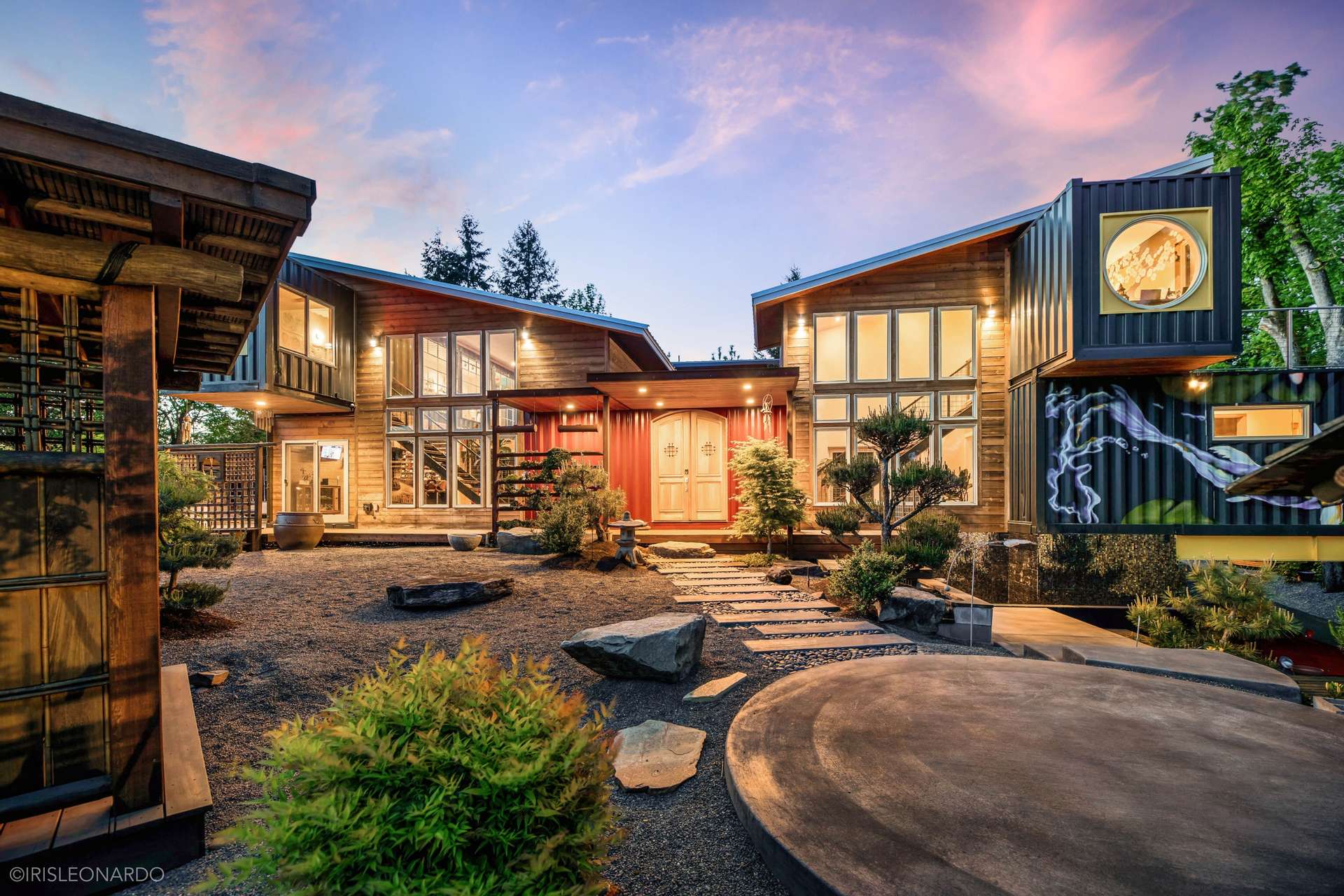 A large container home in Vancouver, Washington
First of all, I would like to inform you about the area and number of containers in homes. This home was constructed in 2015. This home is large and thus, this is made of 11 containers. The number of containers show that this home is really a big one.
The area occupied by the home is 4074 sqft. A large area for any construction place.
As 11 containers have been used, 8 containers are big of 40 feet and 3 containers are of 20 feet. It means, three are small and eight are large. The containers are painted black in color. One is painted red in color.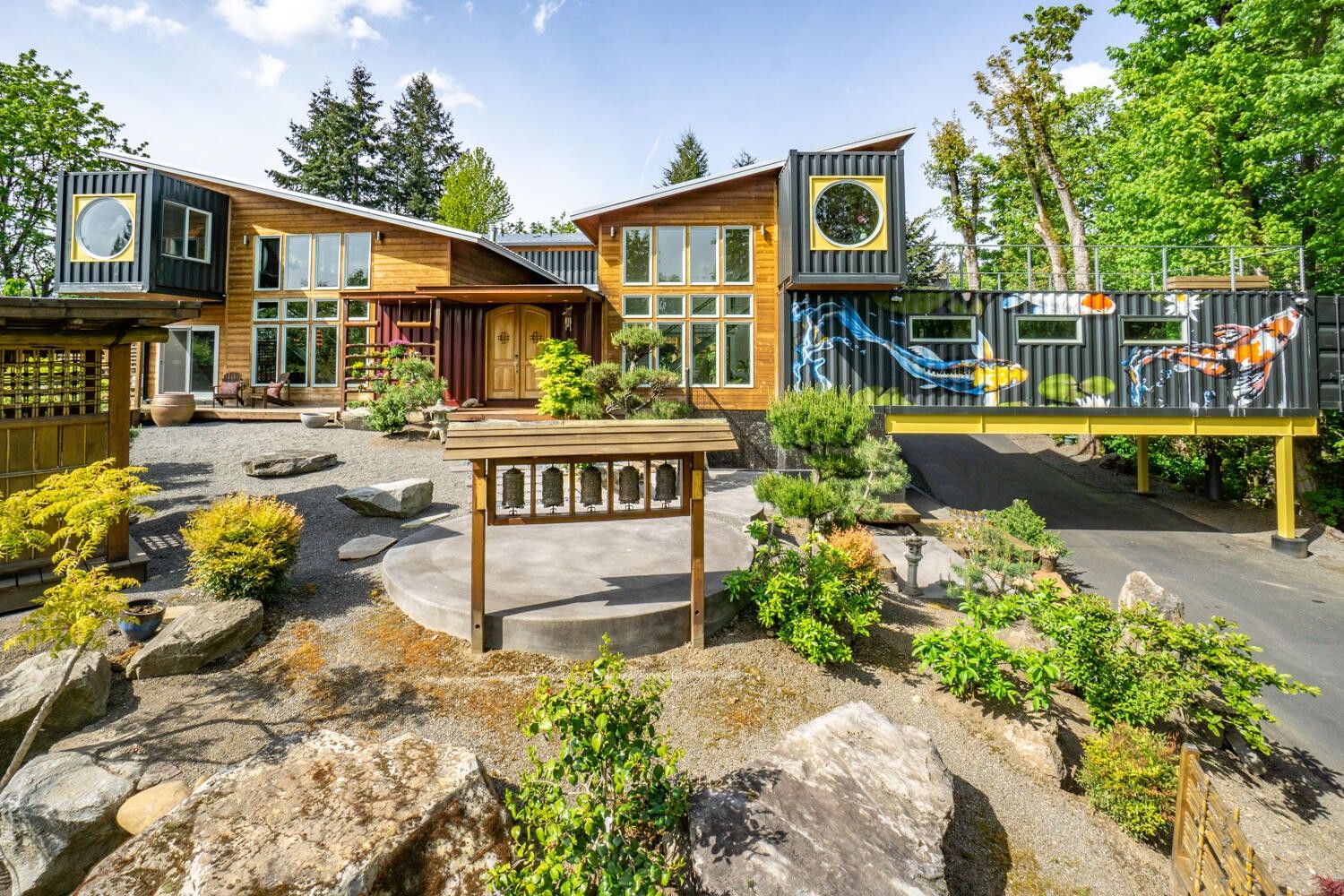 Wood has been combined with container in construction
No doubt, glass has also been used, but this house gives a huge look of wood. The wood increases the elegancy and decency of the home. As the home is large one, it impresses but the wood use has increased the winsomeness of the home. the floor, doors, lining of windows all have been constructed by using wood.
( Shipping Container Home Ontario )
Glass has been used in the construction of windows mainly. On upper floor, glass windows are made for viewing on lower floor or outside.
Cost of this container home
This home is available on sale. It costs $2 million. Observing all the area, construction work, this is not expensive. Am I right?
Architectural designing of the container home.
Let us go through all the portions of this living room. Overall, this home has;
4 bedrooms
3 bathrooms
2 living rooms
2 kitchens
2 floors
1 Garden
1 Dining table
1 countertop for drinking
Portions designed on first floor of the home.
There is an entrance with a large wooden gate. The rocky pathway is made outside the home. The entrance area has wooden floor. One wall of this lobby has a window which is round in shape. This window gives the view of outside area. ( Other Luxury Container Homes )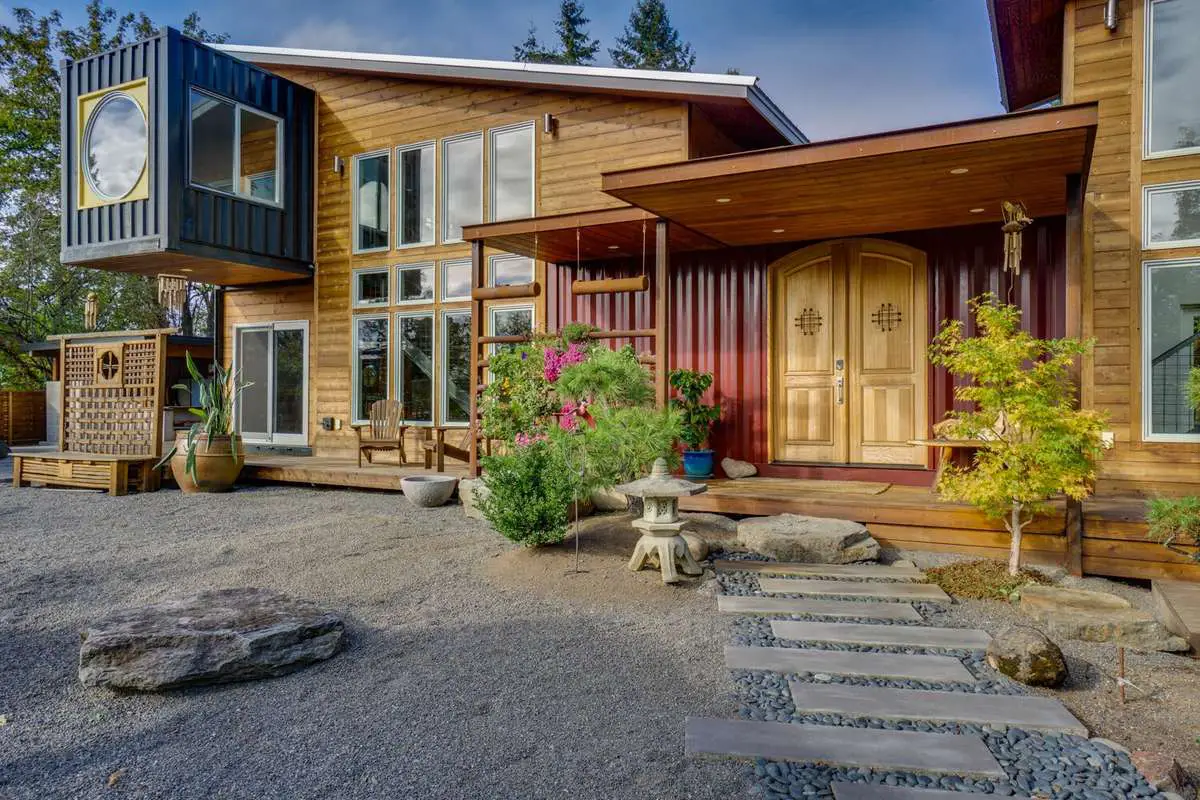 Then comes a large living area. he seating sofas are placed in the shape of a square. These have reddish shade. A fireplace is hanged from the roof in the center of this sitting arrangement. The walls have windows made of glass. Outer area can be seen easily. The walls have paintings hanged.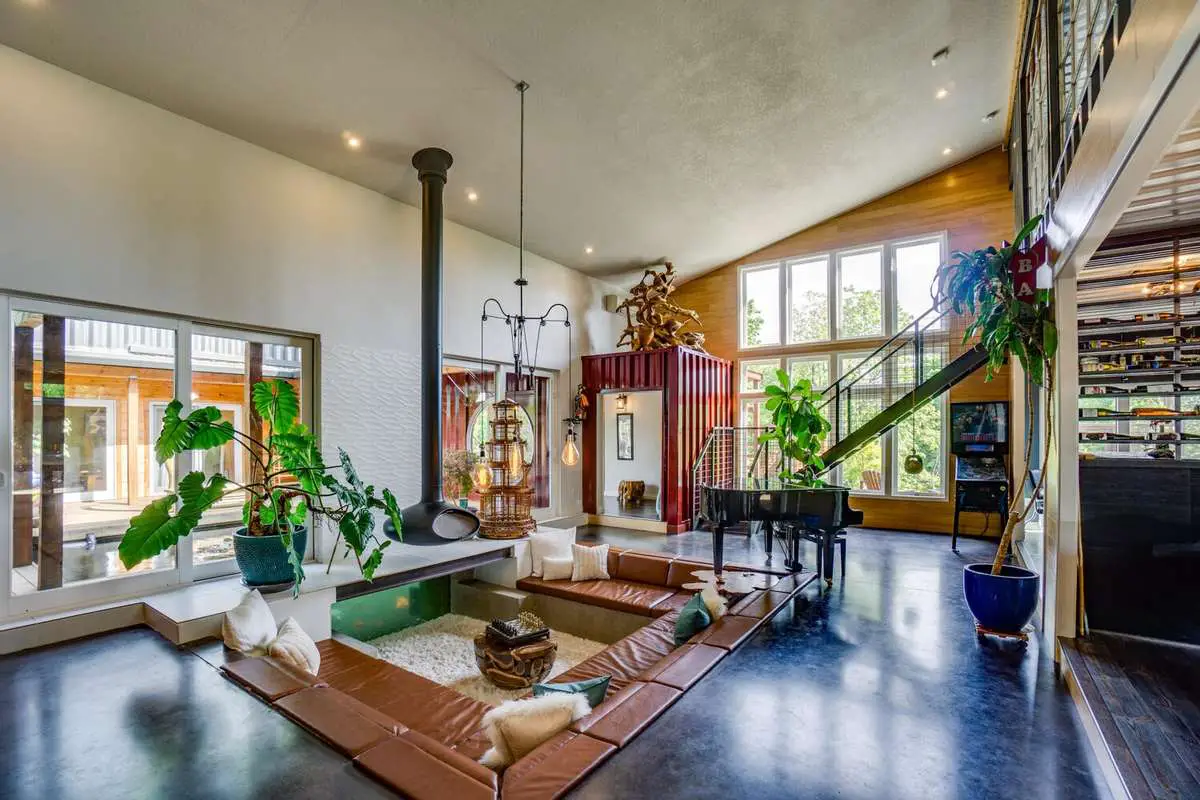 On the side of the living room, there is a countertop. This is made for enjoying different drinks here. This architecture indicates that this home has a large arrangement of gatherings. The friends and families can enjoy drinking here as seating chairs are placed.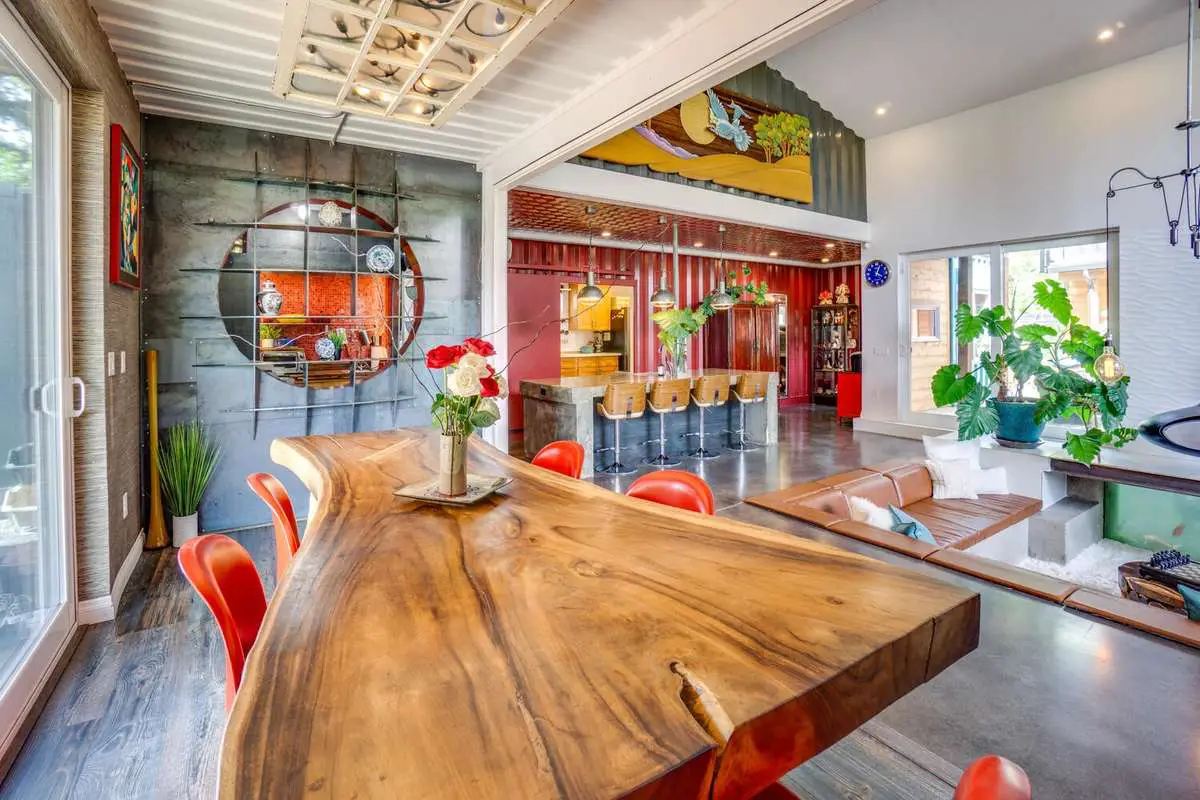 On the other corner of the room, there is kitchen with all accessories. The air conditioner is fixed in the kitchen. Appliances are placed here. Voltage system is supplied. Shelves are made in kitchen.
One master bedroom is constructed on first floor. This bedroom has a large sized bed. Bathroom is attached to this bedroom with all facilities of hot, cold water, voltage system, showering and bathing facilities.
Black colored stairs are constructed on the first floor. These have a turn. The stairs move to the upper floor.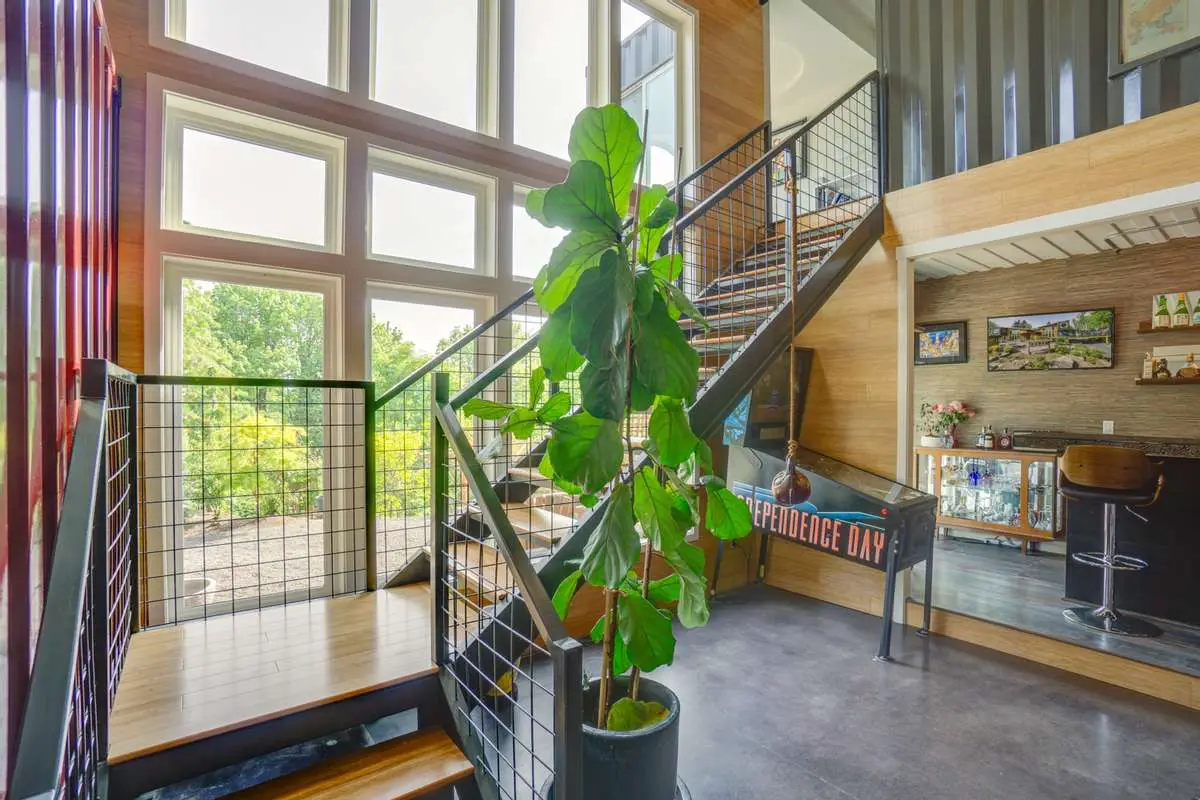 Structure of upper floor.
The upper floor has many glass windows as we see. A line of windows is constructed. Balcony look is given by this area. one can see in the lounge easily.
Two bedrooms are joined to each other on upper floor. These are smaller. These have a shared bathroom. The floor is again made of wood.
One bedroom is separate which is larger in size. The bathroom is attached to this bedroom. The facilities are maintained on large scale here. This home is basically for a large family.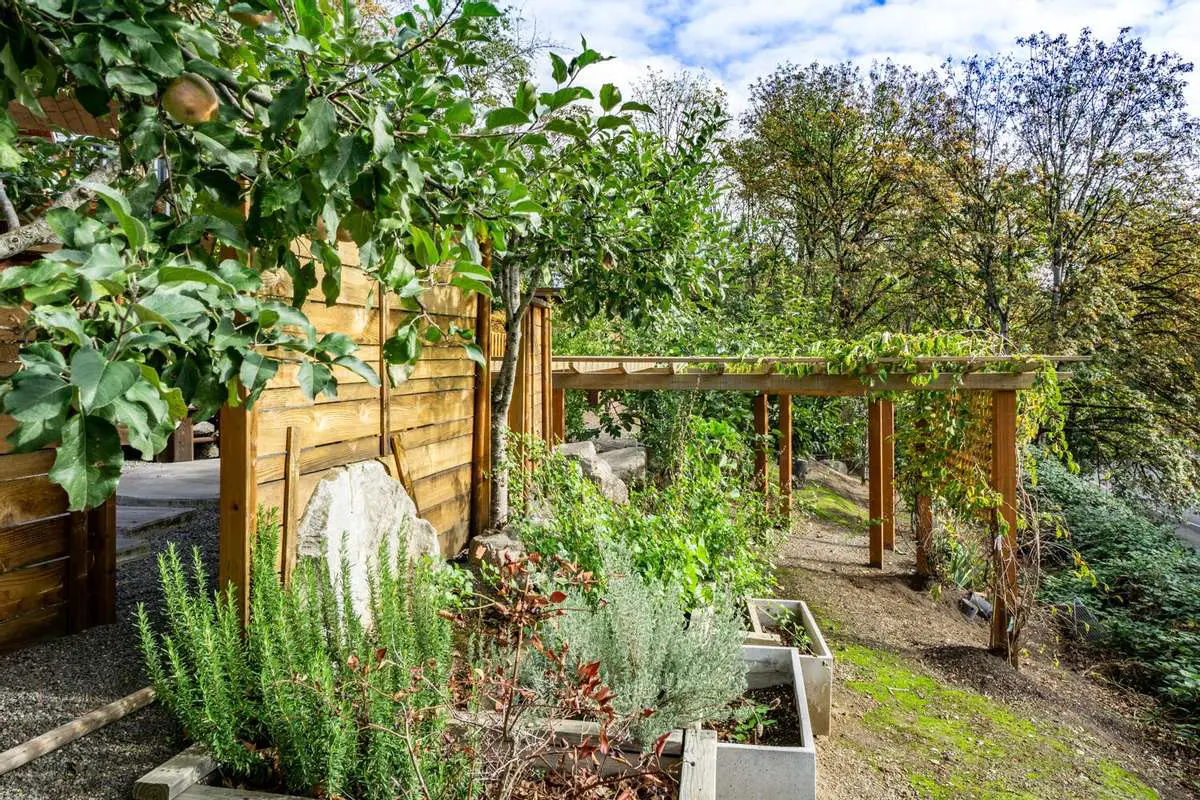 Garden outside the living place.
This home is surrounded by many trees. greenery can be seen easily all around. The outer area is large. The empty portion is there. One can sit in the garden in evening. This home has beauty in this that it has vast portions.
Additionally, there is an outer kitchen. This is made for enjoying making of meal in evening in garden. No need to go inside for preparation of meal. If you have a dinner arrangement in outer area, you can enjoy this without any worries.
This was all about this largely designed home located in Washington. If you want to own this, then go for this, as this is on sale.
If you are interested in structures made with shipping containers, you can find what you want among thousands of container house models. Be aware of the contents by following our Facebook and Pintereset accounts.