The Most 15 Luxury Tiny Container Homes: Explore The Best Projects!
Hey, container house enthusiasts! Today we will make a very pleasant discovery with you. In my extensive digging on Airbnb, Riparide, and Living in a Container database, I found very stylish and tiny container house options that can recreate your accommodation experience.
All of these are made from shipping containers and are reasonably priced. When you see how a neglected and ordinary container turns into a unique living space in the middle of nature, I am sure that you will start making great travel (wow, or building?) plans. Who knows, maybe you will decide to own such a property in the area where you live, right?
Let's see different container house plans, designs, and details together. I will also give the links to the buildings that I will explain for those who want to stay overnight here. Dive in for more!
1x 40 FT Shipping Container Tiny House on the Hocking Hills, Ohio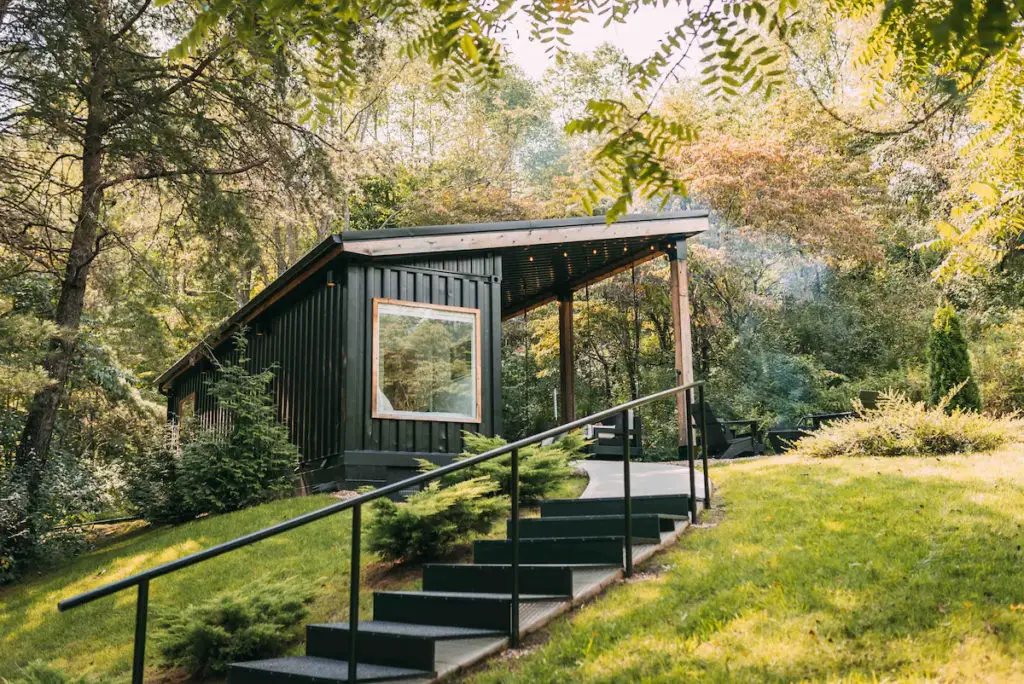 Best for: Couples who want to have a romantic & calm tiny house vacation
Best feature: Magnificent patio with luxury jacuzzi
The inspiration you can get: Container houses can be great for patia decoration. This is to what extent and integrates them with nature.
Is it a great weekend getaway in nature or a safe and private weekend just for you? Whatever the theme of the holiday you plan, I am sure you will love this tiny container house, which is sophisticatedly integrated into its environment with its dark green color.
The magnificent features of this luxury tiny house are as follows:
Container house is designed to have a separate bedroom and a bathroom.
There is an excellent luxury jacuzzi in the small courtyard right in front of the house. It is a great option to relax in nature or to have a romantic holiday moment here.
Your electronic grill will be waiting for you in your courtyard.
The courtyard is designed to appeal to those who want to spend a quiet time in touch with nature, a sitting area for four people, where you can chat while sipping your black coffee or a moment to read your book while lying on the hanging sofa attached to the ceiling: a unique holiday plan.
For those who want to get tiny house decoration ideas, we examined the interior of the house. There is everything from the refrigerator to the stove in the area that is used extremely effectively. The interior, where we see a harmony of modern and bohemian styles, is dominated by ecru, orange, and brown tones.
Here is the most beautiful detail: With the huge windows, you will almost think you are sleeping in the open air. The bedroom's large window overlooks Ohio's beautiful nature and trees. This unfiltered beauty is the tiny house's most captivating feature.
Check Availability on Airbnb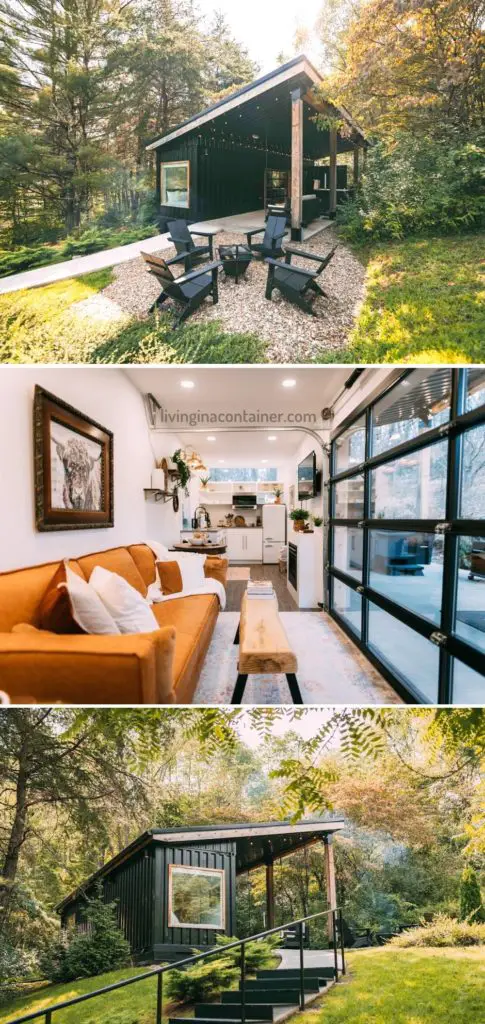 Container House on Hideaway Litchfield: Classy Decorated 1 x 40 FT Shipping Container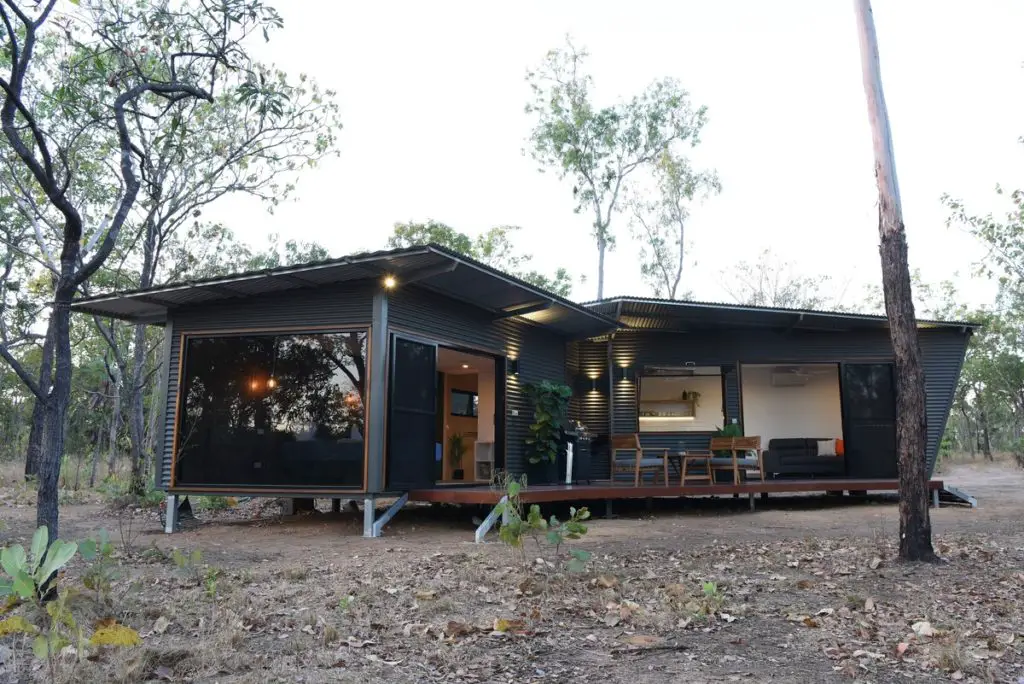 Best for: Large families can rent two containers
Best feature: Classy black-wood design
The inspiration you can get: While black colors dominate the bedroom in Tiny house interior decoration, light colors are used in the kitchen to create width and contrast in the interior.
Those who like classy and luxurious looks will love the black and brown colors of this tiny house located near the Northern bushland. This tiny house, which opens to nature from the bedroom with its wide window, draws attention with its calmness and cleanliness. The building's lounge and kitchen contain everything you need to spend a wonderful weekend. The unique courtyard of the building includes barbecue utensils.
When we took a look at the container house exterior design, we noticed that the building has an angular design. Decorated in dark brown, this building also has a pleasant and calming seating area for four on the outside, with an elegant brown floor.
The tiny house project draws attention especially with its location at the bottom of Litchfield waterfalls. If the weather is not too cold, you can even have a pleasant swimming experience.
This place is a good option to come with your extended family. Because there is another cabin only seventy meters away.
Unlike other facilities, there are also food treats.
Check Availability on Airbnb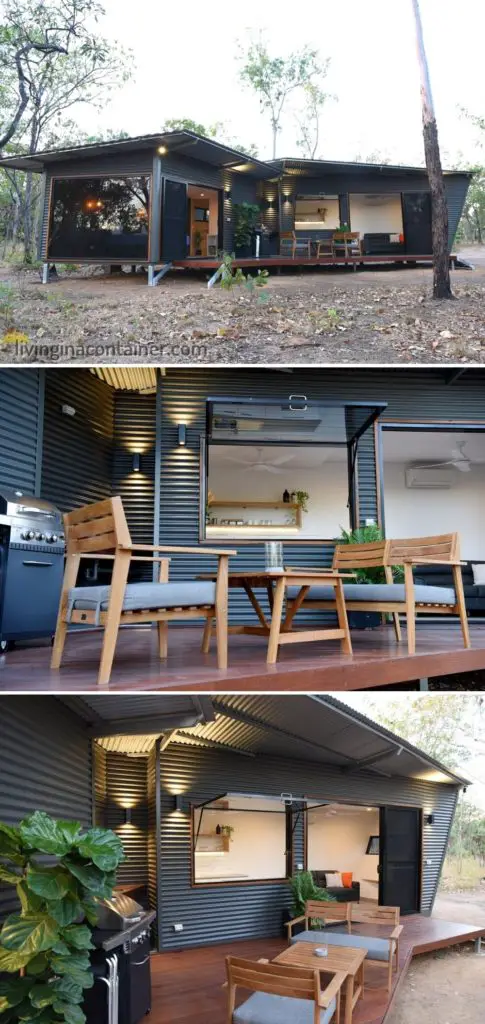 Best Sunset Experience by the Hot Tub in the Patio: Container House in Gordon's Bay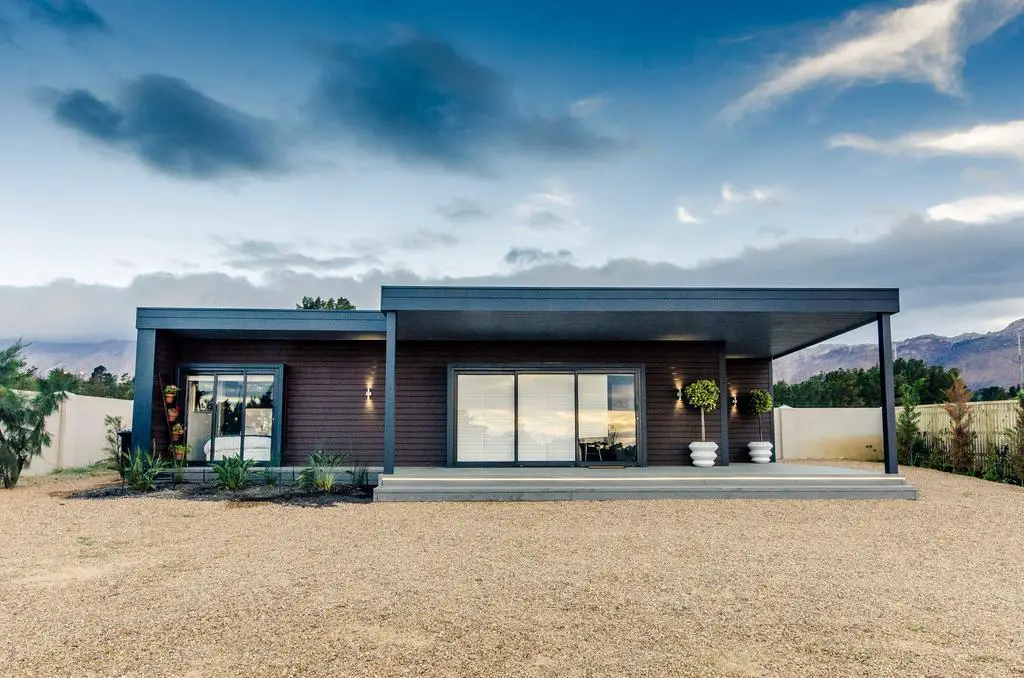 Best for: For those who want a weekend getaway without being too far from the central areas
Best feature: Nicely decorated patio
The inspiration you can get: The capsule is a modularly designed vertical container, the space is used very effectively.
Meet with a container house design in nature, with its luxurious design and wide glass door in the bedroom, which receives natural light intensely. Moreover, this structure draws attention with its minimal touches and soothing color palette. Here are the striking details of the design:
The building houses a separate bathroom, a kitchen, sitting area, and bedroom located further down the hall.
The very large veranda almost feels like a house with a garden. A pleasant barbecue area, sitting area, empty space in front of it, which is completely green, makes this a relaxing center.
Here is the great news: Thanks to the bushes around it, you will be able to enjoy the hot tub and spend romantic moments with your partner in your private courtyard.
A much more affordable option: for a capsule weekend getaway, perhaps you should consider a two-day stay!
Check Availability on Airbnb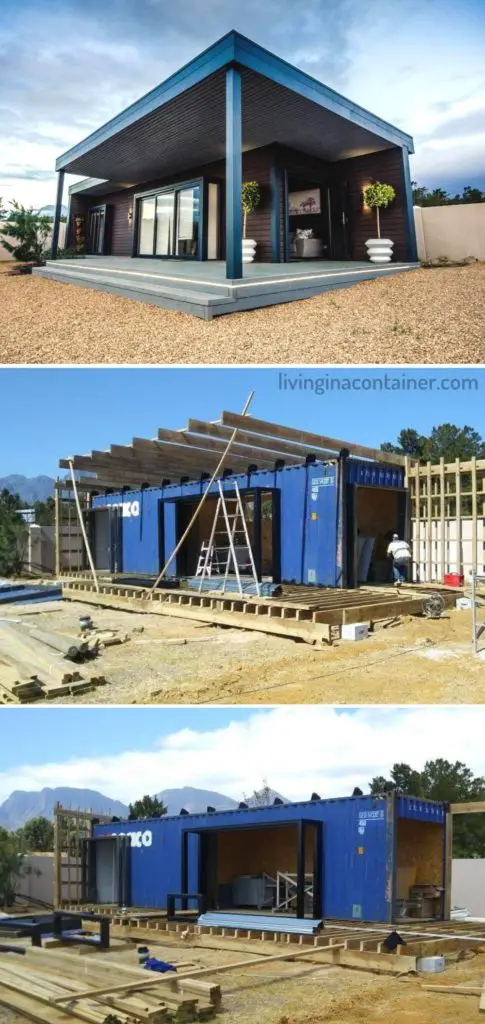 Container House in Riverfront: Romantic Country Style Design with Full Of Green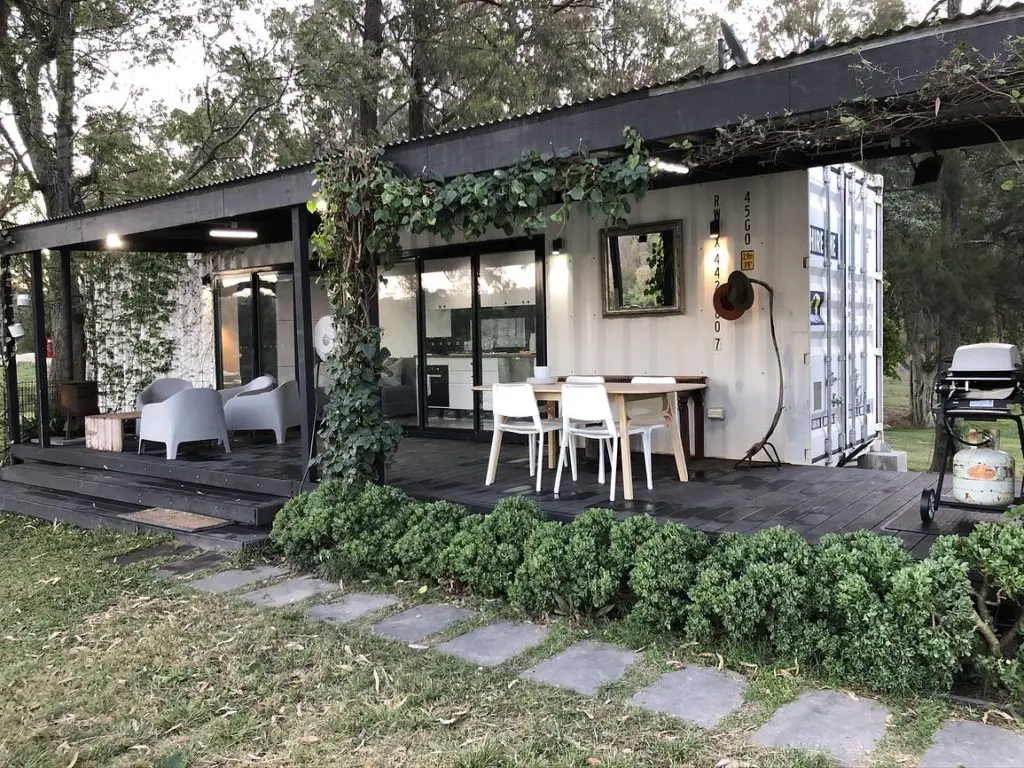 Best for: For those who want a tiny house experience near the river
Best feature: Integrated perfectly with the Hawkesbury river's ambiance
The inspiration you can get: Excellent use of green and plants in decoration
The perfect transformation of a 1 x 40 ft container fit into a romantic-looking lakeside tiny house. A functional tiny house project with pleasant sitting areas on the veranda, minimal design inside the house, and plenty of storage space. Although it has relatively narrow windows, the structure has wide doors that open onto the veranda. This provides a natural light source.
A farm located quite nearby
Dining and barbecue area for four people
Separately designed four-person sitting area
Check Availability on Riparide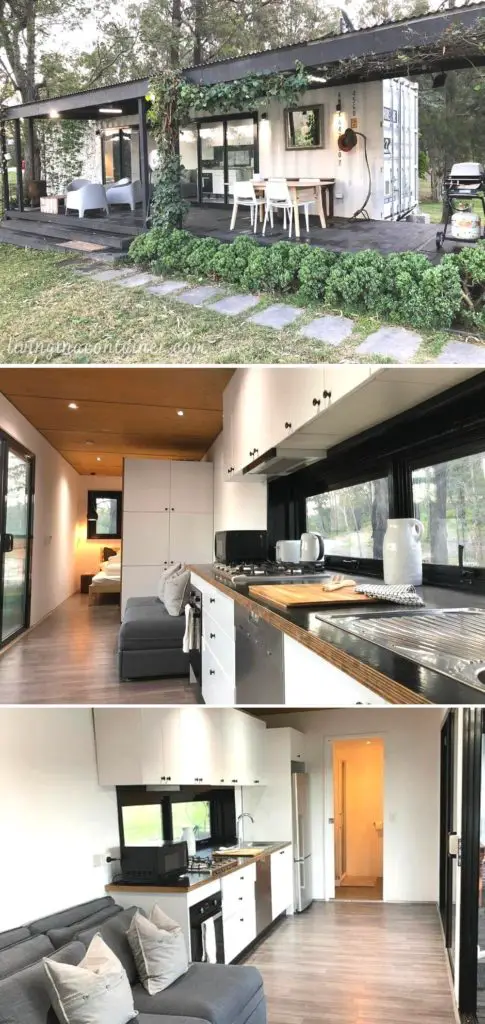 The Meadows Container Home – 1 x 40 ft Container Shipping Tiny House Project for 4 People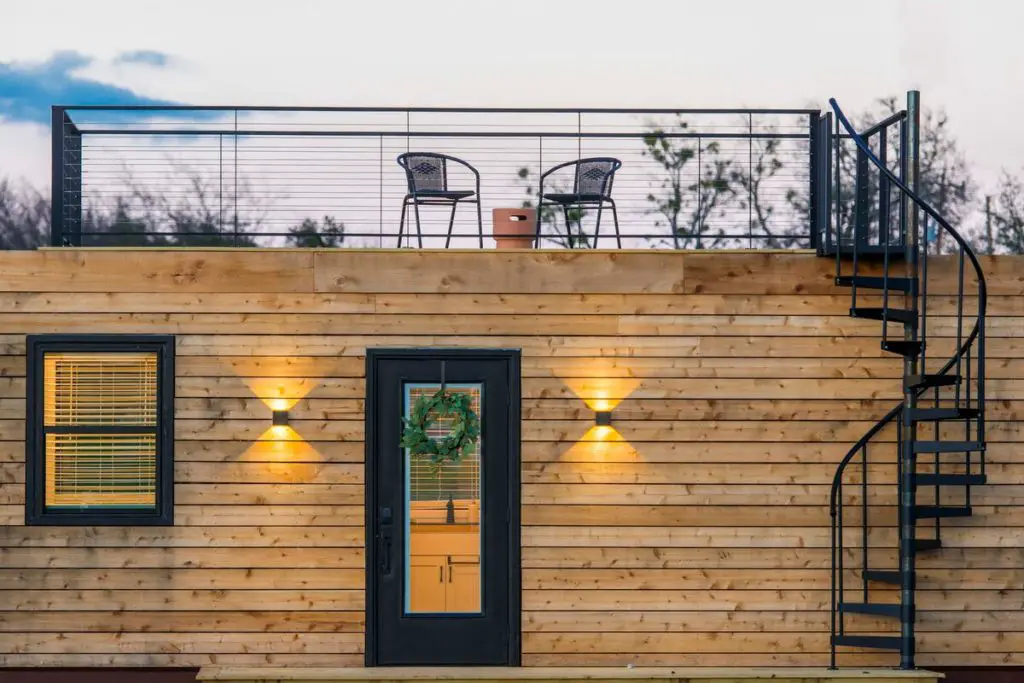 Best for: For parents who want to experience a tiny house with their children
Best feature: The courtyard of the tiny house is on the upper floor and can be accessed by stairs. This ensures that the courtyard can be used cleanly.
The inspiration you can get: You can go beyond the limits and think creatively in courtyard design.
Here are the most impressive features of this tiny container house Project:
Having a king-size bed in the bedroom and a double bed in the common area makes this a great space for families with children.
The courtyard design is truly inspiring: the perfect option for those who like to look at the sky from the treetops.
The design, in which light-colored wood is used, creates a relaxing and elegant ambiance.
It is perfect for comfortable and relatively longer stays with its stylish and full-size bathroom facilities.
Check Availability on Airbnb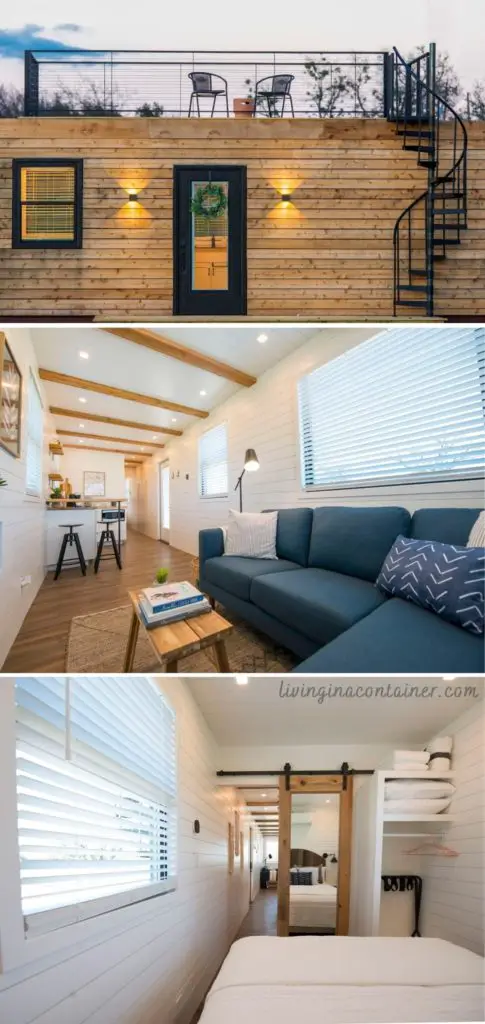 Tiny House of 1 x 40 FT Shipping Container – 35 m² Inside + 45 m² Courtyard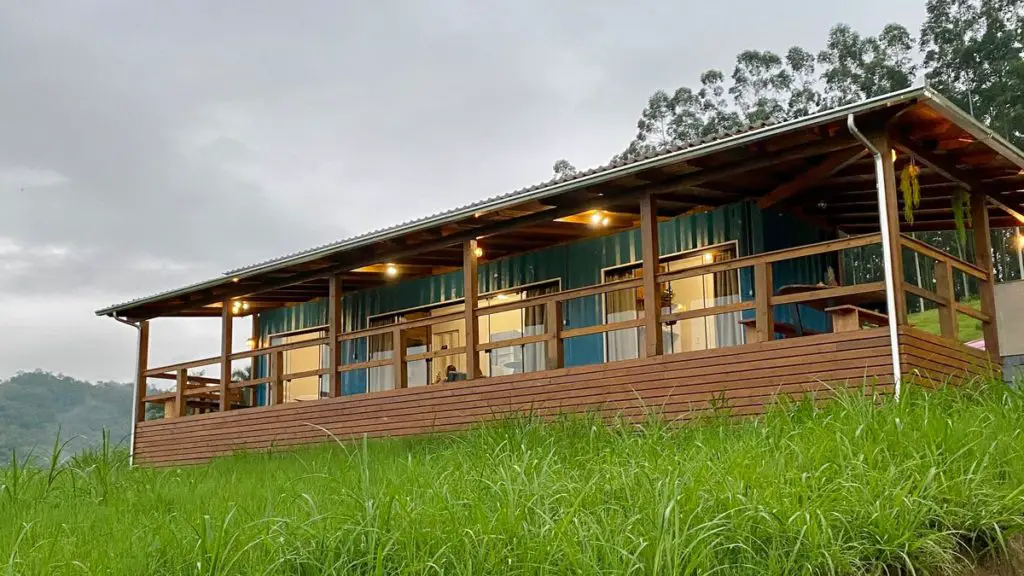 Best for: Capacity of up to 6 guests and 3 beds
Best feature: Other living quarters and farms in the immediate vicinity will give you a real rural experience
The inspiration you can get: You'd be surprised how much life can fit into tight spaces.
Get ready to experience a unique tiny house in the Rio Fortuna region, where the greenery is most intense. The clean air of Brazil, the warm people, and of course the warm interior design are similar to ethnic living spaces. This tiny house design has it all.
Opportunity to learn more about the rural culture and religious activities of the region – A true cultural trip
Container house view with great natural light with perfect glass doors
A place that allows you to easily enjoy the outdoors thanks to its large courtyard
Your dinners are very enjoyable with a stylish and functional barbecue area. Moreover, it will be very calming to enjoy the sunset here.
Check Availability on Airbnb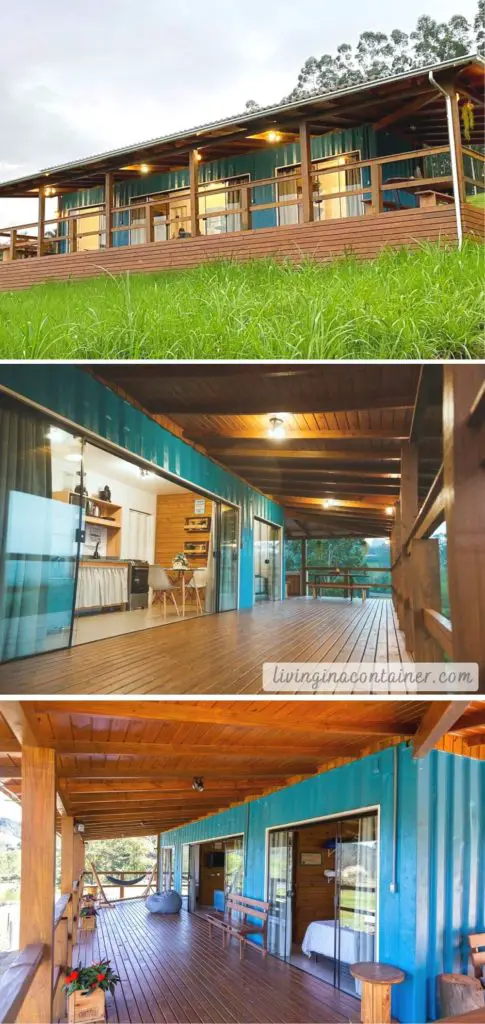 Belisi Farmstay Cottage – 1 x 40 FT Shipping Container Transformation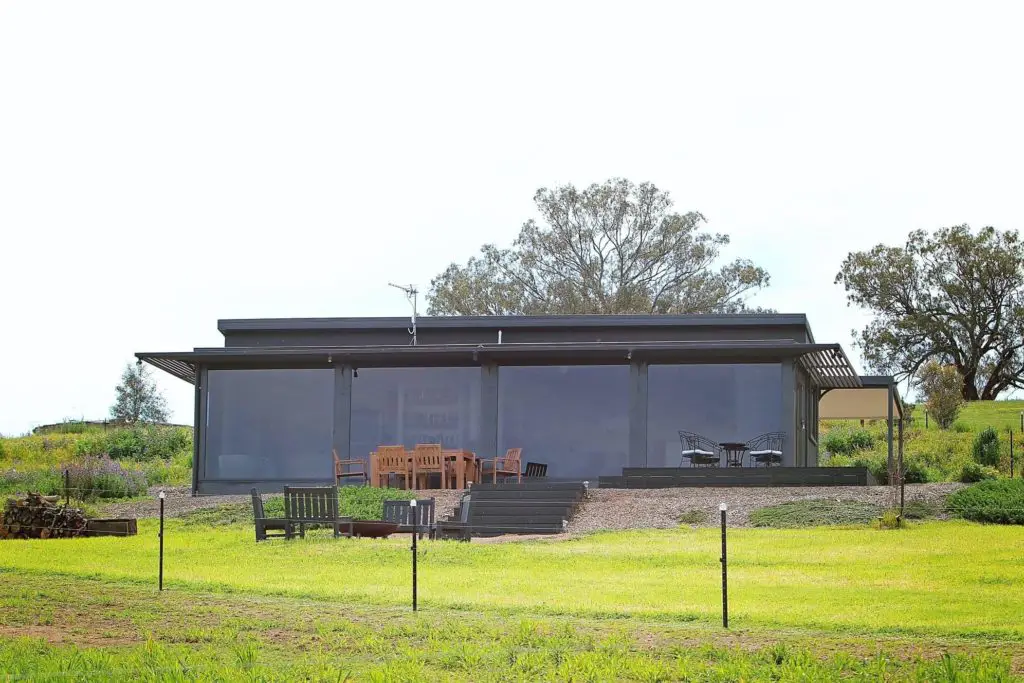 Best for: For those looking for a larger tiny house
Best feature: An intimate experience with its large windows and indoor jacuzzi.
The inspiration you can get: A bedroom with bunk beds for your kids is a great idea to save space.
Are you a micro-living enthusiast? Get to know this area closely, which will offer you the experience of farm life and will give you real pleasure with its large private garden area in front of it. Features of this tiny house found on Wagga Wagga:
It is a settled area just 2 kilometers from the Murrumbidgee River, Australia.
With its interior areas with a stylish hot tub with a large window, this building appeals to those who want to have an intimate and romantic holiday and those who want to experience special moments at home by enjoying the natural light.
Also, the stylish bookcase in the interior means moments of calm reading: A real tiny house holiday.
Check Availability on Booking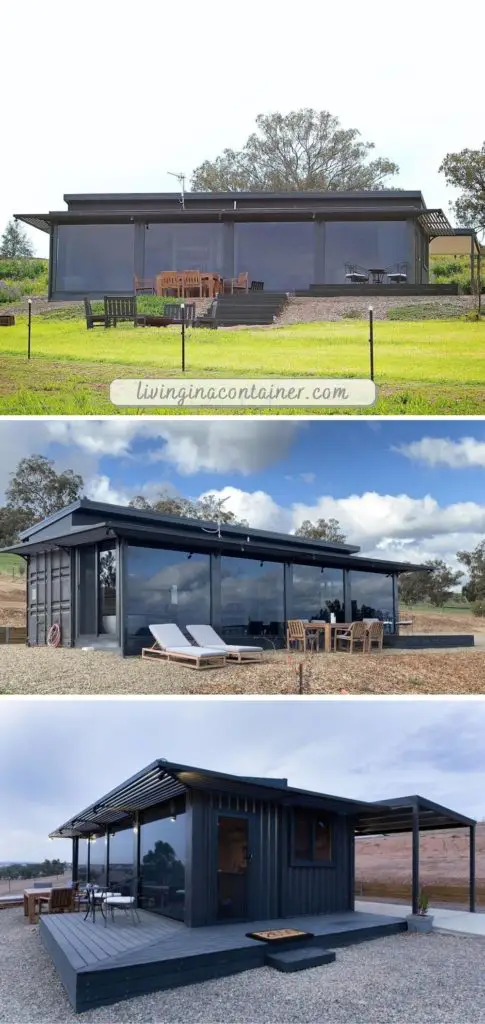 1 X 40 FT Shipyard Container with Jakuzi and Upper Floor Courtyard – North Carolina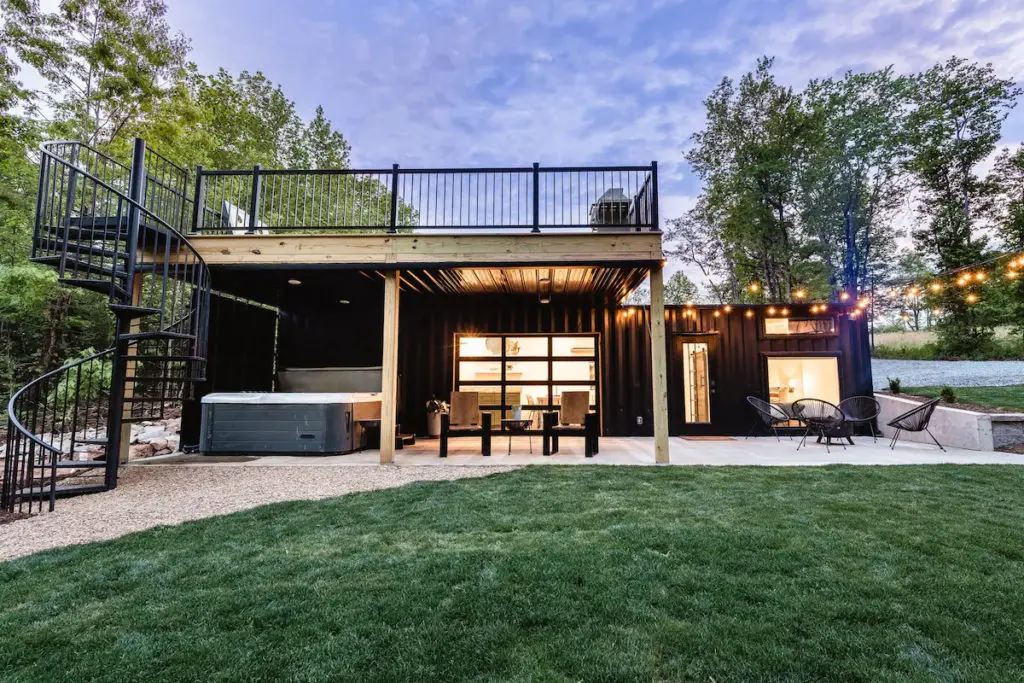 Best for: For those who like a more classy design with an ambiance dominated by black
Best feature: There is both a courtyard in front of the house and a living area upstairs.
The inspiration you can get: The perfect harmony of wood and black, a modern decoration
Especially in the bedroom, the large window just across the bed will allow you to get natural light into your home perfectly. Those who plan a holiday in nature like this detail in tiny house bedroom designs. Inside the house, there are a number of details selected by being influenced by the industrial design style, which creates a more modern look. Balcony and courtyard seating areas, barbecue areas, and more can increase the pleasure you get from your holiday.
Check Availability on Airbnb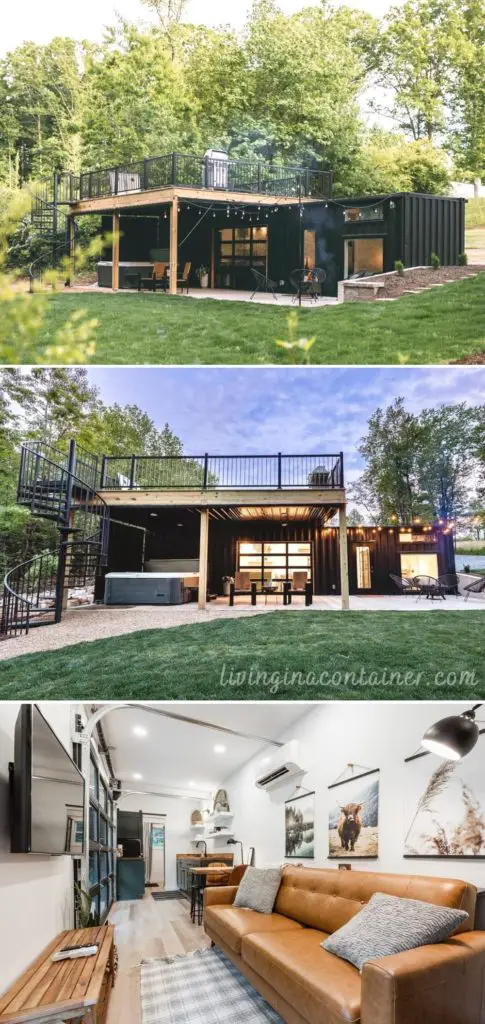 A Tiny Container House Project with a Magnificant View with a Hot Tub in the Courtyard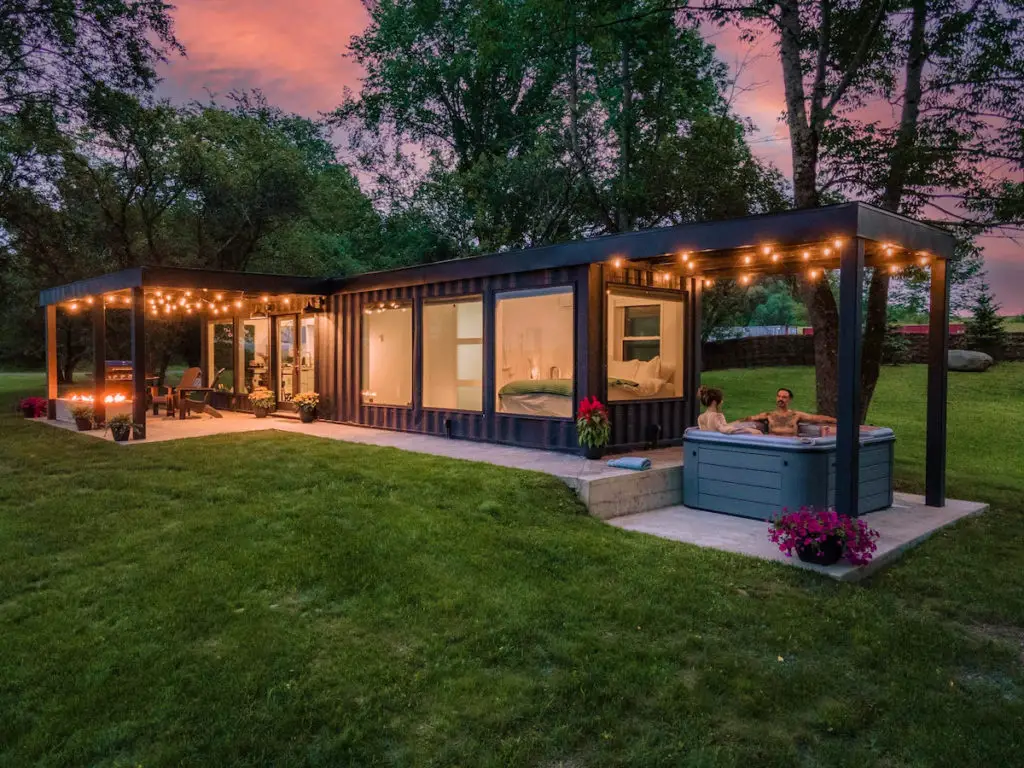 Best for: For romantic couples who want to witness a unique sunrise and sunset view
Best feature: There is a hot tub in the courtyard, right next to the house. Create romantic memories with intimate minutes
The inspiration you can get: Use elegant lighting in the tiny container house courtyard design
The hot tub in the courtyard, the pleasure of watching the sunset from the large bedroom window, and the quiet and unique experience with no one else around.
You will feel both comfort and cottage experience together with the sitting areas in the courtyard, the barbecue area, and the luxurious interior area. The swing in the tree in the front garden area will allow you to spend a quiet time on a pleasant evening. There is also an area in the garden where you can light a fire on the ground and sit around and chat.
Check Availability on Airbnb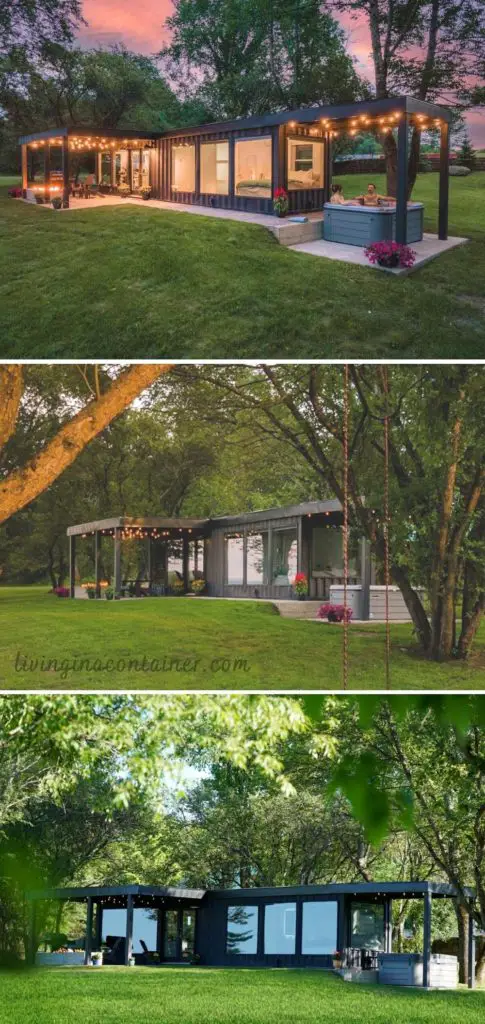 Container Home with 320 Square Feet – The Pocket House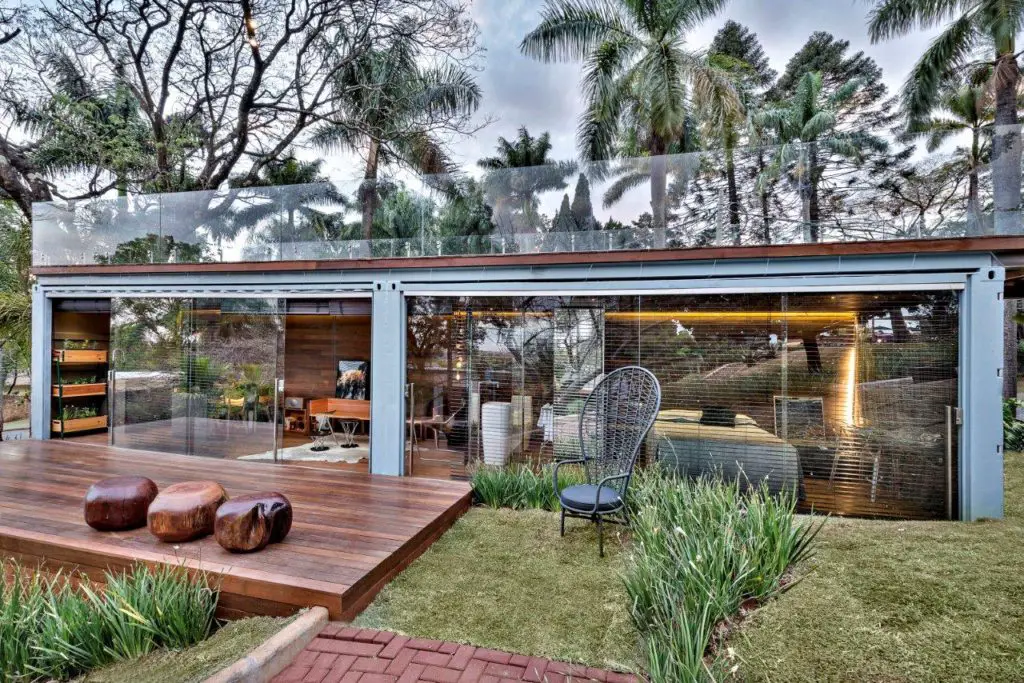 Best for: Those who want to continue their holiday indoors by being born to natural light
Best feature: A great sound system is installed in the house. This means you can better enjoy the silence (You know what I mean).
The inspiration you can get: You can make tiny house decoration less tiring by using sophisticated lighting tools.
One of my favorite features of this container was the glass doors that allow the integration of the exterior and interior spaces. The cutting-edge steel walls, glass doors that let in perfect natural light, the bathroom walls made of glass to save space, and the well-equipped kitchen are the most striking details of the project. The warm aura of wood color was used in the house, and at the same time, a state-of-the-art music system was installed for pleasant music hours.
Check Pocket House on Living in a Container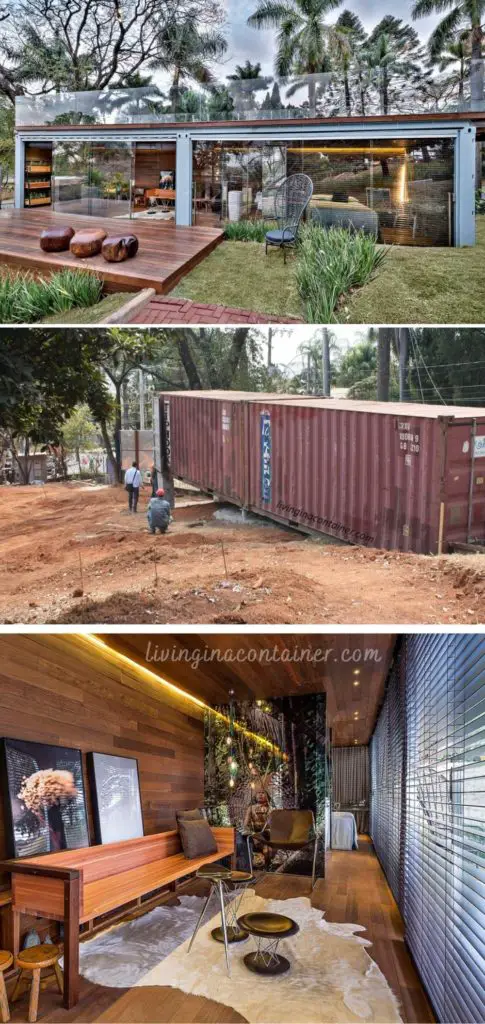 Recycled Shipping Container: Self-Made Home for One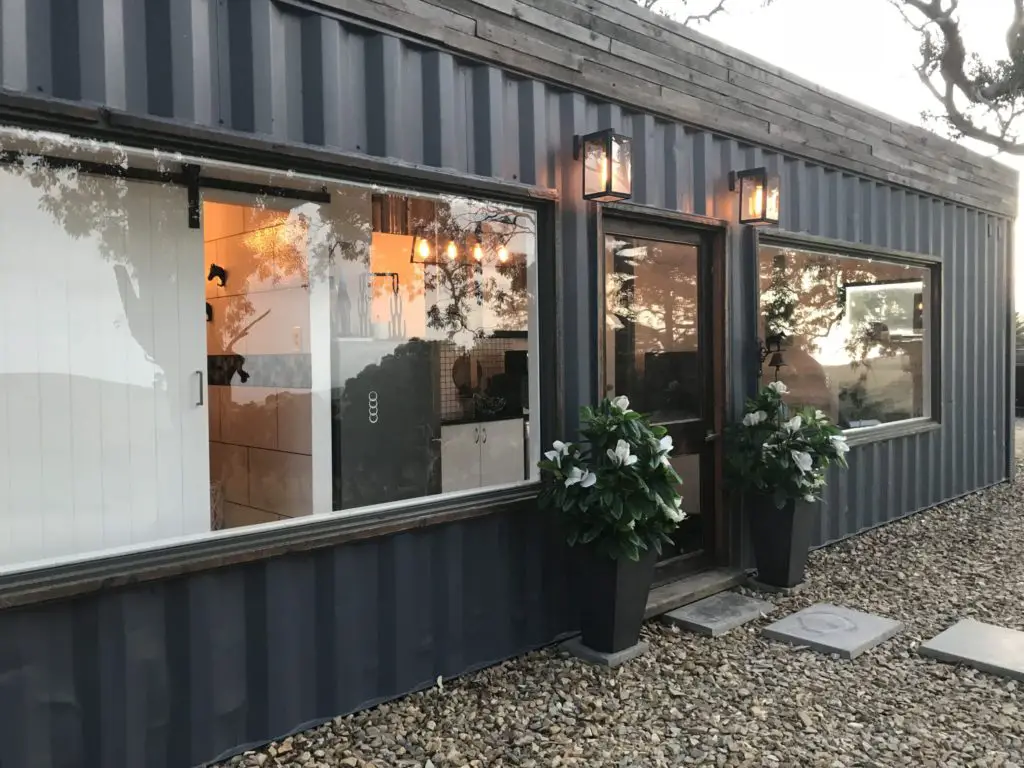 Best for: For those who want a long-term stay at a container house
Best feature: The interior and exterior design of the house is inspired by traditional residential buildings. The house is closed to the outside, more private areas.
The inspiration you can get: Make the design stronger by using lots of paintings on the walls at Tiny house.
Are you ready to explore a project that was created by using a 1 X 40 FT container, where vintage details are used in its exterior design, and every detail from the area to watch television to the studying area is considered in the interior design?
In this project, it is possible to say that the windows are kept more home-like, that is, smaller. But the interior is still colored with stylish lighting products. Radical color tones such as black, white, and red dominate the interior. On the other hand, the kitchen has functional pieces that you can use to turn an easy-to-use portable worktop into a table.
Check Recycled Shipping Container on Living in a Container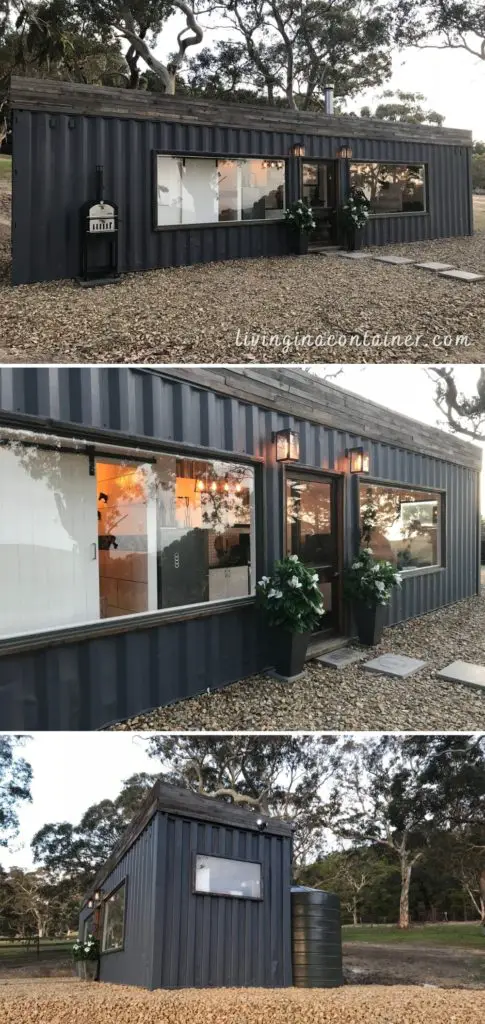 Shipping Container Tiny House by the Pool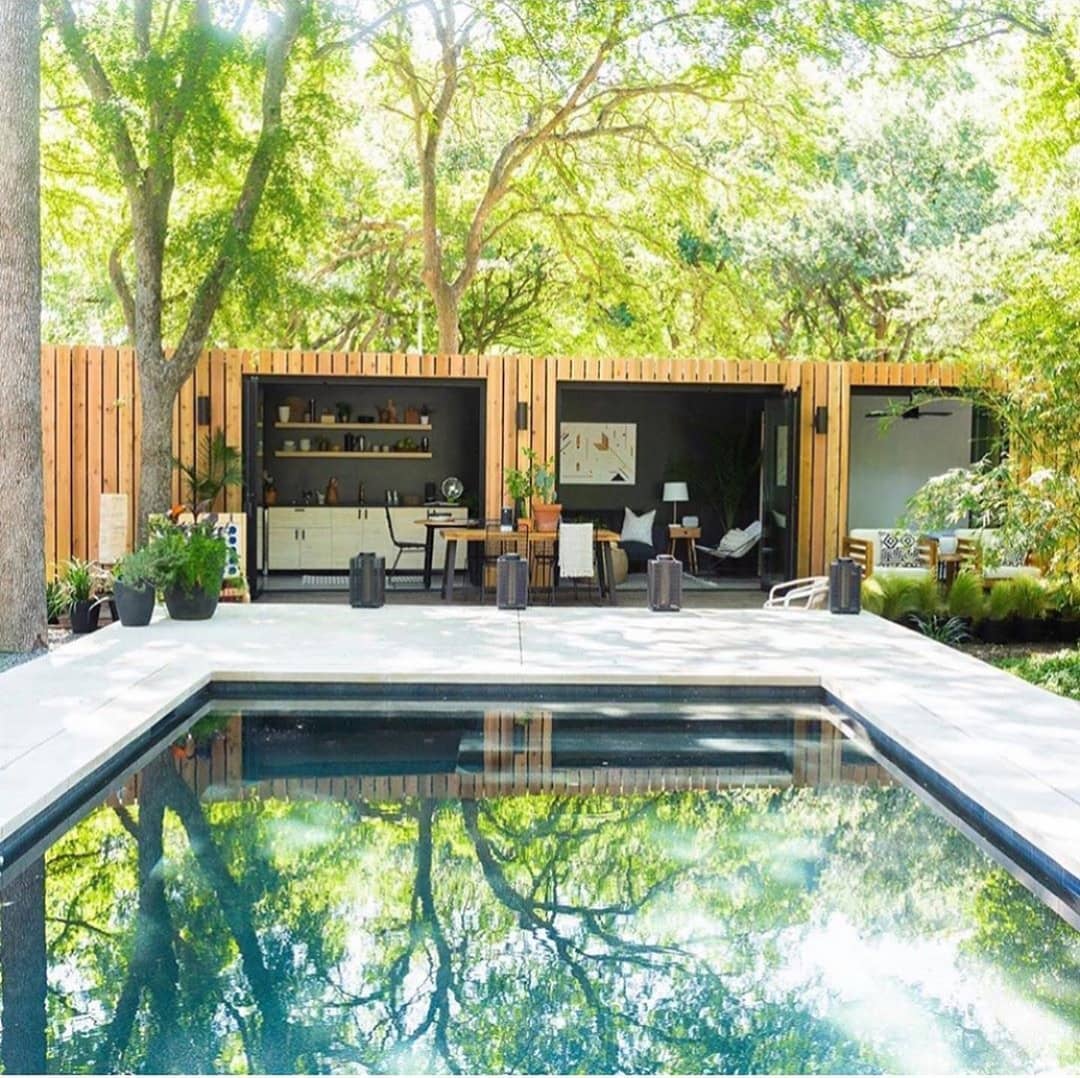 Best for: For those who want a touristic trip with their family
Best feature: Private parent's room with a queen-size bed, extra sleeper sofa in the living room
The inspiration you can get: Bu using door designs that do not take up space, it is possible to completely separate the spaces from each other in Tiny container house.
When you imagine a pleasant stay by the pool, what kind of area comes to mind first? Do you think tiny house projects can be turned into a poolside resort?
If you have a large enough space, of course! This extraordinary project brings to mind a real villa with its living areas in the courtyard in front of it, as well as the bedrooms, lounges, kitchens, and bathrooms in the interior. Renovated Shipping Container has features that many people may prefer for a pleasant summer vacation and quiet rest.
Check Shipping Container To A Dream Resort on Living in a Container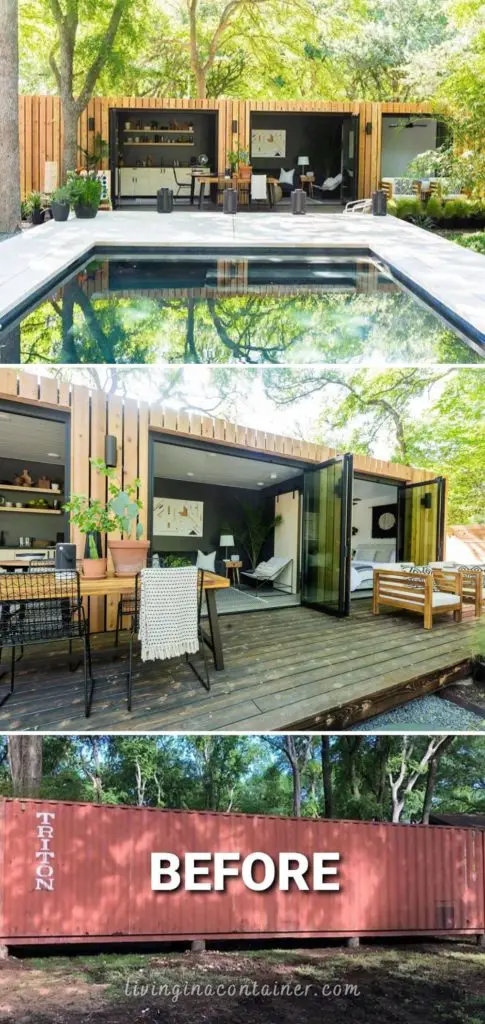 Excellent Architecture for a Tiny Container House: Glamtainers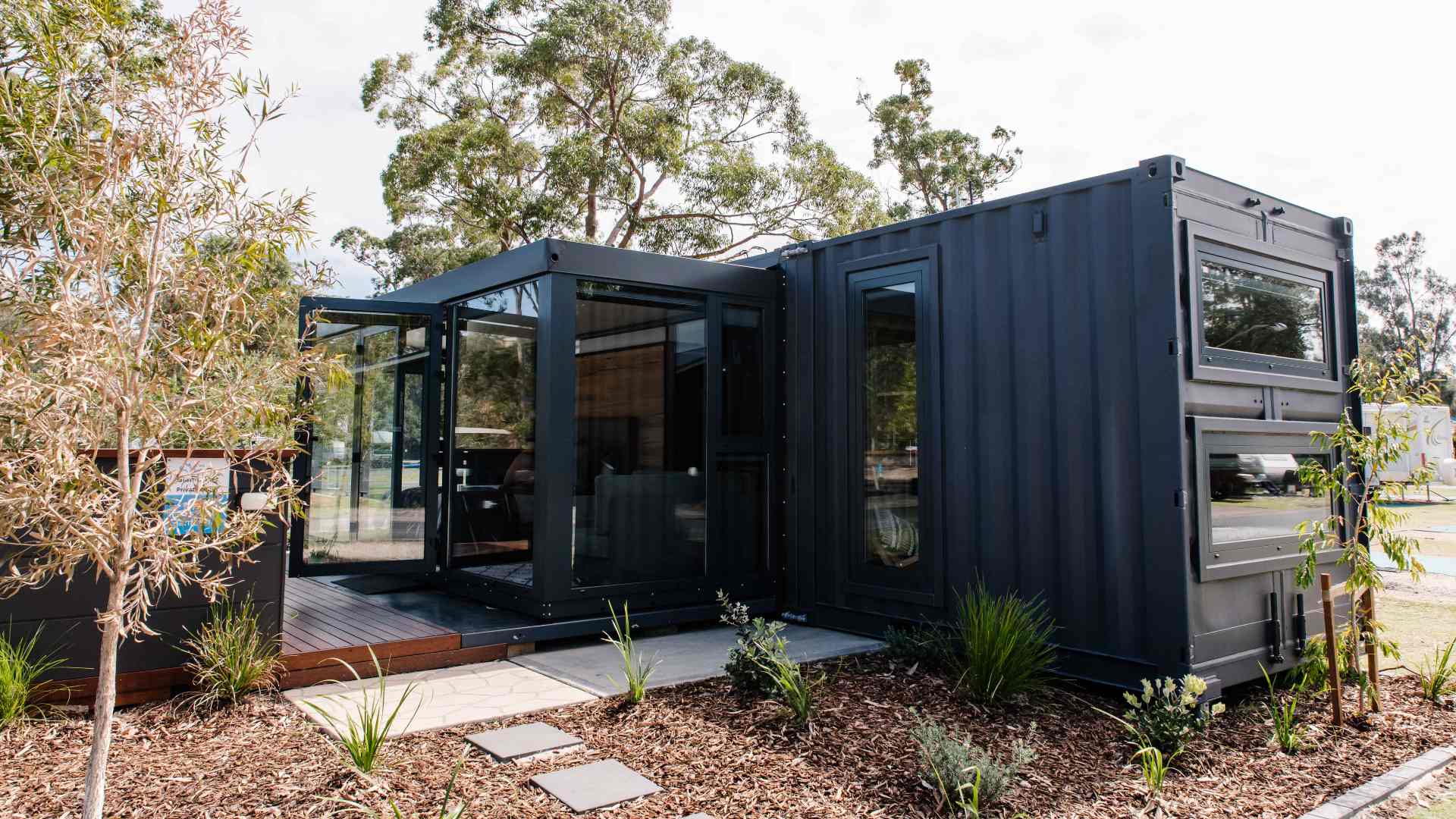 Best for: For families who want to have a holiday with children
Best feature: Thanks to the outdoor terrace surrounded on two sides, you can spend time in such a way that no one can see you even when you are outside.
The inspiration you can get: You don't have to give up comfort when transforming your container into a tiny house.
This container, one of the most popular products of the impressive Glamtainers project, contains a very cozy sitting area. Here you can enjoy watching TV or chatting. This design, which carries the elegance of the black color, draws attention with its wide windows. The bedroom directly overlooks the semi-enclosed terrace, providing extra privacy.
The unique design becomes even more impressive with the barbecue and pizza oven area offered to the visitors in the terrace section.
Check Container Glamping Experience on Living in a Container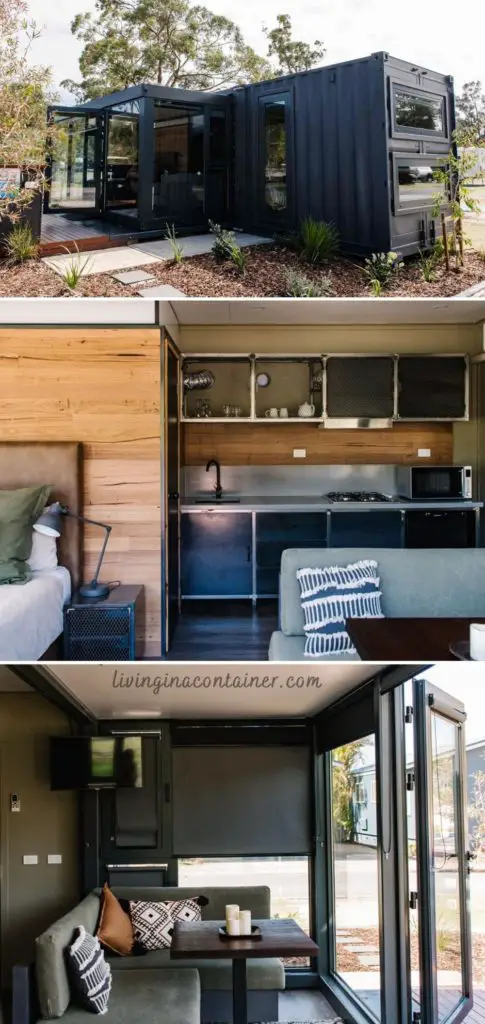 Farm House Tiny Home Experience at East Zion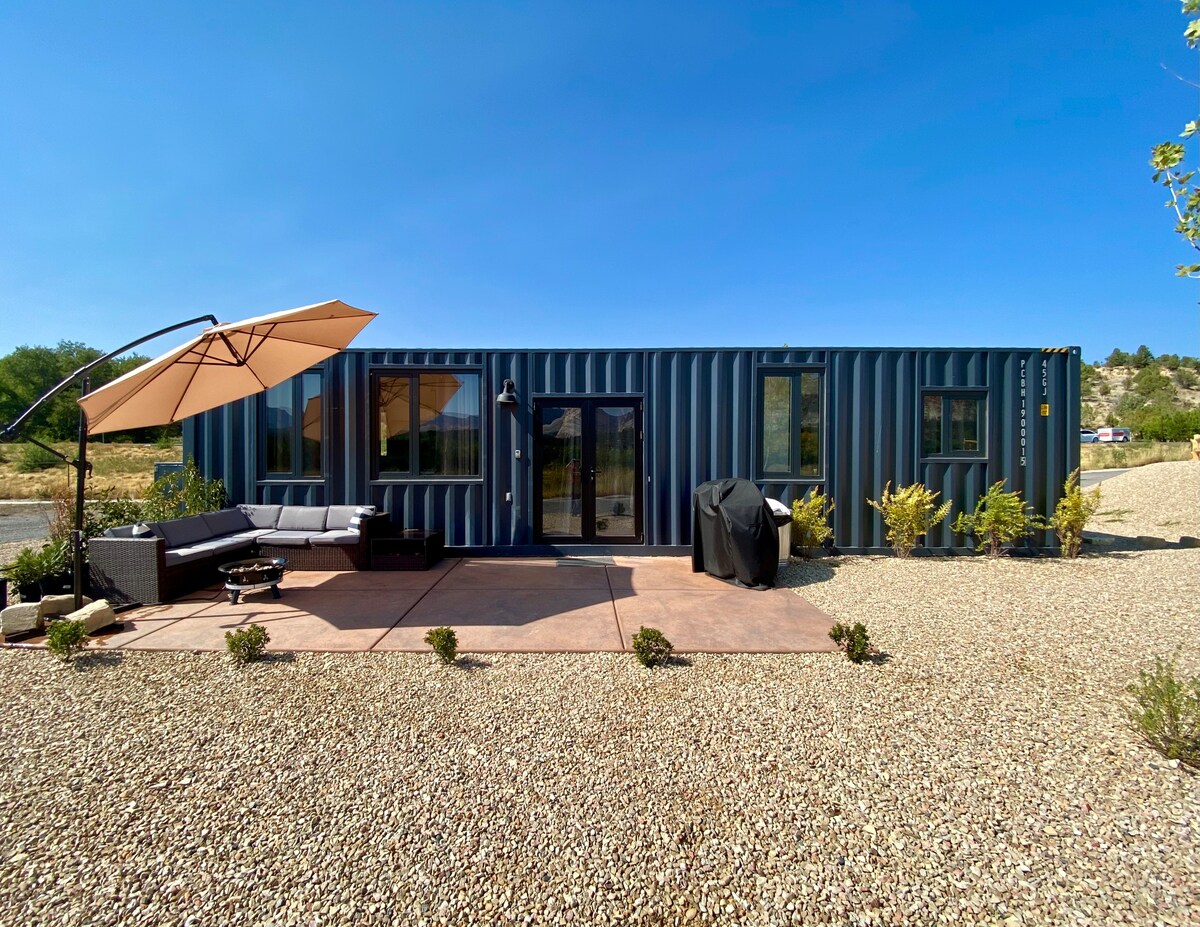 Best for: For container house enthusiasts who want the cottage experience
Best feature: In addition to a queen-size bed, there is also a bunk bed for children.
The inspiration you can get: A pleasant and comfortable courtyard can double the space of the tiny container house.
This example, which is located very close to a rural settlement, draws attention with its industrial lighting and exterior headlights used in interior design, accessory details dominated by black color, and the serenity of ecru. Thanks to the comfortable and well-equipped bathroom, you can even take a one-week long family vacation here. In this design, a more private aura is preferred instead of wide windows. A unique tiny house location where you will see a pleasant, ready-to-harvest field in front of you.
Check Availability on Airbnb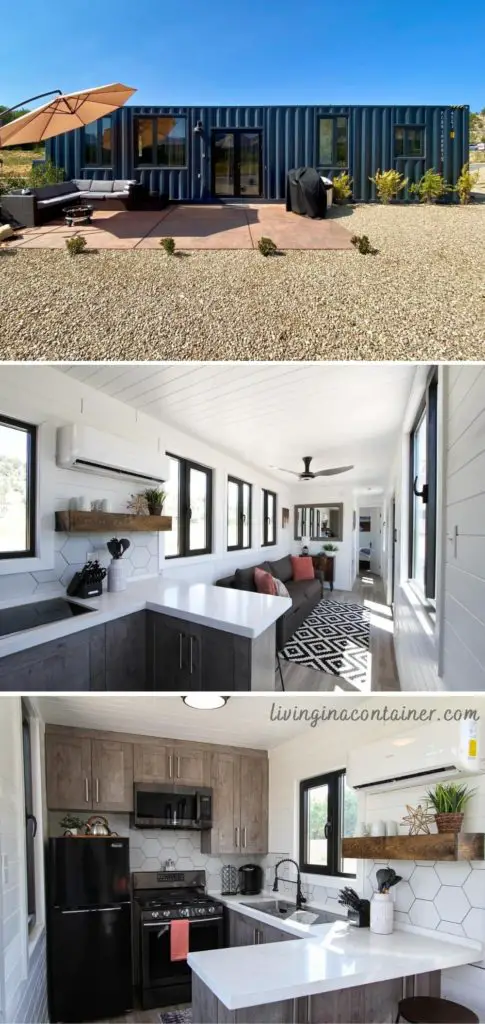 Stunning Container House Project with 2 Units at North Rothbury, Australia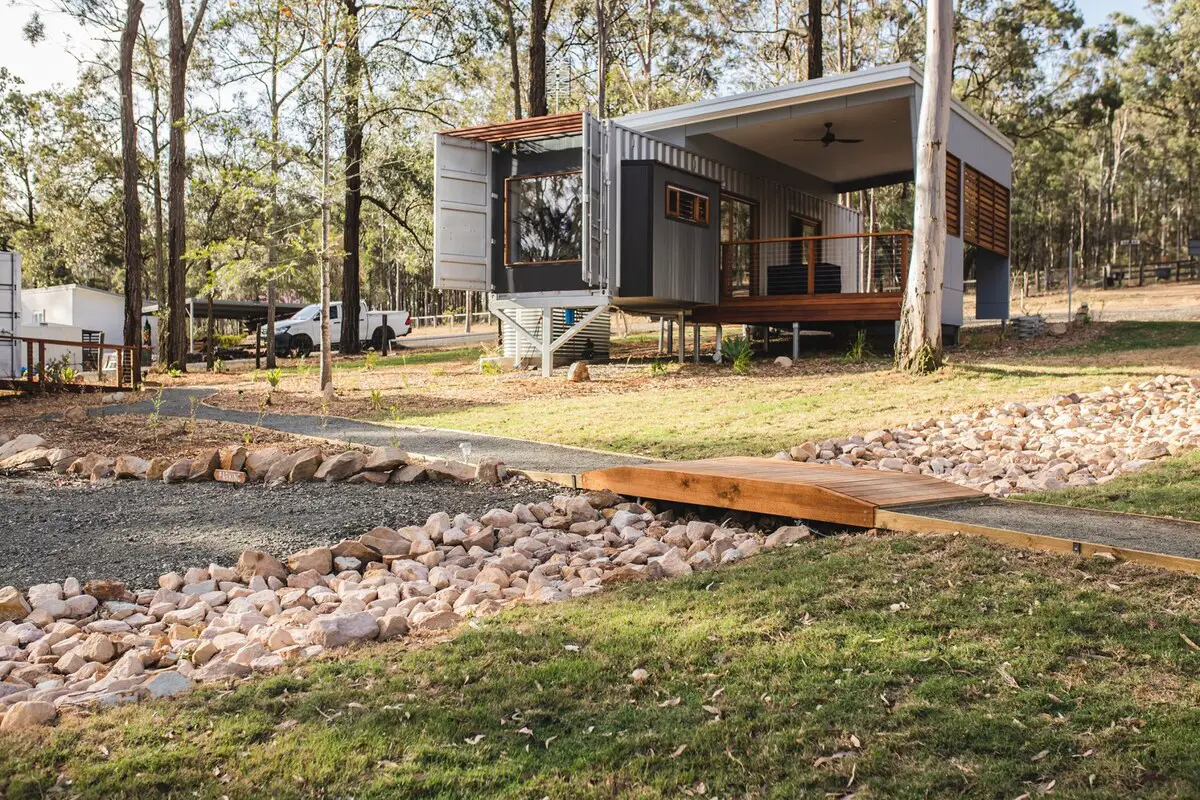 Best for: Those who want to have a romantic vacation in nature
Best feature: They have quite large windows that can be closed if you wish. If you want more privacy, you can easily close the additional door from the outside.
The inspiration you can get: Consider trying more alternative wall colors in tiny house interior design.
With its stylish design and unique location in nature, Tuckers Lane Boutique is divided into two separate areas, 3 x 1BR units & 2 X 2 BR units. Even without a hot tub, having a private area for the spa is quite impressive.
A comfortable bedroom design with a Queen-bed and a Nespresso coffee machine for you to use during pleasant conversations on cold evenings. Moreover, most of the household items used in the interior of this pleasant project were produced by the project owner. Therefore, it is a pleasant location that will allow you to watch the stars for hours.
Check Availability on Airbnb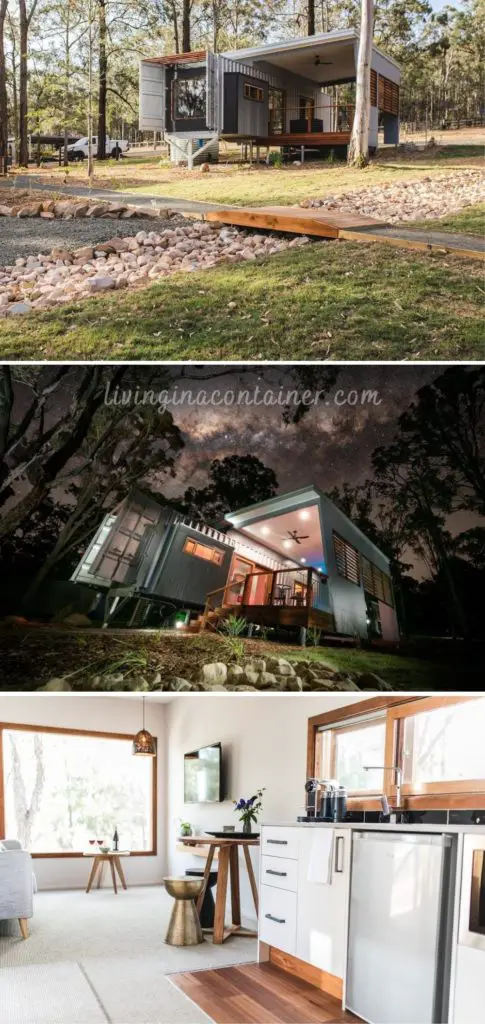 What is the best tiny house project for you?
You have reviewed fifteen different tiny house projects above. You can reach all of them through the links we have forwarded, and if you wish, you can take advantage of similar options as an accommodation choice on your holiday. Fine, but what is the best tiny house project for you?
When we look at the tiny house options in general, we see that they can be divided into several basic categories:
Cottage tiny houses: These are tiny houses that are usually around a farmhouse and have a social environment where you can communicate with different people.
Private tiny houses: These are the luxury tiny house options you can choose when you want to have a serene, romantic, and special experience only for you and your partner. They usually have a private hot tub in its courtyard which can give you unforgettable moments.
Tiny houses for families: These are tiny house designs that contain an extra sleeper sofa or bunk bed in the common living area. Here you can make accommodation for 4 or 6 people. Moreover, the comfort is still very high.
Want to discover more about capsule living style and tiny houses? Stay tuned for luxury living spaces made of tiny containers. I'll keep sharing great stuff here, folks!