Every day, thousands of different models of houses are built around the world. But why aren't we as interested in a container house when we see a new one built using the traditional method?
The answer is quite simple according to us and many user answers. The corrugated structure of the shipping container is the most common answer to these questions.
No matter where you go in the world, when people see a container house, they really need to look back. These houses fascinate people.
Today we're going to show you an amazing container cabin located in the Bovina Center area of New York, again made with two shipping containers.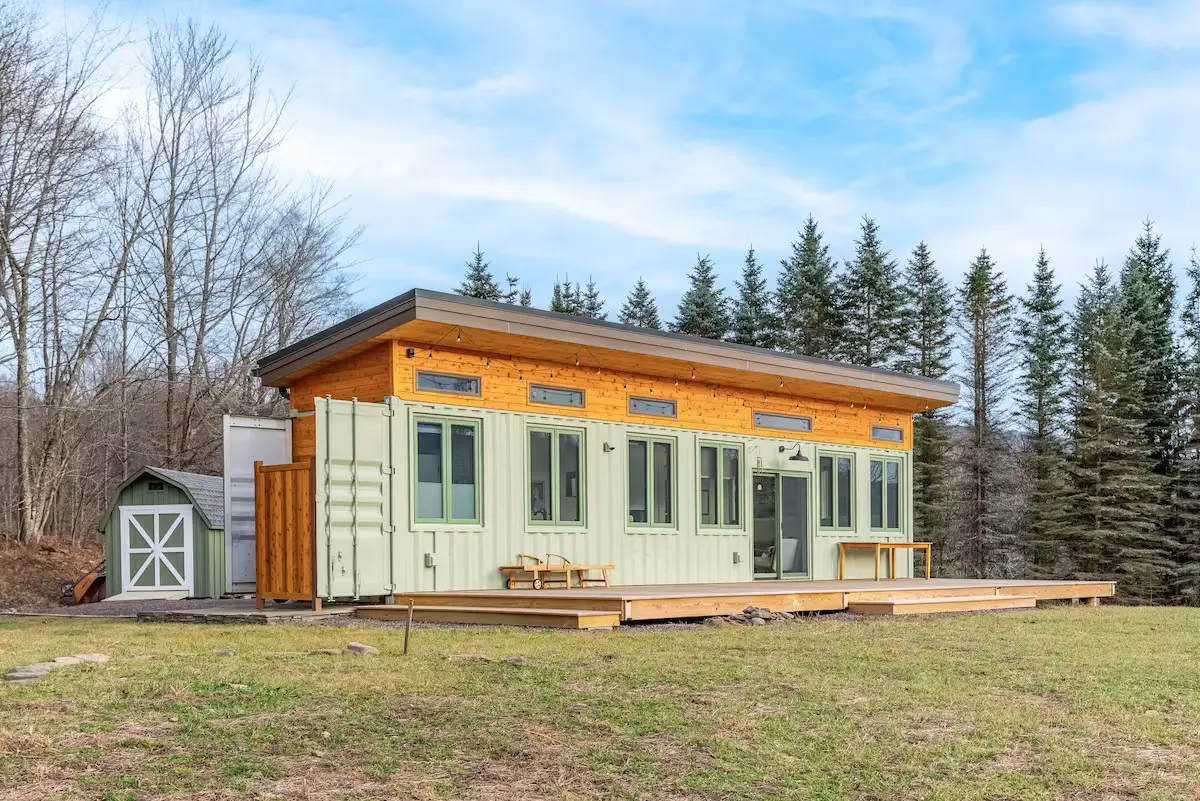 Catskills Container Home
Another unique nature, another wonderful container house!
The shipping container house was built on 7.6 acres of land using 2 recycled shipping containers. Used 1 x 40ft and 1 x 20ft shipping container.
This cabin, which has just started to be rented on Airbnb, is hosted by Jean. Congratulations to Jean on this beautiful home she added to the container house market.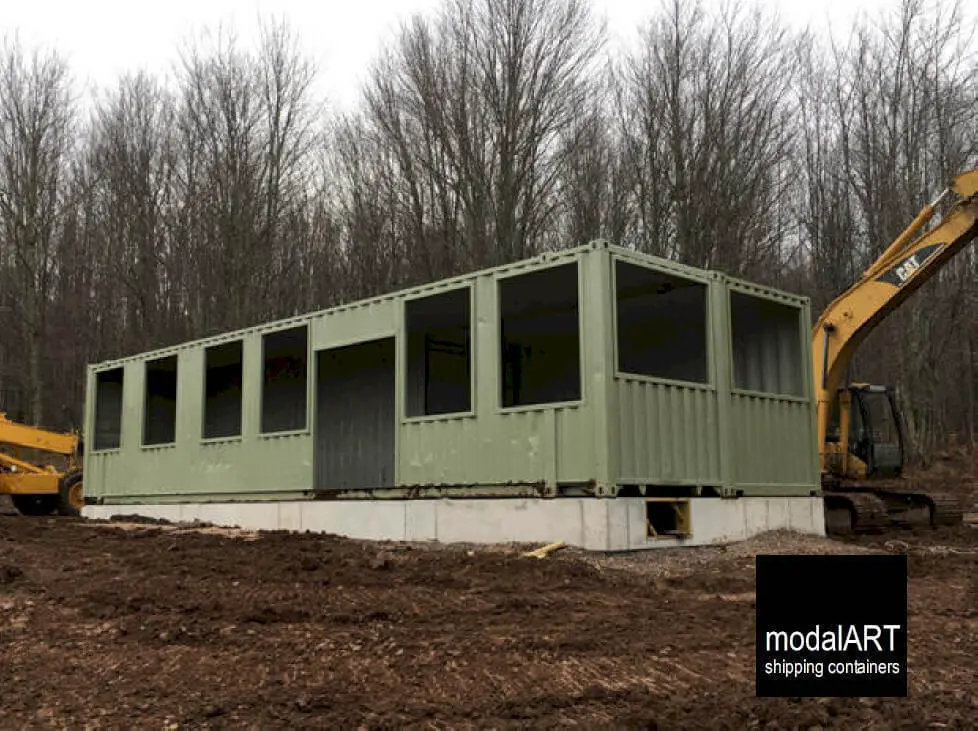 Highlights in the design of the container house:
Design made with 2 shipping containers
Shipping containers are often thought of as simple, utilitarian objects. But with a little creativity, they can be transformed into something special. That's what happened with this home design made entirely out of shipping containers.
From the outside, it looks like a modern and stylish abode. But step inside and you'll see that it's actually quite cozy and inviting. With its clever use of spaces and materials, this home is a truly unique example of container living at its best.
By rethinking the humble shipping container, these homeowners have created a space that is both stylish and functional.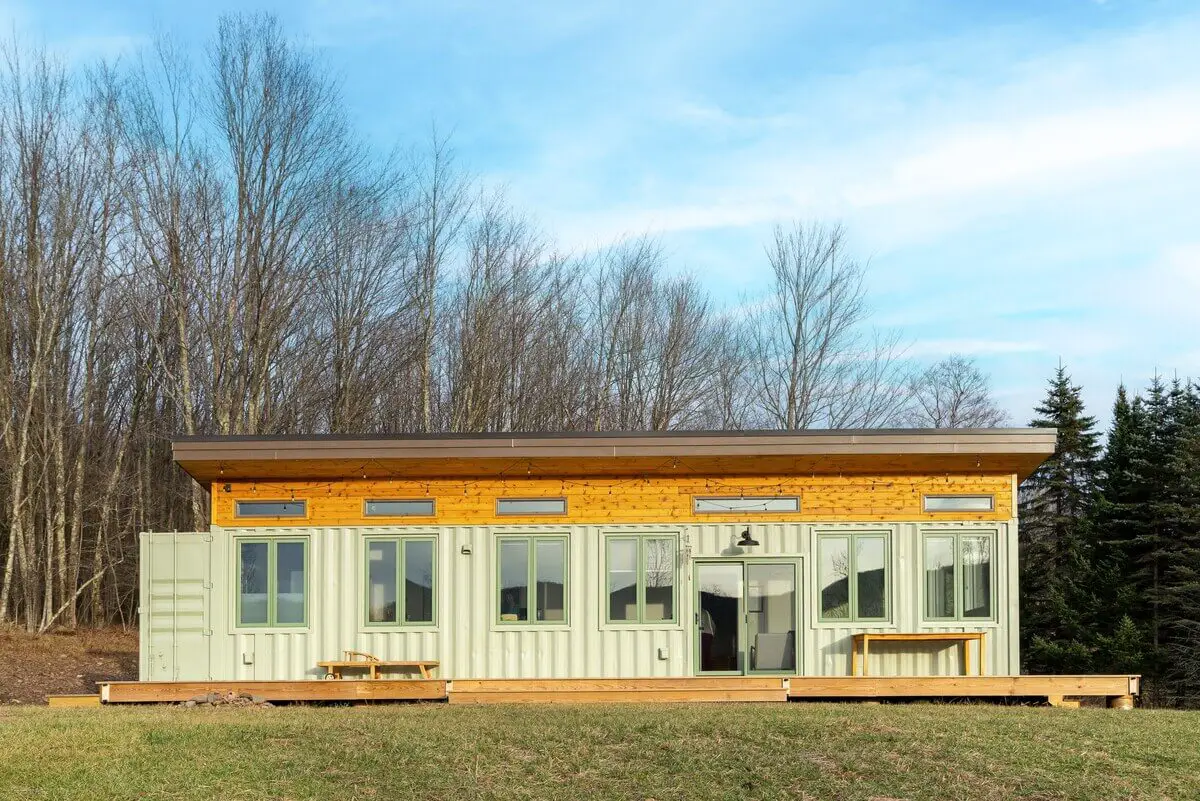 Stunning 5′ picture windows that run throughout the cabin
One of the most stunning features of this cabin is its 5′ picture windows that run throughout.
These large windows allow light to pour into the home and provide an expansive view of the surrounding landscape.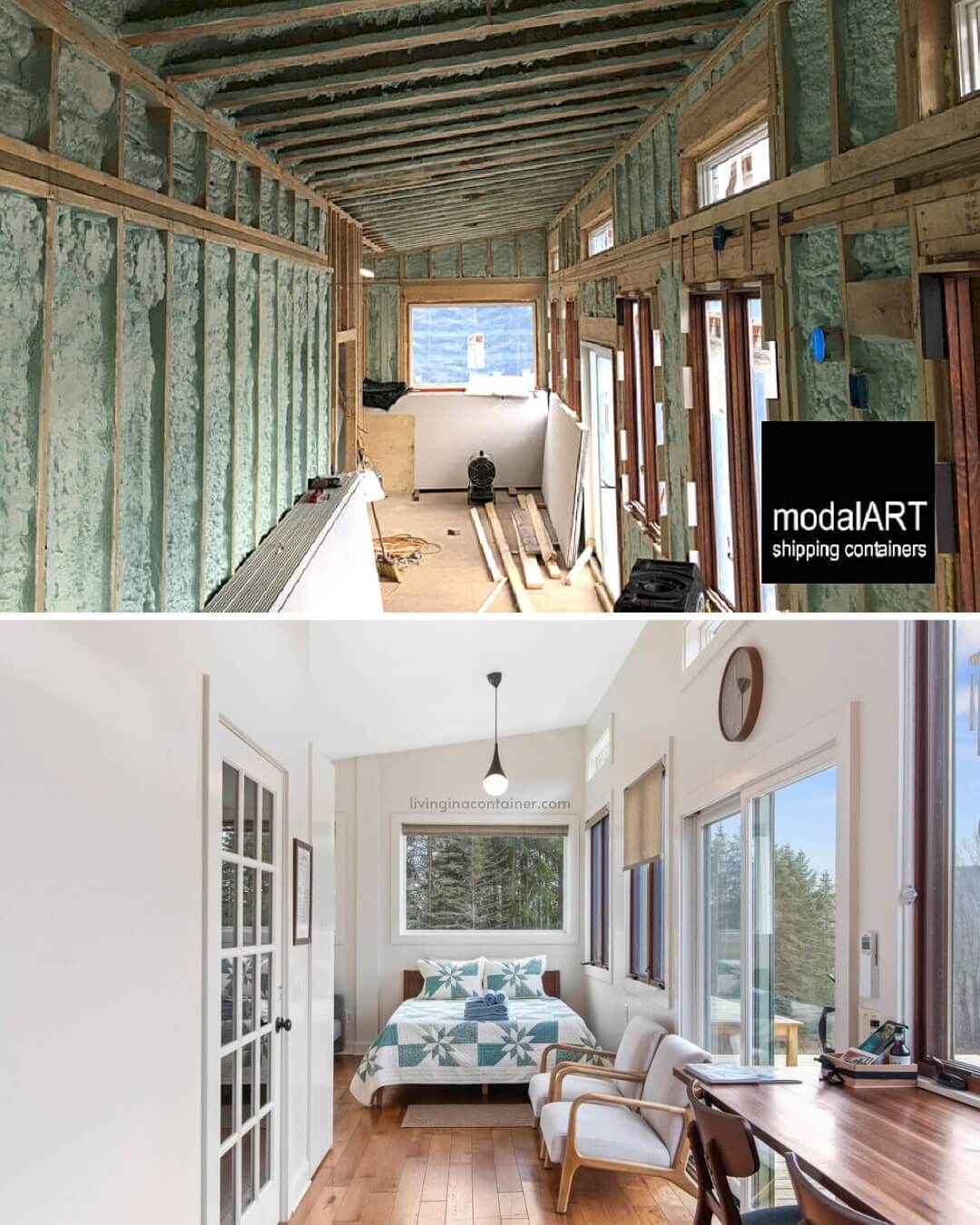 The addition of these windows adds a unique touch to this container house, transforming it from an ordinary structure into something truly special. Not only do they offer unparalleled views, but they also bring a sense of openness and airiness to the interior space.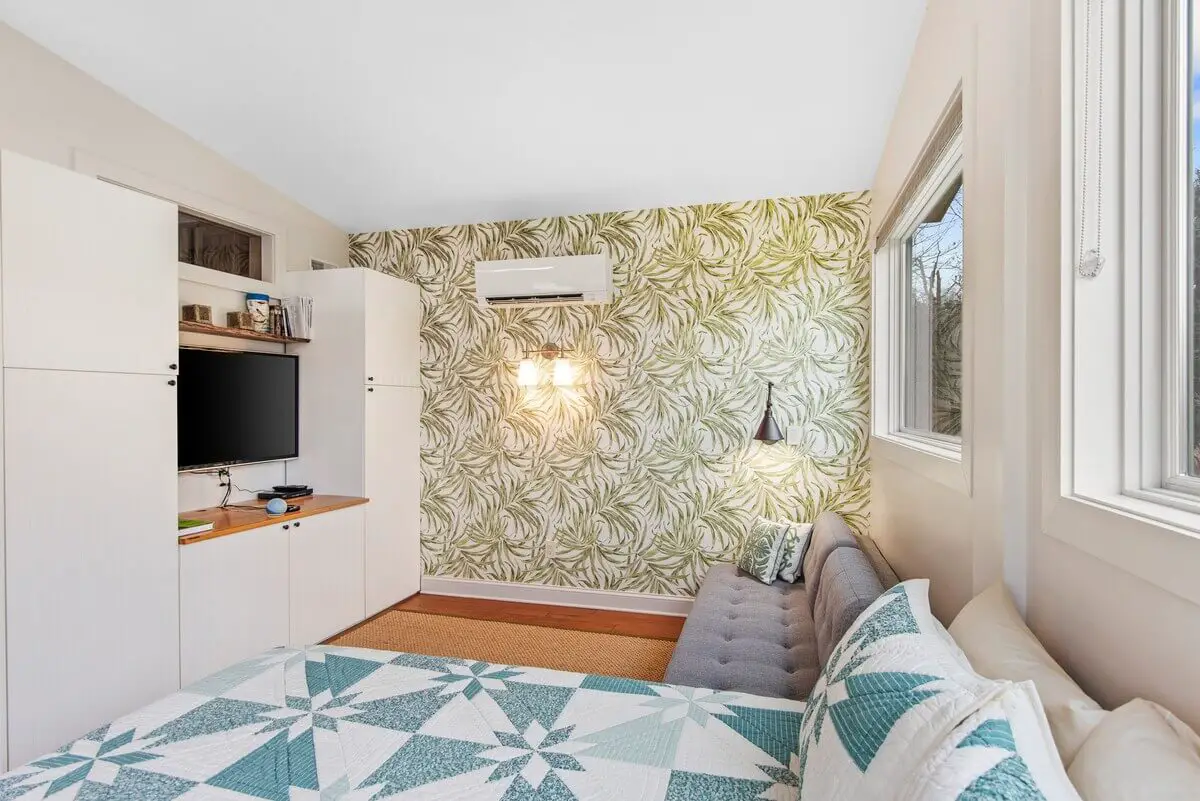 A patio for you to enjoy the magnificent view.
Adding to the unique charm of this container cabin is the patio that has been built on its exterior. This spacious patio offers breathtaking views of the surrounding landscape and provides a peaceful spot for relaxation and contemplation.
The warm colors and natural materials used in its construction give it an inviting atmosphere, making it the perfect place to enjoy some fresh air or take in a beautiful sunset.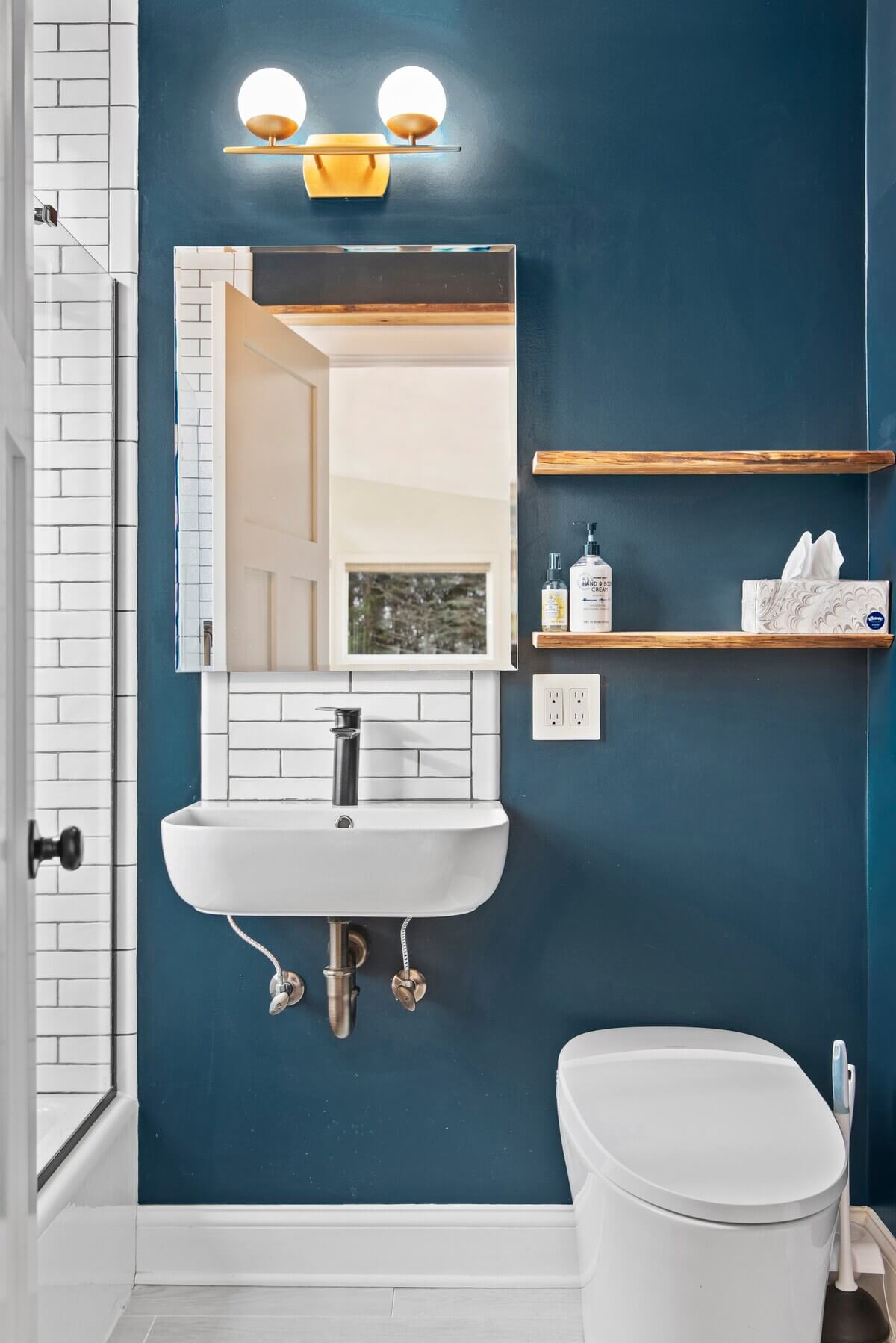 The bathroom has a heated floor and a full-size bathtub with a rain shower.
The bathroom in this container cabin is truly luxurious. It features a heated floor that keeps the bathroom warm and comfortable, while a full-size bathtub with a rain shower allows for a soothing bathing experience.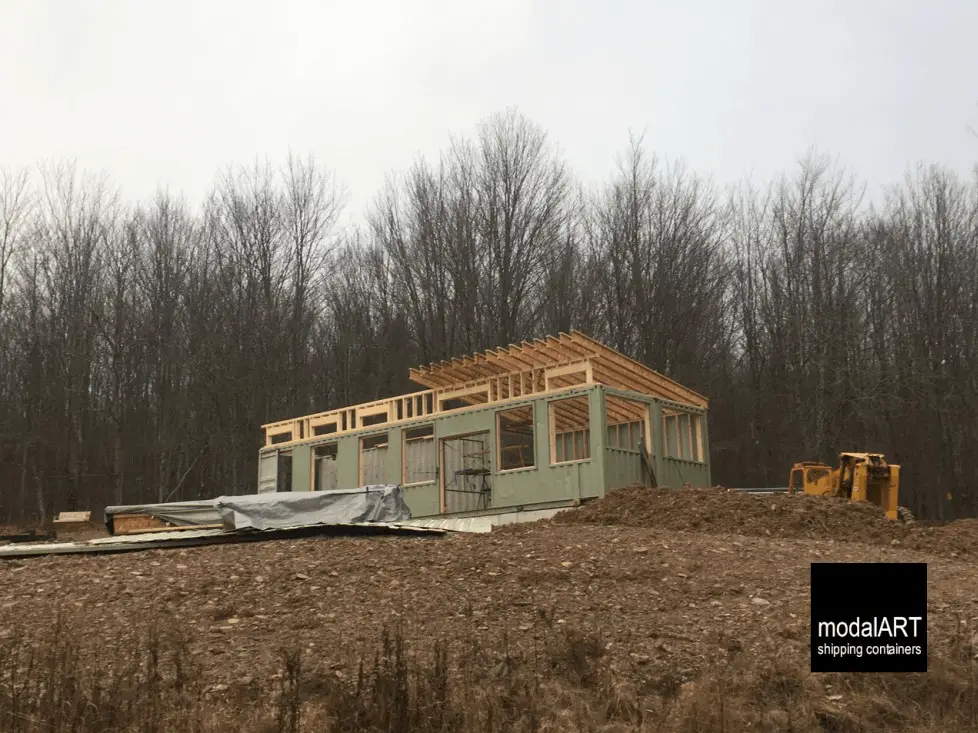 Behind the container house is a 5-acre Maple forest.
Behind the cozy container cabin is a 5-acre Maple forest that provides an idyllic setting for a peaceful and tranquil escape.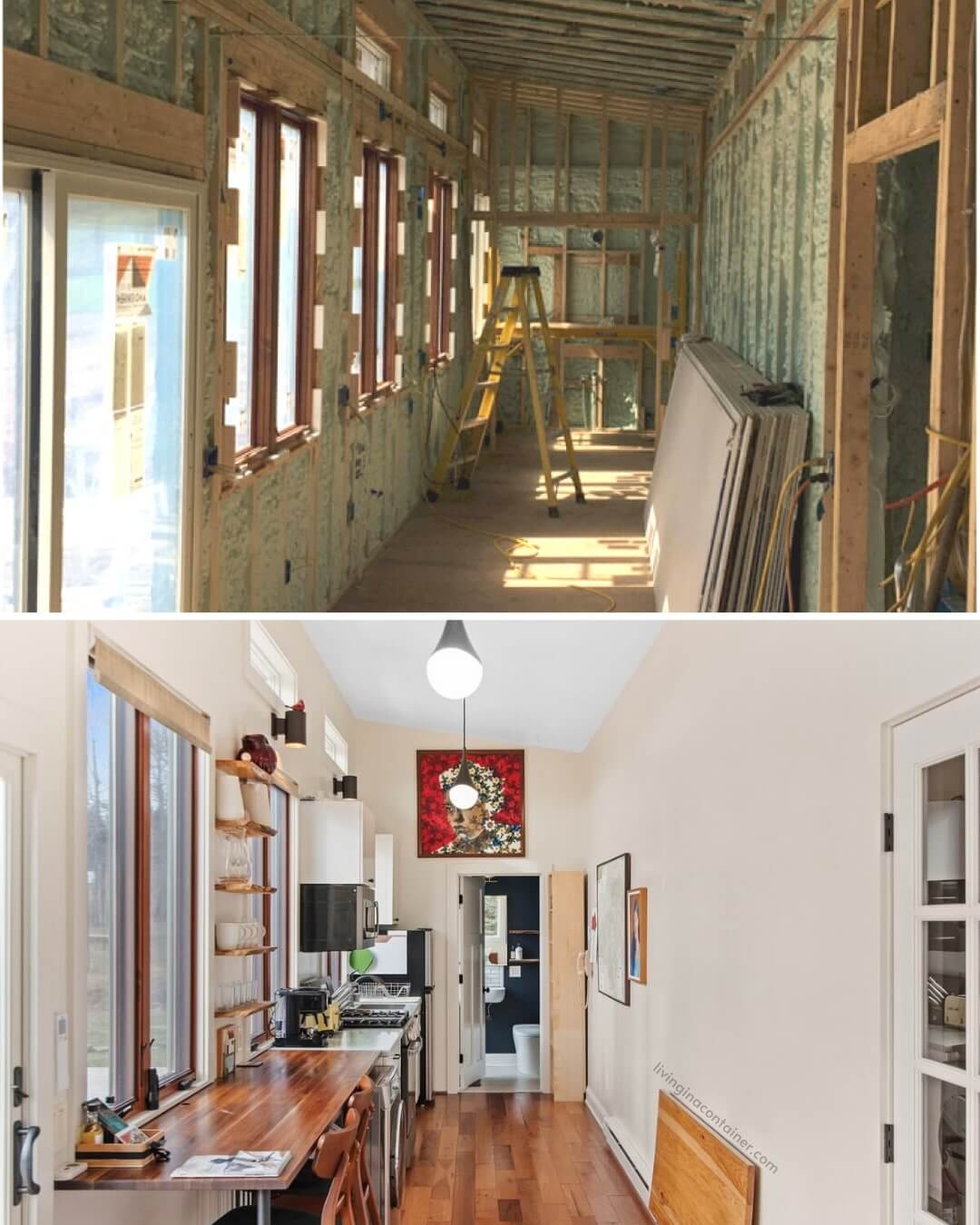 Check out Airbnb!
If you're looking for a truly unique and cozy getaway, then the Catskills container cabin rental Airbnb is the perfect destination for you.
Not only does it offer stunning views of the surrounding landscape, but its two shipping containers – one 40ft and one 20ft – have been transformed into a modern and stylish abode.
To rent this one-of-a-kind home, simply follow the Airbnb link provided.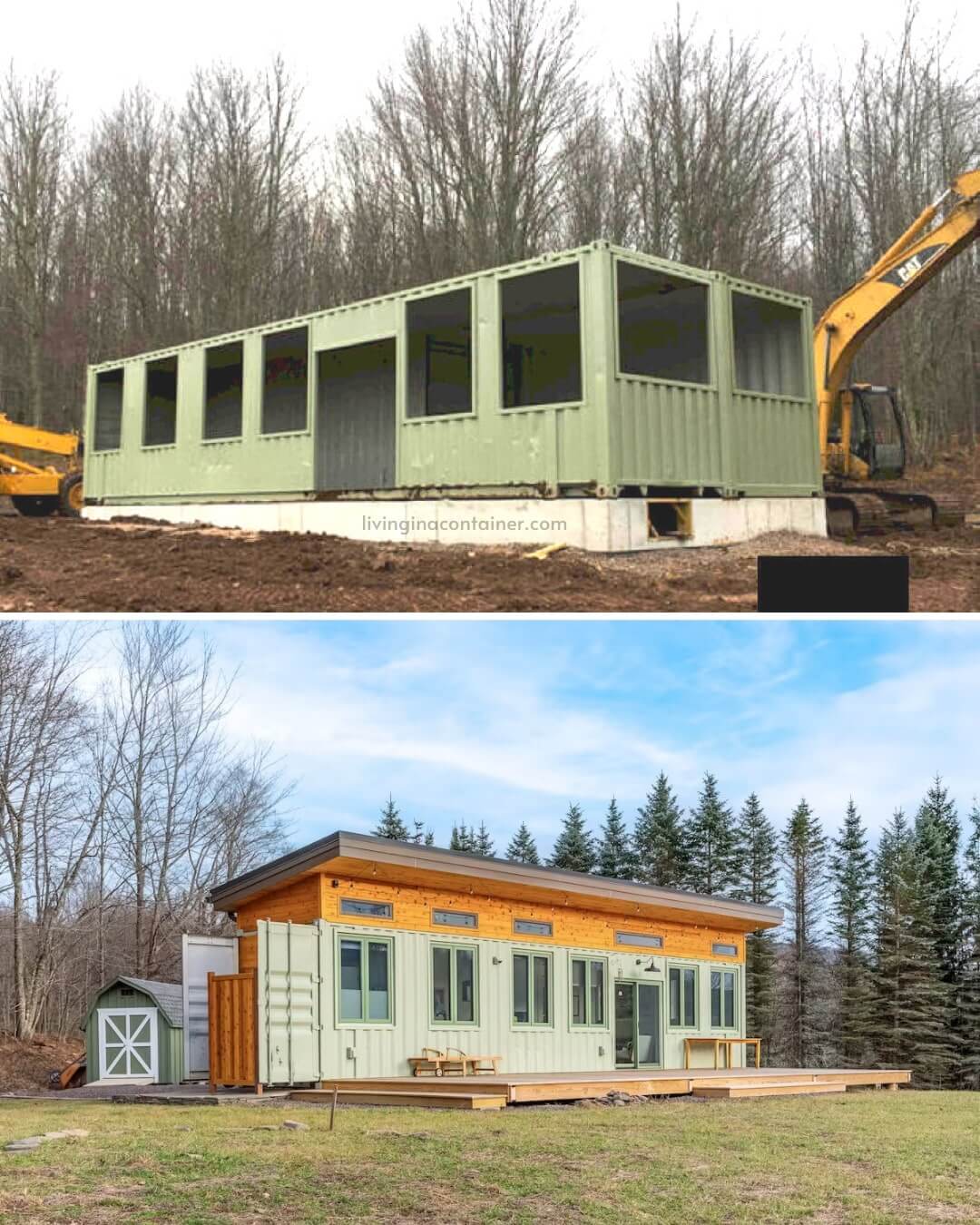 Living in a Container !!!
Living in a container can be an exciting, cost-effective alternative to traditional housing.
Not only will you save money on rent and utilities, but you'll also get the chance to design your own living space that fits your personality and lifestyle.
If you're looking for an affordable way to live with more freedom than ever before, then consider making a home out of a shipping container.
With some planning, creativity, and hard work it's possible to turn this unique form of housing into something truly special – all at a fraction of the price!
So if you're ready for something new or just want to try something different from conventional living arrangements, give container homes a shot; who knows what amazing experiences await?