If you're like most people, the thought of living in a tiny house conjures up images of cramped quarters and minimal amenities. But what if we told you that there's a type of tiny house that's both cozy and comfortable, while also being completely affordable?
Enter the 20ft tiny container home. These homes are made out of repurposed shipping containers, and they can be customized to your specific needs and wants.
Whether you're looking for a full-time residence or a weekend getaway, a 20ft tiny container home might just be perfect for you. Keep reading to learn more about this unique housing option!
This incredibly cozy and stylish tiny home will captivate you from the first glance. Its imposing exterior boasts a quite large veranda allowing for restful afternoons taking in the magnificent surroundings of lush trees.
With a private hot tub and a spacious deck, you can relax in pure serenity.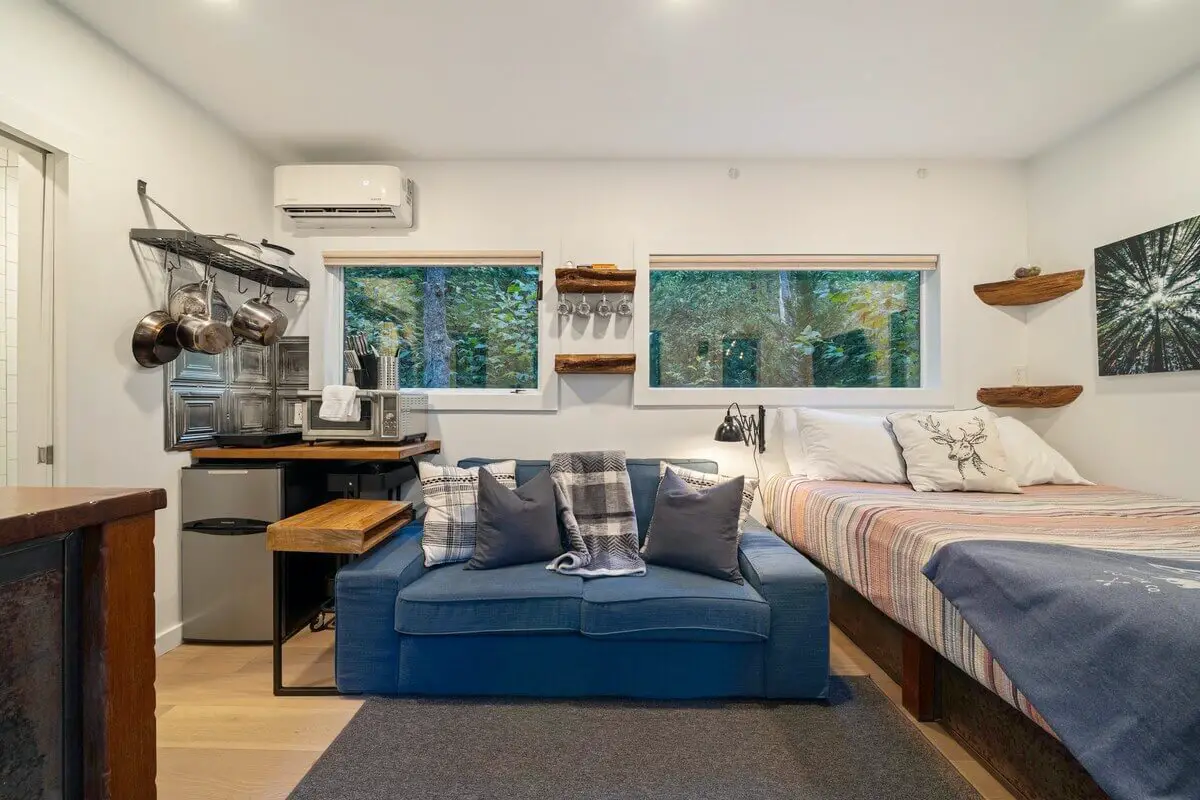 Inside, this tiny house presents a surprisingly spacious interior design with enough room for one bed and a double sofa, as well as all the necessary equipment for an enjoyable stay such as a small kitchen.
All of these features come at an Airbnb price of only $151 per night—an unbeatable value!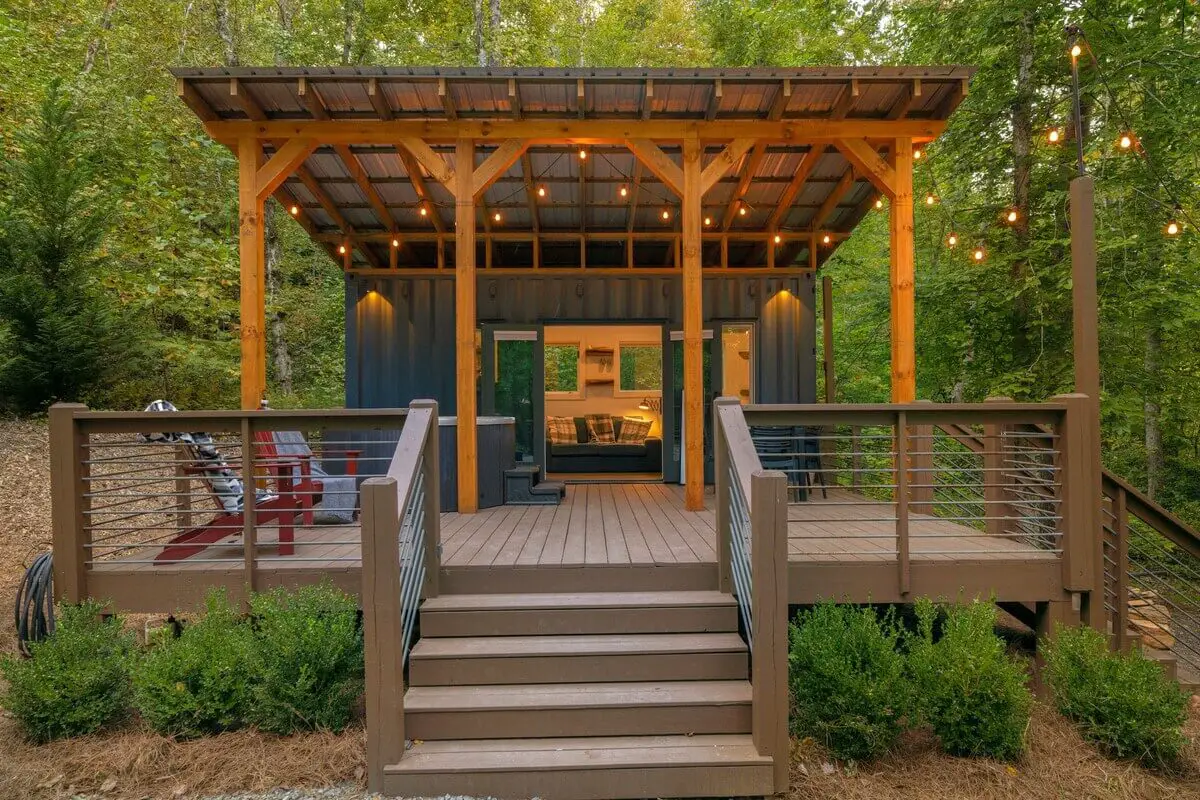 Situated in the beautiful Blue Ridge, Georgia area, this unique studio is the perfect spot for a romantic getaway. Newly transformed from an old shipping container, this cozy haven offers a plethora of amenities to make your vacation one to remember.
From the private hot tub nestled out on the spacious deck to the outdoor dining area, complete with a majestic firepit, every detail has been thoughtfully considered to optimize your magical moments.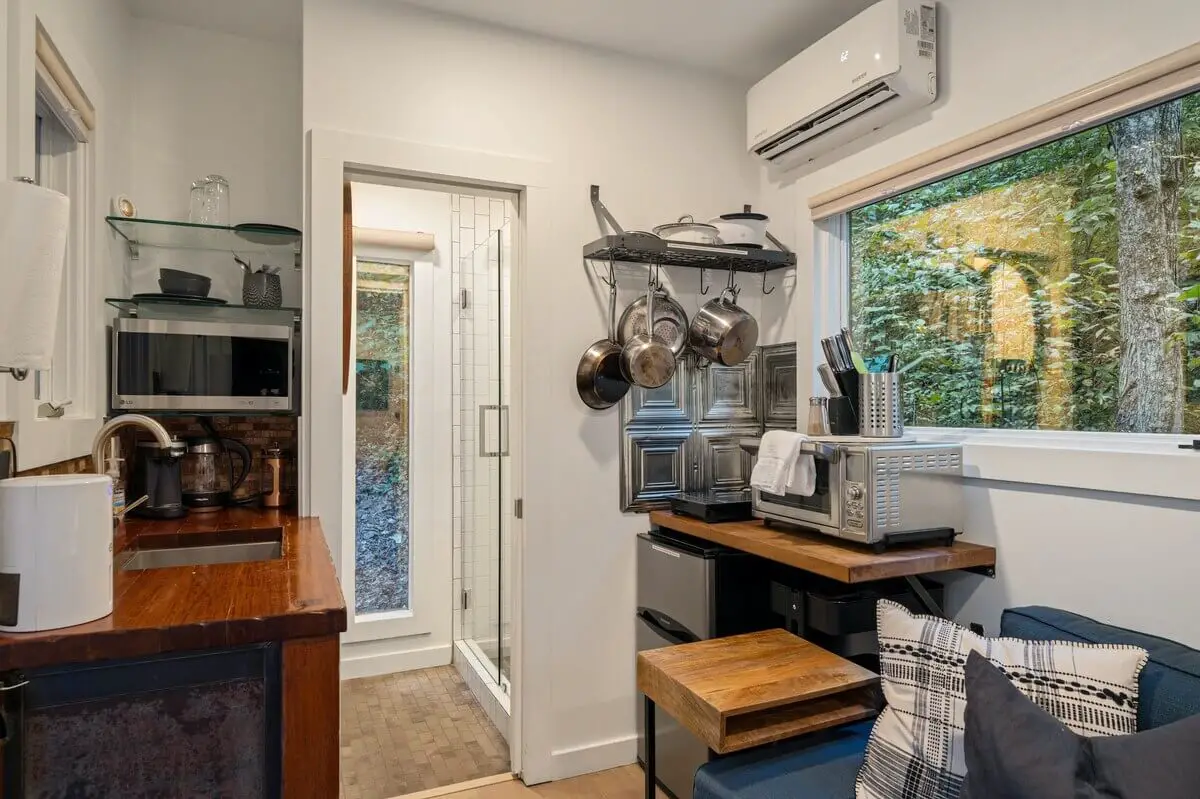 Whether you are looking for a revitalizing escape or a chance to explore nature with your special someone, there's something here that will leave you enchanted and amazed.
Why shipping container home?
Shipping containers are revolutionizing construction, especially homebuilding. Those looking for an affordable yet stylish and environmentally friendly way to build can turn to these metal structures and unlock the potential of taking a mundane object and using it as the foundation of a luxurious or classic space.
A shipping container home is often significantly less expensive than traditional methods of construction but much more accessible, as they come pre-assembled complete with everything one needs to assemble a living space in relatively little time.
Additionally, they are incredibly durable, which provides homeowners with peace of mind that the structure will hold up over many years with minimal maintenance.
With all these advantages combined, shipping container homes hold a strong appeal for those motivated by cost savings, environmental consciousness and convenience.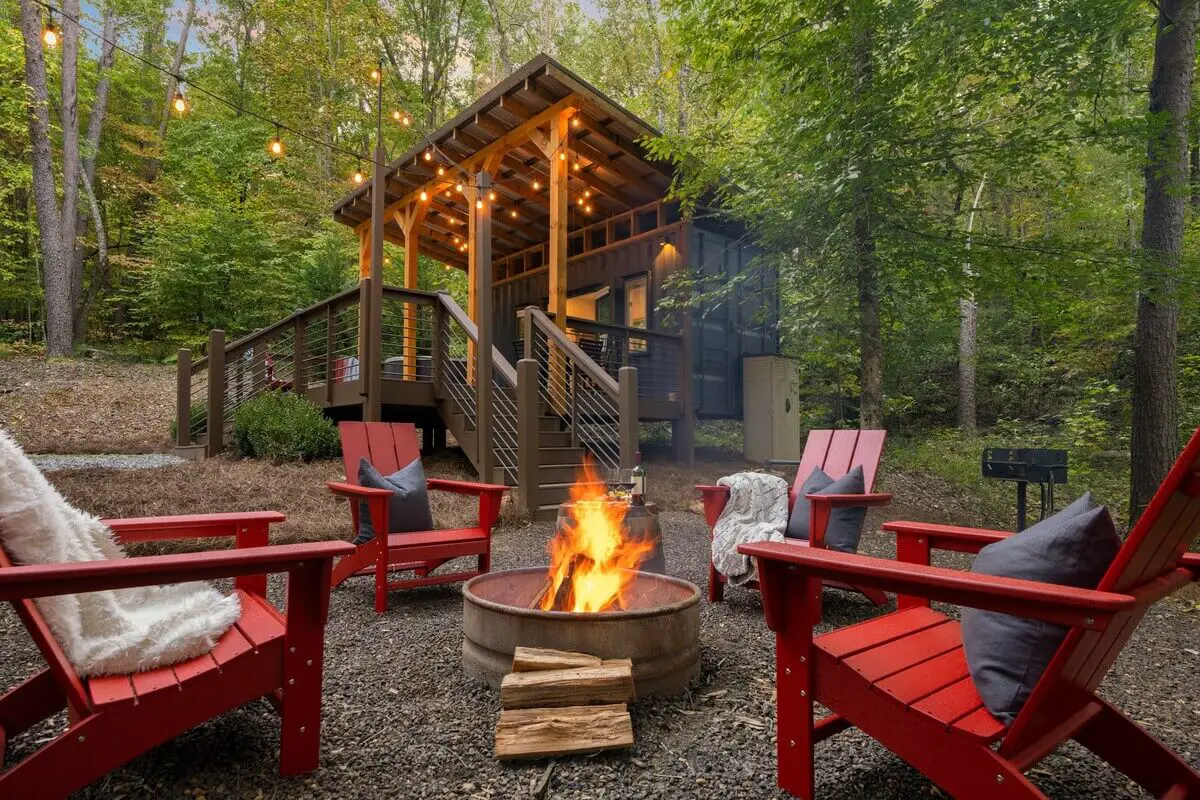 Shipping containers have become one of the most important solutions for rental housing.
The prevalence of shipping containers being used for rental housing has been on the rise due to their many advantages.
Shipping containers make it significantly easier to construct homes in a short amount of time and require minimal energy for manufacture and transportation.
On top of that, they are incredibly versatile, able to be customized to fit a variety of styles, sizes, and temperatures. Additionally, these durable containers provide an excellent defense against extreme weather and pests, making them the perfect alternative for individuals seeking rugged housing with little maintenance required.
It's no wonder that shipping containers have become one of the most essential solutions when it comes to finding rental housing today.
If you're dreaming of building a beautiful container house, 'Living in a Container' is a great place to start. This blog has an impressive selection of inspirational container houses from all over the world, ranging from tiny, cozy spaces to multi-story dwellings.
You can browse international projects, read up on tips and tricks on converting containers into homes and view diagrams that outline the basics of building with shipping containers.
BUILD YOUR OWN SHIPPING CONTAINER HOME STEP BY STEP COMPREHENSIVE GUIDE
Read Also:
Shipping Containers Convert into Super Luxury Container Home (Aprox. $300.000 )
How to Convert a 40ft Shipping Container into a Tiny House for $95000