Hi everybody
Today we will show you container house model by Architect Priscila Azzini.
Containers make home at different locations. These are decided by the owner of the homes. Today, a container home is going to be discussed which is located in rocky area.
This home is unique one in its location. Home size is small but with all necessary parts. This home is far away from the town of city. Steel shipping containers are used to construct homes of all sizes. These can make small as well as large homes. Containers are reformed to make homes.
The beauty of construction industry has been increased after the introduction of containers in market. Trend of steel shipping containers is increasing. No doubt, people are preferring them as material for their homes.
Hotels are also designed by containers. Many containers homes have been discussed on this page. All are unique in their architectural structure. One home does not match with other. These are simple homes, hotels, cafes, restaurants, guest homes, mansions and villas. All are discussed in detail to know about the importance of steel shipping containers.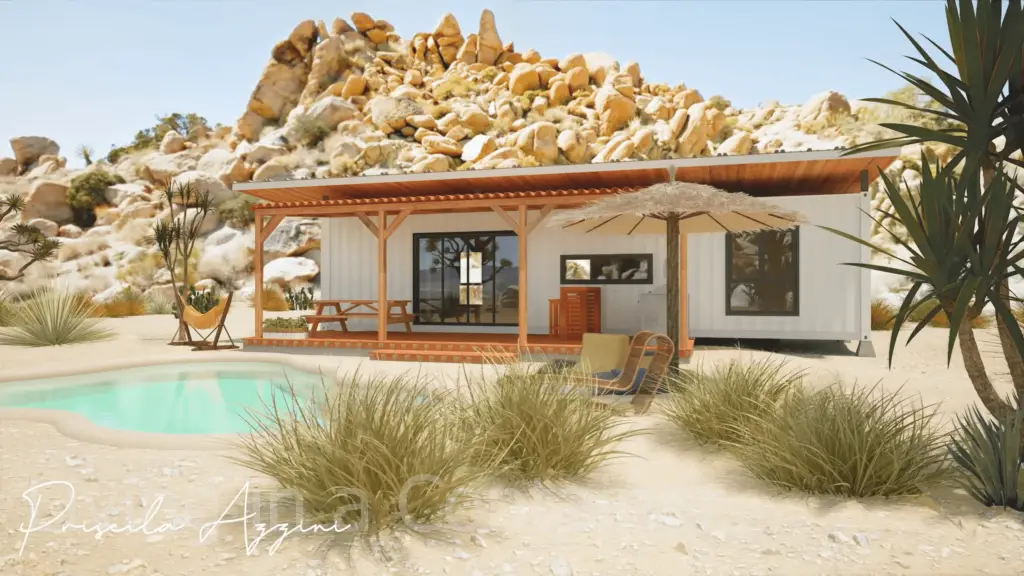 White painted container home in rocky area
This one is single storey container home. Outer as well as inner side of container is painted white. It gives a really gentle look in this rocky surrounding. Home is simple but unique. Elegancy of the home lies in this fact that it is painted white.
White painted container homes are really cool. This container house is made of 2 x 40-foot steel shipping containers. If a large container is used in sensible way, then it becomes enough for a proper home construction.
This home has many parts.
This container home has portions in inner as well as in outer area.
Three bedrooms
bathroom
kitchen
living room
dining table
laundry area
swimming pool
grilling area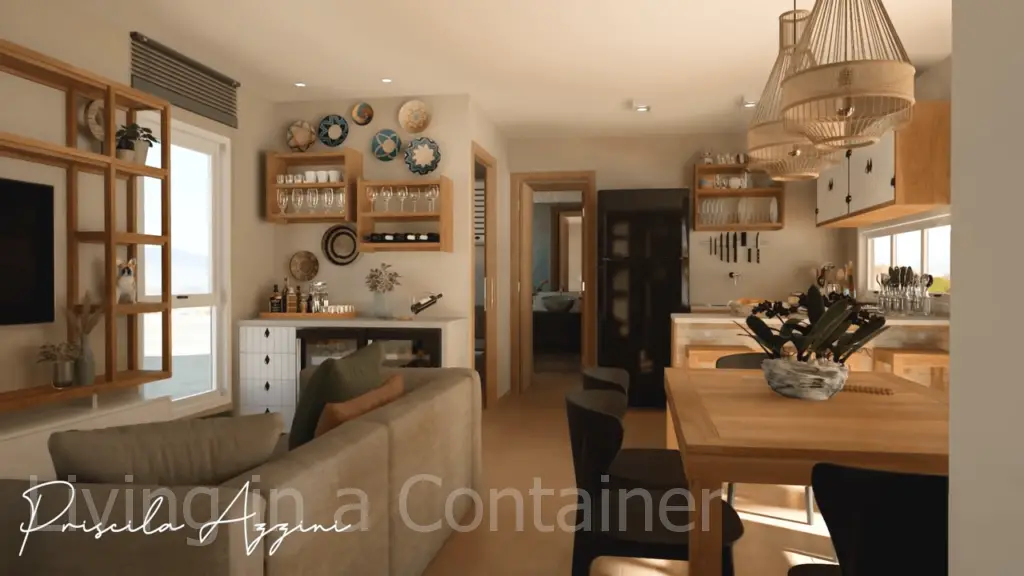 Inner view of this shipping container home
There are three bedrooms in inner side of steel shipping container. One bedroom is large and it is a master bedroom. Glass window is in the room. Curtain is hanged. Walls are painted white. Closet is in the room. Second bedroom is small and it has a single bed. This bedroom is for a single person. Third bedroom is also small but it has a double storey bed. Two persons can sleep here. So, total five people can sleep in this home which is made of a single steel shipping container. Is not this interesting? I think, this is amazing.
Bathroom is small and it is made of shining tiles. Basin, toilet and shower are in bathroom. Mirror is also there. All accessories are set in this bathroom.
Kitchen is with all furniture. Cabins are designed. The utensils are set. Accessories are set in this kitchen. Sink, stove, refrigerator, microwave are in kitchen.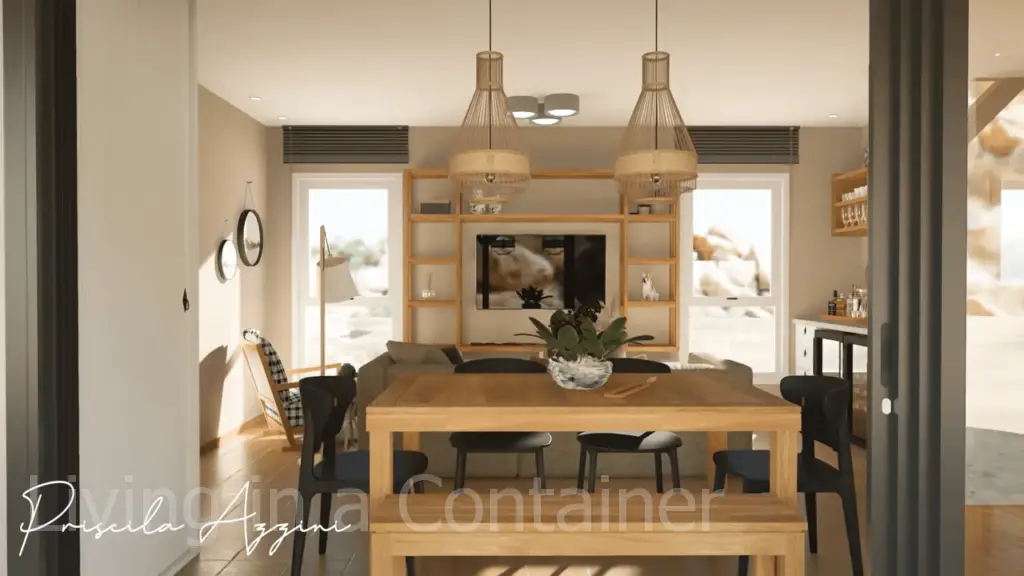 Dining table is near to this kitchen. Black colored chairs are placed and a central table is also there. This dining table to enjoy meal.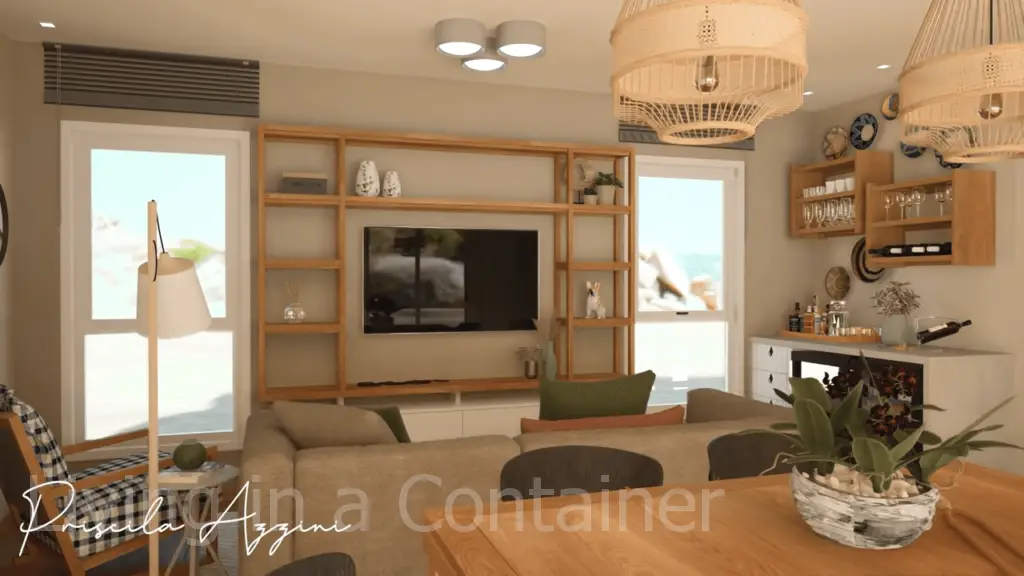 Living room is full furnished. Sofas are placed in this room and LED is set on front of seating sofas. The room is very stylish and modern. Furniture is set in great way.
Laundry has a washing machine and a washing basin. These are also set in white color. These are set in a wooden set up.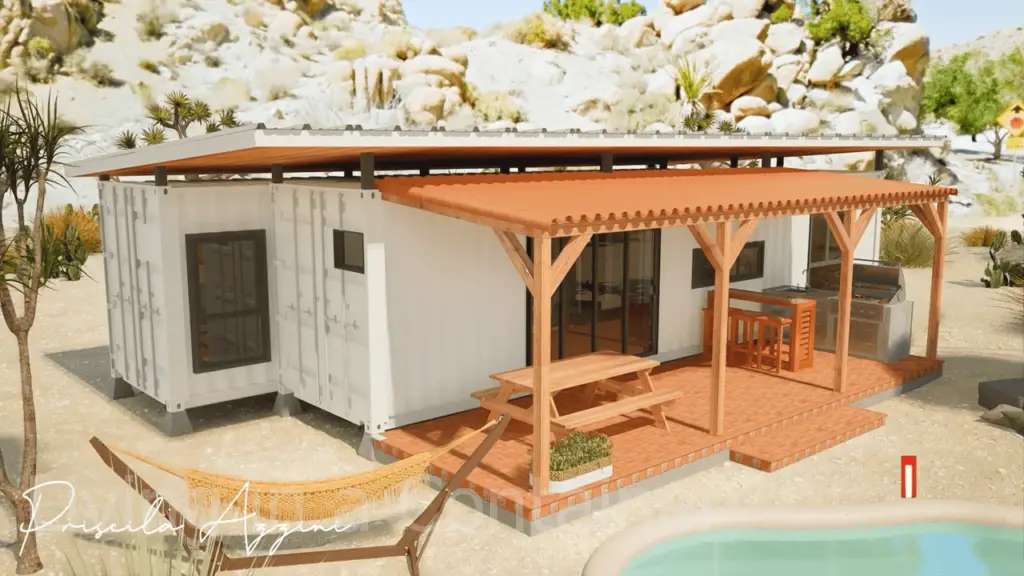 Outer view of the container house
Surrounding of the house gives rocky appearance. Swimming pool is in front of the house. This site is for giving pleasure to the persons living in this elegantly designed architectural structure. At the other corner of the home, there is a grilling area. This is for enjoying cooked meat. Chairs are nearby. Machine is placed here and it is a site for enjoying evening meal. Party can be done here.
One hammock is also there in outer part. Seating chairs are placed in balcony. This house is complete with all necessary as well as leisure places. These all places make a home peaceful collectively.
Facilities of this living area
This home has electricity power. This runs on solar system. This home has enough electricity power which runs all appliances of this living area. Wooden work is done around corner of windows and in kitchen.
If you want to look at the other works of the architect Priscila Azzini, you can visit the Youtube channel of Priscila Azzini Interior Design / Arquitetura.
Benefits of using shipping containers
As, I have discussed above, containers have many benefits. These are used to make homes in short period of time. Less money is required to make a home of steel shipping containers.
It is convenient to construct a home at difficult places like hilly areas. Containers are more reliable and are durable. Insulation and foundation of containers decide the durability of this container homes.
If one gets bored of containers style at one time, containers can be changed at any time of life. This is a great advantage for adventurers. While, homes of concrete material can not be changed in design again.
INTERESTED IN MORE CONTAINER HOUSE PLANS?
---
CHECK OUT MORE AMAZING CONTAINER HOMES BELOW!
The Lily Pad Cozy Container Home
Life Uncontained Shipping Container Home
Shipping Container Home Ontario
Building Your Dream Home by A Shipping Cargo Container: Definitive Guide
Do you come across stunning stories of individuals who built their cargo container houses with their own hands on Youtube, Instagram, or many other platforms? Okay, so now is the time to be one of them!
This e-book, which we offer you and contains all the theoretical details and practical steps you need about the container home building process, will be your real assistant! What's in this book? Let's explore now!
Buy now for more!