Welcome to SeaCan.
This is a brand new 40-foot shipping container in Halifax, Nova Scotia Canada. A wonderful retreat tucked away deep in the jungle with private access to the riverside.
320 sqft of living space that comes with a 40ft shipping container placed on a concrete paved floor.
Black exterior, one of the indispensable colors of shipping containers.
Outdoor patio and winter garden,
Colorful outdoor furniture,
Wood-fired jacuzzi and sauna,
Feel the Wood in Container House Interior Design.
What else? Everything has been thought of for your relaxation in this container house.
Don't worry, we'll talk about it all. Let's take a look at this modern shipping container.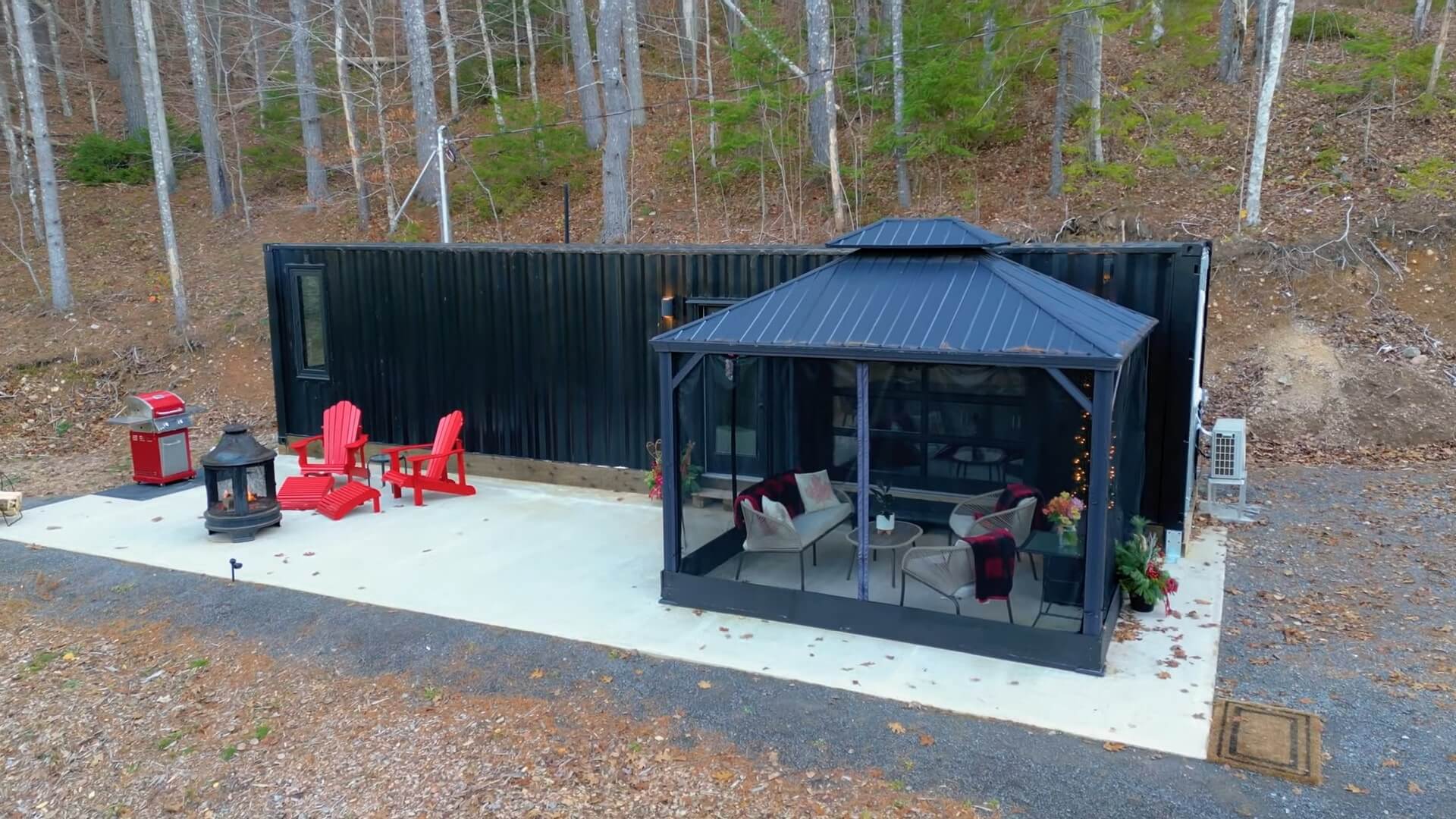 Single Shipping Container Home
The container house is in a magnificent location among the trees and by the Avon River. The shipping container house consists of a new 40ft shipping container set on approximately 750 sqft of concrete floor and a small conservatory.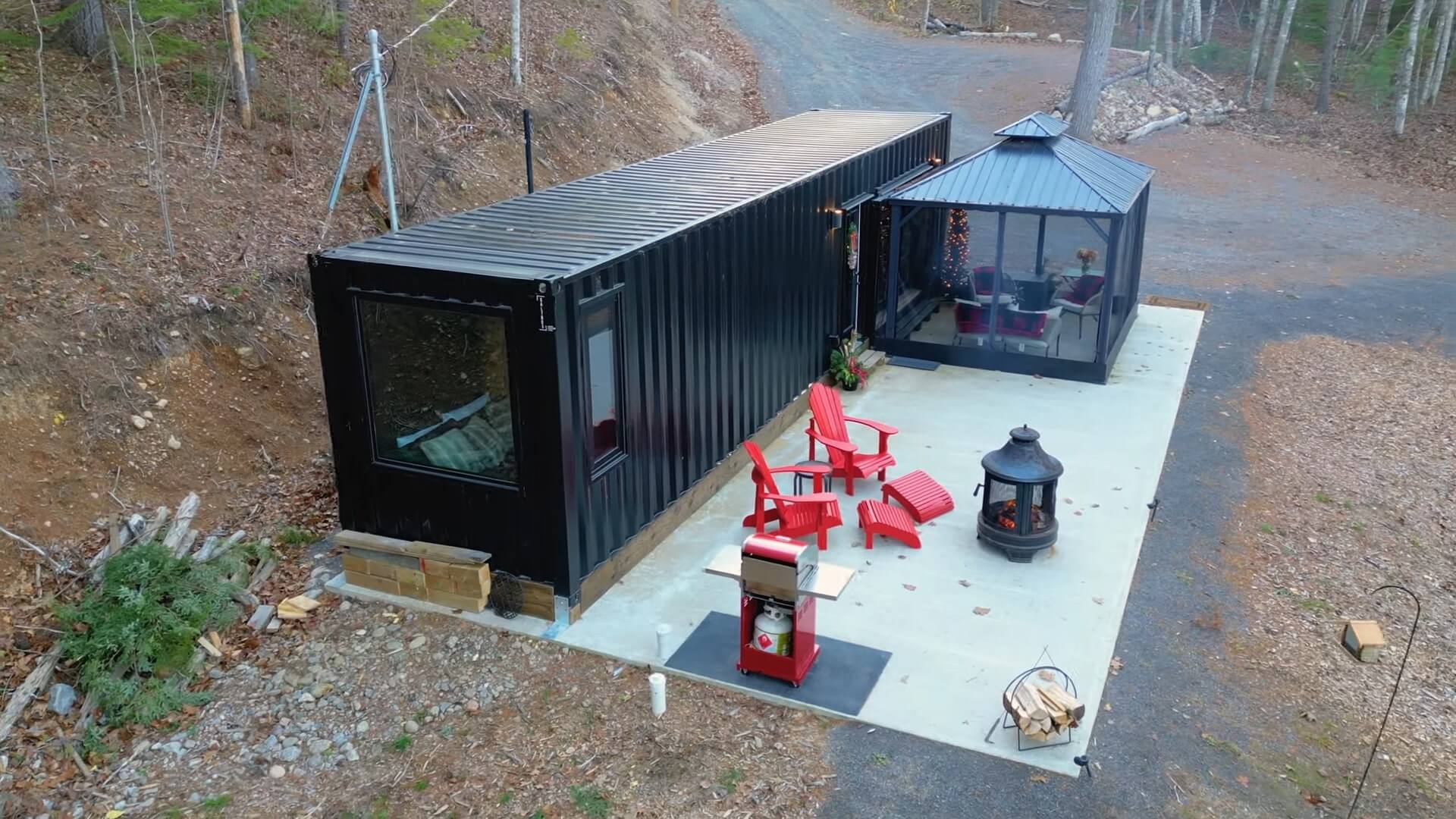 Black Exterior (Black color suits these iron boxes very well)
If you have visited our blog before, you must have seen many examples of black shipping container houses. Black color really suits these metal boxes. We can say that shipping containers almost find their character with this color.
If you want to take a look at other black container houses, I am including a few of the most striking black container houses below.
The Lily Pad Cozy Container Home
40ft Shipping Container turned into Airbnb
40ft Shipping Container Turned Into a Dark Themed Home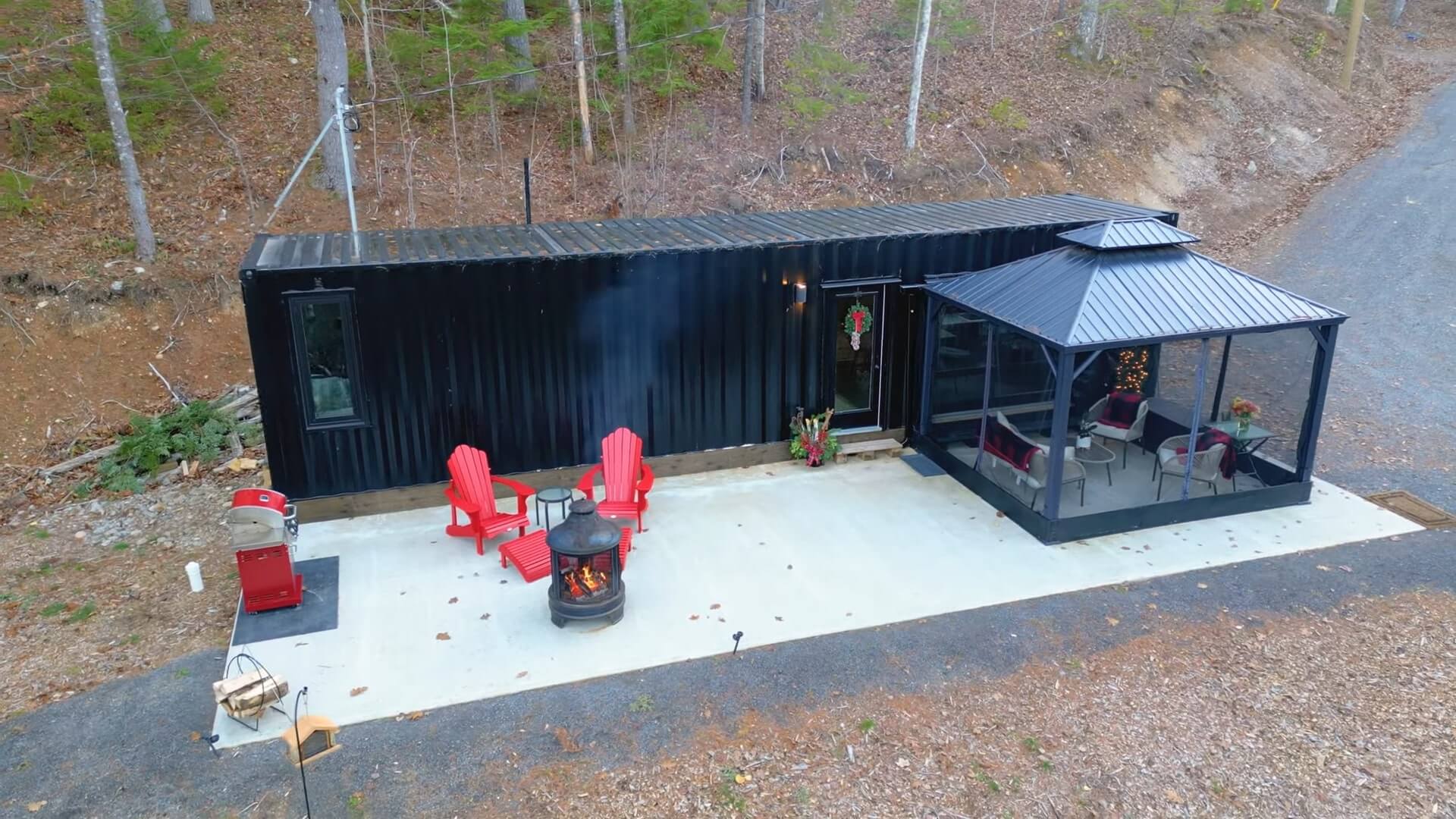 Outdoor Patio and Winter Garden (sipping coffee with river view)
Enjoy the picturesque view of the Avon River from the outdoor patio or conservatory of your container house. It is very private and this area is directly facing the river so you can hear the soothing sounds of the river in the background.
This unique and innovative building offers a unique way to enjoy nature while having all the comforts of a traditional home.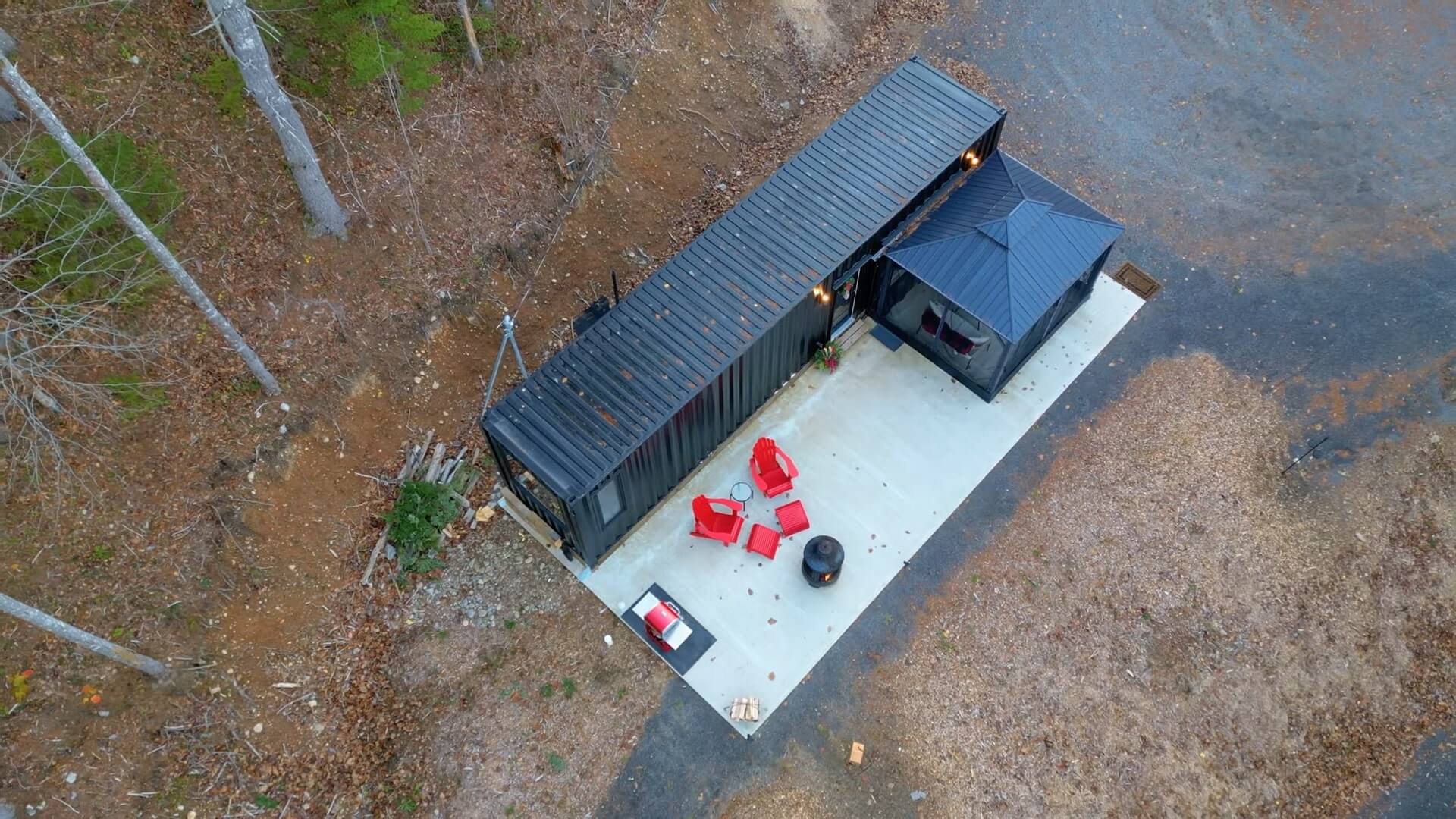 Colorful Outdoor Furniture
The exterior of the shipping container home is almost entirely black. But the owners made a splash of color with the red chairs and red barbecue they put on the outdoor patio and we can say that they were quite successful. This detail gives you warmth when you first see the house.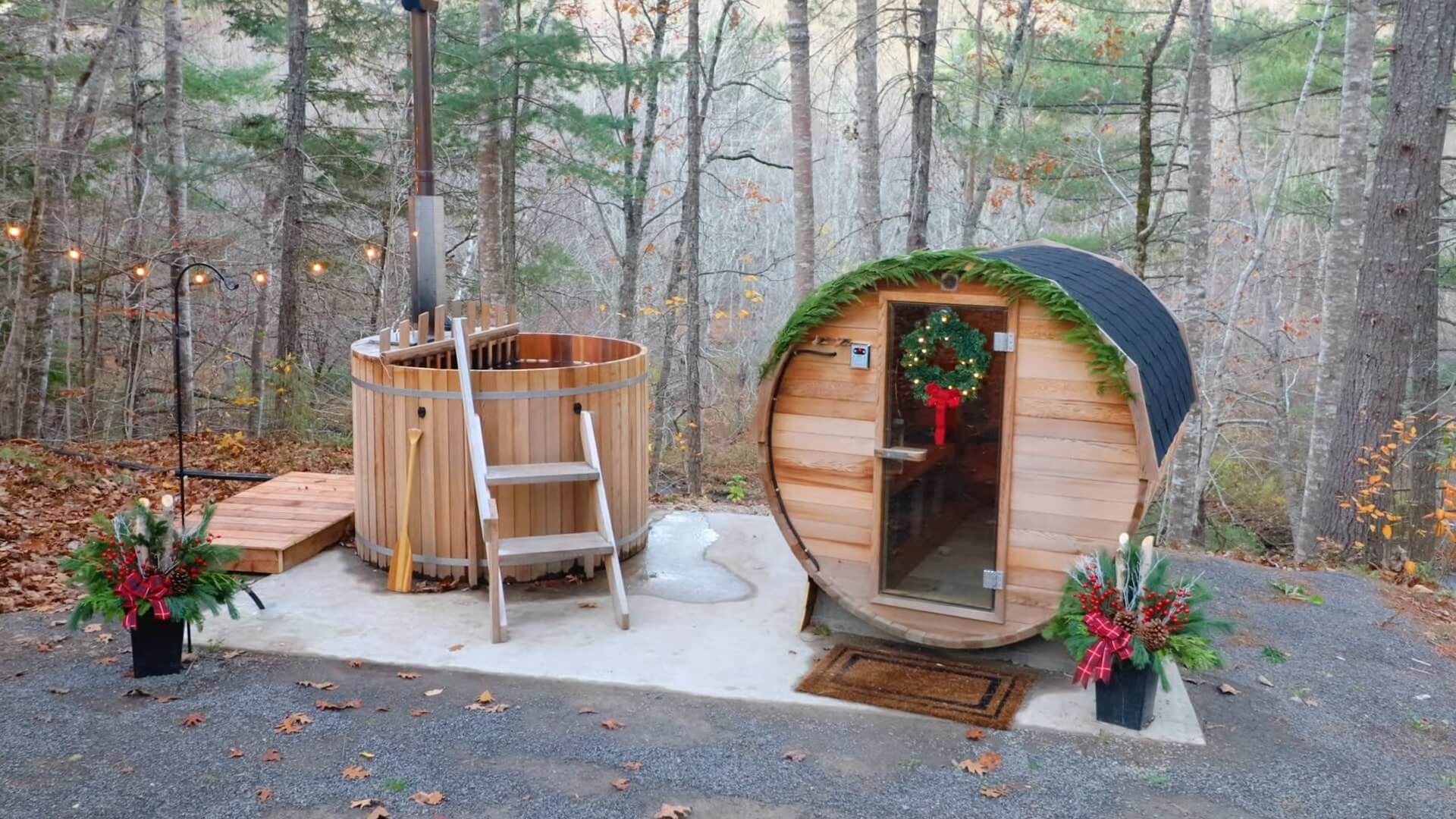 Wood-fired Jacuzzi and Sauna (Just the comfort we need)
Jacuzzi and Sauna are right in front of the container house. On the left, there is a woodshed containing approximately 1 ton of wood.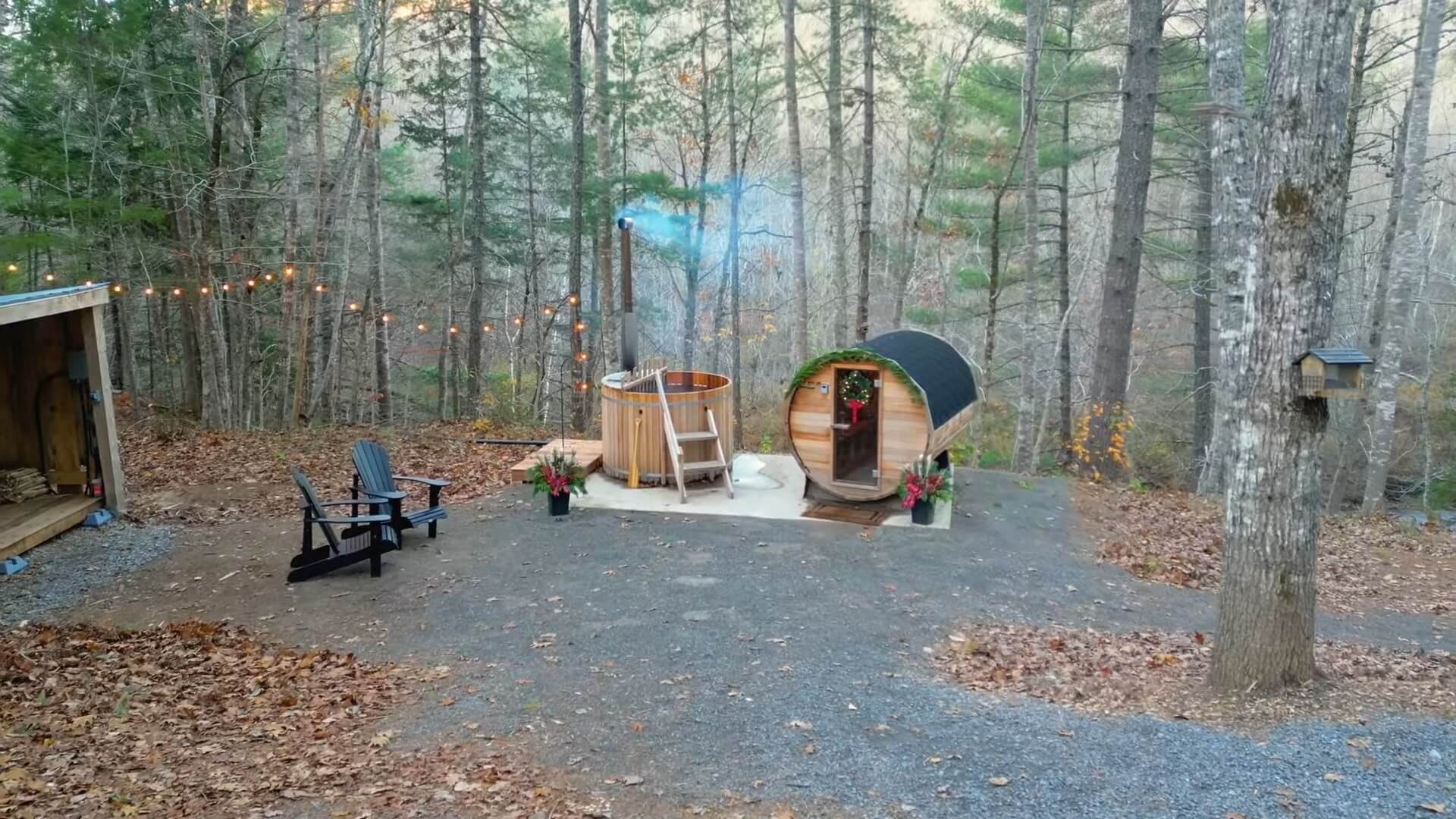 It must be an indescribable beauty to enjoy in the jacuzzi and sauna while you have a magnificent view of the river in front of you.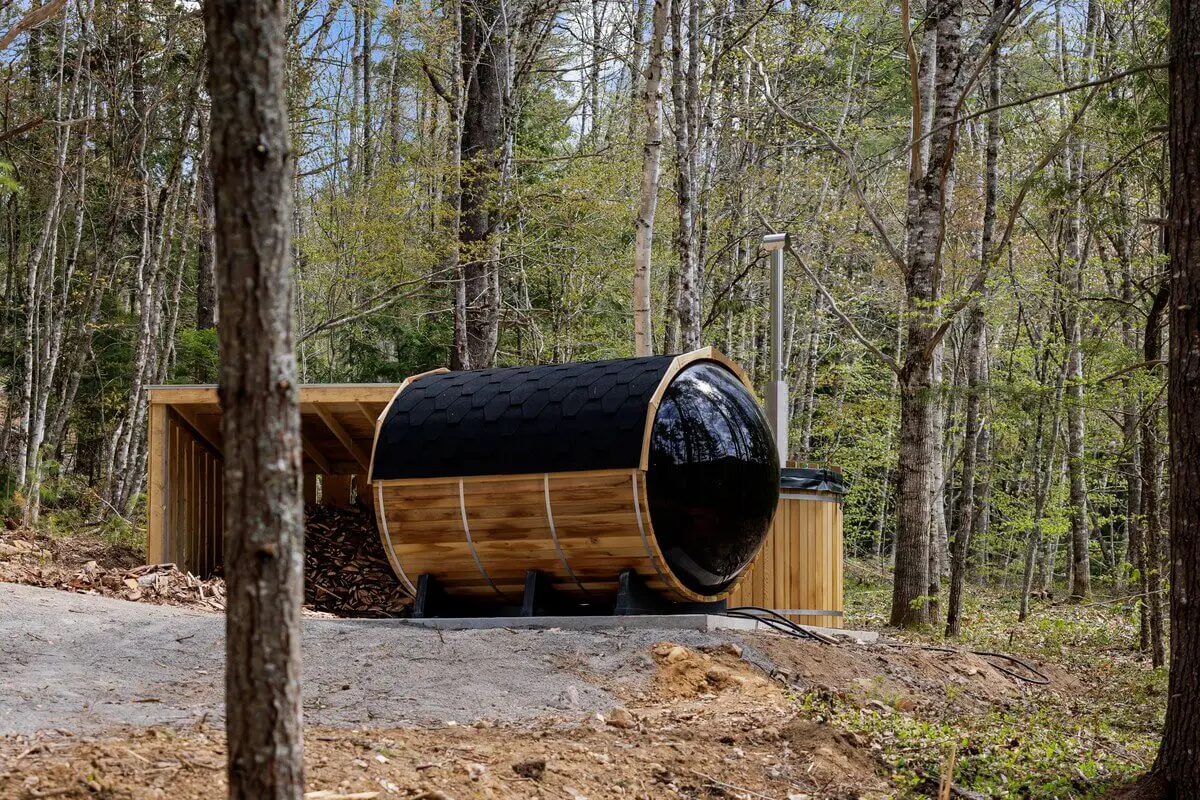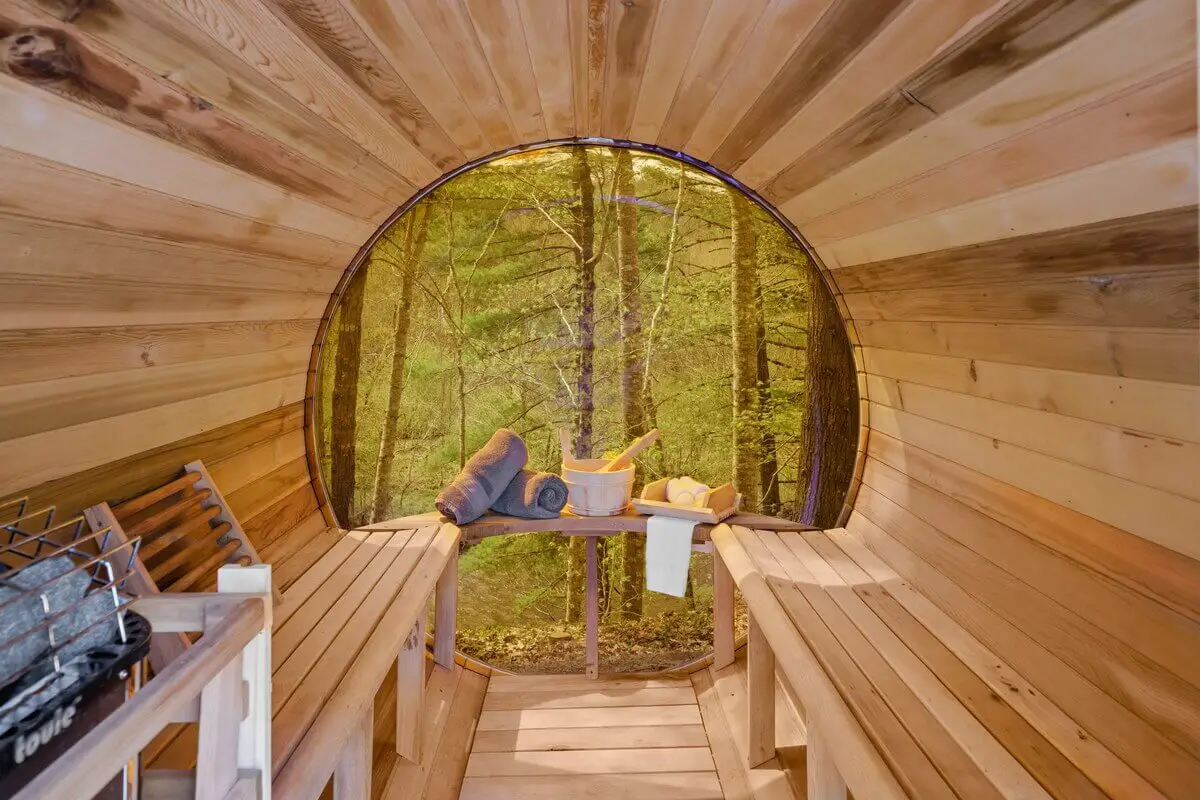 The sauna is like a space shuttle. It brings you closer to the landscape with its cambered glass on the river side.
Feel the Wood in Container House Interior Design
The interior design of this 40ft sea container is really cool. Almost all details are wood veneer or painted black. It would not be wrong to say that while the door, windows, white goods, table and even the ceiling are black, all other remaining areas are also wooden.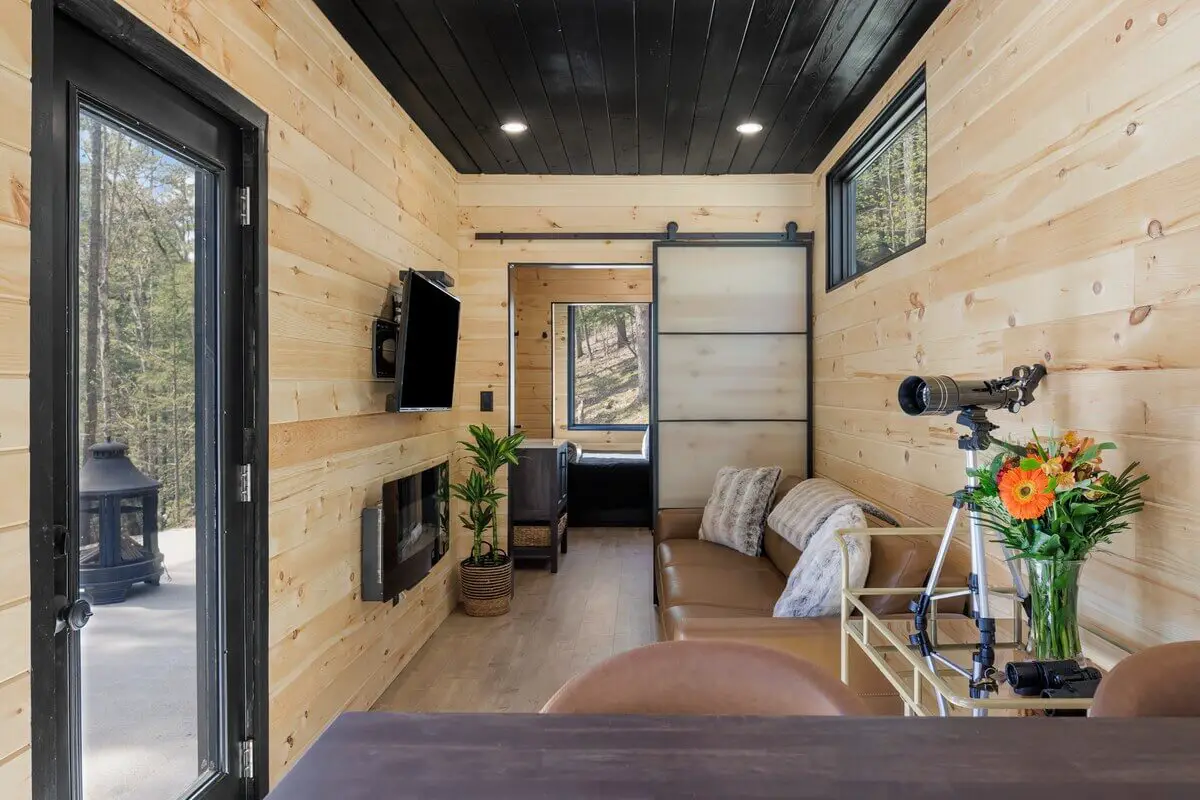 After entering through the door, there is the living area, bathroom and bedroom on the left, respectively, and the kitchen on the right.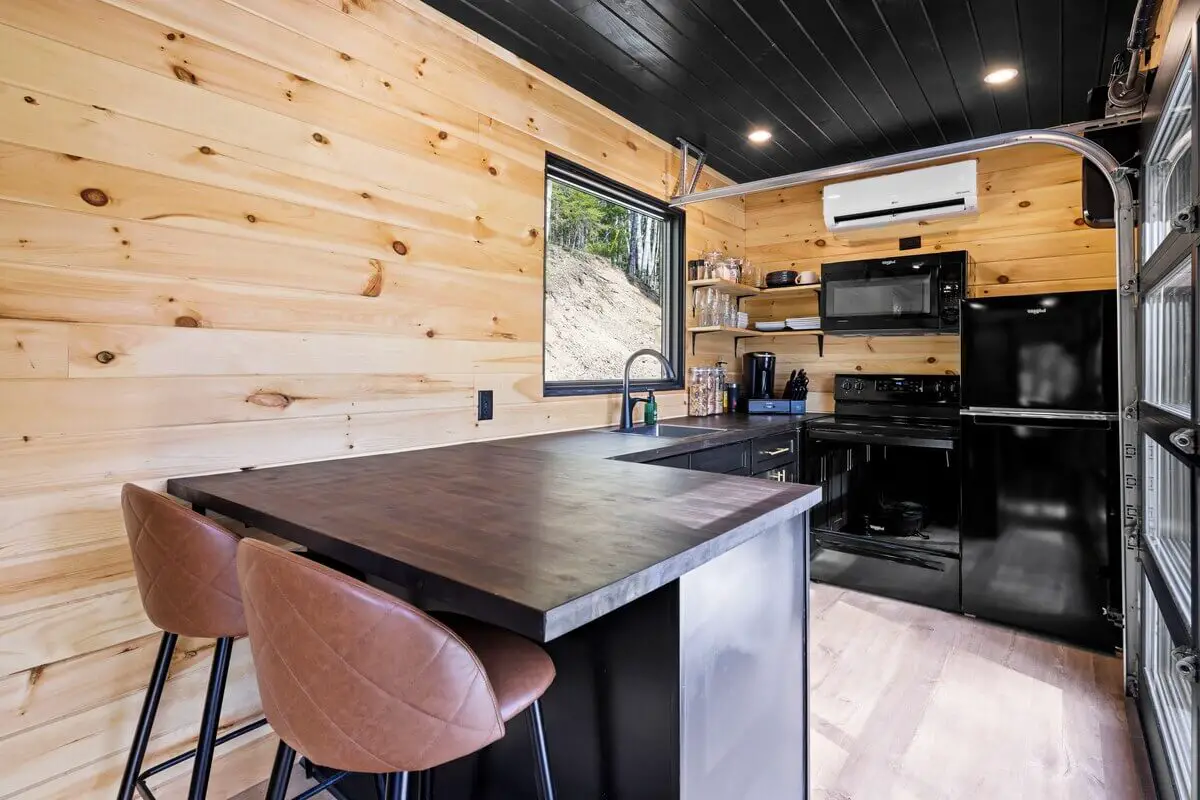 There is also a garage door to make it easier to get in and out of the kitchen. The container house also has a kitchen counter that is almost the size of a normal house.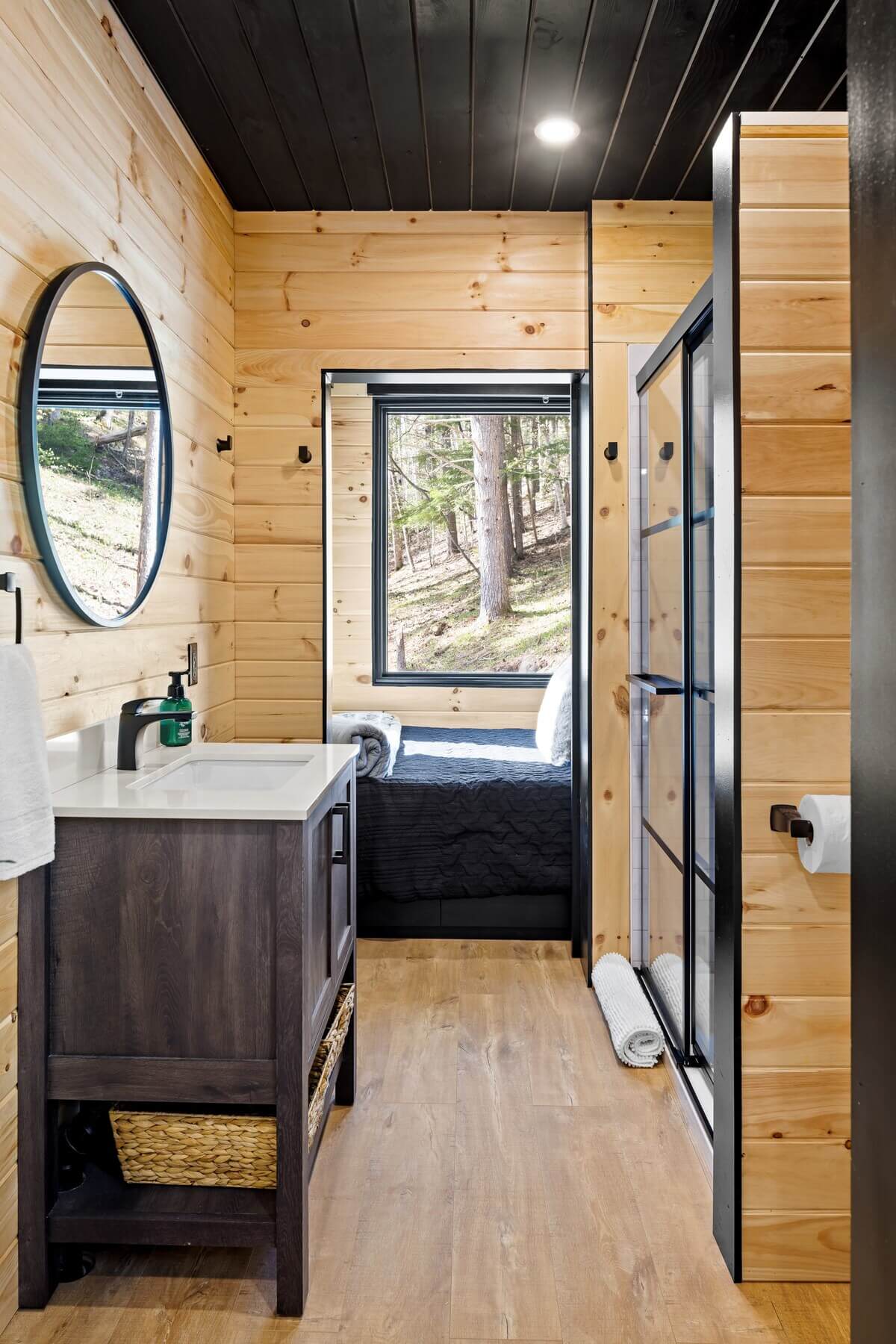 Just past the sofa, behind the sliding door is the bathroom and bedroom. Here, too, almost every detail is wooden. After the bathroom, you encounter a bedroom with a full bed. You can still enjoy the view with the glass here.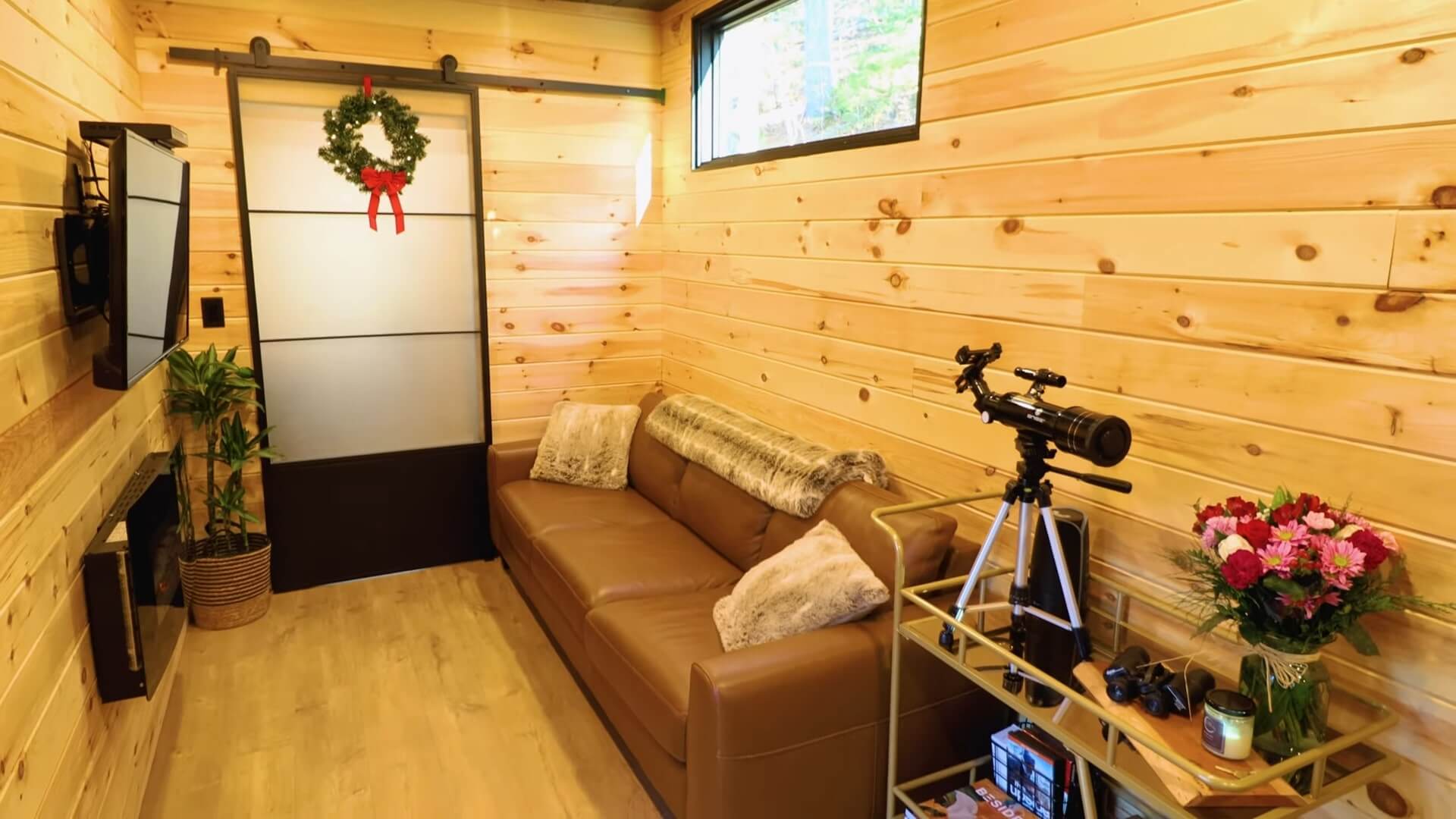 Nightly Accommodation $252
If you are planning a visit to this part of Canada, SeaCan is ready to offer you the comfort you want. Hosted by Scott & Joel, this house was rated 5 stars by 45 visitors on Airbnb.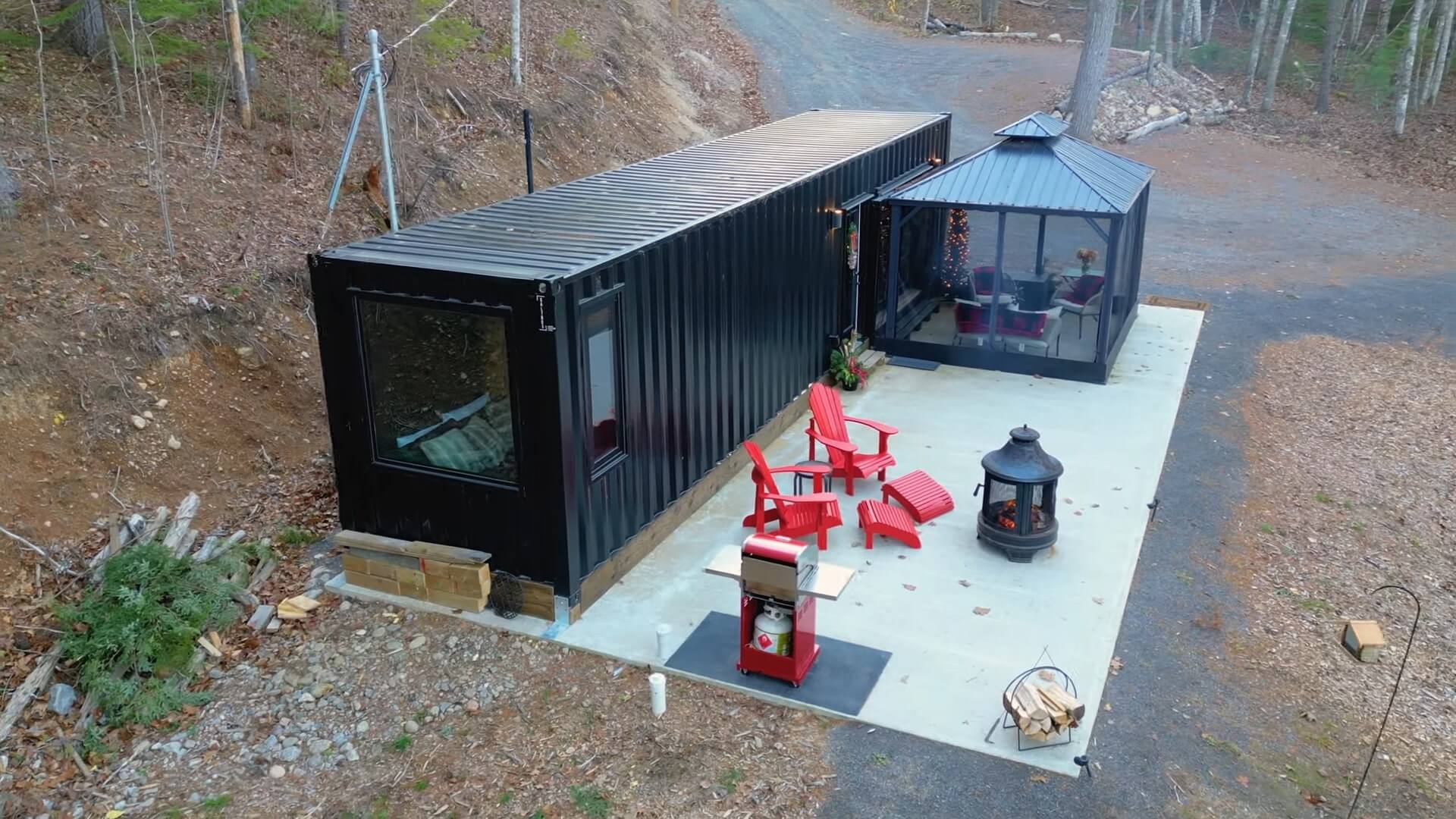 Have you ever thought of living in a container?
It's an exciting new way of living that has recently been gaining popularity. If you're curious about it, our blog has hundreds of models to choose from!
Whether you want something small and cozy, or something bigger and luxurious, there is something for everyone.
Plus, the cost of living in a container is much lower than renting a traditional house or apartment. So why not join the trend and give it a try? You won't regret it!