Hi everybody
We continue to discover for you. Our container office on today's tour is from Selong Belanak, Lombok, Indonesia.
Homes are the places where persons live for comfort. After spending entire day in tough routine, home is the place where one relaxes.
Thus, entire structure of the house matters. It depends upon the architecture of the house. Its all portions should be in harmony and all should be comfortable. Home must have enough space for all the person living in it. There should be no over crowding or lack of facilities.
One dreams about the house that it must contain all parts. There should be bedrooms, leisure places, swimming pool, grilling facility and many more. At the end, it depends upon the budget of the person who is going to make a home.
Then comes very important thing that is material of the house. It should be and must be resilient. Material should be perfect so that it may not give any regrets.
Beside the strength of any material, style also matters. If a material provides a home which is more modern, then, of course it will be preferable. Because world is progressing and it is demanding more styles with luxury.
Every new thing replaces the older one. Similar thing has happened to construction industry.
Containers which are made of steel and are used to ship things from one place to the other, are reformed and are used to construct homes now.
These steel shipping containers are used to build homes of all kinds. These can build small as well as large homes. This depends on the insulation which decides about durability of a container home. It is misunderstood that containers are hot. Air conditioners are fixed into container homes which make them cool.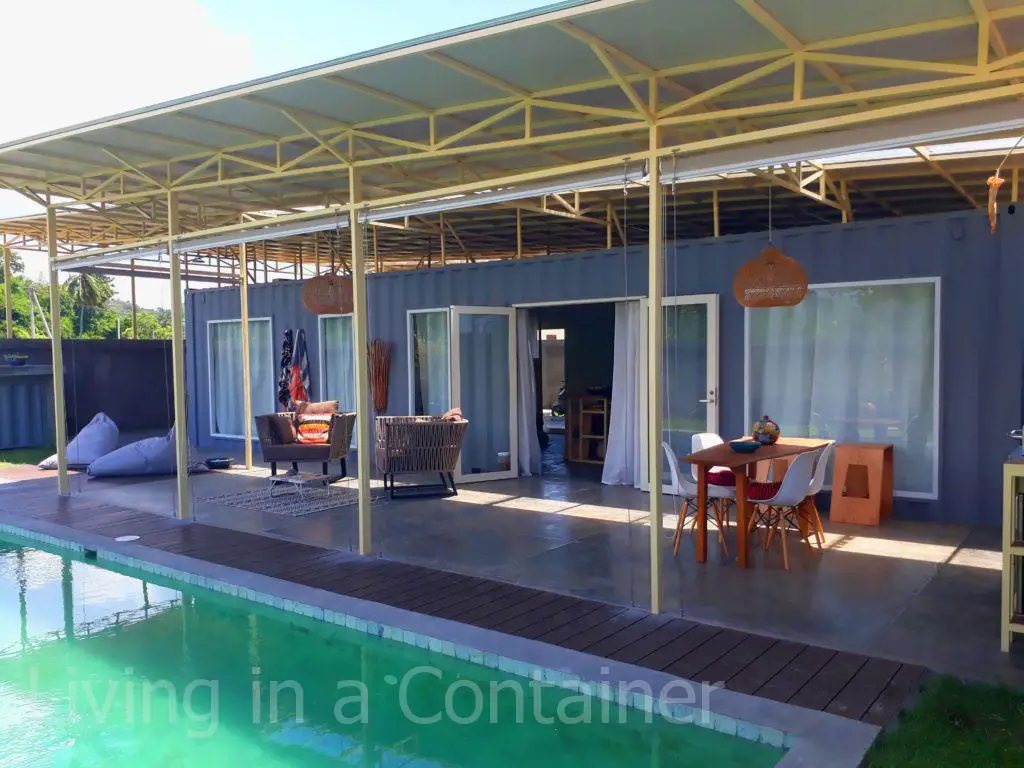 This home which is going to be discussed is a blue painted steel shipping container home. It id made of a two shipping containers. Size of container is 40 feet.
In generally single container becomes enough for a tiny home. This is for one or two persons. It has all parts with extra pleasure places. To know about this house in detail, we have to step in this living place.
All portions of the house.
This home parts which are described in this list.
Bedroom, Bathroom, Kitchen, Living room, Dining table, Balcony, Swimming pool.
Description of this single storey container home
This container house has all parts in a sequence. In one corner, along the glass window, there is a living room. It has wooden shelf along the wall. Sofas are placed in it in dark color. Table is also set in this room.
Then comes loaded kitchen. Many wooden shelves are made on upper wall. Wooden cabins are made on lower part. Sink is of stainless steel. The refrigerator, microwave are also set. Stove is fixed in shelf. Tiles made a shelf which has two sitting stools.
Bathroom is nearby. It has a wooden door.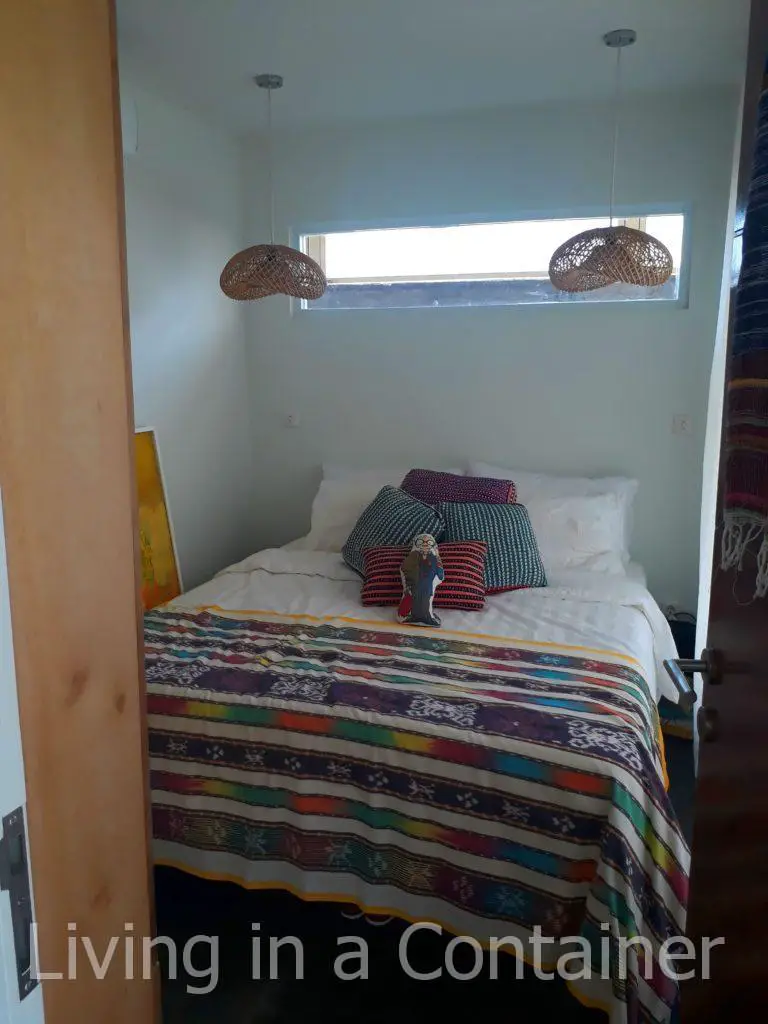 Bedroom is with a large sized bed. A small longitudinal opening is left for light on this bedroom. It can accomplish two persons.
Outer view of this simple blue home.
This house has a porch which has a wooden floor. This porch has two arrangements. One is there dining table. This table has wooden chairs and table.
Nearby, is another seating arrangement. One can sit there in evening or morning to enjoy nature.
In exact front of the house, there is a swimming pool. Swimming pool is a leisure place. It is not included in mandatory parts of the home.
It depends upon the choice of the person who is constructing home as well as on the budget and area under construction. Swimming pool becomes mandatory in large homes.
Glass is used in container home to enhance the glory of living place. Doors and windows are made of glass. These are sliding windows.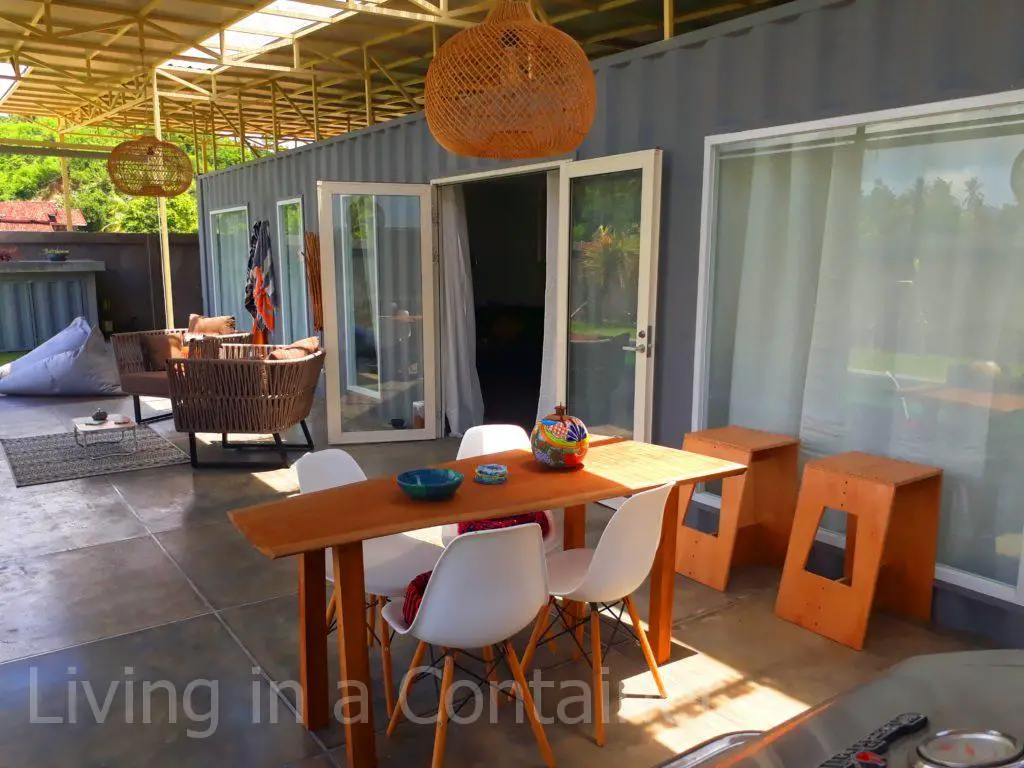 Combination of glass, container, wood gives a perfect living place
The surrounding of window is also of wood. It gives support as well as design.
Containers are shipped to top of mountains and homes are constructed there. It looks impossible but it has become possible in this world. Now, living at any place is not difficult and it is all due to steel shipping containers.
Description of this steel shipping container house ends here. Each part has discussed in detail for your ease.
If you want to make a home of containers, then do not be late. Make a hurry and be among the most modern persons of this era.
We are researching and showing you the structures made with shipping containers around the world to give you an idea.
Do you come across stunning stories of individuals who built their cargo container houses with their own hands on Youtube, Instagram, or many other platforms? Okay, so now is the time to be one of them!
This e-book, which we offer you and contains all the theoretical details and practical steps you need about the container home building process, will be your real assistant! What's in this book? Let's explore now!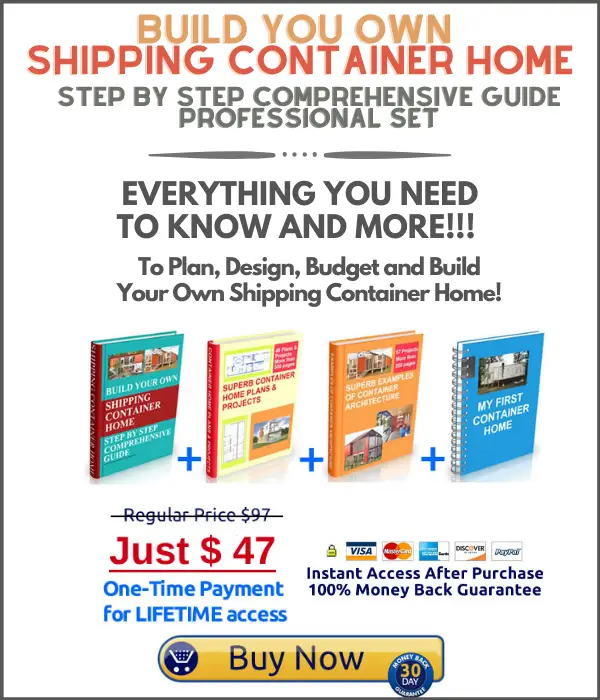 INTERESTED IN MORE CONTAINER HOUSE PLANS?
---
CHECK OUT MORE AMAZING CONTAINER HOMES BELOW!
Great Container House from Mexico
The Lily Pad Cozy Container Home
Life Uncontained Shipping Container Home
Shipping Container Home Ontario – Canada