Are you looking for a home that is both timeless and offers you all the amenities of a traditional home?
Consider that this home was constructed using recyclable materials and is eco-friendly at the same time. The most recent generation of shipping container homes makes it possible to achieve all of these features.
Large steel boxes, which used to be used only as shipping containers, have now turned into a miracle of innovation. In particular, the construction industry's desire to reduce its carbon footprint and its move away from traditional architecture brought a brand-new breath to the containers. Thus, steel boxes can host a family's adventure.
Located in Cascade Locks, Oregon City, this shipping container home was built by Relevant Buildings, which has made a name for itself in the container home industry.
You may treat yourself to this incredible home through Airbnb at a low cost of $188 per night.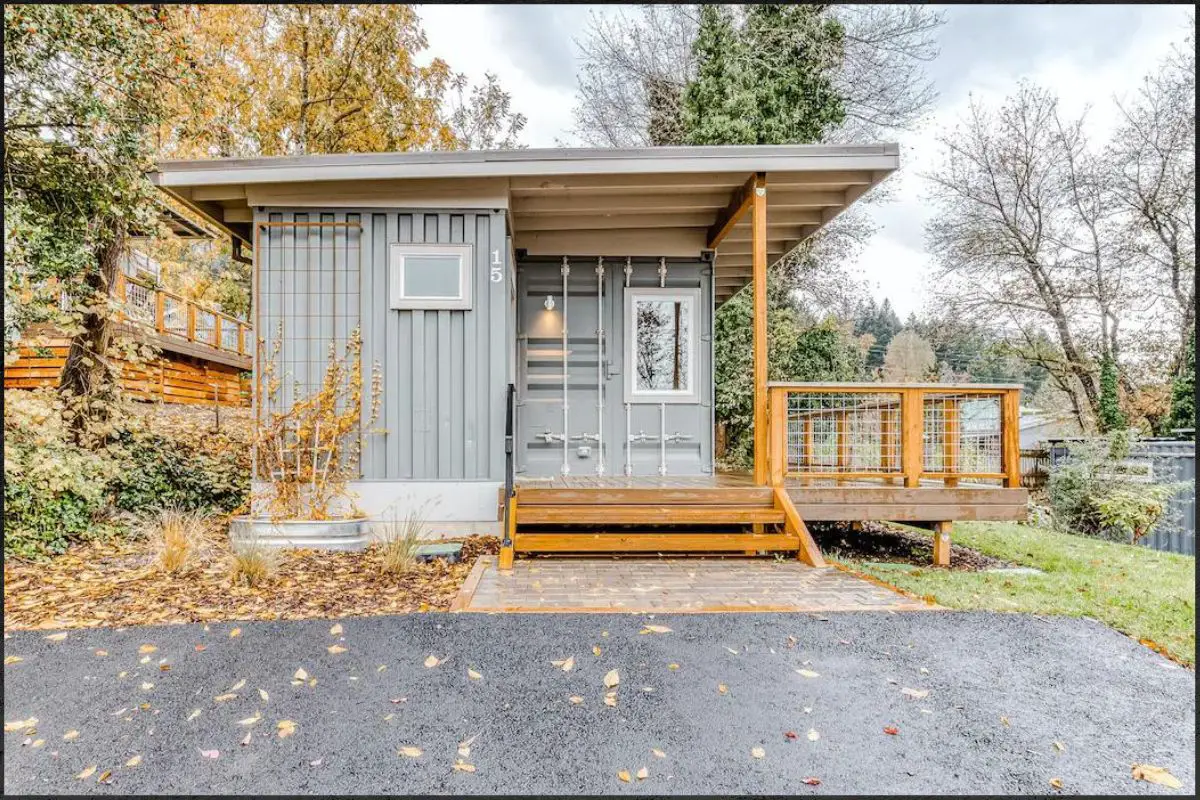 Features of Shipping Container Home in Oregon
Steel shipping containers that were formerly used by ships, trucks, and trains to convey cargo have performed a new phenomenon by being transformed into houses. These containers, which you can think of as huge Lego pieces, have been transformed into warm living spaces with the ingenious initiative of Relevant Buildings.
On the other hand, two shipping containers, each measuring 40 feet, were used to construct the container home. Some of the containers were divided during construction to enhance the interior functionality. Thus, the container home, which has a quality interior design, has a simple and minimalist layout without any unnecessary items.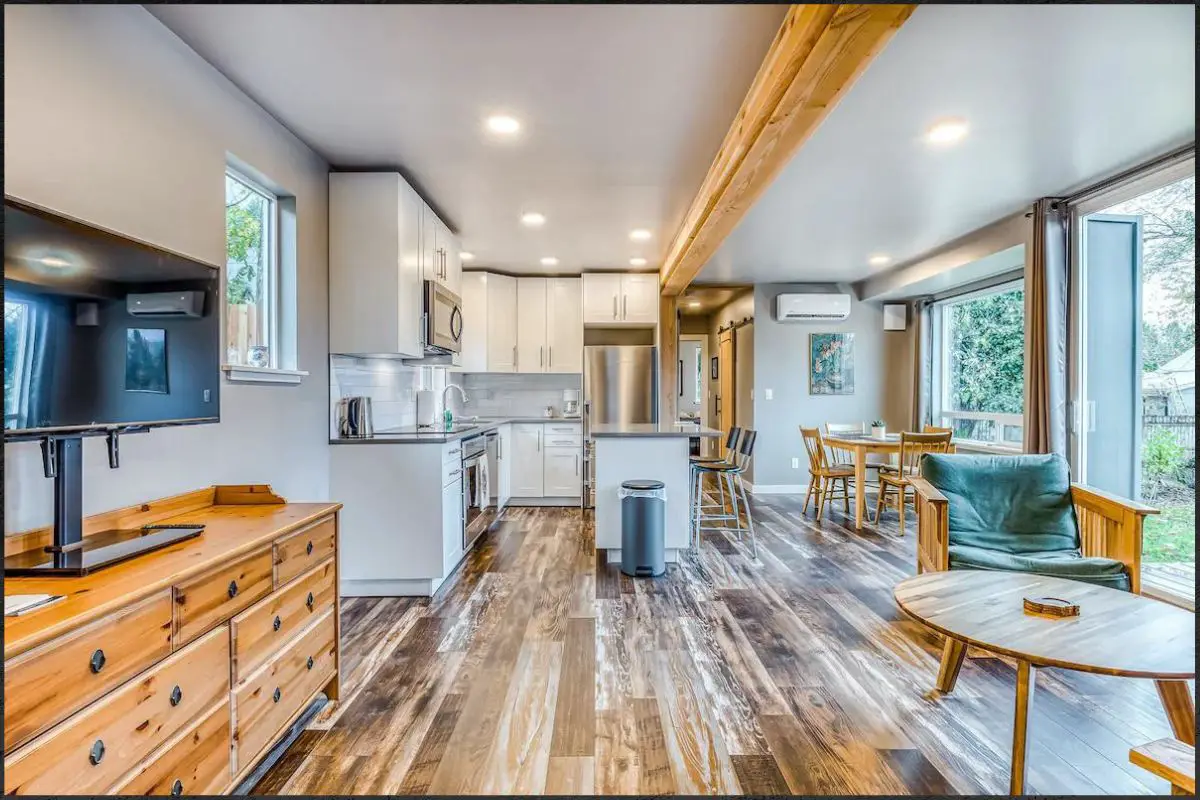 Interior Design of Container Home
Although it consists of only two 40ft containers, this container home has a spacious interior. Thus, there is no difference in interior design from ordinary houses.
There is a corner where you can sip your coffee, an area where you can have dinner with lots of conversation, and even a sofa where you can take a blanket and watch TV.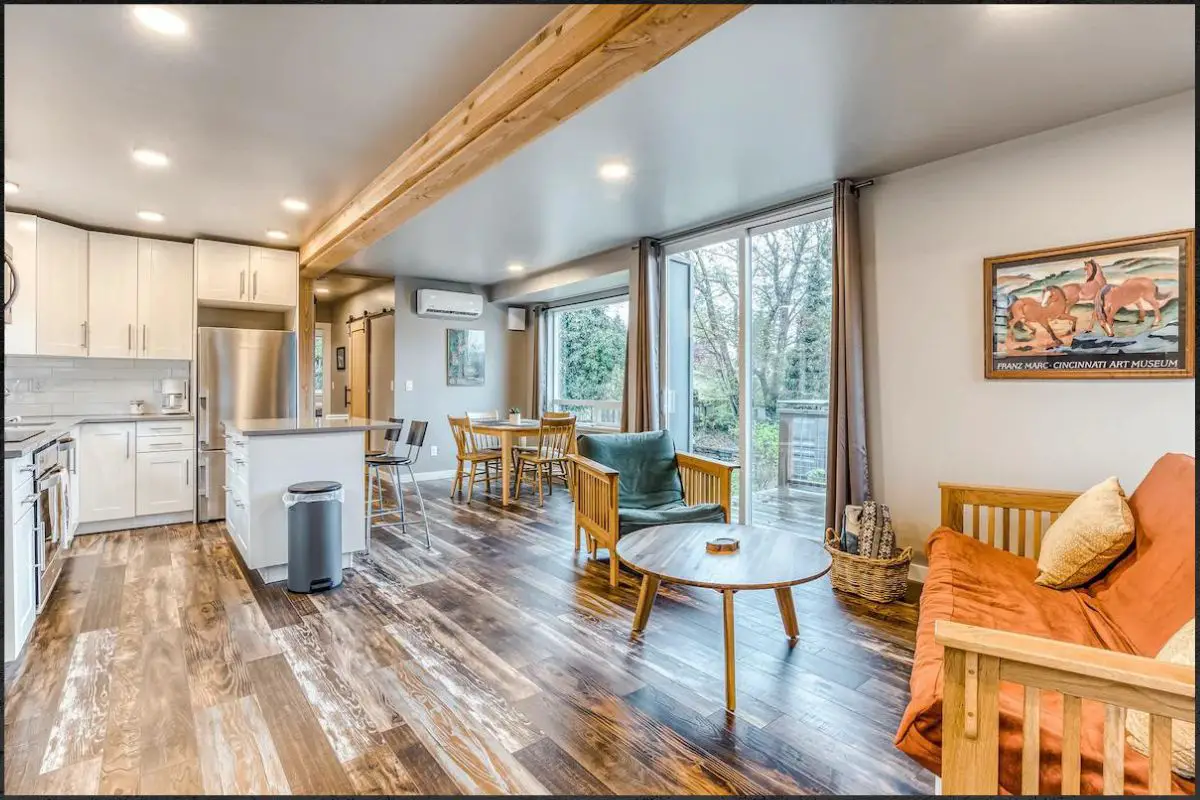 On the other hand, the flooring is one of the house's most intriguing features. The floor coverings have created a rustic ambiance and give the property a distinctive aspect.
Moreover, the container house, where an American kitchen is preferred, has added a different atmosphere to the kitchen with its wooden flooring.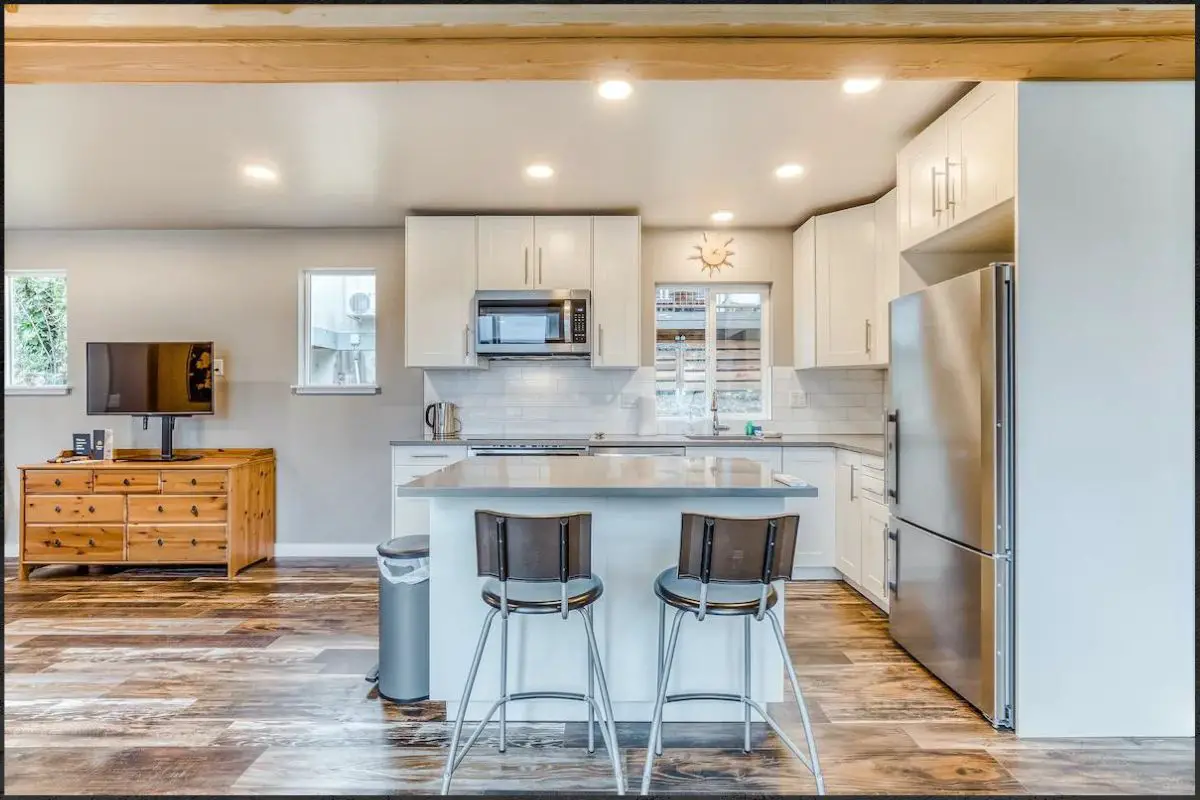 The Kitchen of the Container Home
The container house, where the American kitchen design is preferred, has added a different atmosphere to the kitchen thanks to its wooden flooring. Thus, the living room and the kitchen are poetically combined. Of course, American kitchen design is not the preferred layout for everyone, but it is the most practical choice for container houses.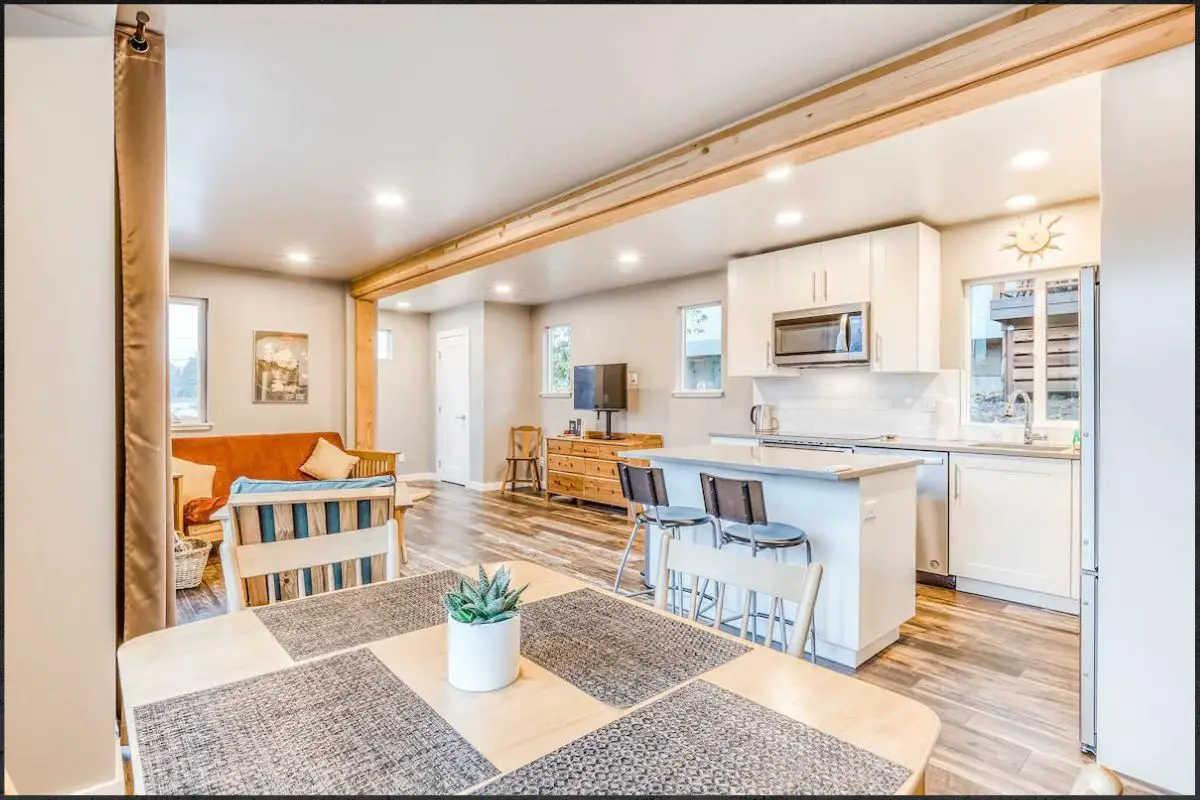 Aiming for maximum functionality with a small number of items, the items inside the container house are made entirely from recycled wood.
In addition, by choice of the interior architects, the color of the furniture was left untouched to maintain its natural aspect. Despite this, there was a lot of white and gray decor in the kitchen. White kitchen cabinets and gray countertops are in perfect harmony with wooden furniture, modernizing the country style of the house.
Advantages of Container Homes
Prefabricated and modular houses are not only in style but are also gaining popularity as cost-effective housing options. Many prospective homeowners want to avoid paying as much for construction and upkeep. Another assumption is that shipping container homes help with recycling.
All the advantages of a container house are as follows:
Resistant to many external factors.
It is durable and long-lasting.
Inexpensive compared to traditional houses in terms of cost.
A location intertwined with nature.
Due to its recyclable construction, it is environmentally beneficial.
In short, Relevant Buildings company has succeeded in creating wonders in this house, as in the other homes it has built. At the same time, the company offers you a home beyond your dreams. If you are planning to visit the Oregon region in the near future, you can be a part of this experience by paying $188 per night.
However, you may also want to have such a house instead of renting it for the night. In this case, using the information listed below, you can contact the manufacturer.
If you're thinking about living in a container home, be sure to check out our huge selection of designs for inspiration. You're sure to find something that suits your needs and taste.
So if you're interested in learning more about shipping container homes, be sure to check out the Living in a Container today! What are your favorite shipping container homes?