We continue to discover for you. Our container house on today's tour is from Hoekwil, Western Cape, South Africa.
In building of a home, many things are need to be kept in place. There are many aspects which make a person worried during building a home. If I summarize, then these are: worries about selection of material for house construction, budget, resources, architectural structure, time. These are main concerns of a owner of any living area.
In this modern world, every person wants a unique and stylish home which must be according to his choice. All parts of construction should be done according to his desire and budget should be in his range. Persons are often in the search of a material which should be easy to construct and reliable.
For many past years, this new world has discovered something new and reliable. This is a new material for construction of the home. These are steel shipping containers. I will mention this here, that containers are not only used in construction of homes but also in transporting goods from one place to another place. In past, this was main use of steel shipping containers.
Read Also : Wonderfully Designed Container House from Cape Town
Now, steel containers are reformed and are used for housing purposes. Customizable containers are liked by every constructer. Many facilities are provided by them and therefore, these are preferable now.
Many homes and other living places are designed by shipping containers up till now in different portions if the world. All buildings are really beautiful and amazing. Each home is stylish in its own way. As every person has its own choice, similarly every home has its own unique designing. One more container home is going to be discussed in detail.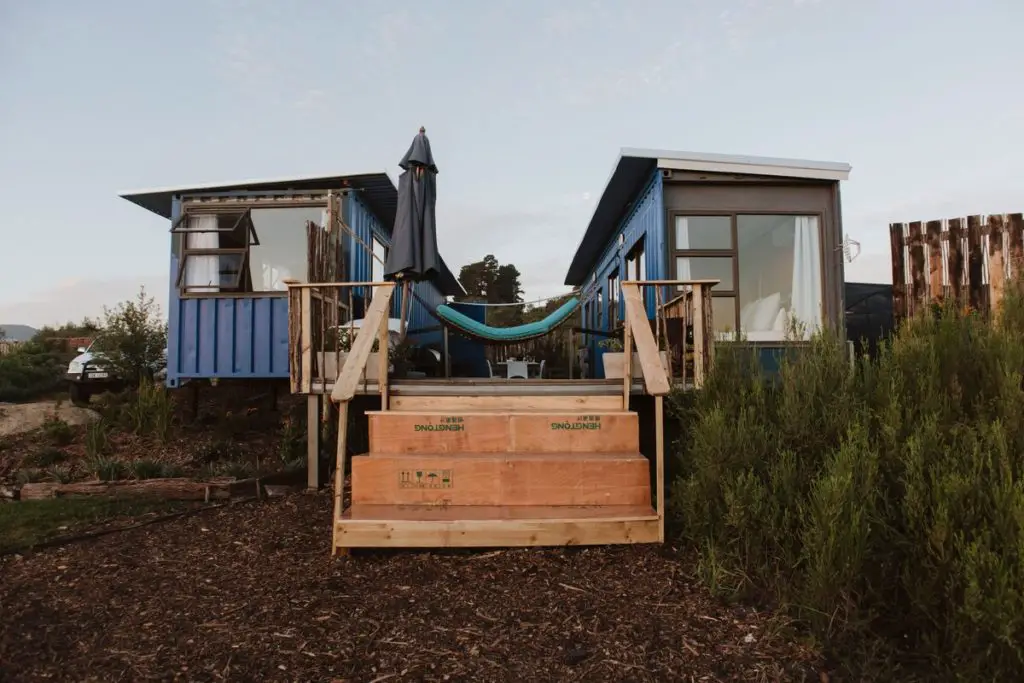 Steel shipping containers guest house
This is an utter container home which is made of two steel shipping containers. These containers are black in color. These are set in front of each other and a space is left in between them. There are two types of steel shipping containers. 40 feet is larger one and 20 feet is smaller one. The containers are selected according to area under construction. 2 x 40 FT shipping containers are used in this guesthouse.
This guest home has capacity for 6 guests. This home is hosted by Leigh. Charges for staying in this home for one night are $86. Hosts are very friendly.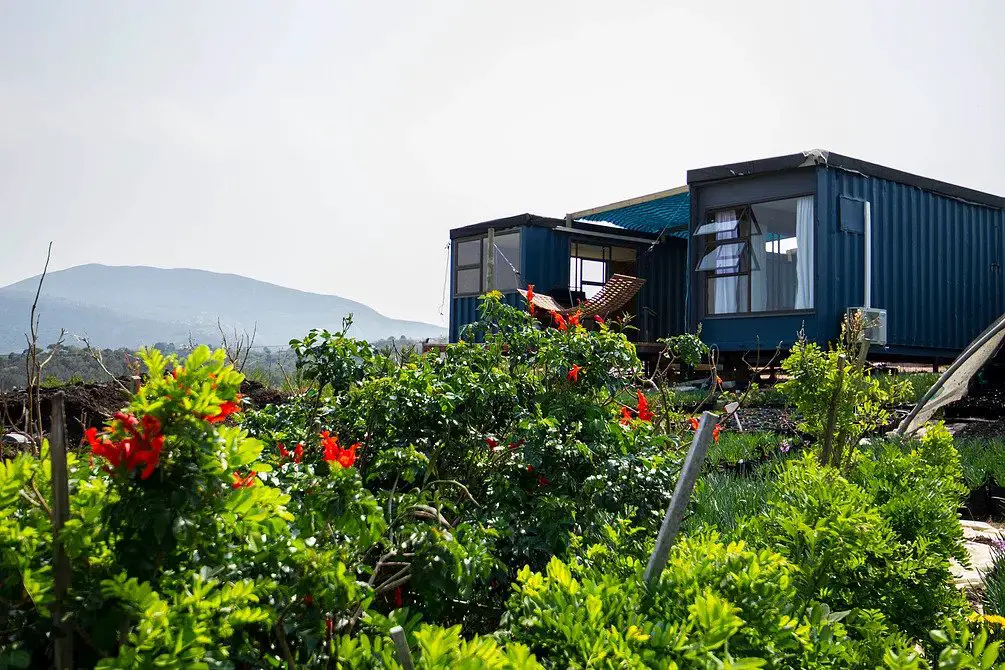 Architectural structure of the container home
This home has all necessary portions.
Two bedrooms
Two bathrooms
One kitchen
One balcony
One living room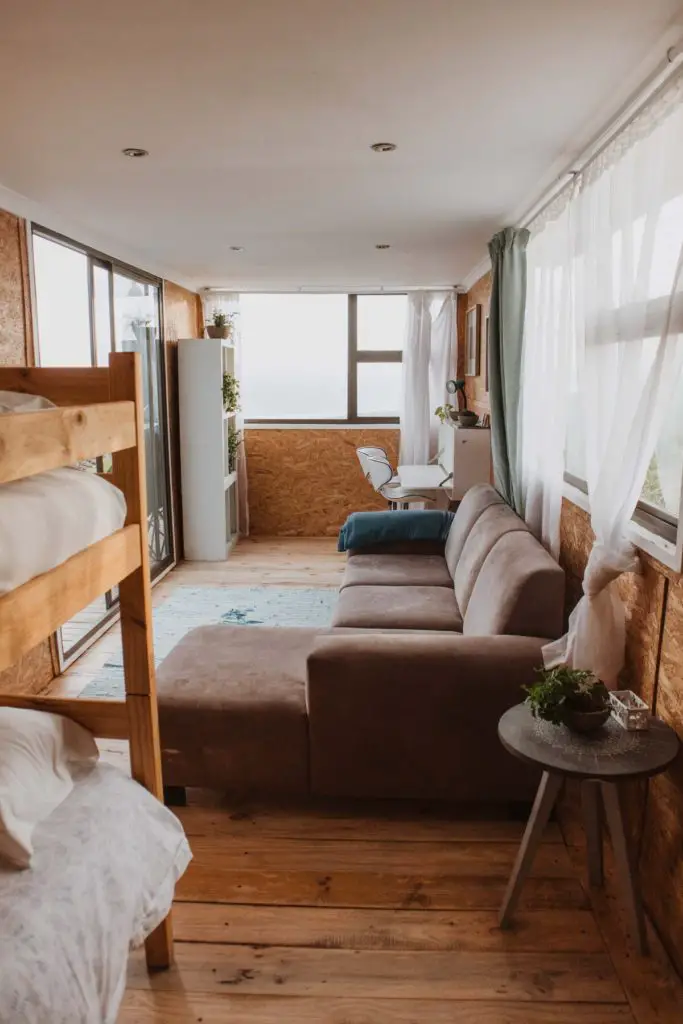 Interior designing of guest home in detail
These all portions are built beautifully. The containers are in line facing each other. Interior of the home is painted white. Two bedrooms are in this home. These have capacity for 6 people. One bedroom has a large sized bed. Other bedroom also has a large sized bed. Two beds are set one above the other. In this way, it becomes space for 6 persons. Bedrooms are with closets. Facilities are complete.
Read Also : Other Container Houses of South Africa
Bathrooms are set with tiles. Water supply is provided. Hot and cold both water are there. Toilet and shower systems are provided.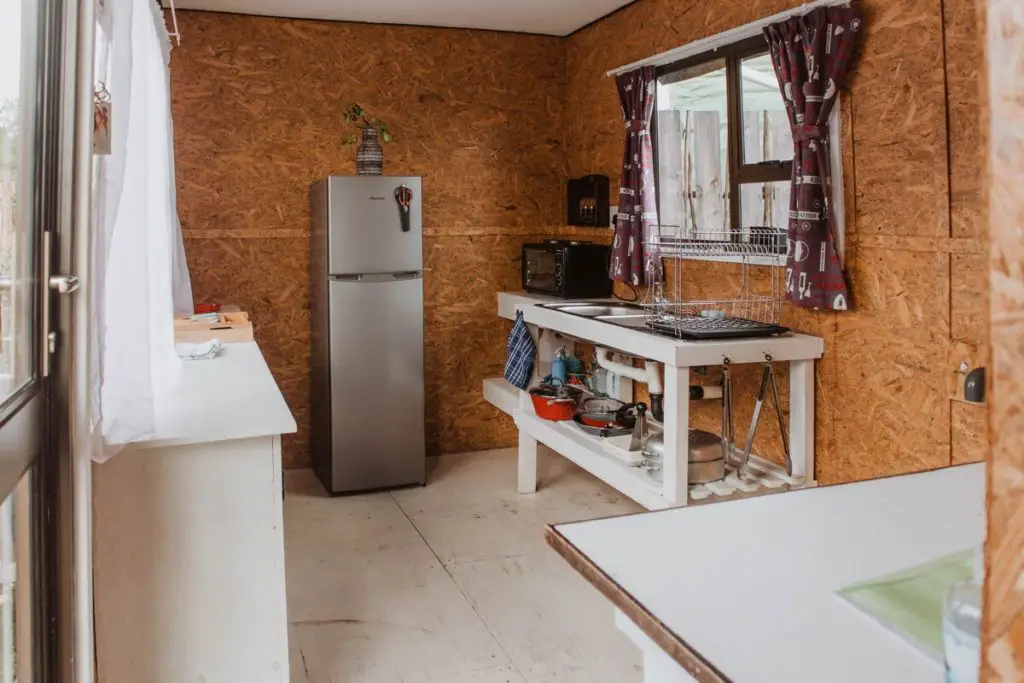 Kitchen is full with all kinds of amenities. The kitchen material is set in good way. Cabins and shelves are designed. Stove, microwave, refrigerator all are set in this kitchen. Kitchen wall has glass windows. Living room is small. Seating sofas are placed. Wall is in front. Outer view is perfect. Easily can be enjoyed by sitting in this living room.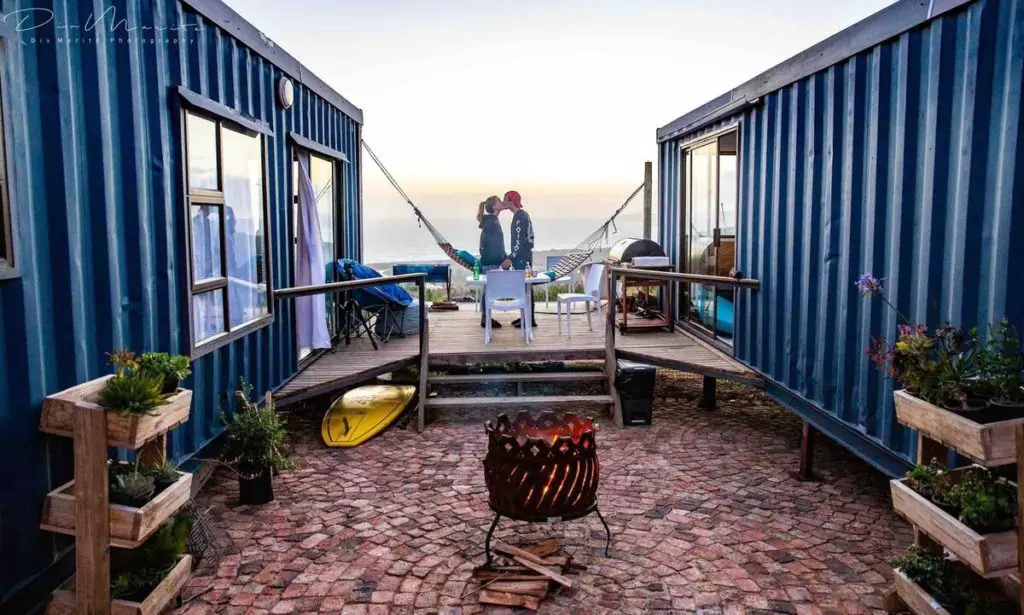 Between containers, there is a sitting arrangement
Wooden floor is designed between containers. Sofas are placed there for sitting. A hammock is in this balcony. Fireplace is also kept here. So, this is the place for sitting in night as well as in good weather. Ut just looks like this that guests come out from two containers from both sides and enjoy gossips here. A great place for spending vacation indeed.
Containers are set higher than the ground level. Greenery is there. Eyes catch the sight of calmness from everyone. This is a peaceful place with all facilities for living under reasonable charges.
Amenities of the home
Any host obviously wants this that his guest should have all facilities. Similarly, host of this home is also providing all amenities to his guests. Internet networks are set in the home. A place for work is also designed where work in laptop can be done easily. Water is supplied. Voltage is providing electricity. This enlightens and runs home. Lights are set and kitchen is with all equipment.
Read Also: Top 6 Most Expensive Container Homes in the World
In construction of this guest house, shipping containers are not used only. This house is has glass windows as well as wooden use. Floor and sides of doors and windows are constructed and fixed through steel shipping containers. These all are used to make a home more pretty and comfortable. Use of other material with containers, make your home more stylish and modern. Therefore, combination if these tgree material is getting popular. Concrete material is also used with containers some times to give a typical traditional look.
You can find all container houses in South Africa here.
If you are interested in structures made with shipping containers, you can find what you want among thousands of container house models. Be aware of the contents by following our Facebook and Pintereset accounts.
If you want to rent this beautiful house, you can reach Airbnb page here.