Hi everybody
We continue to discover for you. Our container house on today's tour is from Istanbul, Turkey.
Imagine a house away from the chaos of the city, intertwined with nature, where you can feel safe, environmentally friendly and at the same time have a pleasant time.
Imagine stepping into your home and seeing your entire living space at a single glance. Your bedroom, kitchen, bathroom and living room.
Here is the new living space you've been dreaming of, your home. Whatever you dream of, DEONTAINER makes it come true for you.
There are two types of materials which are used in construction of homes. These are either concrete material or steel shipping containers.
Both have benefits but containers are more beneficial. Because concrete material cannot be used in building homes at far away places like hilly areas or deserts or near an ocean.
Containers provide homes at lower costs than homes of concrete material. Building of homes by using steel shipping containers is less time consuming than the home made of concrete material.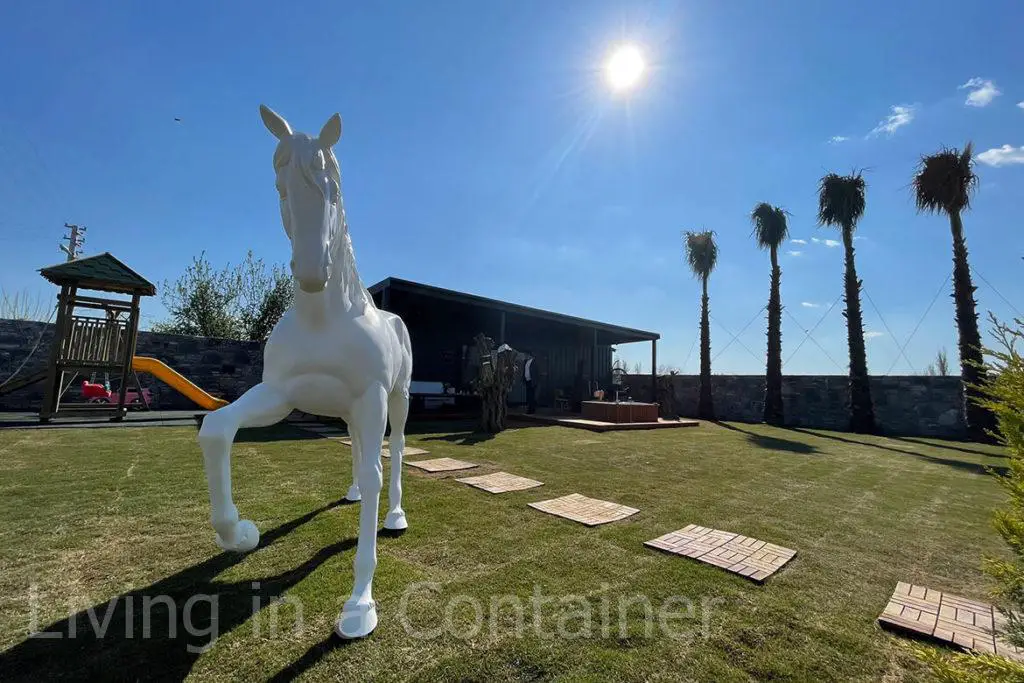 Shipping containers make homes which are more stylish and modern
Uniqueness and elegancy dripple down the home made of steel shipping containers. No doubt, new world is heading towards steel shipping containers to use them as construction material.
Main reason behind this that people want home where they can spend vacation. Adventurers want permanent home in other corner of the world which should be far away from the noisy town.
This facility is only provided by steel shipping containers. These are modified and are set at the desired place for once.
Their durability is more than 25 years
This is enough for life long guarantee. These all facilities make containers more reliable.
We are discovering container homes continuously to make your great exposure of containers use in construction industry.
Today, one more house has been discovered. This is a simple container home with a very large garden.
Homes must be full with all facilities. Home with missing sources is never attractive. No matter the area is, all portions should be there in a decent sequence.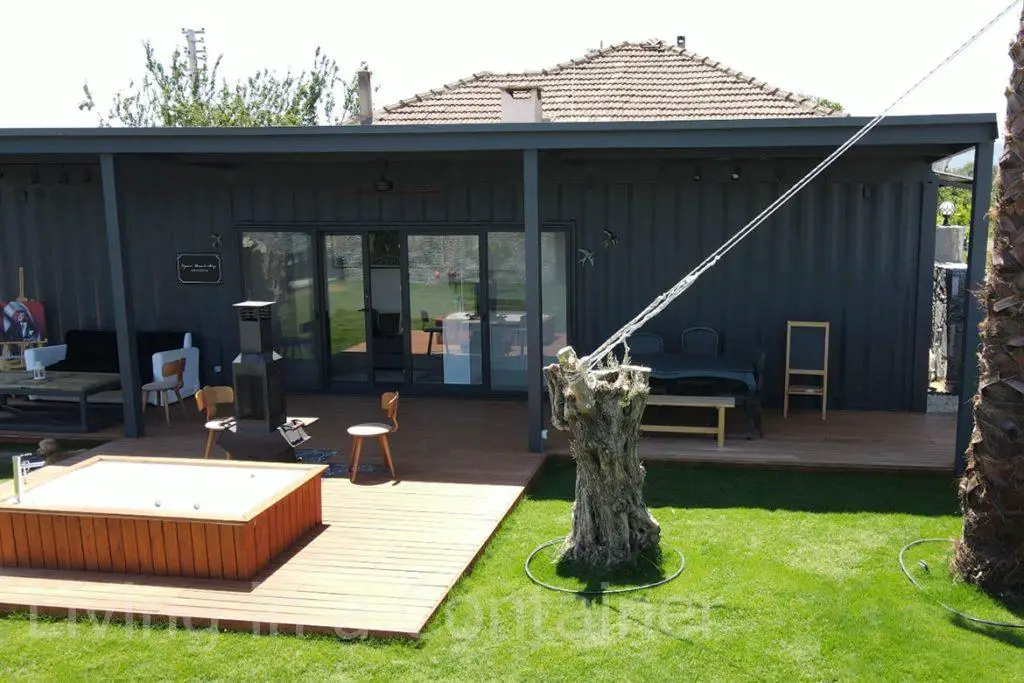 Grey black container home
Smaller than a house, but more than a house.
This container home is made of a single container which is of 40 feet. 40 FT container can make a home easily. It will be simple but it will consist of all parts which are mandatory.
This home is located in the center of a large garden type lawn.
Area around this container is wide. This house is single storey. And grey black paint is used to give color in outer side. Inner of the house is white. This home is classic from inside. All modern and stylish things are used to set this living place.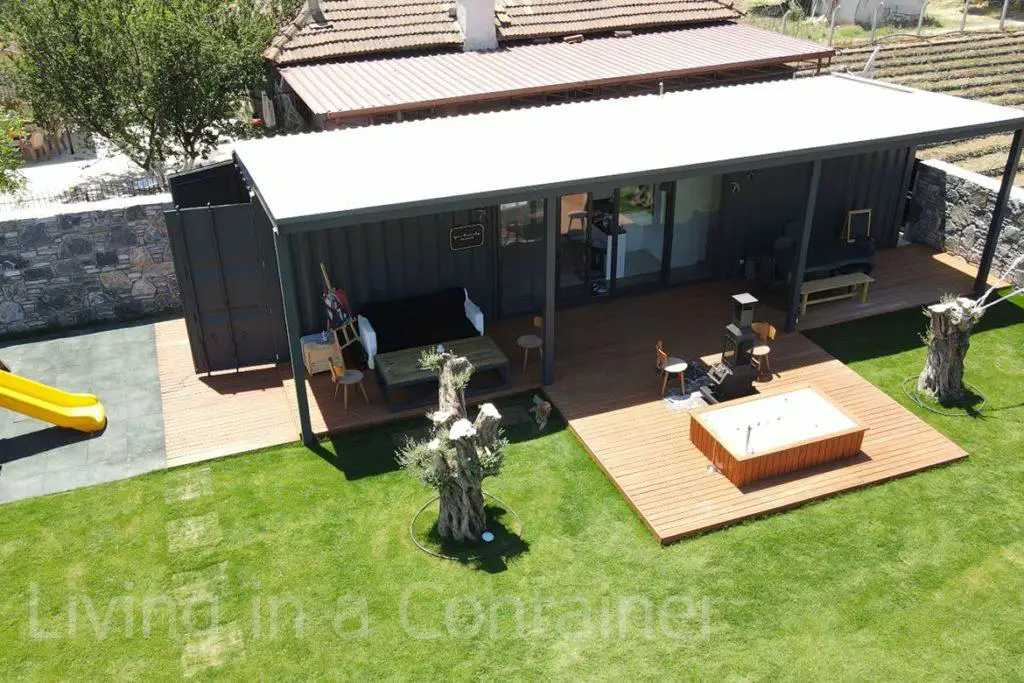 This home is simple but has all portions which are necessary
Bedroom, Bathroom, Living room, Kitchen, Lawn, Water tub, Dining table, Grilling portion and Playing area for children.
This indicates that this home has many enjoying parts in outer portion. This home is for nature lover persons.
What do you think?
Bedroom, bathroom, living room, kitchen.
These all parts are designed in inner side of this living area.
Bedroom has a large bed with white colored covering. The closet which is set in bedroom is black colored crystal shining closet. It has a large space for keeping all attire.
Bathroom is made of white shining tiles. The toilet is set there. Showering system is perfect to use. Bathroom is attached to bedroom. This house is for one or two persons.
Living room is elegant. It has seating sofas. This living room has glass window. The window gives the look of outer enviroment.
Sofas are comfortable and cozy. Table is also set in this living room.
Kitchen is with all facilities. Basically, kitchen is black in color. Black colored cabins are designed in this kitchen. It has refrigerator, oven, sink, accessories and stove.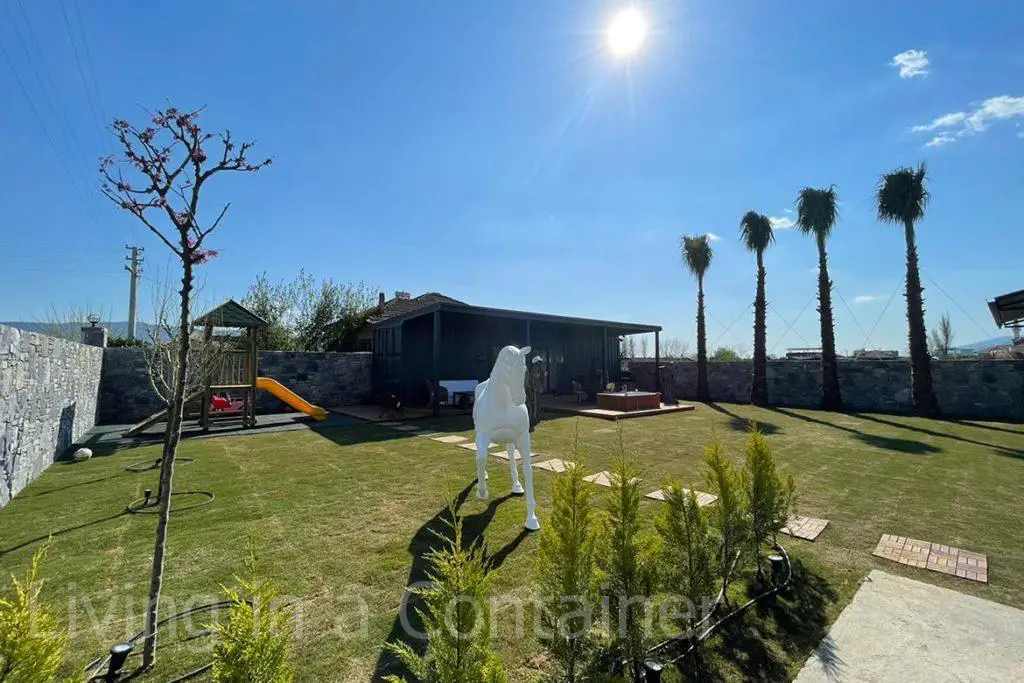 Description of outer area of the container house
Lawn is large with trees and grass. Maintenance is mandatory. This house is well settled and gives all facilities.
Water tub is made on the front of the house. Shade is made which gives look of balcony. Chairs are placed there for sitting.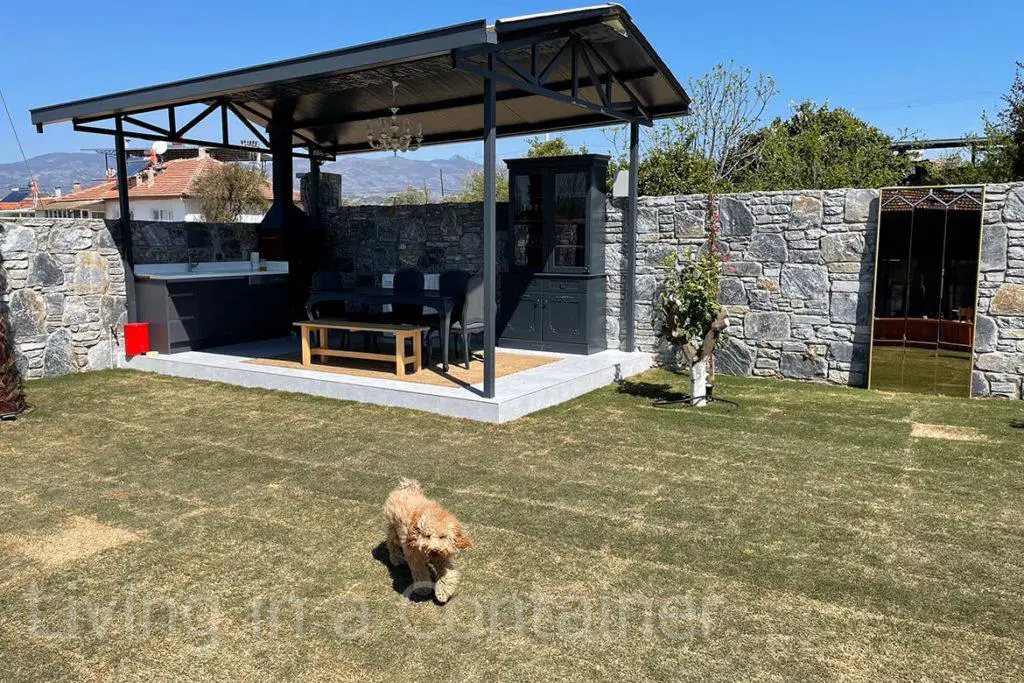 Grilling area is made to enjoy BBQ. It becomes mandatory when friends are there at the same place.
Dining table is set nearby. These are chairs and table made of wood. One can enjoy dinner here. This gives a very peaceful look.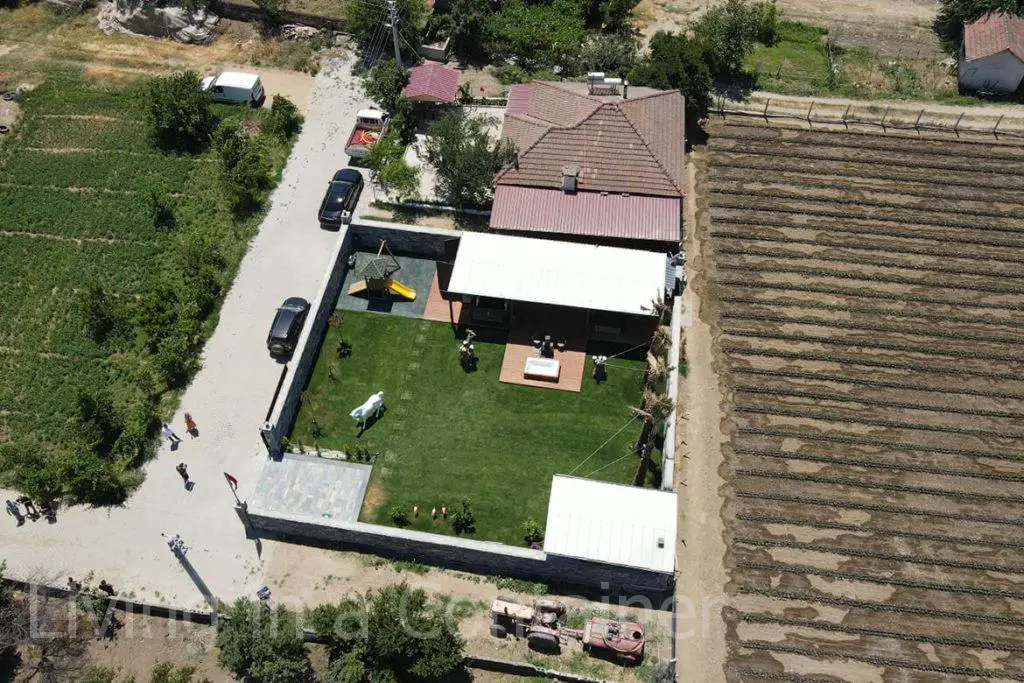 House is simple but loaded with all modern facilities
Some playing material is also set there for children. These are swing, moving horse and a high roof home. It gives the look of enjoyable place. So, here are the facilities of enjoyment as well.
This house is beautiful for living for any person. This home is free from the noise of this world. Wood work is not done in great amount. But glass windows are set in this home.
Today we showed you a shipping container house designed by Ozan Demirbas Architects. For more information, visit the manufacturer's Deontainer site here.
We are researching and showing you the structures made with shipping containers around the world to give you an idea.
Do you come across stunning stories of individuals who built their cargo container houses with their own hands on Youtube, Instagram, or many other platforms? Okay, so now is the time to be one of them!
This e-book, which we offer you and contains all the theoretical details and practical steps you need about the container home building process, will be your real assistant! What's in this book? Let's explore now!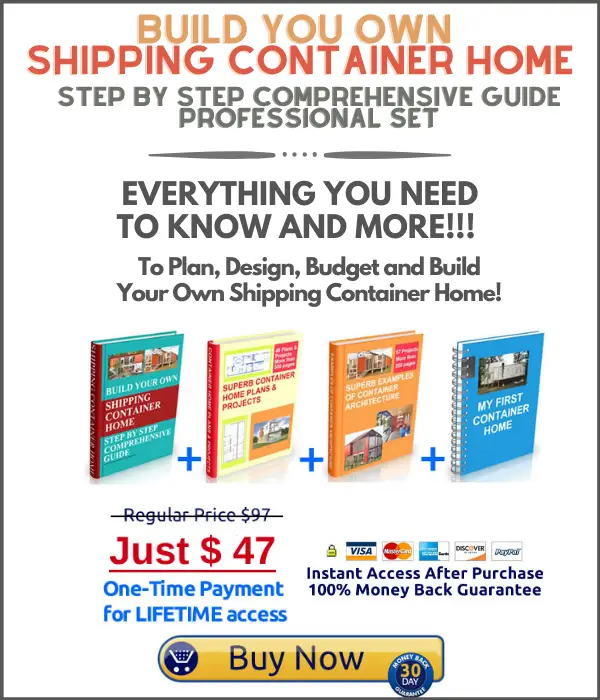 INTERESTED IN MORE CONTAINER HOUSE PLANS?
---
CHECK OUT MORE AMAZING CONTAINER HOMES BELOW!
Great Container House from Mexico
The Lily Pad Cozy Container Home
Life Uncontained Shipping Container Home
Shipping Container Home Ontario – Canada