If you want to have a private container house of your own, you can choose Marin Container House in the forest area of ​​San Francisco.
You will love this container house, which will offer a lifestyle intertwined with nature, especially as a location. These container houses, which are installed as prefabricated in the fastest way, are made with recycled containers and presented to you as environmentally friendly.
If you are looking for a container house where you will feel peaceful and comfortable, you can examine this house in detail. Thus, you will reach the details of this container house that will impress you with its elegant design and appearance.
You can also check out the container house on the site of SKFA Studio, the designer of the property. Below is the link for you to review. SKFA Studio.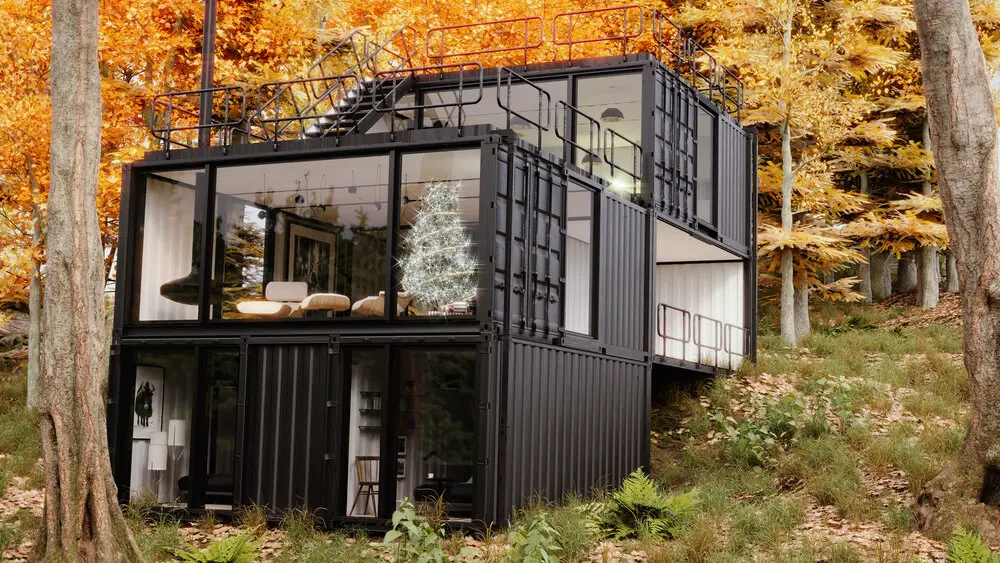 Marin Container House
The main concept of Marin container house is to get a prefabricated house using recycled shipping containers. You will be tempted by the eco-friendly nature of this container house. In addition, choosing cheap materials will benefit you in every way. Due to the high cost of houses recently, this container house will be very suitable for you.
The Marin container house is formed by the combination of 20 x 8 ft. containers and also the space forming a 20 x 20-foot area. You can design this place, which will offer you a comfortable environment with a large area of ​​1440 sqft. It will also be suitable for a large family to live in.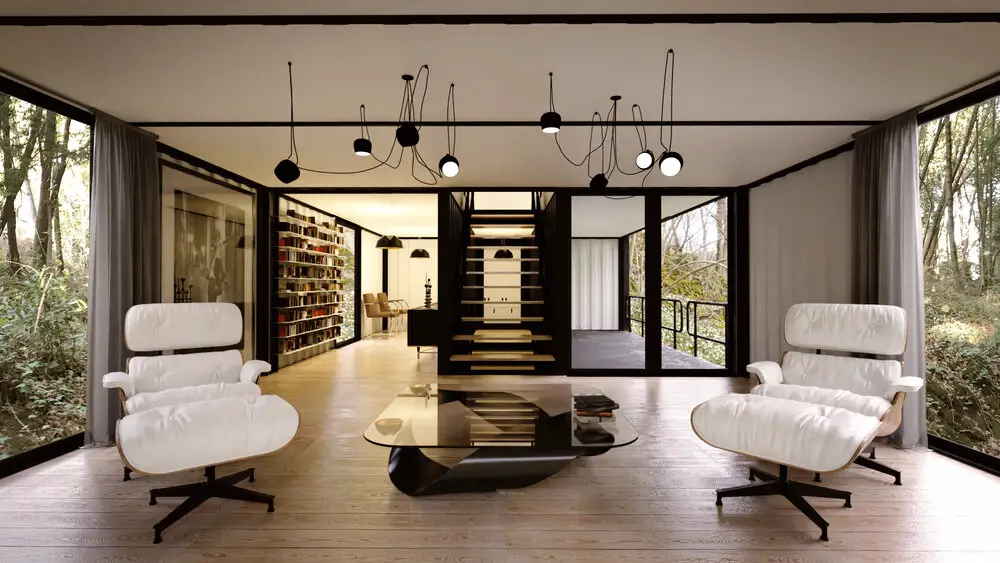 Many areas in the container house such as the kitchen, bedroom, bathroom, living room, and terrace will be presented to you in the best way. Especially the large area offered by the 2-bedroom container house creates a very suitable environment for families. It will also impress you that the large roof terrace has been created with a special design for enjoying the scenery in your spare time.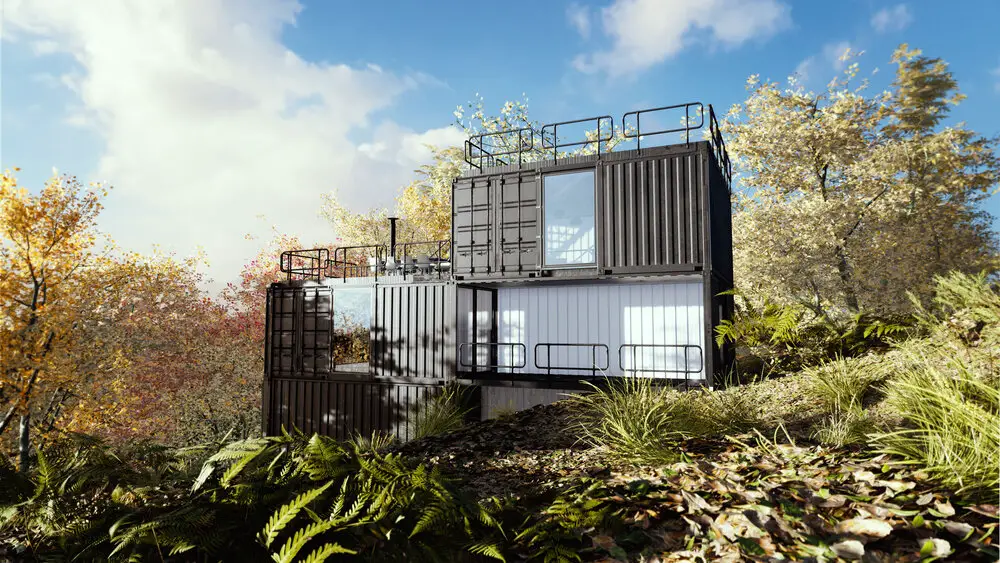 The black tones preferred in the exterior design of the house ensured the creation of a noble modern house. When viewed from the outside, it is a property that attracts people with its noble design and luxurious appearance. Especially with the large glass details preferred in the exterior design, the property looks more beautiful. Large and wide windows play an important role in providing a refreshing environment in the best way possible.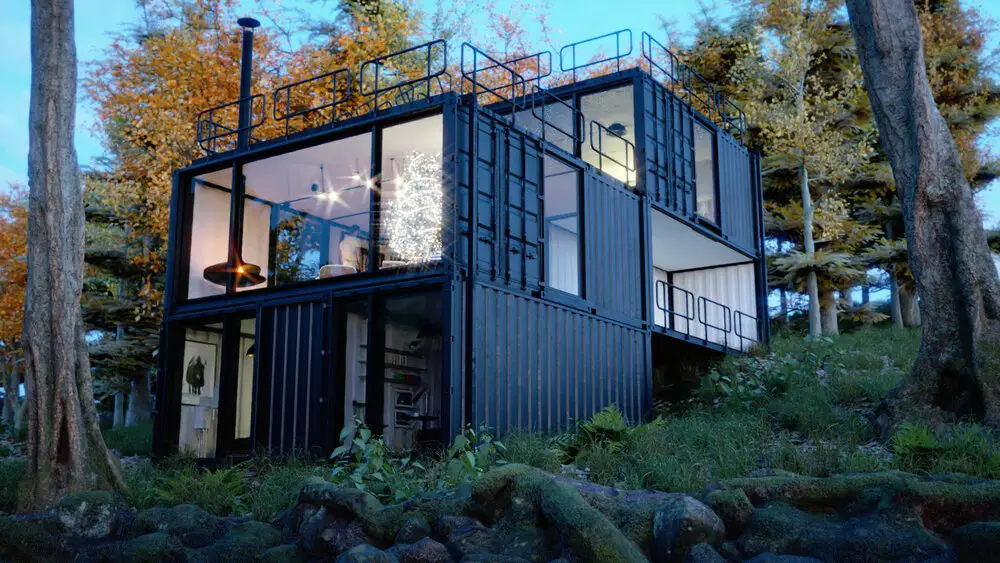 Marin container house, which is located in the forest as a location, will be the perfect choice for those who want to get away from city life. This container house, which will be intertwined with nature, fascinates customers with its view. If you prefer this container house, you will adapt to living a life with a forest view and silence.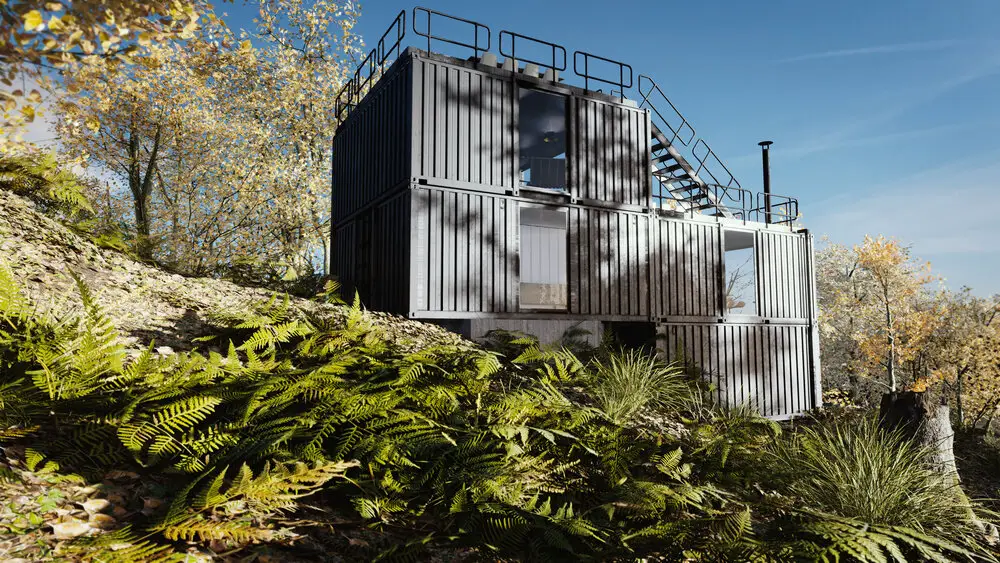 Concepts to be Preferred in Container House Design
If you are undecided about container house interior design and want to create the environment of your dreams for yourself, there are different concept suggestions for you. If the exterior design of your container house is presented to you with noble colors, here are the design ideas you can consider.
Thus, it will be very easy for you to have a stylish and modern interior design. It will also help you provide the most eye-catching design you can have for your tiny house. So by paying attention to all the details, ensure to create your container house with the best design that will appeal to you. Here are the details:
If the exterior design of your container house consists of black tones, you can ensure that the extra products you prefer in the interior design have black and cream tones. These tones, which will create a noble appearance, will allow you to create a concept that is compatible with exterior decoration.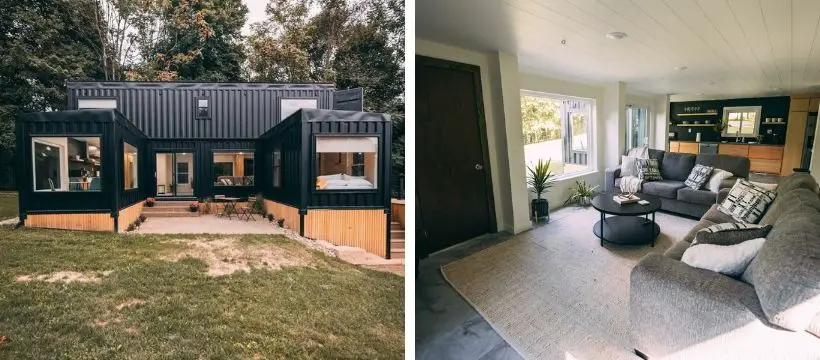 Especially if you want to create a relaxing environment in a container house where you are intertwined with nature, it is recommended to choose plain colors in areas such as floors, ceilings, and walls as extra touches to your home. It will be a better choice for your home, which will add fresh air.
If your container house has a large and spacious area, the design of the items you will add to your house is very important. You need to analyze the items you will add to your property in the best way possible. In this way, you can ensure the best positioning of the items. You can easily handle this situation by having the best control over the dimensions of your home.
In addition, you should not disturb the structure of the quality materials used in your container house. You should not damage the structure of your home with services such as extra renovations that you will add to your home. You should pay attention to your property in order not to encounter a situation such as attrition.
In addition, you should pay attention to the design you will prefer in the terrace parts of your container house and the items you will use. Thus, it will be possible to create a different aura on your terrace. Strive to create the best with the right choices for you.
Thanks to all these details, you will have the opportunity to make your container house long-lasting and peaceful. It's up to you to create the property of your dreams. You will have an experience that you will not regret by choosing an institution where you will receive professional service.
How would you like to satisfy your fascination with the Marin container house by having a container house of your own?
You can contact us and let us create the house of your dreams for you. Our team members will create your prefabricated house in the best way by giving importance to all the details for you. For this reason, get ready for the container house with the most equipped and strong structure you can have by transferring all the details to us.
Living the experience of your dreams is not far away anymore.